Chroma launches a mixtape to support Black women, queer, trans and non-binary folks
'Source of Nurture' is only $20 and features Kelsey Lu, Zsela and Maluca.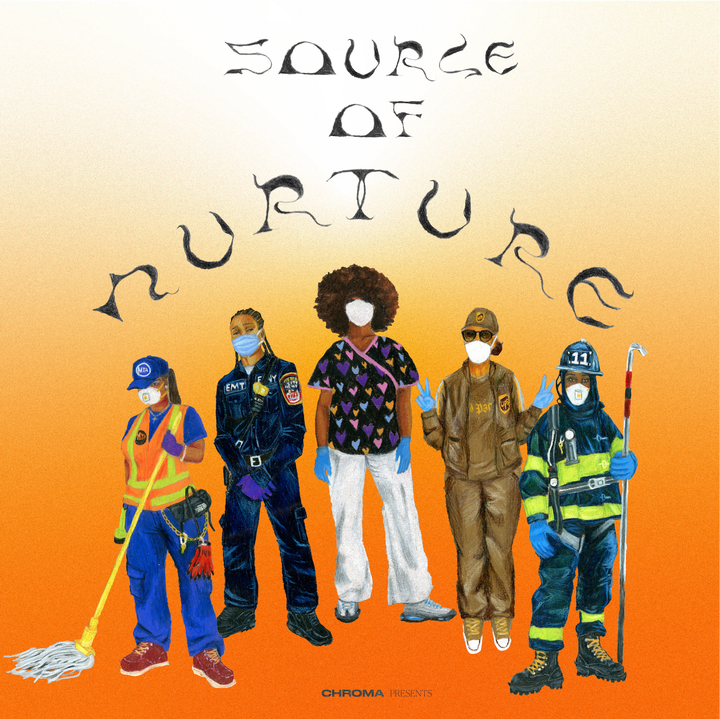 Artwork by Aya Brown. Design by Rin Kim Ni.
Chroma is the NYC collective and creative agency that advocates for centring the work and experience of women of colour. Previously, they've made work around the refugee crisis at the US-Mexico border, with their "Protect People Not Borders" project, and created a climate crisis incubator. Now, they've turned their attention to black women, queer, trans and non-binary folks, with a mixtape called "Source of Nurture" on Bandcamp. It's a music fundraising initiative, with 100% of the proceeds going directly to Equality for Flatbush, Undocu Workers Fund, The Movement for Black Lives Fund, and Black Trans Femmes in the Arts.

For the next 24 hours, 100% of Bandcamp's proceeds go to artists, so today's a great day to download the tape. It's only $20, and features an incredible array of artists including Kelsey Lu, Lafawndah and Zsela.
Chroma leaves us with the words of pioneering Black sci-fi novelist Octavia Butler who writes in her novel Parable of the Sower: "None of us knows very much. But we can all learn more. Then we can teach one another. We can stop denying reality or hoping it will go away by magic."
Download the tape here.