7 of André Leon Talley's most iconic outfits
From chicly consorting with Karl to making an entrance at the Met Gala, here are some of the most memorable moments from fashion's caped (and kaftan-ed) crusader.
A proper, hardcore, old-school fashion legend, André Leon Talley has cut a swathe across the industry since way back in the 1970s. Growing up in Durham, North Carolina, he devoured Vogue magazine from an early age -- trekking to the local library to leaf through its glossy pages. His passion for style and glamour incited bullying from local kids, but was encouraged by his grandmother, who raised him after his parents divorced. After studying French Literature at North Carolina Central University, and a Masters in the same subject at Rhode Island's Brown University, he moved to New York and bagged an internship with Vogue's former Editor-in-Chief, Diane Vreeland. André assisted her with curating and staging blockbuster fashion exhibitions at the Metropolitan Museum of Art's Costume Institute.
Throughout the 70s, Talley's career flourished through a succession of high-profile fashion reporting and editing roles at publications including Interview, WWD, The New York Times and Vogue, which he joined in 1983 -- the first African American man to ever do so -- hired by Anna Wintour. During the ensuing decades he became a front row fixture at the seasonal shows, a bona-fide style icon, a confidant of designers like Miuccia Prada, Tom Ford and Karl Lagerfeld, and an encyclopaedia of knowledge on the history of fashion, art, literature and film.
Whether appearing on TV shows, publicly feuding with Anna Wintour, and appearing as the subject of a surprisingly intimate 2018 documentary, The Gospel According to André, he's rarely been out of the limelight recently. His latest project, The Chiffon Trenches, is a gloriously name-dropping, critically-astute, tell-all memoir about his many ups and downs on fashion's front line during the past five decades. In honour of this newly published literary gem, we rummaged through André's personal fashion archive and picks out a few of his finest style statements.
1975
André and Karl Lagerfeld were great friends for 40 years, having first met in 1975, while taking afternoon tea at New York's Plaza Hotel. "Karl mentored me in everything: French history, literature, the history of fashion, art," André recalled in Vogue, in 2019. "From our first moments, we were like the brother each of us wished we had, true siblings." Years later, Karl would go on regular holidays all around the world with André and often sought his advice about his latest collections. He even gave him $50,000 for his 50th birthday! This photo shows André sporting one of the many fine quality shirts Karl used to give him, accessorised with cufflinks, and teamed with a pair of chic, very-1970s high-waisted trousers. But rather than actually wear that spooky-looking mask, André's merely using it as a mouth shield -- probs so he can discreetly blab some hot fashion gossip to Karl!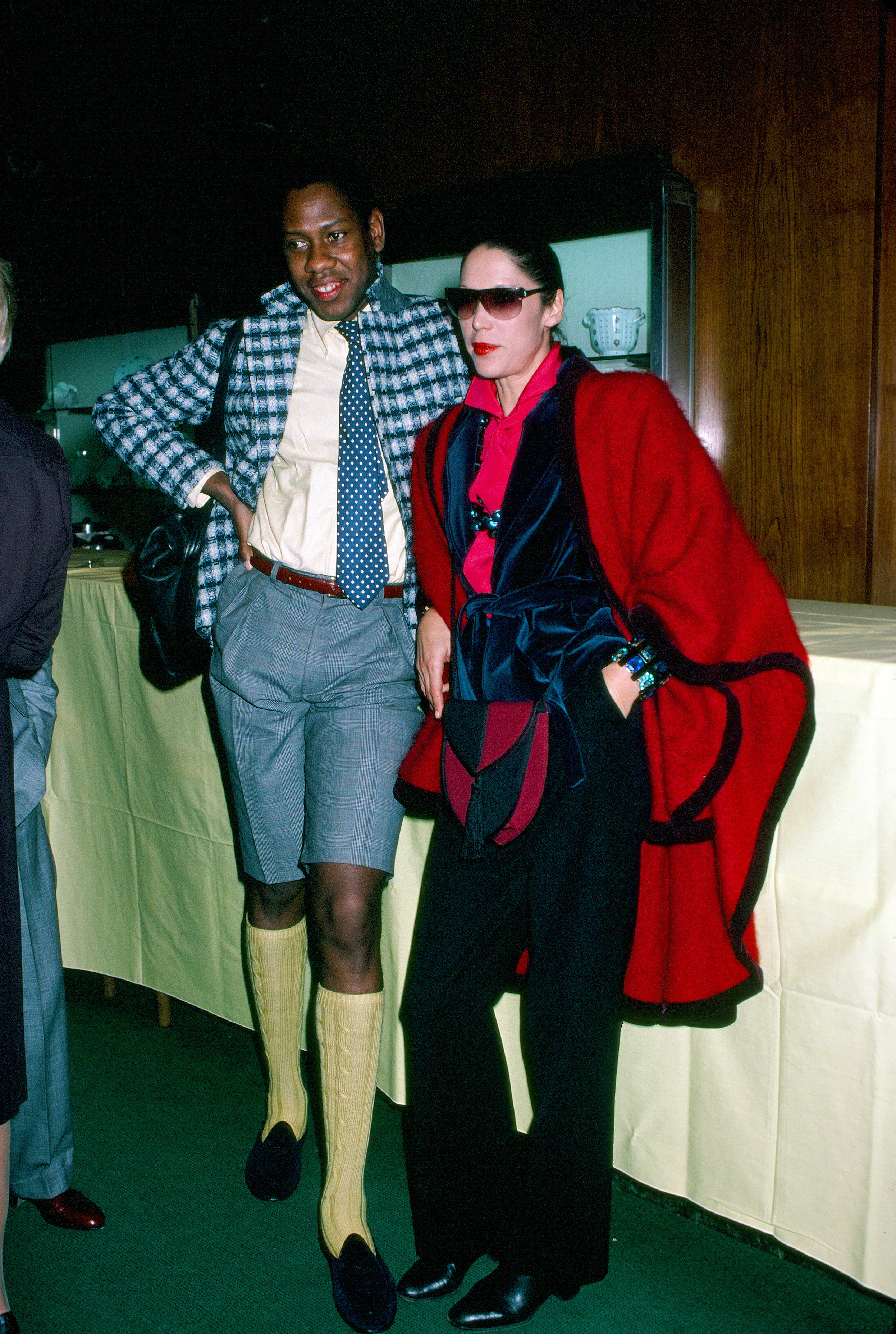 1980
Despite having expressed a penchant for that most laidback footwear of all ("I live in UGGS, I love UGGS!" he dramatically told Grandlife magazine), André never shows a laidback approach to style while in public. Here, hanging out with his fashion editor pal Marina Schiano, André's eclectic mash-up of a pale blue checked jacket, polka dot tie and tailored shorts, with lemon yellow knee socks and loafers, looks like something fresh from today's runways, even though this photo was taken forty years ago. Trend-setting Talley strikes again…
1982
So, we know he can successfully own flamboyant fashion, but this pic from early 80s NYC proves André looks equally fierce even when clad in a classic double-breasted pin-striped jacket, shirt and tie, plus a neat handkerchief peeking from his jacket pocket. A patterned folio (no doubt filled with invites to shows and parties), and a pair of massive fuck off sunglasses, add a dash of fashion to the classic look. The photo was taken by none other than Andy Warhol, who was one of the first to spot André's talent, employing him at his magazine, Interview, in the early 70s. André saw Warhol as a great mentor and the two became close chums, regularly hanging out together at Studio 54 in the late 70s disco era: "He did not judge people; you could say or do anything," André enthused about Warhol in The Guardian a couple of years ago. "Drag queens were as important as Princess Caroline of Monaco. Grace Jones was treated like Caroline Kennedy. It was wonderful to be around him."
1999
He turns pretty much every public appearance into a fashion show all of his own, so it made perfect sense for André to star in some real runway action. He was invited to model in Yohji Yamamoto's SS99 show by the designer. The collection was inspired by weddings, featuring various conceptual frocks and bridal-themed subversions. "Behind the wedding dress there must be many stories," Yohji cryptically stated at the time. André kept his cool, linking arms with a female model as he solemnly proceeded down the runway, wearing a bridegroom-y hat, long scarf and trailing jacket, to a soundtrack of Serge Gainsbourg and Jane Birkin's sexed-up 60s ballad "Je t'aime… moi non plus". His runway stint was a great success. Admittedly, it didn't turn André into America's next top model, but ten years later he did become a judge on a roaringly successful TV series called, er, America's Next Top Model.
2011
André has been a fixture at the annual Met Gala since way back in 1974, sometimes attending the glitzy bash with famous bezzies such as Naomi Campbell and Whoopi Goldberg. During much of the past decade, on behalf of Vogue, he would interview the invited celebs about their outfits as they dawdled on the red carpet. Understandably, when his prestigious gig was instead offered to an up-and-coming YouTube star, Liza Koshy, in 2018, the ousted host was outraged: "What could this talented YouTuber offer? Surely she didn't know what a martingale back is to a Balenciaga one-seamed coat," he subsequently sniffed in The Chiffon Trenches. One thing is certain: André has rocked some of the boldest looks ever seen at this yearly fashion-fest. His 2011 bright blue super-cape, for example, was so vast that most of the attention-seeking Met Gala guests were well and truly left in the shade.
2016
Oversized puffa jackets became a thing a few years ago, when just about every designer suddenly rustled up a blown-up version of the winter staple. Of course, André didn't settle for a bog-standard big puffa, instead opting for a far more iconic and dramatic option. Here he is resplendent in a brand new, red, ultra-oversized 'Sleeping Bag Coat', aka the 'Blanket Coat', designed by his friend Norma Kamali, who he describes as "An American genius of fashion". Kamali gave André this amazing pressie in 2016, though she actually first began producing these dramatic coats in 1973. They've remained a cult fave among fashion-forward types ever since.
2018
André is famed for his love of billowing capes and kaftans. Over the years they've been designed for him by Valentino, Ralph Rucci, Karl Lagerfeld and Tom Ford. But this intricately embroidered, gold and red kaftan is truly next level. It was custom-made for him in 2018 by the designer Daniel Day, aka Dapper Dan. Back in the day, Daniel was threatened with lawsuits galore from various luxury fashion houses due to his witty plagiarism of their logos and trademark patterns in his designs. Fast forward to 2018 and Gucci's Creative Director Allesandro Michele and Daniel opened a collaborative atelier in Harlem. Gucci provides the fabrics and Daniel now fashions bespoke pieces for an A-List clientele including Beyoncé, Jay-Z, Salma Hayek and, indeed, the one and only Mr André Leon Talley.