The virtual Black Protest Art Show honors the legacy of Juneteenth
"Black Lives Matter, Black stories matter, the history, culture and places of Black people matter, and they are an intrinsic part of the artwork in this exhibit."
Photo by Muna Malik.
Across the globe today, Black folks are celebrating Juneteenth, amidst the backdrop of widespread protests and the public reckoning of the racist systems that have long oppressed them. The annual holiday commemorates Black liberation, honoring the day the last group of enslaved people in America learned about emancipation (which was purposely kept from enslaved people in Texas for two and a half years). Still, it wasn't until the 13th amendment passed that all enslaved people were considered free, though the amendment has a loophole that allows for unpaid labor via the prison-industrial complex.
Yet freedom is still not a lived reality for Black people in the US, and elsewhere. With this, Juneteenth serves as a reminder of the work that still must be done to decentralize power and reconfigure our society so it is equitable and just for all. It's important to note that white and non-Black people of color should not be celebrating today. Instead, they should continue interrogating their privilege, educating themselves, paying reparations, supporting Black businesses and individuals, centering Black voices and more. It's their job to dismantle white supremacy.
This year Instagram is commemorating Juneteenth with a digital exhibition curated by Rujeko Hockley, assistant curator at the Whitney Museum. The effort is part of the social media app's #ShareBlackStories initiative, which is a year-round storytelling movement that amplifies Black voices. The Virtual Black Protest Art Show is hosted on their main account and Instagram's @design page, featuring art by various Black creatives centered around the Black Lives Matter movement.
"I've always been interested in the ways art and politics intersect -- social history and art history are one in the same," Hockley tells i-D. "They're not in contrast or conflict, but that in fact. Black history is American history and these things are not actually to be bifurcated."
The curator is no stranger to protest art. Before joining the Whitney, she worked for the Brooklyn Museum, co-curating an exhibition there titled, "We Wanted a Revolution: Black Radical Women, 1965–85." At the Whitney, her work has included the co-curation of an exhibition titled "An Incomplete History of Protest: Selections from the Whitney's Collection, 1940–2017" as well as the 2019 Whitney Biennial, which uplifted the of marginalized artists.
When it came to this exhibition, Hockley expresses, "I was interested in including things that were very topical and made in this moment for this moment, as well as things that were a couple of years old, but actually were not made with this moment in mind, but were made with the idea that [Black people] have been moving through the world since forever."
The curator says she is most moved by artists who engage with the world, who create works that are in dialogue with the world they live in -- this includes the past, present and future. "Black Lives Matter and Black stories matter, the history and culture and places of Black people matter, and they are an intrinsic part of the artwork [in this exhibit]."
i-D spoke with some of the artists featured in Instagram's virtual exhibition about the narratives behind their work and what they hope all people take away from Juneteenth this year.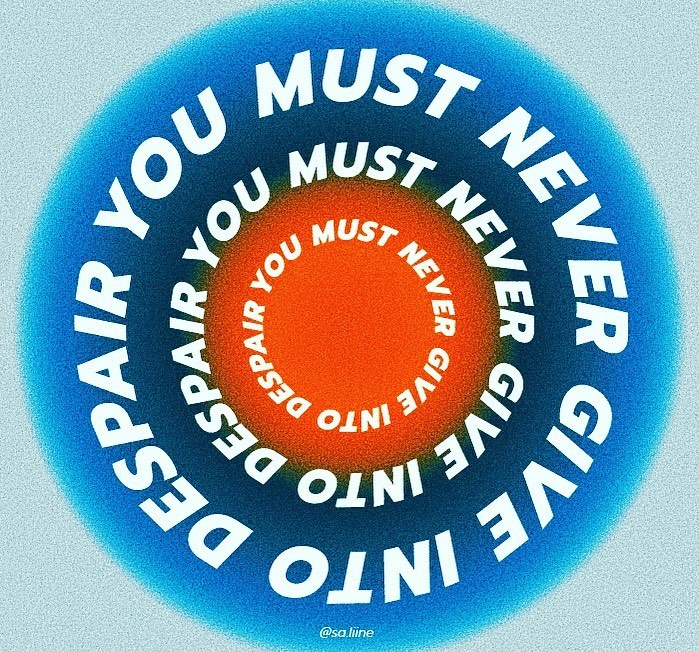 Manassaline Coleman
Illustrator and web designer, Washington DC
What is the story behind your artwork? What inspired you to create it?
I've always loved gradients and wanted to explore it more with my thoughts. All my artwork is a reflection of how I'm feeling. Even down to the virtual protesting 101, I felt very helpless with everything going on. I knew that I was not the only [one] going through those emotions, that was how the idea came about. We talk about segregation in real-world, but forget that the internet is also segregated. I wanted a way to make a change virtually. Virtual Protest helped many people that were not able to leave their house to physically protest. That was the goal.
What do you hope Black and white, non-Black POC viewers take away from seeing your artwork?
I want people to take away a sense of hope. I always repeat to myself "FAITH over fear." That is something I believe in wholeheartedly. Though there is a lot going on I want everyone to remember that we are a collective force, with faith in a better and brighter future we will get through all of this.
How does it feel to be part of this important initiative?
This is not an initiative. This is my life. It's my duty to share and use my voice as a Black woman. I am so grateful to be able to share my art and thoughts with others. I want to be a positive force during this time. I use bright colors for a reason, these colors evoke action. Action to make positive change.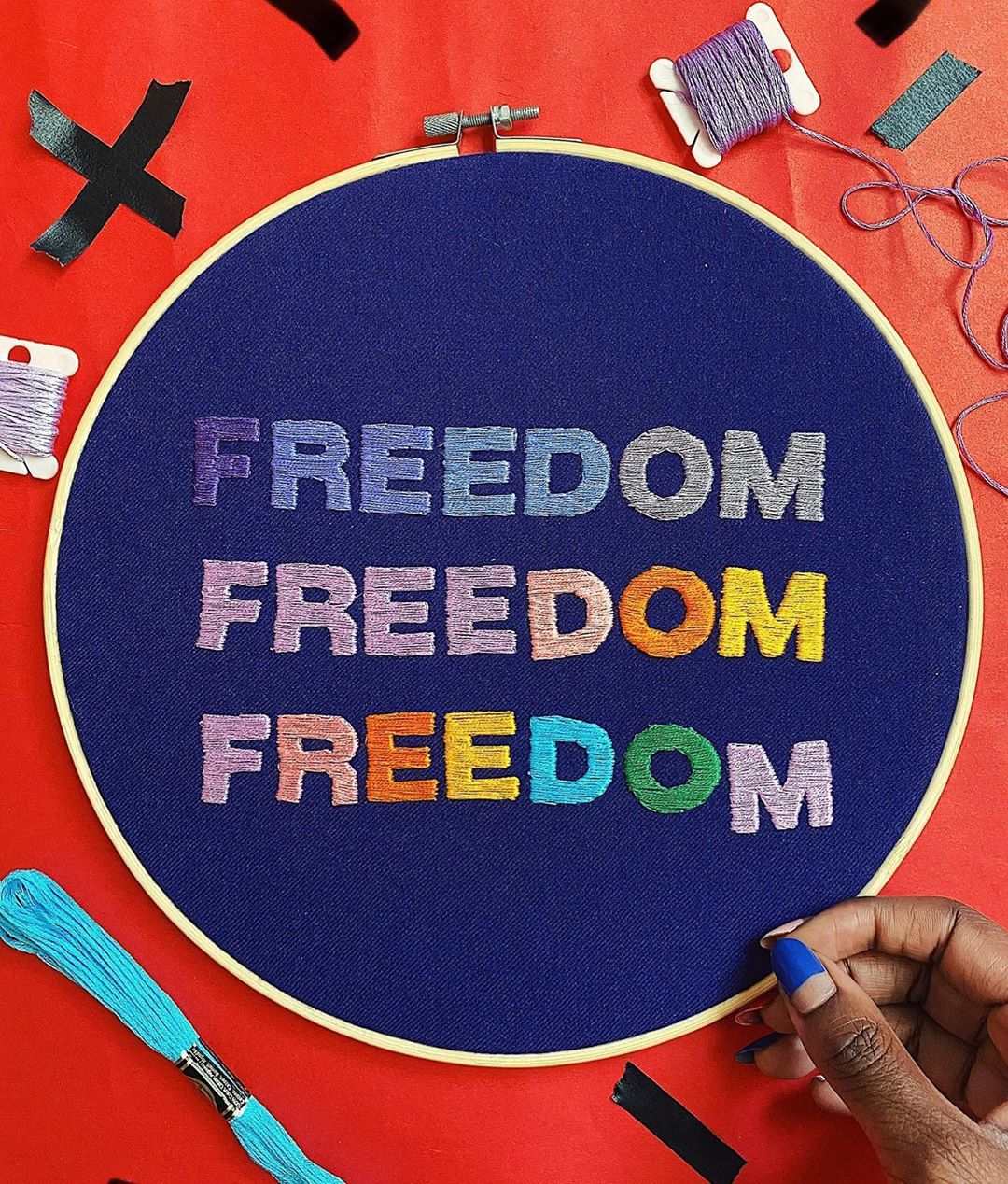 Ciara LeRoy
Artist and designer, Lexington, KY
What is the story behind your artwork? What inspired you to create it?
The "Freedom" embroidery piece was inspired by a song by my friend and Nashville musician, Jess Nolan. The song is about shame, and how relentless it can be. Toward the end of the song, she sings the word "freedom" over and over again. I resonated with this meditative chant of freedom, as a woman and as a Black person in America.
I feel shame as both of these things -- being Black and a woman. Both of these qualities sometimes make it hard to simply walk around in peace. I made the "Freedom" piece as a meditation and as an intentional practice of hope. Hope that Black people, women and all marginalized groups experience wild freedom soon -- the type of freedom that allows us to be unencumbered by shame and fear.
What do you hope Black and white, non-Black POC viewers take away from seeing your artwork?
For Black and marginalized folks, I hope it is a reminder to keep pursuing freedom, to keep advocating for ourselves, and to not settle for the small taste of "freedom" the world tries to get us to accept as sufficient.
For white folks, I want this piece to be a reminder of the role they may play in suppressing the freedom of other people -- and sometimes that is simply not speaking up when you see injustice on any level. I hope this is a reminder to make advocating for freedom a daily, intentional practice.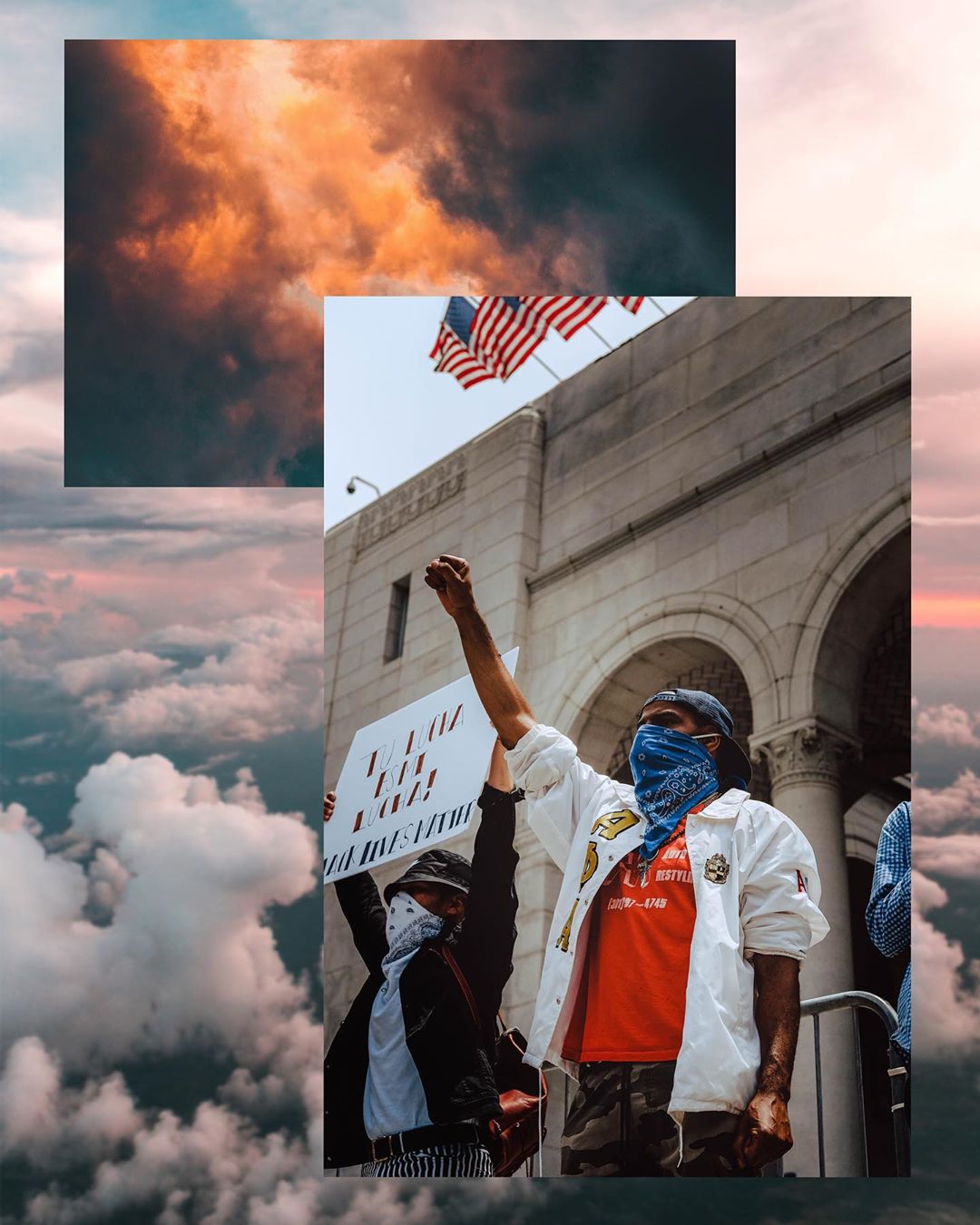 Muna Malik
Photographer, LA
What is the story behind your artwork? What inspired you to create it?
All of my work acts as a visual metaphor for the Black or immigrant experience in America. The strength and solidarity of our Black community, especially now, is beautiful. But the conditions under which that community has formed evoke a brutal reality that the lived Black experience is one of struggle. This work is inspired by frustrations felt by myself and my peers that have always been so hard to describe. I wanted to capture moments in the spirit of what spoke to me as a kid. Movements of generations past -- expressions from people like Gordon Parks, who used his camera as both an escape and an everlasting window into history -- are the fuels to my flame.
The vivid but arid desert; the strong but frigid mountain; and the sky open and free but without solid footing. These images are meant to evoke feelings of awe with an underlying sense of the struggle required to live under these conditions. Black communities exist in these precarious states. An economic desert in the middle of a wealthy city, strong but left stranded and exposed to the elements, or told that they are free and can achieve the American Dream but without the foundation of generational wealth or the same social contract between the government and its other citizens.
What do you hope Black and white, non-Black POC viewers take away from seeing your artwork?
I want what they see to resonate with their own identity. I want them to see themselves in this history or see their place alongside it. Their unconscious contribution. How people react to my art is an individual experience, but I want and hope that my art resonates with individuals by evoking feelings felt across the Black community. Some of the most powerful works of art are those that take a feeling or thought that may seem singular to an individual, but makes them realize that they are not alone or others have felt or thought that same way.
Inevitably, I hope my art expresses a part of the Black experience in America to individuals outside our community. Non-Black POC may resonate with my art as they see their own struggles, or variations of our struggles in themselves or their own community. Or, at the very least, can relate to the pain and frustrations marginalized communities feel.
How does it feel to be part of this important initiative?
To be recognized and amplified by so many powerful outlets, is truly an honor, but it would be remiss of me to say that I feel any version of 'well' or even 'normal' right now. The passion and perspective in my work comes from a place of pain and anger (or sadness), and while I'm optimistic about my work now having a better chance to touch more people, and spark more conversation, it's clear that real systemic change and thus any real relief, is still a dream I must continue to fight for. My questions to brands and organizations looking to step up is, what are you actually doing internally and in the communities around you?
Check out the work of all of the incredible artists featured in the Virtual Black Protest Art Show on @instagram and @design.
VICE Media Group is celebrating Juneteenth, the day all enslaved Black Americans were emancipated in the U.S., by highlighting stories important to the diaspora across VICE, i-D, Garage, and Refinery 29. Tune in to VICE TV for a full day of television honoring Black voices.