Stylish friends on the timelessness of Clarks Original Desert Boot
The iconic footwear has been a wardrobe staple for 70 years.
|
14 September 2020, 8:28pm
"I used to collect Clarks back in high school. I would get the red ones that nobody could find", says photographer Travis Gumbs. "There are generations of people who have been wearing them." Evidently, there are few shoes as iconic as Clarks Desert Boot. For generations, the versatile boot has been worn by stylish men, from the mods in England and beatniks in New York to rude boys in Jamaica. Now, i-D presents three pairs of friends from around the world and how they style their Desert Boots.
Introduced in 1950 by Nathan Clark, the chukkas were inspired by military gear Clark studied while serving in Britain's Royal Army Service Corps during World War II. He later unveiled his design, which featured a smooth suede upper and lightweight crepe sole, at the Chicago Shoe Fair exhibition, where men were eager to get their hands (and, errm, feet) on something new.
The Desert Boot was a fresh take on men's footwear that was quickly embraced around the world. Today, the timeless silhouette remains an essential menswear staple, with new subcultures and stylish men continuing to find ways to incorporate the boot into their own personal wardrobes.
To celebrate the 70th anniversary of Clarks Desert Boots, i-D interviewed friends Leonel and Michael, Travis and Lawrence, and Taji and CoolR about their style inspirations and their longtime love of Clarks.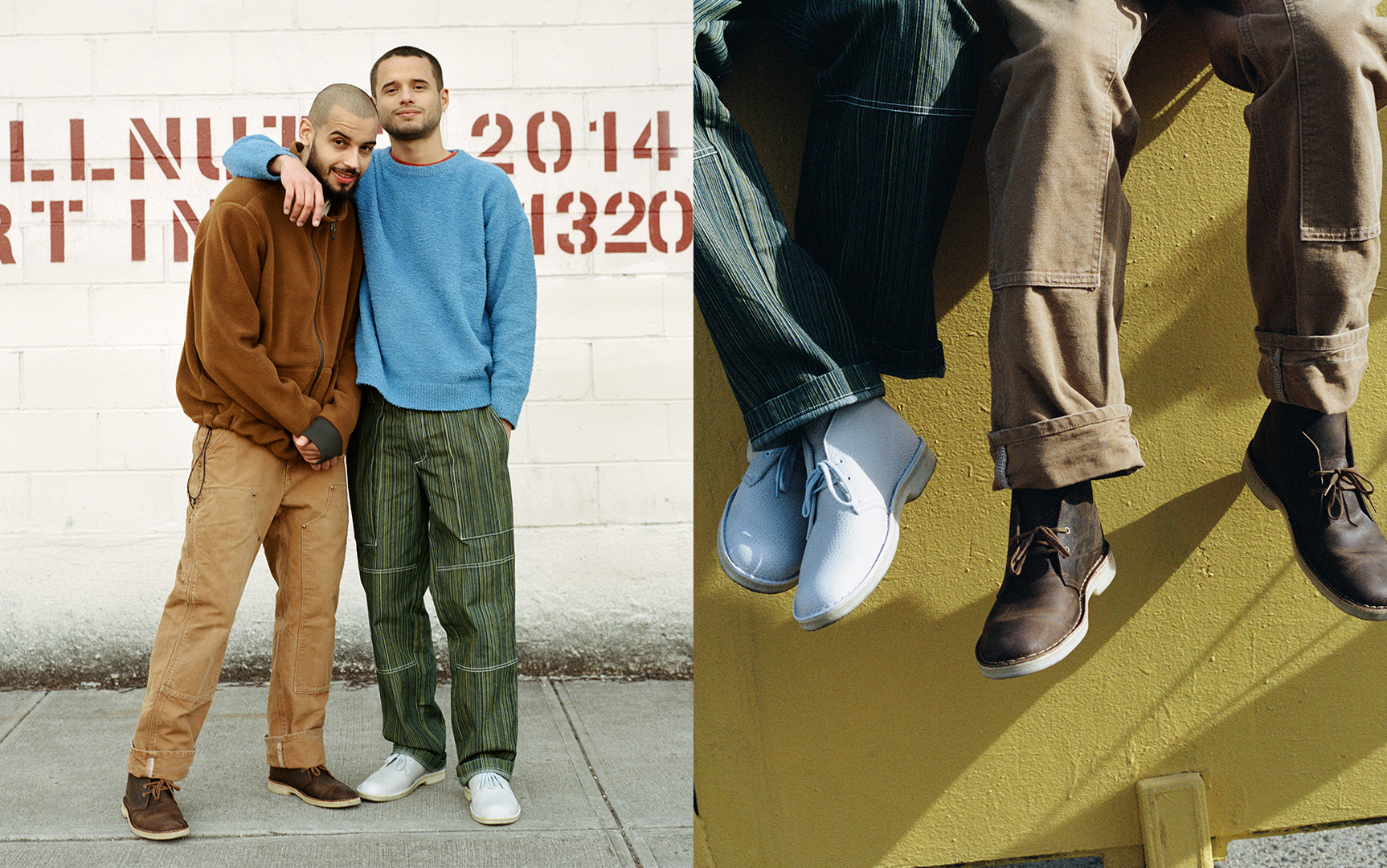 Leonel Salguero and Michael Elijah Rodriguez
Michael Elijah Rodriguez is a New York City-based creative. Leonel Salguero is a Mexico City-based artist.
How did you two meet?
Leonel: We met in Mexico City at a party, but it was through skating that we started hanging out.
Michael: I was studying in Mexico at the time and I had no friends. Leonel was nice enough to say, "if you ever want to hangout hit me up."
How would you describe your style?
L: My priority is comfort. I like an accent that's wacky or colorful.
M: When I get dressed I think about functionality. I am always on the go, so everything is utilitarian. With skating, my whole style and my confidence comes from what I am wearing. So, it has to be comfortable.
How has the past inspired your style?
M: I always go back to what I wore as a kid, how my grandmother would dress me. I've always liked 90s style. I like wearing baggy clothes. I also like to incorporate a futuristic aspect.
L: I make a lot of my own clothes, so I find inspiration at the fabric stores in downtown Mexico City. I'm also inspired by the 90s because I grew up in the 90s, but also the 70s.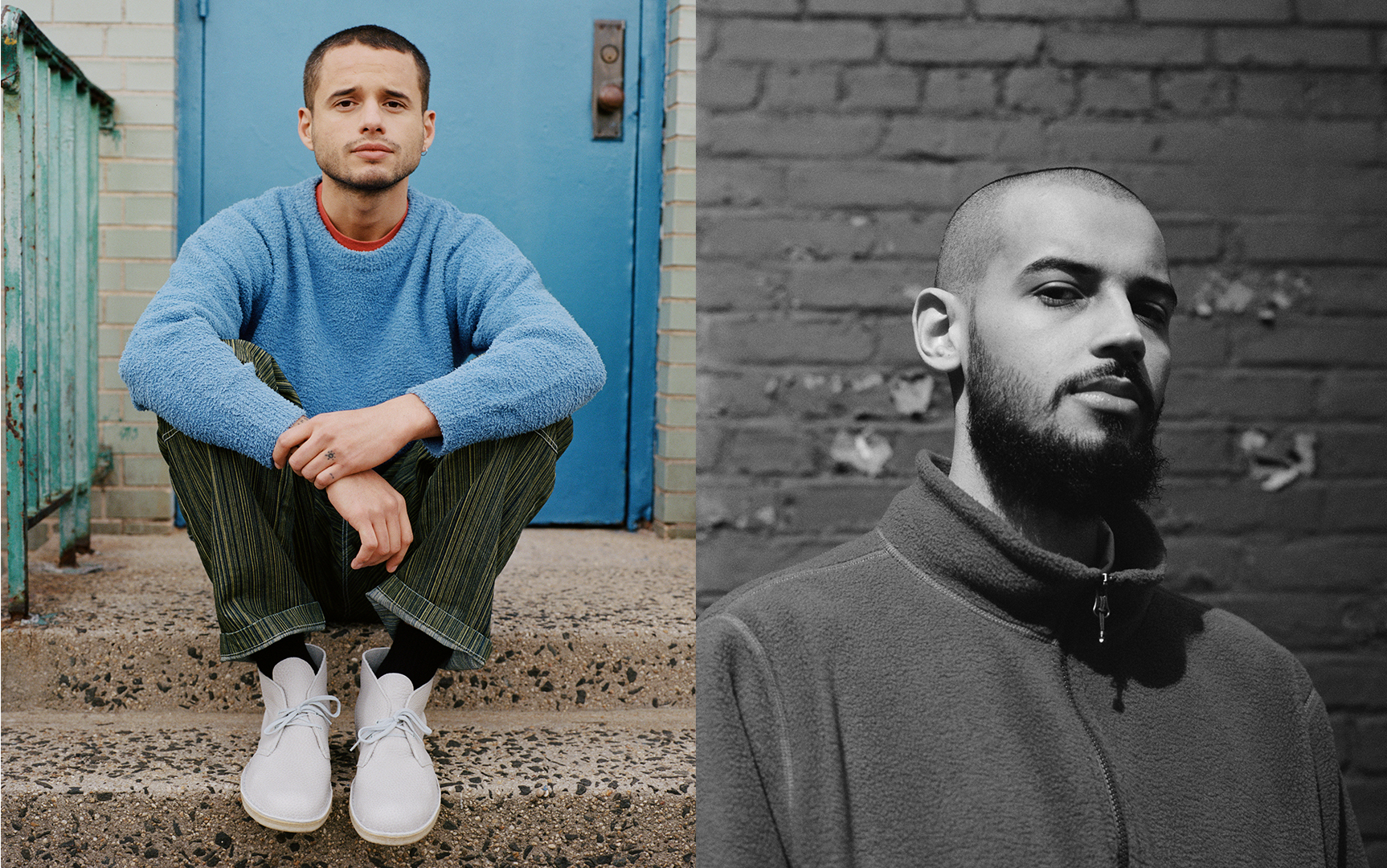 What's a staple in your wardrobe you feel never goes out of style?
L: My light denim jean jacket. I've had it for years, it's falling apart. I actually had Desert Boots when I was in school ten years ago and I would wear them all the time. The durability really makes them timeless simplicity, and versatility are what keep me reaching for them.
M: Clarks boots are almost too uniquely timeless. I had a pair from England that my grandpa would take and wear, because they were nostalgic for him.
How do you evolve your personal style, while keeping a timeless look?
L: I think shapes change for me. Sometimes I go for more fitted stuff, sometimes I choose more baggy stuff.
M: I think everything is super techy lately, so I try to work that into my functional wardrobe.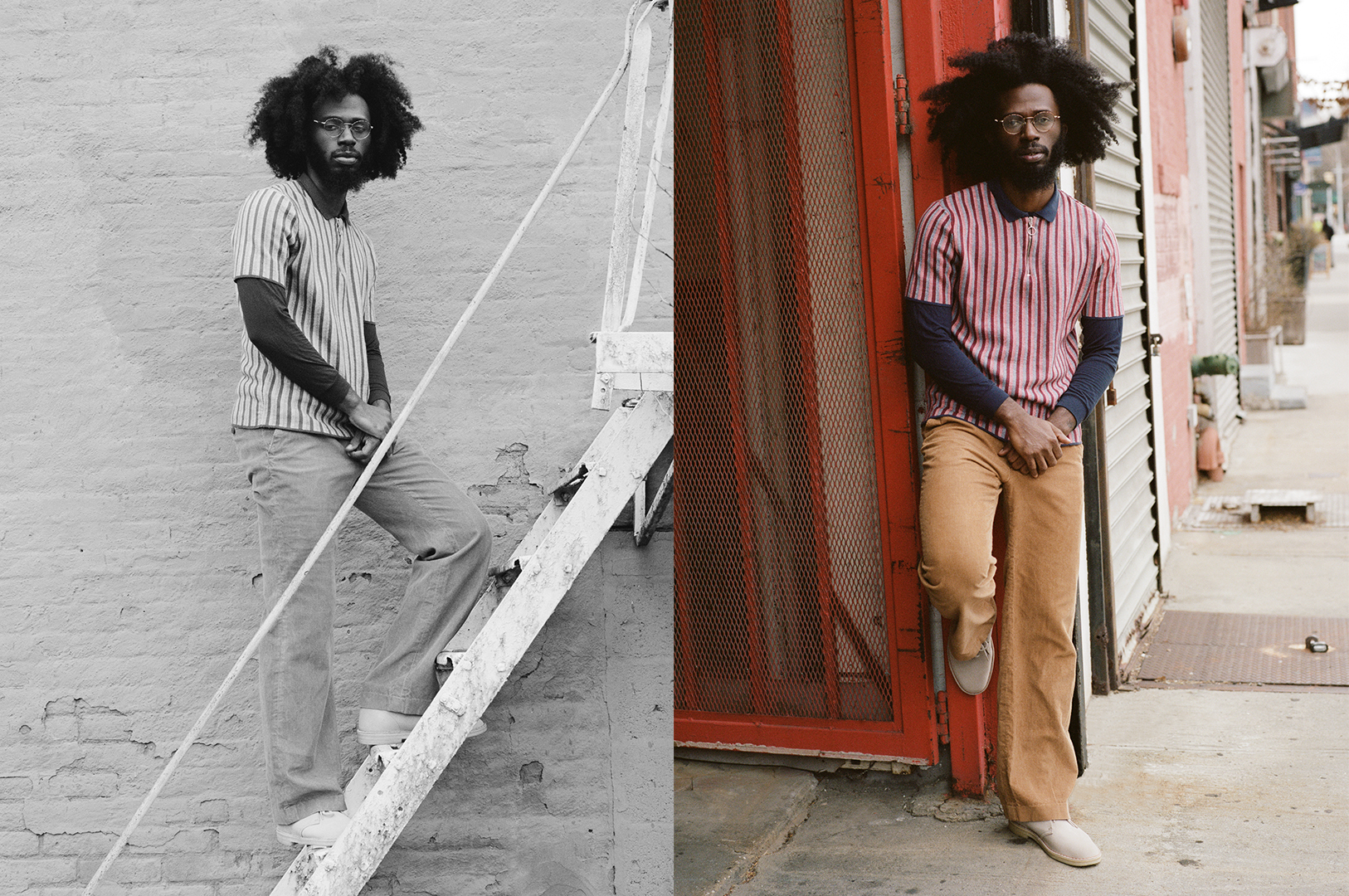 Travis Gumbs and Lawrence Burney
Travis Gumbs is a Mexico City-based storyteller, visual artist, and co-founder of the creative studio Maroon World. Lawrence Burney is a Brooklyn and Baltimore-based storyteller, editor, and founder of the media platform True Laurels.
How did you two meet?
Travis: We met at the Art Book Fair where we were both exhibiting. Obviously, we do similar things in different realms, so I really admired what he does.
Lawrence: I was already a fan of his work, but I didn't know him personally until that day.
How would you describe your style?
T: I would say my style is consistent. I know what I like. I pull from my West Indian culture and I like it to be classic, I like it to fit well and look good.
L: I would say my style changes every few years, it's become more refined over time. I pull from a couple different influences. I am not West Indian, but I have a lot of West Indians in my family, so growing up I was influenced by the Trinis in my family and the Jamaicans. I would peep how they would put things together. Another part is Baltimore style, like the gold teeth or having braids or locs. I feel like I mix different parts of me and make it make sense.
How has the past inspired your style?
T: I've been wearing Clarks since I was a teenager. It's one of the shoes that has stood the test of time within my style. It's a shoe that goes with everything I wear.
L: In my house we would also listen to a lot of old reggae from the 70s and the 80s. I like the fit of clothes at that time, a lot of West Indian style in the 70s is soccer jerseys and nice fitting pants and Clarks. Like Travis said, I have been wearing Clarks since I was a little kid. Clarks are just always clean, you can't go wrong with them. You can have a preppy look and they look cool or you can go the streetwear route and look cool.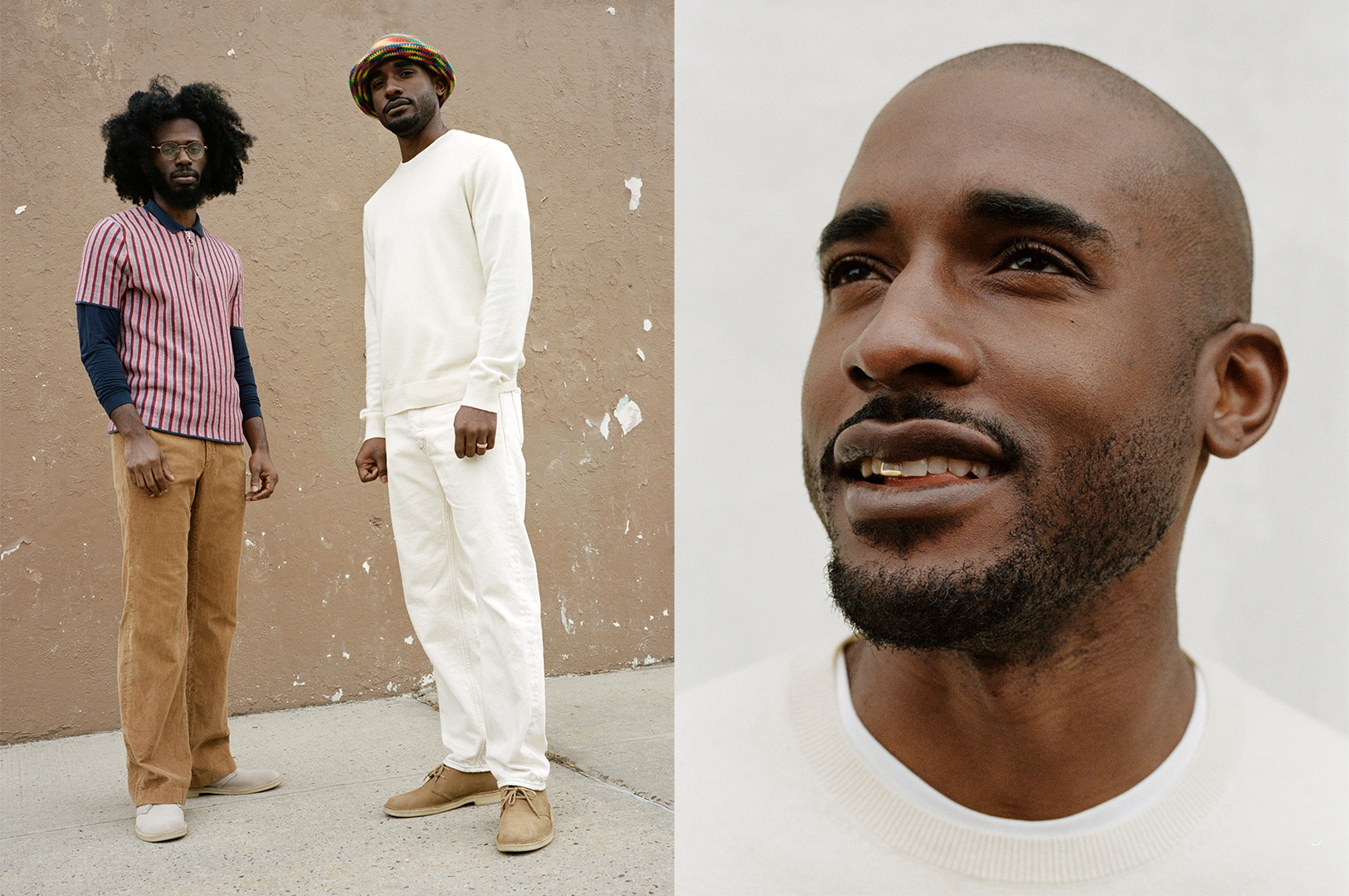 How do you inspire each other's style?
T: Black culture in general, you pull so much from each other without realizing it. Black culture around the world has a similar strand. When I look at style in Baltimore, I realize how similar it is to St. Kitts, the small island where I am from. That's a testament to how strong our culture is, no matter where you are.
L: I think you can subconsciously be inspired by your friends. You don't have to take it the same way they do, but you can interpret it in your own way. You mix and match from different places.
What's a staple in your wardrobe you feel never goes out of style?
T: I used to collect Clarks back in high school. I would get the red ones that nobody could find. I have a lot of pairs right now. There are generations of people who have been wearing them.
L: That's the cool thing about having a staple shoe. With Clarks, all walks of life wear them differently and for different reasons. You look at some dancehall videos and a dude is wearing cutoff shorts and Clarks. You just see it in so many ways, which just shows how versatile it is.
Taji Ameen and CoolR
CoolR is a New York City-based audio engineer and artist. Taji Ameen is a New York City-based producer and host at VICE media.
How did you two meet?
CoolR: We grew up in the same neighborhood, then years later we were both working on the set of a short film and we reconnected.
Taji: We had hung out a few times as kids, but we weren't super close until we were adults.
How would you describe your personal style?
C: I try to stay fresh. I feel like I have an expensive looking taste. It's sleek and sharp.
T: My clothing is a bit more functional, almost tactical. It's a less luxe approach. I will sometimes zero in on little things to make it unique and add flair, like camo or some neon green.
Where do you look for inspiration?
C: There's inspiration all around because it's New York City. I feel like I don't have to look too far, it usually comes to me. I am always open to new things.
T: I liked Lil Peep's style, he was super fashionable and walked on runways. I feel like he borrowed from the skate scene and would incorporate old skate brands like World Industries and Zero. I'm a fan of bringing classics back like that.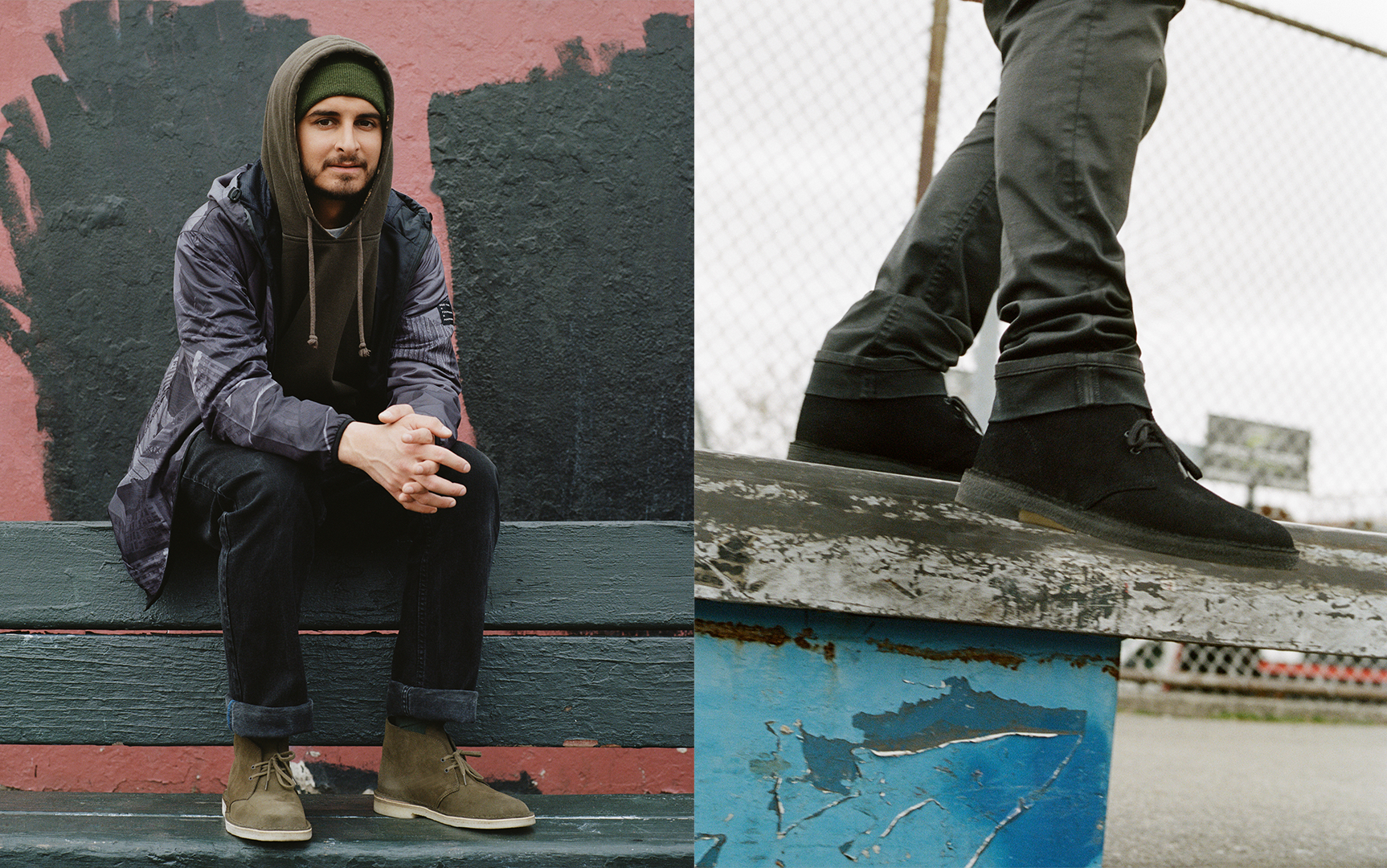 What's a staple in your wardrobe you feel never goes out of style?
C: Black denim, simple things, a black hoodie.
T: I like a classic look. I will always be a fan of workwear, with a little bit of a punk and skater vibe.
How do you feel Desert Boots fit into your look?
C: If I like a new look, I will go for it. But the Desert Boot has been around a long time and even with what I had on today it looked perfect. Even if I was styled in something else more futuristic, it would look perfect. They have stood the test of time.
T: Comfort and durability are something that will always resonate with me. This boot is comfortable and you can wear it in different situations. I am a practical fashion person and I feel like that will be a part of my style forever. The boots give me that vibe.
Tagged: