Photo by Tim Whitby/Getty Images, Tibrina Hobson/WireImage, ANGELA WEISS/AFP via Getty Images and MediaPunch/Bauer-Griffin/GC Images
A guide to Charli XCX's style evolution
The avant-popstar's ever-evolving style has taken in Tumblr's soft grunge, Paris Hilton cosplay and 2020's Y2K revival.
Photo by Tim Whitby/Getty Images, Tibrina Hobson/WireImage, ANGELA WEISS/AFP via Getty Images and MediaPunch/Bauer-Griffin/GC Images
Nobody has moved the needle of modern pop music quite like Charli XCX. Since coming up in London's rave scene in the early 2010s, the star has spearheaded the decade's emergent pop sounds, from True Romance's twinkling dark wave to Vroom Vroom's glitchy hyperpop and the eclectic avant-pop opuses Pop 2 and Charli. Alongside her sound, Charli's style has evolved over the course of the last decade.
Sucker saw her sport Cher Horowitz and Paris Hilton cosplay: bratty, bubbly looks to match the album's punk-inspired production. The simple T-shirts and undies of How I'm Feeling Now matched the album's introspective, home-bound vibe. As Charli enters her "hot girl" era with the highly-anticipated release of Crash, we take a look back at her style evolution from True Romance through to today. It's Charli, baby!
At the NME Awards, 2013
With the release of her dark wave debut True Romance in 2013, Charli XCX became Tumblr's de facto "soft grunge" icon, alongside the likes of Sky Ferreira and Lana Del Rey. The fledgling pop superstar embodies the platform's goth aesthetic in plaid mini-kilts, cropped graphic tees, fishnet tights, smudged makeup, cat eye sunglasses and leather jackets. Here, she wears one of the era's quintessential looks right down to the mega platform sneakers.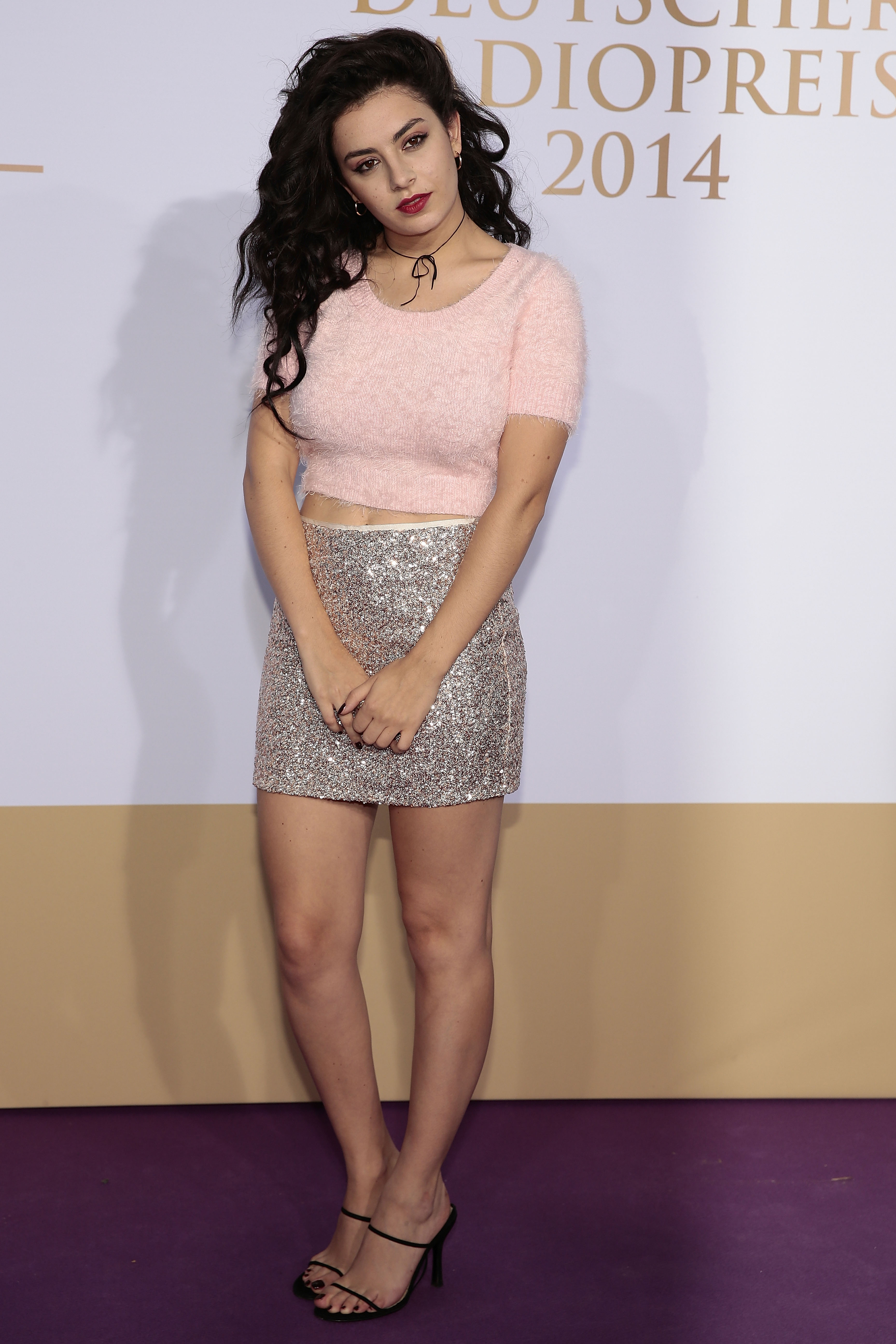 At Deutscher Radiopreis, 2014
Inspired by the Ramones and 60s yé-yé, Charli's 2014 album, Sucker, had a bubbly, bratty sound and the artist had the clothes to match. On and off stage, the star wore Marabou-trimmed robes, teensy cami dresses, tartan miniskirts and glitzy skirt sets (all looks pulled, perhaps, from the Clueless-inspired "Fancy" video), alongside tulle prom dresses, Lolita-esque sunglasses, Moschino "Barbie" looks and, of course, her Sucker cheerleader uniform.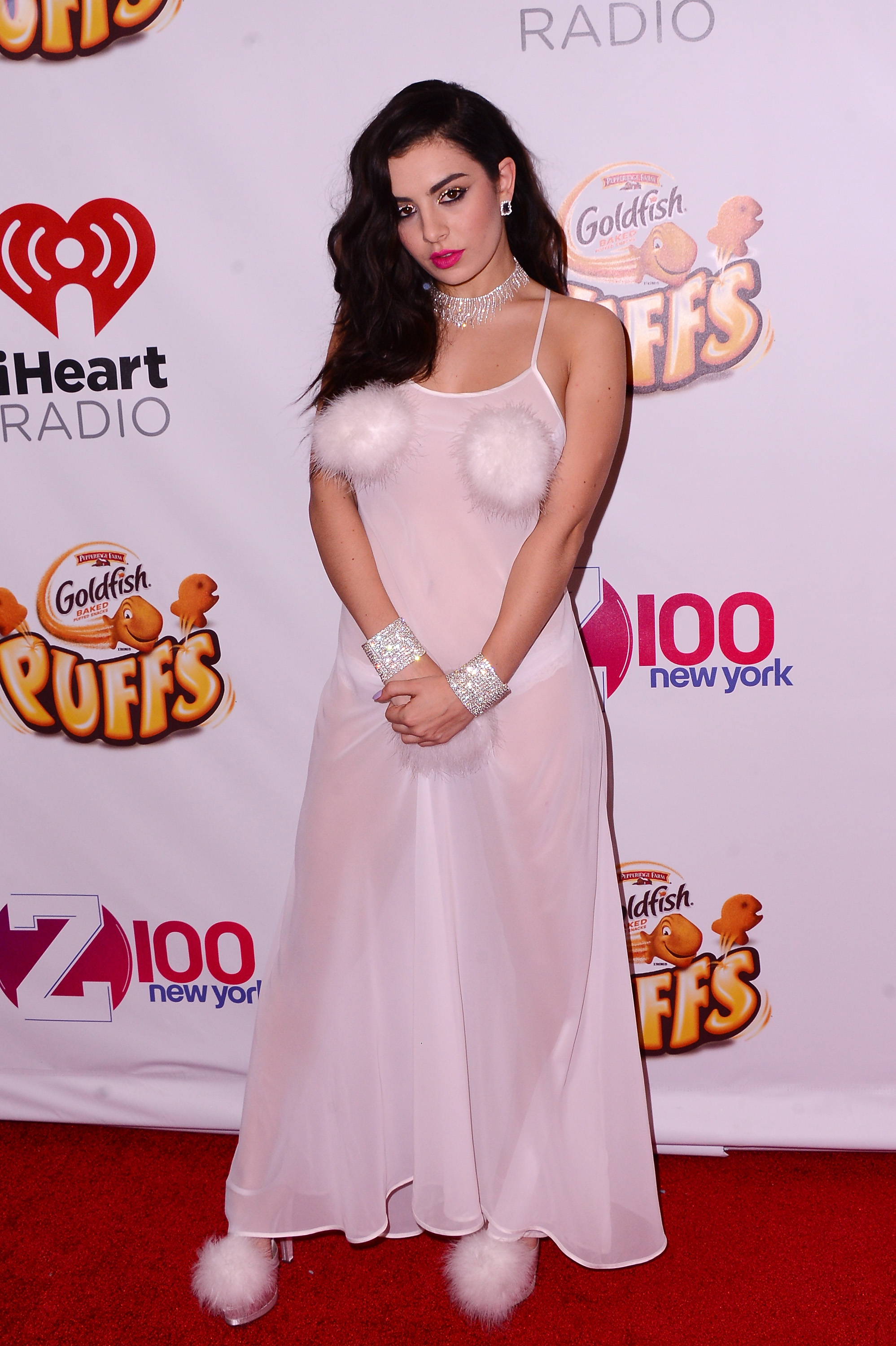 At the Jingle Ball, 2014
The year following her Sucker release, Charli doubled down on her new hyper-girlish look with a series of increasingly campy event outfits and stage costumes. Metallic jumpsuits, lamé dresses, red carpet chihuahuas and denim hotpants harkened to avant-feminine icons like Barbarella, Pamela Anderson, Paris Hilton and Dolly Parton. To the 2014 Jingle Ball, she wore a marabou-breasted chiffon gown that nodded to Austin Powers' Fembots (who would later inspire one of Pop 2's smoothest tracks). And to the 2015 Grammys, she wore a satin white suit with fur stole: a ditzy, glitzy Marlene Dietrich.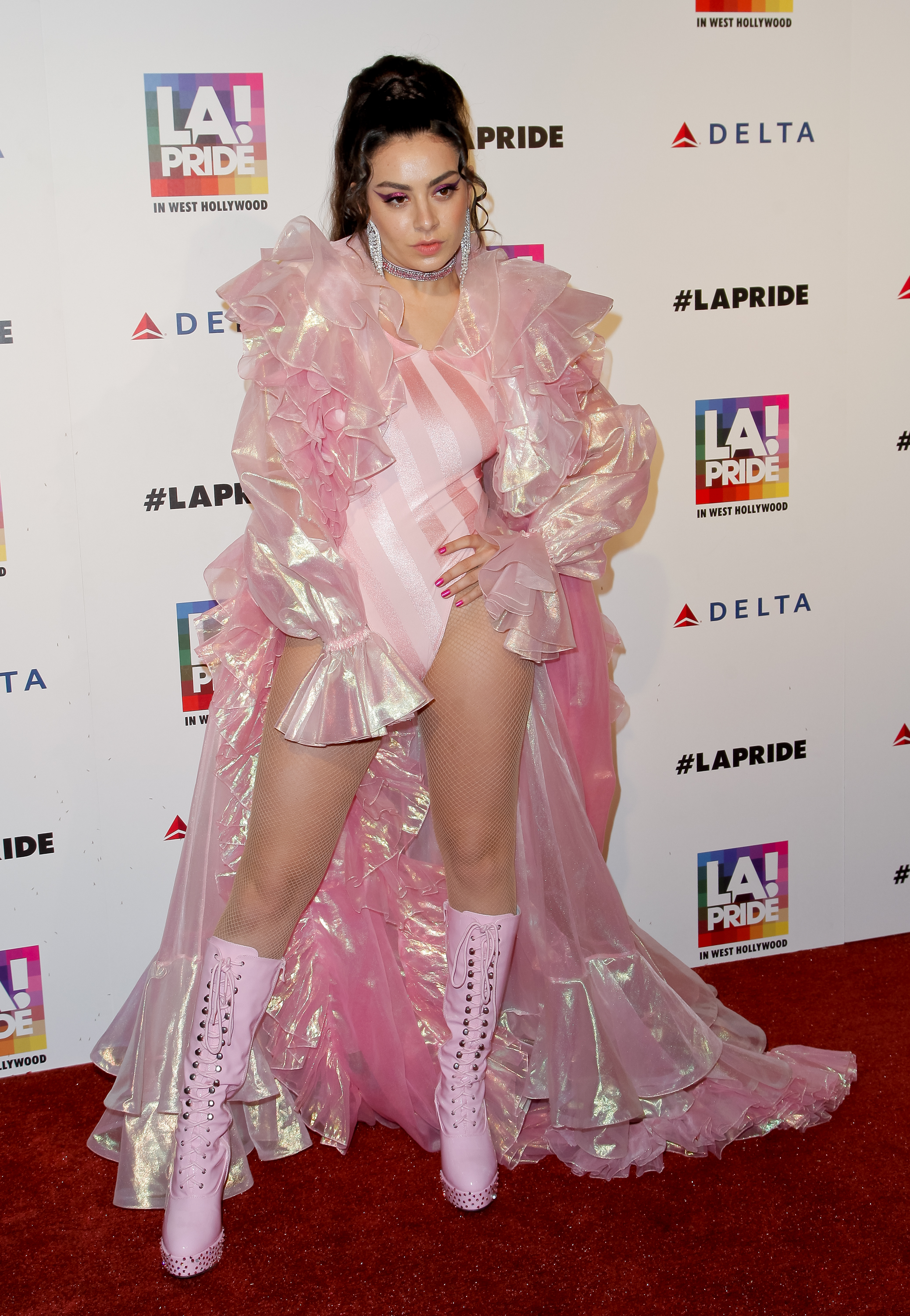 At the LA Pride Music Festival and Parade, 2016
In 2016, Charli picked up the aforementioned Barbarella look and ran with it. From LA Pride to the MTV EMAs, the singer looked every bit the retro space siren in sequinned flares, vinyl minidresses, sci-fi bikinis, galaxy prints and metallic fabrics galore.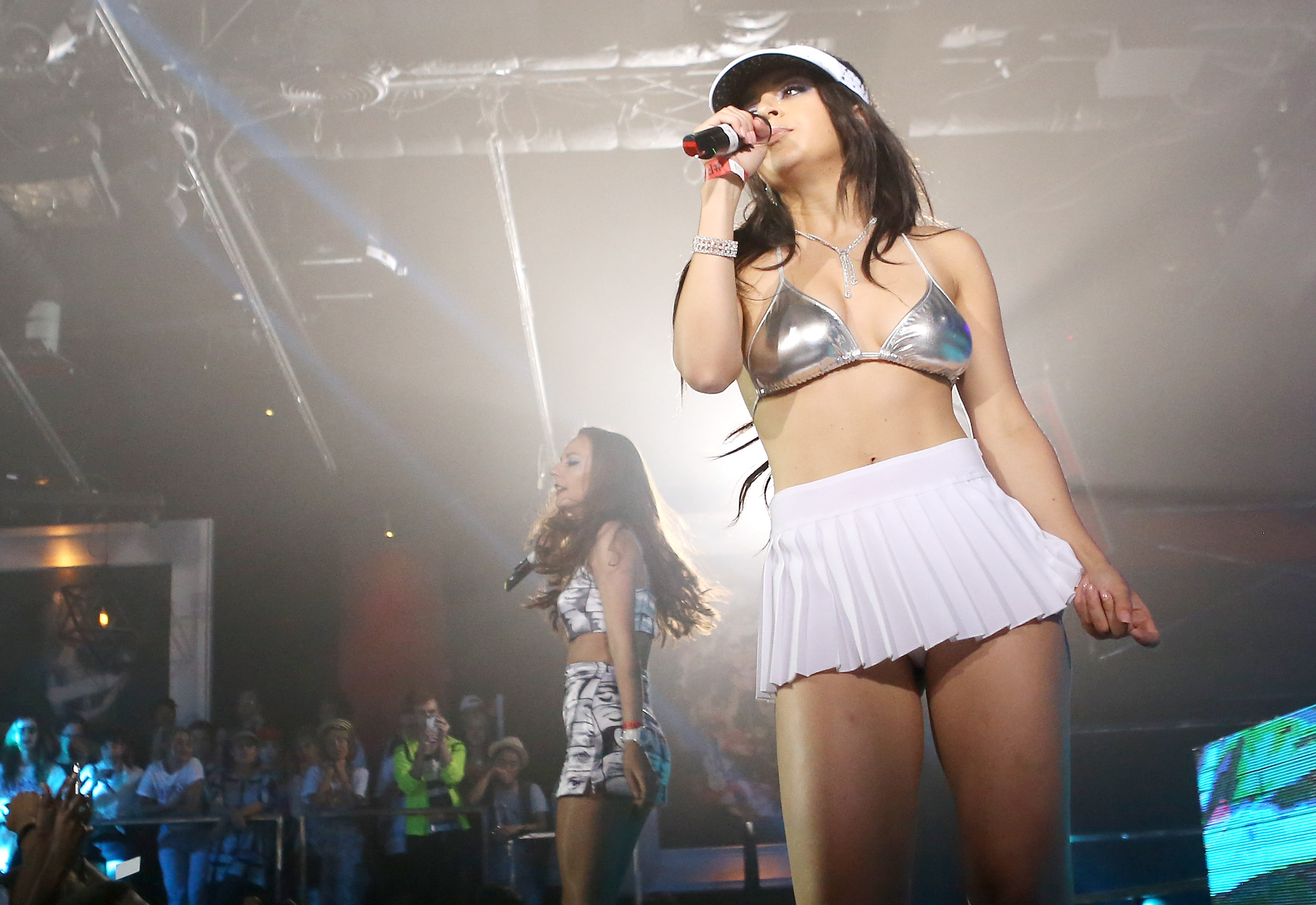 At Pop City, 2016
Late 2016 to early 2017 was Charli's tennissance era. It all sprung from the music video for 2016 single "After the Afterparty", in which the singer wore a red tennis skirt and visor with a matching bikini top. The look quickly became Charli's on-stage go-to, with the star wearing variations to PC Music's Pop City concert (a silver lamé triangle top), a concert in LA (a patterned mesh shorts set) and Hangout Festival (a graphic hotpants set).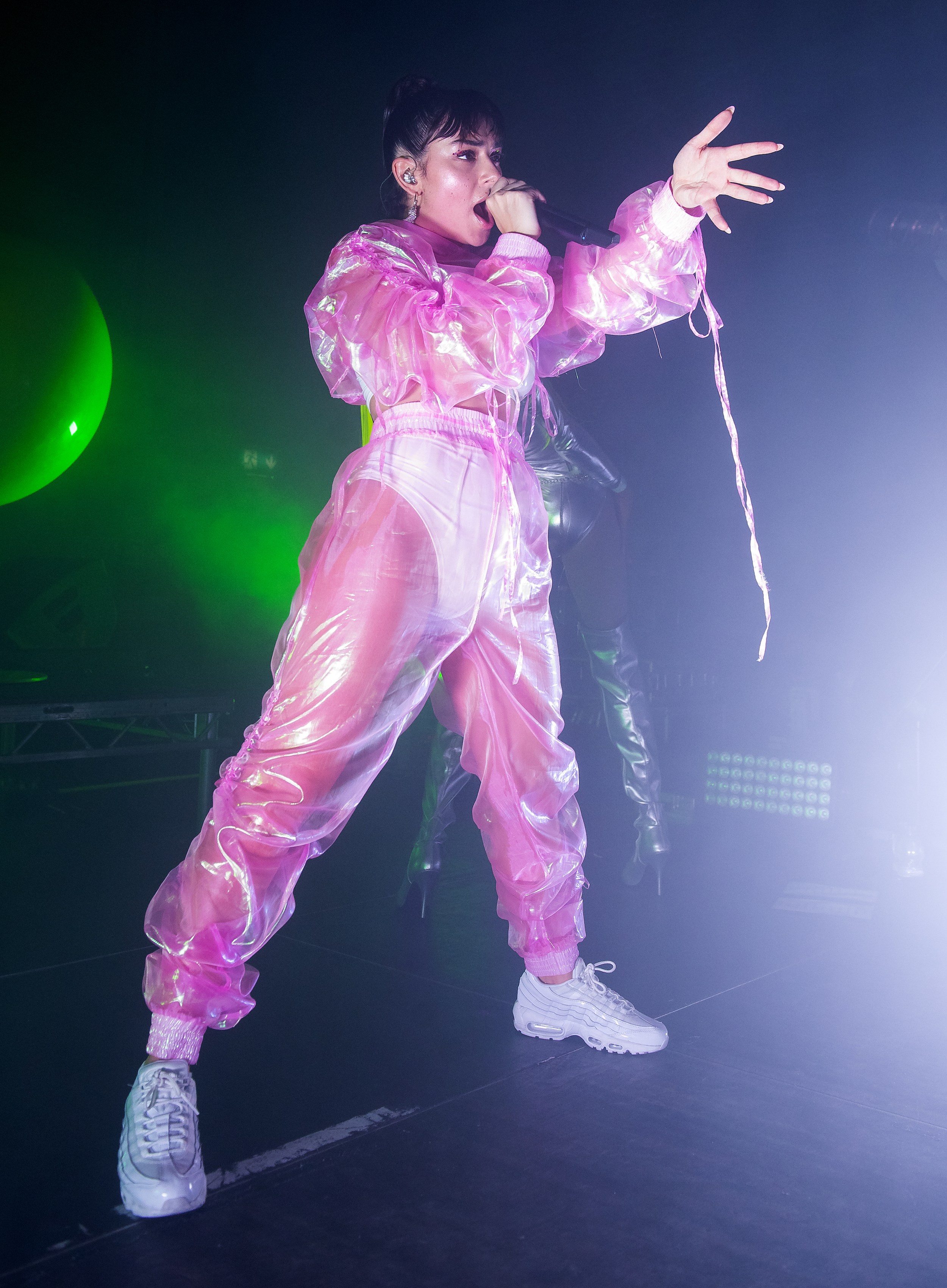 At her 'Pop 2' concert in London, 2018
During her 2018 tour schedule, Charli revisited her health goth roots, this time with a bright new palette. Eschewing the achromatic look of the past, the singer wore Nike sports bras, diamante chokers, iridescent anoraks, taffeta tracksuits and loads of vinyl all in kaleidoscope tones of pink, purple and pastel blue. Her Pop 2 show at London's Village Underground — during which she was joined on stage by the likes of SOPHIE, Rina Sawayama and Tommy Cash — saw her fully lean into this aesthetic.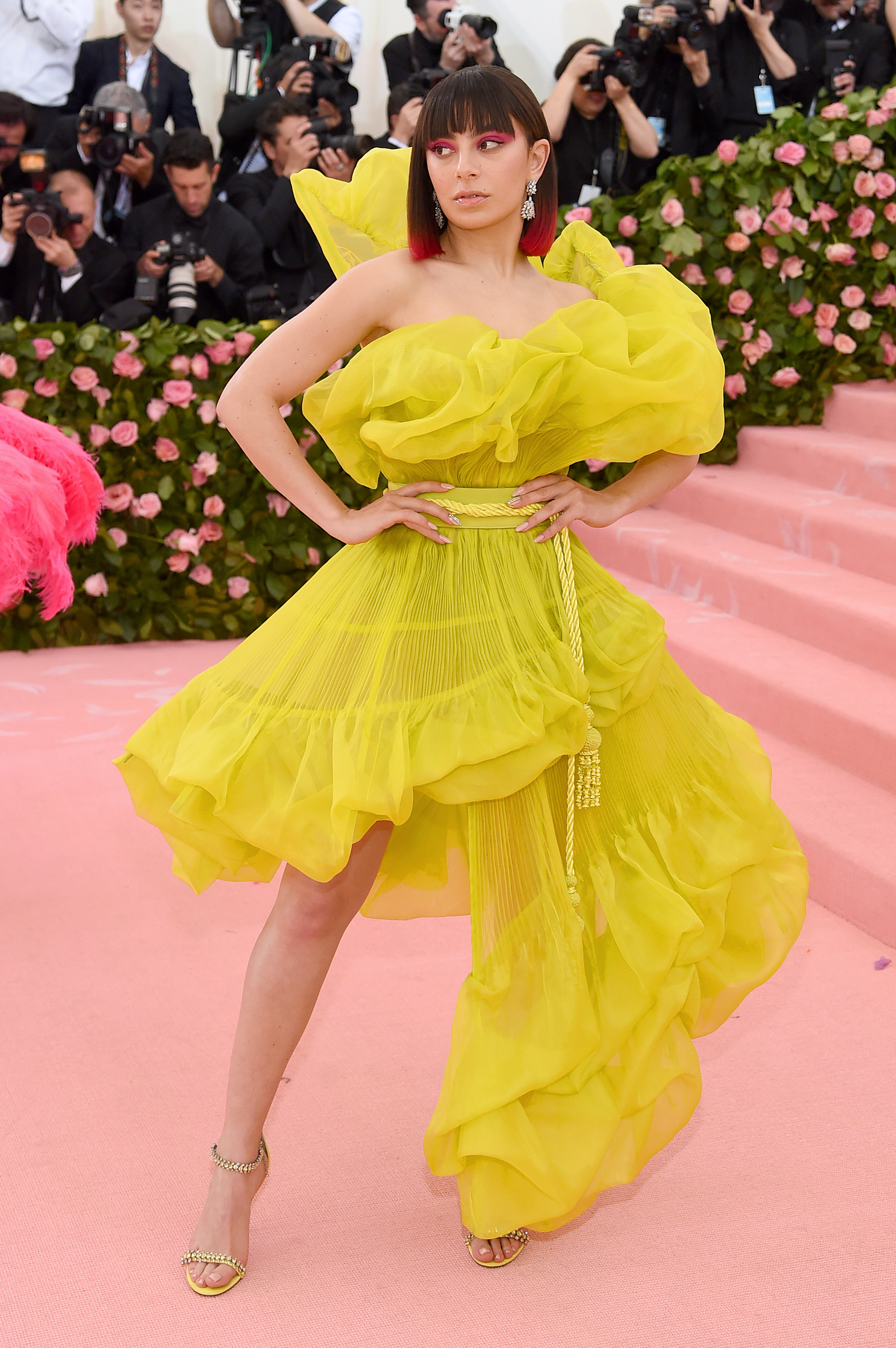 At the Met Gala, 2018
Off the stage, Charli brought an ethereal and colourful new look to the red carpet, donning a chartreuse chiffon Gaultier gown to the 2018 Met Gala.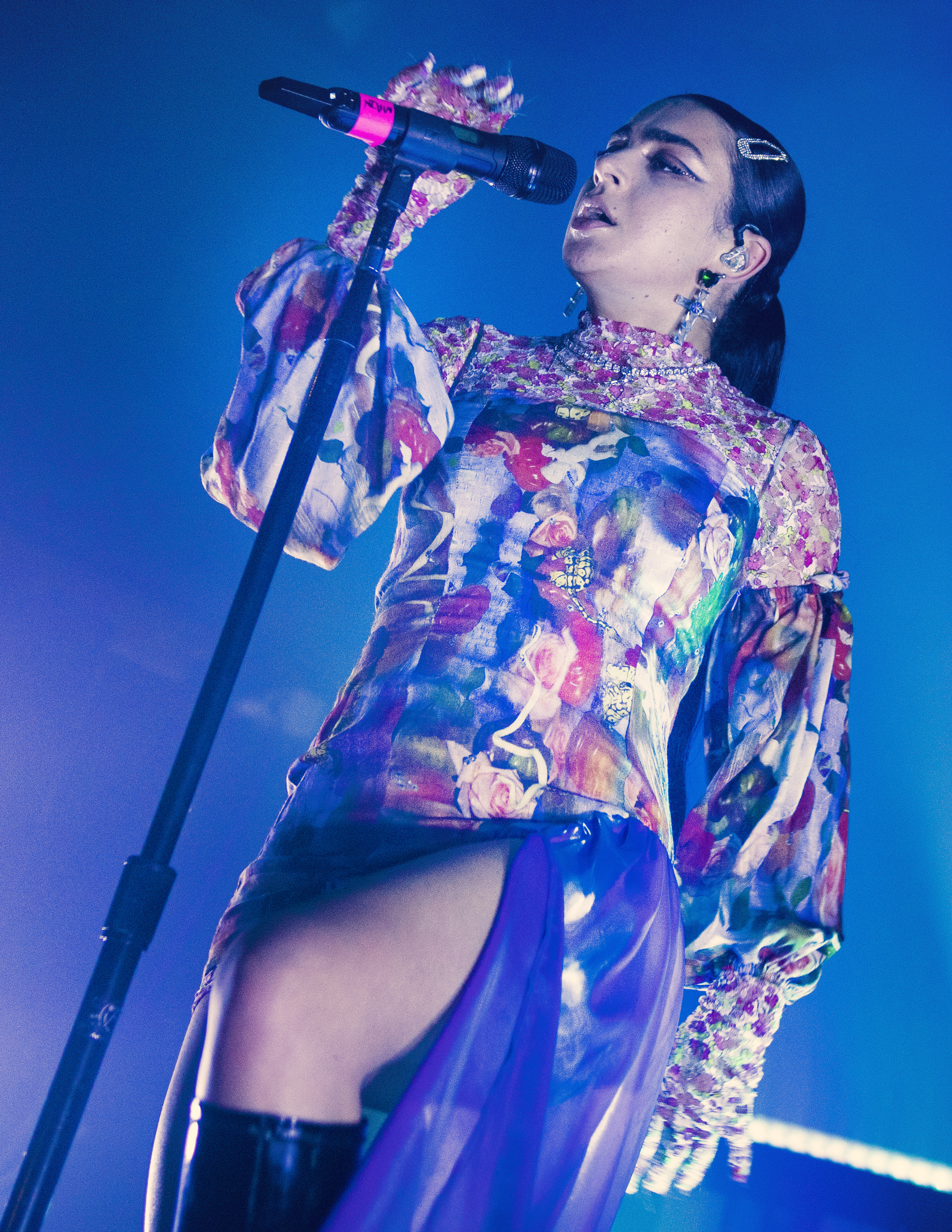 In concert, 2019
The Charli Live Tour — in support of Charli's expansive and explosive self-titled LP — showcased some of the singer's most eclectic looks yet: an amalgam of all of Charli's sartorial predilections and varied influences. We're talking peasant sleeve blouses (that harkened to her brief fling with Jacquemus' provincial fashions), leather harnesses (that spoke to her enduring love of soft grunge), mesh bike shorts and sports bras (health goth), and taffeta chaps (a hint of early-2010s GHE20G0TH1K).
The 'How I'm Feeling Now' cover shoot, 2020
Charli was 2020's quarantine queen in that, at the start of the pandemic, the singer challenged herself to write and release an entire album in the space of a month. The result was the exuberant and nostalgic How I'm Feeling Now. On the album cover, Charli wears the quintessential quarantine outfit, a simple white singlet and pair of pants. Throughout the recording of the album — and the rest of 2020 — Charli donned similar infits: baby tees, sweatshirts, hoodies and an assortment of comfy jersey separates.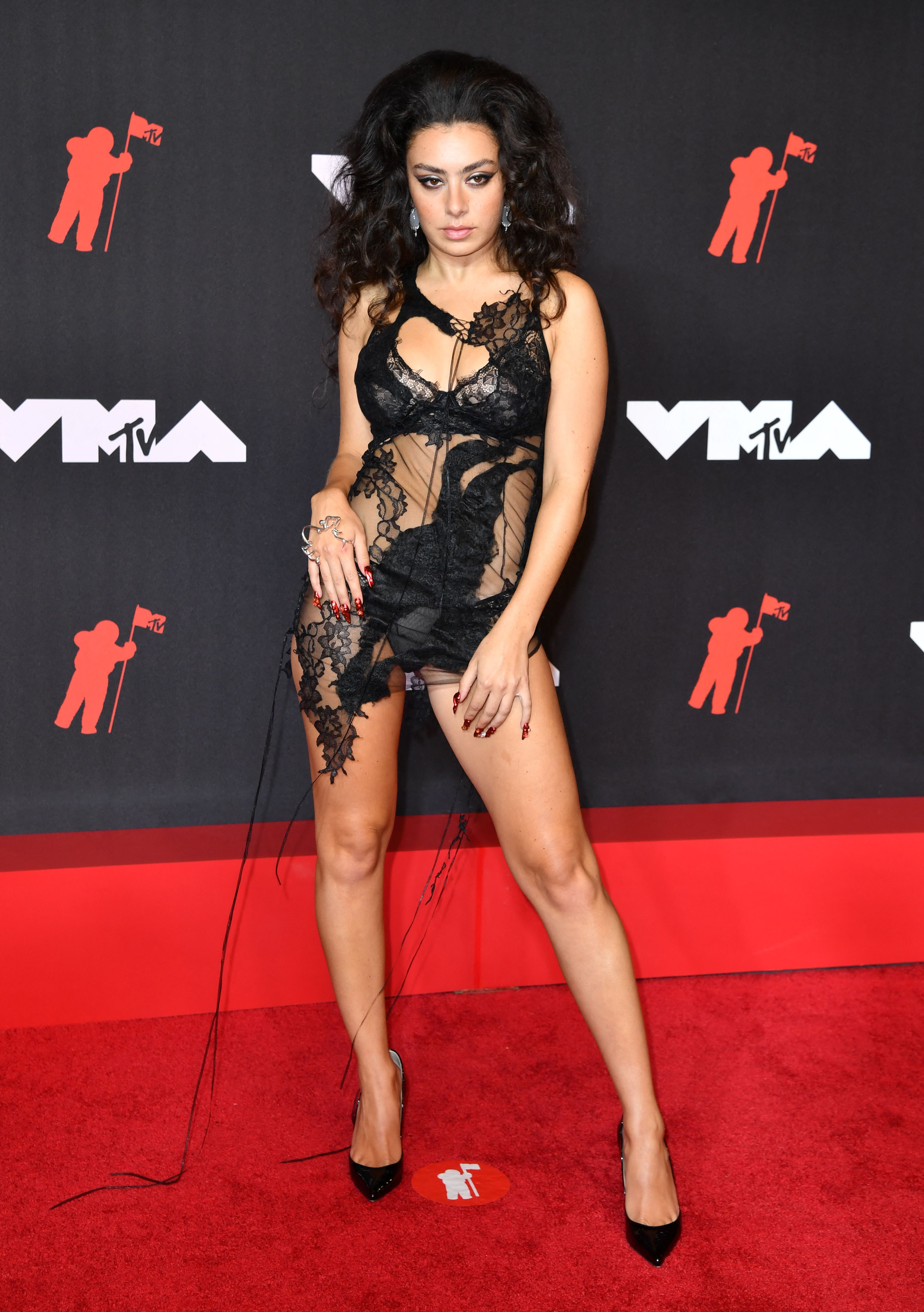 At the MTV VMAs, 2021
In August 2021, Charli launched the long-awaited single "Good Ones", giving fans a taste of her upcoming Crash era with a new bombshell look. On the single cover art, the singer wore a slinky slip dress with a bouffant blowout; in its music video, a series of all-black lingerie-inspired looks. During the song's roll-out, which spanned New York Fashion Week and the MTV VMAs, Charli donned off-the-shoulder dresses, bustier tops and this standout naked dress by designer Shawna Wu.
On the 'Crash' album cover, 2021
This is Charli's "hot girl" era. In the run-up to Crash's much-anticipated release — which has included SNL performances and myriad music videos — the singer has embraced all things sexy, strappy and achromatic. In the clip for "Baby" (and on SNL) she wore a fringed lingerie set. In the video for "New Shapes" vinyl and lace. Here, on the album's much meme-d cover, she poses on the hood of a car in just a simple black bikini.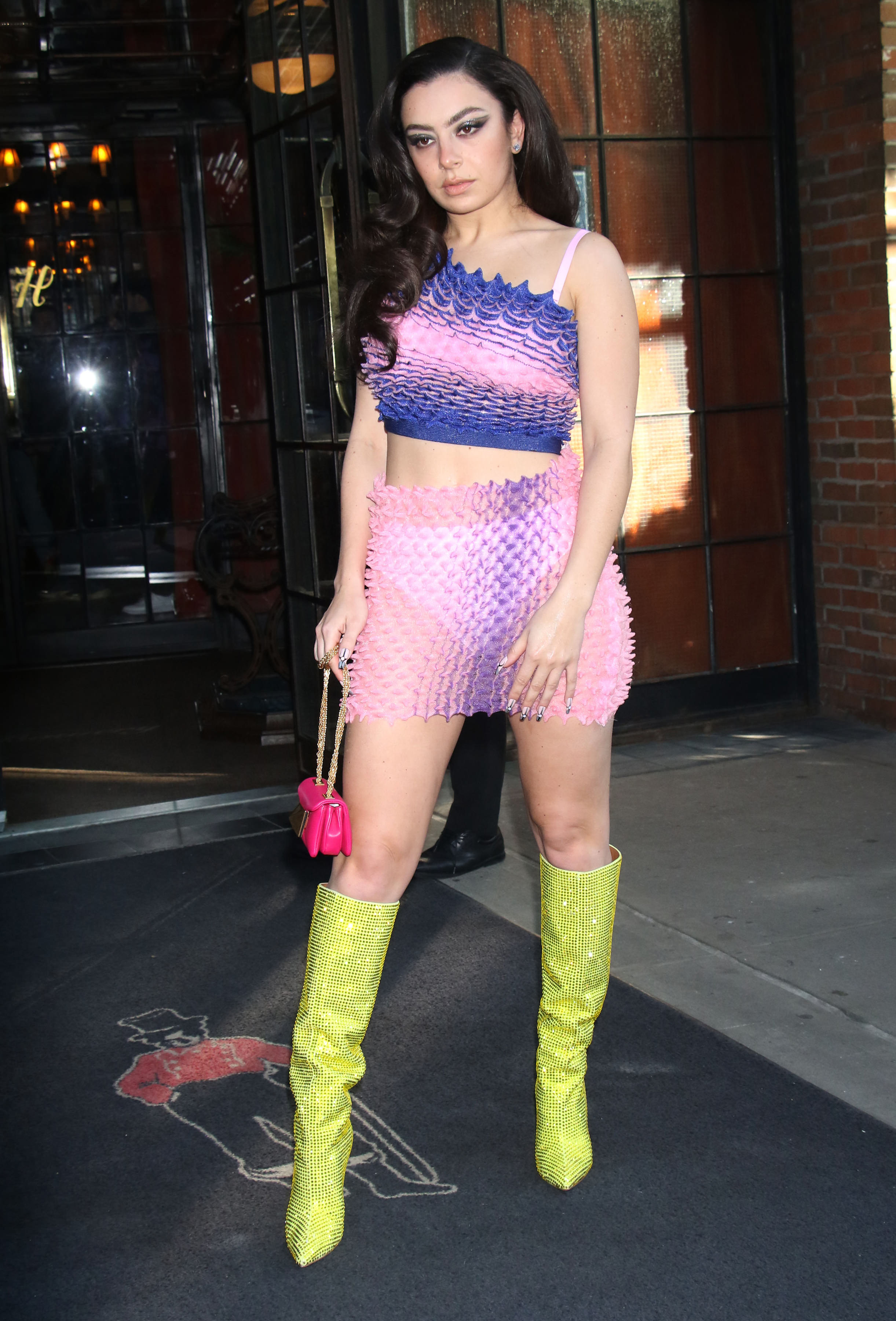 In NYC, 2022
Counter to her all-black, 90s-inflected Crash costumes, Charli's recent off-duty looks are bubbly, colourful and very Y2K. Think massive pink puffers, Ed Hardy-style graphics, holographic bodysuits and this stretch knit set by Chet Lo. Whether dressed in leather-and-lace or bubbly aughts trends, it's always Charli, baby.
Follow i-D on Instagram and TikTok for more style evolution.