Images courtesy of GANNI, (di)vision and A. Roege Hove
The 9 standout collections of Copenhagen Fashion Week AW22
From Ganni to (di)vision to A. Roege Hove, the names showing in the Danish capital proved that Scandinavian fashion is anything but predictable.
|
09 February 2022, 5:46pm
Images courtesy of GANNI, (di)vision and A. Roege Hove
For quite some time, the generally held perception of much Scandinavian fashion was that it was reliably luxurious but safe. Thanks to initiatives like Copenhagen Fashion Week, however, the world has awoken to the calibre of the creative talent that calls the Nordic region home. What truly sets apart the Danish capital's fashion week, however, isn't simply the standard of talent on show — rather, in an age in which conversations around the need to create and implement more sustainable fashion week models are rife, CPHFW is one of the few actually doing just that.
Under the leadership of Cecilie Thorsmark, its CEO since 2019, CPHFW has implemented strict sustainability requirements (readable here) for all participating designers, which will fully come into effect next year. While meeting them certainly entails internal shifts on behalf of the brands, it's a notable example of how presentational platforms can use their institutional power to actively push for change — all while demonstrating that pursuing a more responsible fashion practice needn't entail any sacrifice when it comes to the creative standard of the work on show. Here, we run through nine of the collections shown at Copenhagen Fashion Week AW22 that proved just that.
Designers' Nest
The Nordics aren't necessarily the first place the fashion industry looks to pick out emerging talents, but there's an organisation doing a damn good job of changing that. Spearheaded by Danish fashion scholar Ane Lynge-Jorlén, Designers' Nest is a non-profit talent incubator committed to spotlighting the most promising designers coming out of Scandinavia's (criminally underrated) schools. This year's showcase — comprising 10 recent graduates from institutions including Helsinki's Aalto University, the Swedish College of Textiles in Stockholm, and the Royal Danish Academy of Fine Arts in Copenhagen — was a testament to the industry-leading calibre of the region's new names to know.
The prizes they competed for were proof of that, too. Taking home a six-month paid internship with Benjamin Huseby and Serhat Işık at the Trussardi studio in Berlin was Rentaro Iino, a Japanese designer from Oslo's National Academy of the Art, whose collection — exclusively crafted in bright merino knits — demonstrated incredible technical skill and a sensibility for shape. Leevi Ikäheimo from Aalto University won the Exhibition Prize, granting his playfully arresting, sculptural investigations of masculine stereotypes a spot in an upcoming major exhibition at DesignMuseum Danmark. Frederik Taus of the Royal Danish Academy of Fine Arts presented a mischievous-yet-powerful body of work that merged an innovatively sustainable approach to design with a powerful message around gender presentation. And Korean designer Boram Yoo, another Aalto graduate, took home the Jury Prize – which included a 50000 Danish Kroner cash prize, a study trip to Japan, and a coveted trophy – for a collection which skillfully balanced the reclamation of a troubled past, a refreshing sense of optimism, and a nuanced understanding of print, materials and textures.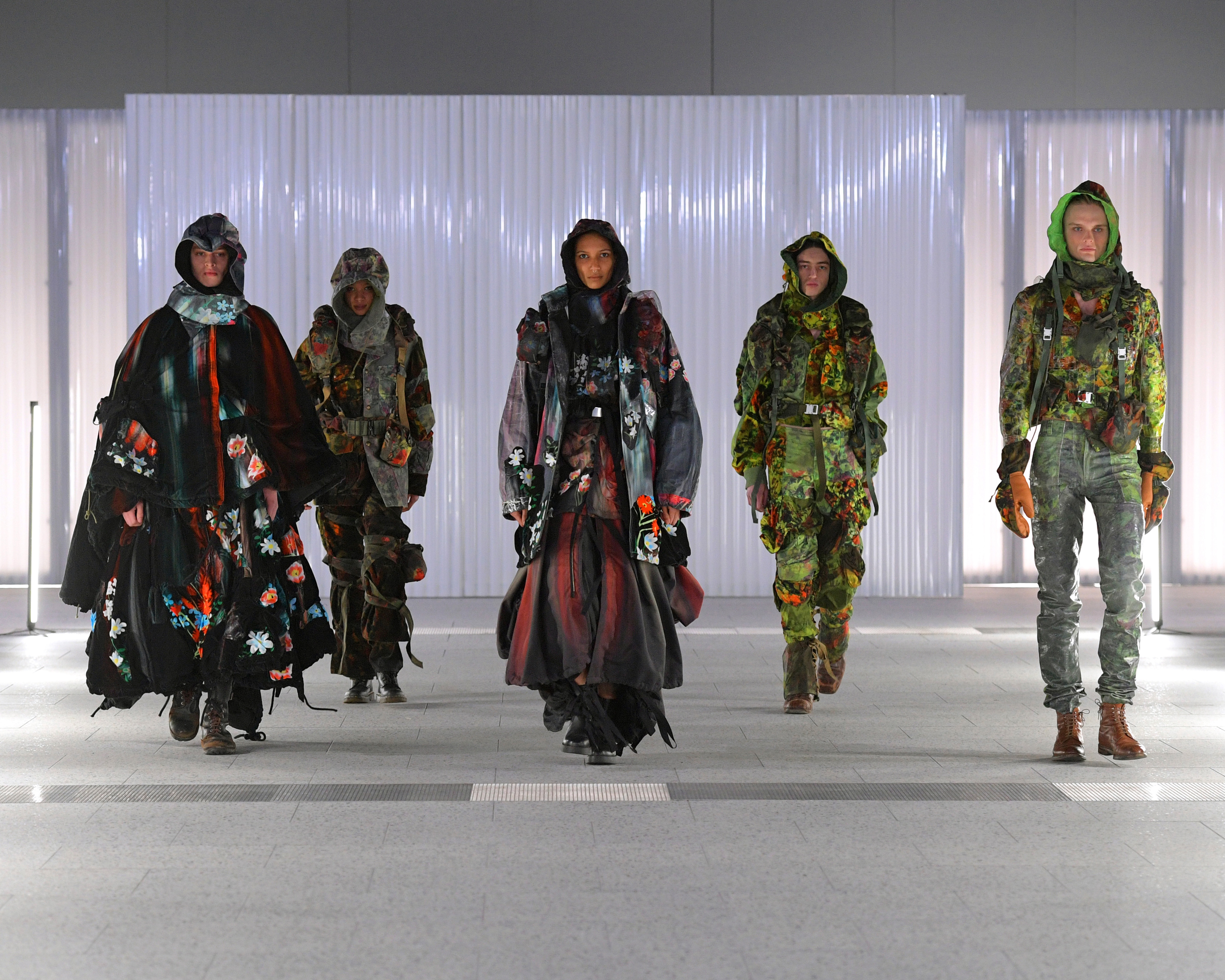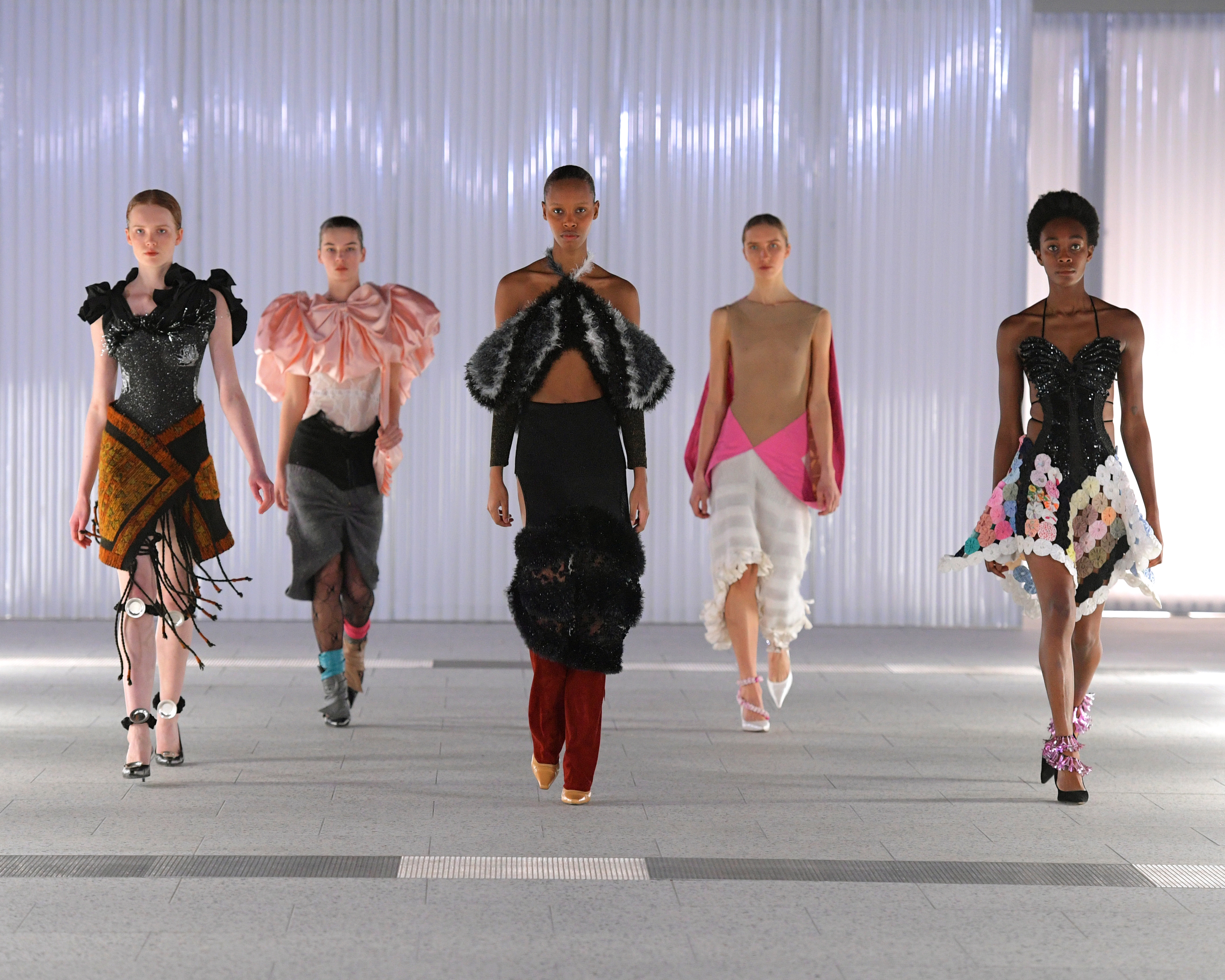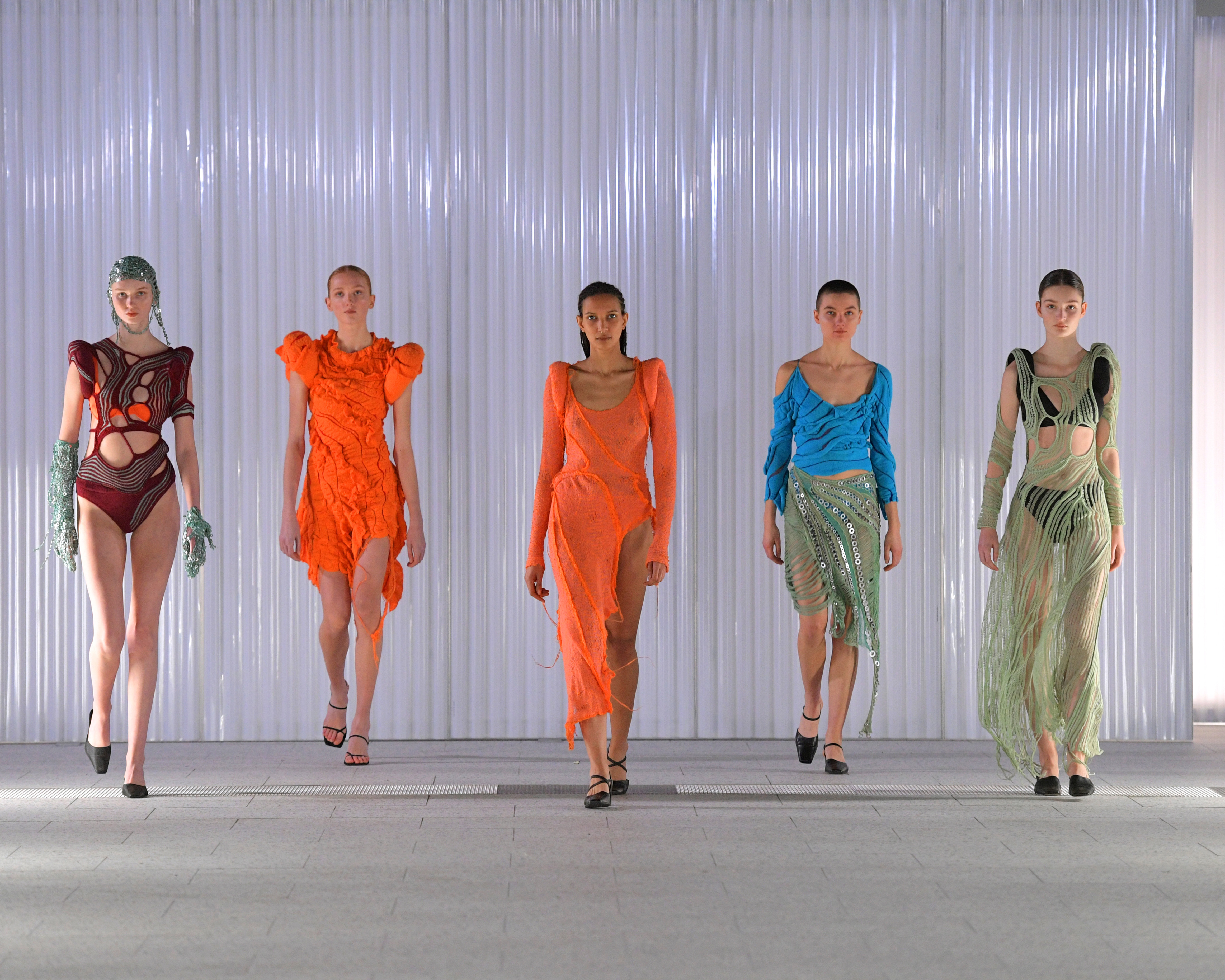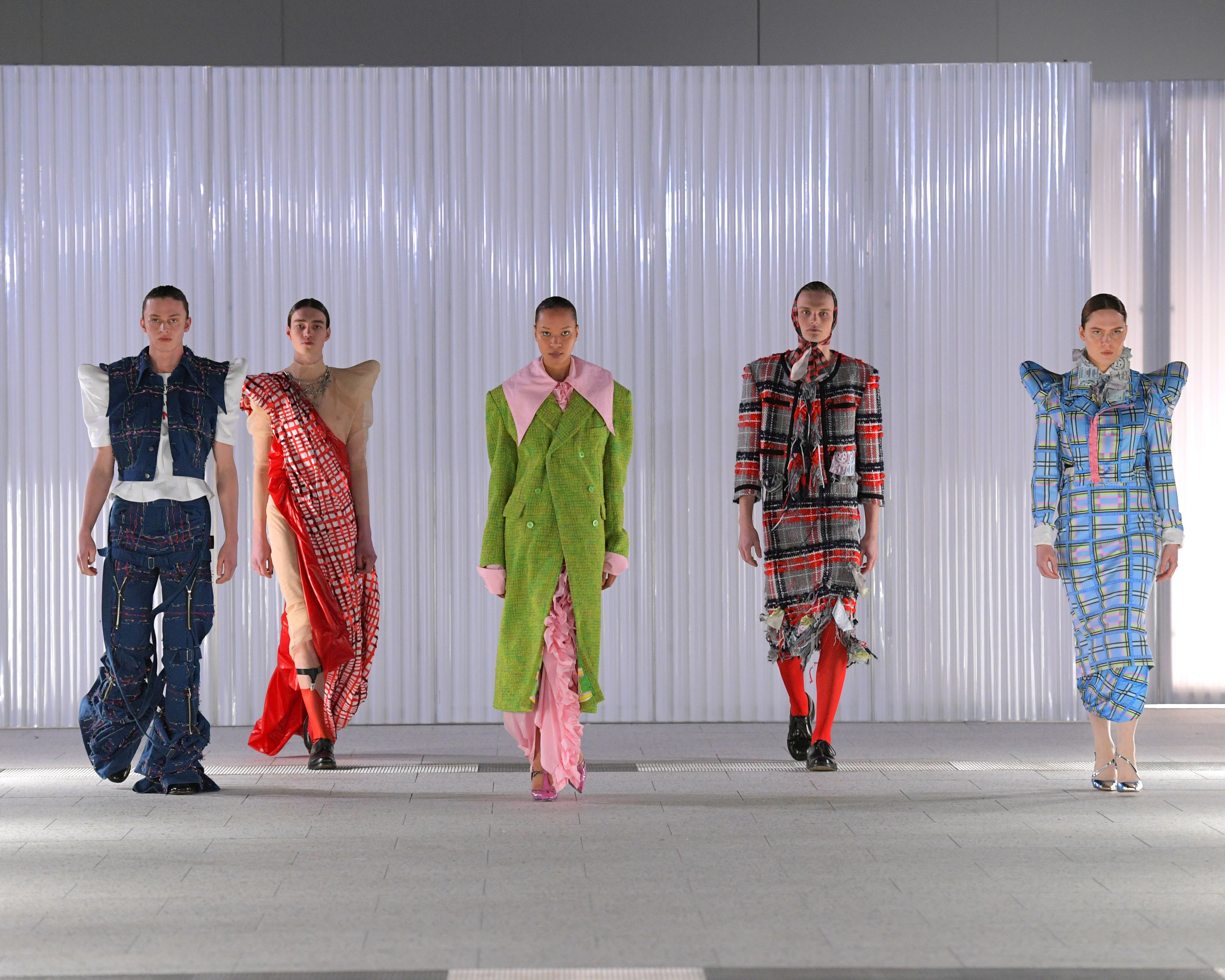 (di)vision
Despite only making their runway debut last season, (di)vision – a Copenhagen-based label run by sibling duo Nanna and Simon Wick – have made incredible progress in establishing themselves as one of the Danish capital's labels to know. That buzz was almost palpable in the city's Planetarium — the venue for their latest show — which thrummed with the whoops and cheers of the members of the brand's close knit community sat in the audience alongside the usual cohort of press, buyers et al. Seeing the 30 or so looks file down the runway, the excitement was well justified. Though (di)vision has built a reputation for slicing and splicing familiar garment archetypes to create looks imbued with sexy, street-y flair, this season saw Nanna and Simon look beyond the horizons of the everyday. The pair, a release reads, were inspired by "the unexplainable phenomena occurring in our skies"; "the idea of something being out there". While their heads may have been high above the clouds this season, there was still something decidedly down to earth about the texturally rich bricolages they showed – denim jeans spliced with plaids and patchwork shirting felt distinct yet relatable, and jigsaw jersey jumpsuits seemingly cobbled from old band tees gave unexpected pops of eccentricity. The collection was at its most elevated with the outerwear pieces —which are fast becoming a signature for the brand — with particular standouts being the two-tone jackets and long coats with vertical zippers running down the back seam. Consider it proof that DIY and high-end design aren't by any means opposites.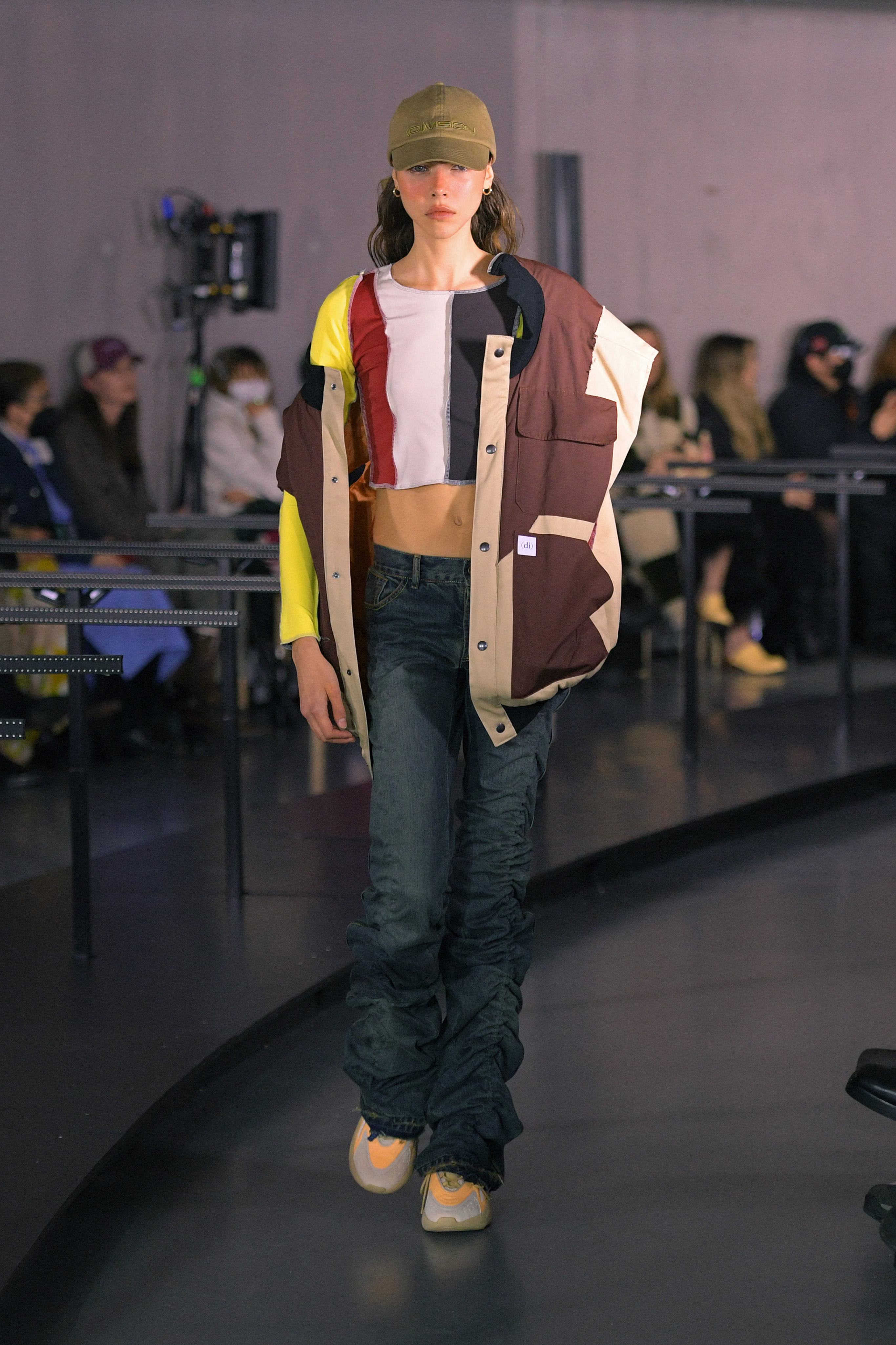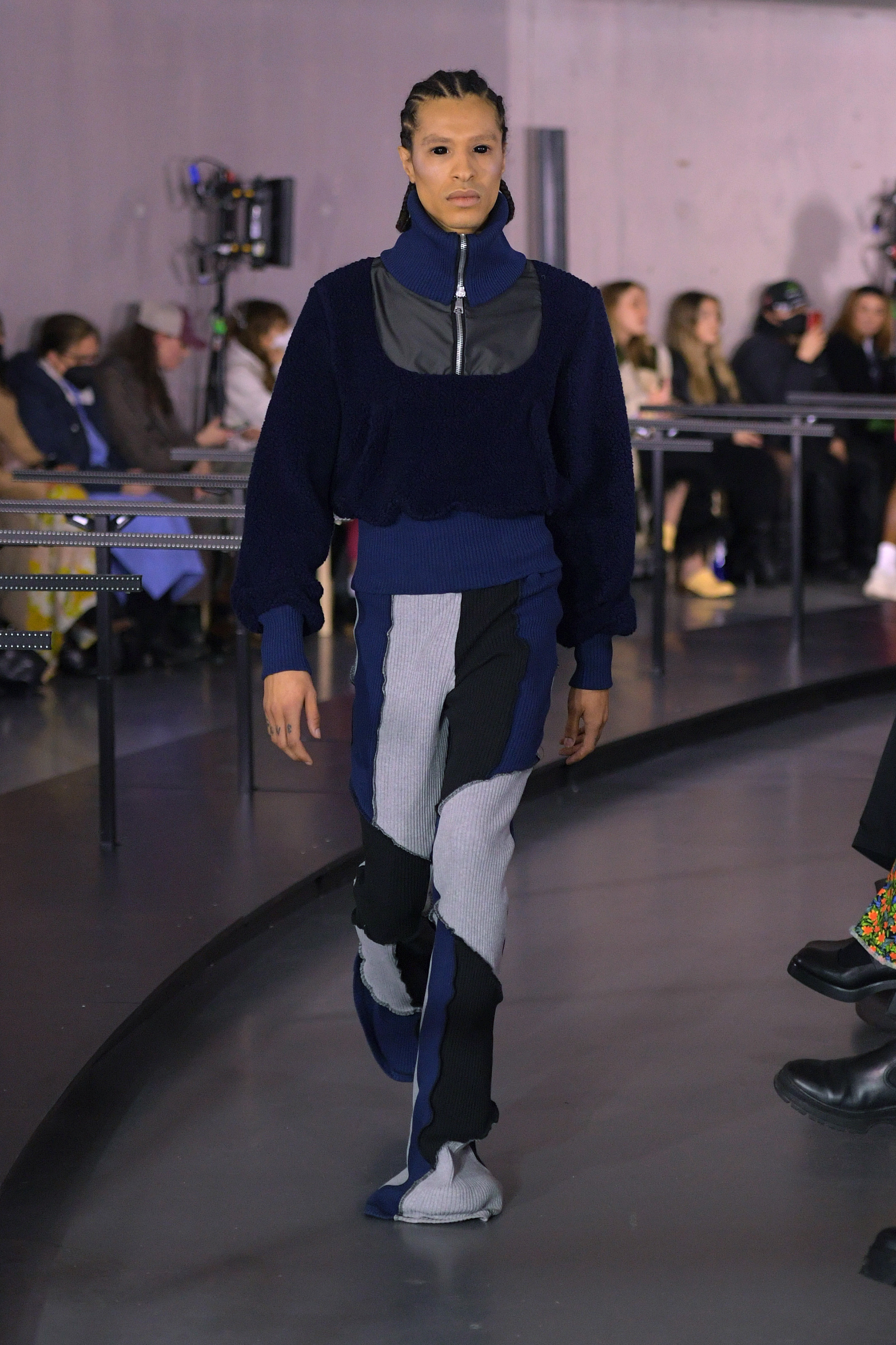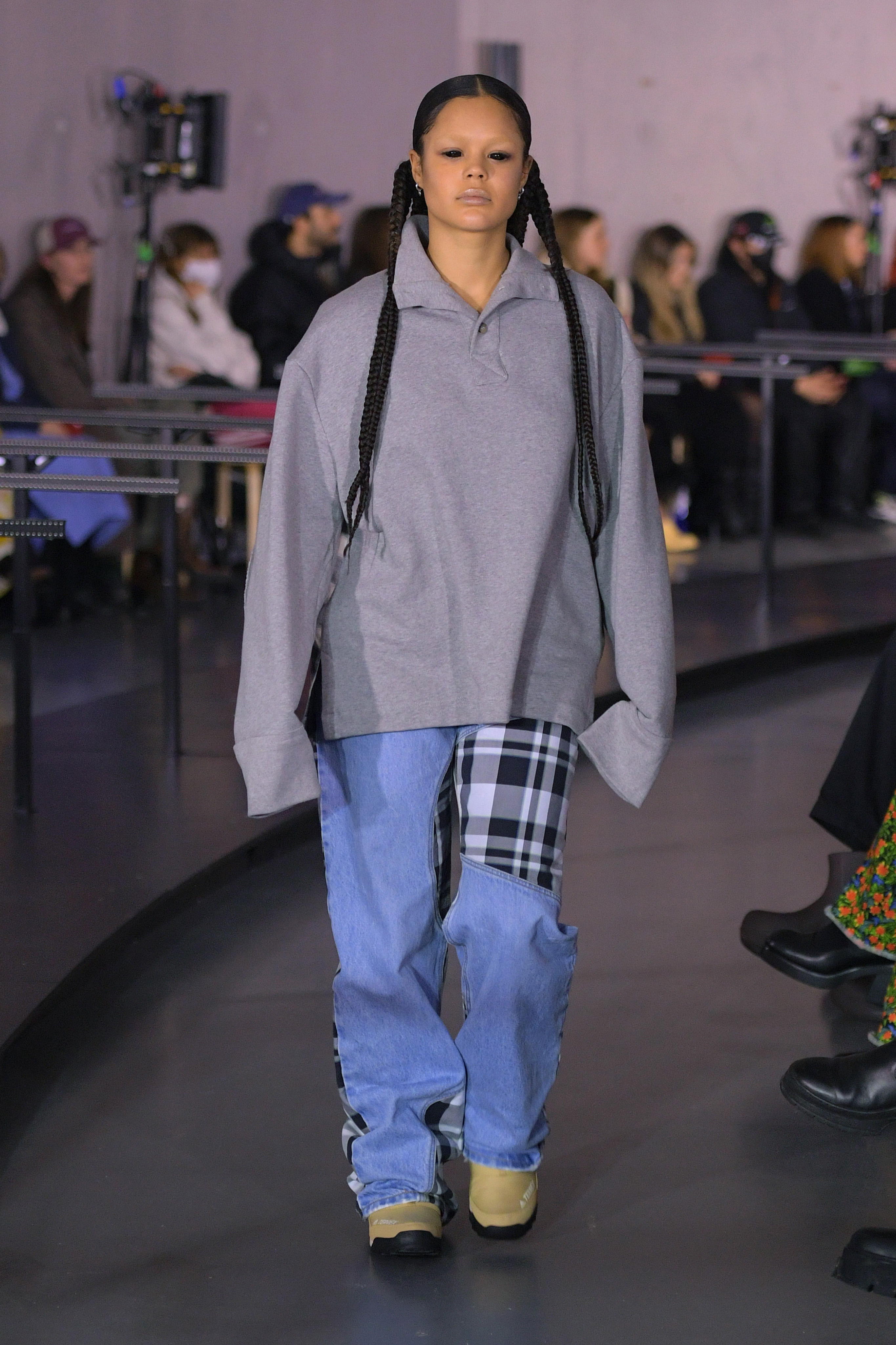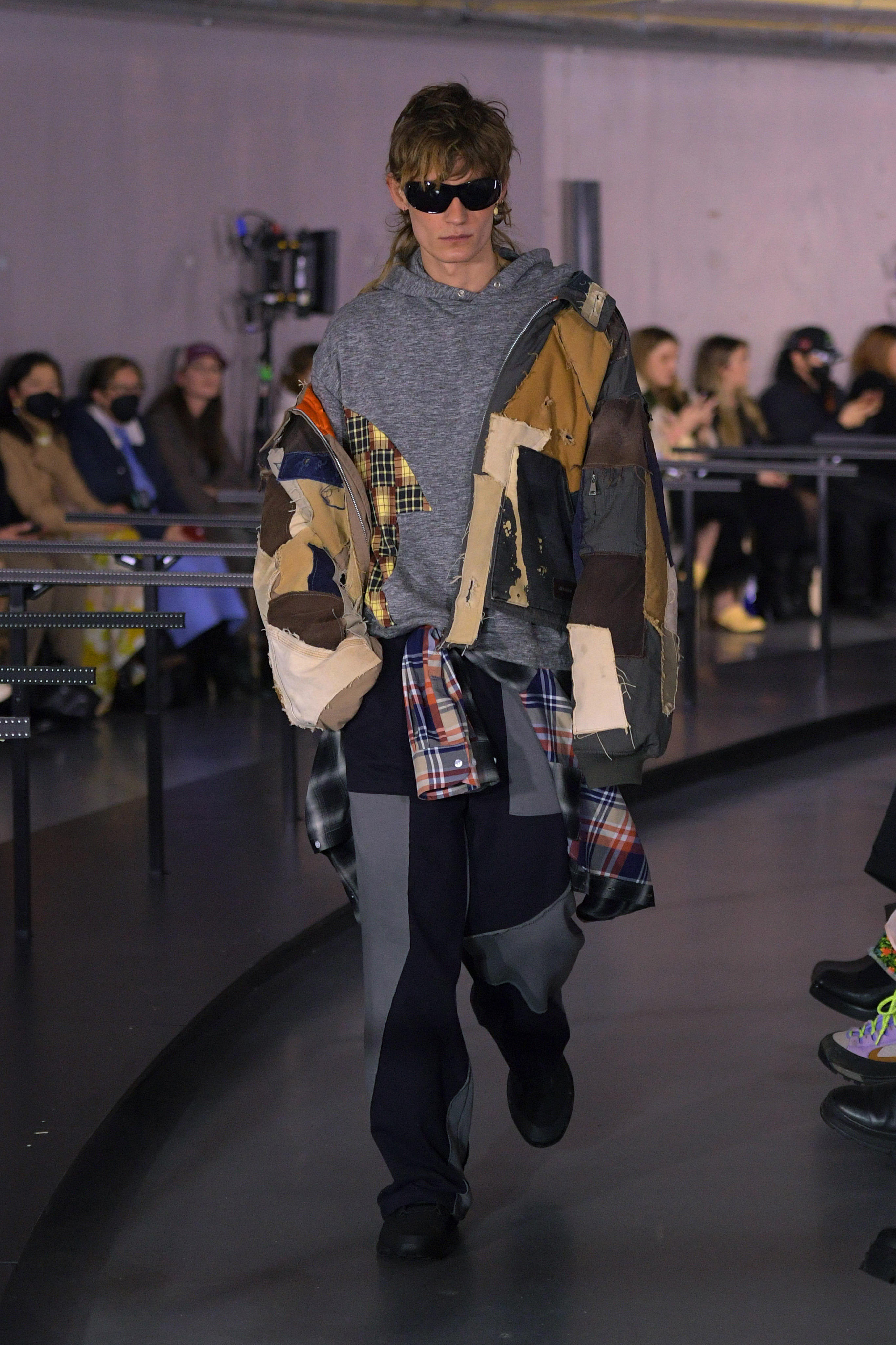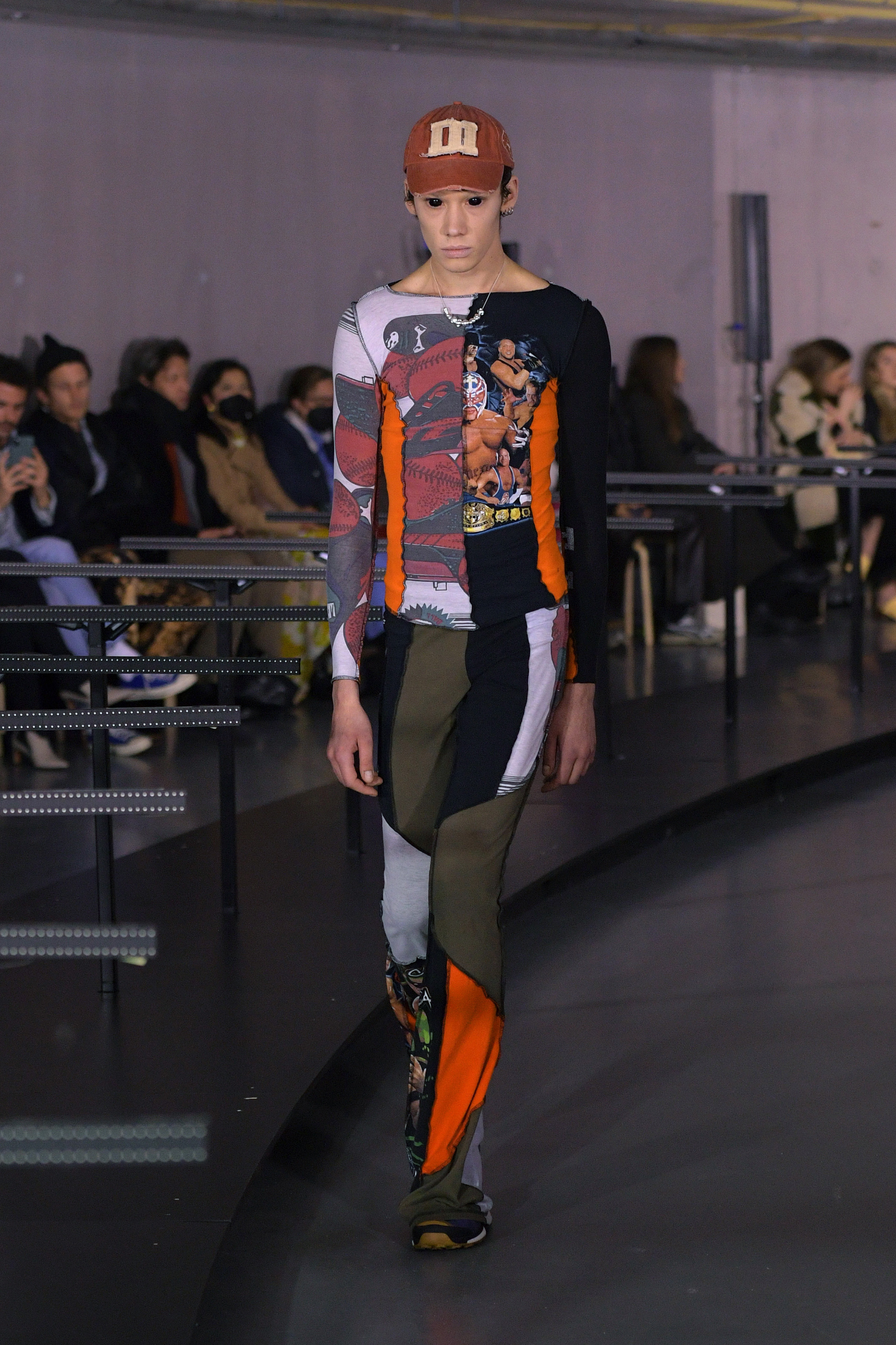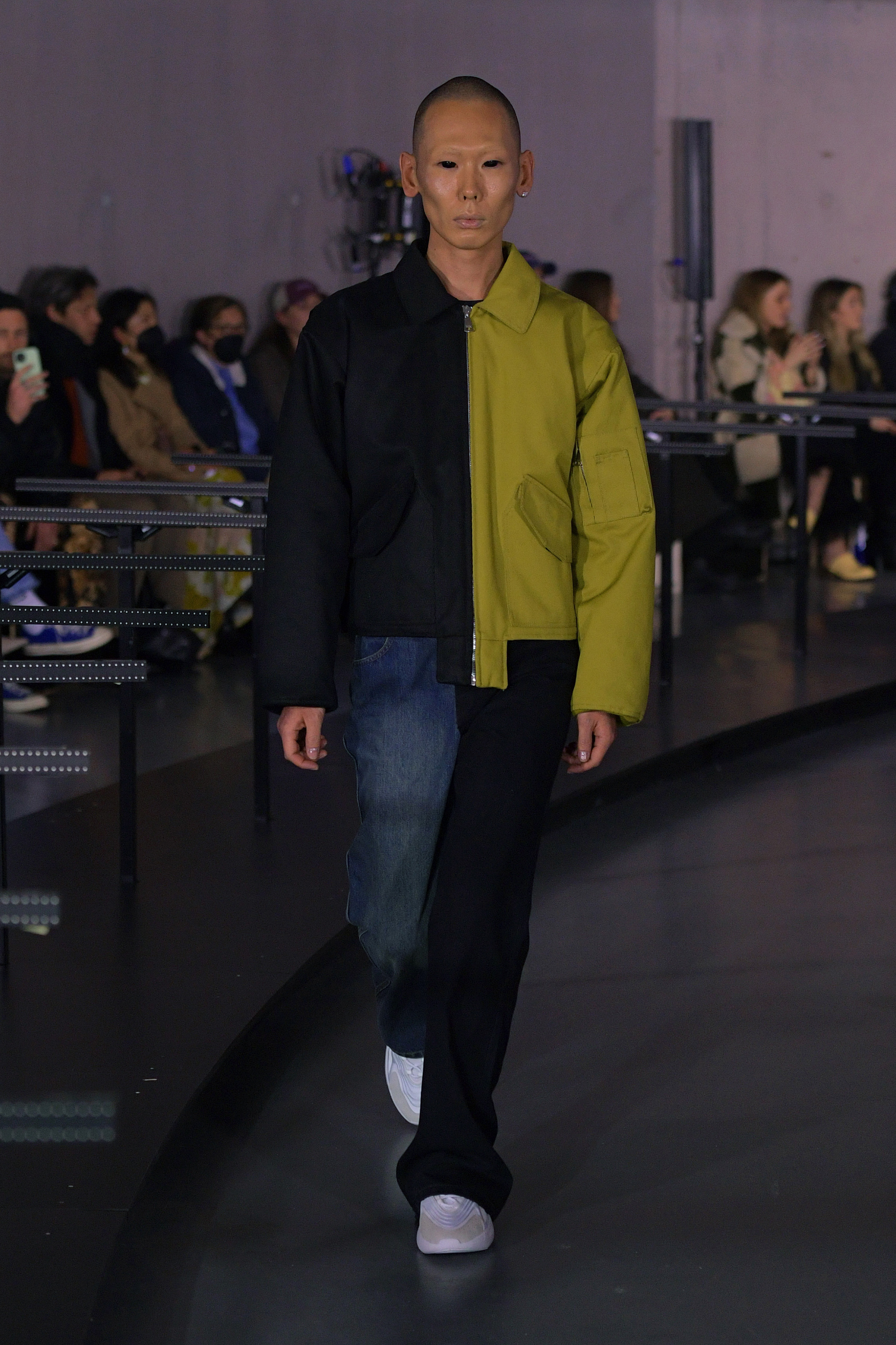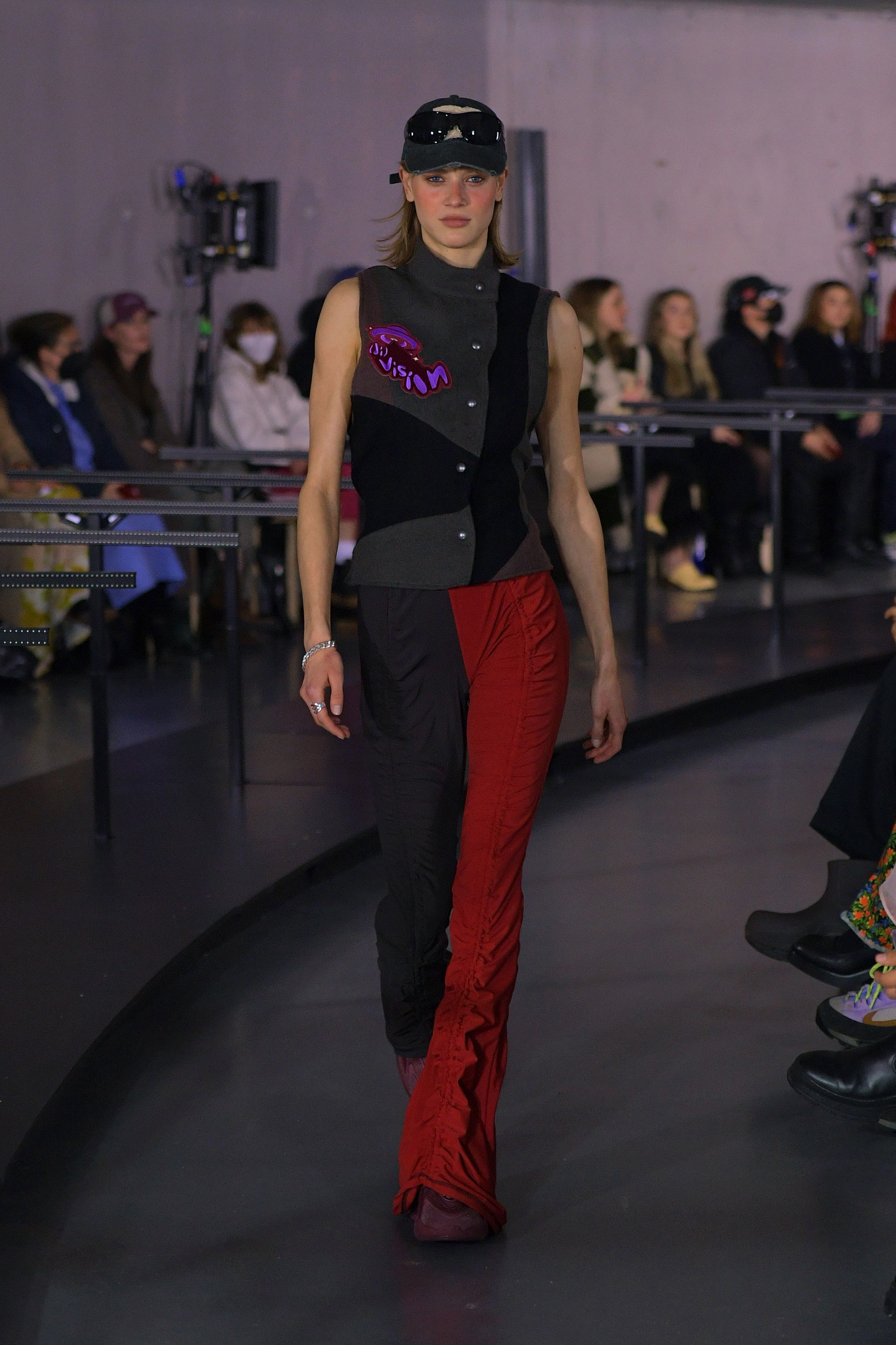 Stine Goya
"I wanted to do a very bold, confident collection," said Stine Goya backstage after her eponymous label's show. "This season was really about building on Stine Goya's codes, but then really trying to push things in a new direction." For those who aren't in the know, the brand has long offered an exuberantly romantic foil to Copenhagen's reputation for pared-back, pragmatic design. This season, though, the designer took a rather techier approach than we've previously seen, with foiled outerwear and gradient prints tinging the collection with a space-age feel. These more ethereal motifs were grounded by the abundance of rich florals and fluffy knits that called out to be touched, all nods to the Stine's central inspiration for this season, the work of Danish-Icelandic artist Olafur Eliasson. "He did this wonderful piece at the Fondation Beyeler in Basel called LIFE where he brought nature into manmade buildings," Stine shared. "I really loved the way he played with colour, with greens and blue, for example, which translated to the liquid prints you see throughout the collection — they almost look like drops of colour diffusing in water."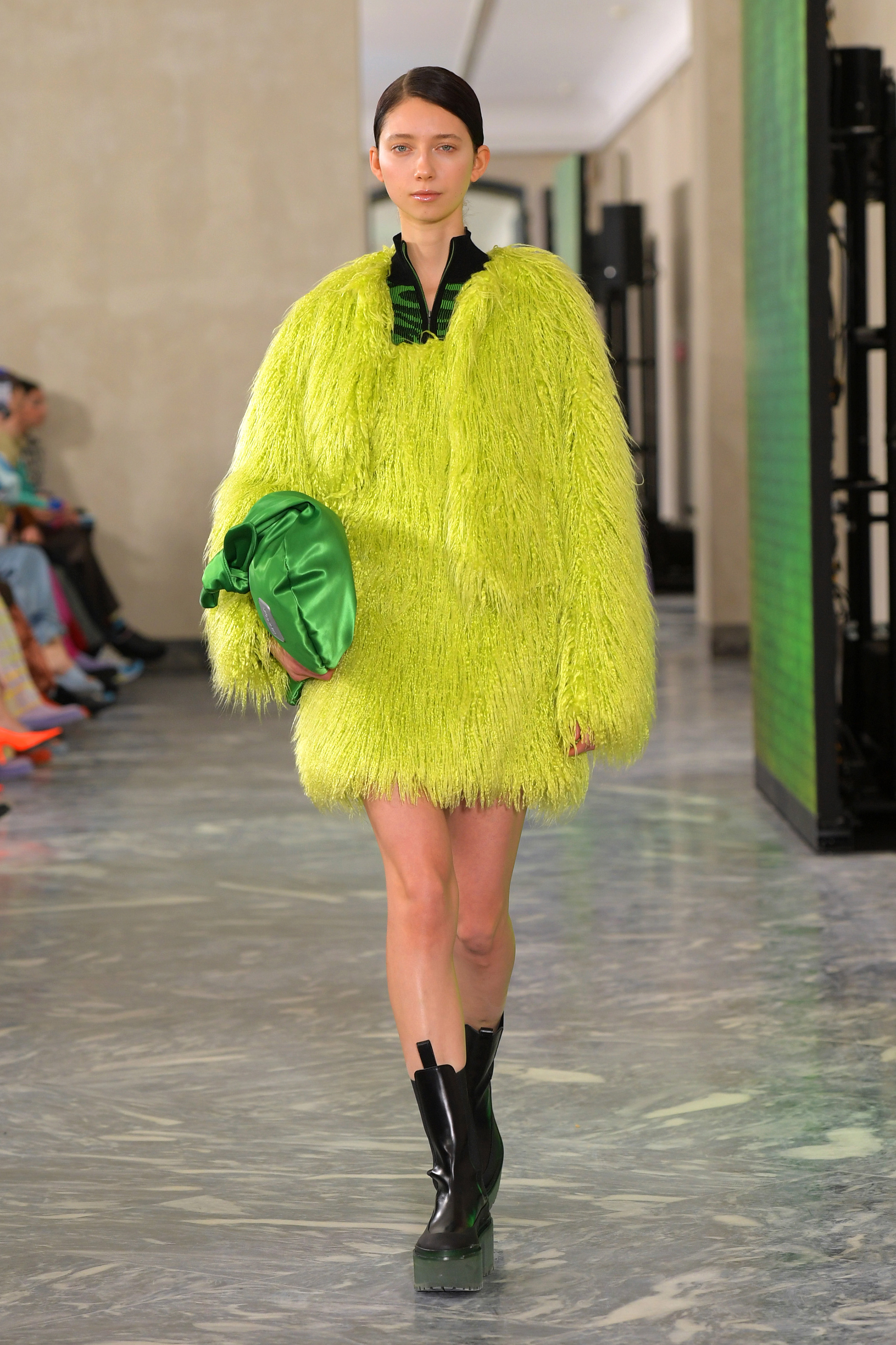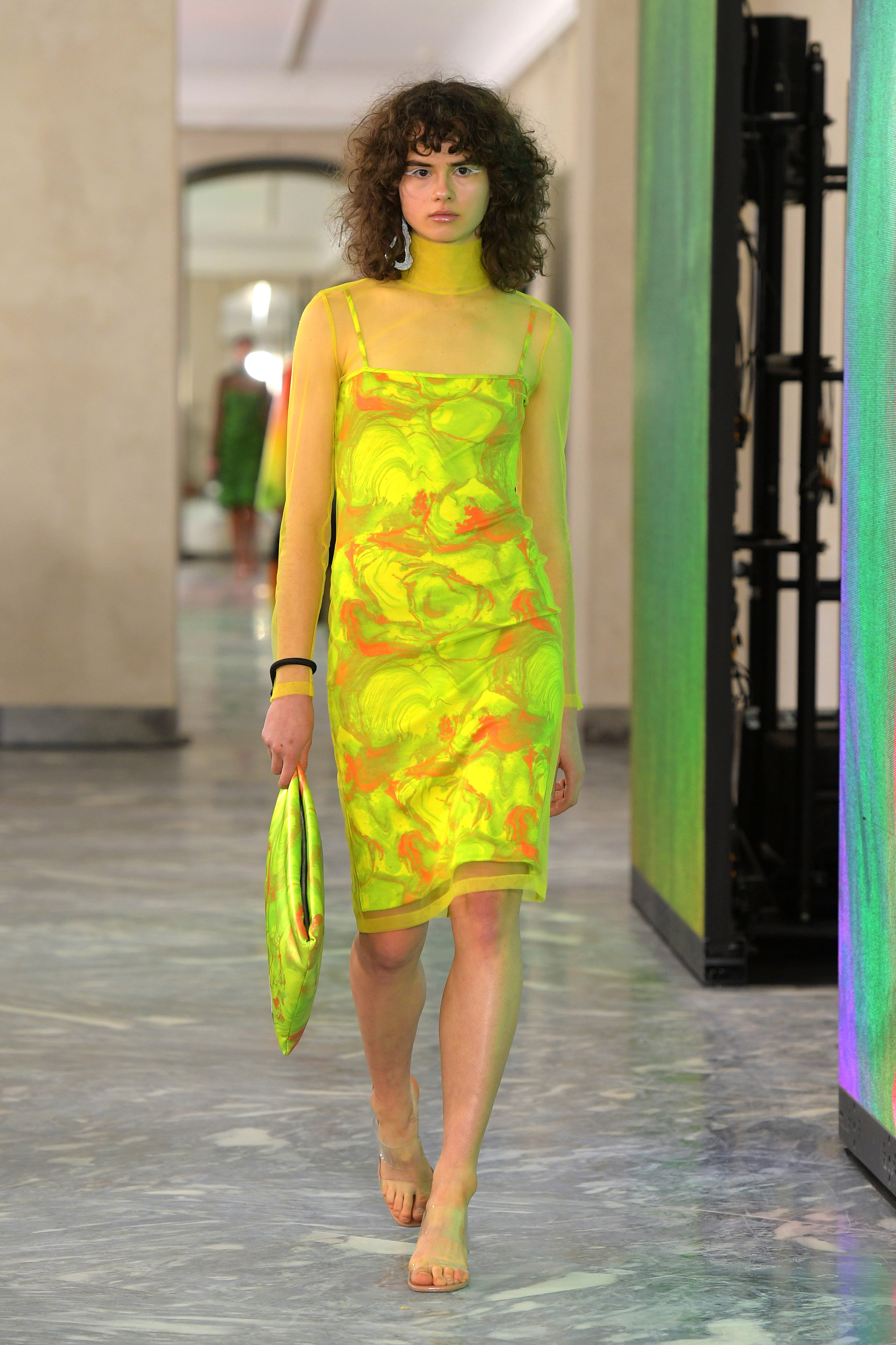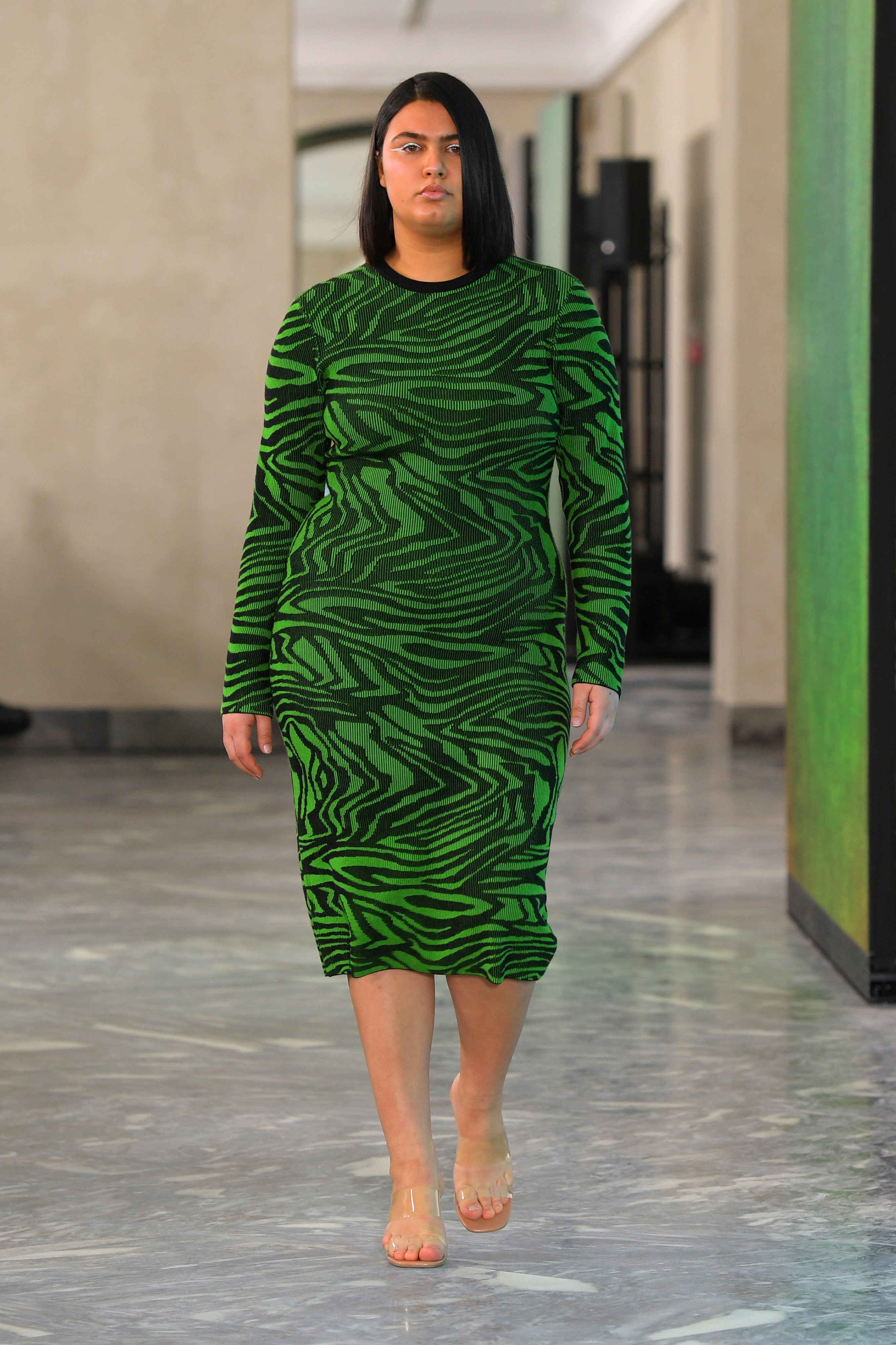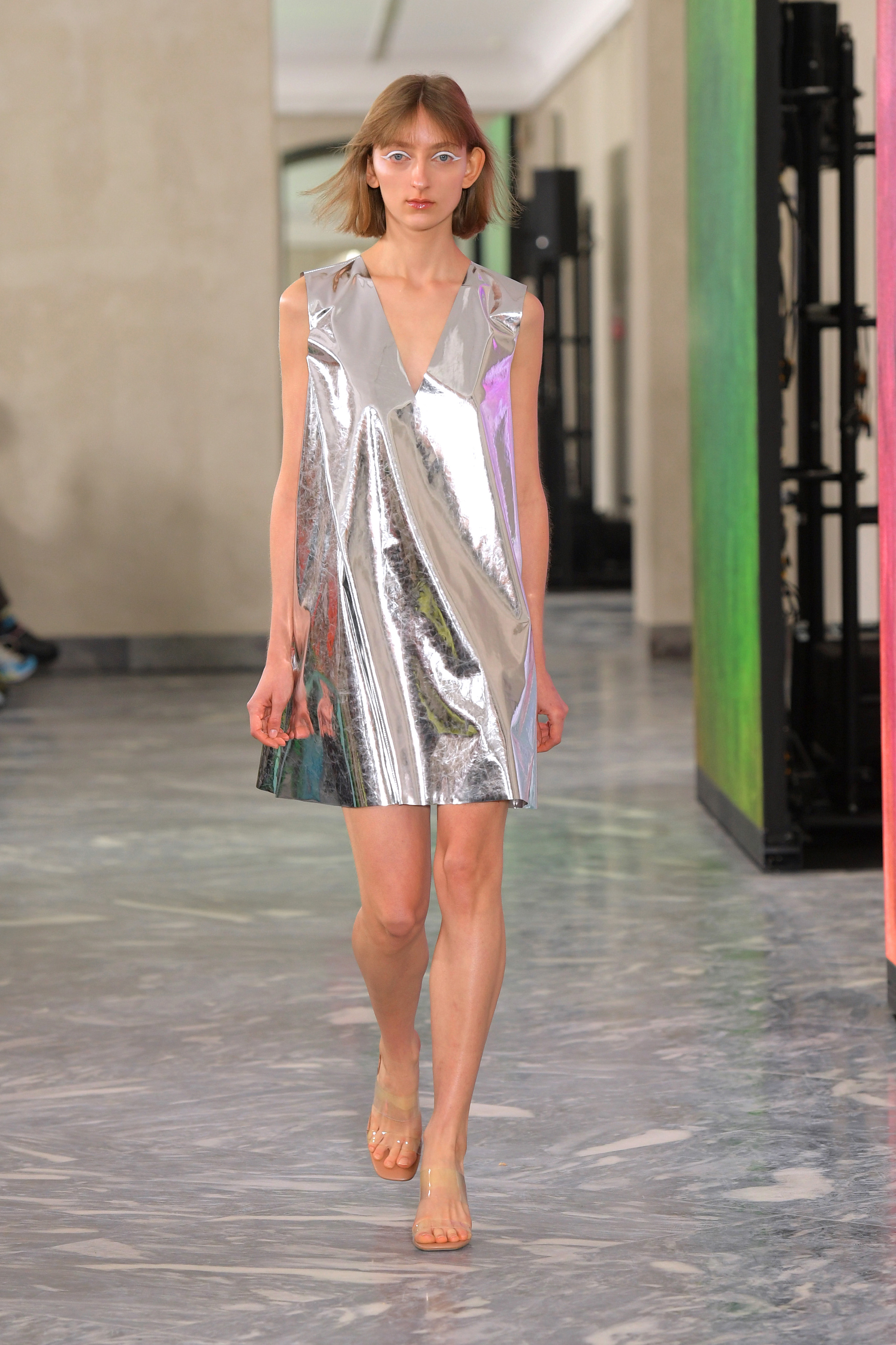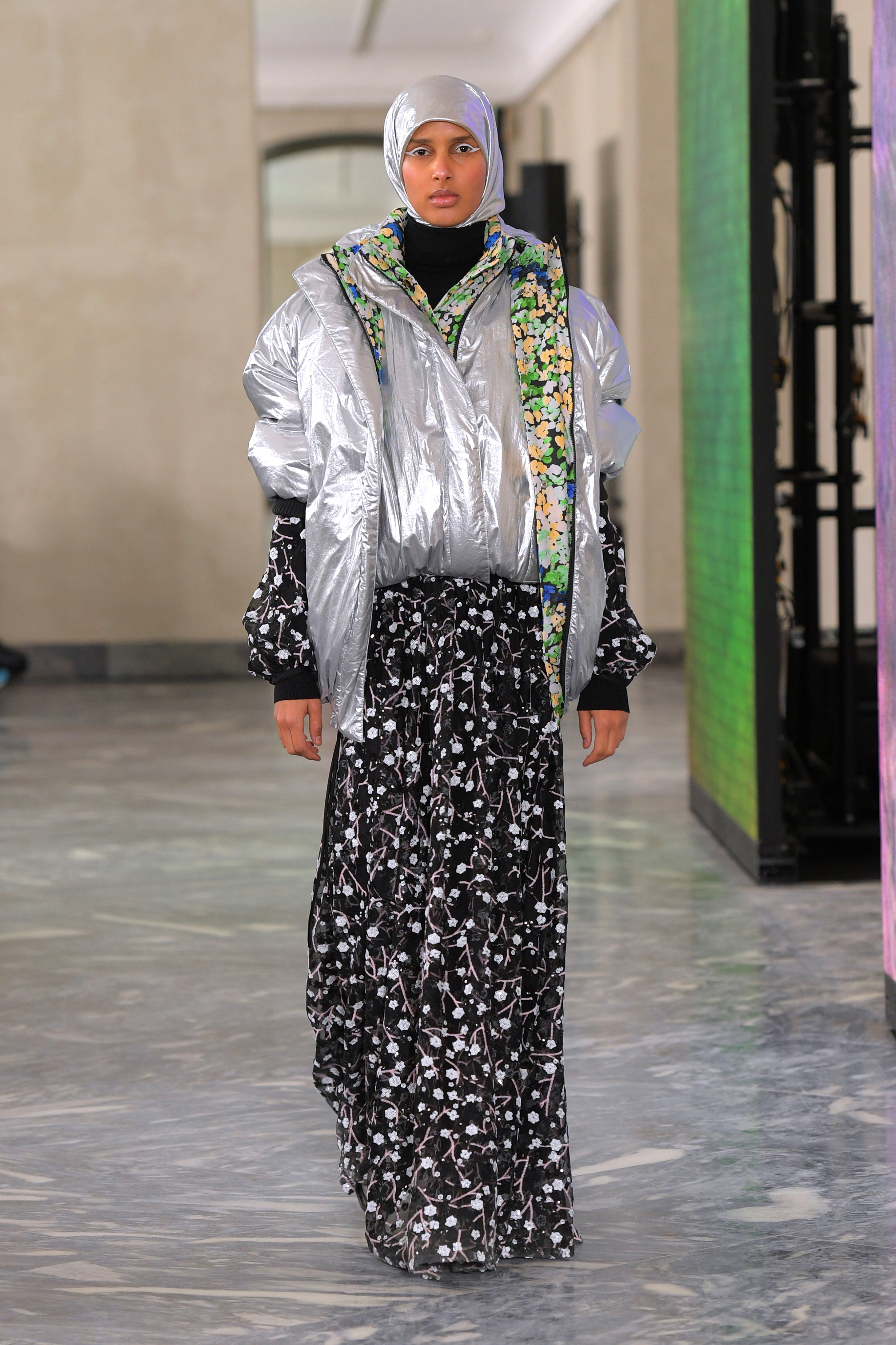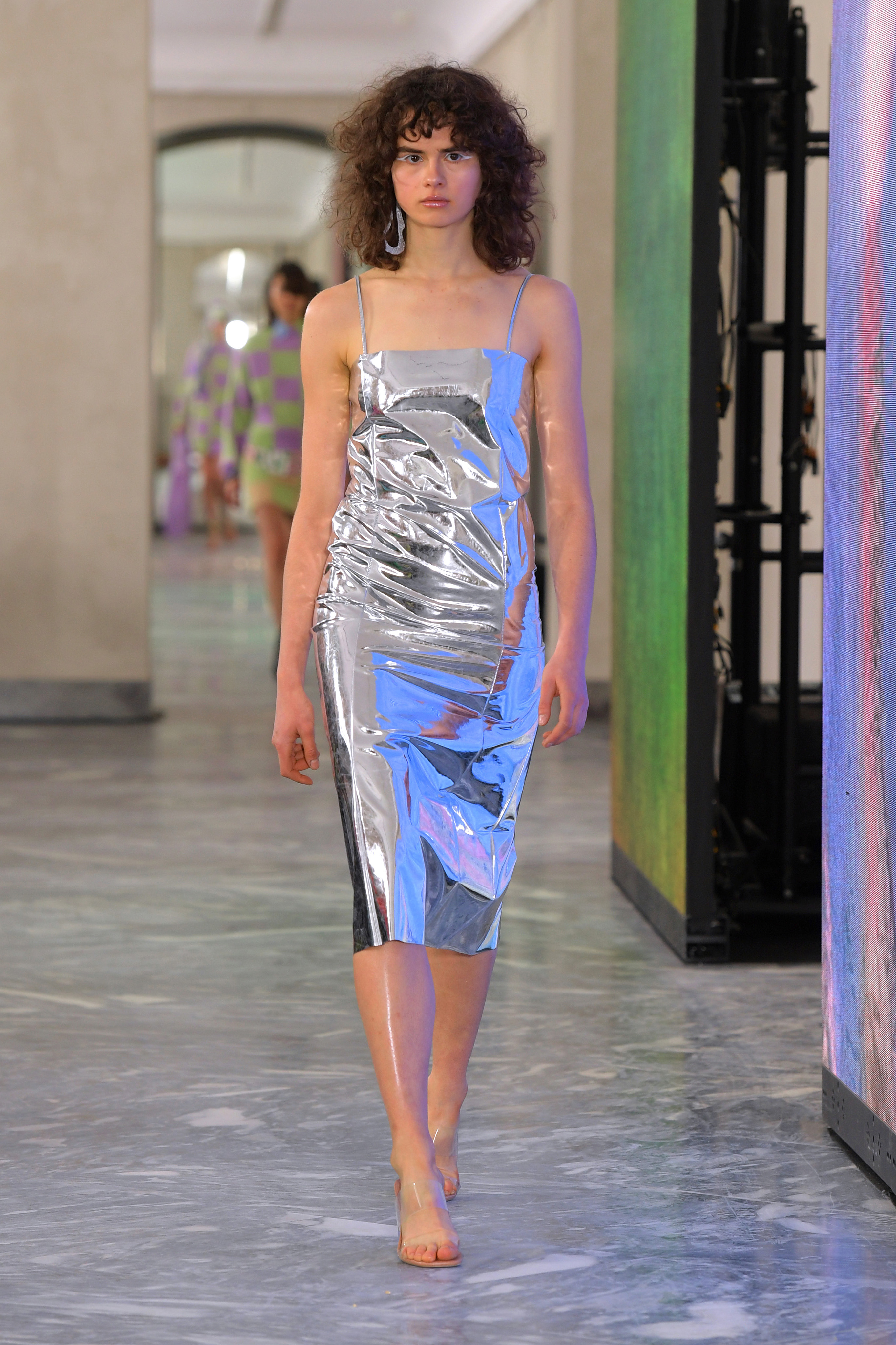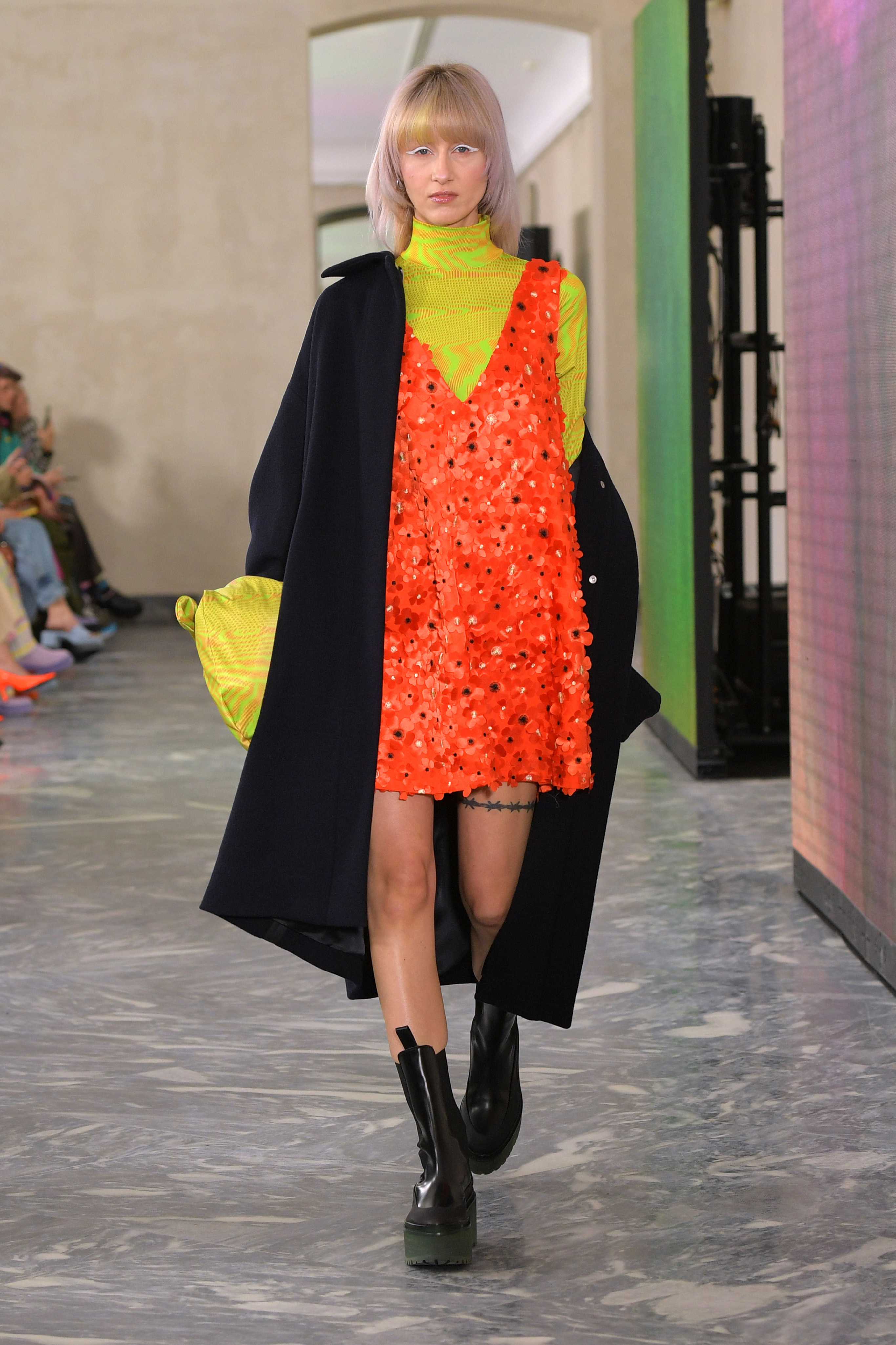 A. Roege Hove
After delivering one of the standout shows of Copenhagen Fashion Week last season, A. Roege Hove faced a daunting task for any young designer this season – following it up. It would seem, though, that Amalie (the label's namesake designer) had little difficulty in doing that, delivering a collection that lifted her idiosyncratic acrylic knit technique to ambitious new heights. The versatility of her approach was kept intact, and proudly exhibited in clingy chocolate cardigans and nightshade column dresses, but where the young designer's development really made itself felt was in the looks that took the body as a point of departure, rather than responding directly to it. "When I'm developing, what I find really interesting is working the fabric in my hands, pulling it and pushing it, which resulted in these more architectural shapes on the body," she says. Counterbalancing these more sculptural pieces, which seemed to take on a life independent of their wearer, were those that relied on human forms – and a refreshingly representative range of them, it should be noted. Rather than a conscious attempt to chime with current casting trends, however, Amalie's motivation to design with diverse bodies in mind is altogether more humble. "It's really just about seeing these styles on different people," she says. "It's not about provoking anybody, I just want to create the best outfit for every woman, and show that different body types really bring something to the clothes."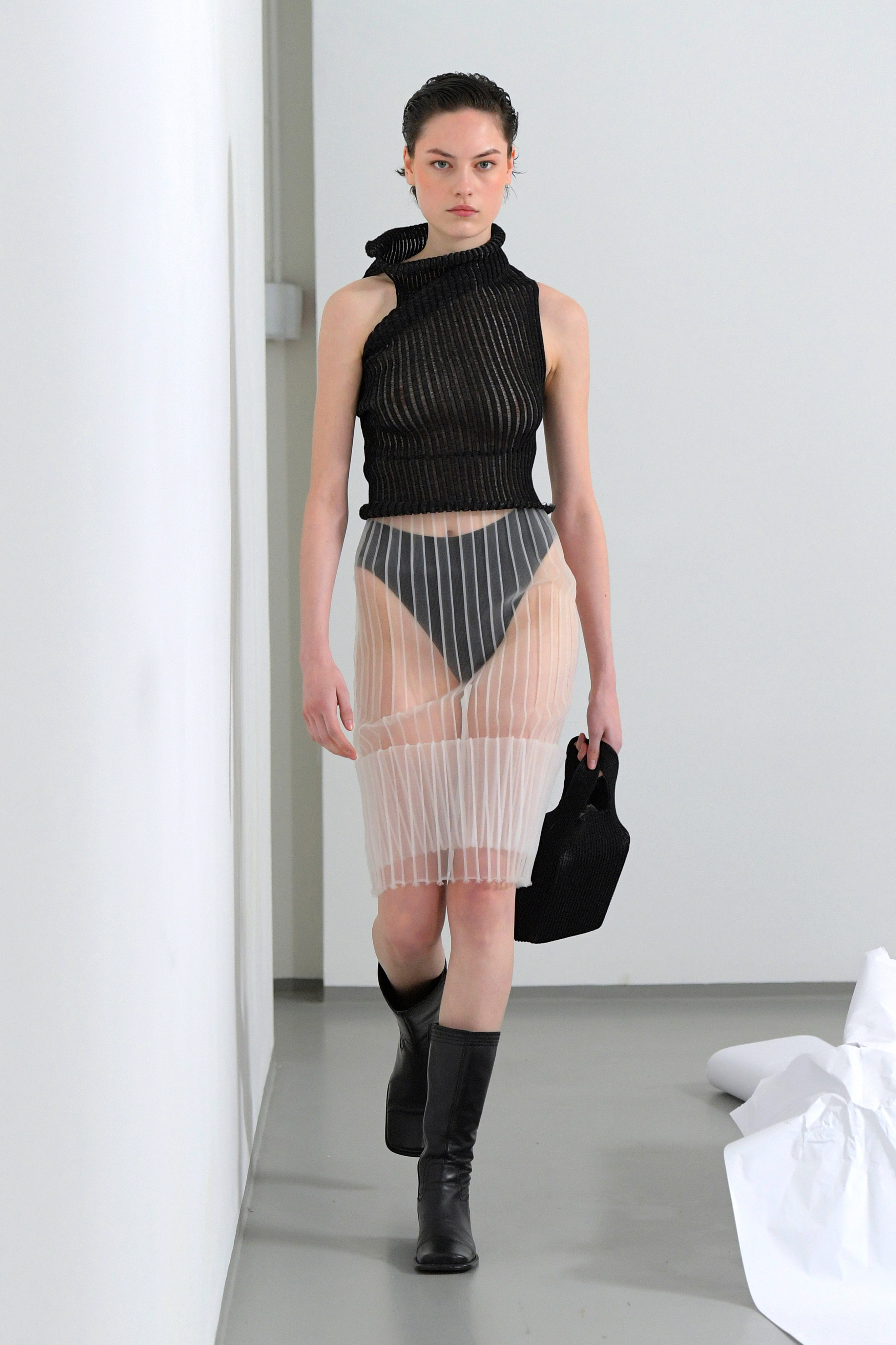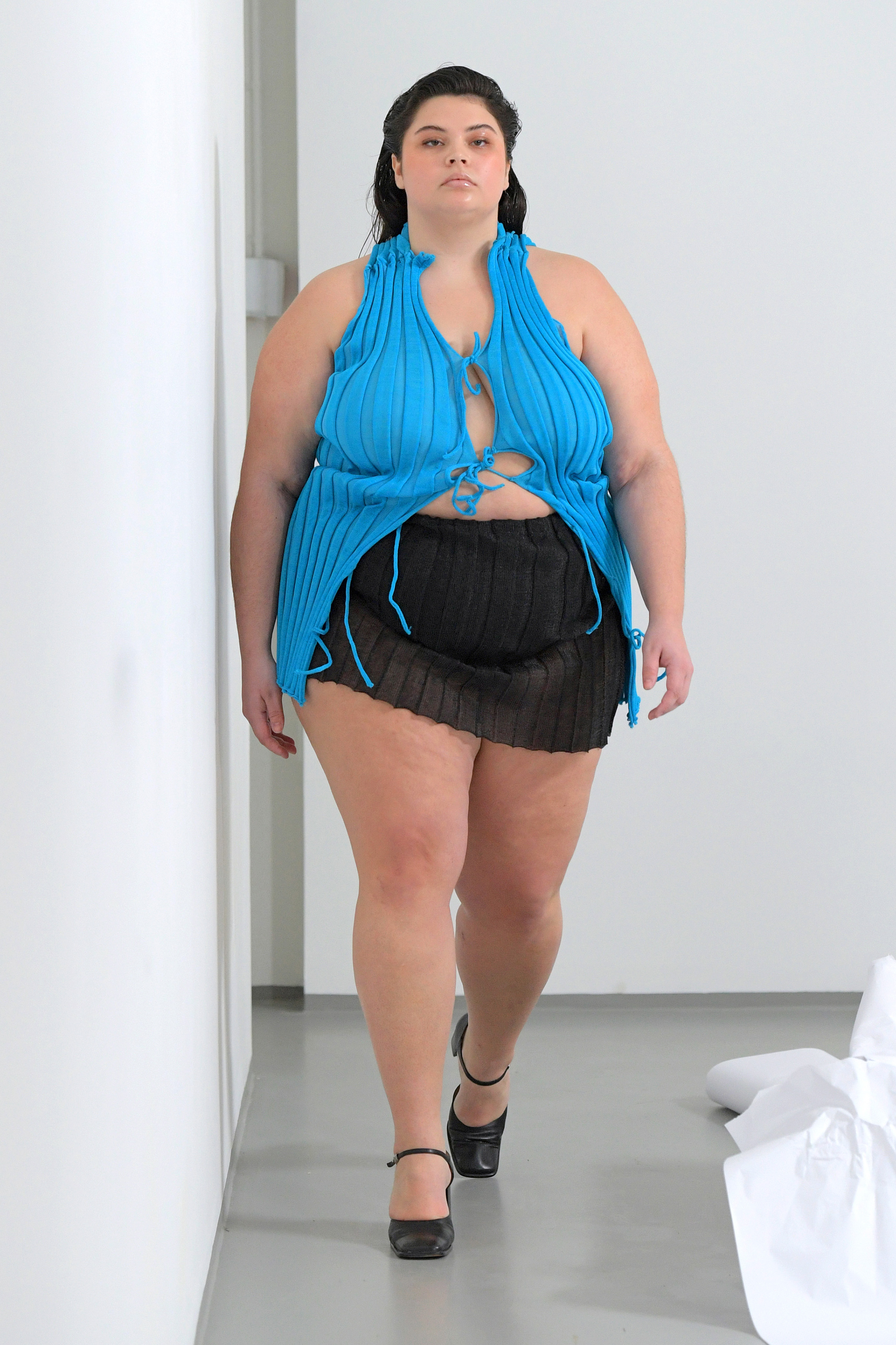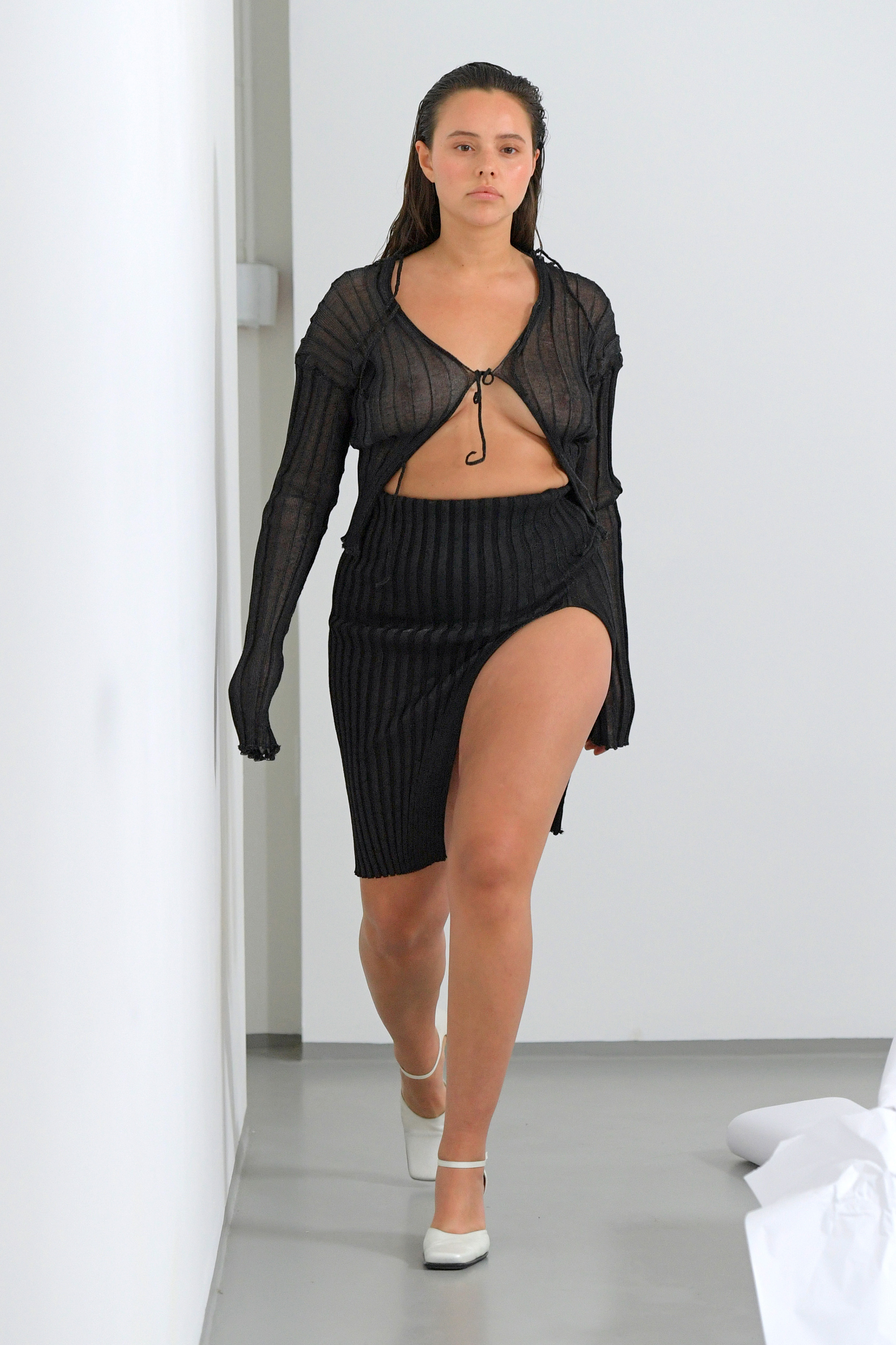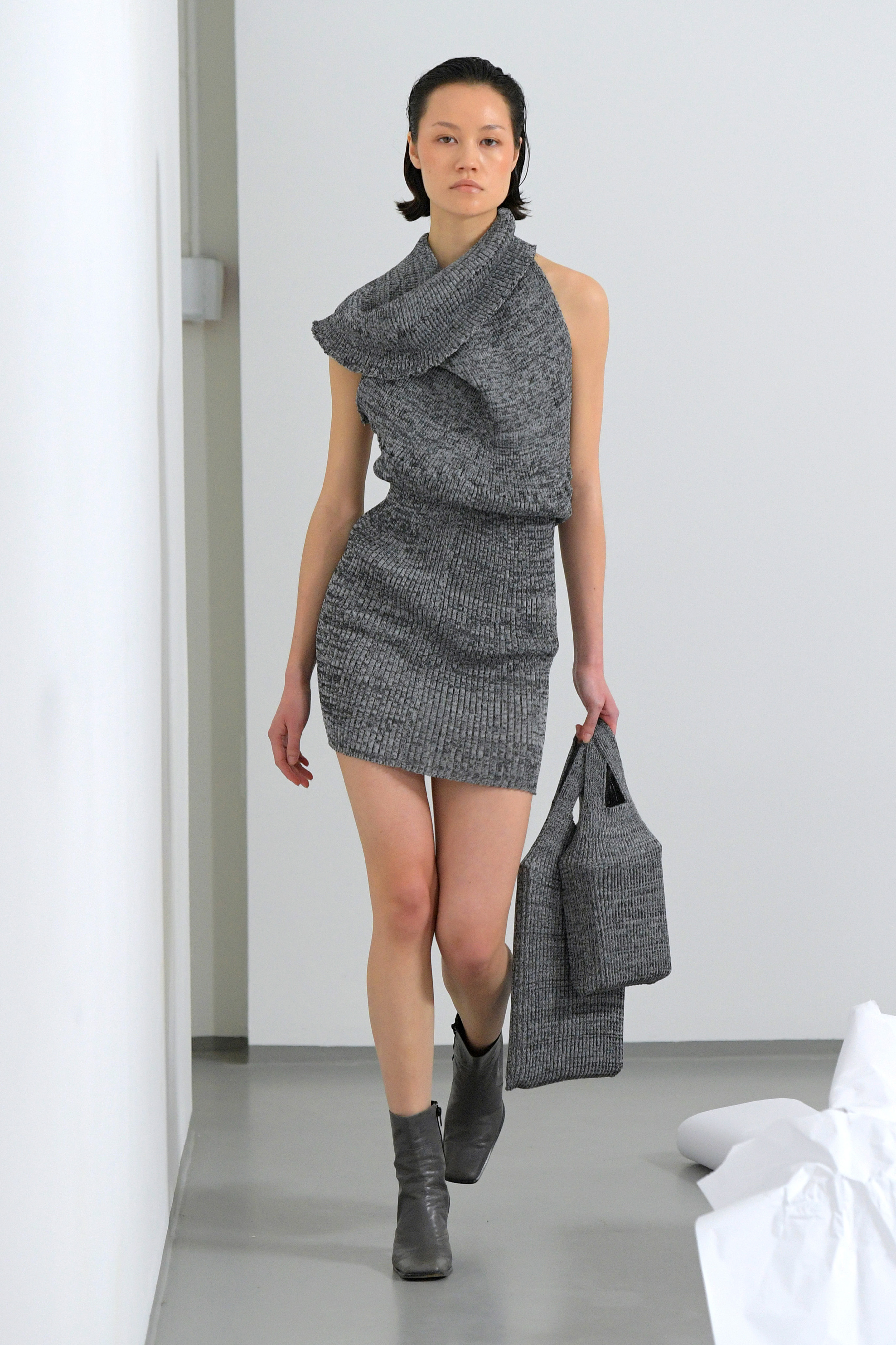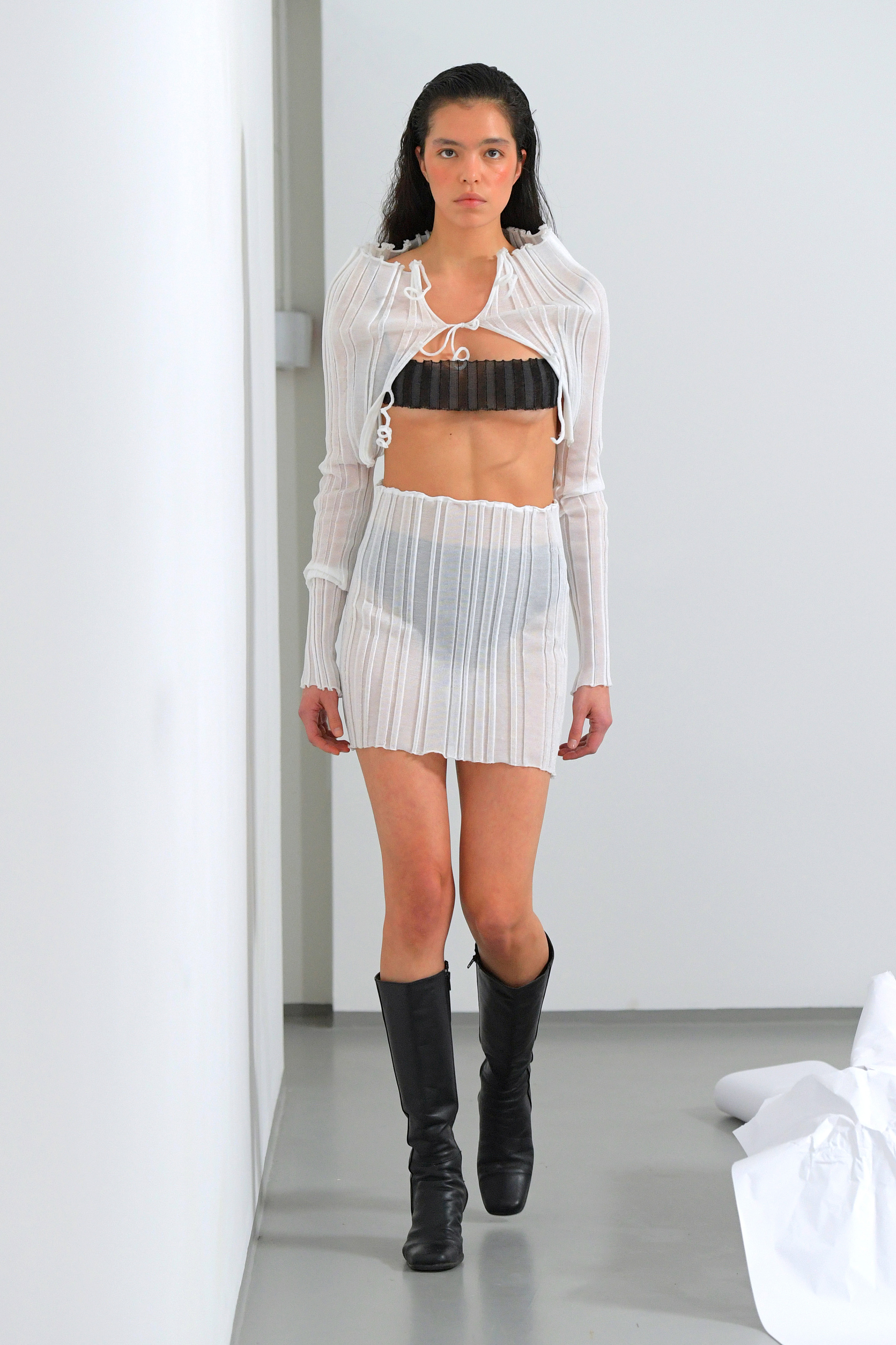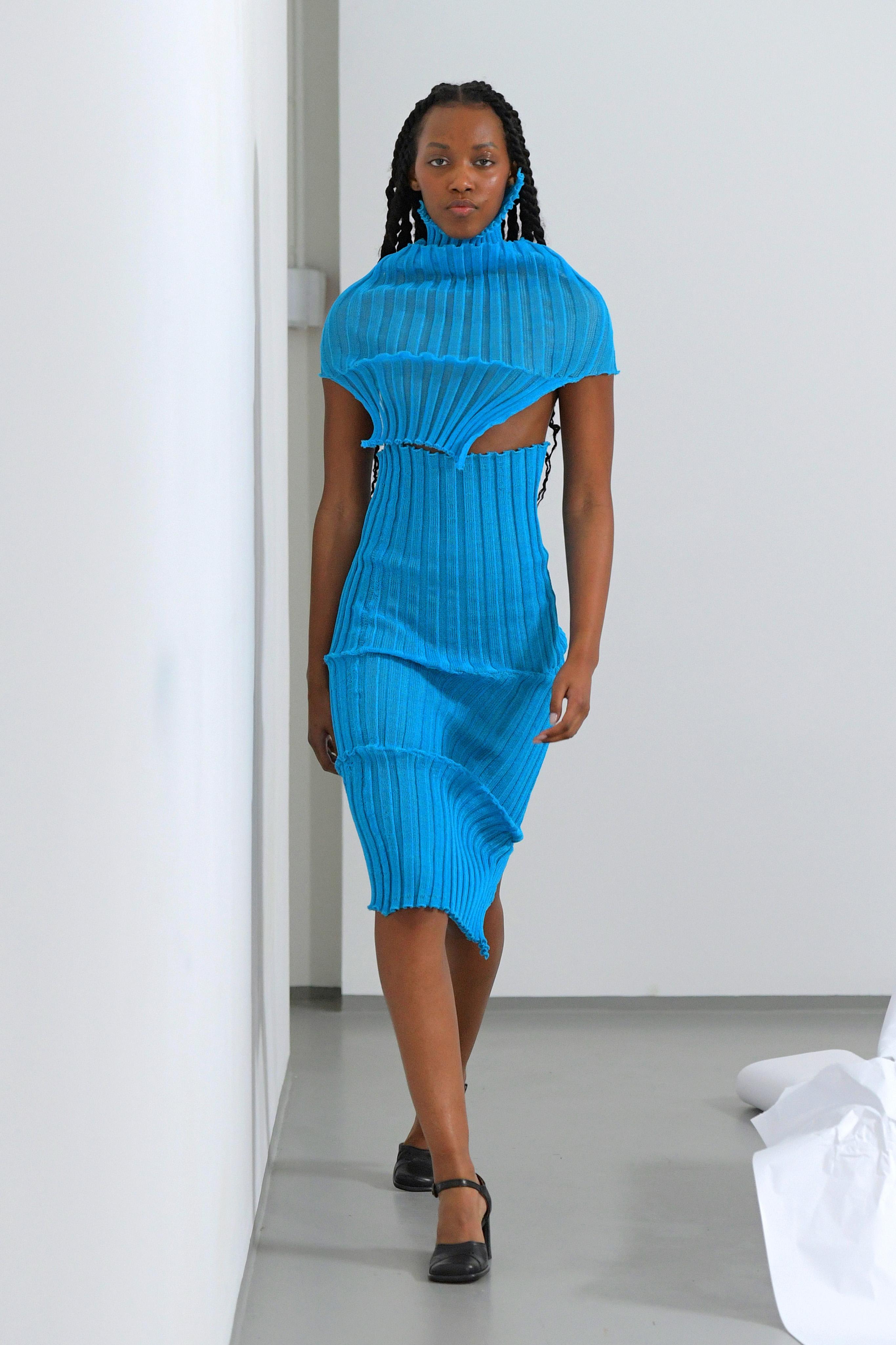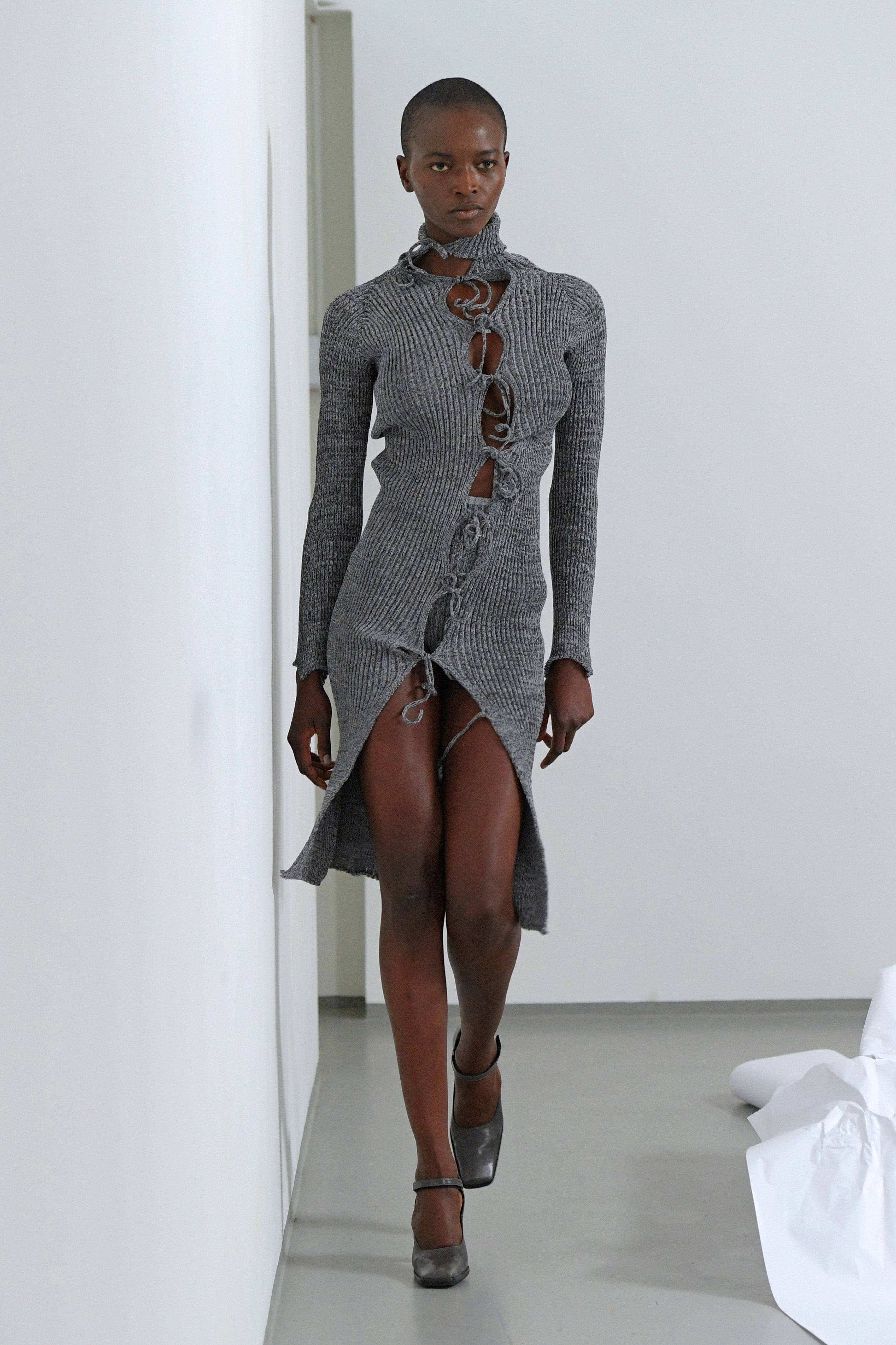 Saks Potts
Copenhagen's fashion weeks is one of the rare few that really make use of the city, bringing it to life by hosting shows in some of its most emblematic locations. If anyone's winning the prize for that this season, it's no doubt Saks Potts, who took to the neo-futuristic Copenhagen Opera House, the Henning Larsen-designed monument perched just across the water from the royal place. Rather than an ode to the rousing performances that take place there, though, Cathrine Saks and Barbara Potts chose the multi-levelled, airy space on account of the clean-slate backdrop it provided. "The atmosphere here at the Opera House feels almost a bit like an airport, with all the bridges and different levels," mulled Cathrine backstage after the show. "We wanted to tap into this idea of people coming in from all over the world, being their own personality and not trying to be part of a group."
That sense of eclecticism and personal celebration carried over into the collection itself – a full wardrobe spanning slinky chartreuse mousseline dresses and baggy rollneck sweaters in speckled knits; python-effect lambskin trenchcoats, cropped foulard-print kaftans and sensible shearling coats. There were, of course, distinct aesthetic narratives that ran through the collection – this season, the girls drew particular inspiration from the textures and practicality of traditional hunting garments, resulting in jodhpurs, hardy knits and harris tweeds, as well as nifty add-ons like thoughtfully placed D-rings and AirPod cases – but the impression you were really left with was of the range of their proposal: "This collection is also really about embracing all the girls," Barbara said, "it's for our family, our friends, and we even had one of our team members walk in this show."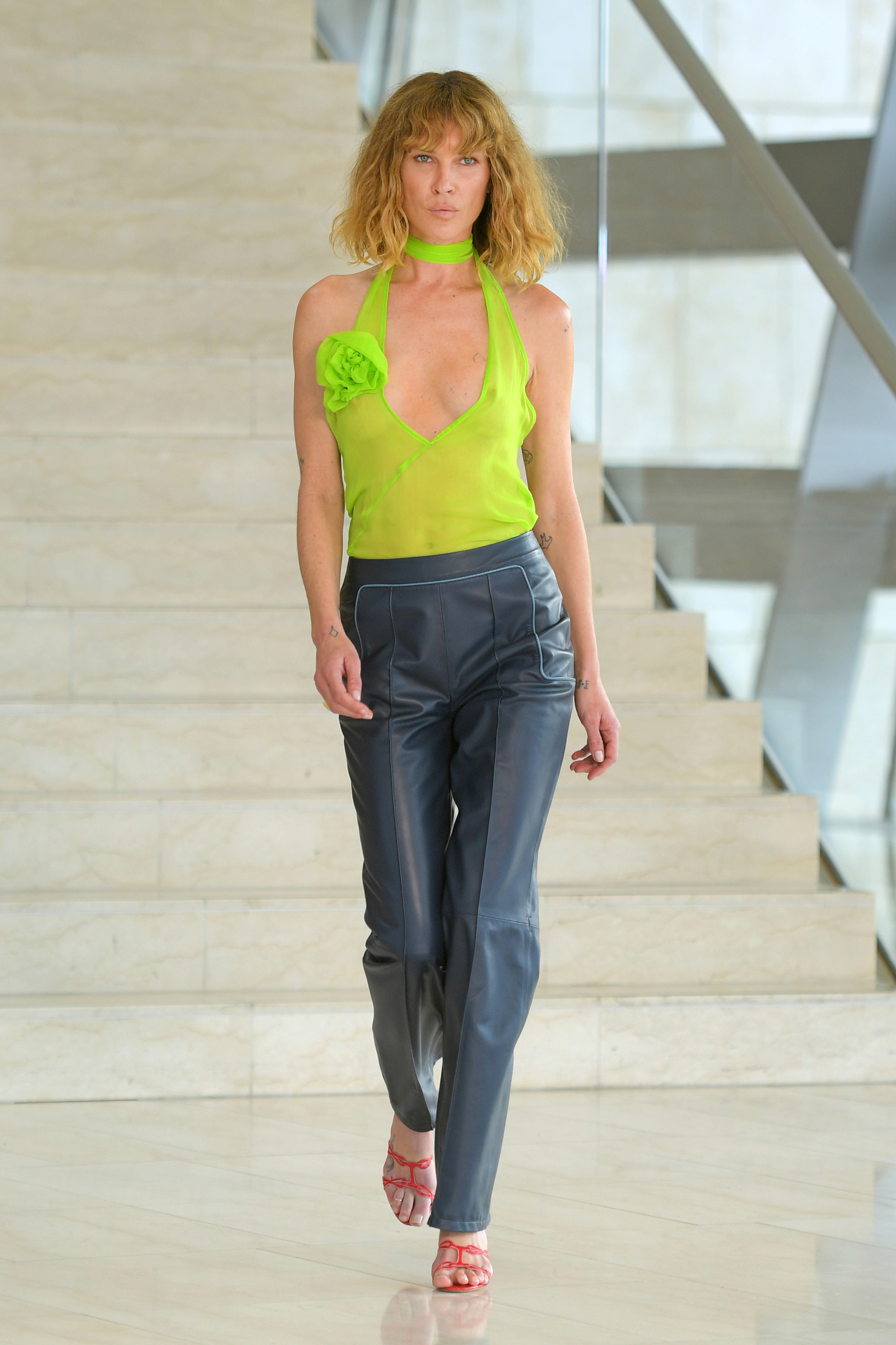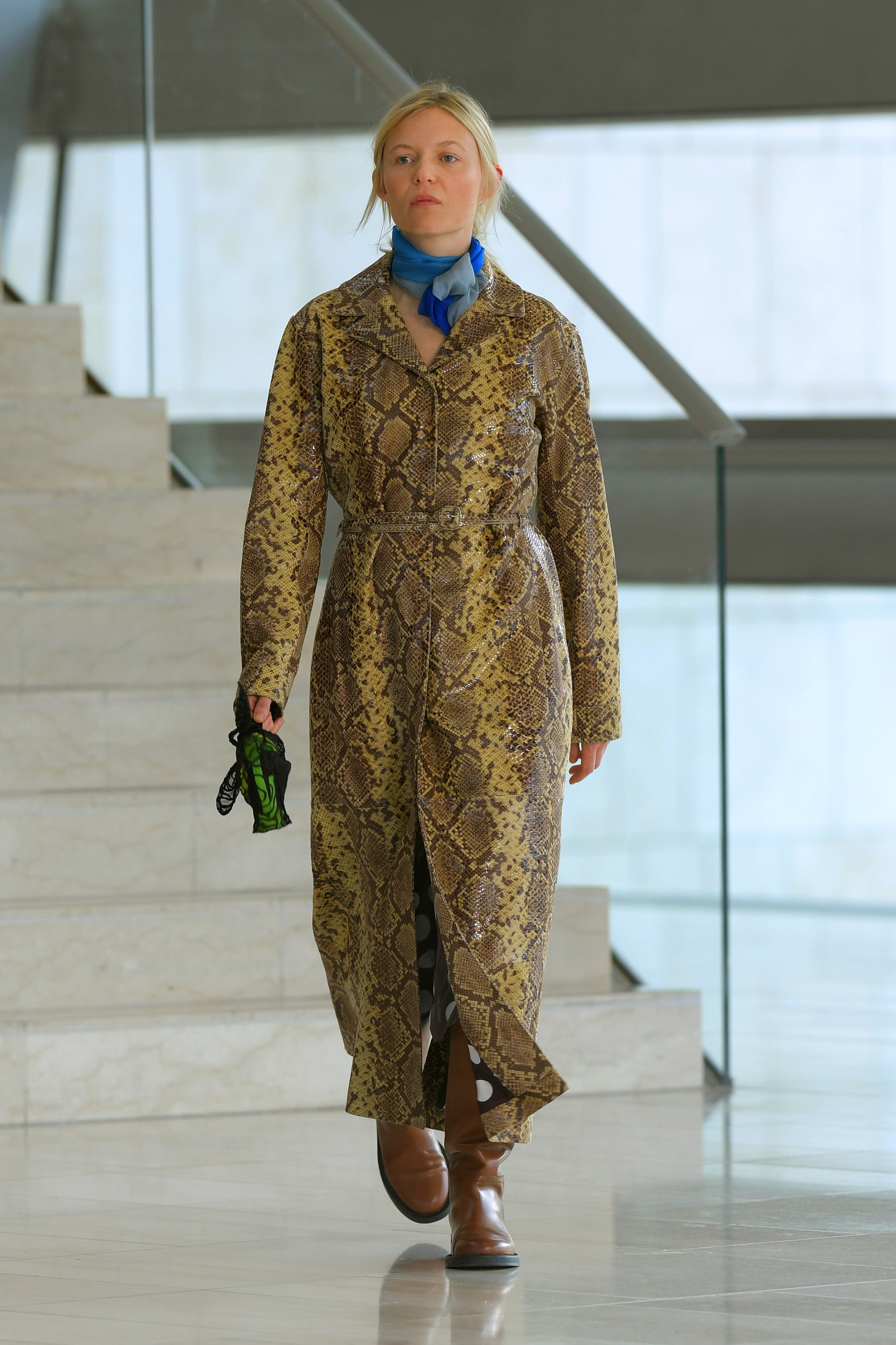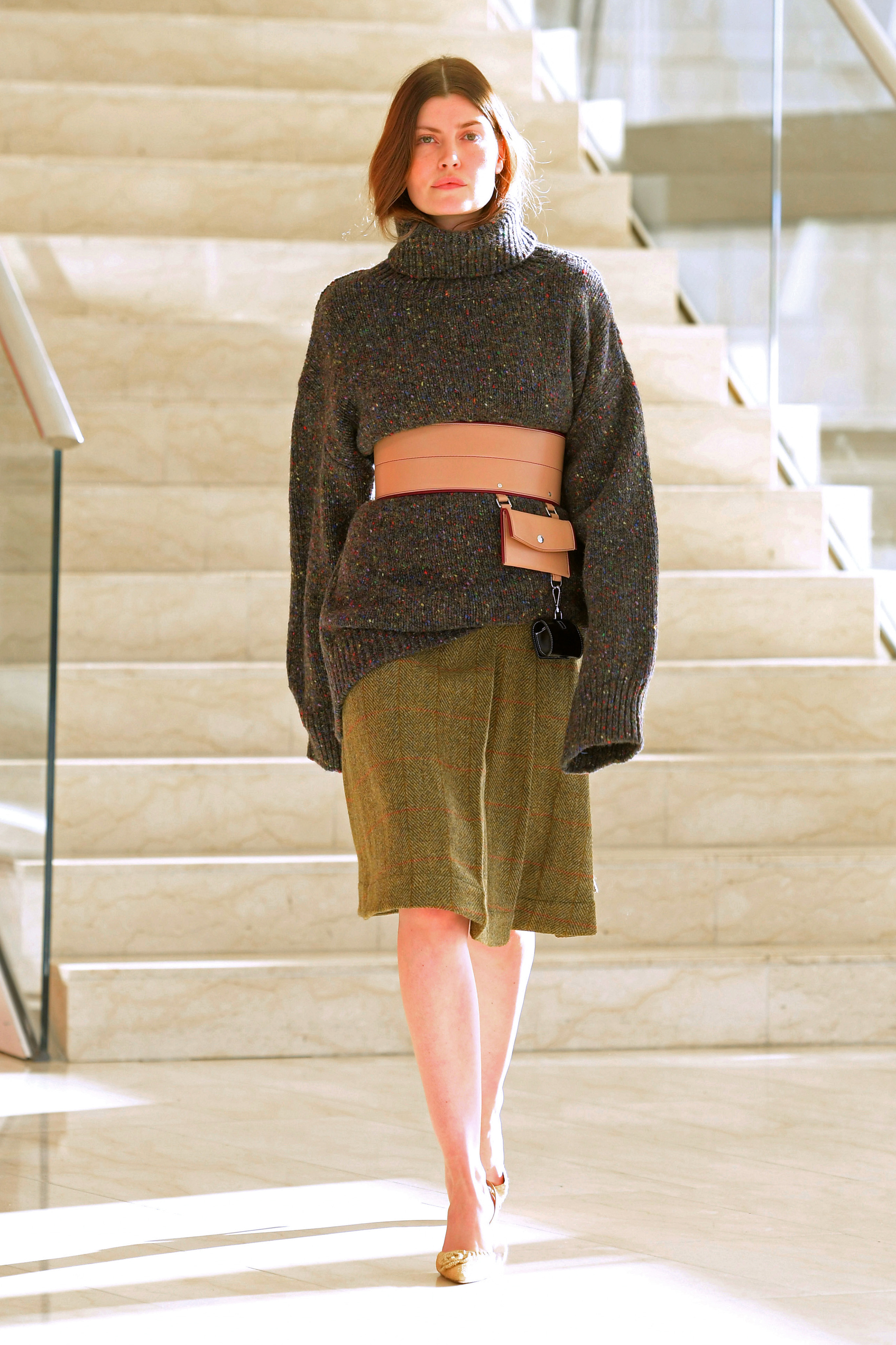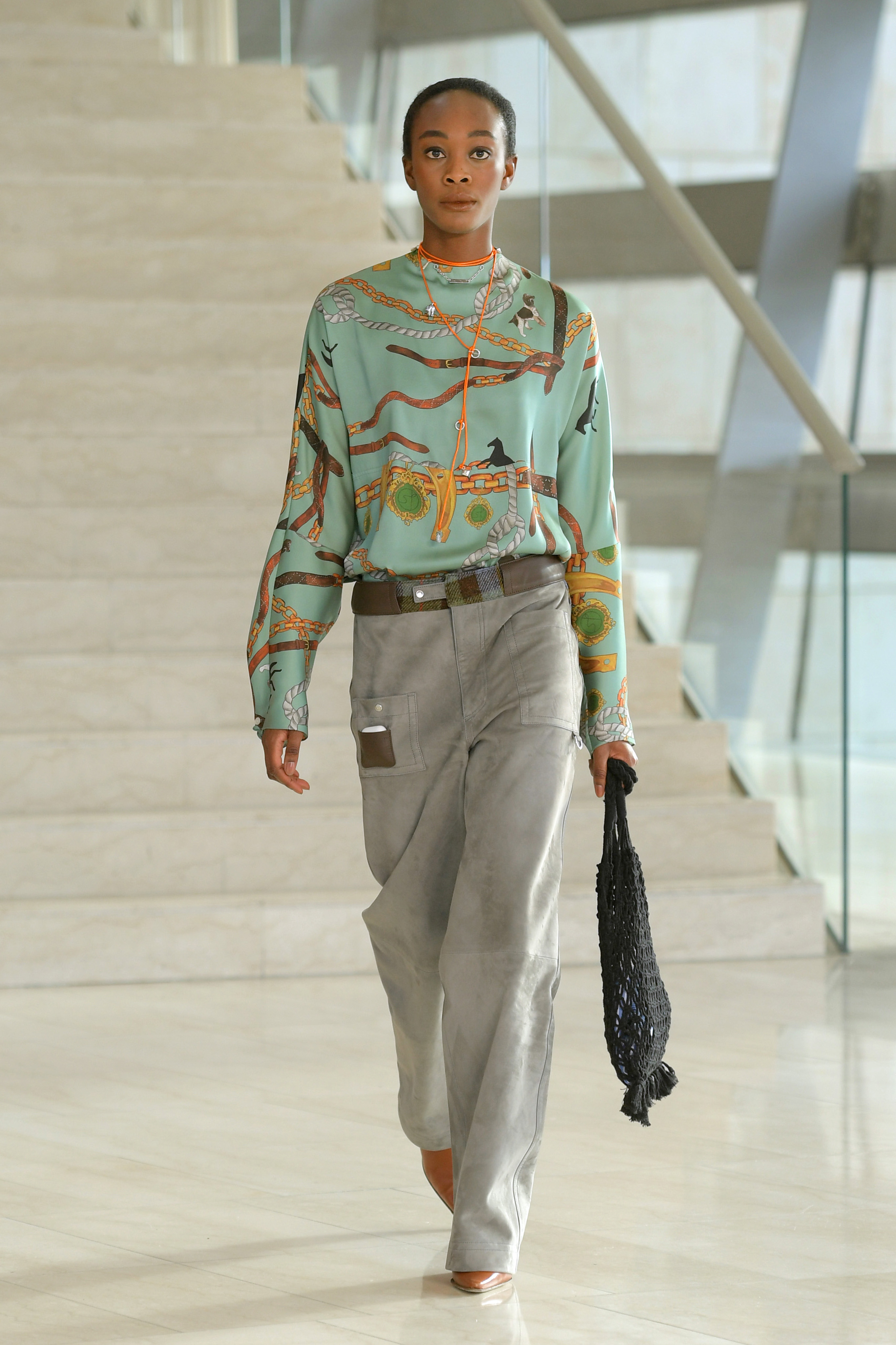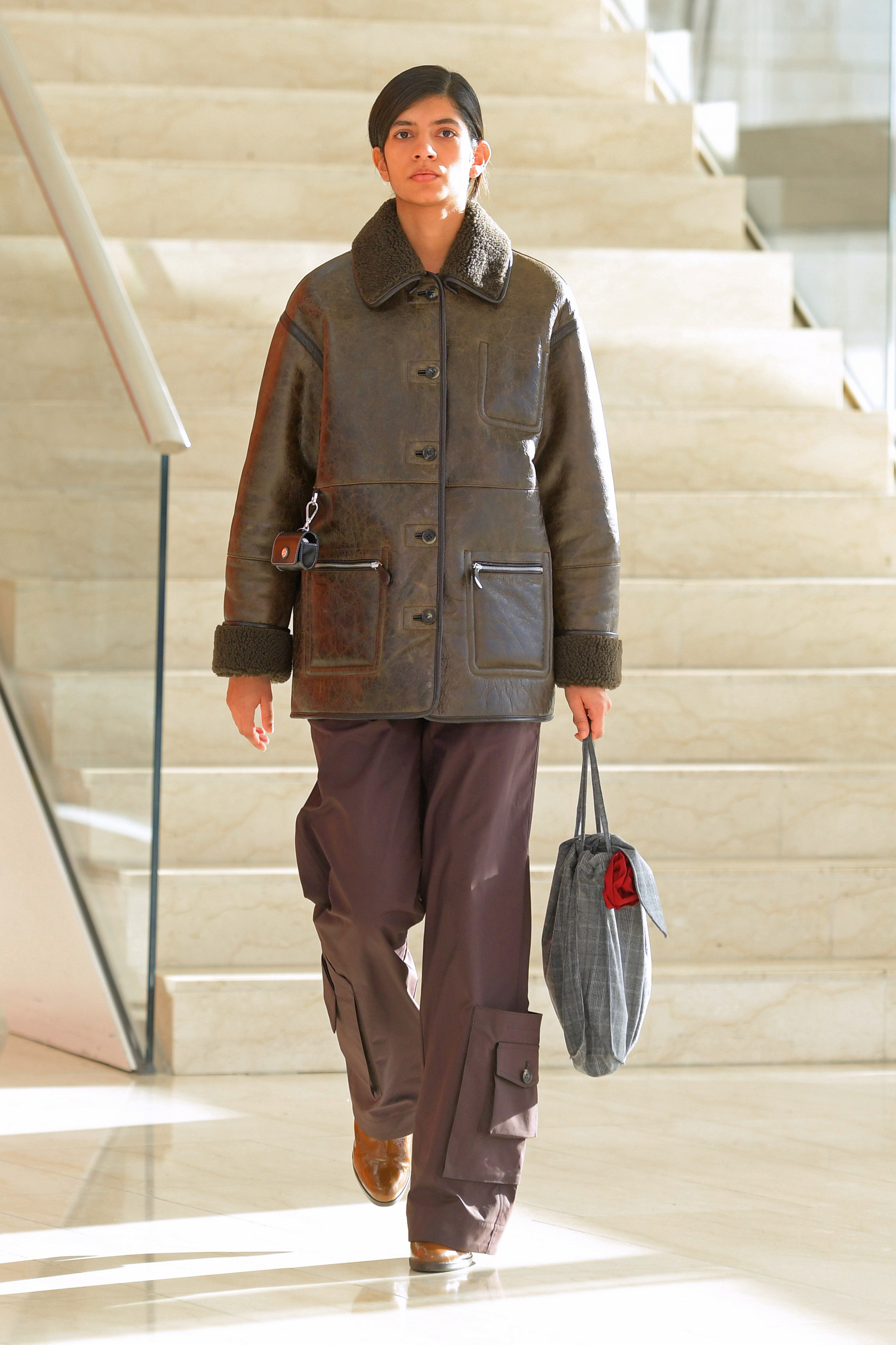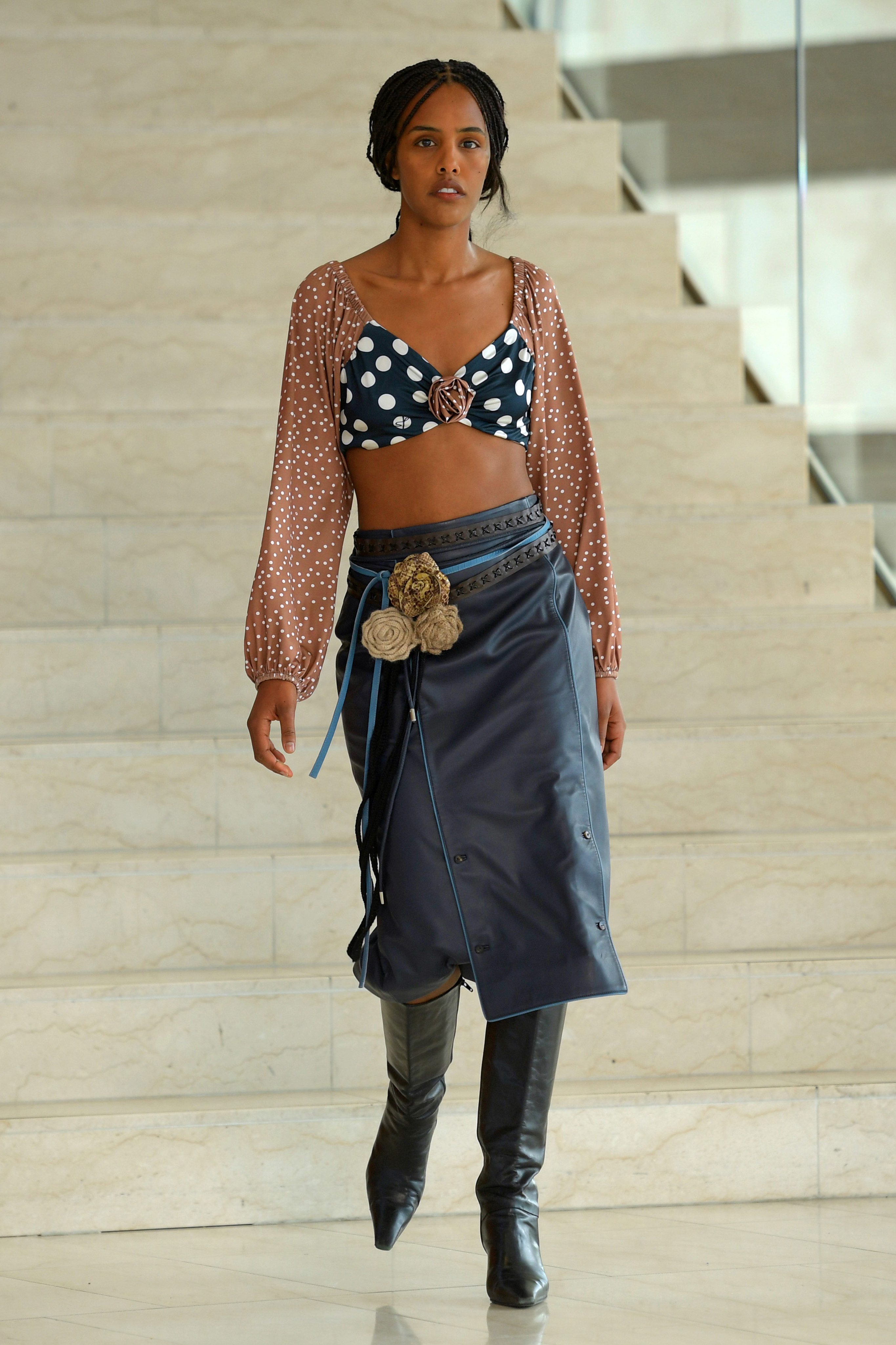 Wood Wood
Making it 20 years in an industry as fickle as fashion is, of course, no mean feat. This season, that was the milestone passed by Wood Wood, a key player in the export of pragmatic Scandi-cool to the world. For the turning of its second decade, the Copenhagen-based powerhouse staged a fitting celebration of the brand's founding codes. From rugged Norse knit overcoats to workwear-inspired denim boilersuits and separates, the collection was a revindication of the elevated practicality that so many associate with Scandinavian fashion – in large part thanks to the role that Wood Wood has played in shaping its image over the years. It wasn't all about rugged basics, though. This season, a sense of artistic flair was brought to the table by way of a collaboration with Danish painter Tal R, whose extensive archive served as a source for the graphics seen across embroidered patches on the back of jackets and richly textured jacquards.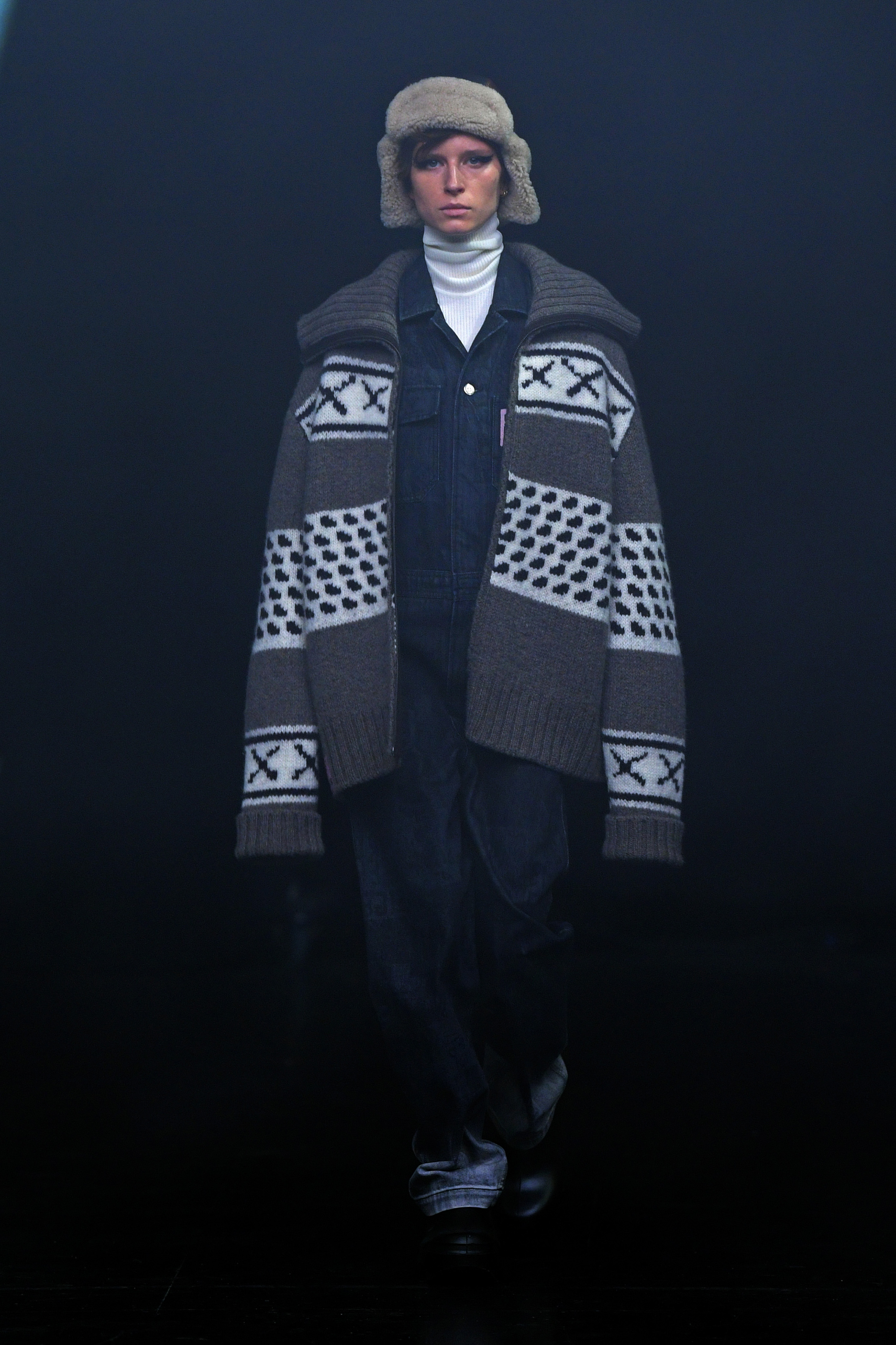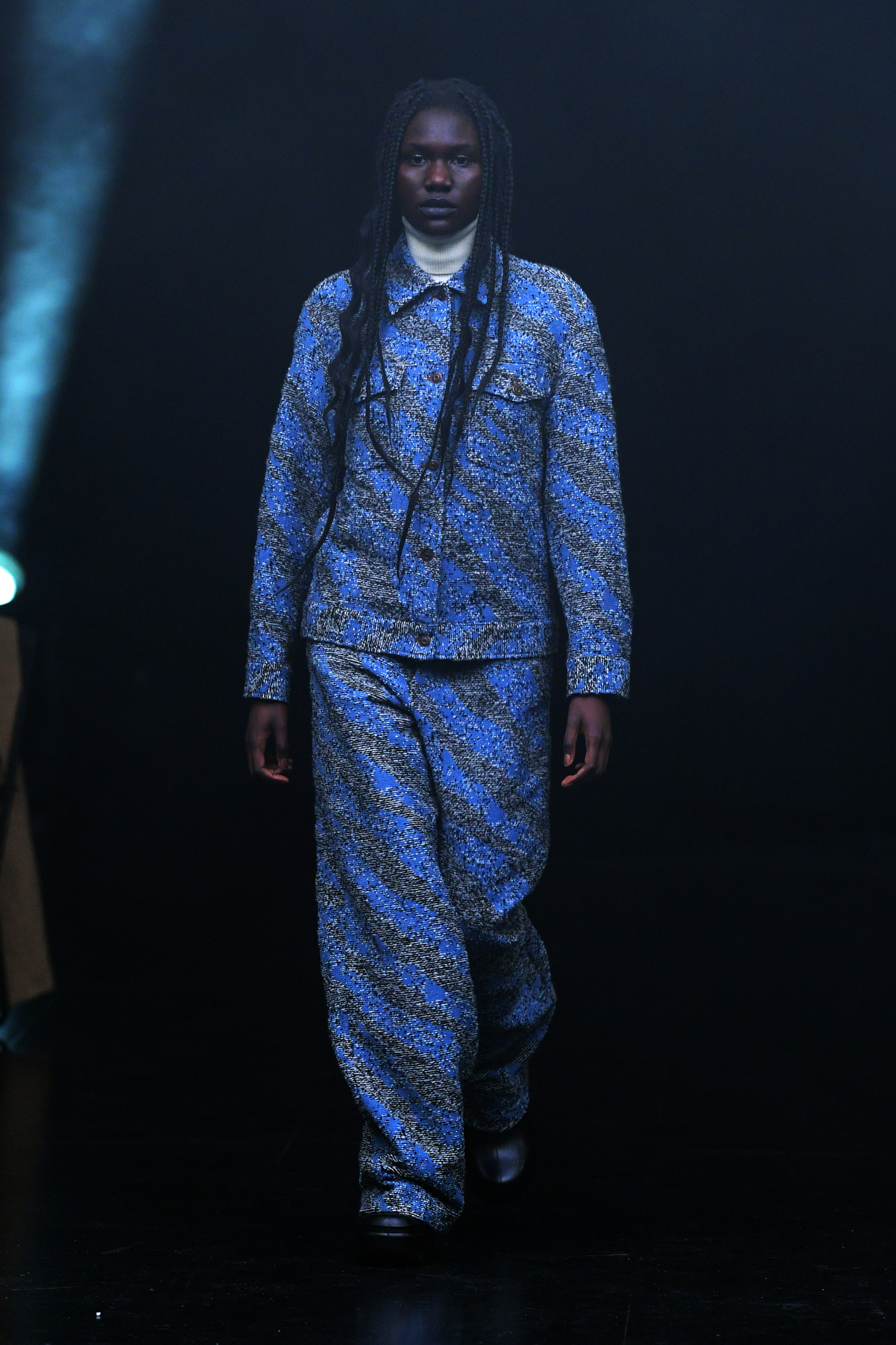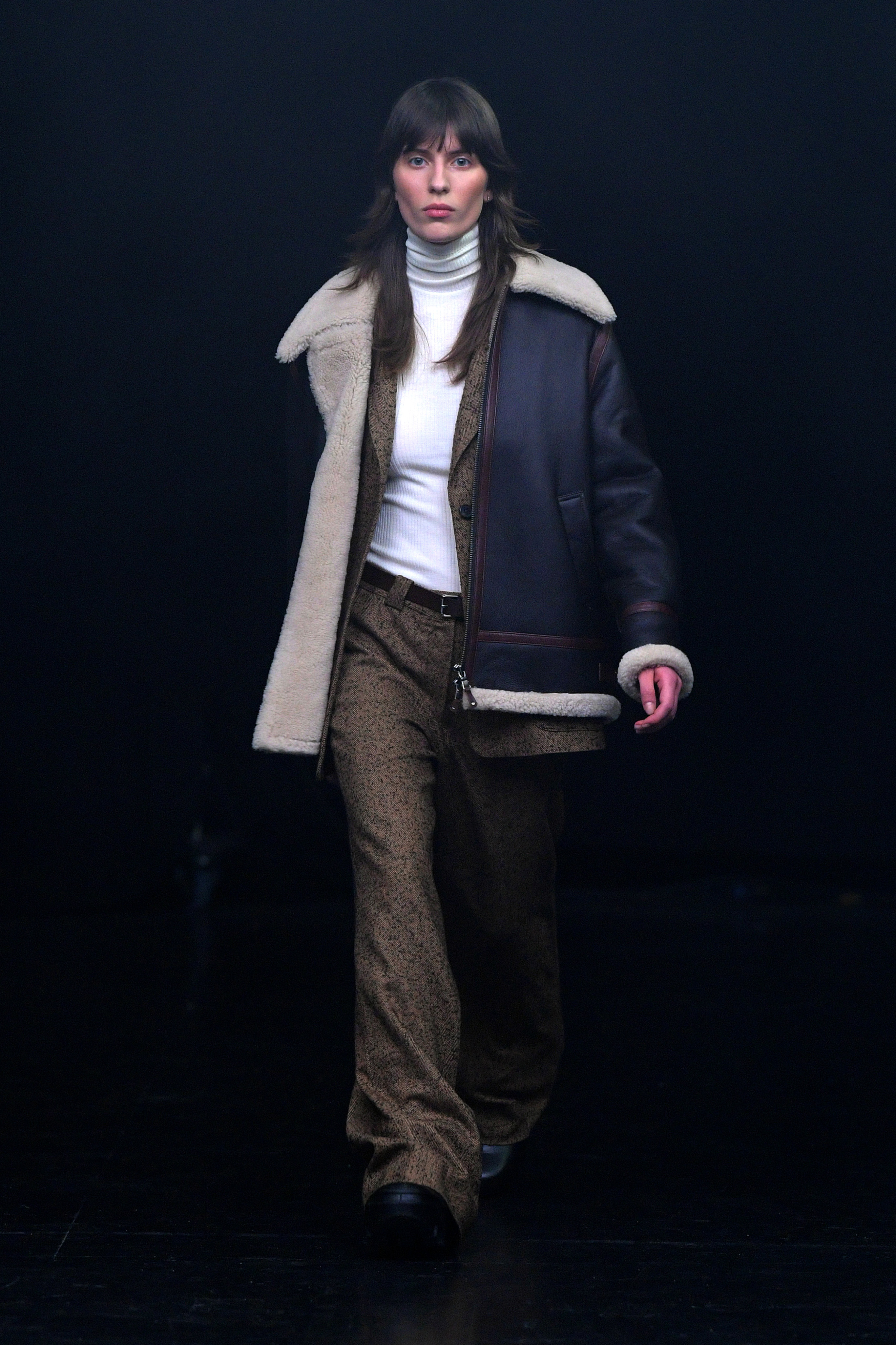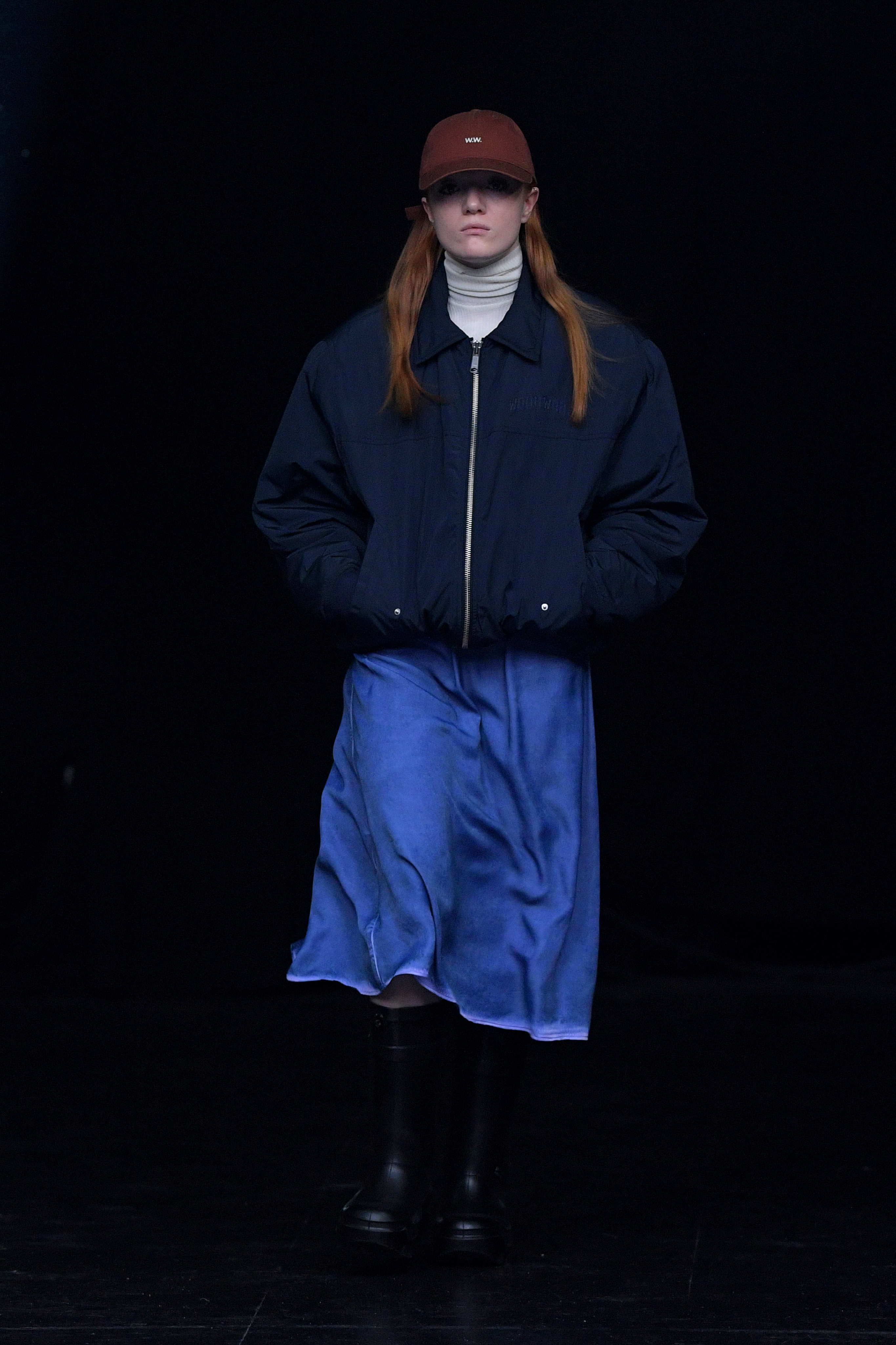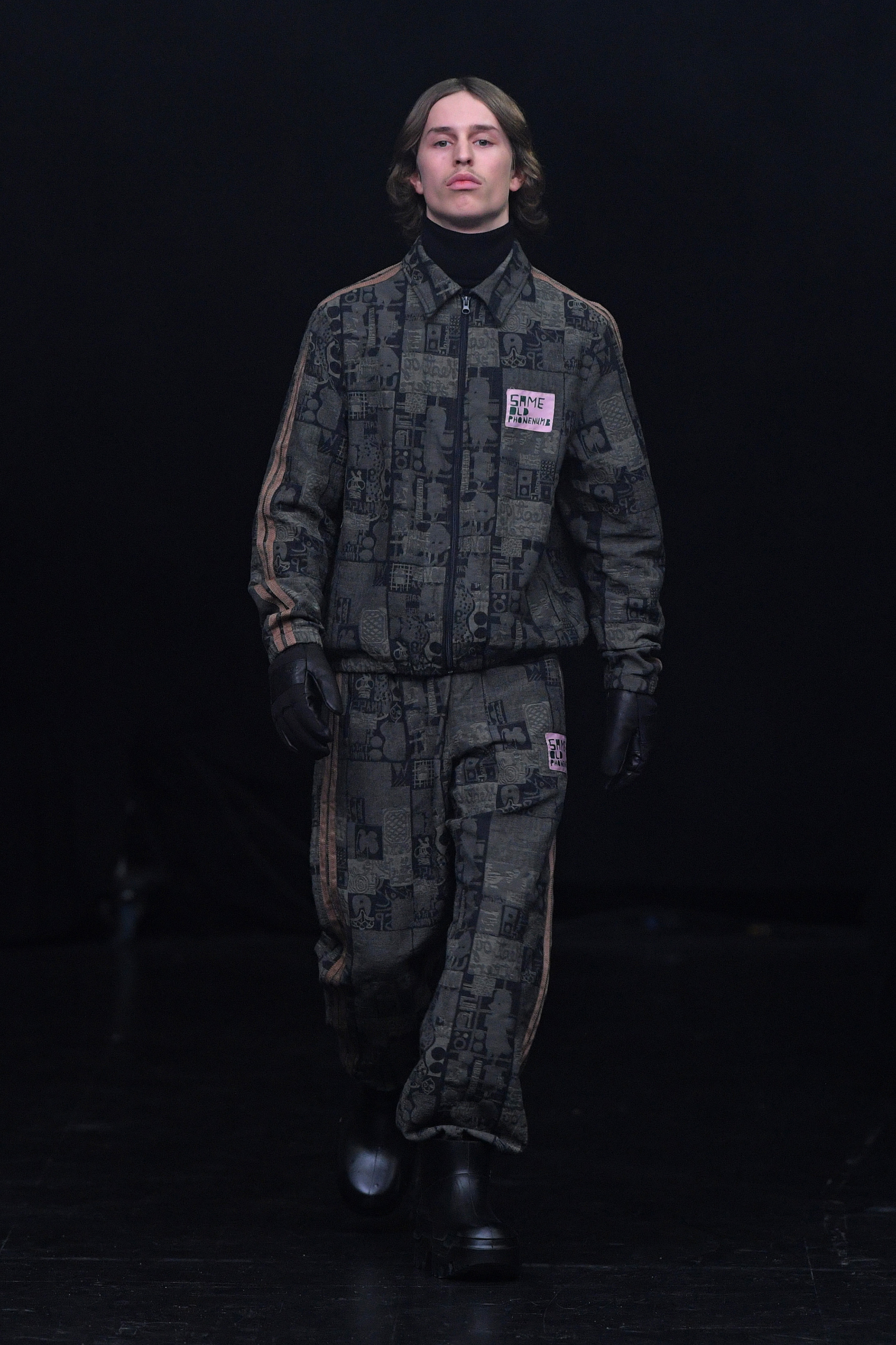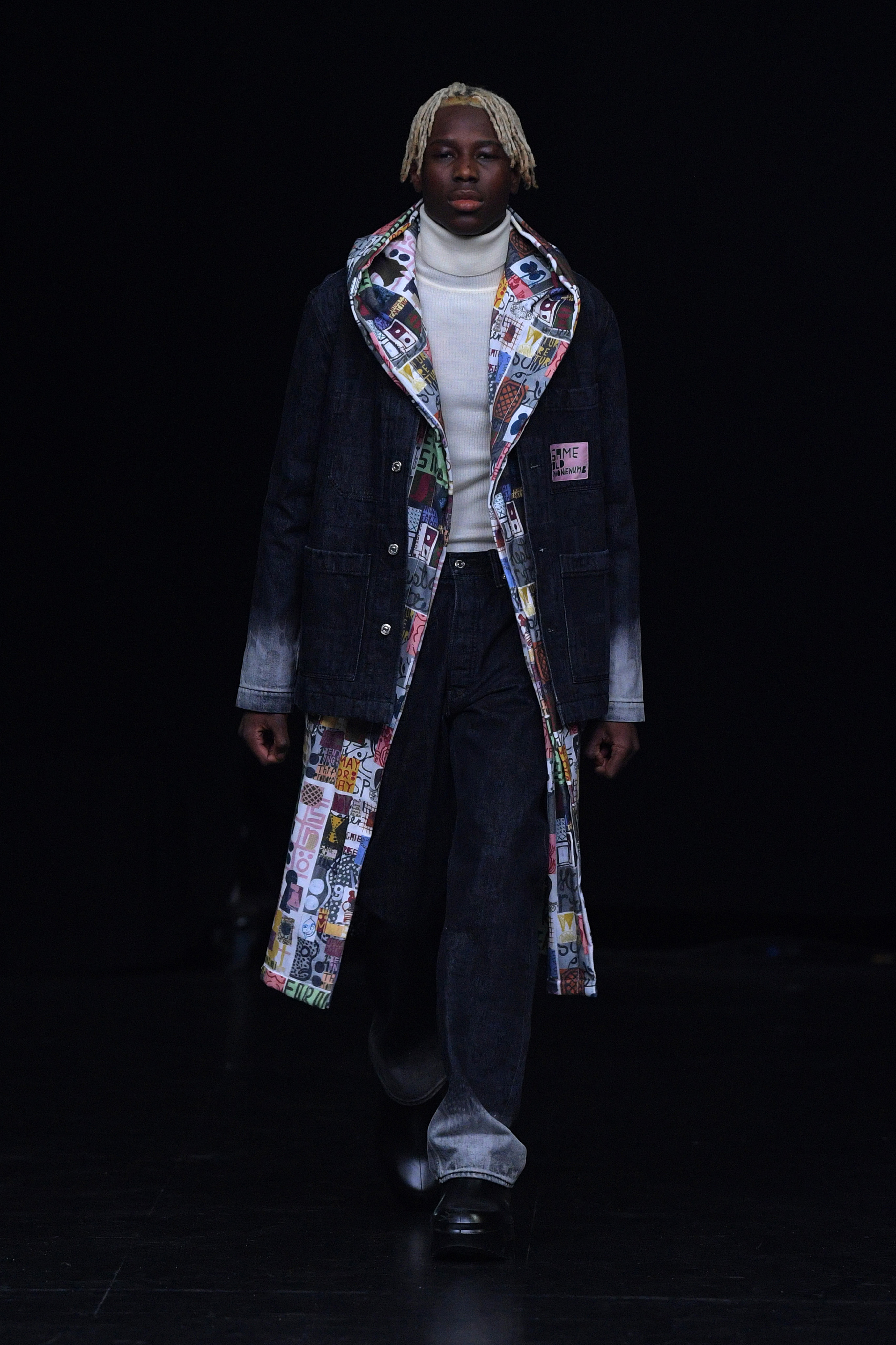 Solitude Studios
If ever you're looking for designers making a convincing case for swampcore, then look no further than upstart Copenhagen label Solitude Studios. In a medieval church space in the old city centre, the collective presented their debut collection of intricately handwrought garments off schedule – in just the renegade spirit that their name implies. In a near-exclusively earthen palette, a parade of skimpy knits – think laddered legwarmers clipped onto rugged tweed miniskirts, and fishnet cowl hoods – faintly medieval time-gnawed linen shirting, layered trousers and padded, panelled bombers filed down a straw-strewn runway – which later became the site of a raucous hay fight in a performance by artist Esben Weile Kjaer. It certainly made for a bold (not to mention sneezy) impression, but beyond the theatrics, what you were left with was a collection of considered, intelligently-crafted clothes that took a left turn from the prim fashion that Copenhagen is known for, offering something that felt genuinely fresh for the city as a result.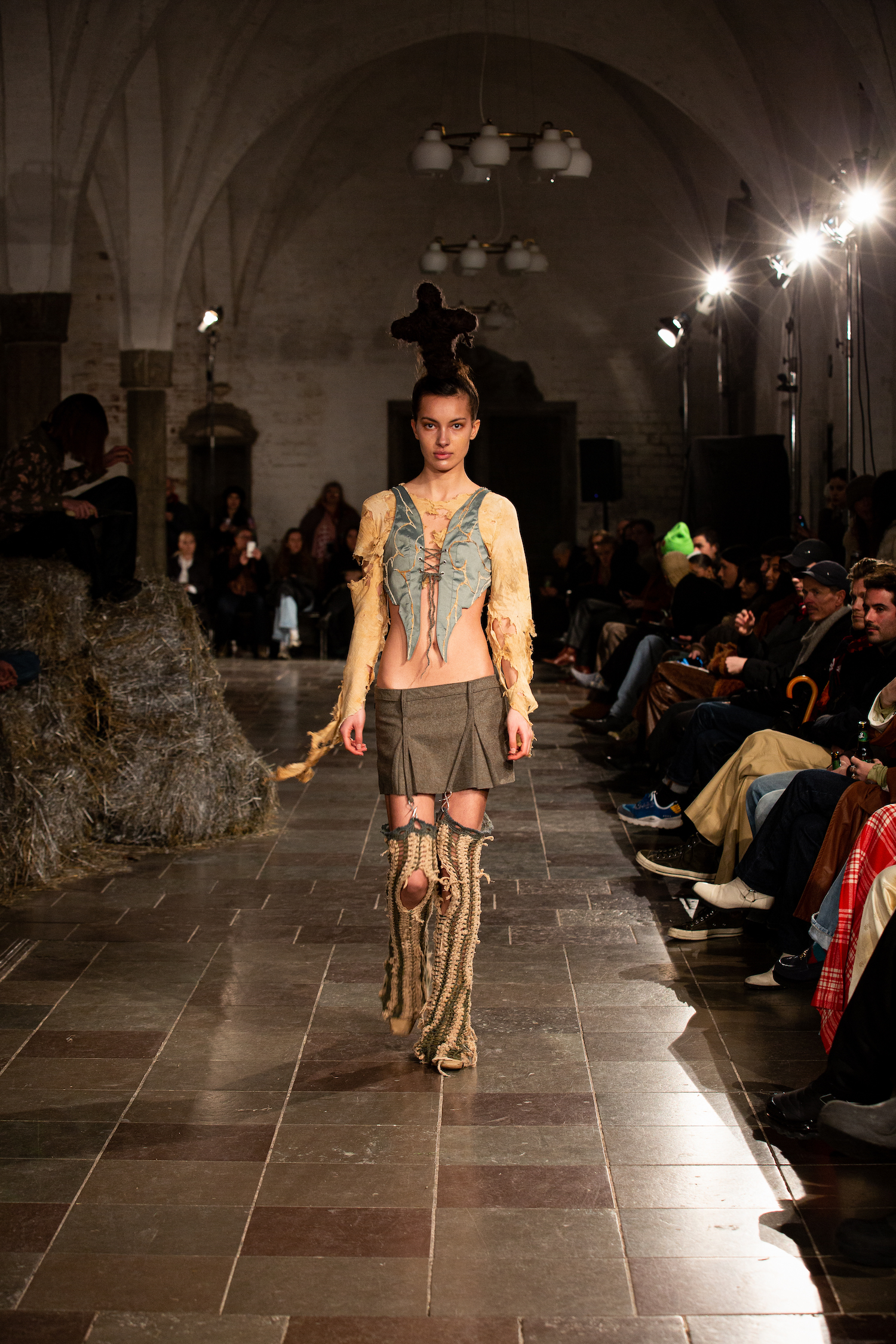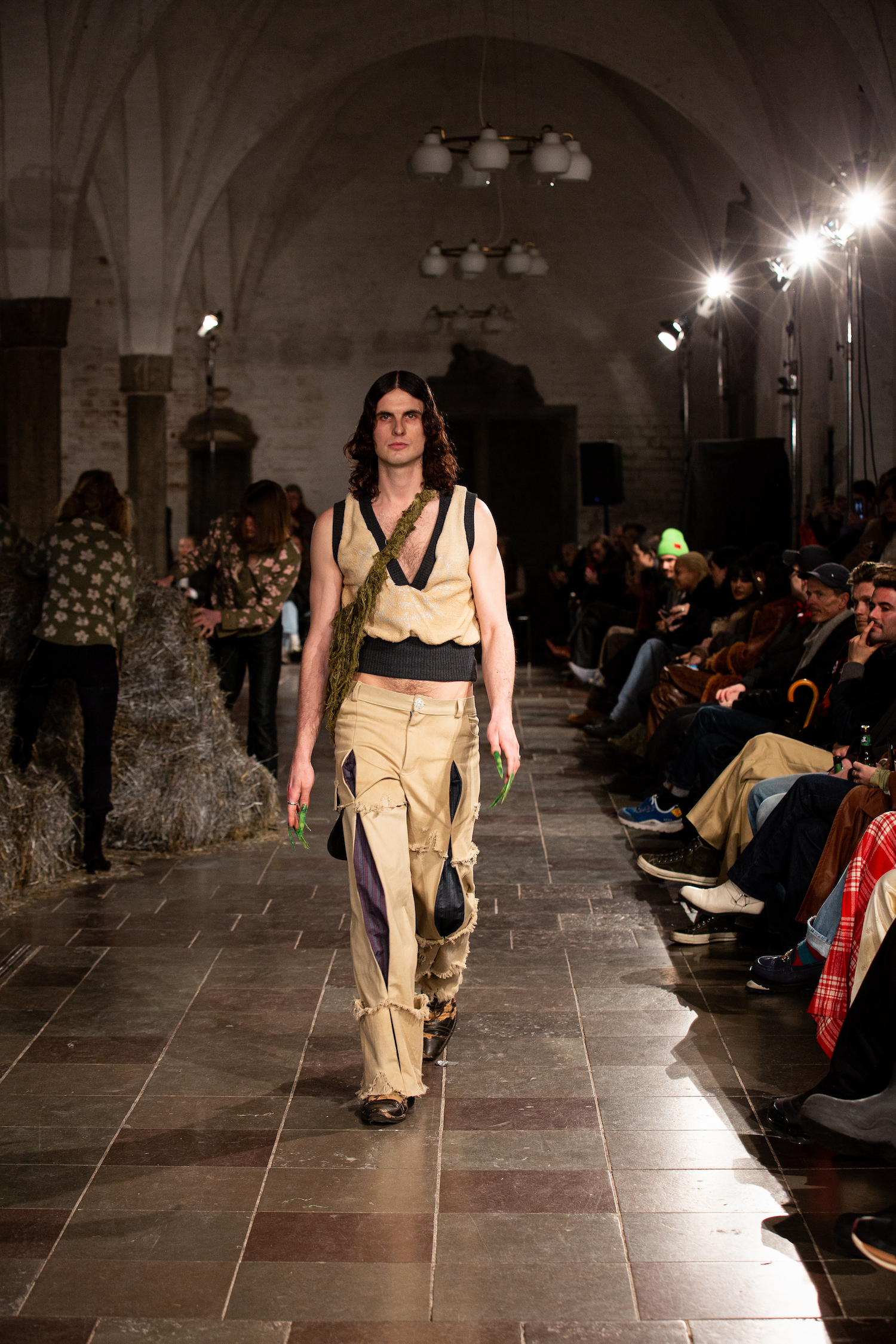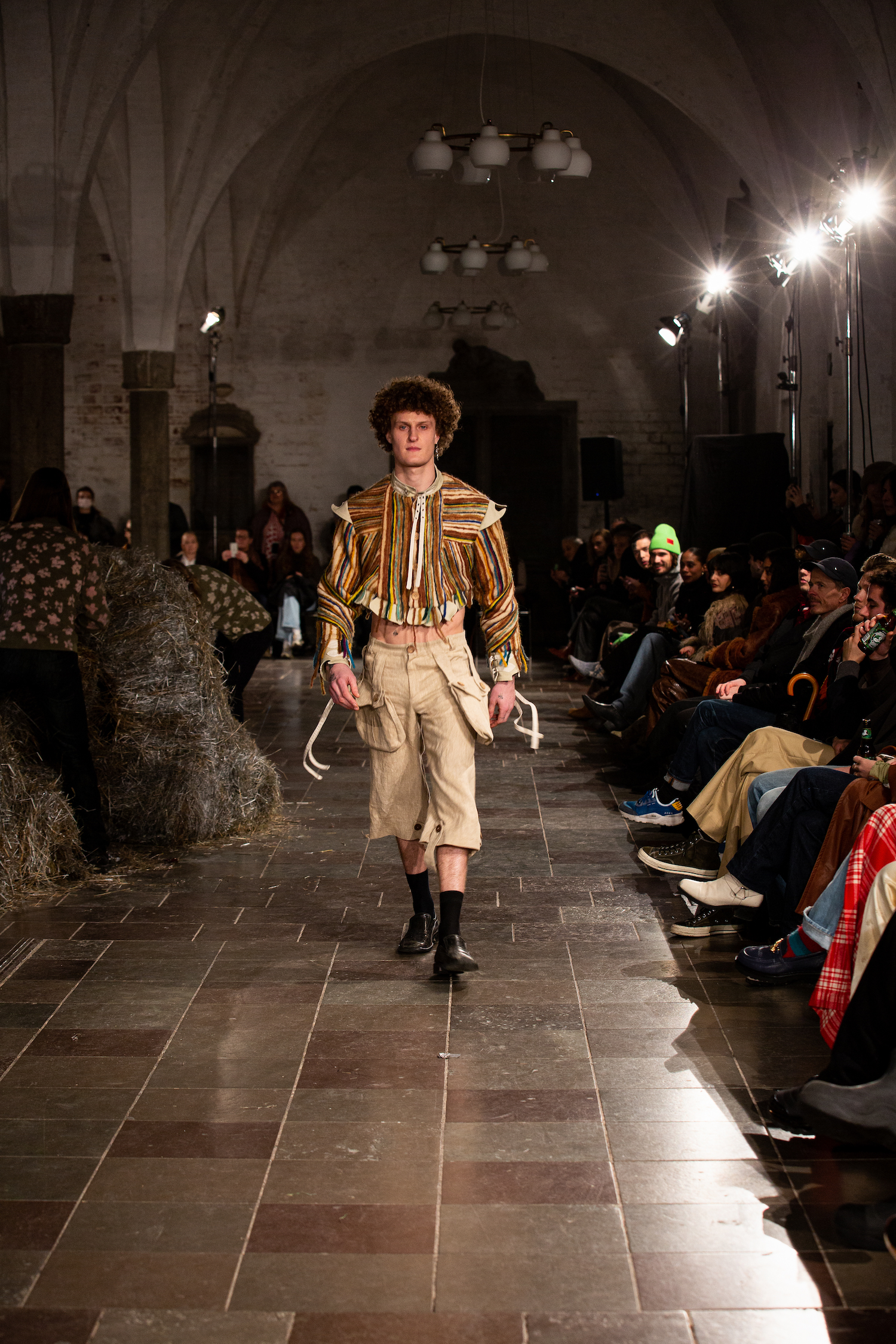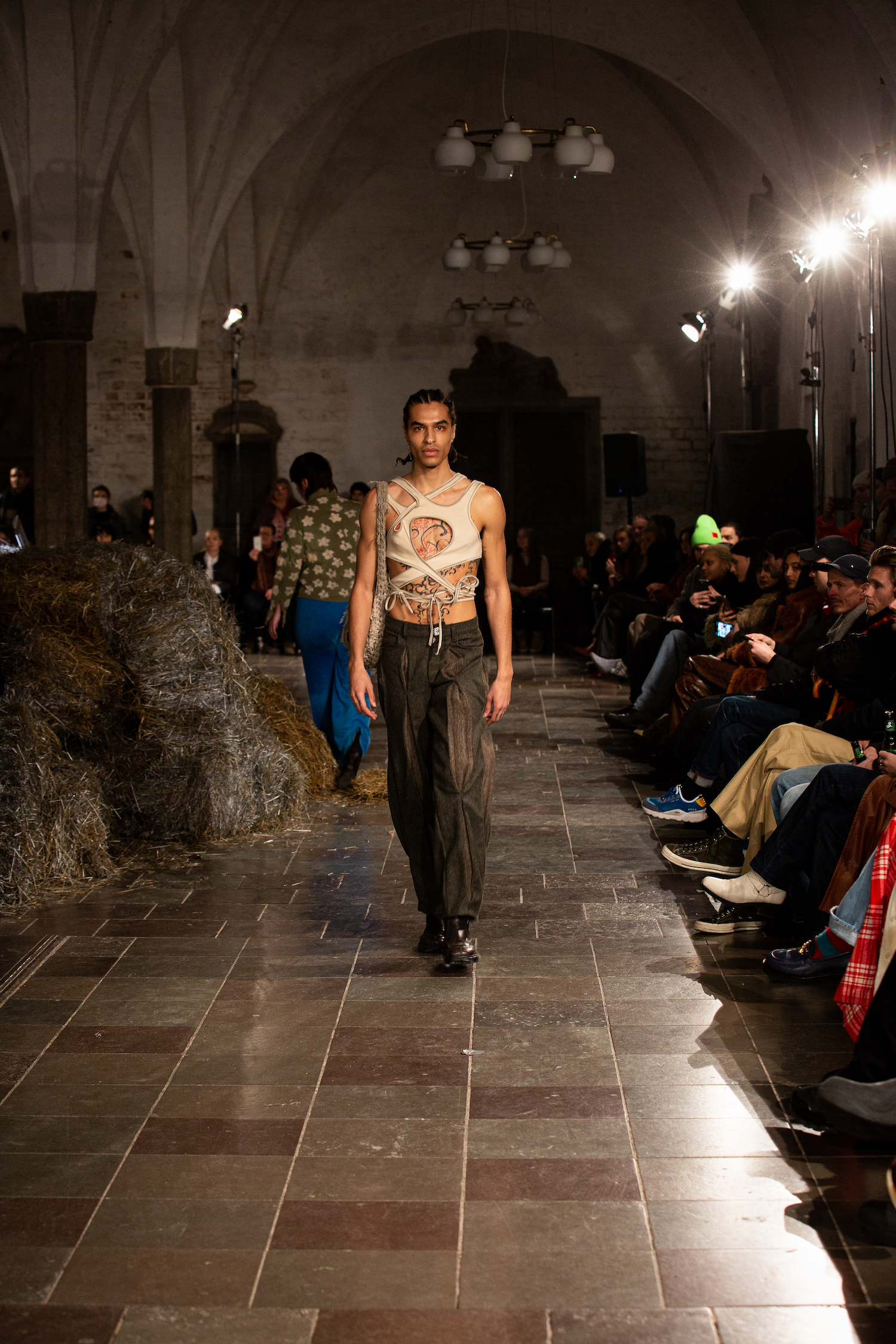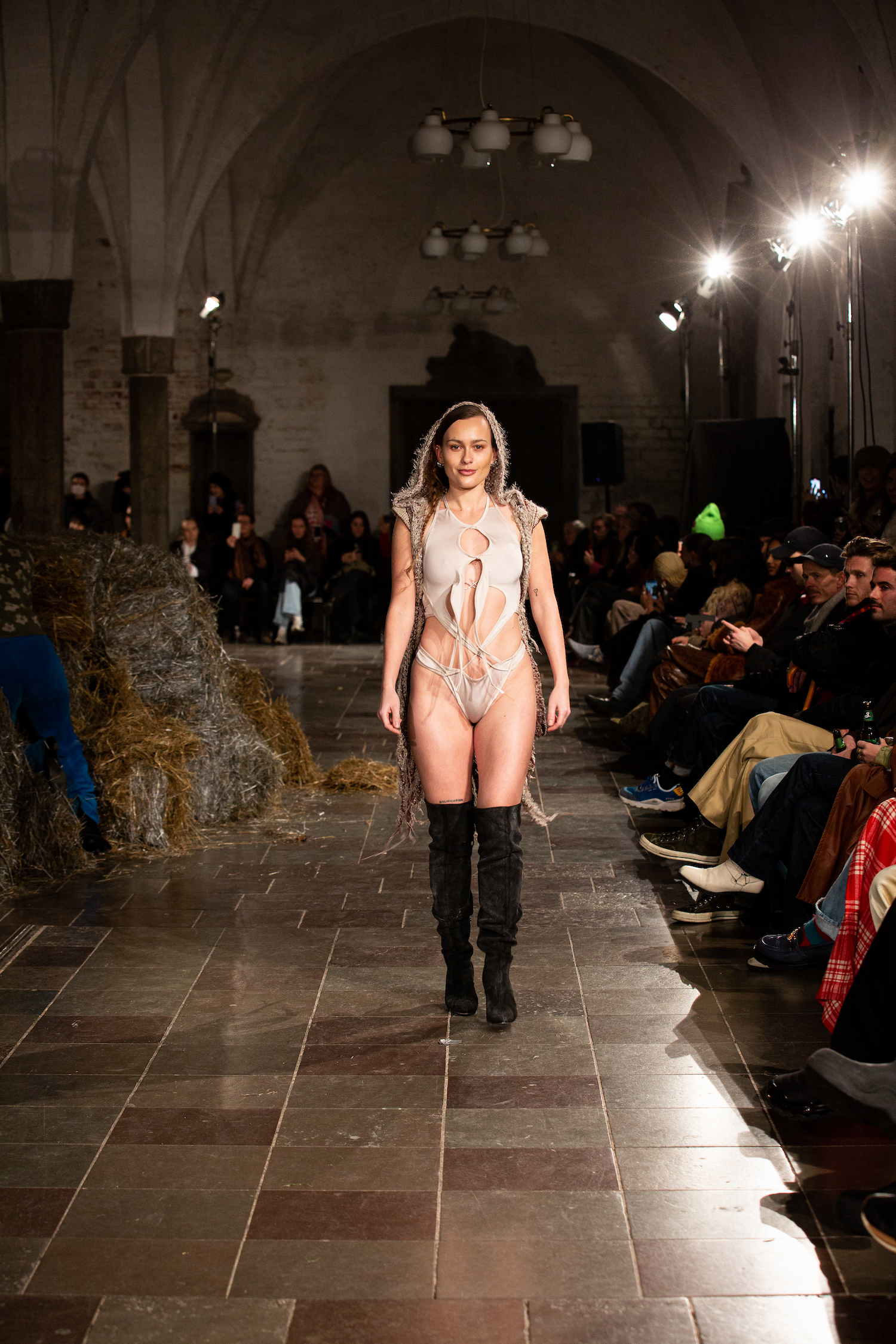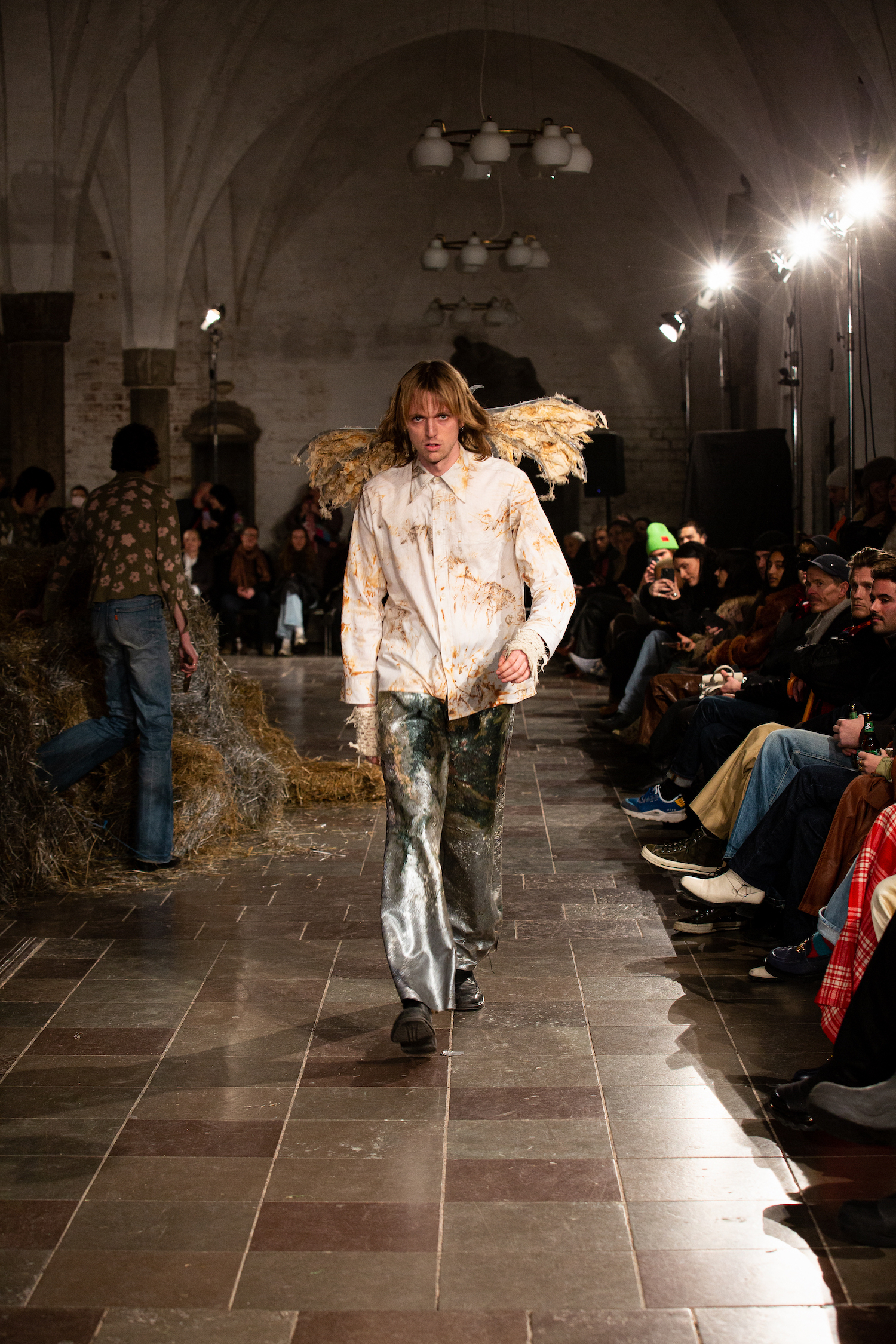 Jade Cropper
Flying the flag for the white-hot revival of Y2K this season was Jade Cropper, the designer showing in this season's coveted Talent Slot – essentially a dedicated "one to watch" spot on the schedule. In a show styled by BFC New Wave member Billy Lobos, the bold sensuality of her design language made itself felt in flowing popper-seamed wide-leg trousers and asymmetrical tops, trailing split fronted denim skirts and long-sleeved bustier tops, which exhibited the sort of empowered feminine energy that we've previously seen from designers like KNWLS and Supriya Lele in London. Elsewhere, moto-inspired leather separates brought a grain of grunge to the offering, demonstrating impressive versatility in the range of styles, techniques, and textiles that the young Swedish designer is able to work into her repertoire.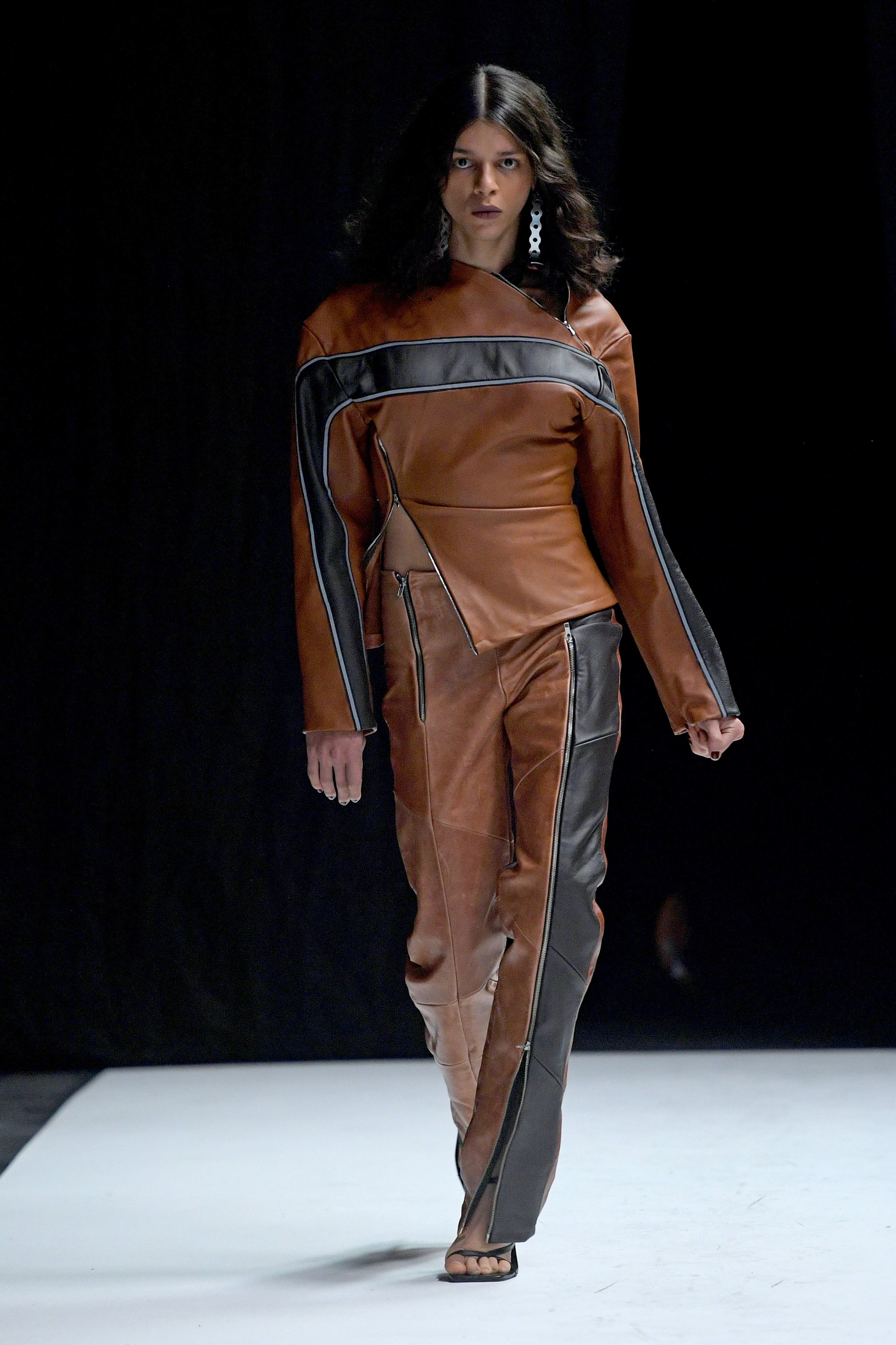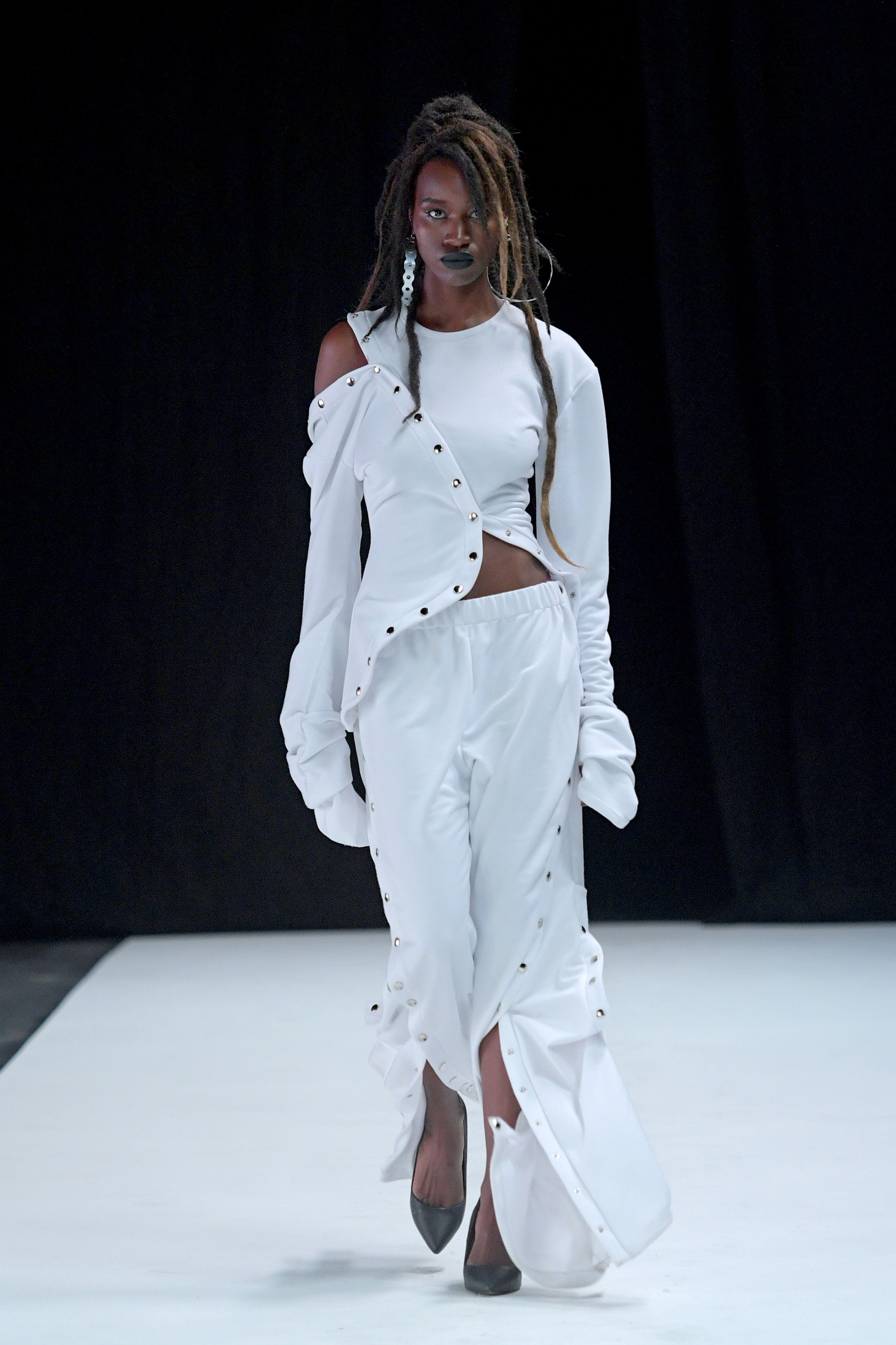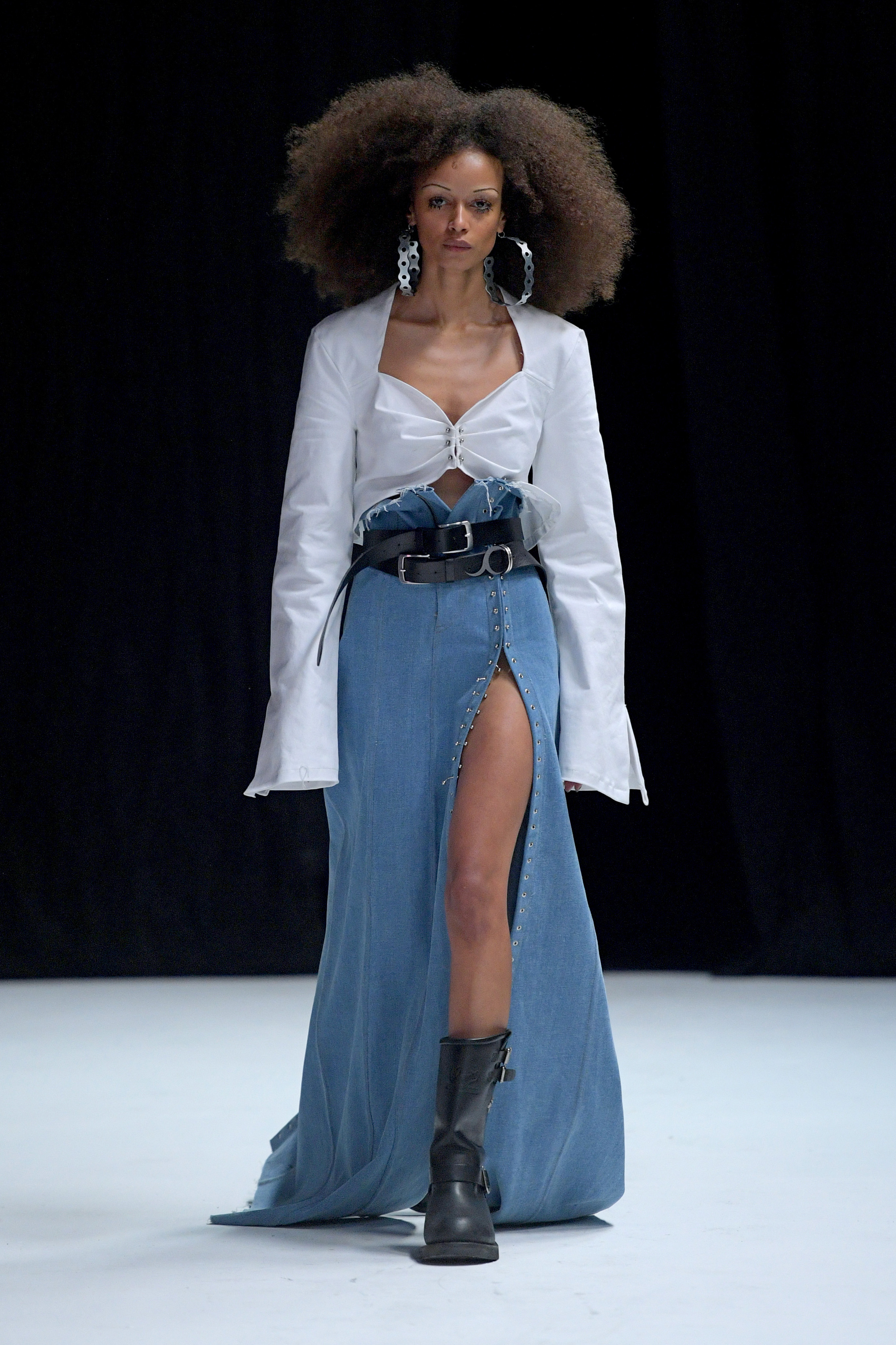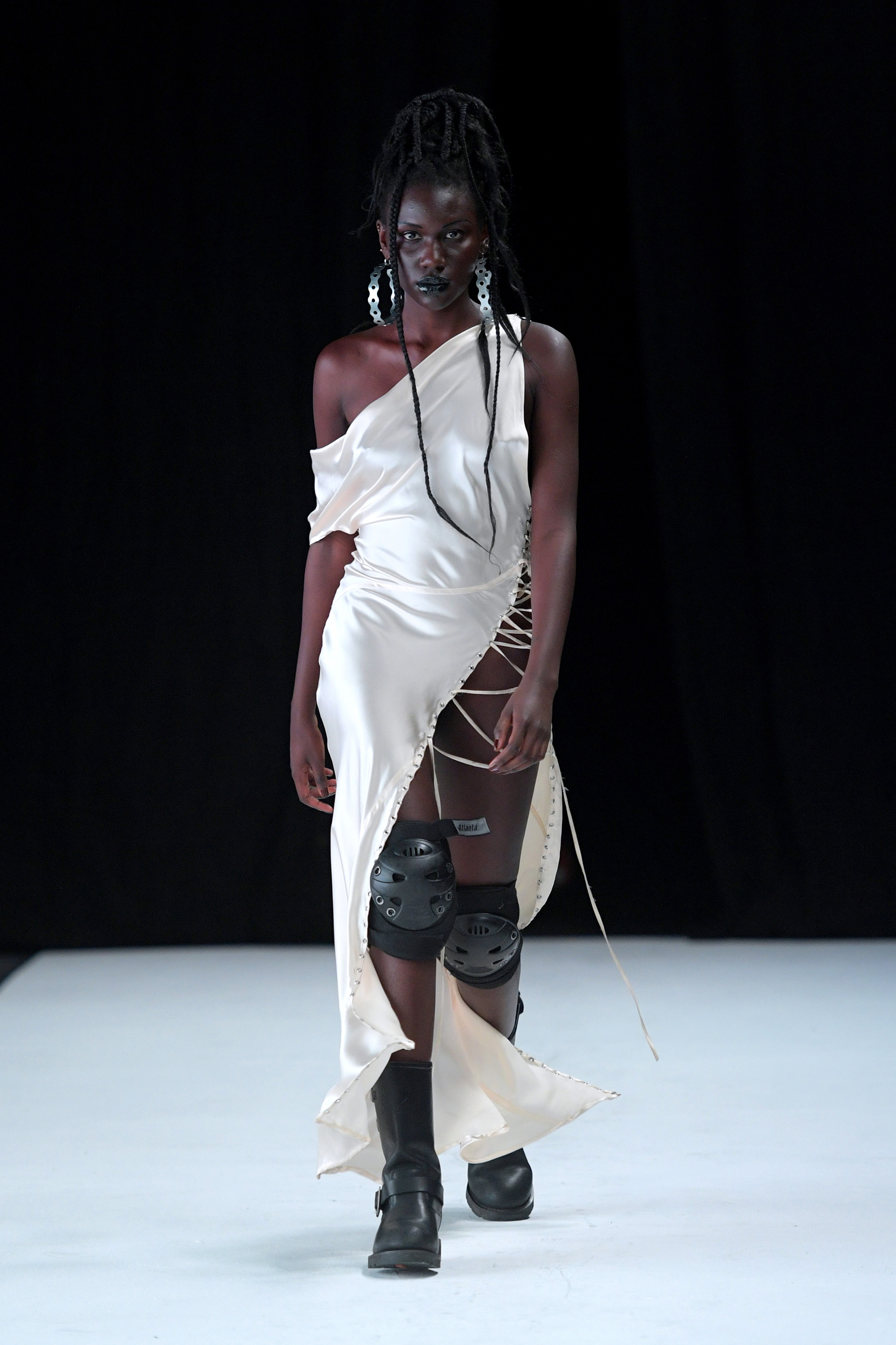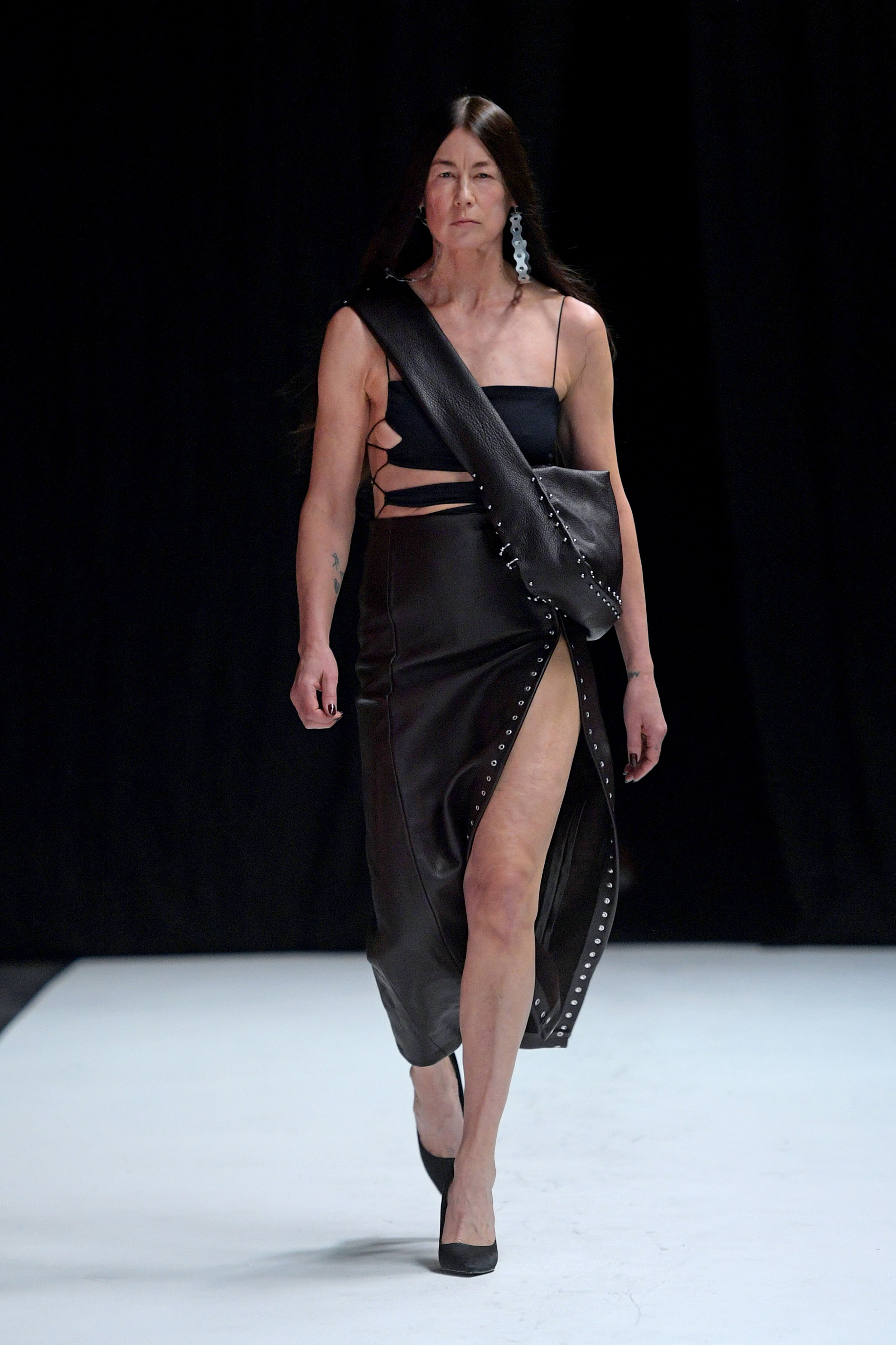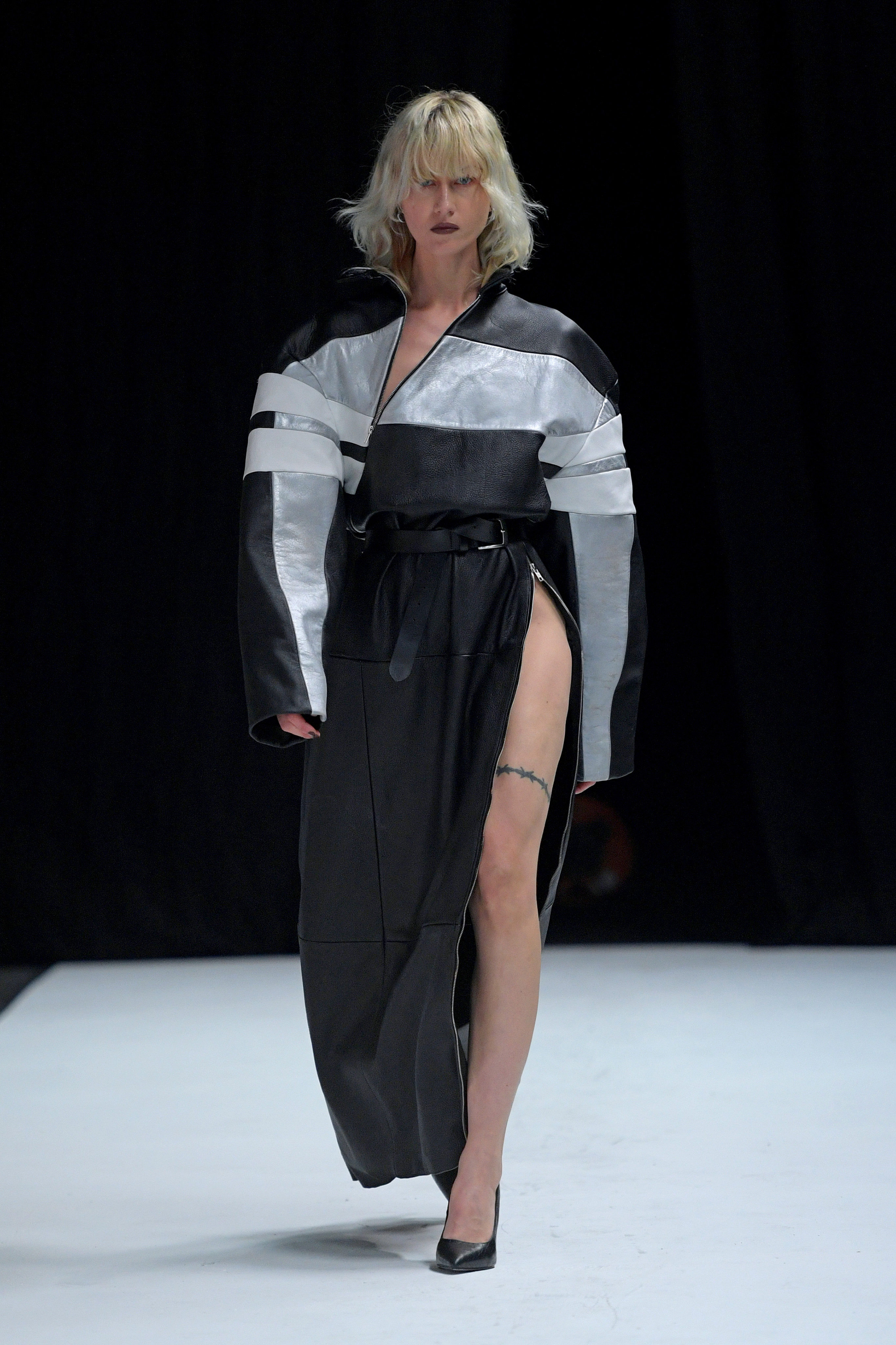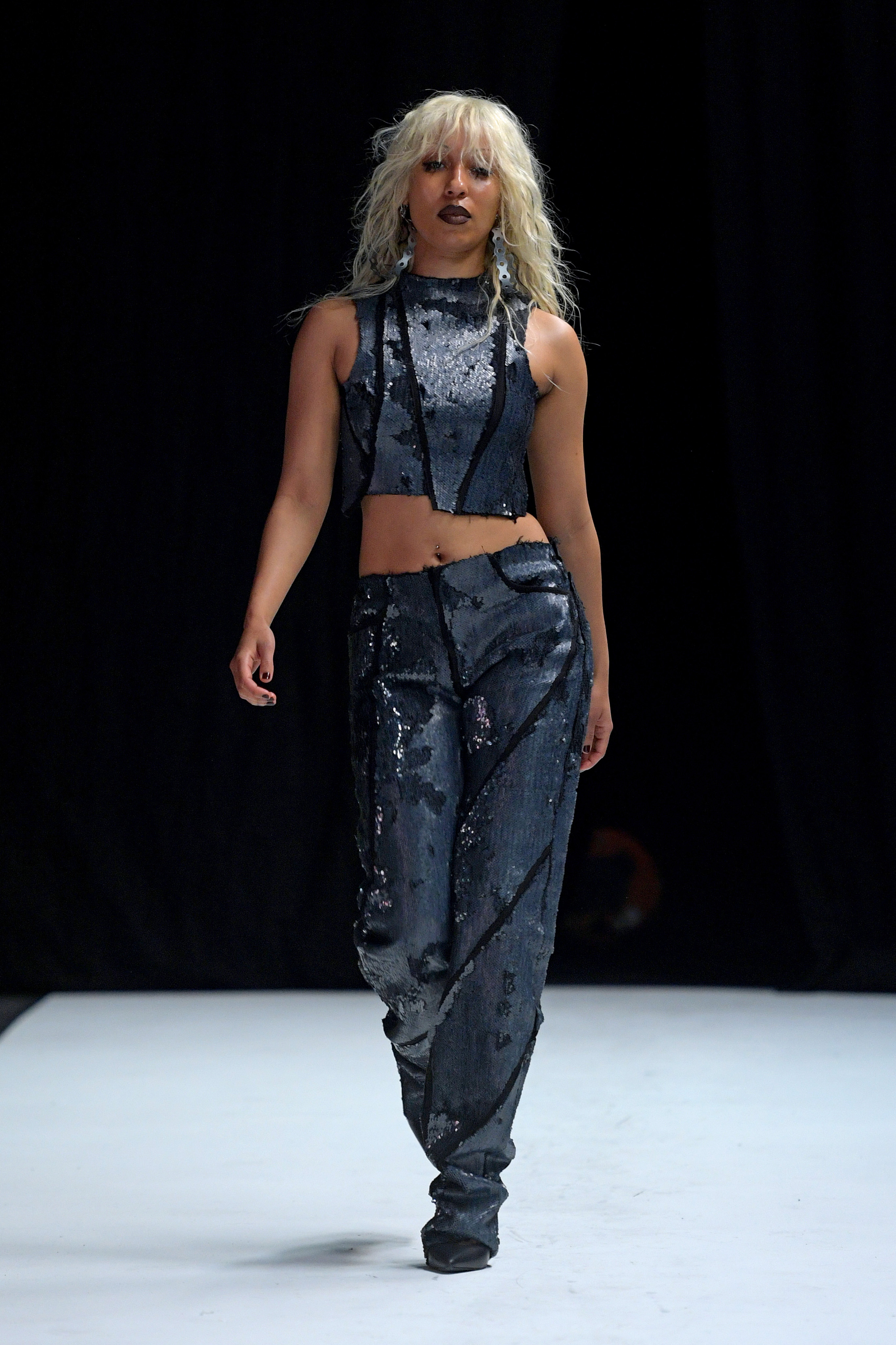 Ganni
If there's one brand that never fails to communicate an unflagging sense of optimism through their clothing, it's Ganni. One of Copenhagen Fashion Week's flagship events, this season saw the hometown heroes forego a physical happening in favour of an experience it would be unfair to call a "digital show". Rather, it was an immersive, screen-based celebration of what the Danish brands represents, starring Danish singer Jada along with a bevvy of Ganni girls including Kesewa Aboah and Olivia Vinten. An uplifting ode to the powerful women at the heart of the global community that the Danish brand has built, it was charged with a bold spirit of optimism to counteract the gloom of recent times.
That same spirit was loudly echoed in the clothes, with Ditte Refstrup, Ganni's creative director, drawing upon memories of pop icons like Björk and PJ Harvey, both of whom she was an avid listener of during her teens. As ever with Ganni, there was variety aplenty here, with the grungy spirit of tartan checks and python prints counterposed by dry tailoring wools and fuzzy sherbert knits. Crocheted vest were worn with foil treated denim jeans and ruched crop tops in burgundy sequins and cotton wrap dresses were fastened with dainty bow ties. What brought together this eclectic range of looks, though, was a throughline of joy, celebration and confidence; the same universally uplifting message that has cemented Ganni's reputation as one of Scandinavia's most widely adored contemporary fashion brands.