Photo by Jon Furniss/WireImage, Will/GC Images and Dimitrios Kambouris/WireImage for Louis Vuitton
7 of Agyness Deyn's most iconic outfits
The model and i-D cover star was fashion's indie sleaze poster girl in Henry Holland and skinny jeans.
|
11 February 2022, 4:09pm
Photo by Jon Furniss/WireImage, Will/GC Images and Dimitrios Kambouris/WireImage for Louis Vuitton
Agyness Deyn was fashion's poster girl for the hipster era. Throughout the late-00s, you couldn't flip through a magazine or browse Style.com without catching a glimpse of the model's signature peroxide pixie. In her high-fashion heyday, Agyness fronted the covers of i-D, Pop and Vogue (in its myriad editions.) She leant her alternative élan to houses like Chanel, Burberry, and Dior, and was muse to indie designers from Henry Holland to Giles Deacon. Over a decade after her modelling debut, W Magazine proclaimed her "the last pre-Instagram supermodel." In many ways, Agyness is the face of the cultural moment now known as "indie sleaze." While she did date one of The Strokes and party with the Cobrasnake, Agyness was most emblematic of the era through her style: an unpolished, eclectic mix of 60s Mod, 70s punk and 80s new wave that captured the hipsterific hedonism of the late-00s. Think body-con minis, day-glo colours, American Apparel hoodies, boxy blazers, Henry Holland tees, Converse and skinny jeans all with a trilby (or baker boy cap) on top. Here, we take a look back at Agyness's most iconic outfits of the "indie sleaze" era.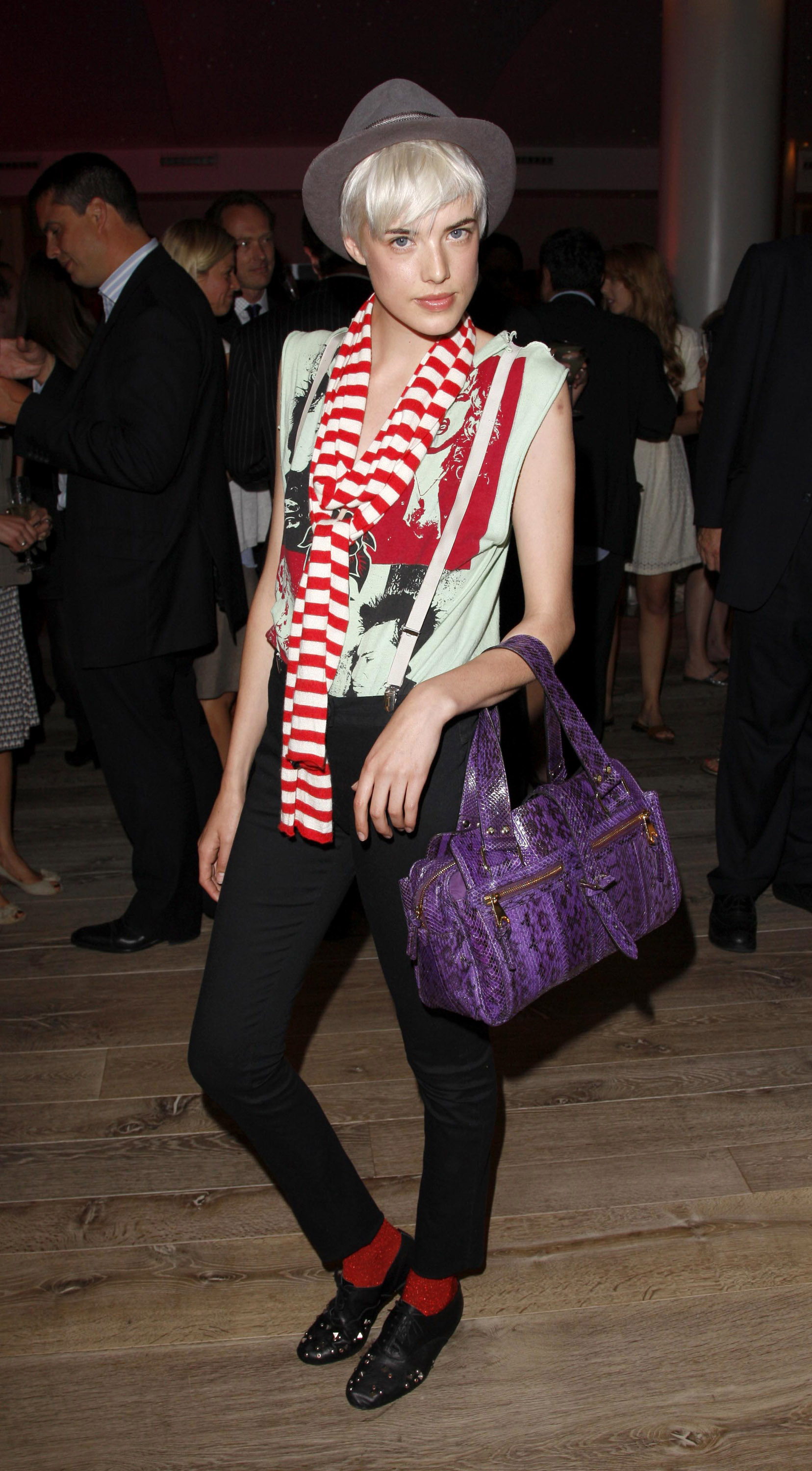 At the British Fashion Council's Fashion Forward party, 2007
Born in Manchester, Agyness Deyn was scouted while on a London shopping trip with best friend and designer Henry Holland. In 2006, she crossed the pond to walk her first fashion week in New York City. Less than a year later, Vogue had proclaimed her one of "The World's Next Top Models." 2007 marked the beginning of Aggy's ascent to supermodel-dom, walking blue chip shows and starring in her first Burberry campaign. Here, that same year, the model wears her quintessential look: graphic tee, skinny jeans, colourful socks and a pair of suspenders.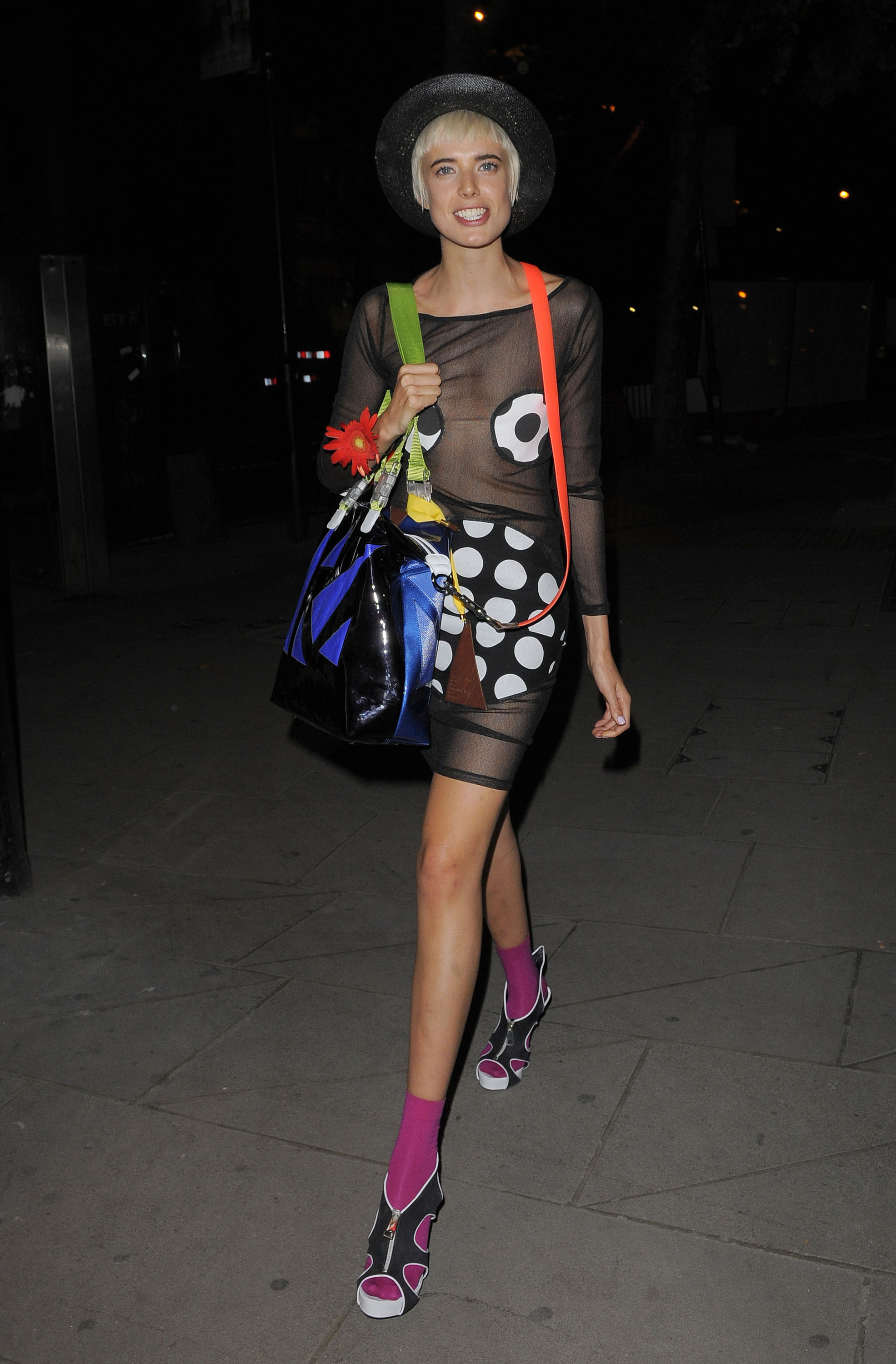 Out in London, 2008
Agyness and designer Henry Holland's relationship dates back to their youth: age 13 to be exact, when the duo met in their hometown. As his best friend, Agyness naturally became the unofficial face of Henry's budding fashion business, his line of now-infamous Fashion Groupies slogan T-shirts. In 2007, Aggy's meteoric rise to stardom propelled Henry — and his T-shirts — to the fore of fashion. The designer launched his namesake label, House of Holland, the following year, with Aggy walking its LFW runway shows. Here, the model wears one of her friend's bodycon dresses in very Agyness fashion — with a wide-brimmed hat, fuschia socks and a gerbera daisy, for good measure.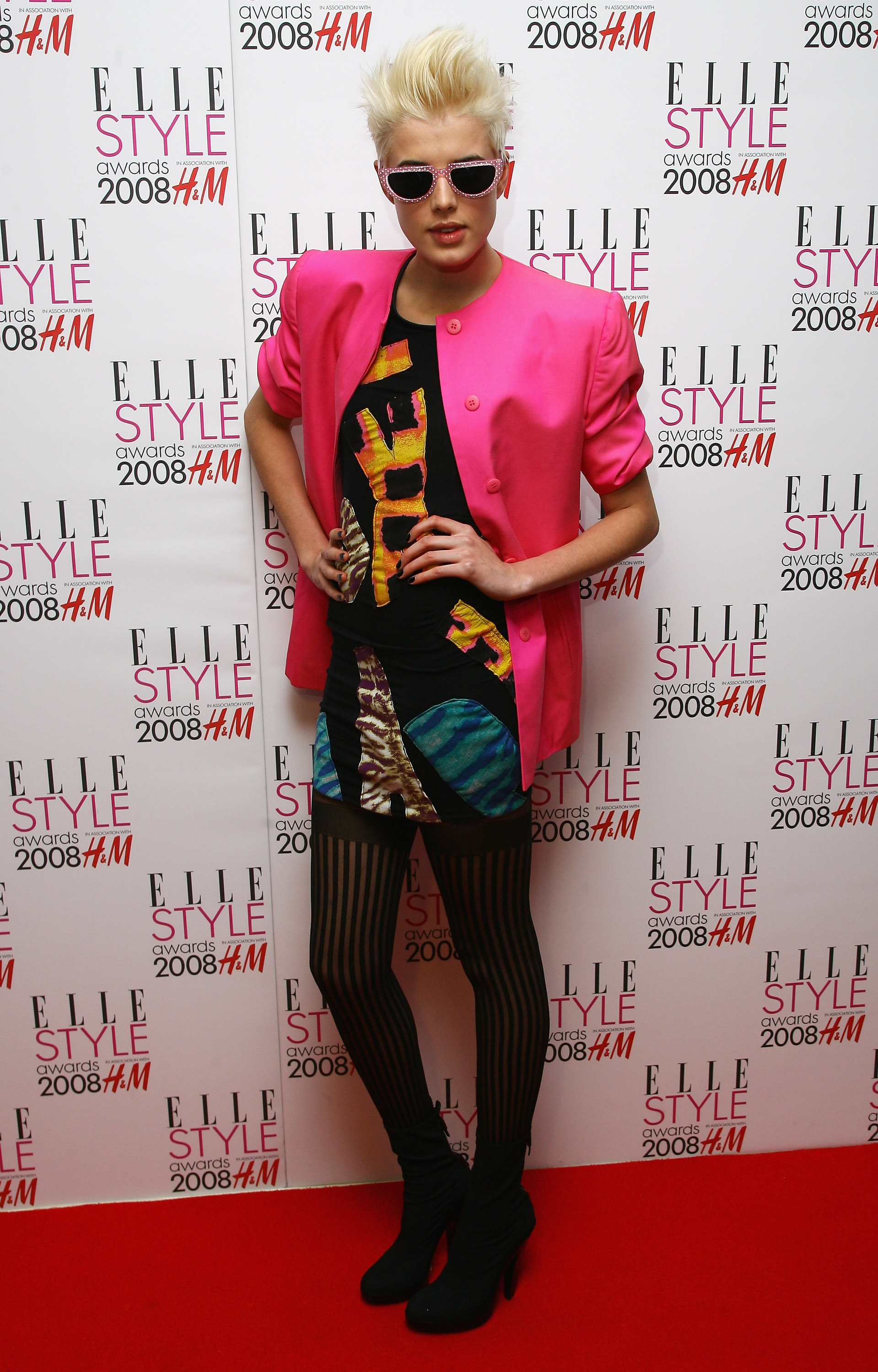 At the Elle Style Awards, 2008
The hipster look was all about ironic nods to the 80s. Think day-glo colours, Miami Vice blazers, nouveau-Memphis patterns and Risky Business sunglasses. Here, Agyness masterfully combines all these tropes with the era's ubiquitous platform boots and patterned tights.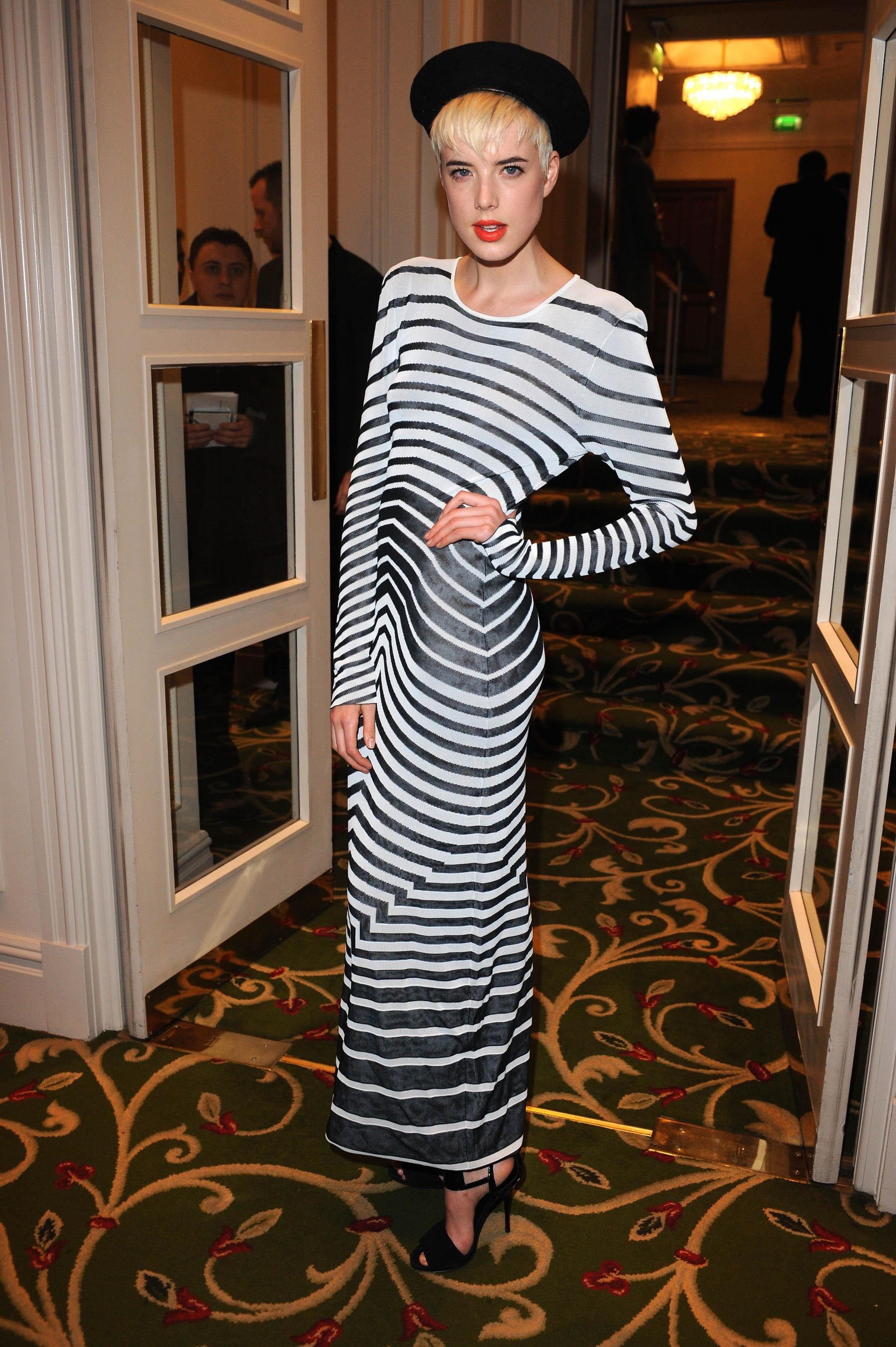 At the Empire Film Awards, 2008
Moving beyond the mish-mash of references, Agyness loved throwing a head-to-toe homage. Over the years, we've seen eccentric interpretations of 50s greasers and Like a Virgin-era Madonna. Here, at the Empire Film Awards, Agyness is giving us an haute take on the "french girl" in a breton stripe gown and structural beret.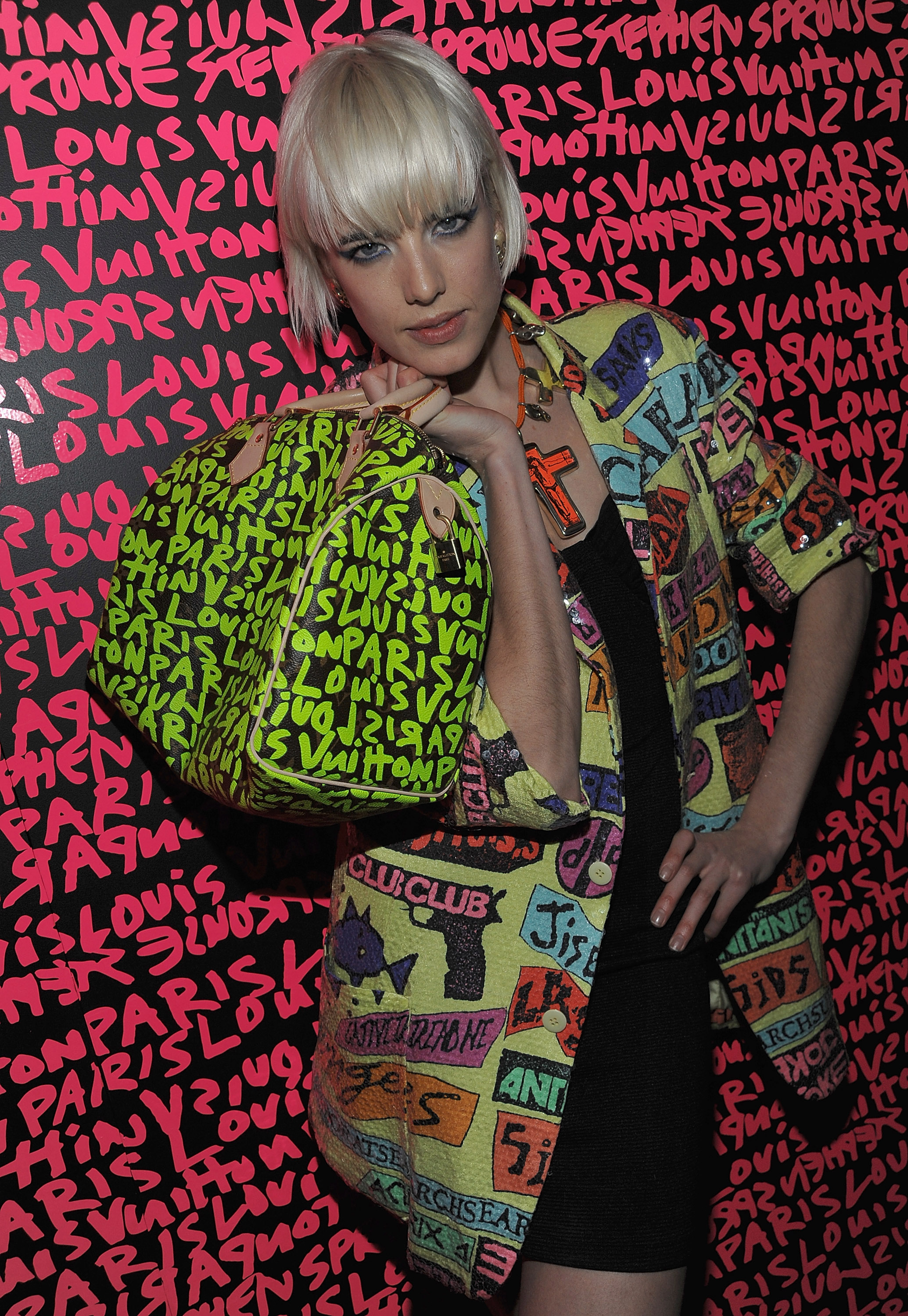 At the Louis Vuitton x Stephen Sprouse party, 2009
Agyness' personal style — alongside the "indie sleaze" aesthetic — drew from the bold, graphic sensibilities of 80s pop artists like Andy Warhol, Keith Haring and designer Stephen Sprouse. Here, the model wears one of Sprouse's typography blazers alongside a neon-hued Louis Vuitton bag, created in tribute to the late designer.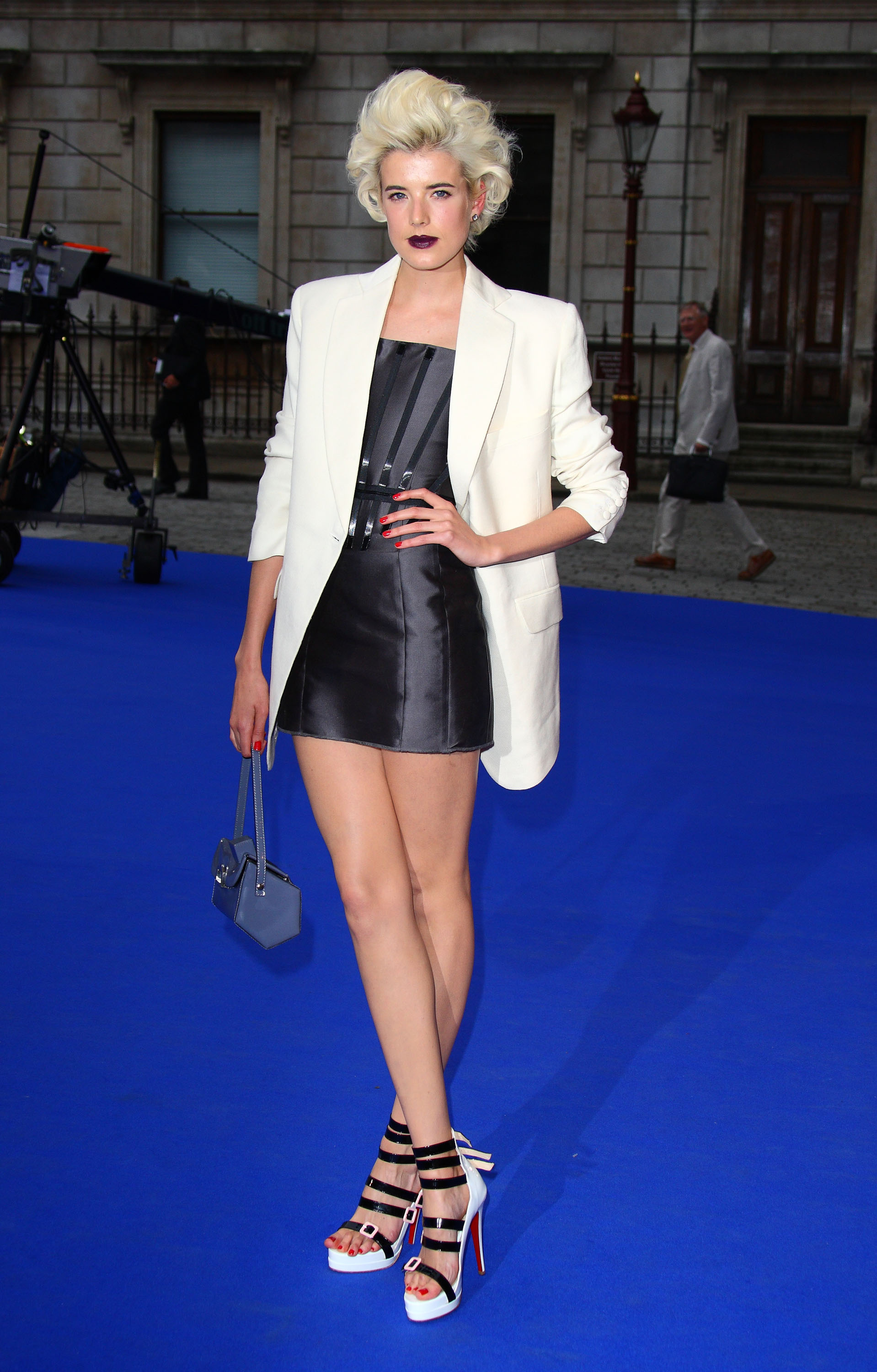 At the Royal Academy of Arts preview, 2009
During the latter half of the aughts, Agyness also played muse to English designer Giles Deacon. In 2007, she wore one of his majestic gowns to the British Fashion Awards, where she scooped the "Model of the Year" award. Here, to a vernissage at the Royal Academy of Arts, she wears one of Deacon's sexier, corseted looks alongside a pair of the era's ultra-edgy Louboutins.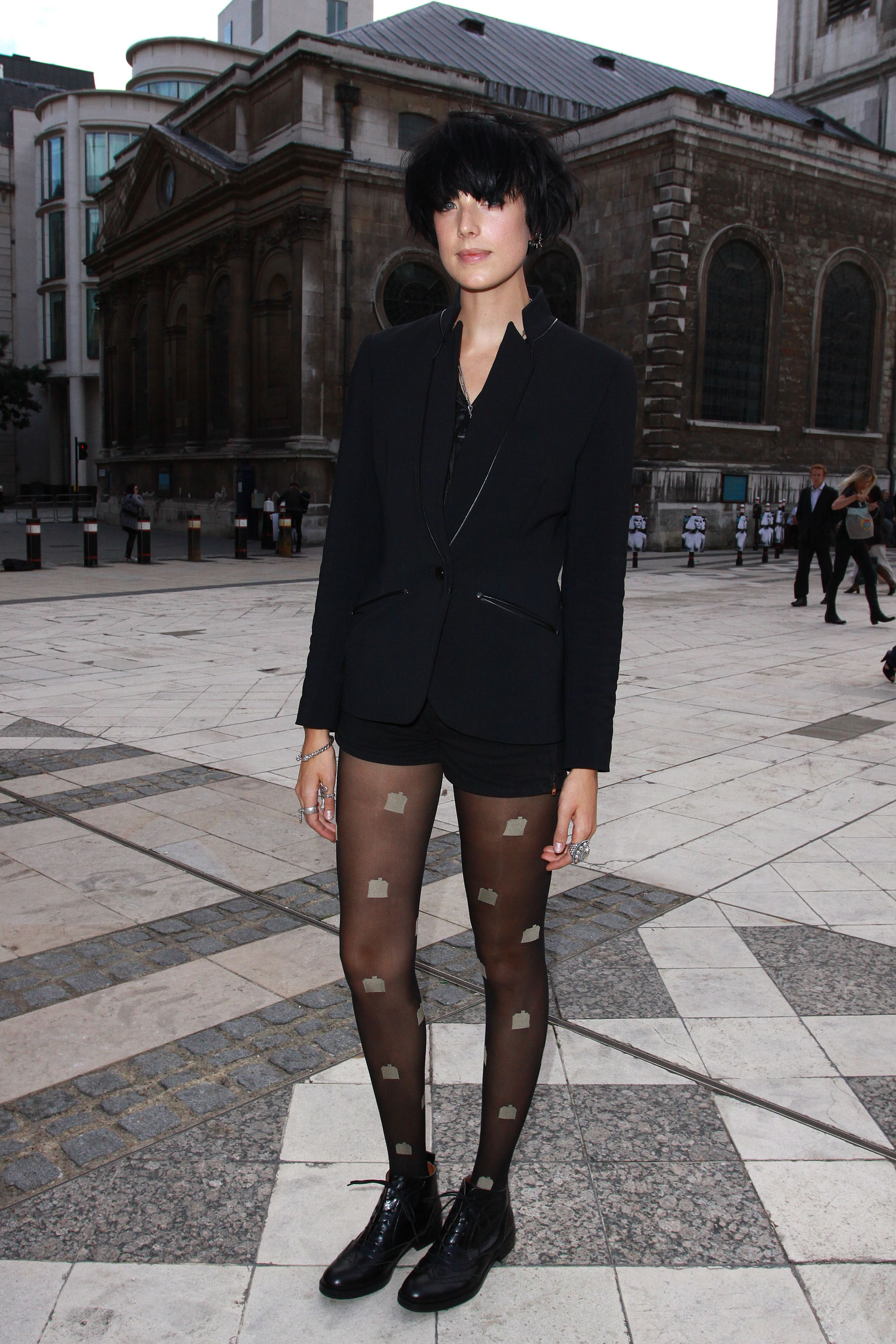 At London Fashion Week, 2009
For the SS10 season, Agyness dyed her famously peroxide 'do jet black. Paired with the model's new achromatic wardrobe, the change heralded a new era not just for Aggy but for fashion (and alternative culture) at large; one away from the colourful and ironic look of the hipster and towards the darker, "tumblr girl" aesthetic of the early-2010s. Here, Agyness attends London Fashion Week sporting her freshly-coloured bob alongside a tiny shorts-suit and the requisite 30 denier tights. A new look, but still the same trend-setting icon.