2021 was the year we embraced our flop era
What happens when there's no space left to glow up?
|
22 December 2021, 8:00am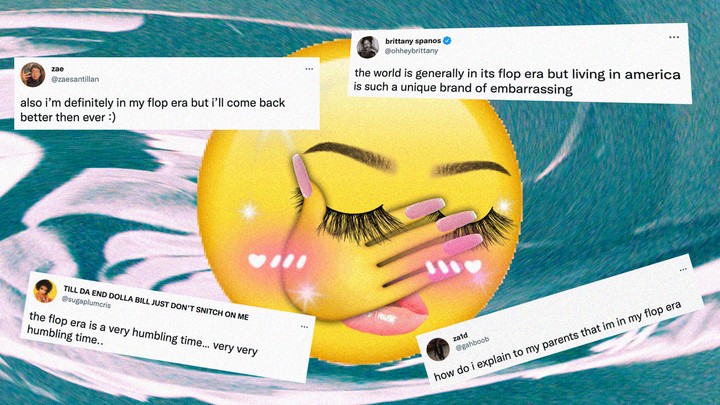 It was supposed to be the year that everything went back to some kind of normal. And in some ways, it did. In 2021, gigs, festivals and clubs returned. The new James Bond film No Time to Die was finally released in cinemas nearly two years of delays. House of Gucci ushered in the returns of the truly chaotic Lady Gaga press tour that the stilted Chromatica roll-out had robbed us of. Elsewhere, celebrities realised that we wanted them to stop preaching, "Imagine"-style, and start entertaining us. With "Bennifer" at the helm, this year fame became fun again.
And yet, here we are, hiding inside with the sinking feeling that the pandemic is truly in its The Mummy Returns era. With borders closing, events cancelled and upheaval once again on the horizon thanks to Omicron, it might feel a little bit like we're back to square one. Perhaps, it turns out 2021 didn't understand the proverbial assignment after all.
With this year failing to live up to our (perhaps impossible?) expectations, we're still very much stuck in what is known as a flop era.
A concept that originated on Stan Twitter, it was initially used to describe the moment when a (usually female) pop star released an album that underperformed or didn't meet our expectations. Mariah Carey's flop era began with 2001's Glitter, the soundtrack to her movie that famously dropped on 9/11, eventually ending with the commercial smash, 2005's The Emancipation of Mimi. More contemporary flop eras? Look to Katy Perry's Witness, Lady Gaga's Joanne and Christina Aguilera's (in our opinion unfairly maligned) Bionic.
Music-wise, one artist's success can be another's flop, and it's often used exclusively as a pejorative for the complex state of making music as a woman in 2021. Take Lorde's Solar Power, a record that charted in the top five in the US and UK – something many artists would be happy with – but that divided her fans and critics, falling short of the drawn-out buzz that had been cultivated since the success of 2017's Melodrama. Lana Del Rey's 2019 record Norman Fucking Rockwell, widely cited as one of the best of the 21st century, set the bar impossibly high for the two album that followed this year that had more middling critical success, Chemtrails over the Country Club and Blue Banisters.
Then came Billie Eilish's second album, Happier Than Ever, which was mocked by Olivia Rodrigo and Taylor Swift stans for supposedly flopping, despite the fact that it spent three weeks at number one in the US. (Most of the stans' routes of attack relied on the album's failure to spawn a single with the staying power of "Bad Guy".) But on the flipside, others succeeded: Adele's 30 is still shifting copies, matching the hype warranted by a six-year hiatus, while Taylor Swift's much-anticipated Red (Taylor's Version) spawned the longest number one single in US chart history with the well memed title: "All Too Well (10 Minute Version) (Taylor's Version)".
When "flop era" isn't being weaponised by Stan Twitter to drag the artists they've chosen to have beef with, it can comically turn in on itself. Online people have described everything from a hilarious tweet or selfie that failed to live up to its full potential as a "flop". But this year, we've gone a step further, announcing that we, like the stars, have entered our own flop eras. Whether it's a career lull or feeling below par physically or mentally, it's become normal to see people accept that they're not at the top of their game.
There is something hopeful about this shift, particularly when it comes to millennials. The "Devil Wears Prada Generation", who came-of-age in the aftermath of the financial crash, helped glamourise non-stop side-hustles and hyper-productivity. This is a stereotype, of course, but it's not a stretch to say that many millennials have internalised some fairly unhealthy — not to mention capitalist — attitudes towards work.
An acceptance of being in one's flop era is a rejection of these tyrannical expectations. It's an embrace of the reality that, actually, we can't and should not strive to "have it all". It might seem like people are putting themselves down, but announcing a "flop era" is really a combination of being kinder to ourselves and caring less about external pressure. Jameela Jamil summed this up when she asked Twitter why she was enjoying her self-described flop era so much. "Has anyone else found an odd relief in not having to live up to expectations anymore?" she wrote. "I think it's been good for my health/mind/skin/hair/ego/perspective/career. You make better choices when you succumb to your own floppery and roll with it."
If we can cast ourselves as a flop and relinquish the pressure of expectations, then we can eventually reposition ourselves as a force to be reckoned with, entering what we might call our "reputation era" — inspired by Taylor Swift's sixth studio album Reputation, which saw her return to the spotlight after her feud with Kanye West and Kim Kardashian. On comeback single "Look What You Made Me Do", Swift famously announced the "old Taylor" (and thus, her flop era) was dead. This gets to the heart of what is hopeful about a self-described lull: it is temporary, and our reputation era lies just around the corner.
The constant hope for better is what binds true fans together. Writing for Vice, George Griffiths described the highs and lows of "stanning a failure", like his favourite flop, Natalia Kills. "You can only fail as a stan if you stop believing" that their success (and therefore your validation) might be around the corner, he wrote. As James Greig observed for i-D in a deep dive into pop stans, the same mentality applies to avid football supporters or fans of anything else that "provides meaning in people's lives". This year, self-described flop eras were a way of showing fan-like devotion to ourselves.
Yes, 2021 might have been another flop overall. But in embracing our own, personal floppery, we learned to become our own most loyal stans – and cling onto the hope that our next era will be better.
Follow i-D on Instagram and TikTok for more on internet culture.
Tagged: