Raul Lopez and LUAR are embracing queer softness for SS22
The founder of Hood By Air and NYC label LUAR chats about his latest collection and his pre-Tumblr goth and punk aesthetic inspirations.
|
23 December 2021, 8:00am
This story originally appeared in i-D's Out Of The Blue issue, no. 366, Winter 2021. With thanks to Tiffany & Co. Order your copy here.
Fashion-wise at least, there are few more faithful reflections of New York City's melting-pot status than LUAR. Founded in 2011 by Raul Lopez – one of the founders of Hood By Air alongside Shayne Oliver — the label quickly established itself as an ambassador for the city's inimitable bolshiness – a bold, gritty, body-confident ode to the place where he was born and raised. After taking two years out, the SS22 season saw Raul make a triumphant return to the runway. Presented before a baying audience of Raul's friends and family, it represented a distinct evolution in the LUAR vocabulary. The feelings of warmth and tenderness that were almost palpable in the air had seeped into the clothes: softer, more sensual and more comfort-minded than the work he originally made his name for.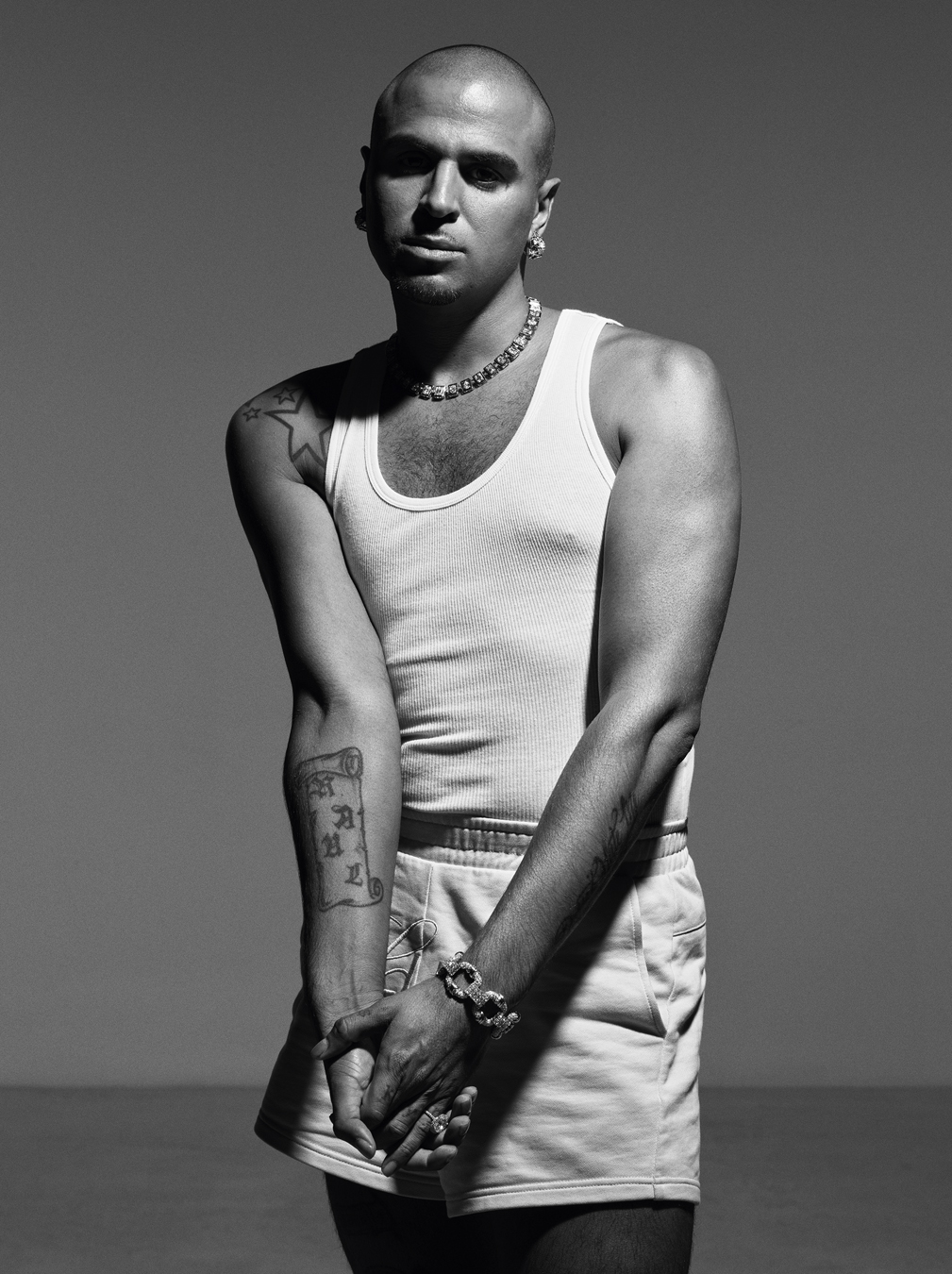 Let's talk about the return of LUAR during this recent New York Fashion Week. What a moment! Even watching from afar, you could really feel the energy through the screen.
Aww! I mean, I think that's what I was trying to convey to everyone, even if you couldn't be there physically. It was such a good feeling to walk out and see everyone. People were crying! It was insane, I've never experienced anything like it.
From the people I've spoken to who were there, it sounds like there was real electricity in the air.
That's how I was feeling inside as well. It was kind of inspired by an oyster — I call myself an oyster, too. I have this tough exterior, and a lot of people can feel intimidated by the way I dress or by the way I carry myself, but if you actually know me, you'll know that I'm really soft and mushy on the inside. After taking a break, I was really ready to express myself, and the gratitude and love that I have for everyone. During the process of working on the collection, I was feeling really good for once, which hadn't been the case over the past two years. Before then, I was just so scared of taking breaks — I hadn't had one since the beginning of Hood By Air in, like, 2005. I didn't think that I was depressed. I was always the one being like, 'Girl, snap out of it! You're good, you can bounce back!', but I wasn't dealing well myself. So with this collection, I really just wanted to be my true, authentic self.
Speaking about the collection itself, what was the jumping-off point for this season?
It was really about tapping into my childhood. I grew up in a really tough area of New York, where it wasn't cool to be queer and brown. I built this whole narrative around being this really tough kid that you couldn't say anything to, because I was scared and didn't want to get picked on. That's why the collection started with these harder, tailored looks, and then transitioned into the softer looks. I kind of wanted to show people that you can overcome all that mess from back in the day, and become this beautiful pearl. I wanted it to be true to who I am. One night during my break, I was with Shayne, and he was like, "Fuck everybody! They're never gonna get us. You need to be true to yourself! You're a cha cha girl, you're Latina! You need to be that girl who just owns your own self." I don't know if he remembers that, but it really triggered something in me.
It sounds like you've embraced a certain softness, which isn't what many would associate with the LUAR from, say, five years ago. What else sets this new chapter of LUAR apart?
I think I've stepped up to the task of commercialising the brand. I love wearing T-shirts, sweatshirts but I'd never tried to convey that in my own collections. We're conditioned to think that's wrong, but how else are we going to sustain ourselves and keep telling our stories? You can be true to yourself but also you need to make money, girl!
LUAR's audience is international, but it's a brand that many will instinctually associate with New York. How would you describe the New York it's a product of?
I think, just because I was born and raised in New York, I was always trying to fit into every group. I grew up in the hood, I was that kid who crossed the bridge from Williamsburg to Downtown because people weren't getting it where I lived. We would drive down the West Side Highway from visiting my grandmother in the Bronx, and I would see all these queer kids and trans girls, and be like, "Oh my god, what the hell is this?" But I knew that I would find that scene one day, and that would be it. Then one day I found the art girls and the fashion scene, and then Shayne — we actually met for the first time on Christopher Street when we were teenagers. And then I met Telfar when I was about seventeen, so we've all known each other for like twenty years. This was pre-Blogspot, pre-Tumblr… I met everyone just from rolling through the streets and being like, 'You look cool!' At school, I was there trying to fit in with all the goth kids and punk kids, and I started dressing myself in a way where I was taking pieces from all these different genres and groups of people, and incorporating them into my own wardrobe.
I'd have Jordans on, or a pair of Timberlands, and then I'd have these pants that were kind of punk, and then an oversized hoodie and a Chanel pocketbook. Mixing all that together resulted in LUAR, which is why it's just my name spelt backwards. It's just like a reflection of myself.
What excites you most about fashion right now?
I love people watching, especially the new generation of kids. I feel like there was a period where the kids were scared to really dress up, but now they're really giving the most. And I love that, because I've always dressed to make people uncomfortable. I don't like good attention, I like bad attention. Even growing up I would be like, "If they aren't talking shit about me, I'm going home and getting changed!" I love that we're seeing that again — it's giving me life.
Credits
---
With thanks to Tiffany & Co.
Photography Mario Sorrenti
Fashion Alastair McKimm
Hair Bob Recine
Make-up Frank B at The Wall Group
Nail technician Honey at Exposure NY using Chanel
Photography assistance Kotaro Kawashima and Javier Villegas
Digital operator Chad Meyer
Fashion assistance Madison Matusich, Milton Dixon III, Jermaine Daley and Casey Conrad
Tailor Martin Keehn
Hair assistance Kazuhide Katahira
Make-up assistance Elle Haein Kim
Production Katie Fash, Layla Néméjanki and Steve Sutton
Production assistance William Cipos
Casting director Samuel Ellis for DMCASTING
All jewellery worn throughout Tiffany & Co.