Here's what shaped fashion in 2021
From blockbuster collaborations to the rise of the metaverse, we unpack some of the biggest industry this year.
|
28 December 2021, 10:00am
Congratulations, my dears! We made it! While 2021 may have been marred by total existential precarity — and, to be honest, 2022 looks like it will be, too — in the face of all the challenges, fashion has thrived. Even when we were all confined within four walls, brands big and small seized the opportunity to innovate online — and when physical fashion weeks eventually did return, they did so with a bang. Of course, that's not all that happened — this was also a year in which fashion proved its multimedia potential, ripping up the old rulebook regarding how things should be done and breaching newground in the worlds of entertainment, social media, and even the bold horizons of the metaverse. Here, we unpack some of the key conversation topics that shaped the industry this year.
Fashion enters its entertainment era
There's no contesting that some of 2021's real blockbuster moments have arisen from the collision of the worlds of fashion and entertainment – 'fashtainment', as it's unofficially been christened. Of course, the two have always commingled and informed each other, but over the past twelve months, that relationship was turbocharged, taking on forms that few could ever have anticipated a couple of years ago. Granted, it makes good sense — after close to two years spent staring at our screens, fashion houses have had to go to new lengths to capture our dramatically shortened attention spans. They now need to produce viral spectacles, not just dazzling clothes. Over the past year, we've seen strategies ranging from full-length feature films by Oscar-winning directors à la Maison Margiela to Celine's high octane, higher-budget filmed runway show. Where we saw some of the most ground-breaking proposals, though, was over the course of September's SS22 shows. In New York, Telfar – who's previously presented shows as concerts and surreal fashion films – announced the launch of Telfar TV, a two-channel QVC-style shopping and content platform, while in Paris, Balmain staged an entire festival, producing a supermodel studded spectacle for a baying crowd of superfans. Not one to be outdone, last month saw Gucci pay tribute to the glamour, romance and excess of Hollywood by staging its centenary show, Love Parade, on the district's star-paved Walk of Fame – and casting Jared Leto, Macaulay Culkin and Phoebe Bridgers. If this year's fashtainment game has one winner in particular, though, it has to be Balenciaga. For its Summer 2022 presentation, the French house took over one of Paris' largest theatres to stage a mind-bogglingly meta red-carpet-meets-runway show. Once all were seated, the lights went down and on came perhaps the most impressive, irreverent fashion-pop culture crossovers we've ever seen: Balenciaga x The Simpsons. Even months after first seeing Springfield's middle-American motley crew plonked on the Paris catwalk – and Demna and Anna Wintour's canary yellow makeovers to boot – we still can't wipe the gleeful grins off our faces.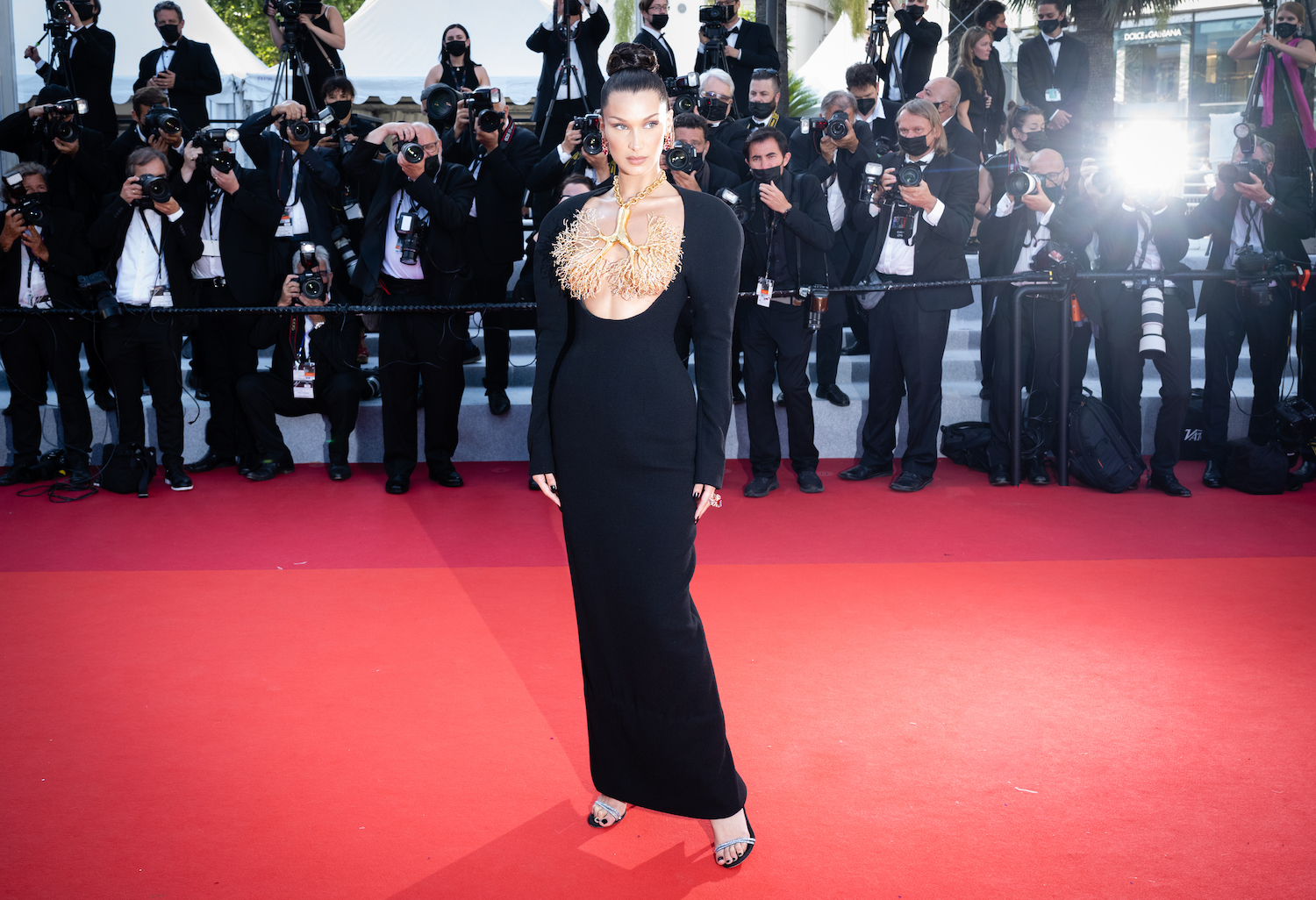 The return of the red carpet
Balenciaga's Summer 2022 show holds a clue to another of this year's most significant phenomena – the red carpet's return. It was here that the house put out another of its most memorable moments, dressing a faceless Kim Kardashian West and Rihanna (in custom and couture respectively) for a Met Gala otherwise marred by underwhelming looks. Other houses to win big on the tapis rouge include Schiaparelli – Daniel Roseberry basically deserved a Golden Lion for the surreally chic look Bella Hadid pulled at Cannes – Gucci, who dressed Lady Gaga for the London premiere of (no prizes here) House of Gucci, and Versace, who sent Lil Nas X to the Met Gala in a three-look ensemble, and have seemingly set Dua Lipa with chainmail dress to last a lifetime. It wasn't all about the big houses, though – some of the most impactful moments came courtesy of younger designers, Michaela Coel's appearance at the Bafta TV Awards in Maximilian being one of them.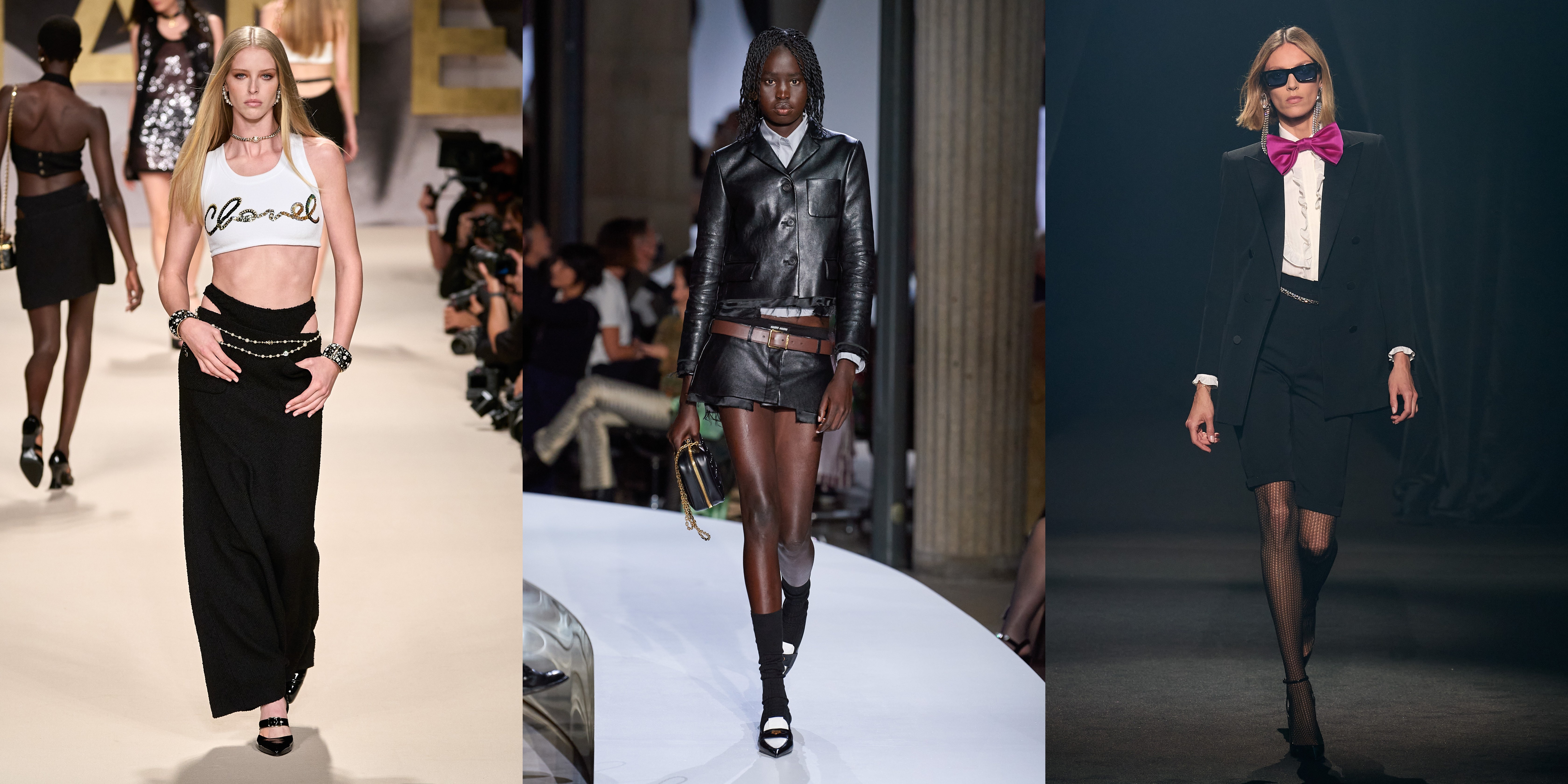 The return of the runway
The only comeback we were more excited for this year was, of course, the long-awaited return of the runway. After close to a year and a half of next to no physical shows live audiences, September saw the rapturous return of a (close to) full calendar's worth of show's in fashion capitals around the world. While physical activations were already taking place in cities like Shanghai, Tokyo and Seoul, that joy finally spread to Copenhagen, New York, London, Milan, Paris and beyond. Granted, it wasn't quite business as usual – at many shows, mask-wearing and double-vaccination mandates were a reminder of the real world beyond the fashion week fantasy. That hardly quelled the celebratory spirit – my god, wasn't it good to see fashion's travelling circus get back on the road again.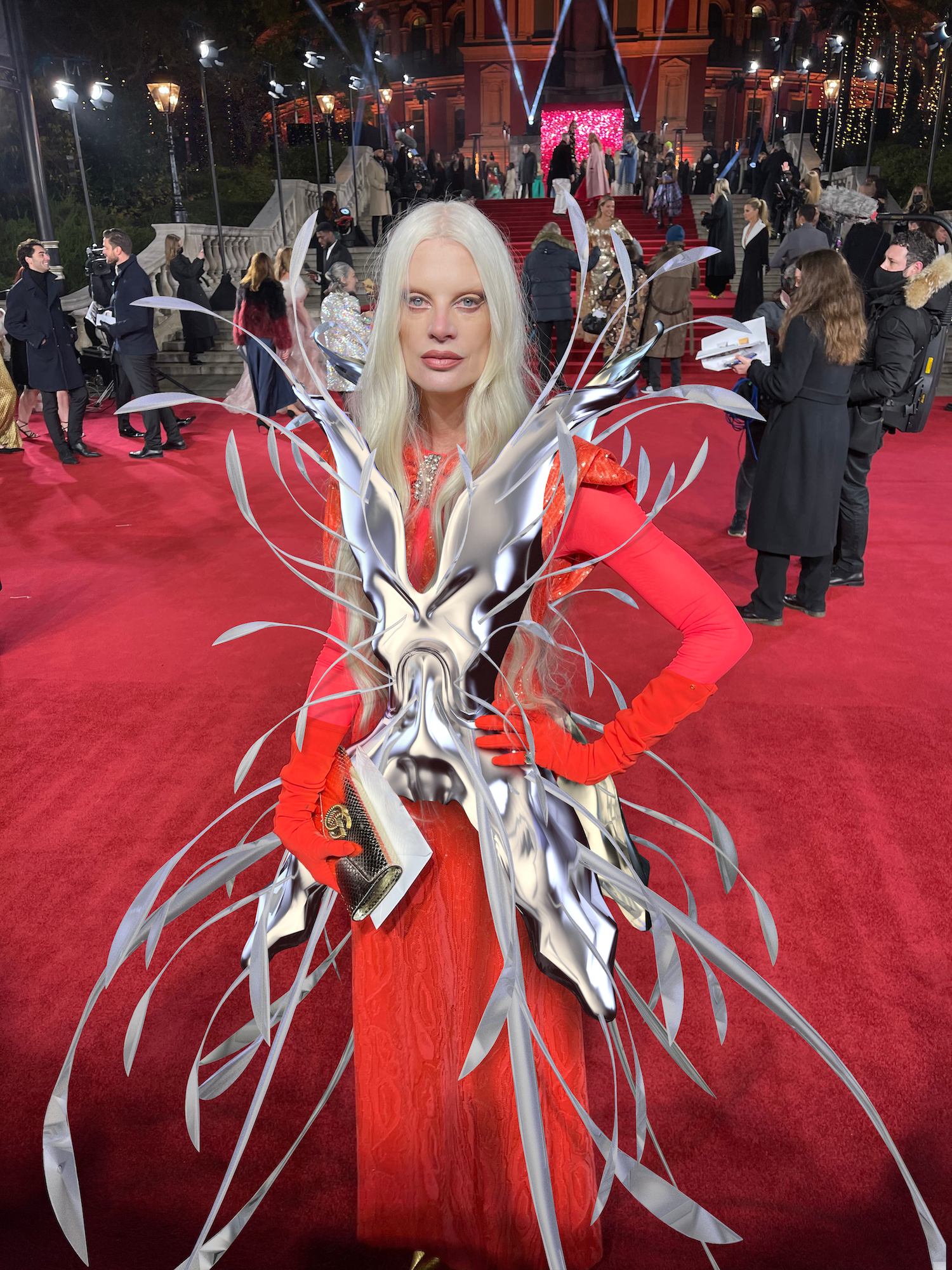 Fashion enters the metaverse
For all the joy to be found in seeing fashion step offline, 2021 was also the year in which it became clear that industry's digital habit is here to stay. Almost as soon as we'd figured out what an NFT even was (well, we sort of know), it felt like fashion players were already dropping them left, right and centre. Hell, even JW Anderson's viral Harry Styles cardigan was sold as one last week! Despite early reservations around fashion's digital future, longtime pioneers in the field like The Fabricant charged forth to create collectible virtual couture. Elsewhere, the London-based Institute of Digital Fashion created a 'wearable' garment for the world's first red carpet experience at the Fashion Awards back in November, where the first-ever prize for metaverse design was awarded to CSapphire. Fashion's love affair with gaming carried on strong, with one of the most notable moments being Louis Vuitton's very own game, launched to celebrate what would have been the 200th birthday of its namesake founder. Hidden within it were 30 NFTs co-designed with Beeple – the digital artist who triggered the whole craze in the first place, when a work of his sold at Christie's for $69 million. Time to sub out those sunglasses for VR goggles, it seems!
TikTok takes over
The metaverse wasn't this year's only tech-y topic of conversation. Another cyber wave that swept the industry this year was TikTok. While the platform's role in shaping fashion conversations harks back to 2020, this year saw its pulling power exponentially increase. Not only has it spawned trends that have taken hold on the runway – take in Celine Men's SS21 and Ludovic de Saint Sernin SS21 and AW21 odes to the platform's poppy e-boys as cases in point – but TikTok has also established itself as an influential figure on some of fashion's most prestigious stages. At London Fashion Week SS22, for example, the platform hosted the venue for the BFC's NEWGEN recipients – which it also sponsored this year. It was also the primary partner of this year's Fashion Awards, inviting some of its best-loved content creators to host live from the red carpet.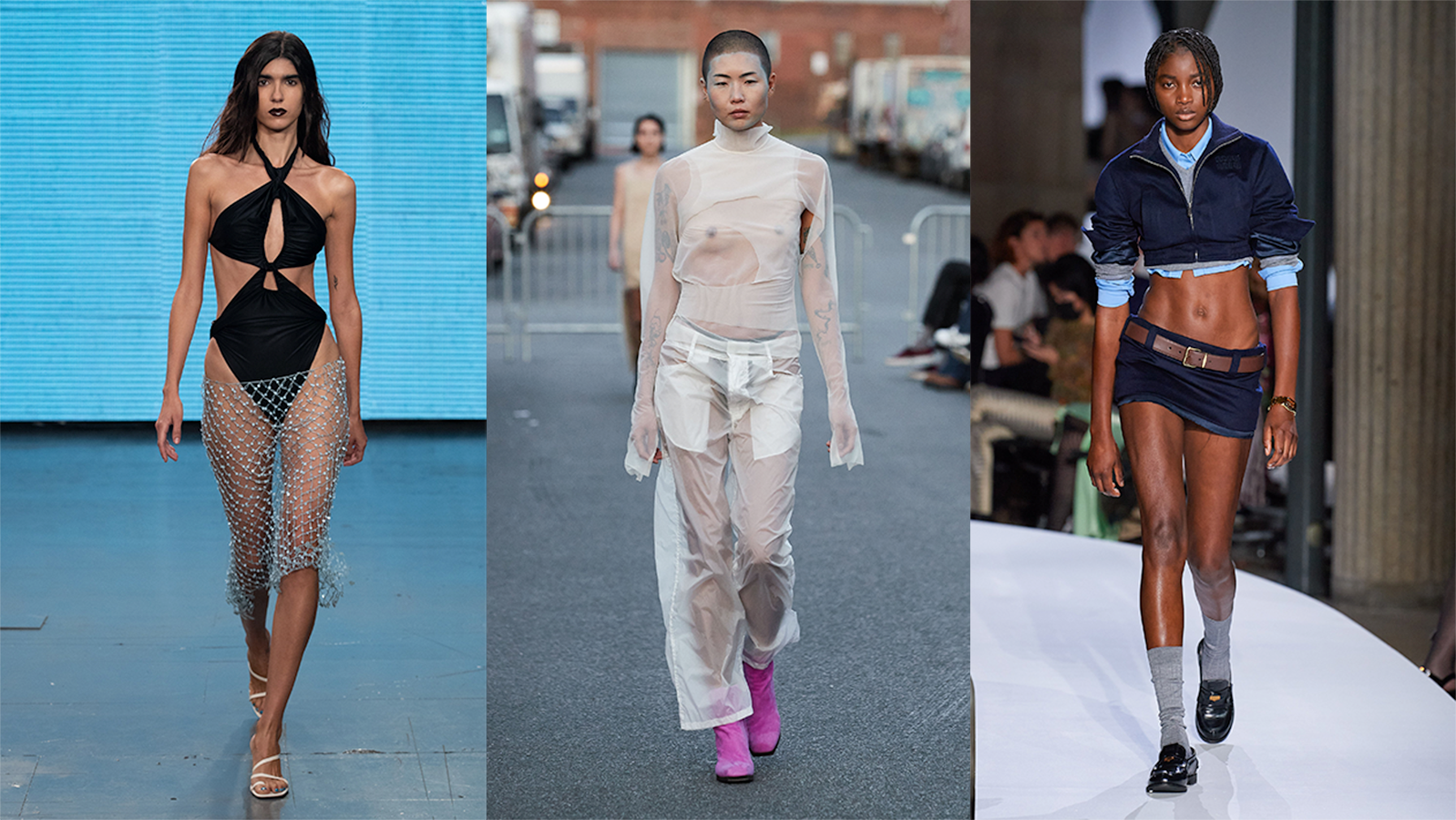 Body-ody-ody
After a year of langouring in loungewear, 2021 was when we all collectively decided to shake off our sweatpants and finally show some SKIN! That seething sensuality spilled over onto the runways, with the SS22 shows basically amounting to a chorus urging us to don our best barely-there looks. At Eckhaus Latta, we saw slinky riffs on the bi-coastal brand's trademark experimental knits, while in London, KNWLS, Supriya Lele and Nensi Dojaka flew the flag for an empowered hyper-femme sexiness, showcasing bodycon drapes, body flaunting cut-outs and spidery constructions. In Milan, the short-shorts in Prada's menswear show ushered in thigh guy summer, while the miniskirts with wispy tails and leather jackets styled over bare chests of the womenswear show made for a deliciously severe spin on the season's steamiest trend. It was in Paris, though, that things really got hot under the collar, with everyone from Rick Owens to Ottolinger to Courrèges taking the opportunity to express their libertine values. Oh, and Miu Miu! Who could forget Miu Miu, with its 'Free Britney' parade of abs, slashed school uniforms and cable knit sweaters, and more abs. You though this hot girl summer was something? Well, wait till you see what's in store for 2022!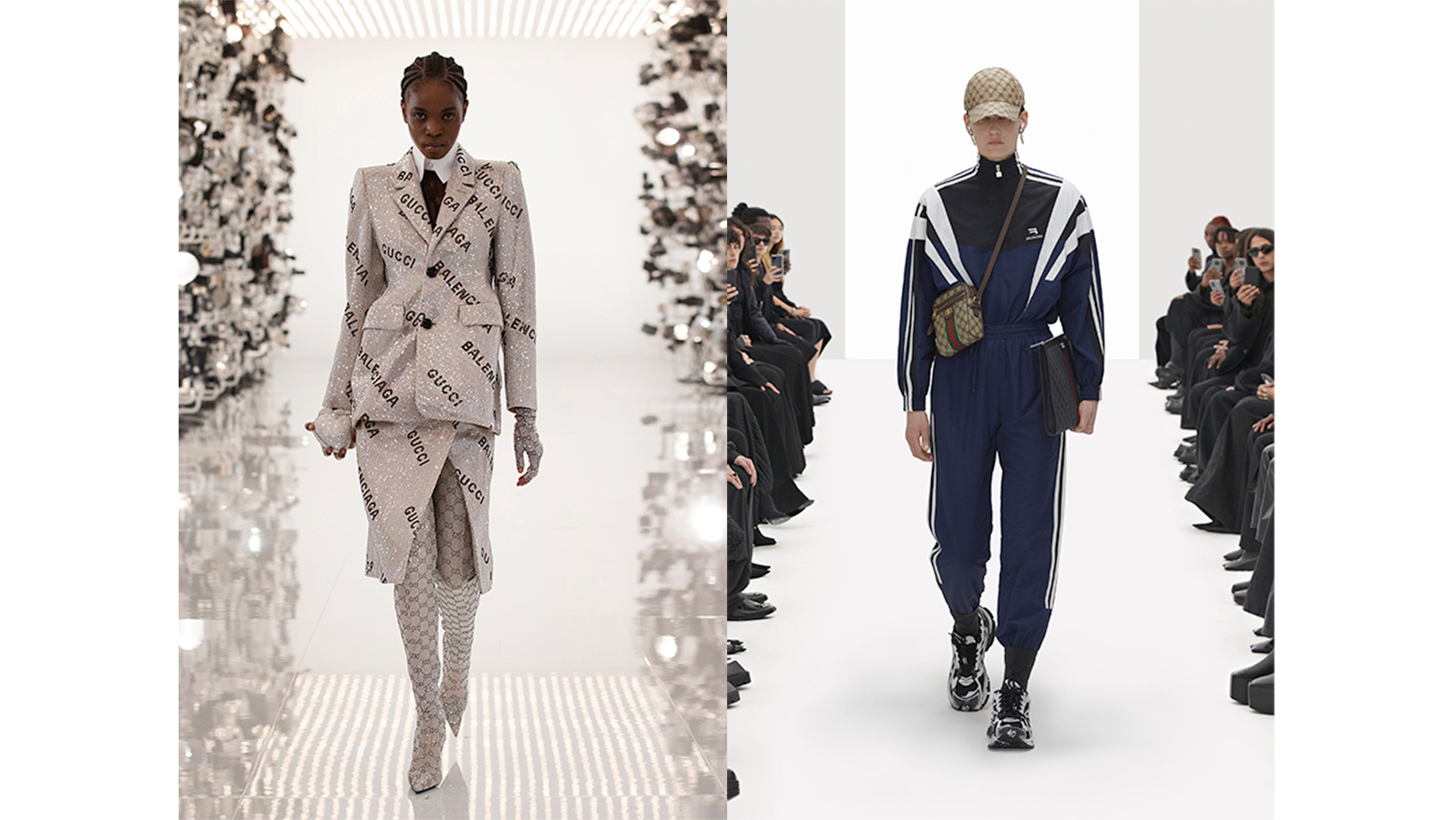 Collaborations worth celebrating
As the old saying goes, two minds are better than one. If you want proof of that, then look no further than the windfall of collaborations that this year brought our way. Or rather, 'mutual hackings', if 'Gucciaga' is what you're talking about. Back in April, Gucci broke the internet when, as part of its Aria collection, it presented a selection of Balenciaga's most immediately silhouettes, reimagined in inimitably Gucci finishes – the City Bag got a GG canvas makeover, Demna's iconic square shoulder dress was reimagined in glittery turquoise, and a Balenciaga logo chain came with a Gucci Monogram replacing the 'G'. The favour was later returned when, in its Spring 2021 collection, Clones, Demna hacked the Florentine house right back, sending Jackie bags, silk scarves and caps in a BB Gucci-lookalike canvas down his runway. This was just one of a series of cross-pollinations that rewrote fashion's rulebook this year, another being Fendace, a surprise collection that saw Kim Jones present his take on Versace, with Donatella doing likewise for Fendi. Add to that Gucci's The North Face link up, Supreme and Tiffany & Co.'s instantly sold-out drop and the Palace x Harrods collab, and that should be enough to convince you that teamwork really does make the dream work.
Tagged: