Images courtesy of gorunway.com
The very best of Paris Fashion Week Men's SS23
From Bianca Saunders' ode to Jamaican food to John Elliot's debut, here's what went down at the city's summer menswear fashion week.
Images courtesy of gorunway.com
Et voilà, la grande finale! Yes, after two whirlwind stops in Europe's other two fashion capitals – London and Milan – we're now into the final stretch, with five full days of the finest men's fashions that Paris has to offer. As per usual, we'll be covering the longest of the three June fashion weeks by way of a rolling round-up, with fresh updates on the latest happenings to be posted right here each day. Wanna know about Glenn Marten's latest whackily warped outing for Y/Project? Comme and Junya's long-awaited return to the Paris schedule? Or what Louis Vuitton's first full collection designed in the wake of Virgil Abloh's passing looked like? Well, here's where you'll find out!
Louis Vuitton
Arriving at the Yellow Brick Road set of Louis Vuitton's SS23 menswear show at the Louvre, it soon became clear that this was a very different kind of spectacle to the one Virgil Abloh made his debut for the house with, just over four years ago. Back then, the road was straight-and-narrow, clearly leading to the Emerald City and all its promises and bright lights. This time, however, it was a bit more complicated. The first show that Virgil did not directly work on, the Yellow Brick Road here twirled into a Mobius strip, swivelling into infinity — just like the legacy that Virgil left behind. 'Infinity' was the official name of the collection, the final chapter of Virgil's brief-yet-brilliant tenure at the house founded in 1854. Read our full review here!
Y/Project
In a show staged in a bucolic garden setting in a secondary school on Paris' Left Bank, Glenn continued the prodigious streak he's already had this year, showcasing a body of work that reaffirmed the deliciously off-kilter, twist-it-and-screw-it-up approach to elegance that has propelled him to his current status as one of the most intriguing designers working in fashion today. Read our full review here!
Givenchy
The Parisian house's first standalone menswear show since Matt Williams arrived at the gilded salons of 10 Avenue George V — this was a show that was definitively more Top Boy than Breakfast at Tiffany's, the 1961 film that propelled Hubert de Givenchy to international stardom. Buff boys with buzz cuts emerged through a white mist in a veritable feast of uniform-like tailoring — slashed at the knees, like typically distressed jeans — and heavily-branded sportswear, like two sides of the sartorial coin for schoolboys eager to risk detention for subverting the dress codes of their grey uniforms. Click here to read our full review!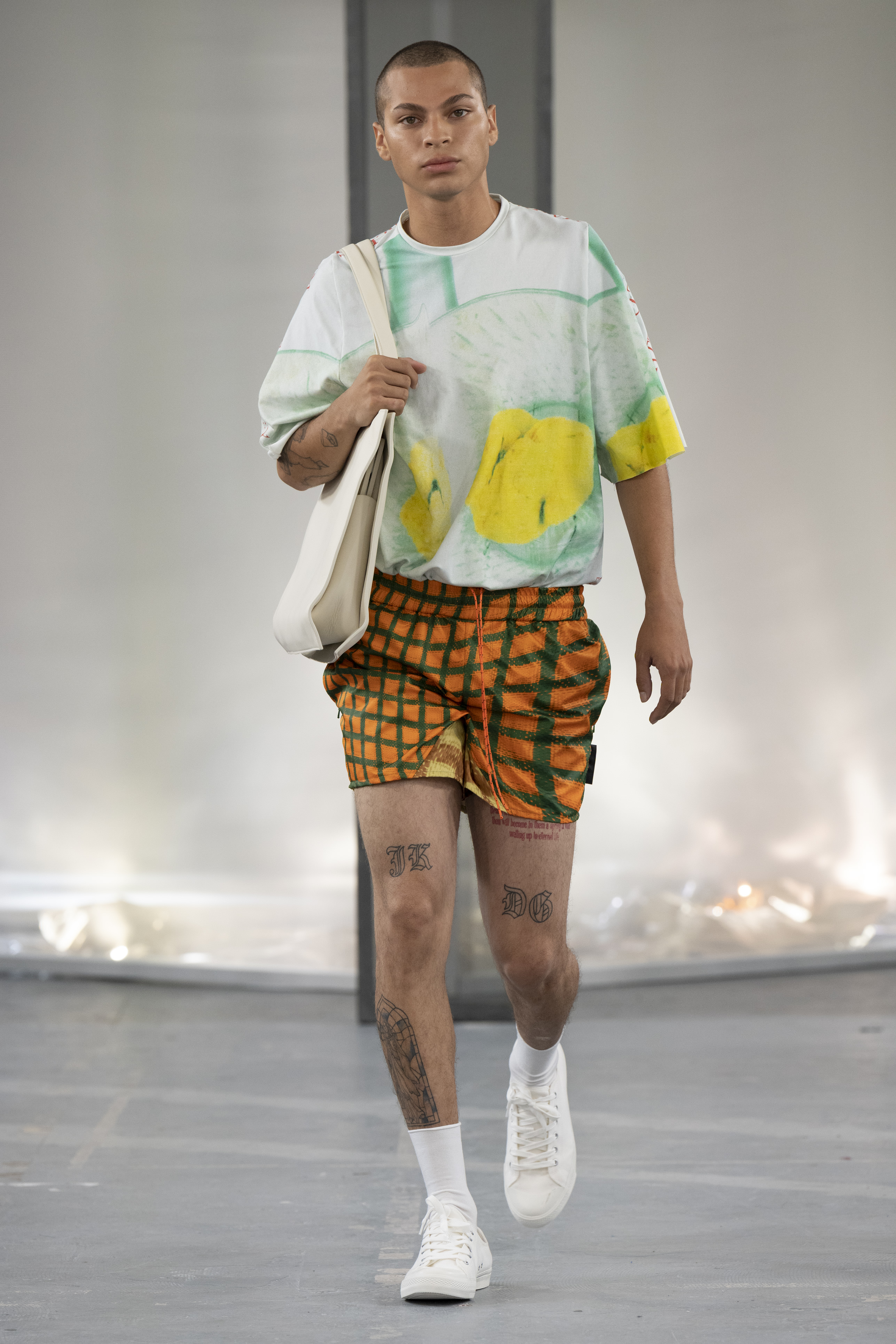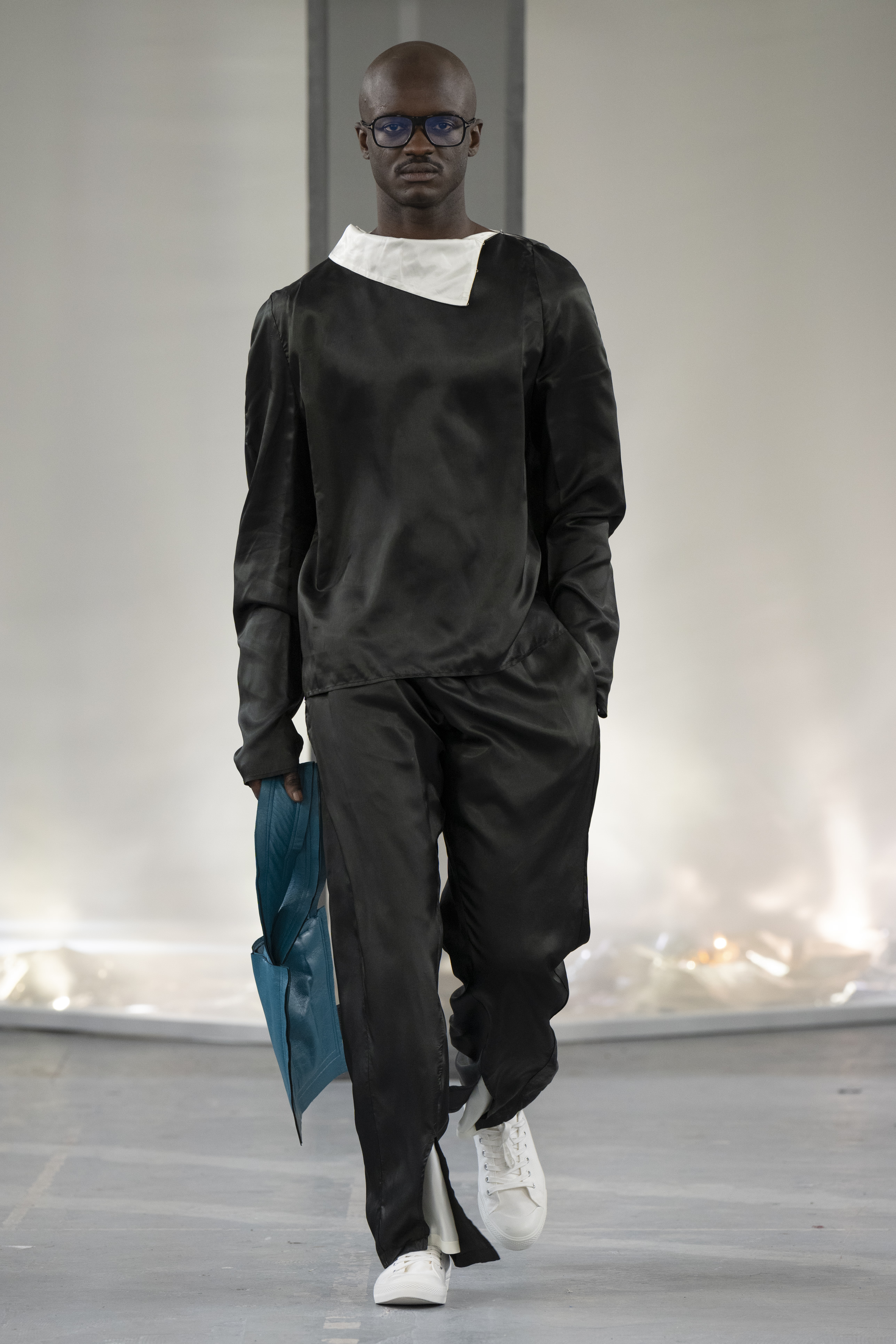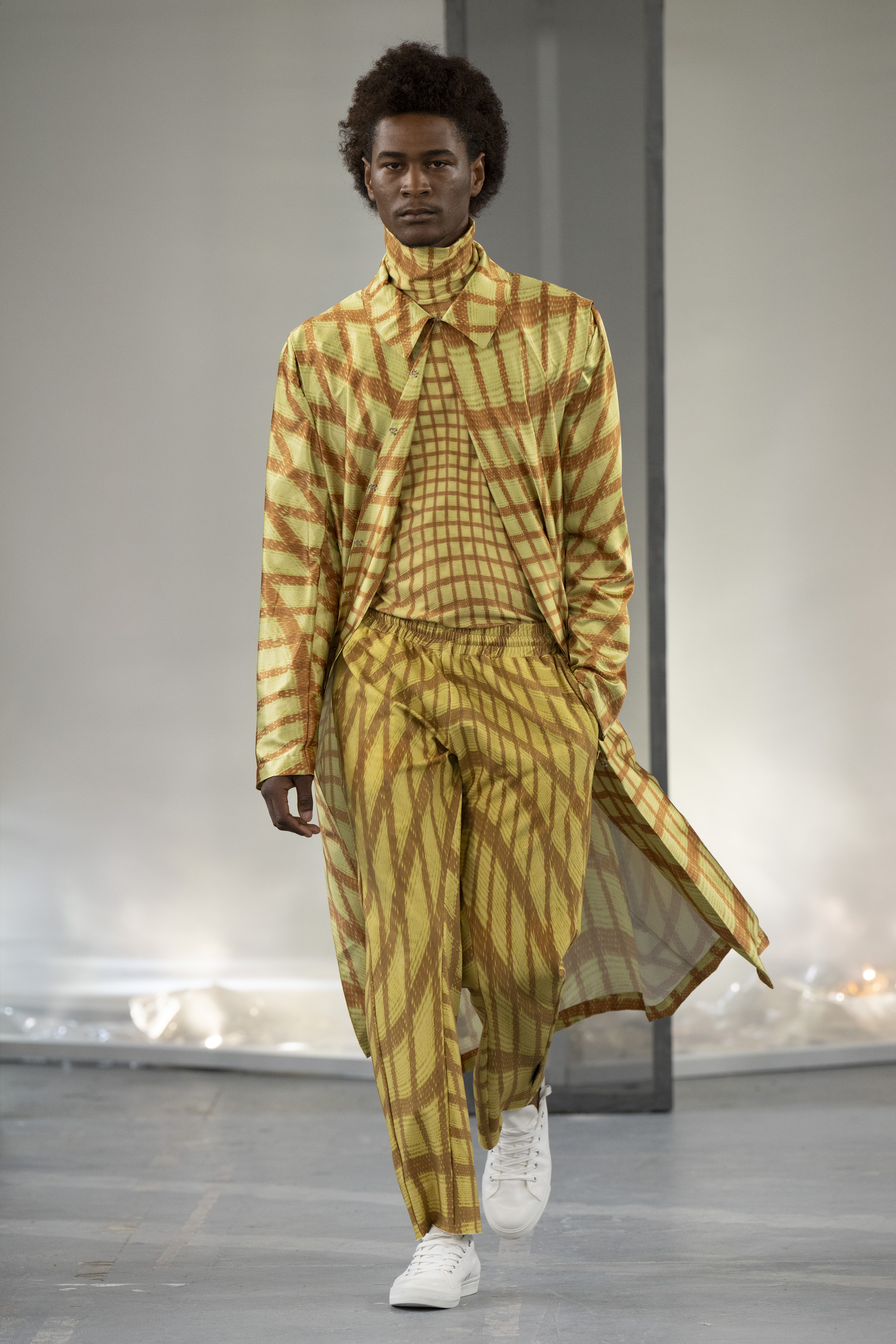 Bianca Saunders
Since taking home the ANDAM Prize last year, Bianca Saunders is a designer whose star has been firmly on the rise. That was attested to when you saw the eager crowd who had turned out en masse for the London-based designer's start of the day show – her second in Paris. For their early rise, they were treated to 'Hard Food', a collection that drew its name from the starchy accompaniments of a typical Jamaican meal – dumplings, yam and plantain. While an obvious nod to Bianca's own Jamaican heritage – a throughline for her brand – it admittedly may seem a rather esoteric title for a fashion collection on first reading. It was, however, a nod to an implicit contradiction it embodies – namely that when hard food is prepared, it's actually pretty soft.
A similar sense of contrast informed the clothes. The solidity of stark denim jackets featuring Bianca's signature blockish draped shoulder and hulking leather bombers with low-swooping fronts was complemented by louche twinsets in iridescent satins – turtleneck-and-trouser twinsets shimmered with each step, and shirts in what looked like sumptuous lining fabrics featured subtly swooning drapes at the chest. This duality even informed individual pieces, with structured trench coats turning round to reveal quivering draped backs, and cargo-ish canvas-like trousers featuring a domed, gathered reverse in cotton poplin.
Elsewhere, Bianca expanded the visual remit of her universe by way of cleverly manipulated prints and new finishes – looks in silver-foiled leather introduced a dash of glamour into the mix, while lurex knit twinsets with slashed and reattached collars subtly glinted as they moved, almost like television static. Grid prints were warped, mimicking the bulges of the body beneath, and this season's signature graphic was in fact a hand-collaged distortion of a step-by-step recipe for hard food, bringing the collection's figurative interpretation of its point of departure full circle. For her most expansive and ambitious collection to date, Bianca proved exactly why people keep coming back and queuing up for whatever she's serving. MS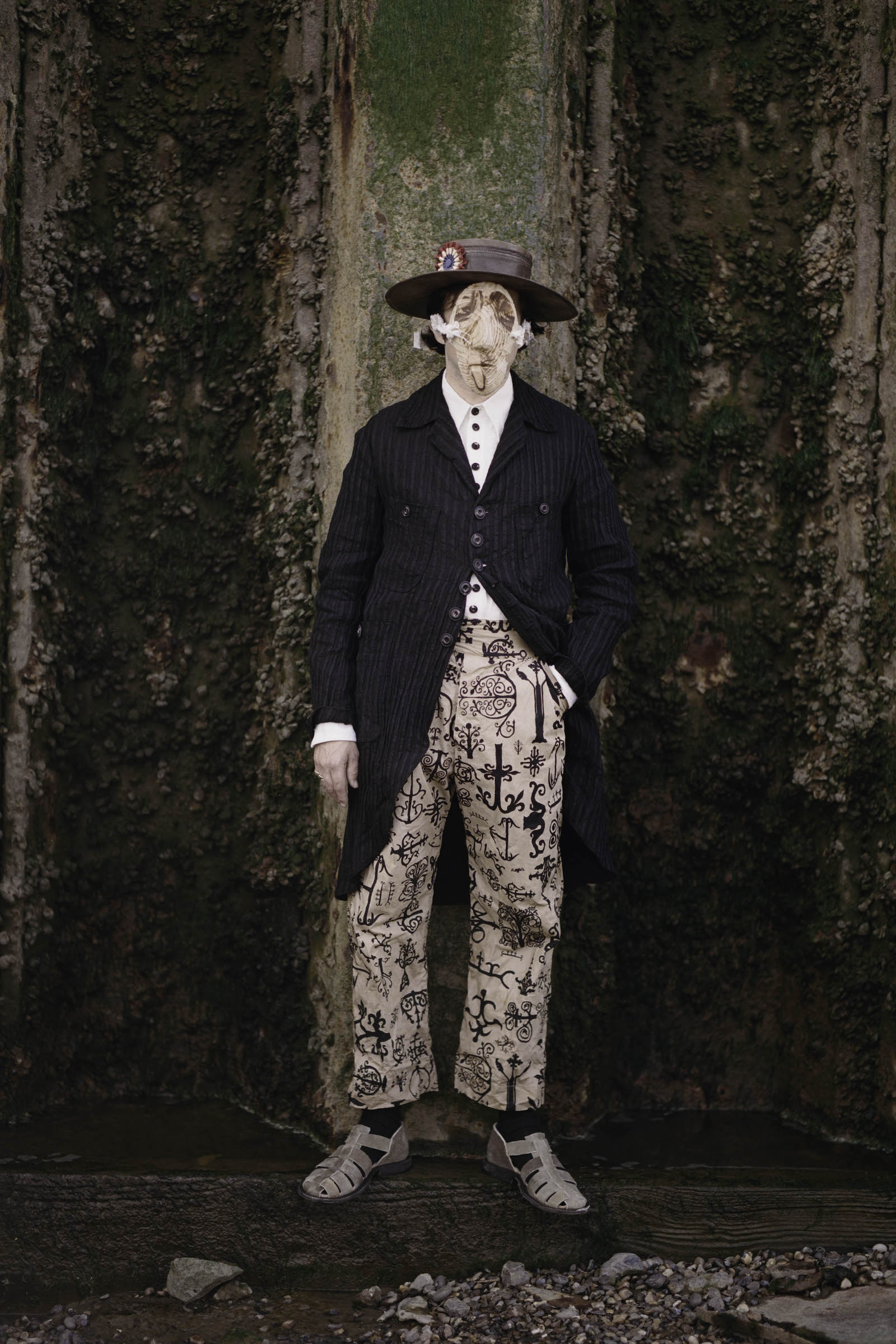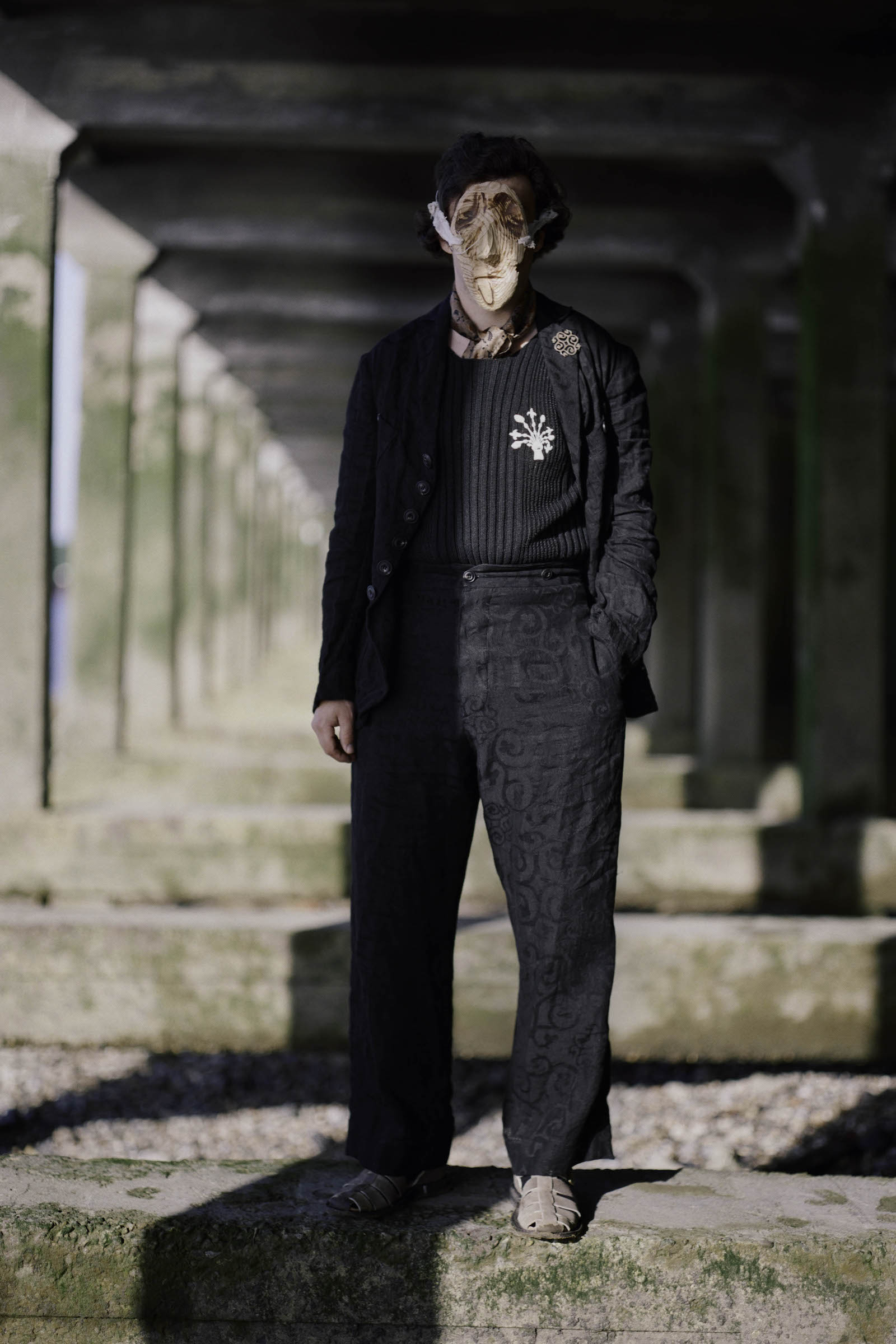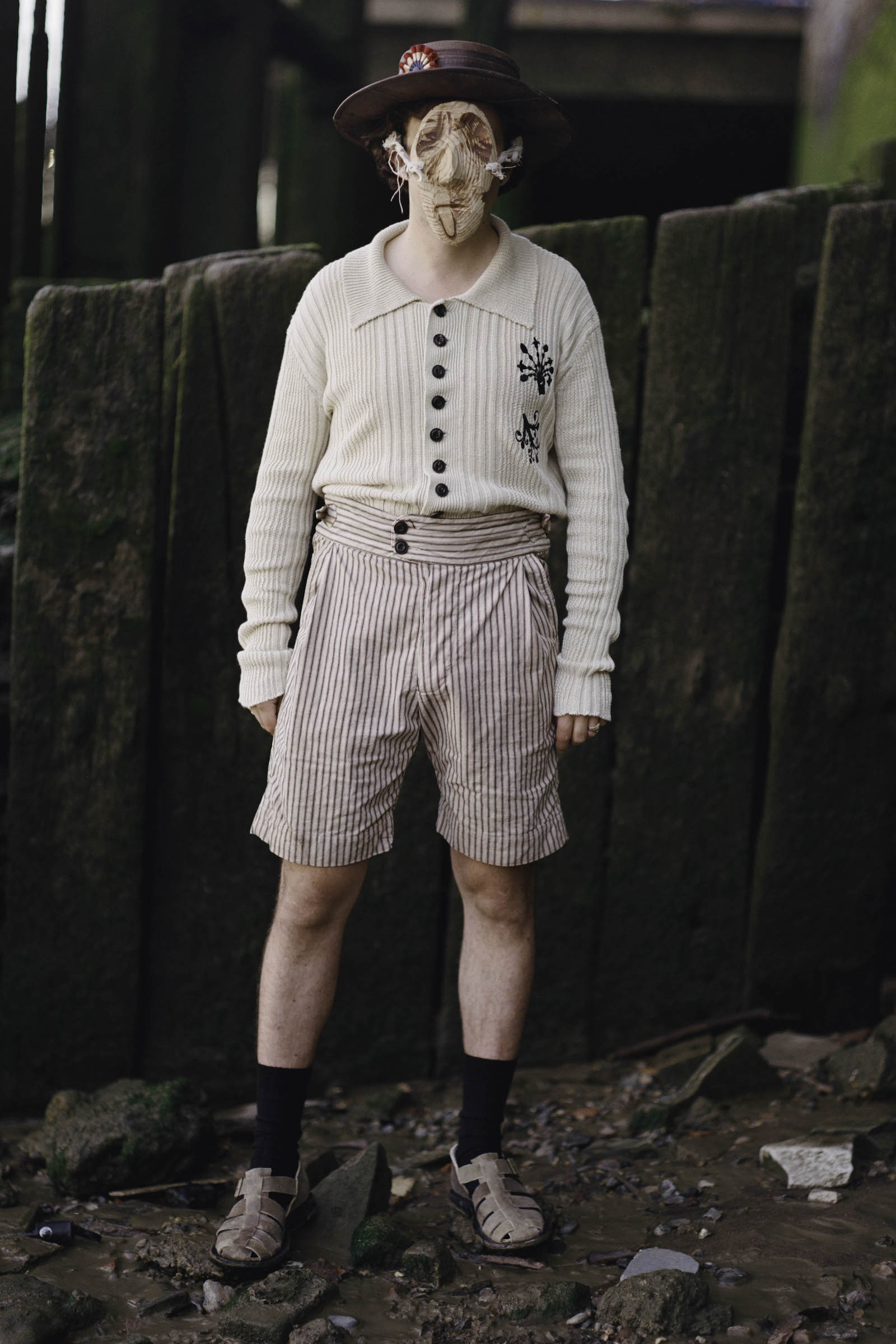 John Alexander Skelton
John Alexander Skelton is gloriously out of sync with much of the fashion industry and its restrictive commercial systems. He stands above the enforced newness of seasonal trends and the superficialities of merchandising. John's work is instead approachable and human, slower and smaller and considered, aesthetically it looks like very little else being crafted in London. It exists in a parallel world, one where the industrial revolution hadn't quite panned out the way it did, while leaning into the earthiness of Victoriana. He dives into the material histories of garments and the beauty of fabrics and the narratives that various silhouettes contain.
His SS23 collection was a narrative continuation of his work last season, specifically the character of Benjamin Pollock, a Victorian toy shop owner. "I found that there is a joy in projecting onto a character that little is known about," John explained, "and a freedom that allows the mind to wonder." So John started thinking about Benjamin's summer wardrobe, and by extension his hobbies and interests, his life and life in general in Victorian London.
Research is central to much of Skelton's fashion practice, whether it's historical or into the fabric itself. Here, he was looking to the Docklands – the heartland of London's heavy, industrial past – and the lives that existed at their fringes. "There is a sense that the area possessed a certain exoticism mixed with hard labour and various trades that benefited from their proximity to the river such as the leather tanneries that used to exist in Bermondsey," he explained.
But the ruins of the past as they exist today are part of the collection too, John's clothes find sympathy between the two eras, and reach towards timelessness. There's a lightness to the clothes here too; soft linens, the playful over-functionality of those multi-button shirts and jackets, the comfort of an old sandal, the decorative appeal of the embroidery and print. John imaged Benjamin Pollock as a Mudlark, foraging along the banks of Thames where the lookbook was shot, and found his connection to the past through this bricolage. "There is a certain magic and wonder that comes with the fact that these fragments of objects, that were once the possessions of our ancestors, are simply among the mud and pebbles of the foreshore for anyone to find," John explained.
But there's no point standing outside the system if you don't offer up something that it doesn't; and that's exactly what John does. His clothes exude a rare sense of humanity, and that's what makes them so desirable. FP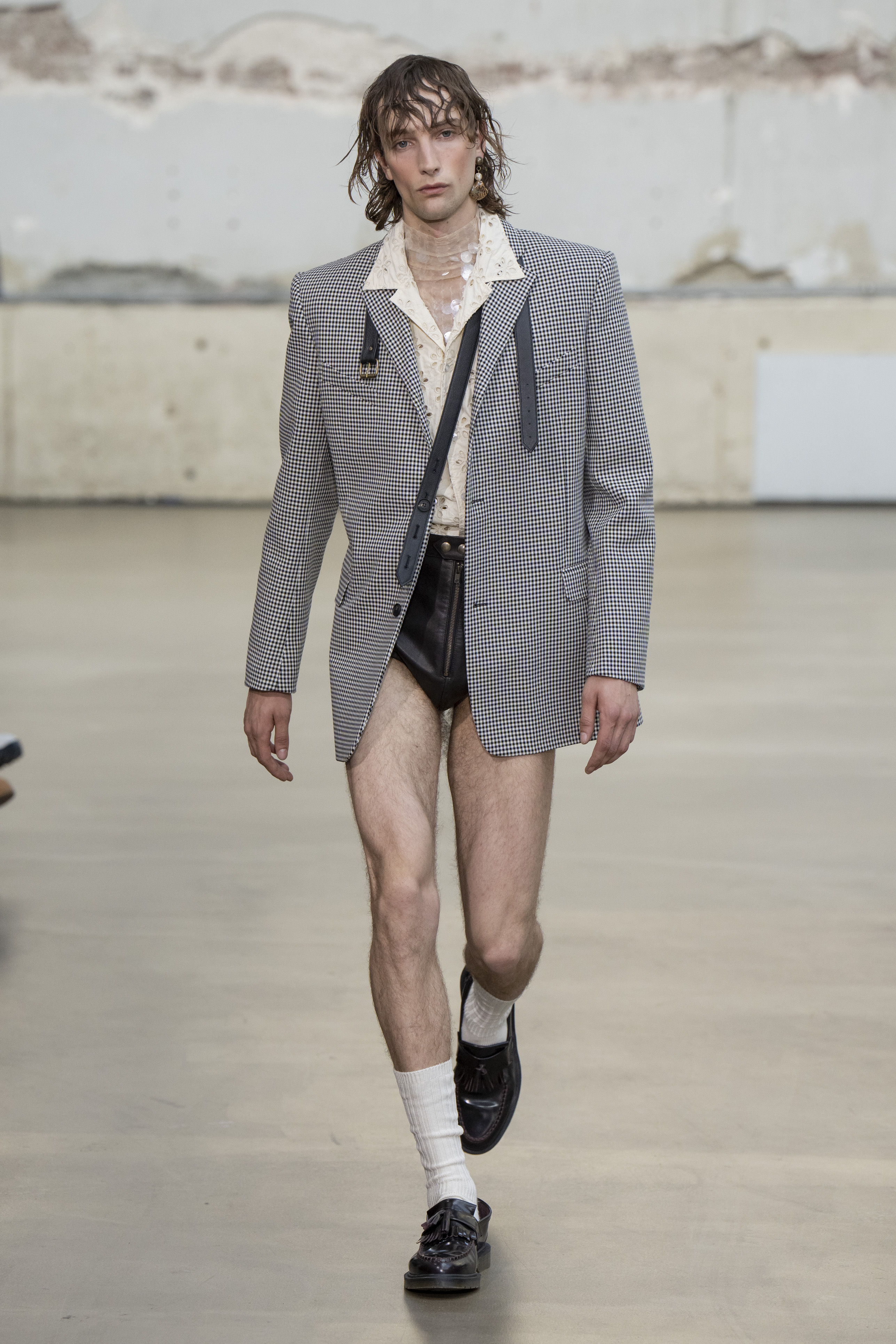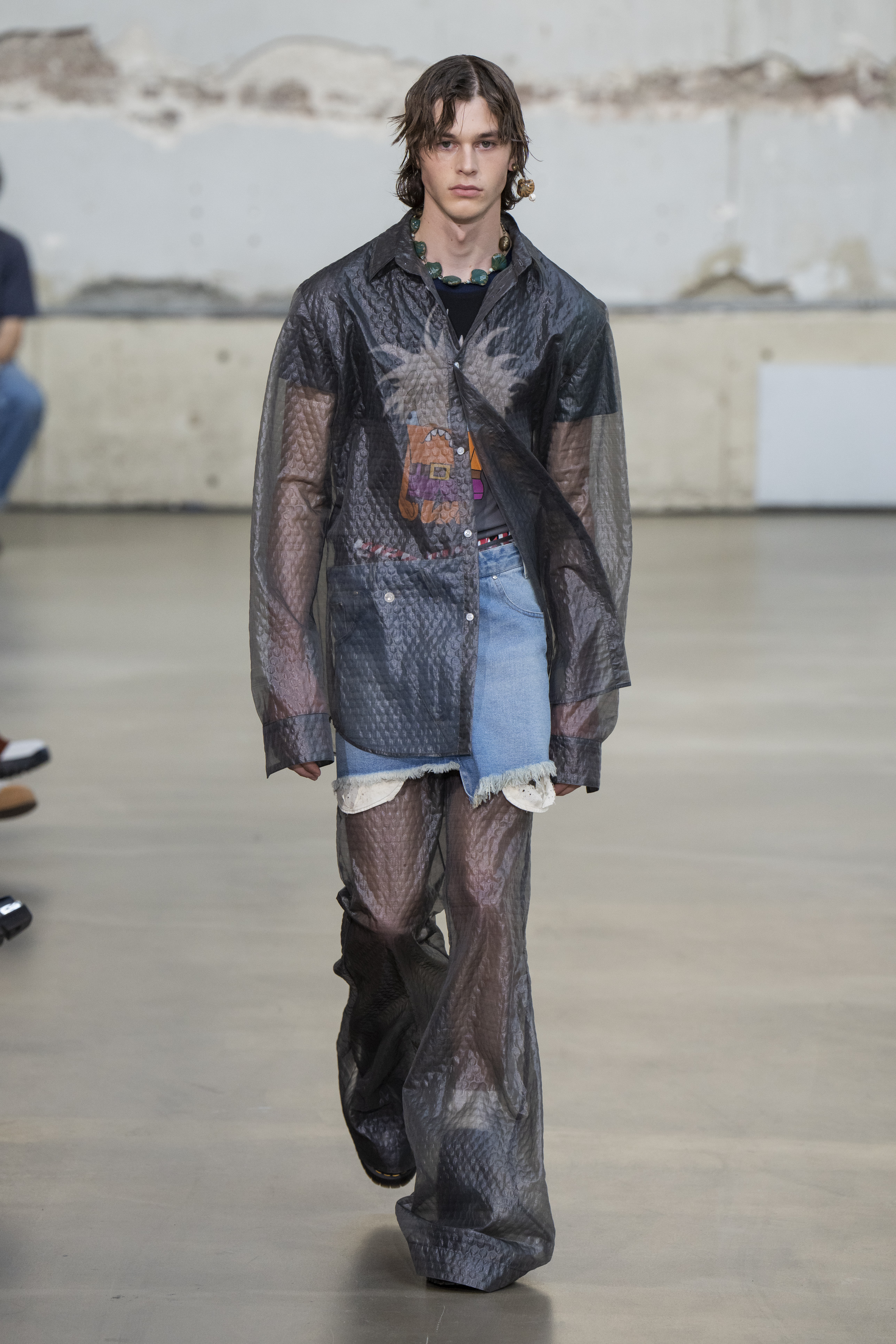 Egonlab
Over at the Palais de Tokyo, the first day of Paris shows always plays host to one of the city's buzziest young labels of the moment, EGONlab. On a sharp upward trajectory since taking home the Pierre Bergé award at the ANDAM Prize last year, the label – run by duo Florentin Glémarec et Kévin Nompeix – has cultivated a reputation for impeccably chic tailored silhouettes flecked with a spirit of high drama and club-ready sexiness. This season brought all of those things together with aplomb, in a collection that riffed on the time-honoured theme of Alice in Wonderland. Other than a handful of cartoonish bunny prints, though, the trippy children's story seemed to translate more into a general sense of escapism that permeated the clothes. The primness on a long-lined cream-wool overcoat and a smocked lace polo-neck were counterposed by the libidinal flair of itsy-bitsy shorts and thigh-high boots in black leather, and tight vest-tops were spangled with paillettes. Wide-legged denim jeans styled with jaunty, raw-hemmed miniskirts over the top were angstily distressed, while shirts and pyjama-ish trousers came in gossamer fabrics. MS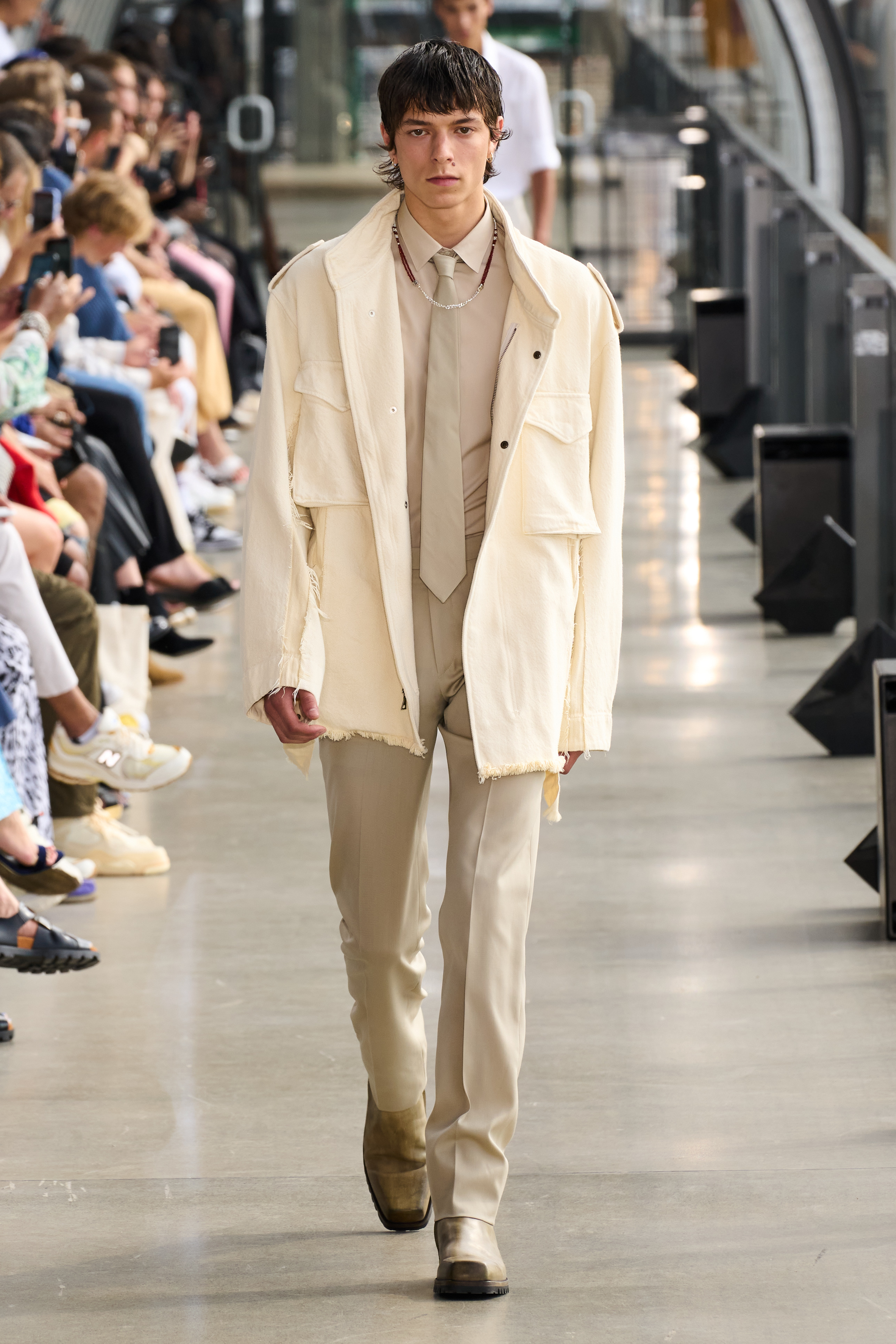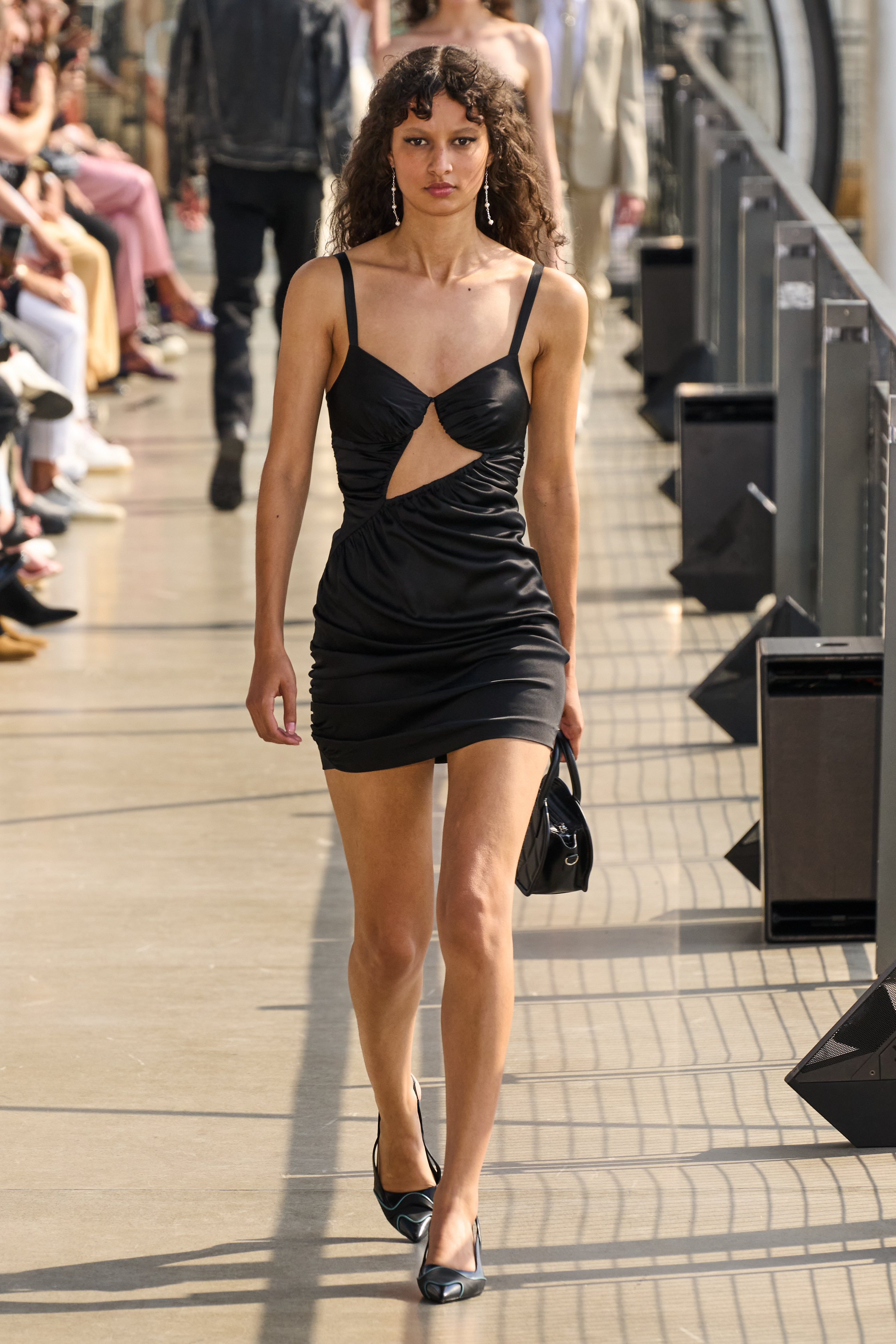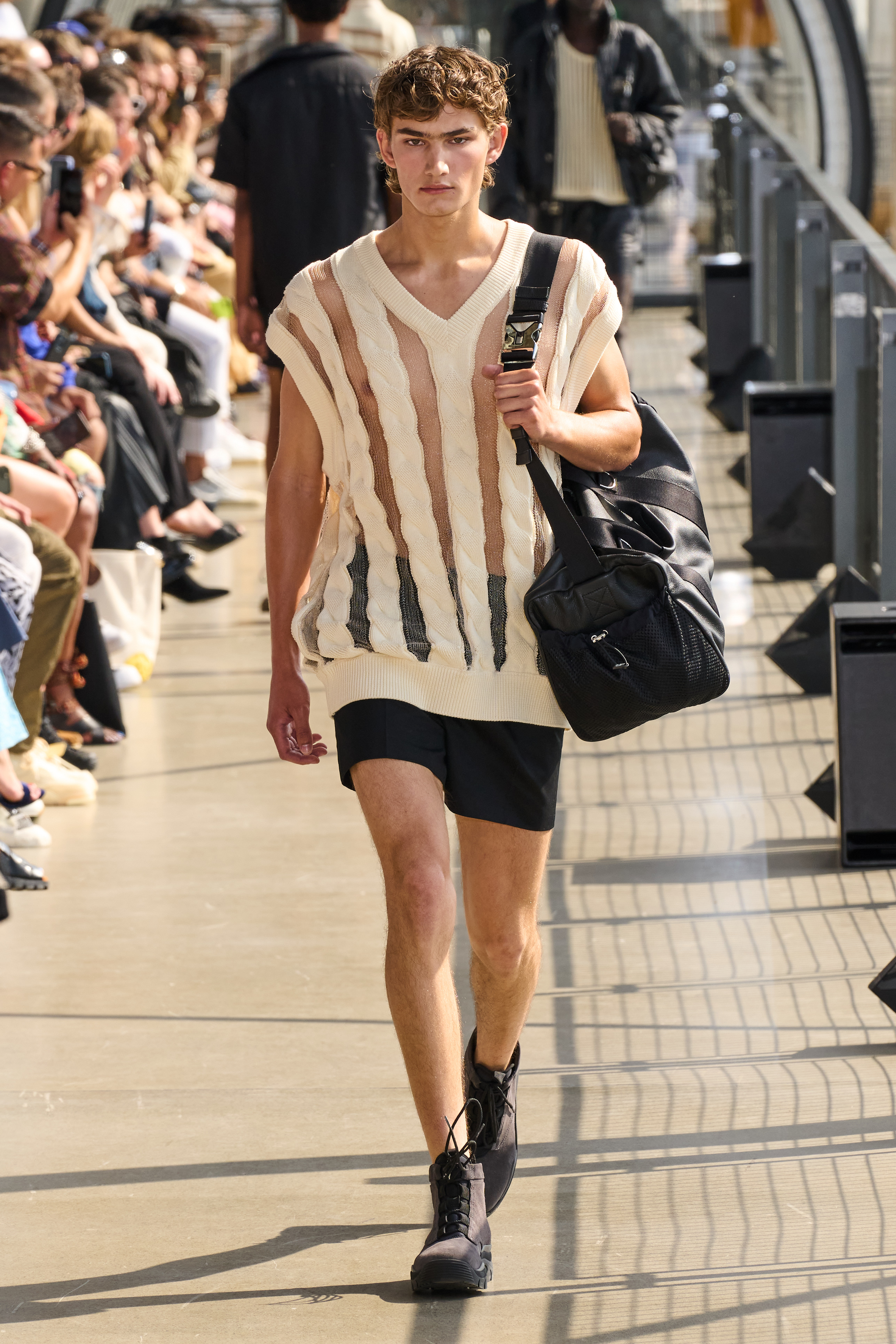 John Elliott
If you want to make a big first impression for your first ever show in Paris, then a surefire way of doing so is to make the topography of the famously pretty city a part of your show. For its debut presentation in the global fashion capital, American label John Elliott did just that, taking to the sculpture-dotted roof of the Centre Pompidou – the high-tech art museum at the city's heart – to show its latest collection before a sweeping view that took in the Eiffel Tower, the hill of Montmartre and a speckled swathe of zinc roofs in between. It was a classically romantic setting that leant into a similarly classically romantic vision of fashion. Comprising elevated, eminently wearable staples, it was a far-reaching, wardrobe-minded offering. Wide-set, round-shouldered outerwear in light, dusty hues conveyed a relaxed, summer-y ease, the casual tone they struck echoed by combat trousers in mint green and short-shorts for boys and girls alike. They were counterbalanced by the more evening-y tailored looks – elegant slim suits worn styled with gabardine overcoats and skinny ties – and slinky dresses seen towards the show's close. These pieces – particularly the cocktail numbers – exhibited the brand's technical nous by way of the sternum-baring draped, a skin-revealing sensibility that informed the knitwear, which was broken up by bands knitted from invisible thread. Overall, it was a confident proposal that demonstrated verve and versatility. This may have been John Elliott's first Paris presentation, but it looks like they'll be here to stay. MS
Follow i-D on Instagram and TikTok for more from the SS23 menswear shows.