The very best of Paris Fashion Week Men's SS23
From Mowalola's return to Hermés' poolside garms, here's what went down at the city's summer menswear fashion week.
Et voilà, la grande finale! Yes, after two whirlwind stops in Europe's other two fashion capitals – London and Milan – we're now into the final stretch, with five full days of the finest men's fashions that Paris has to offer. As per usual, we'll be covering the longest of the three June fashion weeks by way of a rolling round-up, with fresh updates on the latest happenings to be posted right here each day. Wanna know about Glenn Marten's latest whackily warped outing for Y/Project? Comme and Junya's long-awaited return to the Paris schedule? Or what Louis Vuitton's first full collection designed in the wake of Virgil Abloh's passing looked like? Well, here's where you'll find out!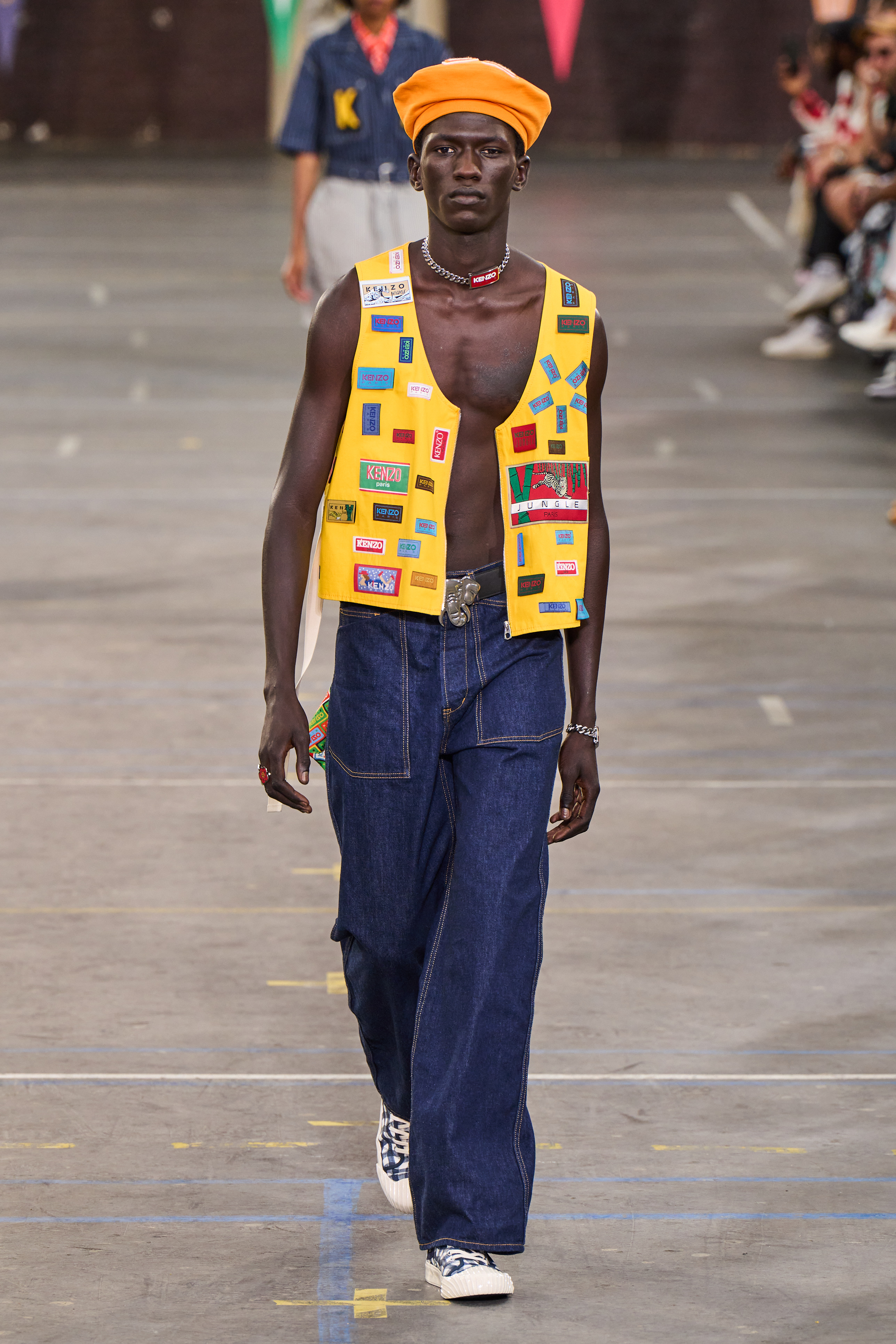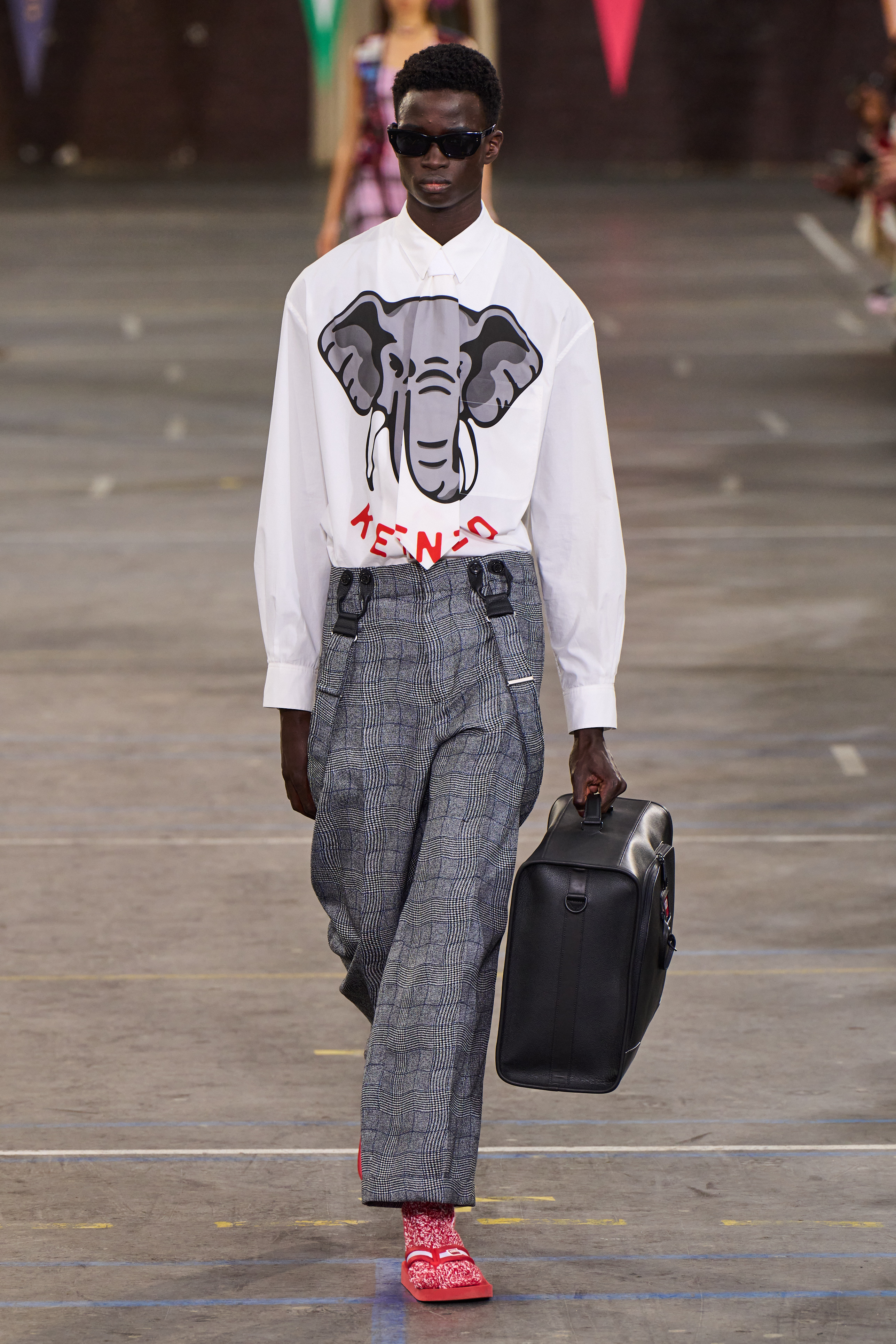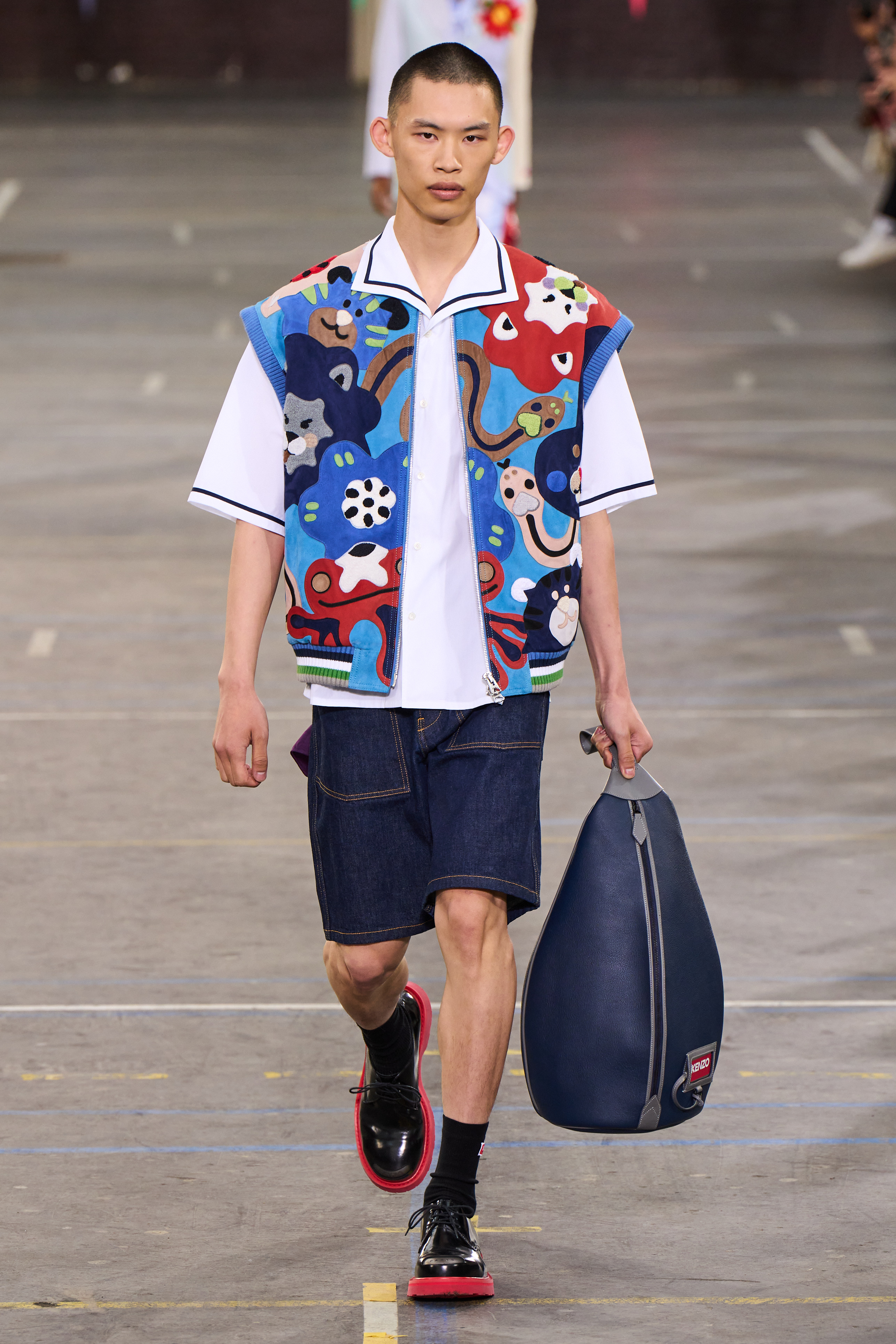 Kenzo
Though the collection Nigo showed on the final day of Paris Fashion Week Men's was only his second for Kenzo, walking into the show venue, it was clear that the Japanese forefather of streetwear has made swift work of carrying over his cultish fanbase to the French house. Sure, there were the bevy of celebs kitted out in the bright knits and appliquéd baseball jackets that anchored his debut collection for the brand, but the point was really hammered home when you scanned the bleachers lining the runway and saw a bevy of show attendees waving literal Kenzo varsity flags.
Granted, that was in large part because they were planted on their seats, but they only fuelled the spirit of excitement that characterised the clothes themselves. Inspired by the DC Brand Boom of 1980s Japan, when the work of the since-legendary coterie of Japanese designers presenting in Paris "co-existed with a local influx of casual, pop-driven Character labels distinguishable by their use of colourful and cartoonish animal motifs", as the show notes read, the collection echoed this duality of formal rigour and poppy eccentricity. The yoke of an indigo denim workwear jacket came in zingy leopard print, and tattersall tactical vests were worn over loose suits in contrasting checks. Tartan blazers with sailor collars were worn with flouncy denim culottes, and shirt and tie sets were printed with illustrations of elephants – elsewhere, cartoon characters were knitted into intarsia sweaters and appliquéd to the varsity jackets that Nigo is fast making a cornerstone of his tenure at the brand – the perfect pieces to cop to show that you're a true fan. MS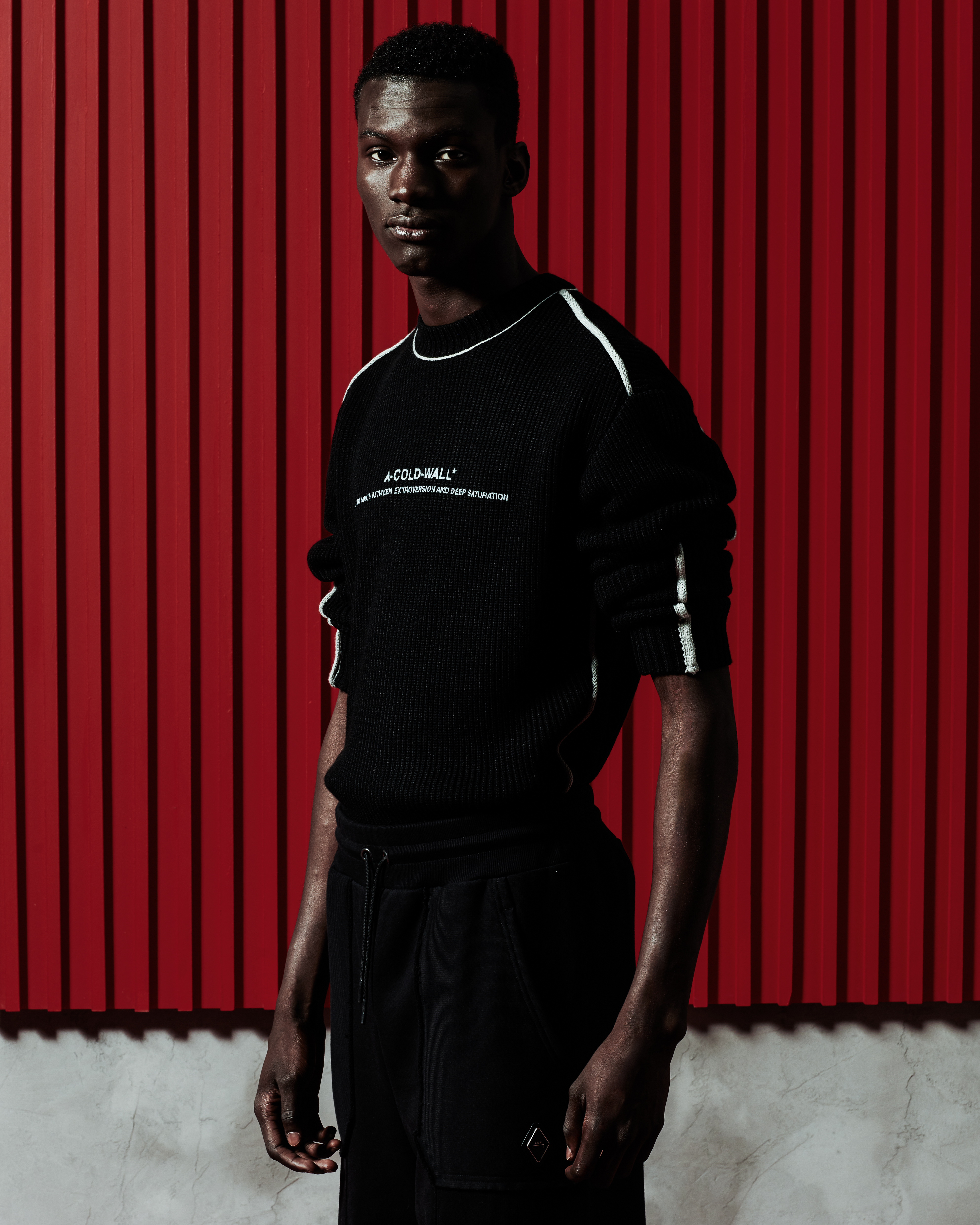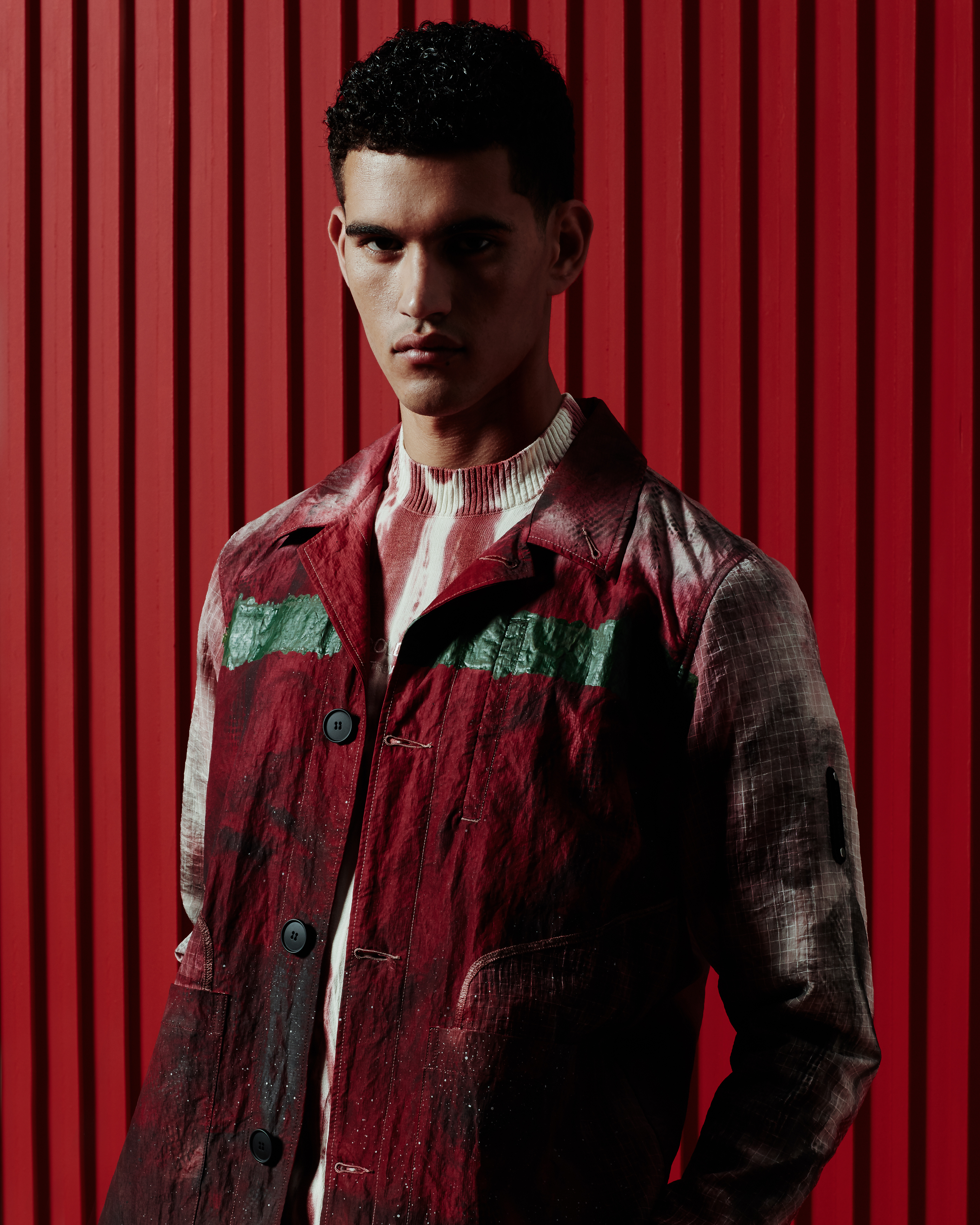 A-Cold-Wall*
While most of the week's collections were seen passing by in a flash on the runway, for A-Cold-Wall*' debut presentation in la ville lumière, Samuel Ross was keen to give his audience the chance to really grapple with his latest body of work up close. In a roomy gallery space off the typical show circuit in Belleville, the London-based designer was even there himself to walk visitors through the introduction to a bold new chapter for the brand – walk in a literal sense, given that looks from the brand's three product lines were installed about the space like sculptures, specifically curated to bring the nuanced interrelations between the more commercially-minded pre-collection, the creatively innovative ready-to-wear, and a brand new artisanal offering into relief.
Elegantly suspended on wires in the white-washed space, the pieces from the latter line in particular – which is targetted at A-Cold-Wall*'s substantial base of art and design-obsessive customers – were expertly curated, elevating them to the status of art object. While A-Cold-Wall* has previously been known for its tech-savvy approach to textile development and form, here, the work felt distinctly handwrought. Brown canvas chore jackets – the product of a new collaboration with Timberland – were handwarped, with wires fitted in its channels, allowing the piece to hold its ghostly form. Starched mesh pullovers felt as though they'd been interred and exhumed years later, as if the design process had been left up to mother nature. That haphazard feel informed the streaked dye patterns of an intentionally crinkled fine knit jumper, and the whitewash on an bright-orange marble-print leather coat, destined to fleck off over time with each wear. While it made perfect sense to inaugurate the line with a static presentation, they're clothes that we also can't wait to see in action – a privilege we'll all be privy to come January, when the brand is set to make its Paris runway debut. Trust us when we say that we're counting down the days! MS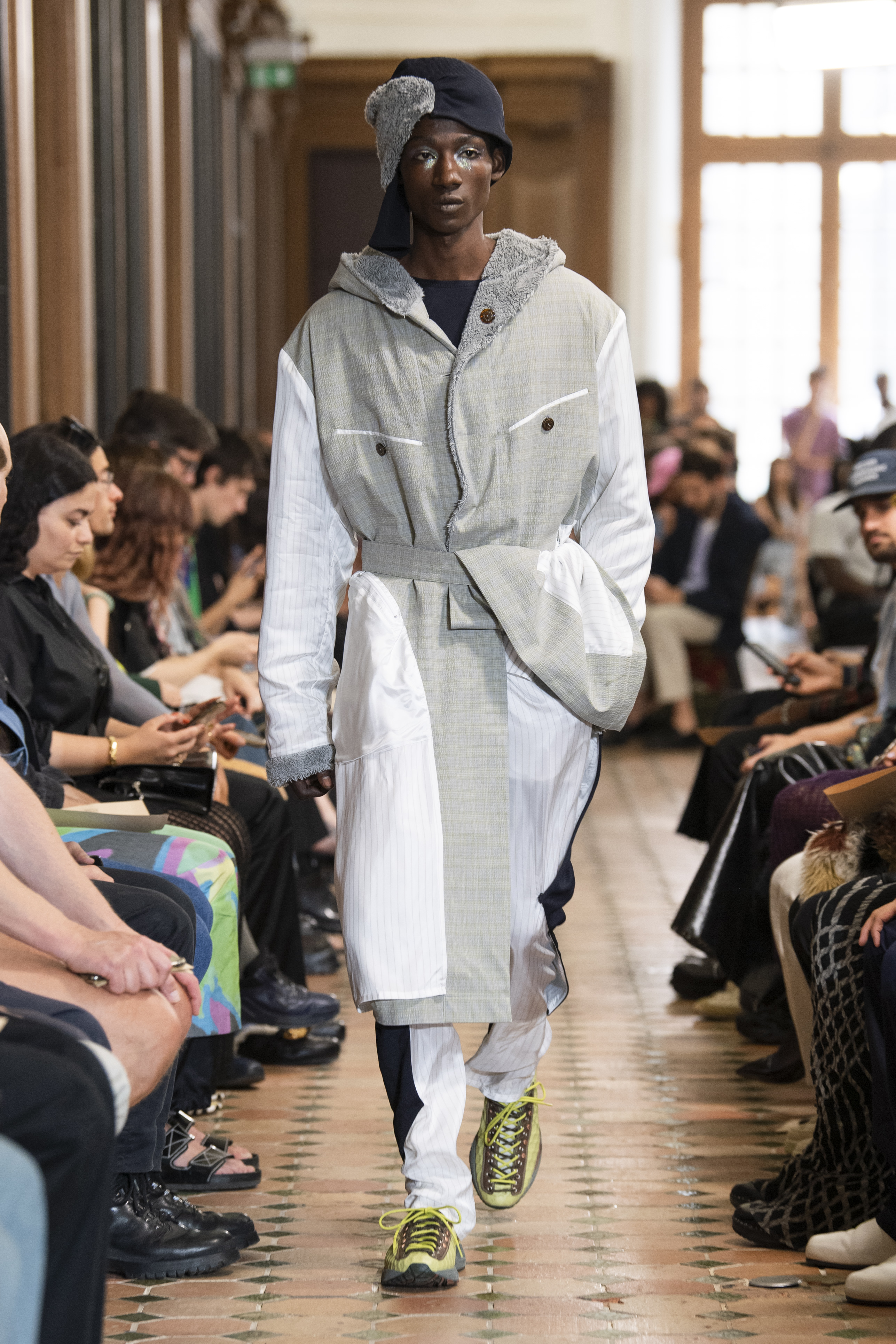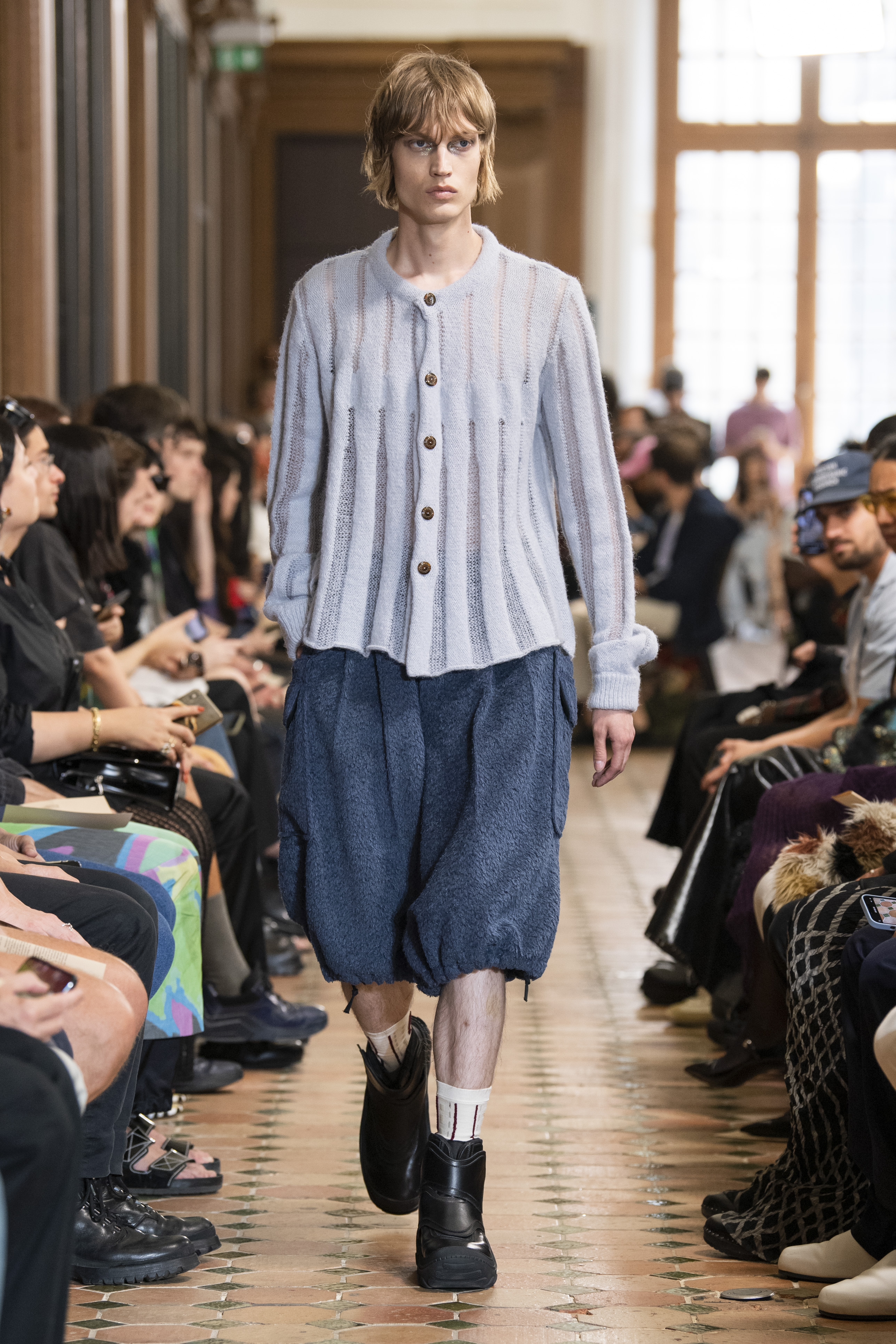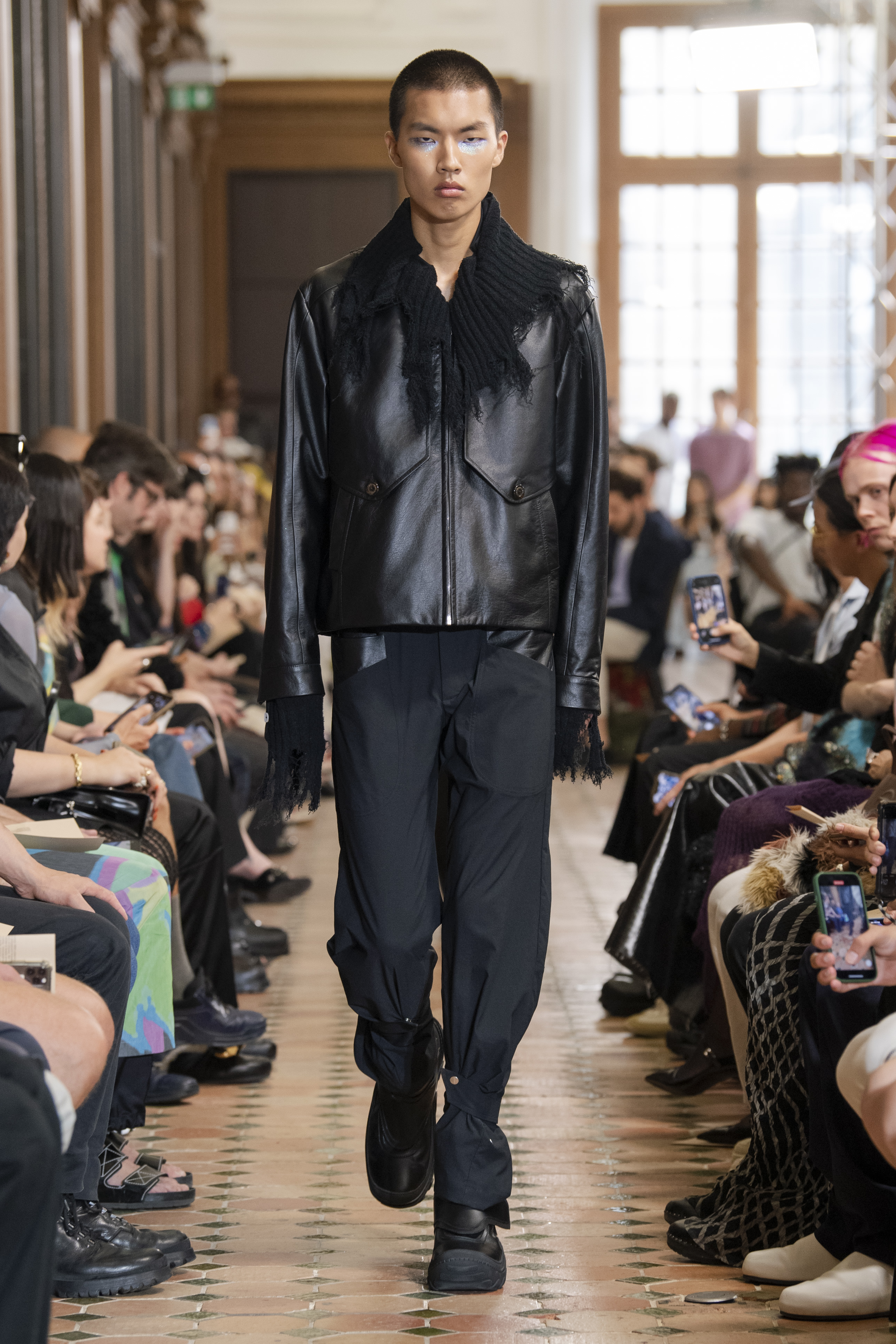 Kiko Kostadinov
The themes of Kiko Kostadinov's collections often take a bit of chewing to process. Much the same can be said for the clothing that the London-based designer creates, which rarely reveals the brooding complexity of its design at first glance. This season is, in most respects, no exception. The conceptual framework for the collection he presented yesterday in a stately library – notably his first collection officially shown on the Paris schedule – was a knotty one. Inspired by the work of acclaimed Vietnamese artist Danh Vo, whose work draws on emblematically American artefacts to deliver acerbic critiques of the nation's imperialist present and past, Kiko was inspired to explore how he could adopt a similar perspective in approaching the Ottoman rule of his native Bulgaria.
Rather than stoke the acrimonious narratives that still fuel tensions between his homeland and modern-day Turkey, instead, he set out with the intentions of appreciating the rich aesthetic history of the Ottoman empire and finding ways to reframe garments that typically conjure memories of trauma. The swooping drapes of the uniforms once worn by medieval Janissaries – elite Ottoman foot soldiers – informed the belting of reversible tailored overcoats and the bands of cotton towelling and shimmering jacquard that buttoned on the collars and welt pockets of boxy blousons.
The attempt to renegotiate the relationship between Kiko's homeland and its former oppressor extended to the integration of motifs that nodded to the bucolic oil paintings of mid-century Bulgarian artist Zlatyu Boyadzhiev. The abundance of shearling and moccasins worn by the subjects in his earlier figurative work, for example, translated to the collection's generous panels of stone grey towelling and mossy blue Suri alpaca, and its tongueless, long-laced shoes built on Asics soles.
While the specificity and personal weight of the references Kiko drew on this season could have proven alienating, here, that's avoided by the sheer fact that there are few people out there who couldn't see themselves in the clothes on offer. In what is undoubtedly his most accessible collection to date, subtle riffs on staple pieces abounded. The designer's notorious technical tricks were still present, but more subtle than ever before. Collarless wool jackets and suit trousers were fully reversible, proving that just as much attention has been paid to the striped lining as to the outer. The lower legs of another pair of pants snapped off to become a breezy pair of culottes. Seersucker shirting featured an innovative ventilation system, as did the brand's first full leather jacket, a riff on a classic men's harrington. Granted, those that have always found themselves drawn to the niche references and nerdiness of Kiko's designs will still find that here, but it's great to see him put out work that will broaden his appeal to a whole new set of fans.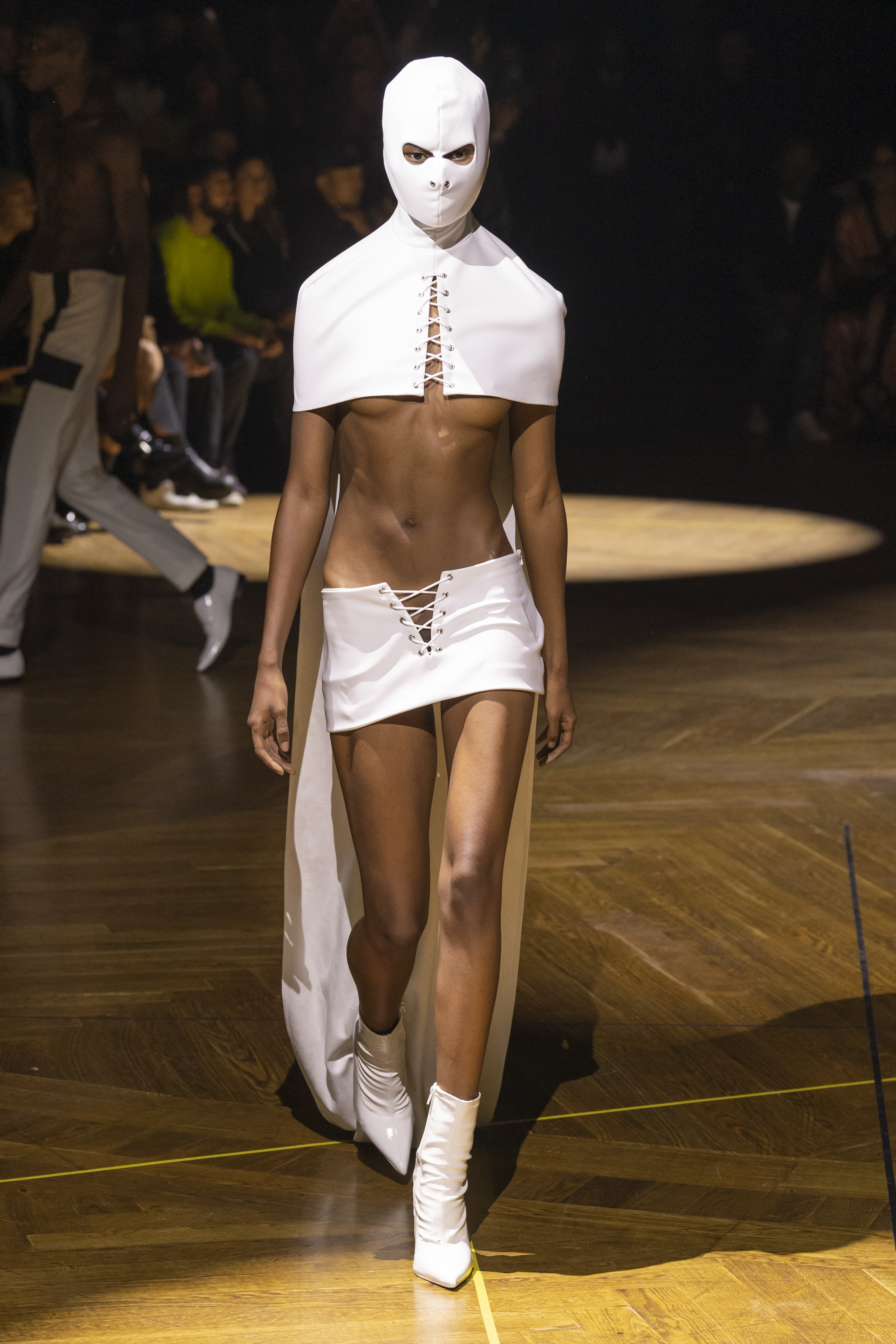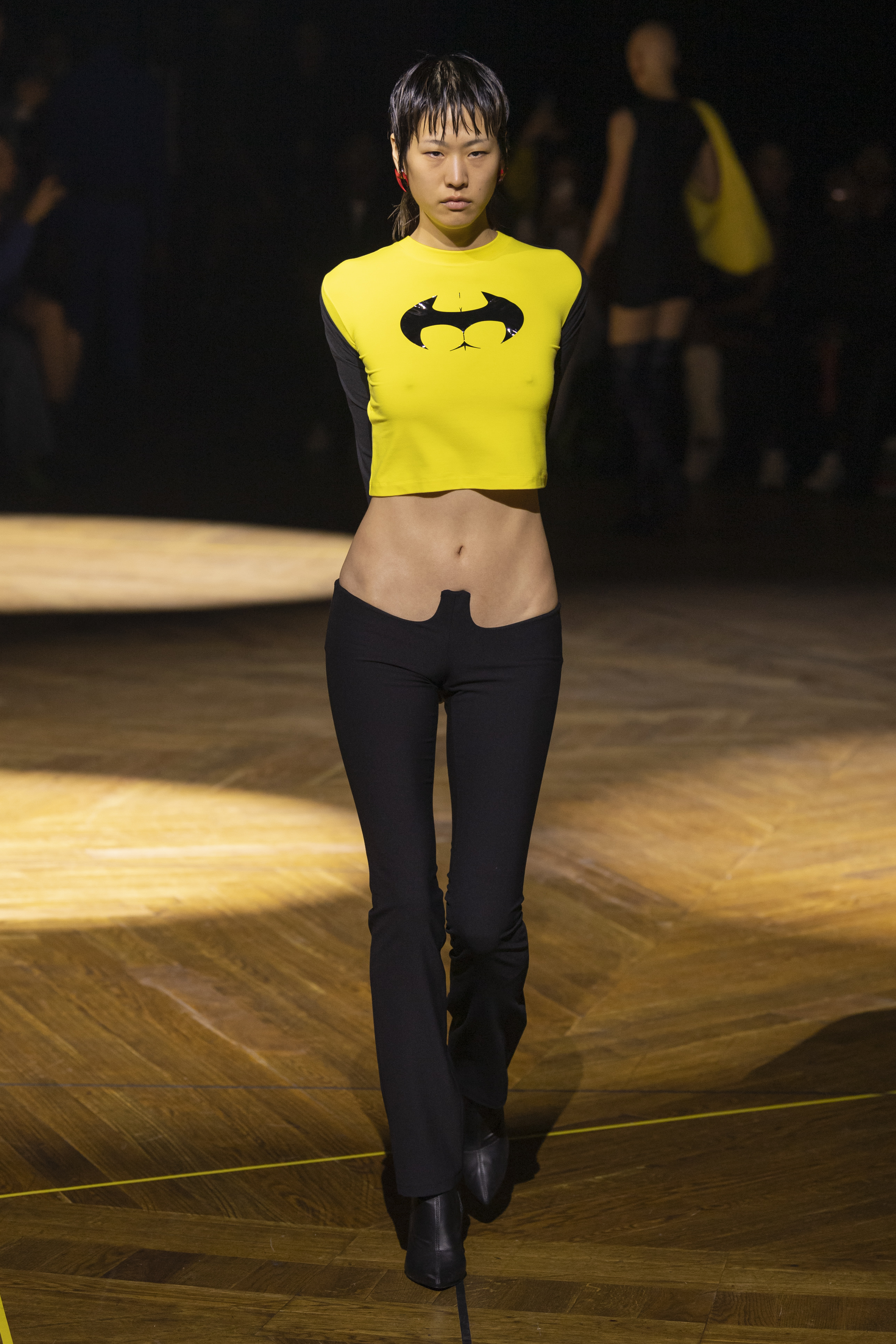 Mowalola
Any seasoned fashion week goer knows that you often have to look beyond the official for some of the most buzzed-about moments. This season, that was proved on the penultimate day of Paris Fashion Week by Mowalola, the loudly-hyped London label that, after three years away from the runway, made its anticipated return. It did so with a collection titled 'Burglarwear', an exploration of the crime of theft and the grit and conviction it takes to commit it – as well as a proudly raunchy celebration of the body.
As you'd expect from a collection that looked to caricatures of thieves for its source material, black balaclavas were joined to slinky ribbed knit bodysuits, slashed at the navel, and appeared in leather iterations that nodded to gimp masks. Beyond this obvious interpretation of the theme, Mowalola Ogunlesi adopted a more figurative perspective, looking at the act of theft as less the consequence of "a certain personality type or chosen life path", read the show notes, and more to do with accessing a dormant state of mind that resides within all of us.
As such, the typologies of robbers that Mowalola set within her sights went beyond the jewellery heist villains of Hollywood films. Wool suits comprising bumster trousers, jackets with v-cut hems and dramatically cropped pinstriped capes and skirts nodded to Wall Street bankers, while ecclesiastical gowns and itsy-bitsy panties with crucifix cut-outs called out the clergy. Comic book supervillain-y solos were emblazoned on tight-fitting tees, while, in other looks, the theft in case was a little more literal, with bondage-y lace-up minidresses and halterneck miniskirts robbed of the modesty-preserving swatches of fabric.
Perhaps the most interesting pieces, though, were those that constricted more than they liberated. Wool sleeves that bound the arms either in front of or behind the body and lace-fronted hooded dresses with a single armhole intentionally constricted the wearer; in the case of a hooded white vinyl column dress, its construction forced the wearer's arms behind their head, causing their elbows to jut up towards the sky. These looks elicited, Mowalola told us backstage, the idea of what it means to be stolen – to be a kidnap victim, for example, to something or someone else. If there's one thing that Mowa managed to steal with her defiant comeback, though, it was the hearts and minds of her audience. MS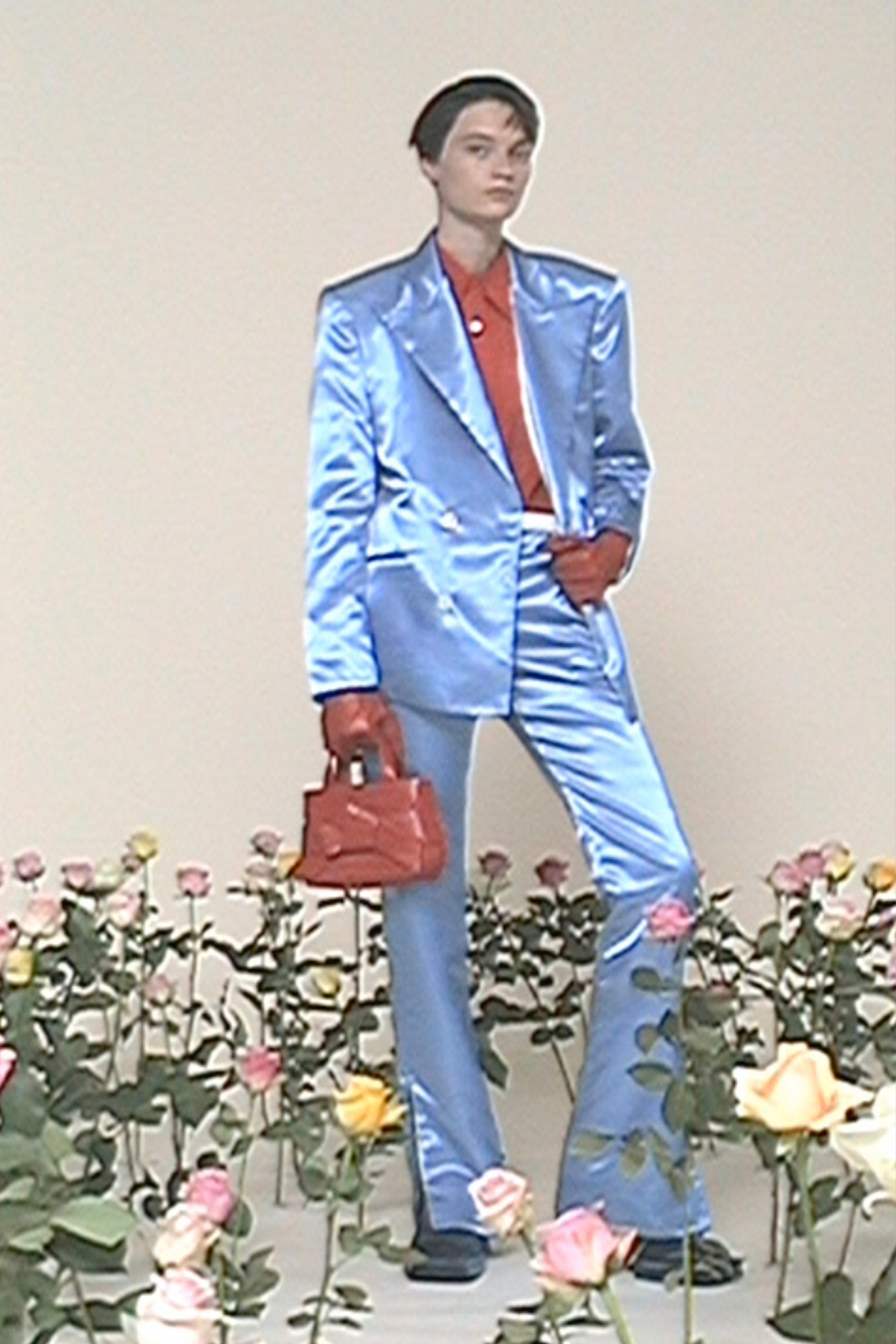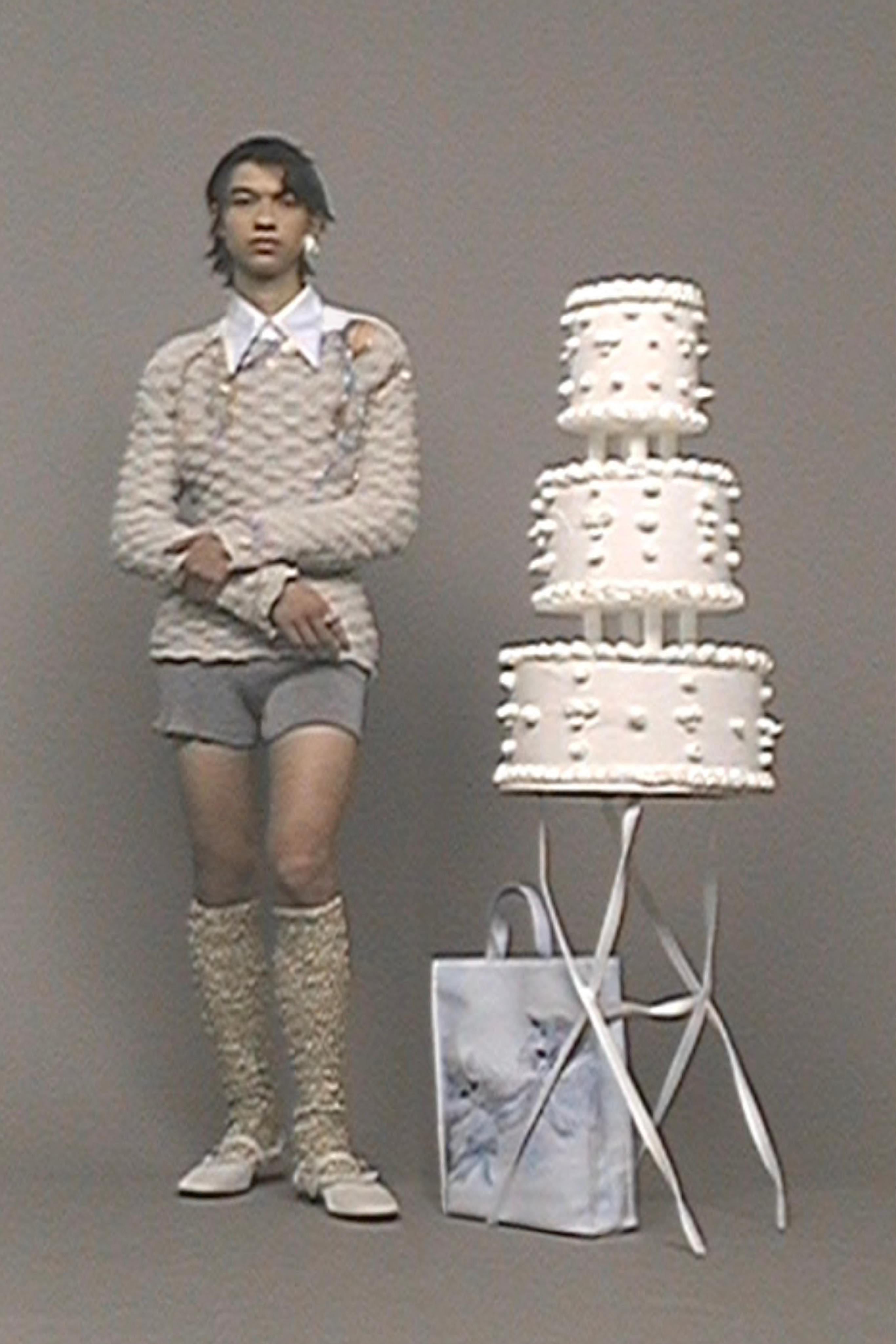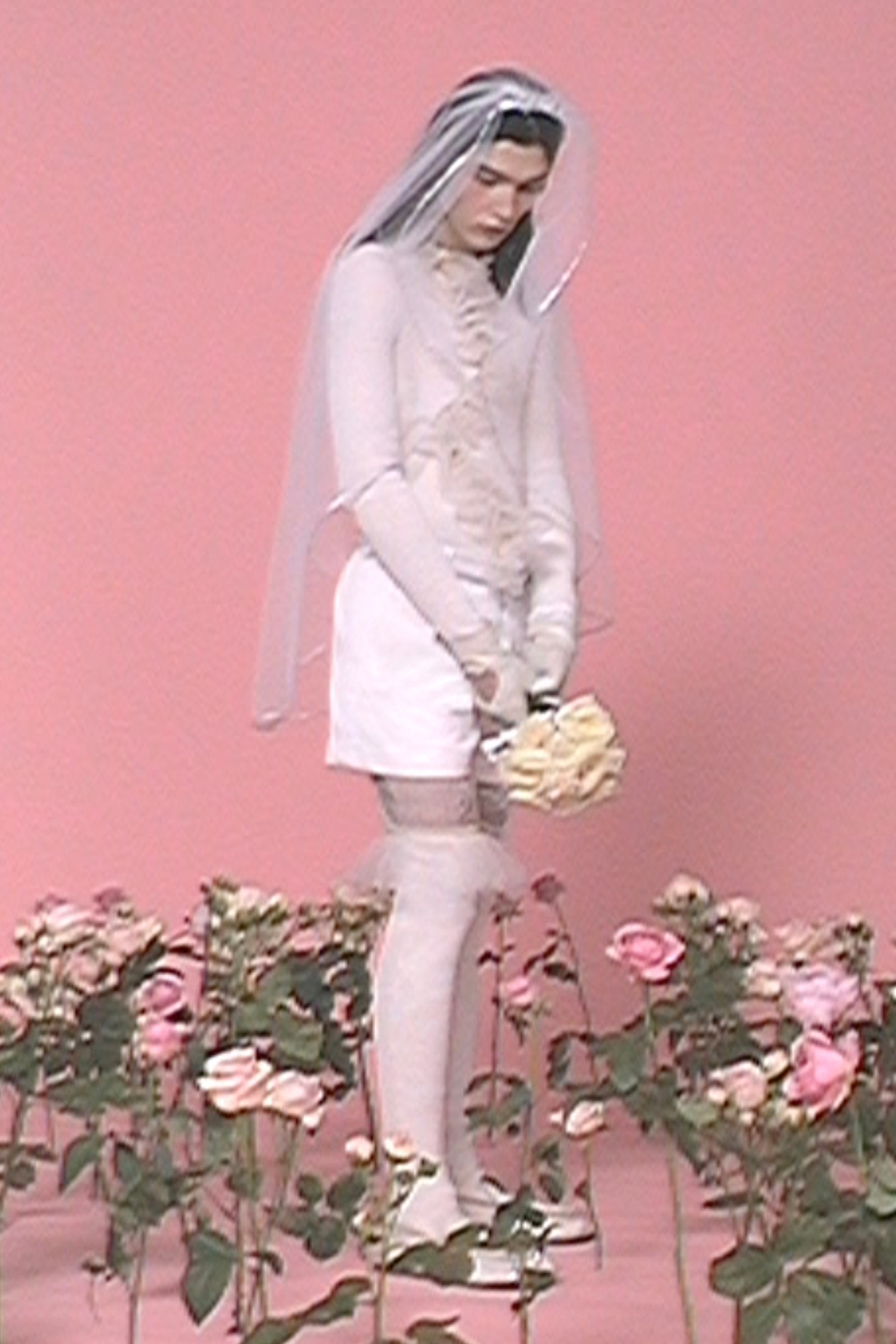 Acne Studios
After two years of limitations on large gatherings, the lifting of restrictions has resulted in a boom in some of the most joyful group celebrations of all – yes, weddings! In the midst of this post-pandemic boom in nuptials, Jonny Johannson, the creative director of Acne Studios, reflected on his own big day – as well as the many he's been to recently. It wasn't quite the formality or tradition of the occasion that drew his attention, though, but rather the curious contrasts that characterises most weddings – "the joyfulness, the dressing up, the kitschy-ness" of it all. "In a sense, it's one of the most serious days of your life, but it's also fun and ridiculous," he says. As such, the collection he presented by way of a lookbook shot by Sharna Osborne was less about celebrating what you'd typically wear to a wedding, and more focussed on "unpicking the proposition of occasionwear" and bringing a "kitsch, spontaneous feeling" to the fore. Here, that's achieved by taking the rudiments of the genre, and passing through a prism of unabashed camp. Sharp two-piece suits are reimagined in pearly satins, with the same fabrics used as gaudy linings for roomy wool overcoats. Body-swaddling crew neck sweaters are rendered in baby pink yards and shredded, and chintzy slogans like 'For Better, For Worse' and 'Forever Mine, Forever Yours' are rhinestone on t-shirts and printed on scrims of laces. Clothes we'd gladly say 'I do' to! MS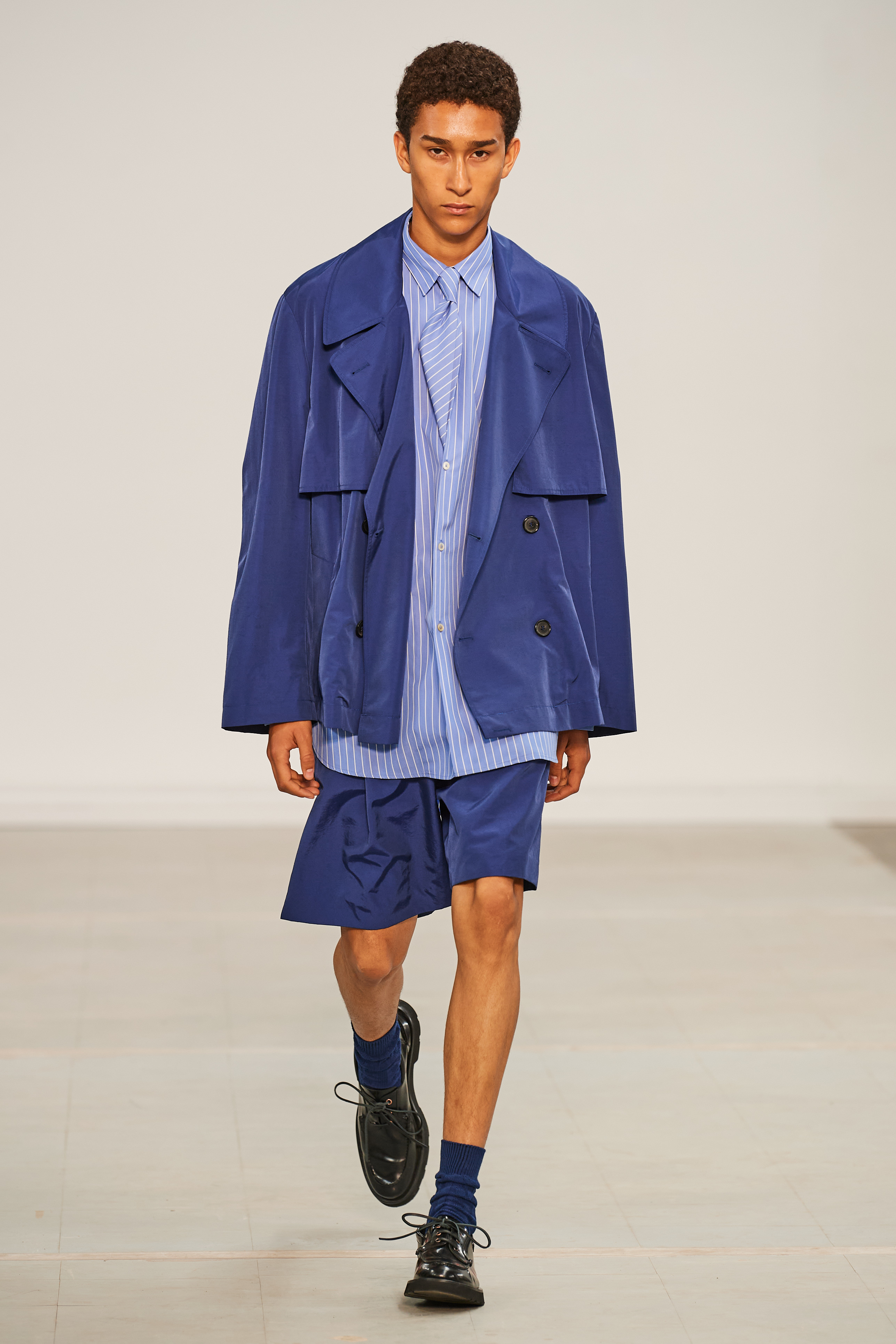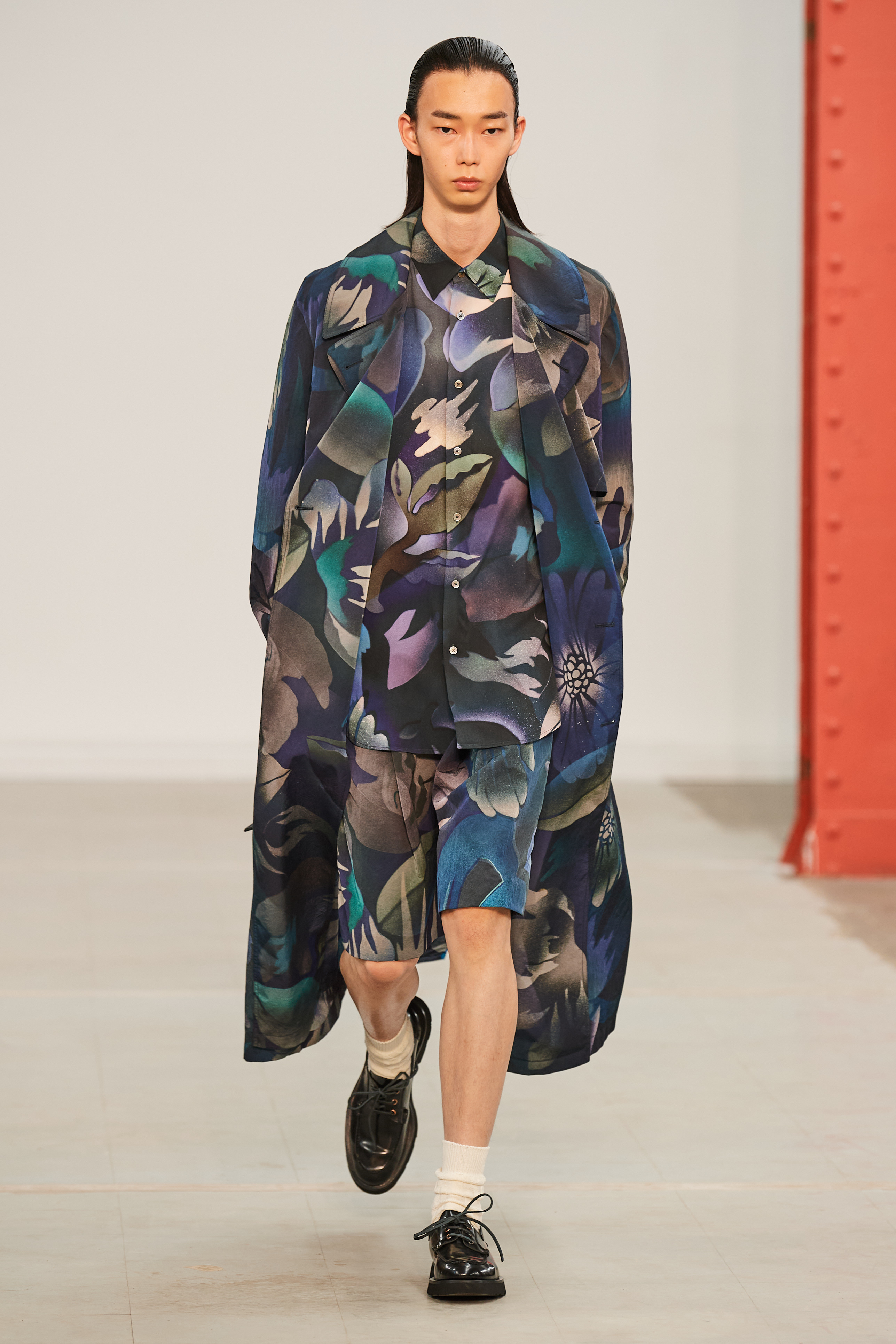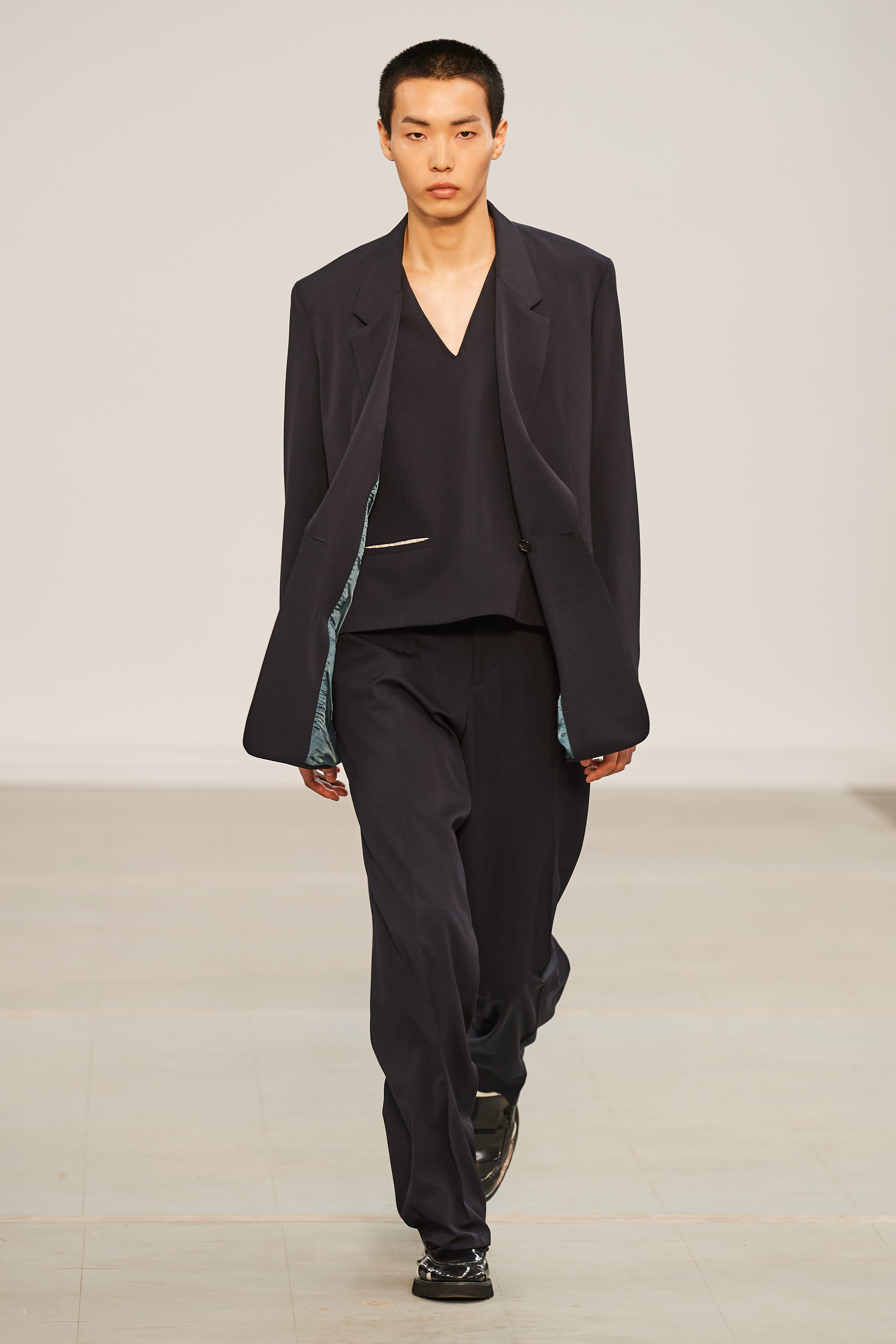 Paul Smith
Attending a Paul Smith show, one naturally expects to see a parade of very good suits. And this season, attendees were not disappointed on that front. What may have surprised them, though, were the sorts of suits they saw. Rather than the traditional dark-wool two-piece you instinctively associate with commuters and city boys, or the three-piece sort typically reserved for more formal occasions, the brand's latest show brimmed with tailoring that seemed to be pitched at an audience with a distinctly fresher perspective on the medium. That is, as Paul explained post-show, due to the fact that suiting has found a whole new set of Gen Z admirers – proven by the fact that almost a quarter of Paul Smith's customer base is between 18 and 20 years old. This, then, appeared to be a collection designed with exactly them in mind. Silhouettes were notably relaxed with long-lined notch-lapelled blazers in lightweight checked wools styled over loose midi-shorts, striking an almost skater-ish tone. Elongated poplin shirting came in graphic contrast pinstripes, while billowing coats came in clashing psychedelic prints and broad pastel brushstroke stripes. They were clothes that exhibited the sense of craftsmanship that Paul has honed over more than five decades, reframed for today. MS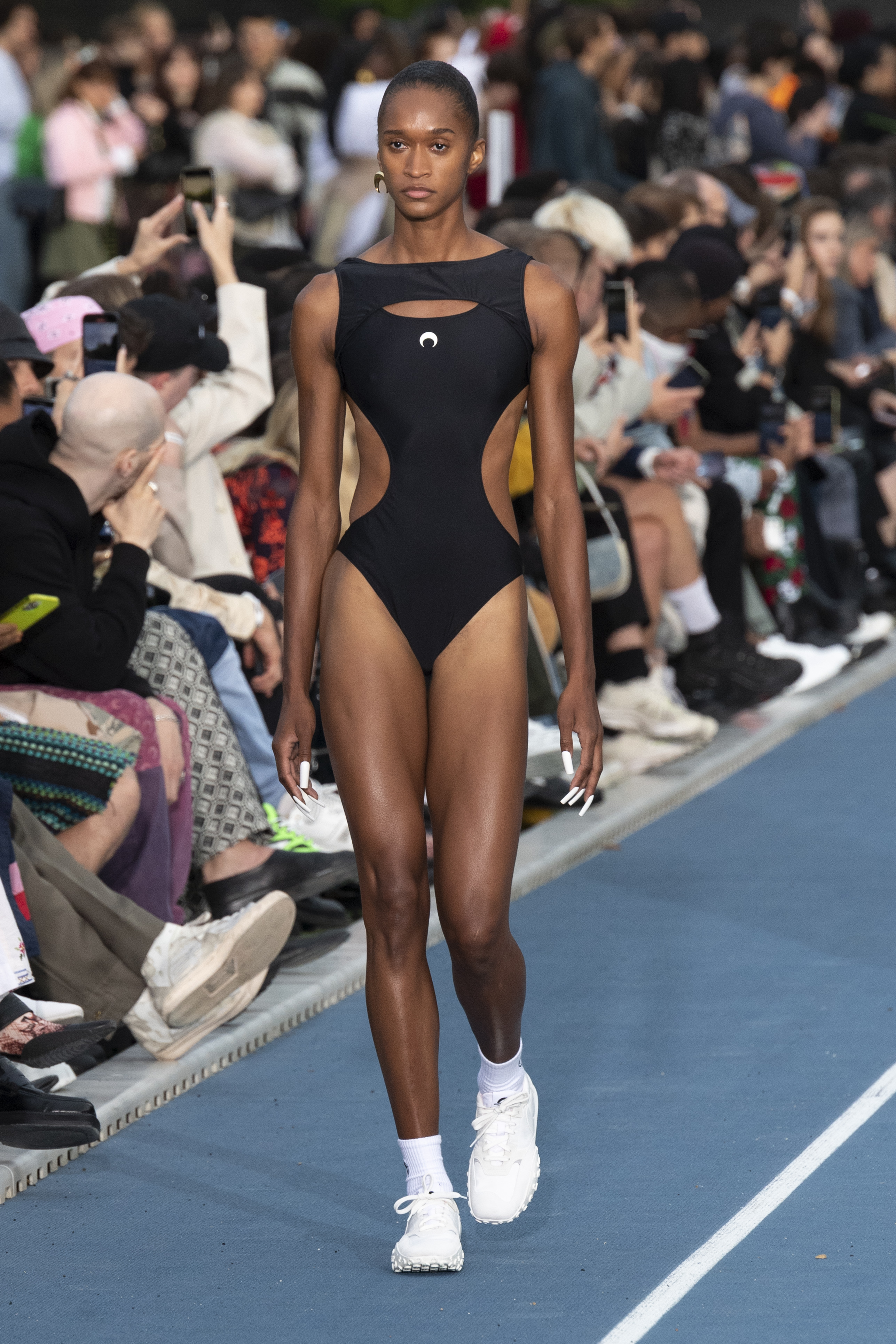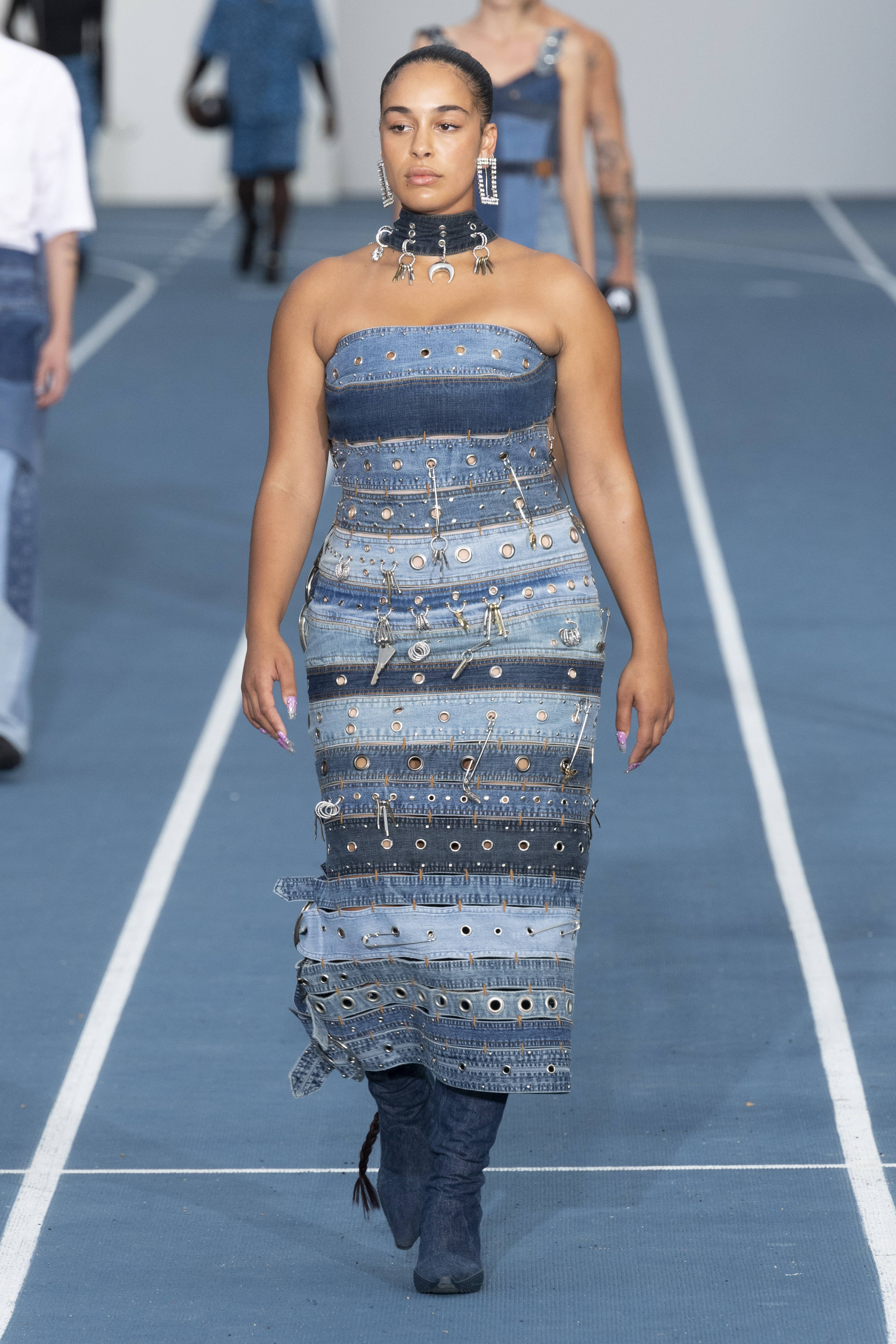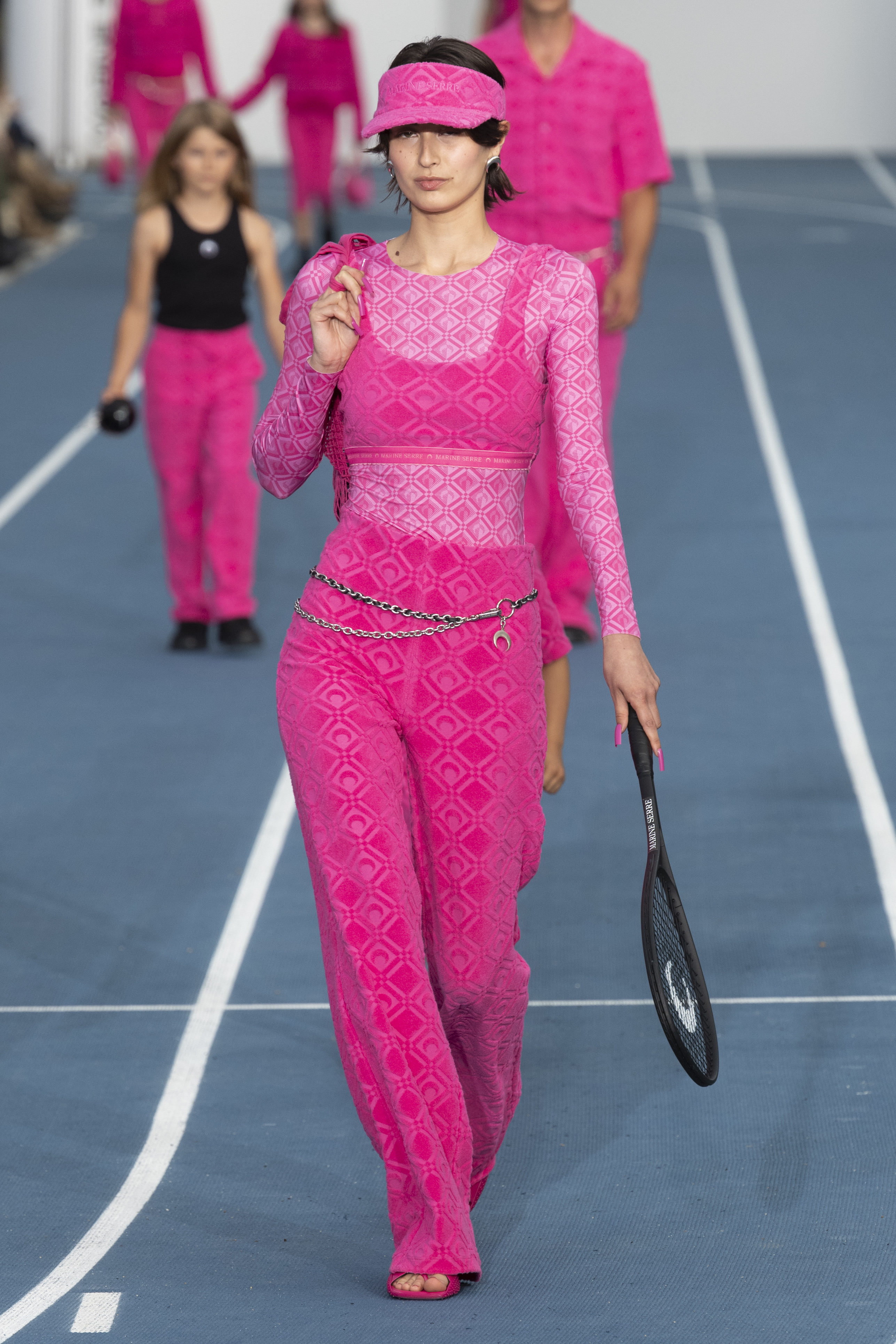 Marine Serre
In recent seasons, Marine Serre has proven time and again that she's not really one for a run-of-the-mill fashion show, opting for immersive film screenings or multi-day exhibitions instead. That's with good reason, though — to present her work in a 'traditional' runway format would be to undercut the values on which her young, rapidly expanding house was built. Marine, after all, is a designer who does things differently – whether that's in terms of her innovative approach to making up and recycling the foundation of her brand, or her casting, which, in Paris especially, is notable for its consistent representation in terms of race, age and body time. These were all features that defined the show she staged at an athletics club on the outskirts of Paris on the week's penultimate night, with this spirit of inclusion even extending to the audience, which included 1000 members of the general public. In what was described as "an emotional opening ceremony", members of the Marine Serre team were followed up by athletes in the brand's swimwear spun from recycled fibres. Bodycon dresses cobbled together from denim bands were offset by those grungy draped gowns composed of second hand scarves, and poppy pink boucle jackets with piped pockets were in fact crafted from regenerated towels. In a reiteration of what lies at the core of the brand's aesthetic codes, the show closed out with a parade of the crescent moon-printed mesh bodysuits, worn by models of an all-encompassing range of gender and racial identities and body types, among them Sevdaliza and Lourdes Leon. It was a fitting close to a show that iterated the values that all fashion houses would do well to adopt – values that prioritise work towards a better future for the planet and all those that live on it. MS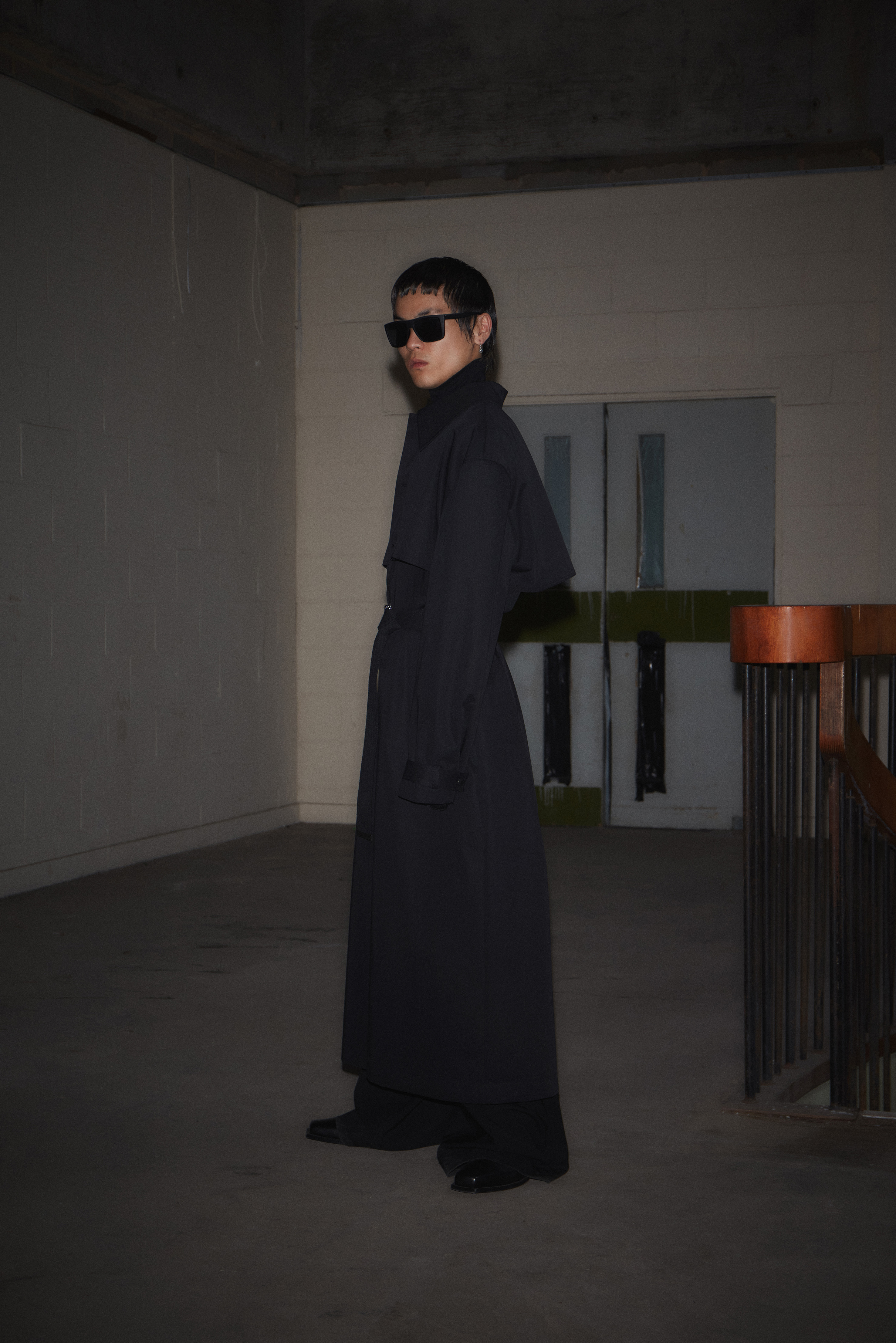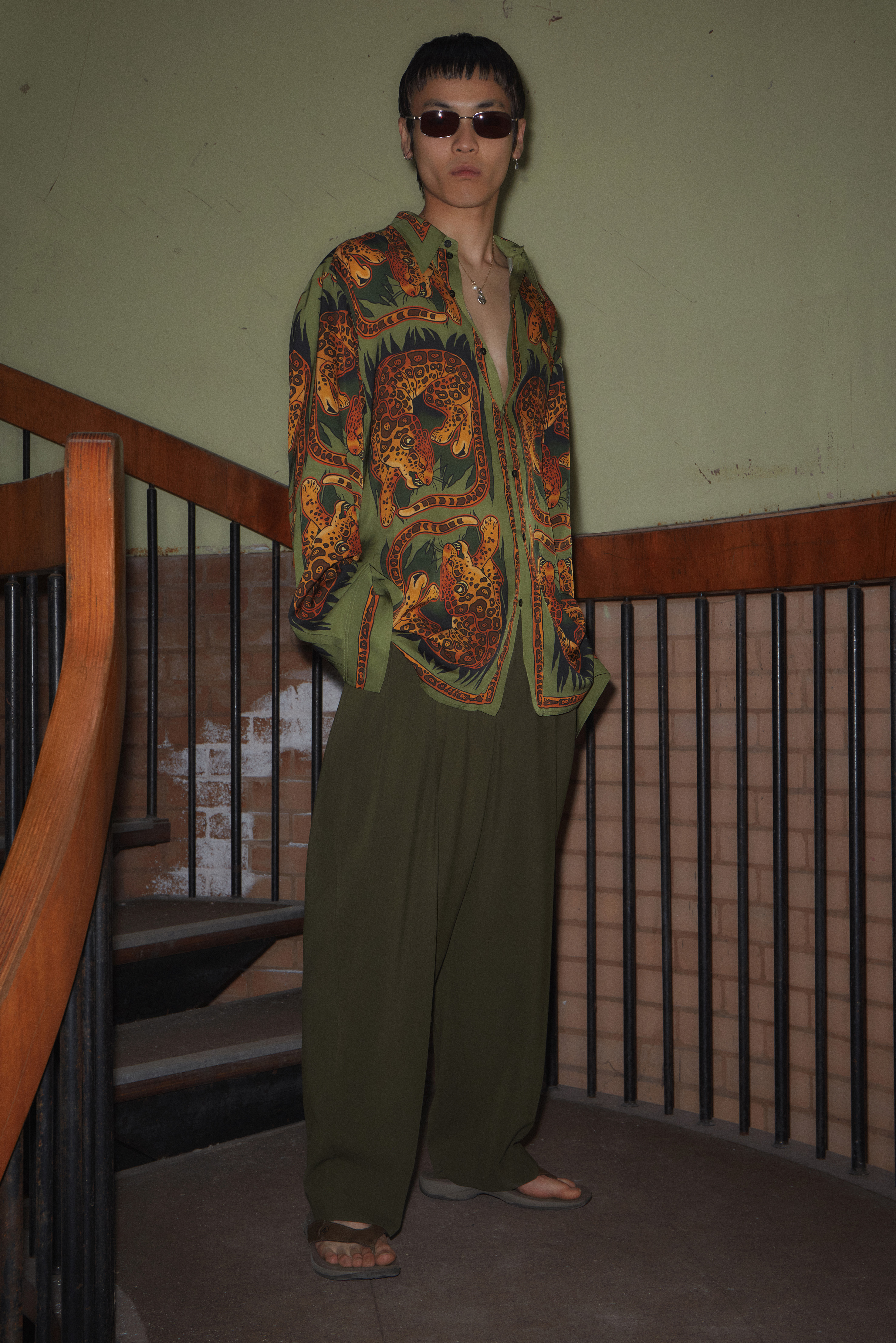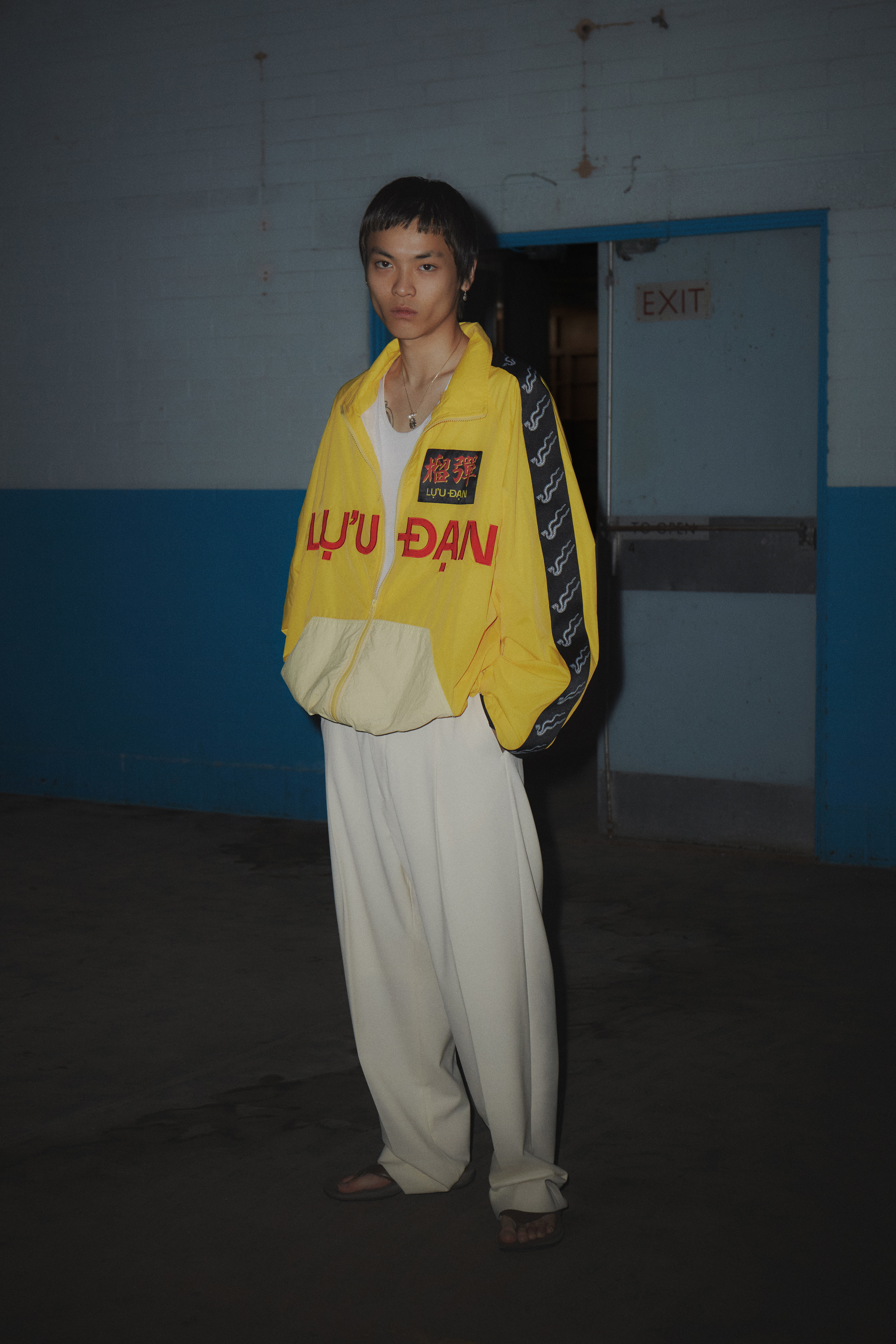 LỰU ĐẠN
Since founding LỰU ĐẠN last year, Hung La – also known as one-half of cultish London-based luxury label Kwaidan Editions – has designed with the intention of articulating Asian masculine identity in ways that the fashion industry typically hasn't allowed for. For its third collection, Hung turned his focus to the villainous archetypes of 80s Japanese detective shows and film noir – tormented detectives, slick gangsters, addled techno ravers, and biker gang bosses. Rather than lean into first-degree clichés, however, the collection imbued these archetypes with emotional subtlety and depth. In a lookbook shot by Fumi Homma, the dark sensuality of black leather bootcut suiting was counterposed by the fluid drape of a vented vanilla macintosh and billowing jersey sweats. Fuzzy wasp-striped knits and tiger-printed silk shirts suggested an almost-camp exuberance, while bold-shouldered blazers and moto-jackets implied a not-to-be-fucked-with severity. As eclectic a mix as that may sound, what defined the collection's 24 looks – and grants them their success – is a specificity that firmly anchored each look in a particular world. As character-driven as its underpinning narrative may be, though, never did it err towards stereotype – rather, these were clothes clearly created for people in command of their own stories. MS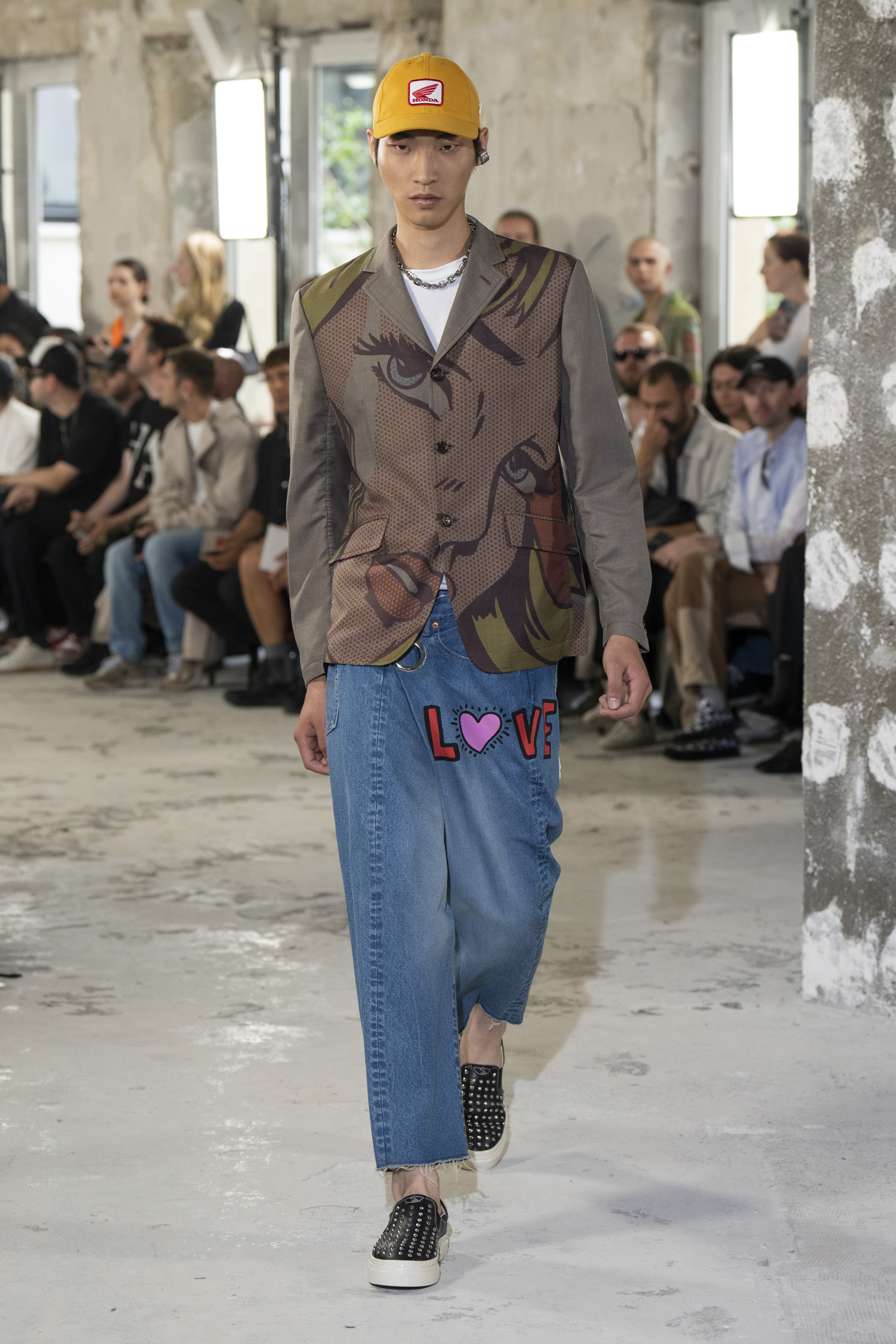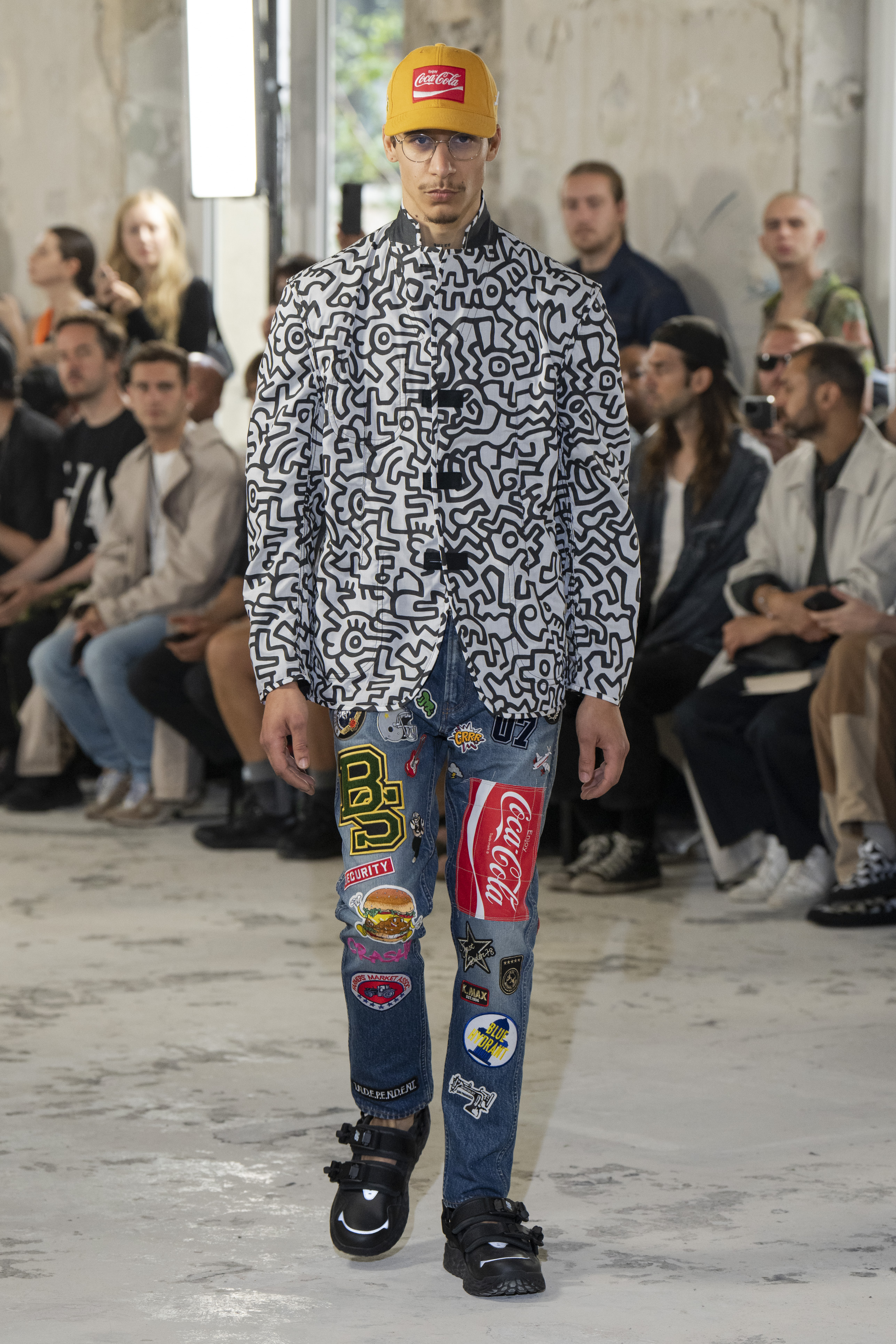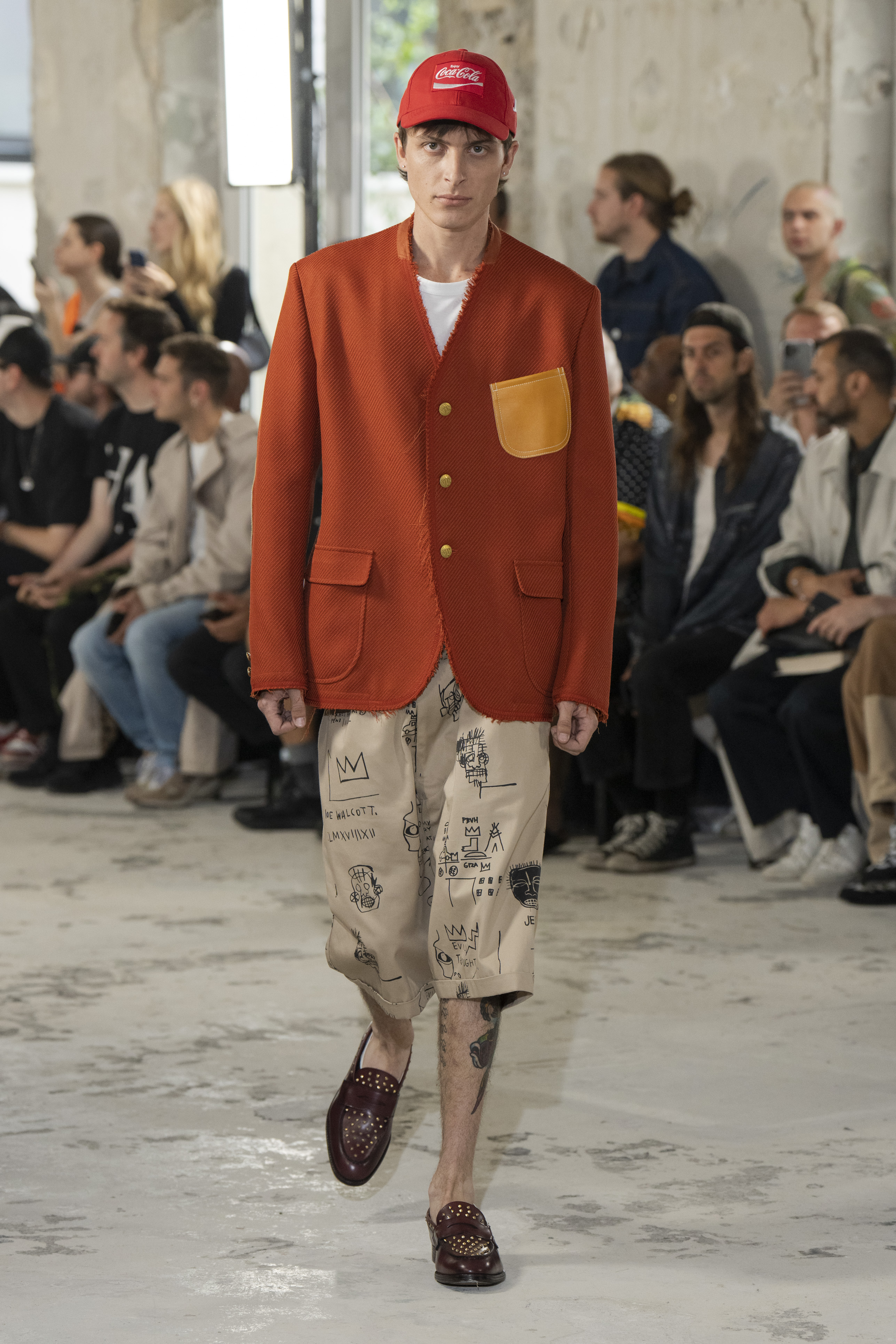 Junya Watanabe
For a designer typically categorised as avant-garde, perhaps the most striking thing about the collection that Junya Watanabe presented on the third day of the week was how openly it celebrated culture at its most mass. Rather than lean into the esoterica that has characterised a fashion culture increasingly obsessed with the chaotically weird, the logos of some of the world's most ubiquitous brands were patched on jeans and caps — Coca-Cola, Netflix and Honda among them. They didn't read, however, as official collaborations but rather as po-mo "quotes" – a Kathy Acker-ish yen for lifting and displacing symbols that are such common fixtures of our current cultural landscape that they're basically common property. The garments that Junya used as templates for this exploration were similarly commonplace – Americana menswear staples like carpenter jackets and cargo trousers; trucker caps and knitted cardigans; beaten-up leather biker jackets and stonewashed denim jeans. Decorating these pieces, though, were samples from the works of artists that have themselves shaped the face of pop culture as we now know it – Andy Warhol's Campbell's Soup can and Marilyn Monroe screen-print were splashed on intarsia sweaters, and the inimitable squiggles and scrawls of Jean-Michel Basquiat and Keith Haring paintings were printed on shirts, blazers and jeans. From a designer who is a figure of pop cultural lore himself (cf. the track on Ye's Donda dedicated to him), this felt like an astute acknowledgement of the cut-and-paste nature of how culture pushes itself forward, mapping out its future by cobbling together fragments of its own past. MS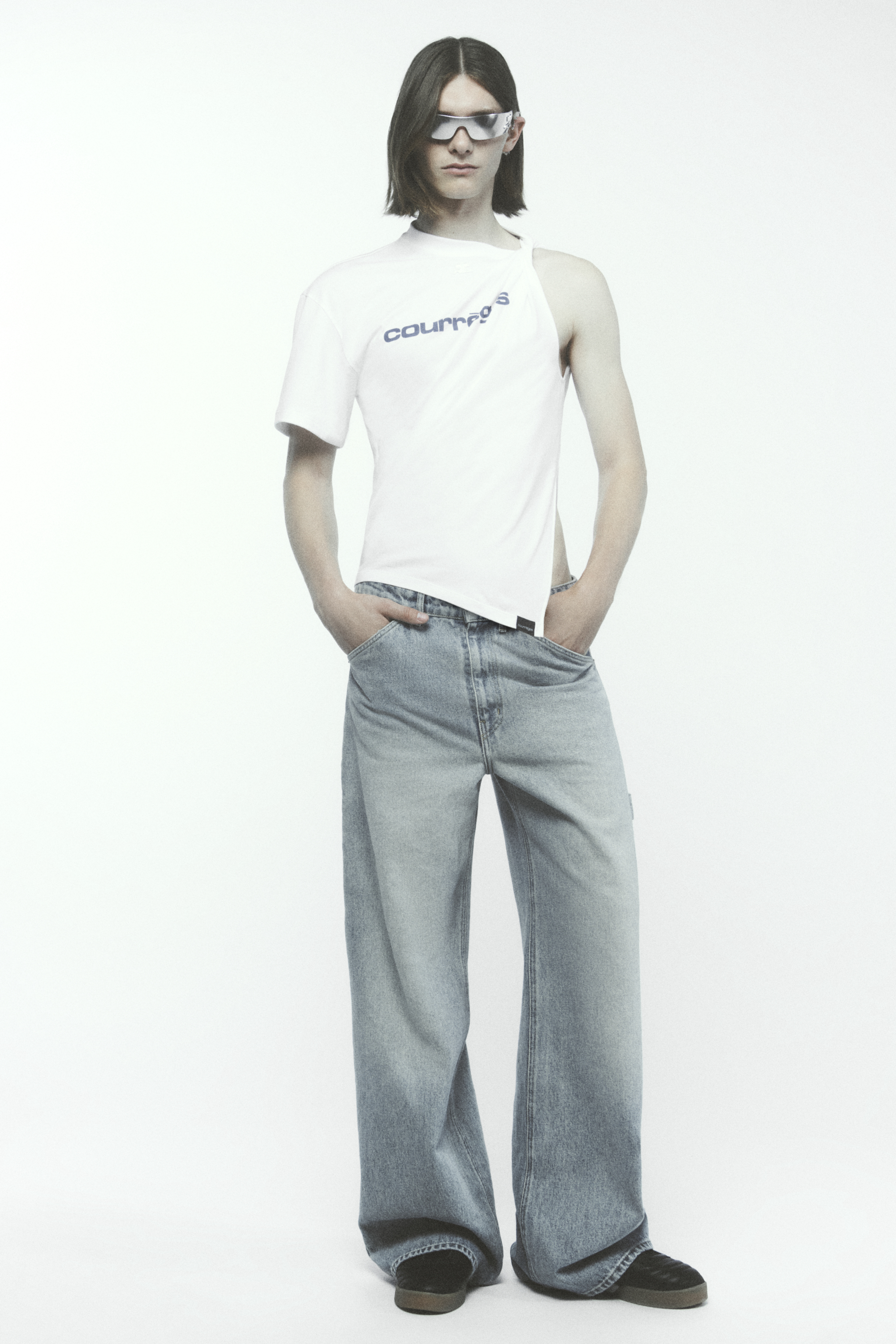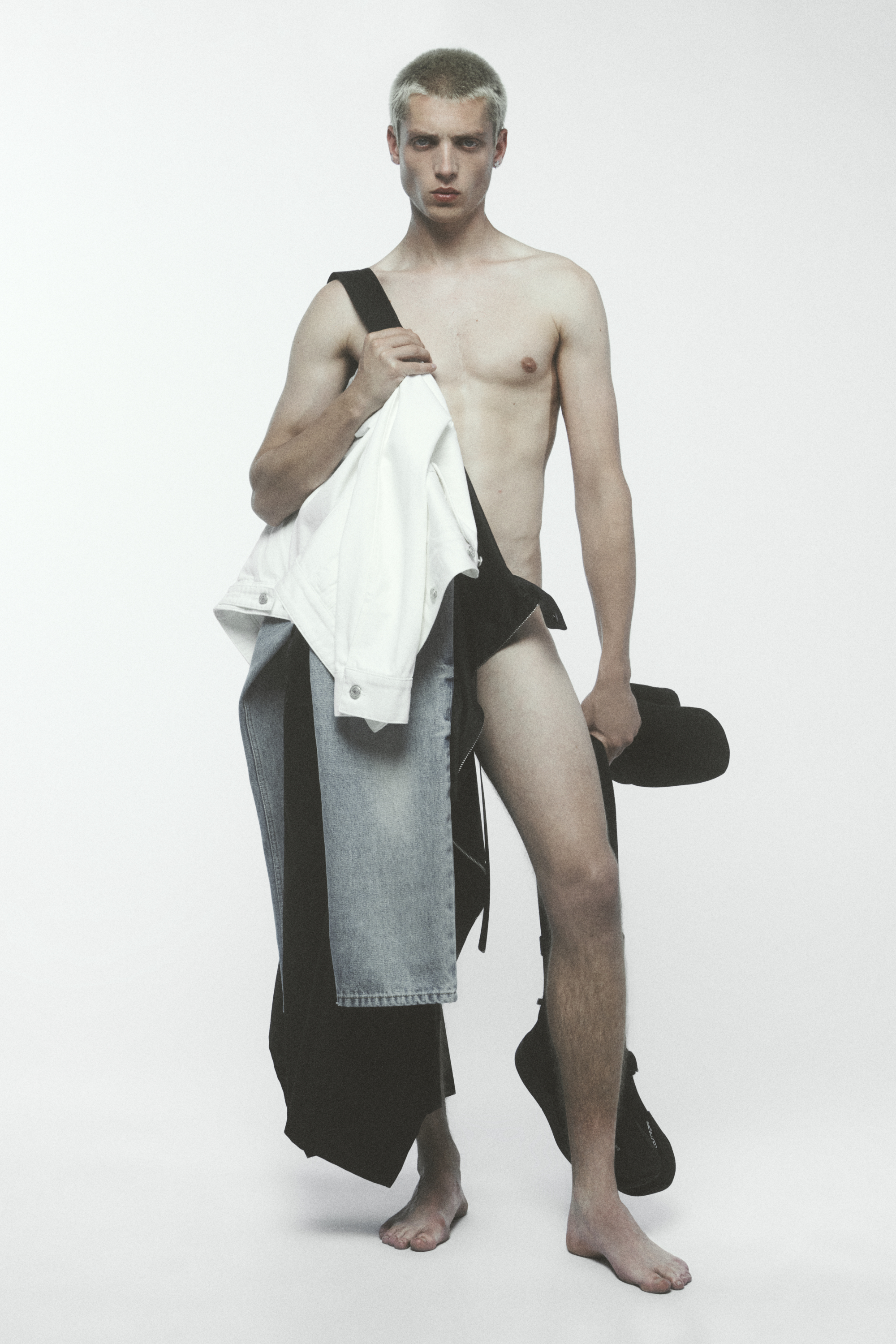 Courrèges
As much as summer is about dressing up, it is – just as crucially – about dressing in as little as possible, too. Indeed, summer is the time to show skin. While that's a long-since accepted truth in womenswear, in recent seasons, it's begun to inform menswear collections, too. A paean to the freedom of the season, Nicolas Di Felice's latest menswear offering embodies this liberated sensibility that's making itself felt across the genre, presenting impeccably chic, subtly chic staples that look as good off the body as they do on it. Strange as that may sound, that's down to a particular motif that ran through this season's menswear collection — a faux leather strap found across the fronts of zippered wool blazers, the backs of vinyl coats and leather biker jackets, and even denim jeans. It allowed each piece to be peeled off and slung over the shoulder like a drape-y tote; clothes that accessorise – rather than cover – the naked body in all its glory.
Of course, all the pieces on show can actually be worn in the traditional sense, and in the interest of doing the effort invested in their design justice, it's worth noting that this season saw Nicolas draw upon the house's little-known nautical heritage, introducing a hint of seaside flair. The patterns for this season's leather jackets, for example, were in fact adapted from a wetsuit that André Courrèges designed in 1981, and the house's iconic thigh-high moon boots have been adapted for the men's line in tech-y neoprene. For anyone looking for a comfortable middle ground between showing some skin while still maintaining a bit of coverage, you'll find just that in this season's twisted-and-slashed logo-printed tees – which hang open to reveal the chest and obliques – or the asymmetric tank tops with shoulder-framing cut-outs. Clothes that are the next best thing to wearing none at all. MS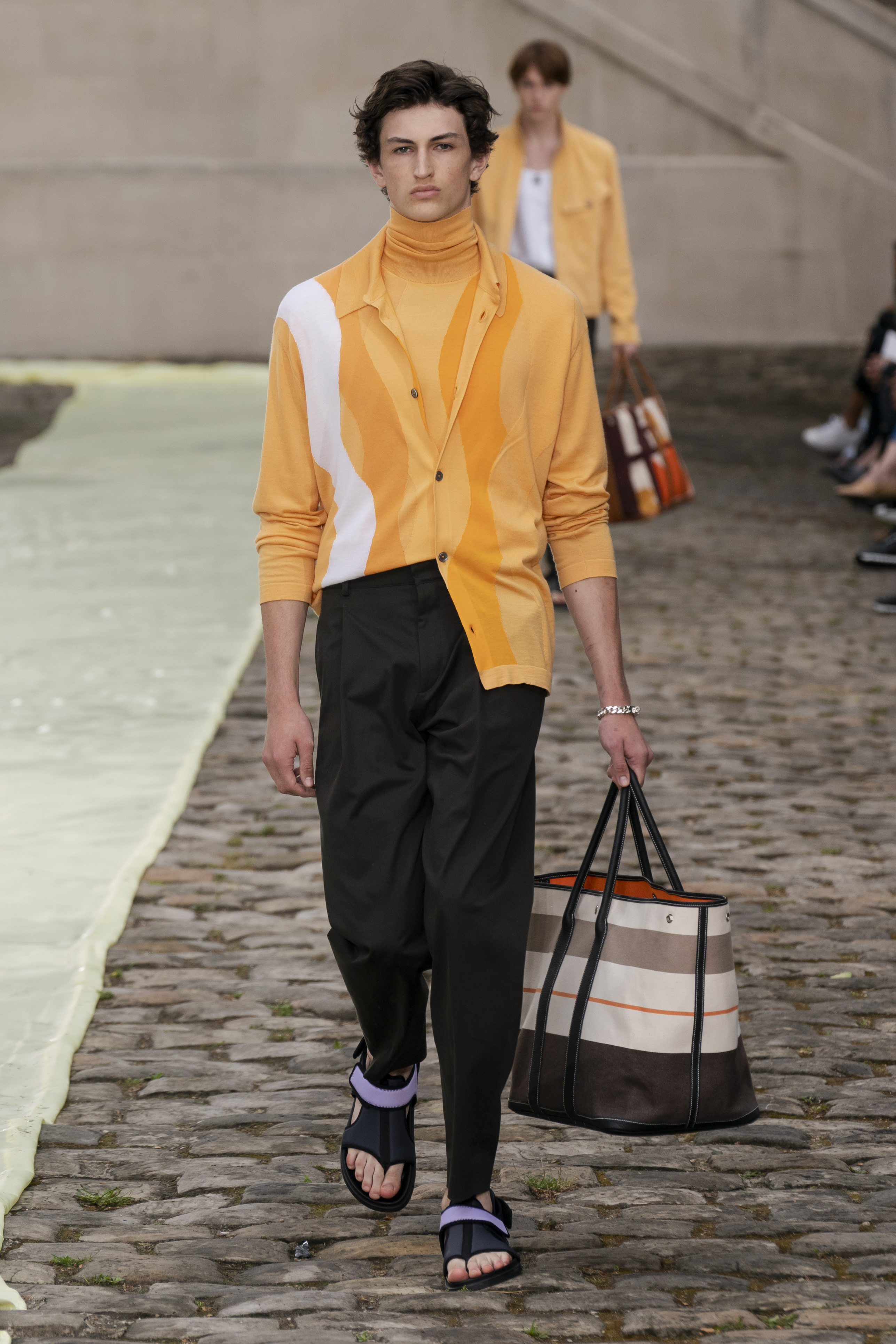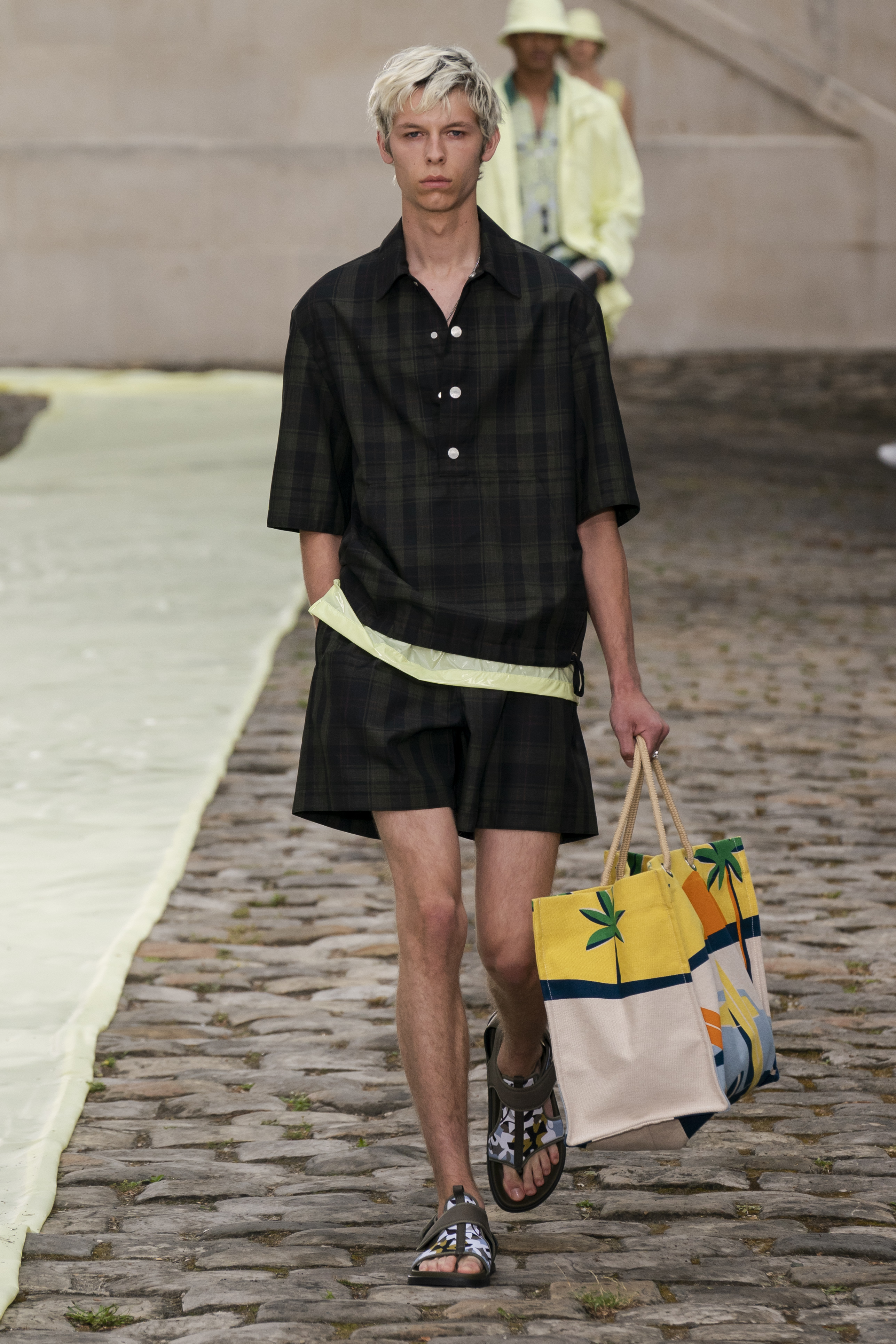 Hermès
There are fashion shows, and then there are Hermès shows. While the former often riff on the comings-and-goings of trends and the fleeting obsessions of designers, the latter is always a constant stream of timelessly delicious clothes and accessories for the man who has everything, like a soothing ASMR track in a maddeningly noisy world. That doesn't mean to say that it's ever boring — and, despite what you may think, it's rarely ever beige. In fact, in the case of Véronique Nichanian's latest collection for the French house, it couldn't be further from either. A rainbow spectrum of bright, fruity colours (lemonade, lagoon, lilac, melon, orange) came down the cobblestones of the Manufacture des Gobelins, one of the world's last remaining tapestry manufacturers (craft, it's always present chez Hermès). Fresh-faced boys in solar knits, lilac nylon-like satin windbreakers, roomy bermuda shorts and breezy suits made from pyjama cotton came down the catwalk, looking like they've just stepped off a boat — even though it was lightly raining during the outdoor show. That said, the boys could have just pulled up the hoods of their lightweight parks in colourful satins, which — when worn with the myriad bucket hats — had a hint of day-raving festival goer. Whatever the summer holiday you prefer, there was something here for you.
A central motif throughout was a "remixed" tattersall check, slightly distorted, which Véronique said was meant to evoke the way that swimming pool tiles are distorted by water. It affirmed the obvious, that there was a distinct holiday spirit to the collection, affirmed by the leather-lined neoprene sandals and canvas tote bags, perhaps full of beach day essentials. Suits were less 9-to-5 and more Riviera, often worn with open blousons and featuring perfectly slouchy carrot-top trousers with elasticated waists. These are the kind of clothes that make you want to quit your job and live in a perpetual state of vacation. And this being Hermès, the hallmarks of summer style were imagined in unbelievably luxurious fabrics: a bucket hat in lilac crocodile, silk tank tops with seahorse prints, lightweight parkas in colourful satins, cashmere pullovers for cool summer nights and crinkled linen jackets that may as well have been grabbed from a brimming suitcase upon arrival at a hotel. As far as sartorial inclinations go, that's a feeling that will never get old — much like the rarified luxury goods that Hermès does best. OA
Rick Owens
Yesterday, at Rick Owens' SS23menswear show, we literally sat and watched the world burn. Well, not much the world itself, but rather ostensible representations of it. Spherical orbs dangled from cranes, were set alight, and plonked into a pool installed in the courtyard of the Palais de Tokyo, over and over again. While it could've been read as a cipher for the seemingly endless avalanche of disasters — physical and social — that have blighted our newsfeed of late, the scale of what Rick was nodding to was a little grander. Rather, it was an investigation of "senseless destruction on repeat since the beginning of time". Head here for the full review.
Comme des Garçons Homme Plus
Rei Kawakubo is back in Paris, following two years of showing her Comme des Garçons collections in Tokyo. And it couldn't be more timely to have her return to menswear at a time when masculinity is in crisis. In the typically traditional menswear landscape, Comme des Garçons Homme Plus is a rare bird of provocation. With her menswear, Rei often seeks to dismantle the canon of men's clothes, cryptically imbuing her collections with messages that feel like coded wisdom for making sense of what's going on in the wider world. So, it was perhaps given that we're living in terrifying times — governed by men, it should be noted — that she decided to shutter the windows in a derelict Paris warehouse and send out guys in killer-clown masks, harlequin prints and layered frock coasts with slasher zig-zag hems. The soundtrack of eerie slasher-flick scores, from Suspiria to Halloween, set the tone for a brooding darkness and a creepy assertion of forced smiles, bright colours and a deranged sense of fun amid the suspenseful fear lingering in the air. Head here for the full review.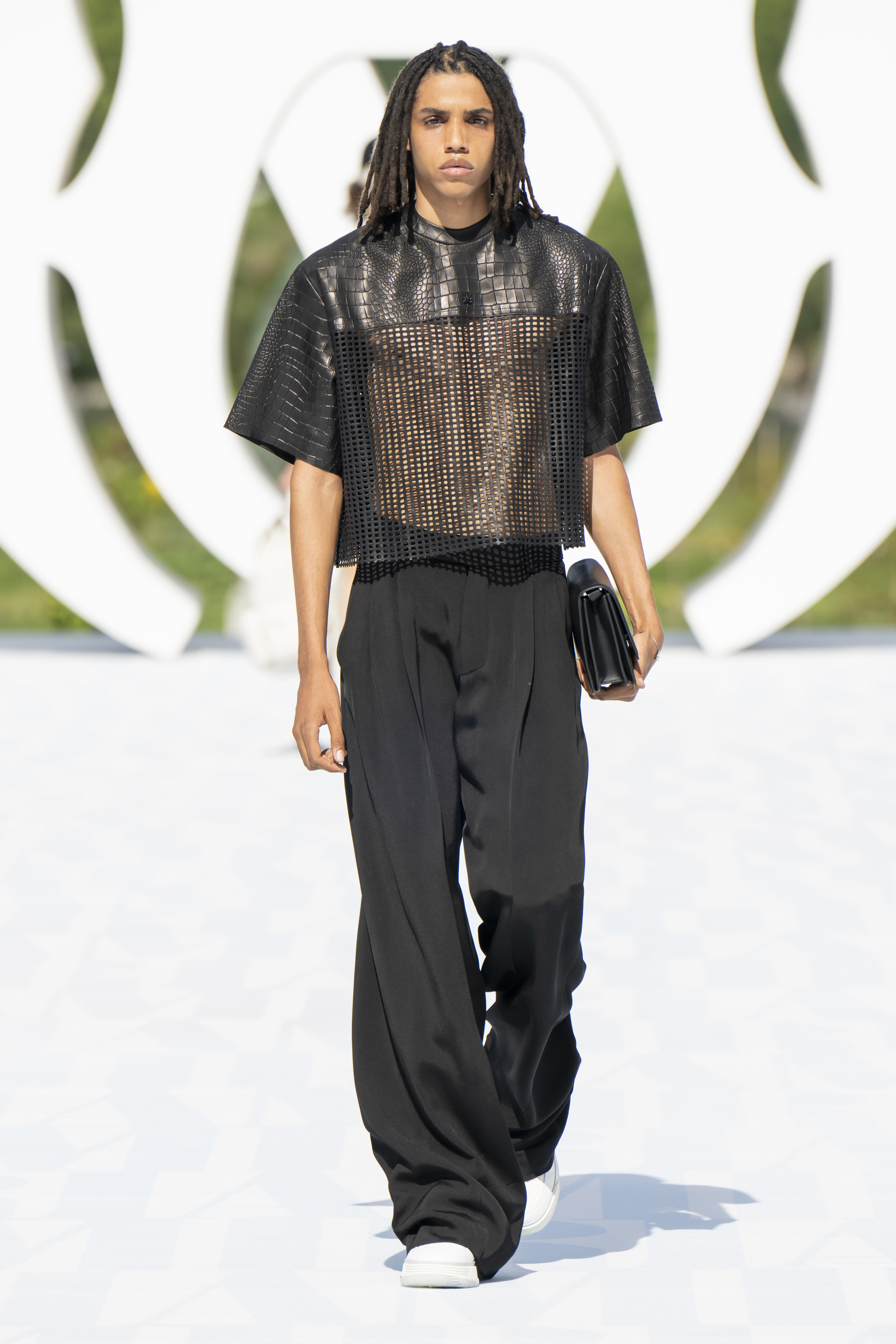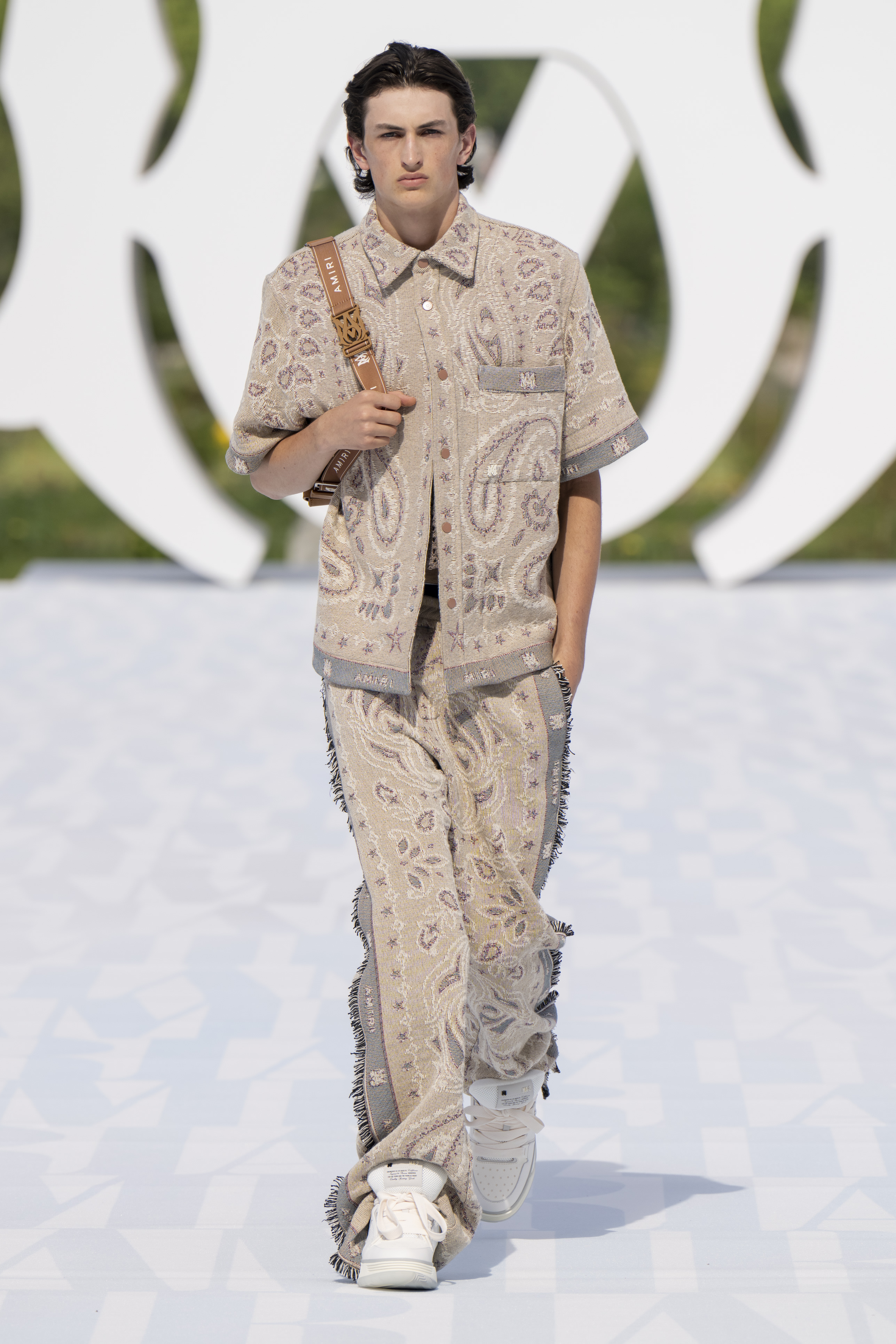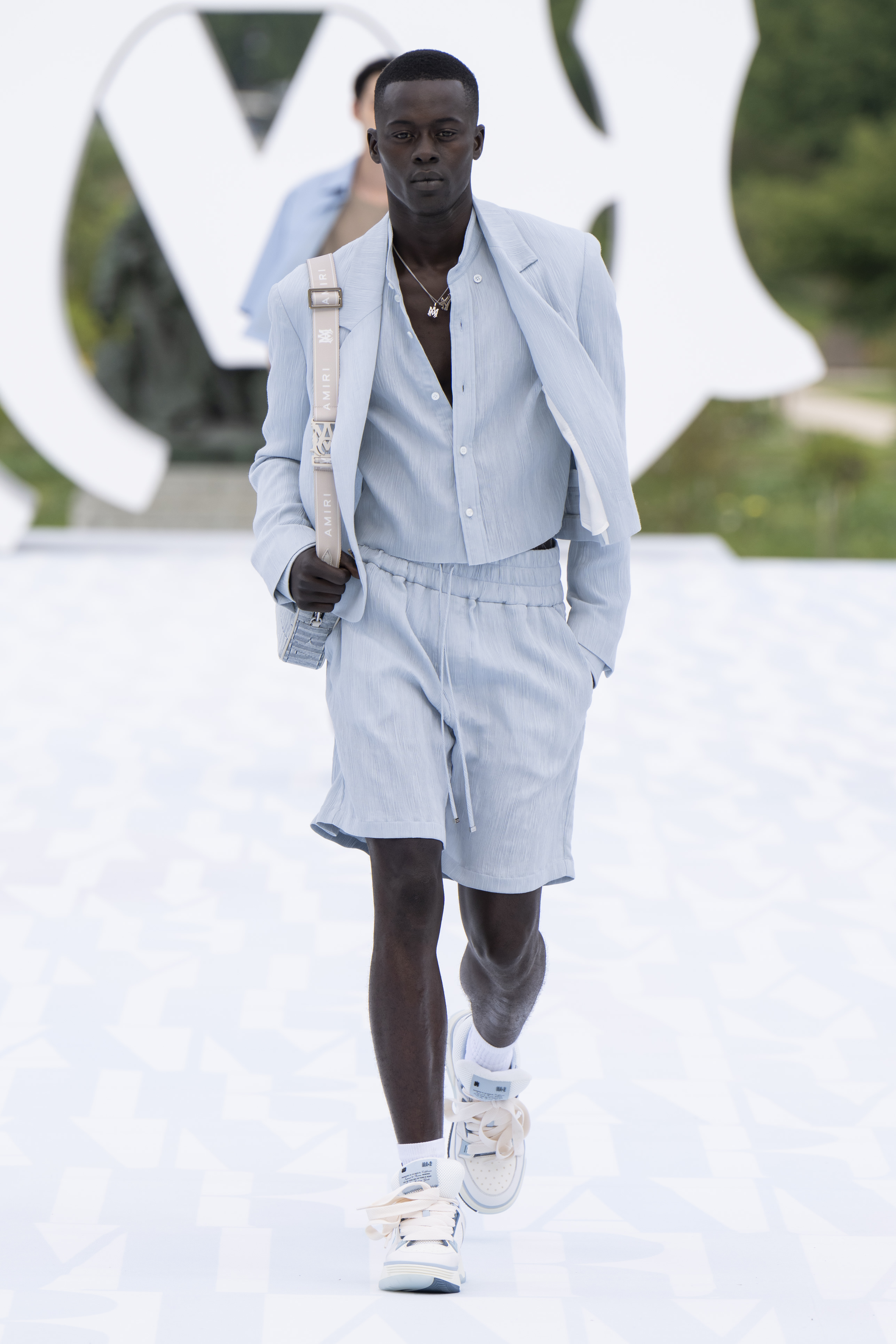 Amiri
After a string of shows — digital and physical — that have served as odes to its native LA, this season saw Amiri's return to the Paris calendar. If the glorious weather at the brand's show in the Jardin des Plantes was anything to go by, though, it was clear that Mike Amiri's plan this season was to bring California with him on his journey across the pond. That came through strongly in the relaxed flair that coloured the collection — quite literally, with its predominant palette of sky and sea blues, faded pinks and stone greys. Shirts and jackets with wide-cut sleeves slouched off the shoulder and gently fluttered with each step, and wide-leg trousers in allover logo prints and cashmere-pooled at the ankle had the boxy proportions of skate pants. As ever with Amiri, though, that So-Cal casualness was elevated by an exacting standard of luxury and craftsmanship — paisley basketball shorts were crafted from cashmere, and football jerseys had crocodile leather panels. Cable knit pullovers came in gossamer merinos, and a bomber jacket was hand-embellished with crystal stars. This was a collection that served as a reminder that wherever Mike Amiri shows, he'll always bring the essential spirit of California cool with him. MS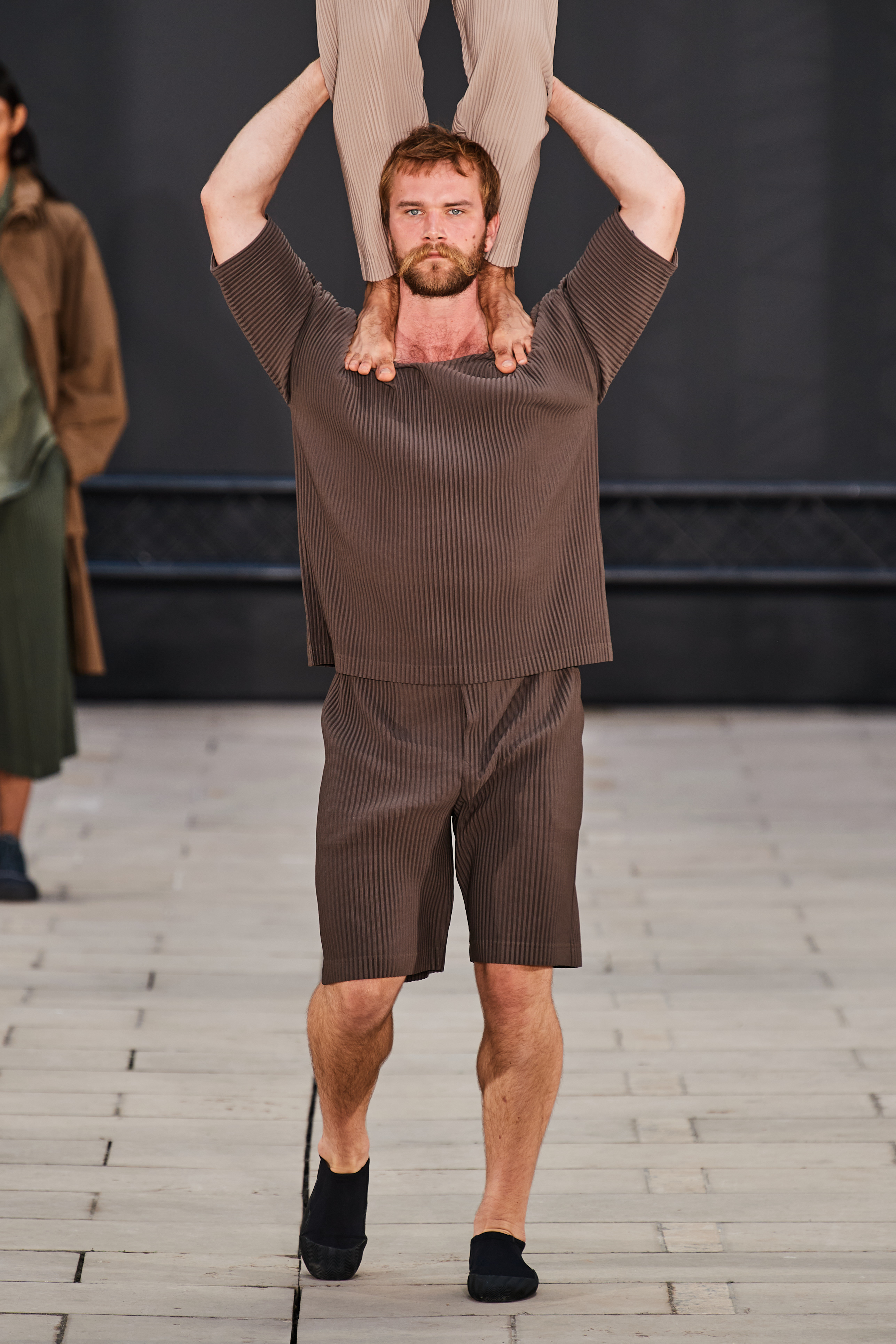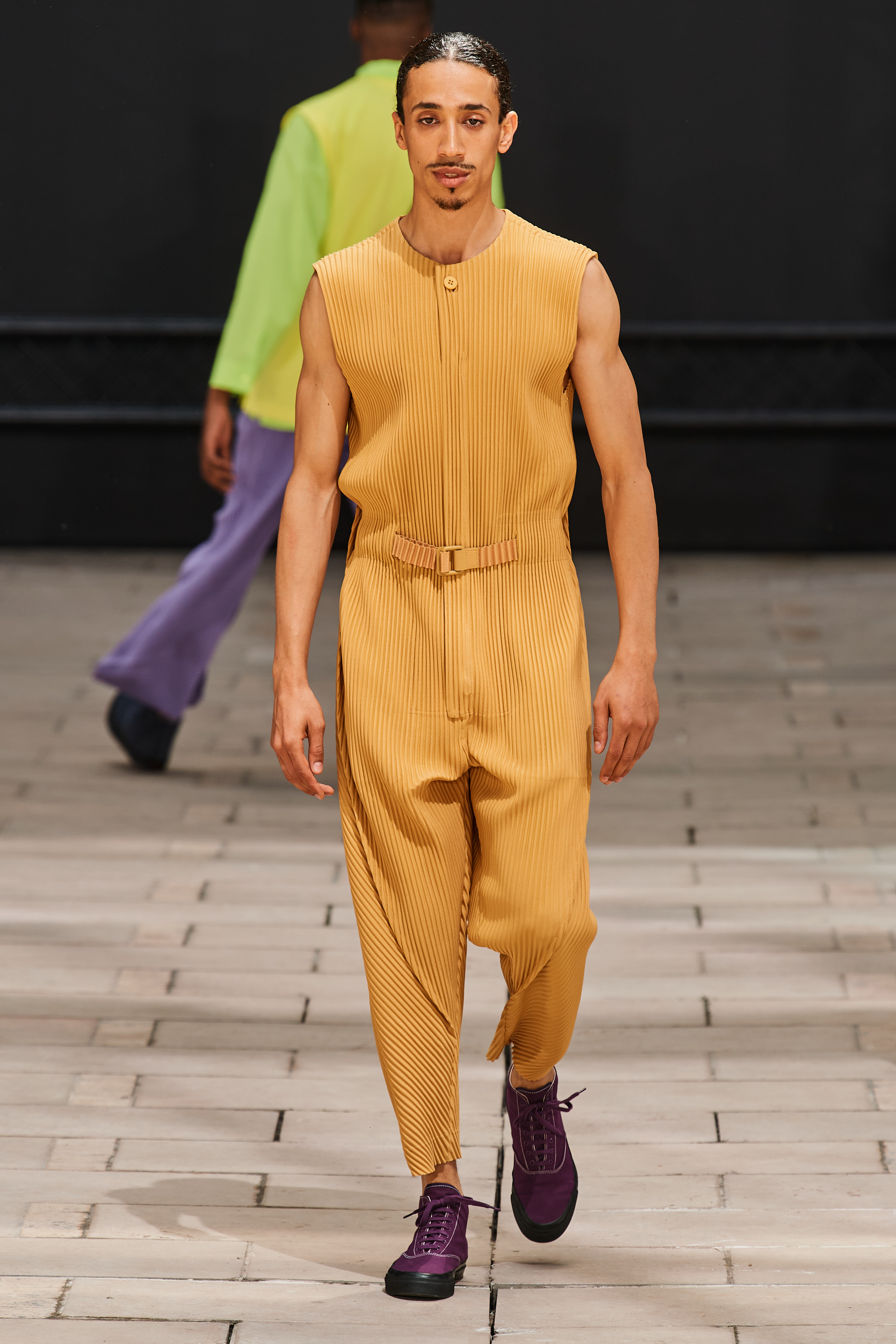 Issey Miyake
Any brand that makes its mark on fashion history typically does so thanks to a distinct set of core design values. For Issey Miyake, one of its most notable is a commitment to creating fashion rich with a sense of joy and movement — to making clothes that, if not necessarily athletic in their intentions, are designed to facilitate leaps and bounds of joy. That made itself strongly felt in the Japanese house's menswear show staged in the courtyard of the French postal service's headquarters, just across the way from the Louvre. Opening with a suite of quiet tailored looks in the line's signature finely pleated polyester, the tempo started to build when a troupe of pastel clad models – or so we thought at first – appeared atop a scaffold. They then began to elegantly twist down the construction and on to the main floor, where they delivered a fully-fledged acrobatic performance that more than vindicated the moveability of the clothes. If that wasn't convincing enough, then the following troupe of dancers that pranced and spun about the floor in gently billowing, psychedelically colourful garments – almost like human pinwheels – certainly were. All in all, it amounted to a collection that attested to broad horizons that lie in honing a single approach, and the rapturous joy of wearing clothes you can move in. MS
Louis Vuitton
Arriving at the Yellow Brick Road set of Louis Vuitton's SS23 menswear show at the Louvre, it soon became clear that this was a very different kind of spectacle to the one Virgil Abloh made his debut for the house with, just over four years ago. Back then, the road was straight-and-narrow, clearly leading to the Emerald City and all its promises and bright lights. This time, however, it was a bit more complicated. The first show that Virgil did not directly work on, the Yellow Brick Road here twirled into a Mobius strip, swivelling into infinity — just like the legacy that Virgil left behind. 'Infinity' was the official name of the collection, the final chapter of Virgil's brief-yet-brilliant tenure at the house founded in 1854. Read our full review here!
Y/Project
In a show staged in a bucolic garden setting in a secondary school on Paris' Left Bank, Glenn continued the prodigious streak he's already had this year, showcasing a body of work that reaffirmed the deliciously off-kilter, twist-it-and-screw-it-up approach to elegance that has propelled him to his current status as one of the most intriguing designers working in fashion today. Read our full review here!
Givenchy
The Parisian house's first standalone menswear show since Matt Williams arrived at the gilded salons of 10 Avenue George V — this was a show that was definitively more Top Boy than Breakfast at Tiffany's, the 1961 film that propelled Hubert de Givenchy to international stardom. Buff boys with buzz cuts emerged through a white mist in a veritable feast of uniform-like tailoring — slashed at the knees, like typically distressed jeans — and heavily-branded sportswear, like two sides of the sartorial coin for schoolboys eager to risk detention for subverting the dress codes of their grey uniforms. Click here to read our full review!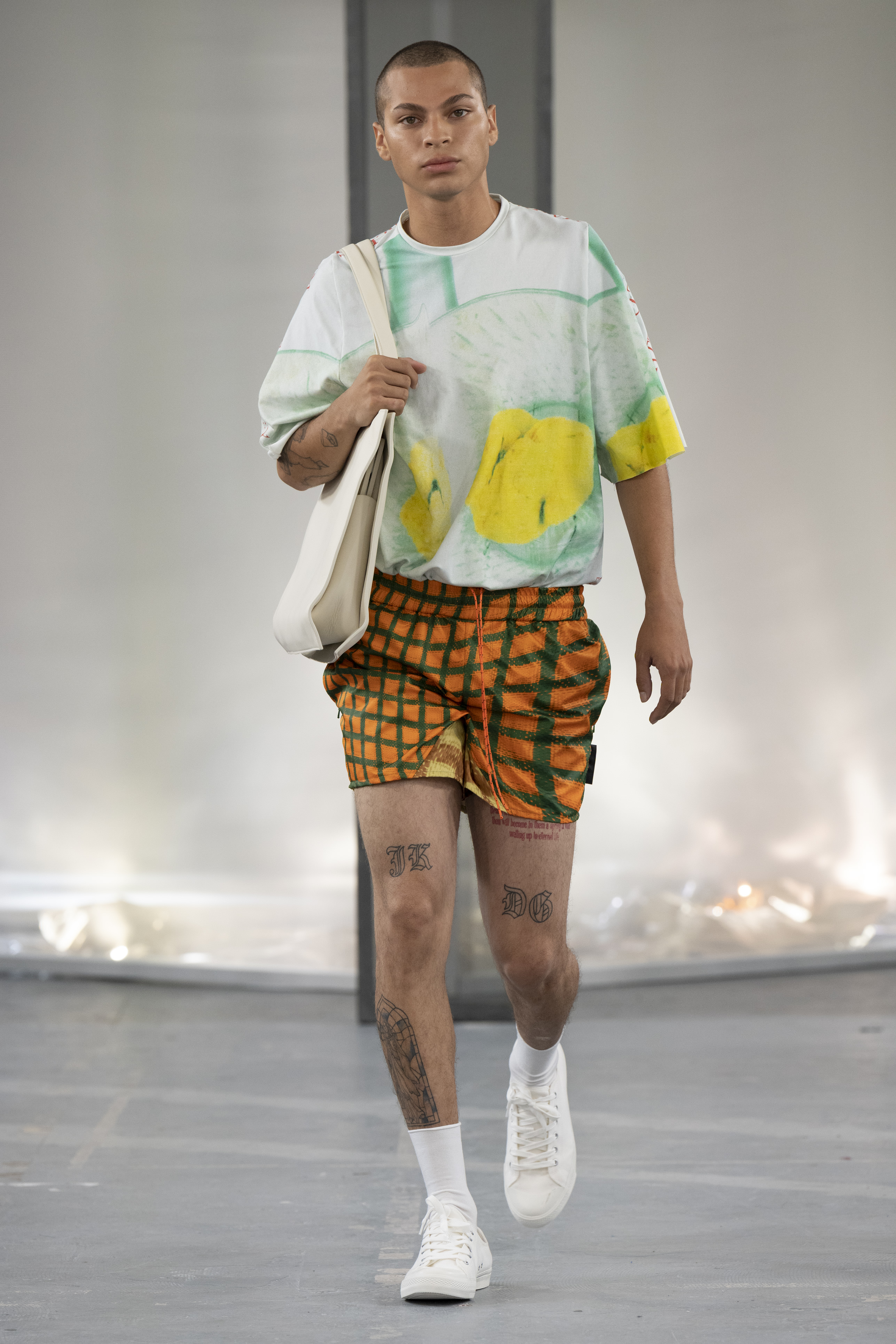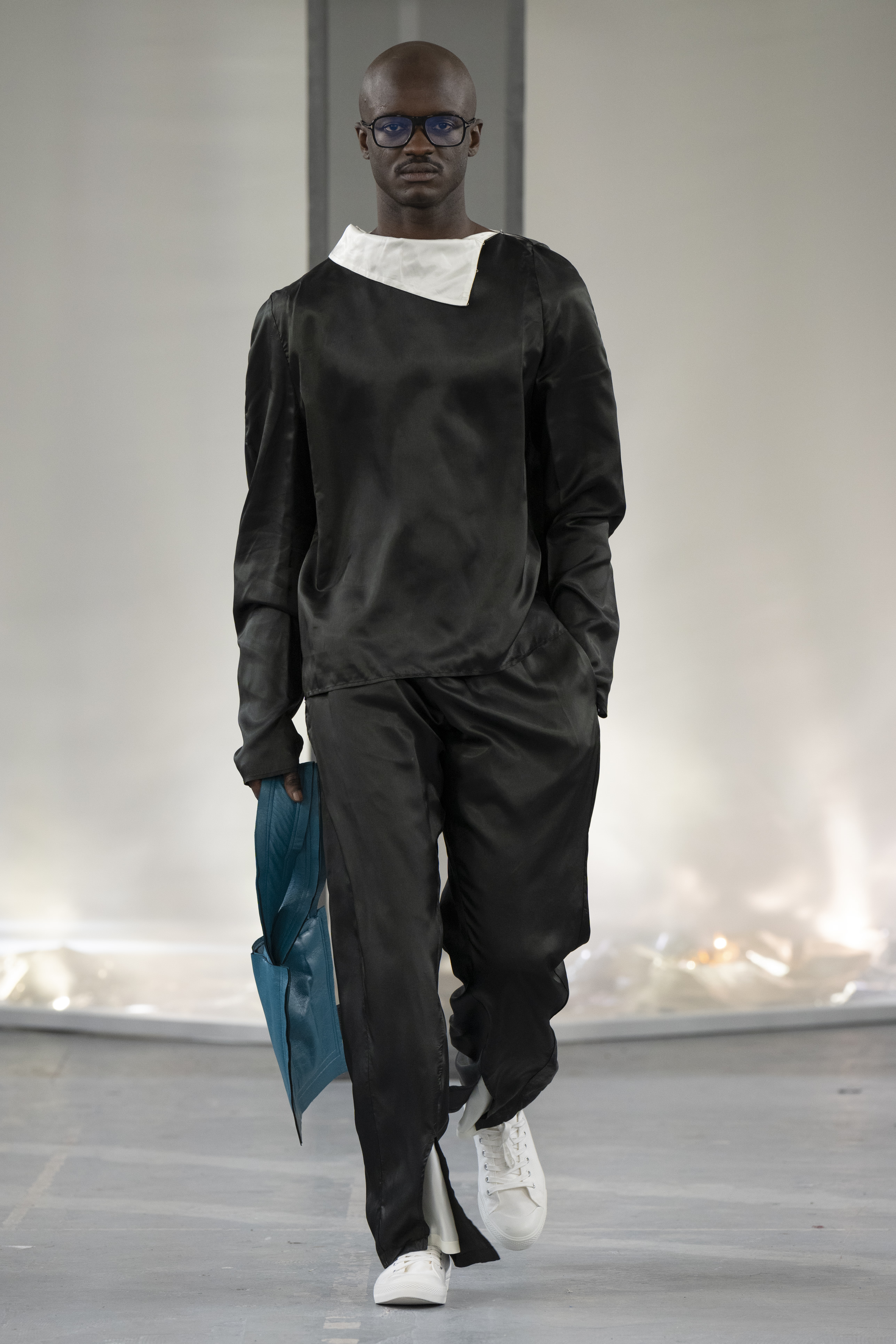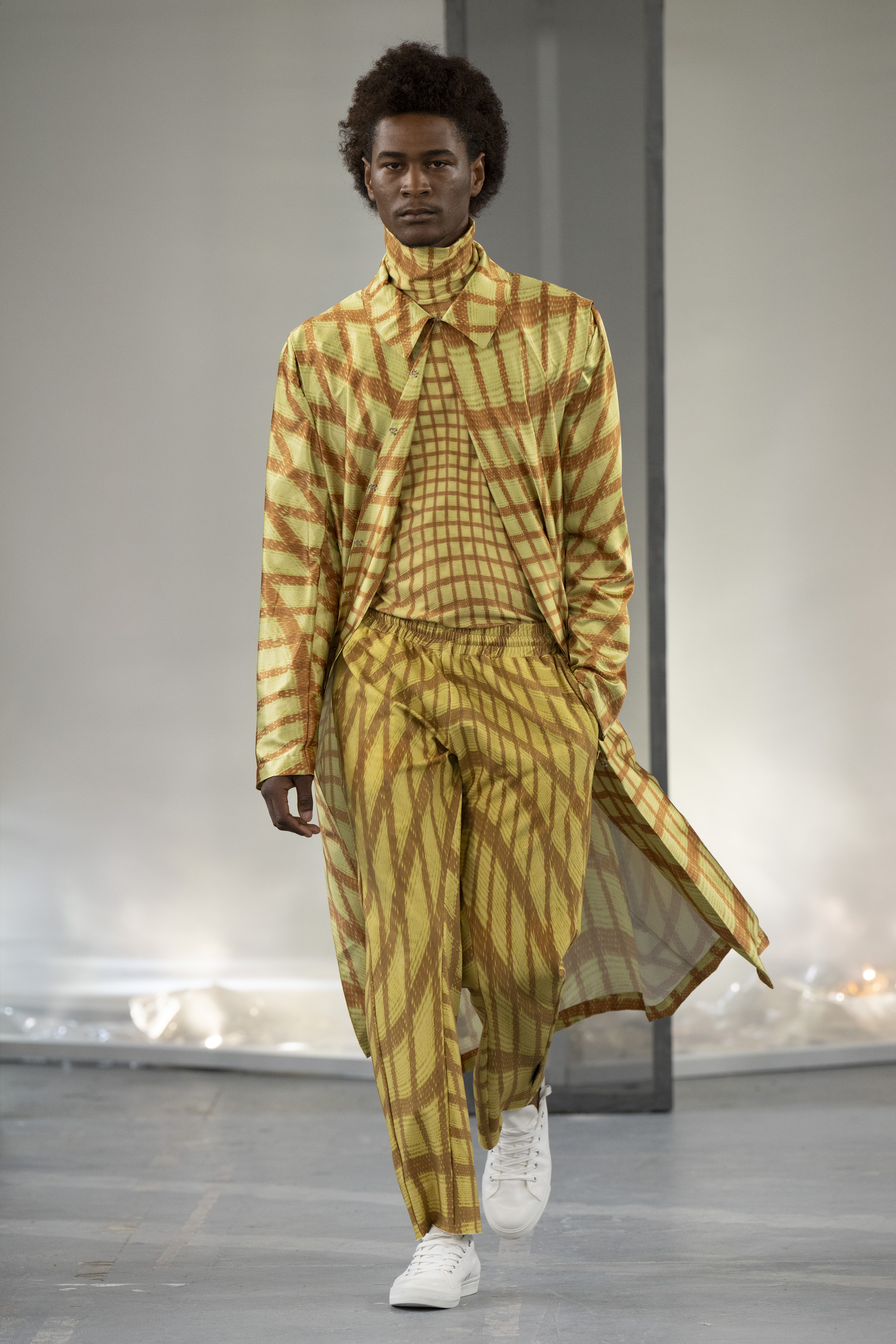 Bianca Saunders
Since taking home the ANDAM Prize last year, Bianca Saunders is a designer whose star has been firmly on the rise. That was attested to when you saw the eager crowd who had turned out en masse for the London-based designer's start of the day show – her second in Paris. For their early rise, they were treated to 'Hard Food', a collection that drew its name from the starchy accompaniments of a typical Jamaican meal – dumplings, yam and plantain. While an obvious nod to Bianca's own Jamaican heritage – a throughline for her brand – it admittedly may seem a rather esoteric title for a fashion collection on first reading. It was, however, a nod to an implicit contradiction it embodies – namely that when hard food is prepared, it's actually pretty soft.
A similar sense of contrast informed the clothes. The solidity of stark denim jackets featuring Bianca's signature blockish draped shoulder and hulking leather bombers with low-swooping fronts was complemented by louche twinsets in iridescent satins – turtleneck-and-trouser twinsets shimmered with each step, and shirts in what looked like sumptuous lining fabrics featured subtly swooning drapes at the chest. This duality even informed individual pieces, with structured trench coats turning round to reveal quivering draped backs, and cargo-ish canvas-like trousers featuring a domed, gathered reverse in cotton poplin.
Elsewhere, Bianca expanded the visual remit of her universe by way of cleverly manipulated prints and new finishes – looks in silver-foiled leather introduced a dash of glamour into the mix, while lurex knit twinsets with slashed and reattached collars subtly glinted as they moved, almost like television static. Grid prints were warped, mimicking the bulges of the body beneath, and this season's signature graphic was in fact a hand-collaged distortion of a step-by-step recipe for hard food, bringing the collection's figurative interpretation of its point of departure full circle. For her most expansive and ambitious collection to date, Bianca proved exactly why people keep coming back and queuing up for whatever she's serving. MS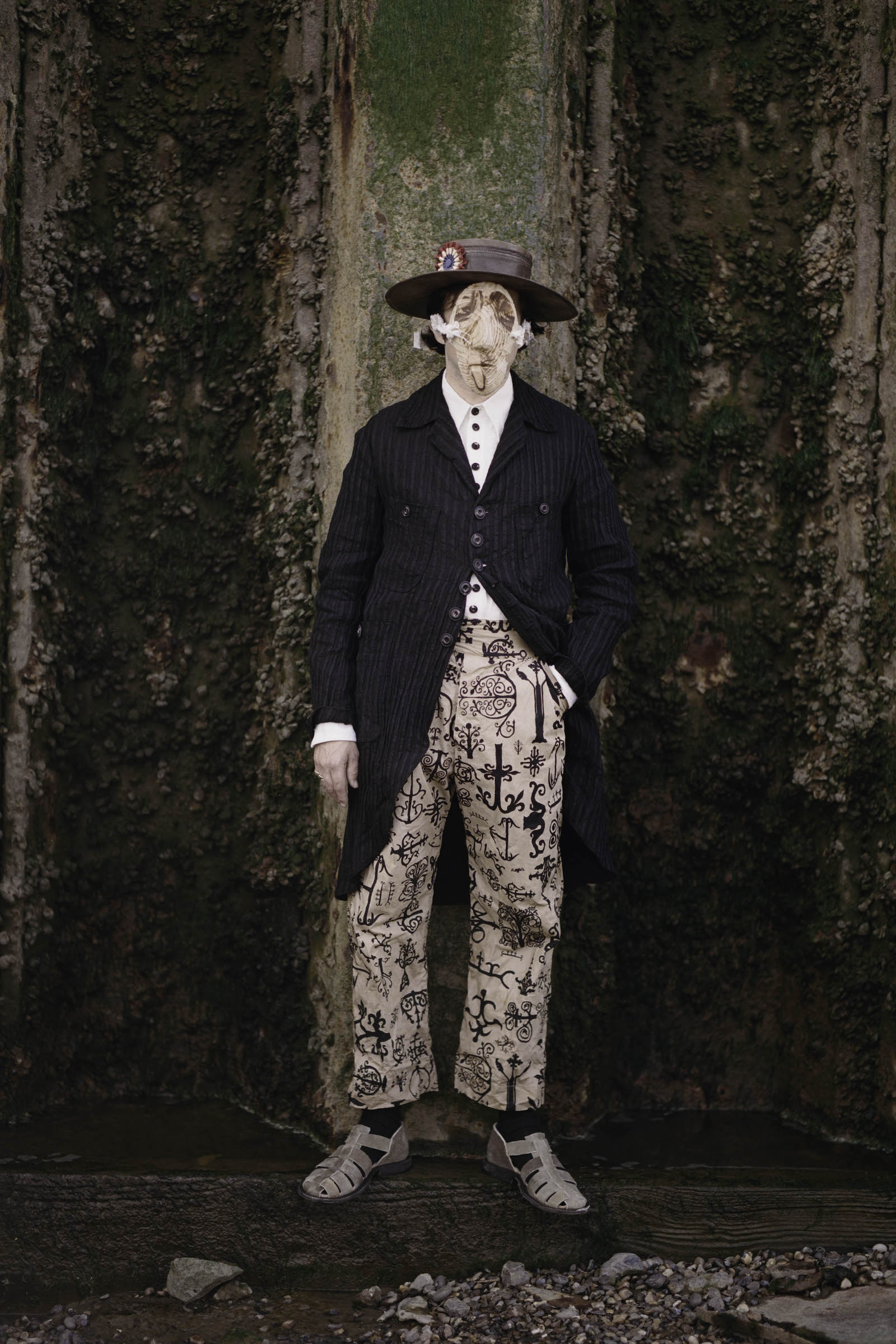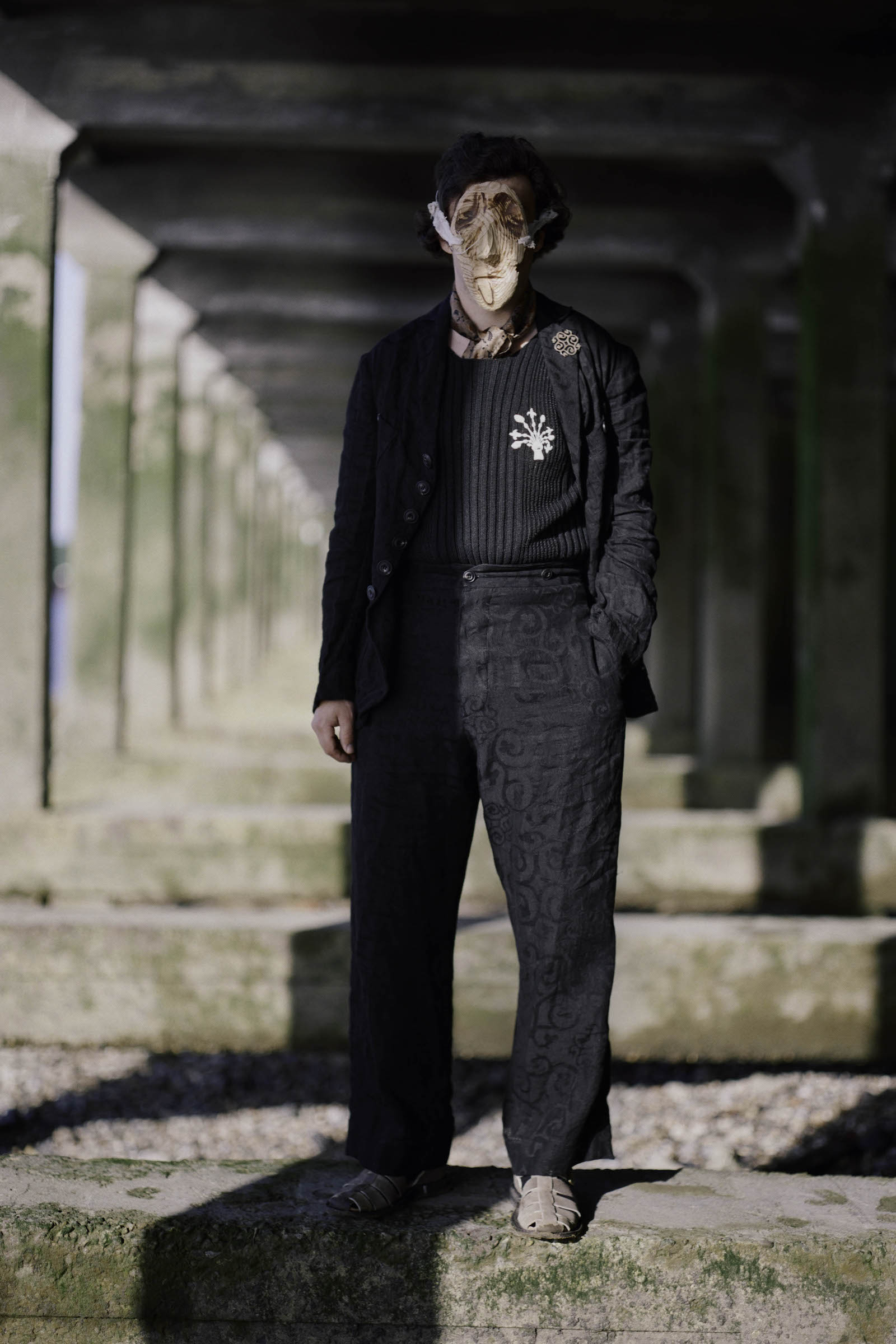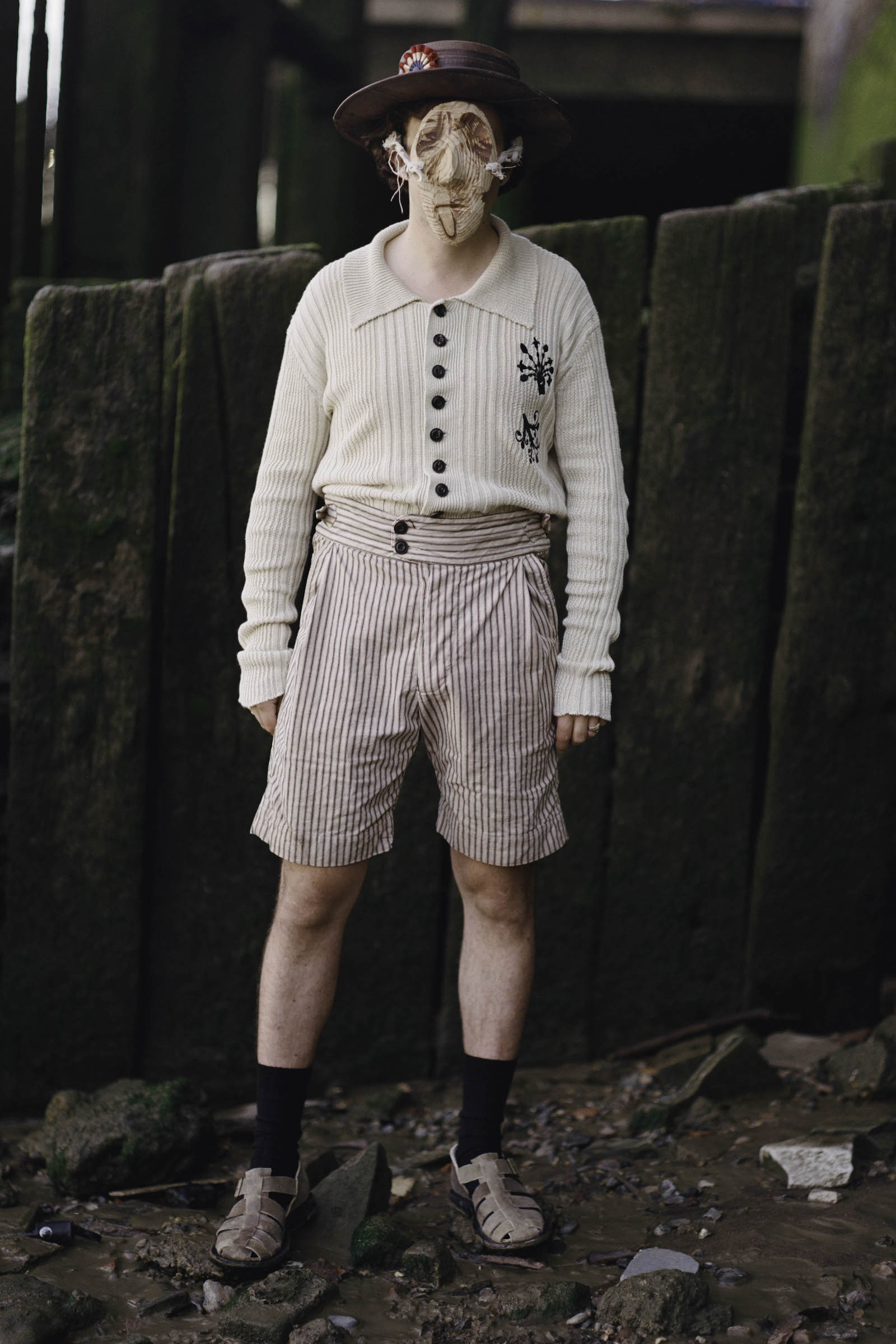 John Alexander Skelton
John Alexander Skelton is gloriously out of sync with much of the fashion industry and its restrictive commercial systems. He stands above the enforced newness of seasonal trends and the superficialities of merchandising. John's work is instead approachable and human, slower and smaller and considered, aesthetically it looks like very little else being crafted in London. It exists in a parallel world, one where the industrial revolution hadn't quite panned out the way it did, while leaning into the earthiness of Victoriana. He dives into the material histories of garments and the beauty of fabrics and the narratives that various silhouettes contain.
His SS23 collection was a narrative continuation of his work last season, specifically the character of Benjamin Pollock, a Victorian toy shop owner. "I found that there is a joy in projecting onto a character that little is known about," John explained, "and a freedom that allows the mind to wonder." So John started thinking about Benjamin's summer wardrobe, and by extension his hobbies and interests, his life and life in general in Victorian London.
Research is central to much of Skelton's fashion practice, whether it's historical or into the fabric itself. Here, he was looking to the Docklands – the heartland of London's heavy, industrial past – and the lives that existed at their fringes. "There is a sense that the area possessed a certain exoticism mixed with hard labour and various trades that benefited from their proximity to the river such as the leather tanneries that used to exist in Bermondsey," he explained.
But the ruins of the past as they exist today are part of the collection too, John's clothes find sympathy between the two eras, and reach towards timelessness. There's a lightness to the clothes here too; soft linens, the playful over-functionality of those multi-button shirts and jackets, the comfort of an old sandal, the decorative appeal of the embroidery and print. John imaged Benjamin Pollock as a Mudlark, foraging along the banks of Thames where the lookbook was shot, and found his connection to the past through this bricolage. "There is a certain magic and wonder that comes with the fact that these fragments of objects, that were once the possessions of our ancestors, are simply among the mud and pebbles of the foreshore for anyone to find," John explained.
But there's no point standing outside the system if you don't offer up something that it doesn't; and that's exactly what John does. His clothes exude a rare sense of humanity, and that's what makes them so desirable. FP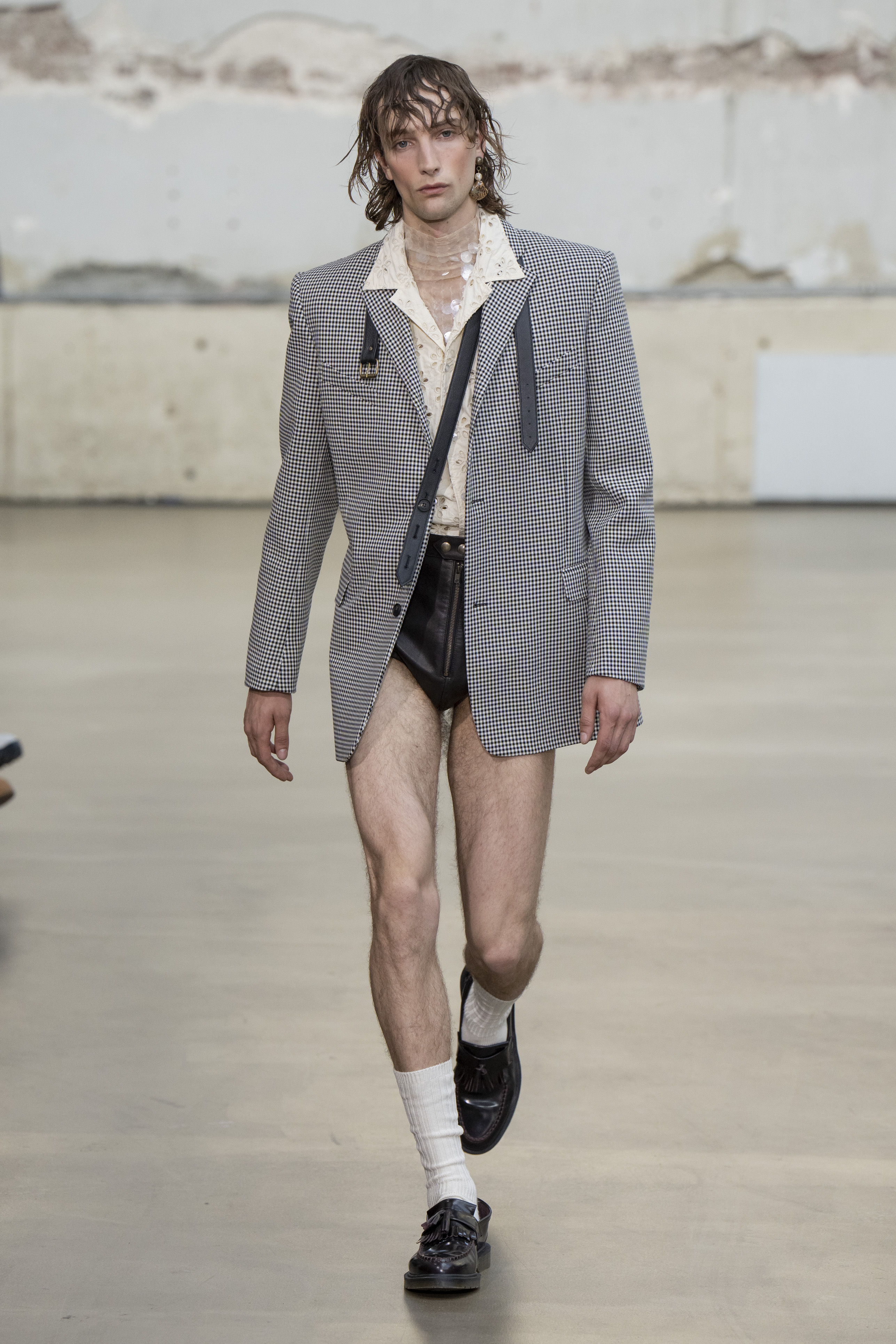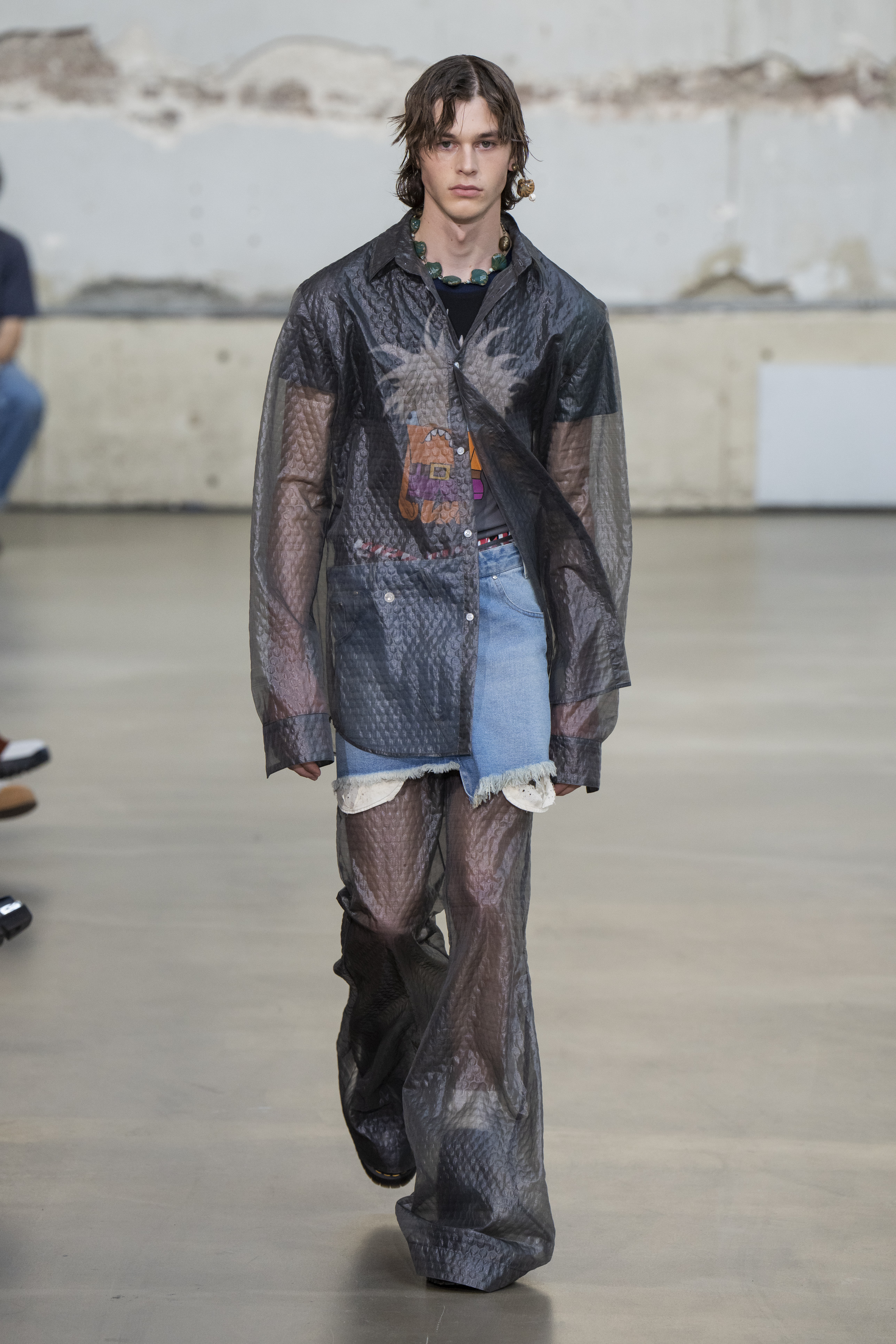 Egonlab
Over at the Palais de Tokyo, the first day of Paris shows always plays host to one of the city's buzziest young labels of the moment, EGONlab. On a sharp upward trajectory since taking home the Pierre Bergé award at the ANDAM Prize last year, the label – run by duo Florentin Glémarec et Kévin Nompeix – has cultivated a reputation for impeccably chic tailored silhouettes flecked with a spirit of high drama and club-ready sexiness. This season brought all of those things together with aplomb, in a collection that riffed on the time-honoured theme of Alice in Wonderland. Other than a handful of cartoonish bunny prints, though, the trippy children's story seemed to translate more into a general sense of escapism that permeated the clothes. The primness on a long-lined cream-wool overcoat and a smocked lace polo-neck were counterposed by the libidinal flair of itsy-bitsy shorts and thigh-high boots in black leather, and tight vest-tops were spangled with paillettes. Wide-legged denim jeans styled with jaunty, raw-hemmed miniskirts over the top were angstily distressed, while shirts and pyjama-ish trousers came in gossamer fabrics. MS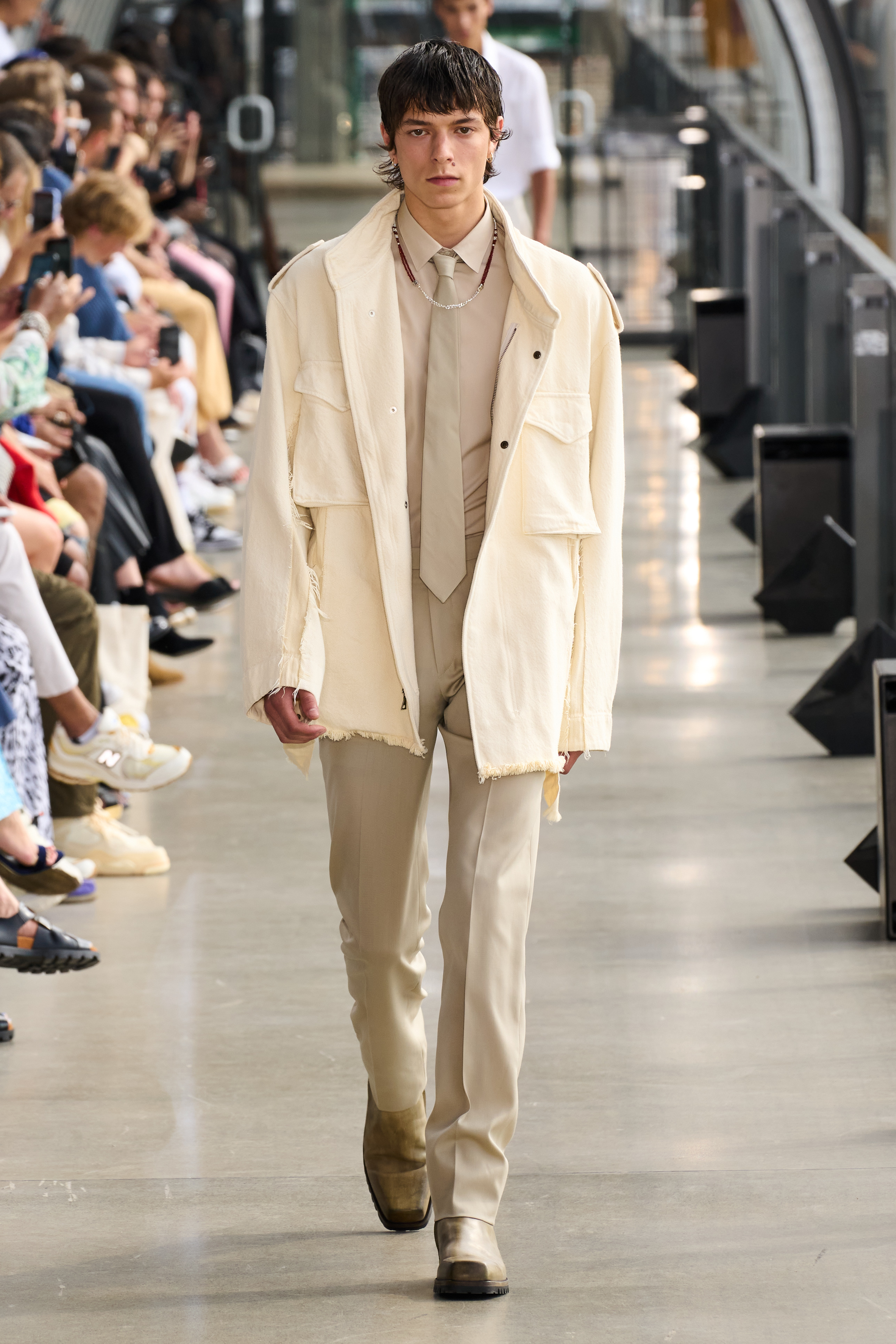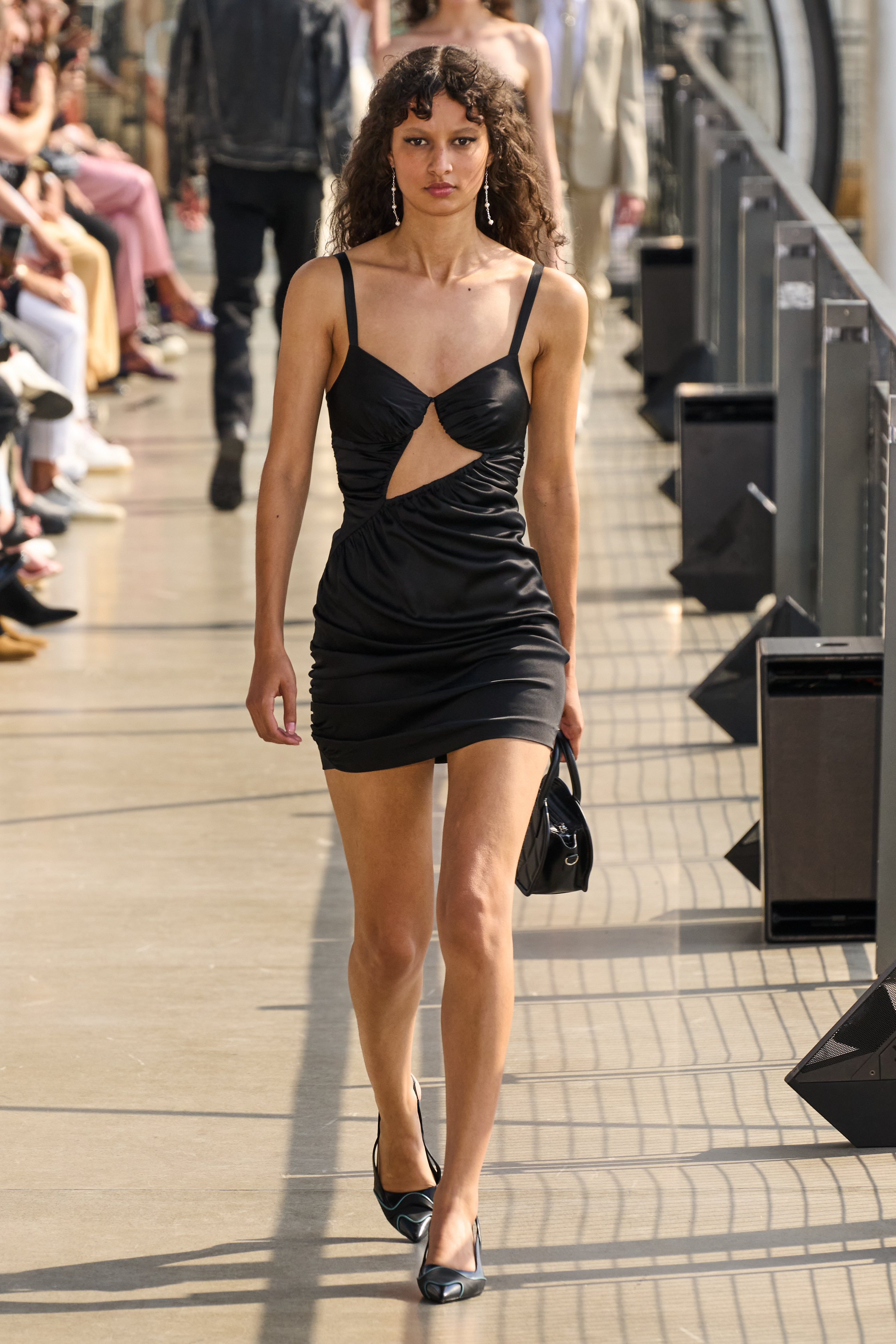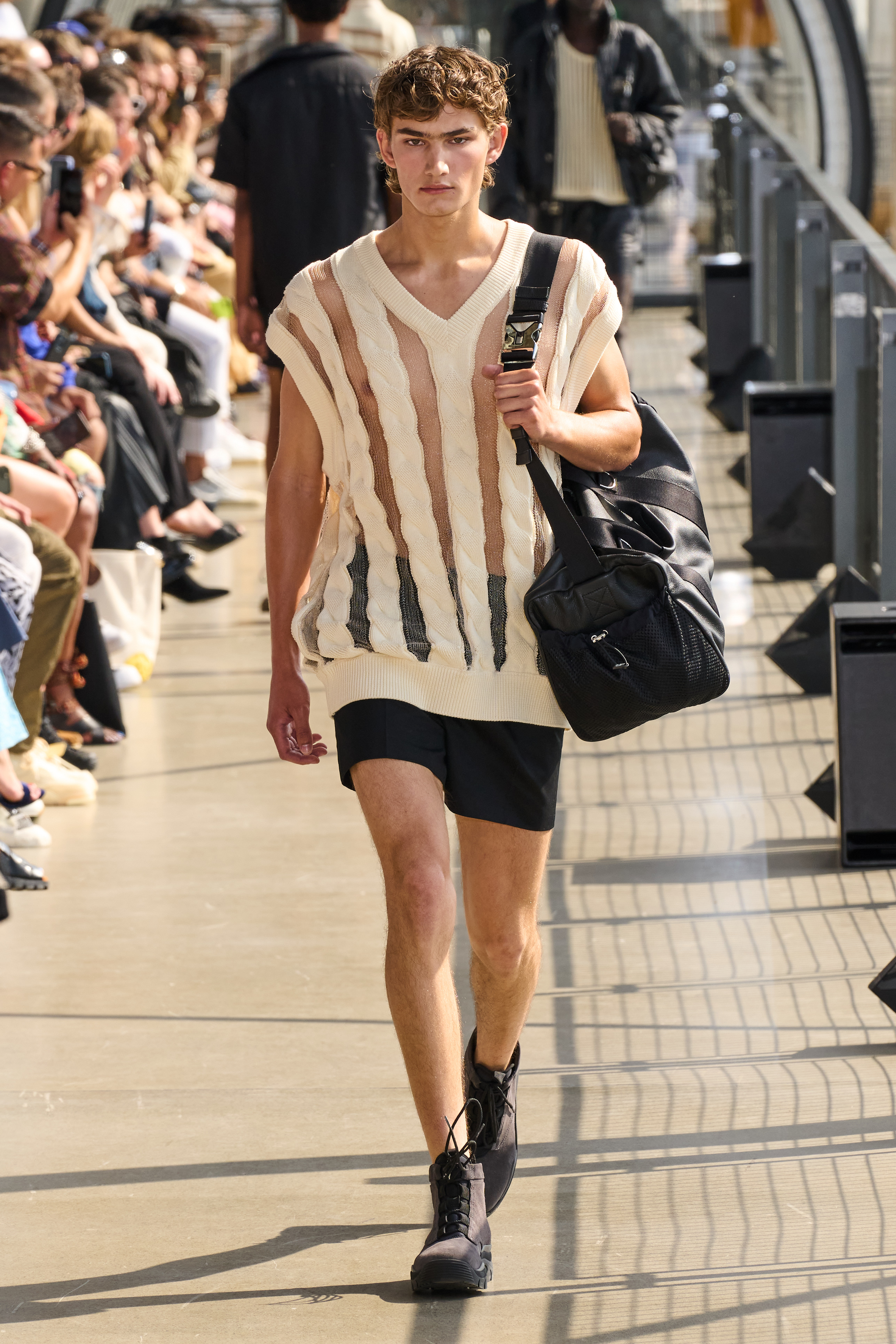 John Elliott
If you want to make a big first impression for your first ever show in Paris, then a surefire way of doing so is to make the topography of the famously pretty city a part of your show. For its debut presentation in the global fashion capital, American label John Elliott did just that, taking to the sculpture-dotted roof of the Centre Pompidou – the high-tech art museum at the city's heart – to show its latest collection before a sweeping view that took in the Eiffel Tower, the hill of Montmartre and a speckled swathe of zinc roofs in between. It was a classically romantic setting that leant into a similarly classically romantic vision of fashion. Comprising elevated, eminently wearable staples, it was a far-reaching, wardrobe-minded offering. Wide-set, round-shouldered outerwear in light, dusty hues conveyed a relaxed, summer-y ease, the casual tone they struck echoed by combat trousers in mint green and short-shorts for boys and girls alike. They were counterbalanced by the more evening-y tailored looks – elegant slim suits worn styled with gabardine overcoats and skinny ties – and slinky dresses seen towards the show's close. These pieces – particularly the cocktail numbers – exhibited the brand's technical nous by way of the sternum-baring draped, a skin-revealing sensibility that informed the knitwear, which was broken up by bands knitted from invisible thread. Overall, it was a confident proposal that demonstrated verve and versatility. This may have been John Elliott's first Paris presentation, but it looks like they'll be here to stay. MS
Follow i-D on Instagram and TikTok for more from the SS23 menswear shows.