Jonathan Anderson gives a masterclass in silhouette at Loewe AW20
The designer took inspiration from Japanese ceramicist Takuro Kuwata for a PFW collection he described as exceptionally "abstract".
|
29 February 2020, 10:51am
Mitchell Sams
For the AW20 Loewe show, Jonathan Anderson collaborated with the Japanese ceramicist Takuro Kuwata -- a "long time goal" of his, which he said that he'd been "desperate to do for years" after the show. Kuwata's drippy, misshapen pots are not an obvious reference for a fashion collection, but then Anderson's craft-inspired work for the Spanish house is never obvious. The designer stuck bobbly panels in the center of dresses, from which the fabrics seemed to ripple and emerge like some weird and fabulous succulent plant made into a gown. There were also Kurata charms on the bags which also looked decidedly cactus-like, a moment of play in a collection that otherwise was an exercise in pushing form and silhouette.
AnAnd it was quite the silhouette: "dropping the waist all the way down and out to create a new proportion," according to Anderson, and giving a new shape to the hips. Elsewhere, "kinetic" tailoring was oversized, with great swathes of fabric that swayed as the models walked, while feathery hats gave a couture aspect to the proceedings. The large, weirdly slanted black and white wooden tiles that paved the runway looked like the floor of a surreal palazzo, perfect for Anderson's weird take on luxurious occasion dressing. Two really rather huge coats furthered that idea of modern couture -- maybe luxury means cocooning yourself absolutely in a camel overcoat, worn with sneakers.
Loewe is really a house of dresses however, and they came in a dazzling array of iterations, whether full-skirted or with great gathered shoulders, in searing optic print or muted gold. Anderson was tireless in his pursuit of a new look, which is sure to be a hit with fans of the label's intellectual fashions. "I just wanted it to be abstract," he said. In that he definitely succeeded.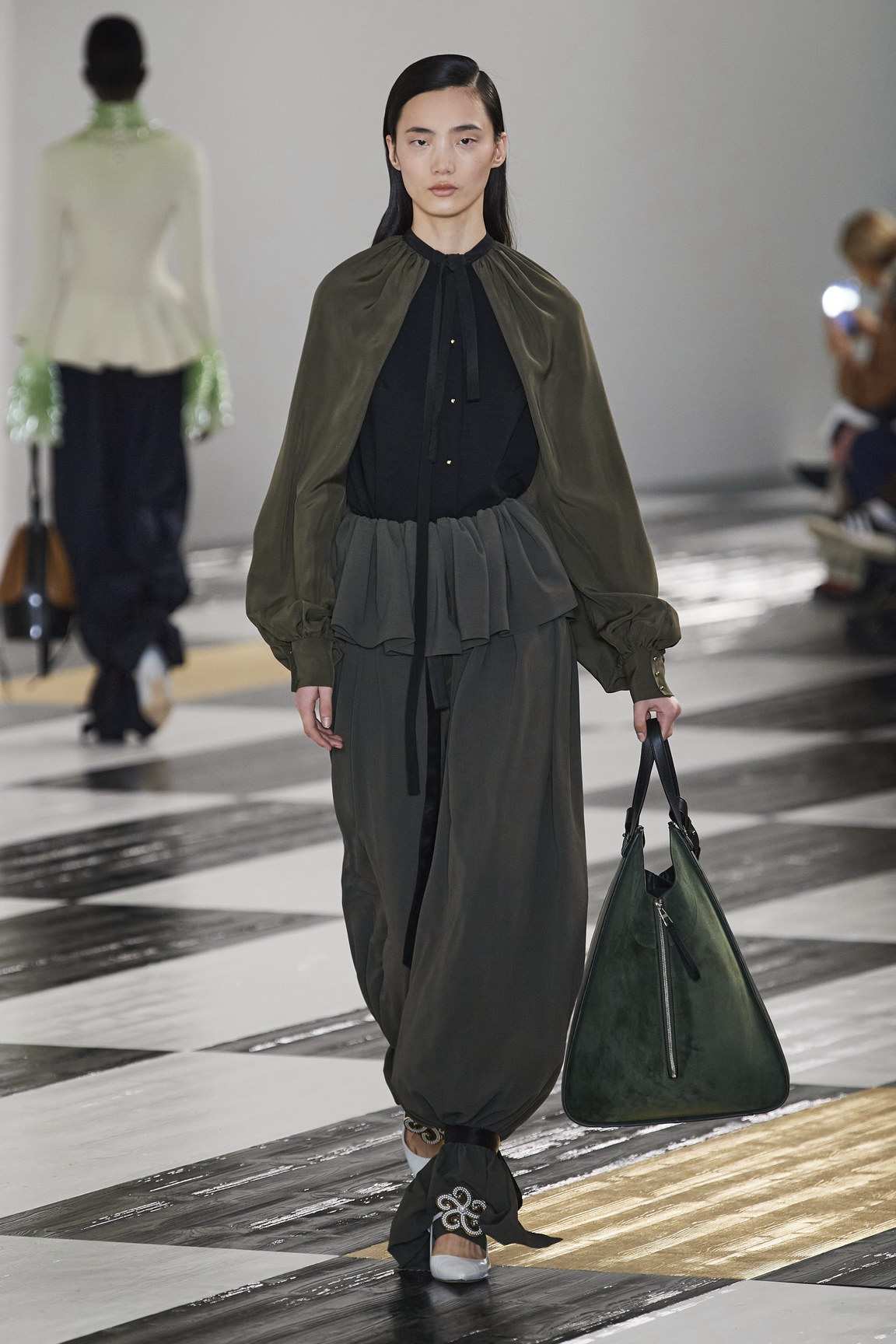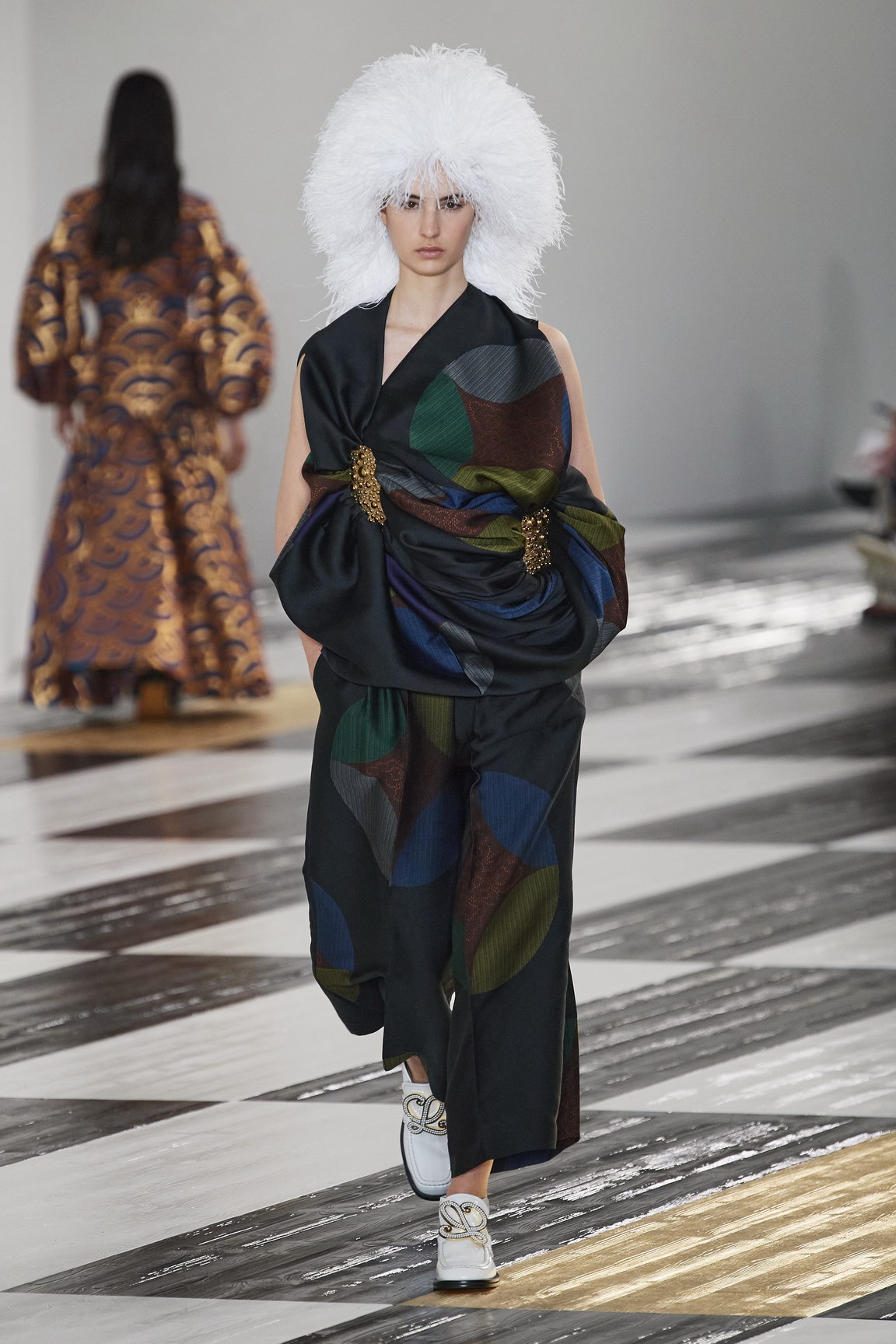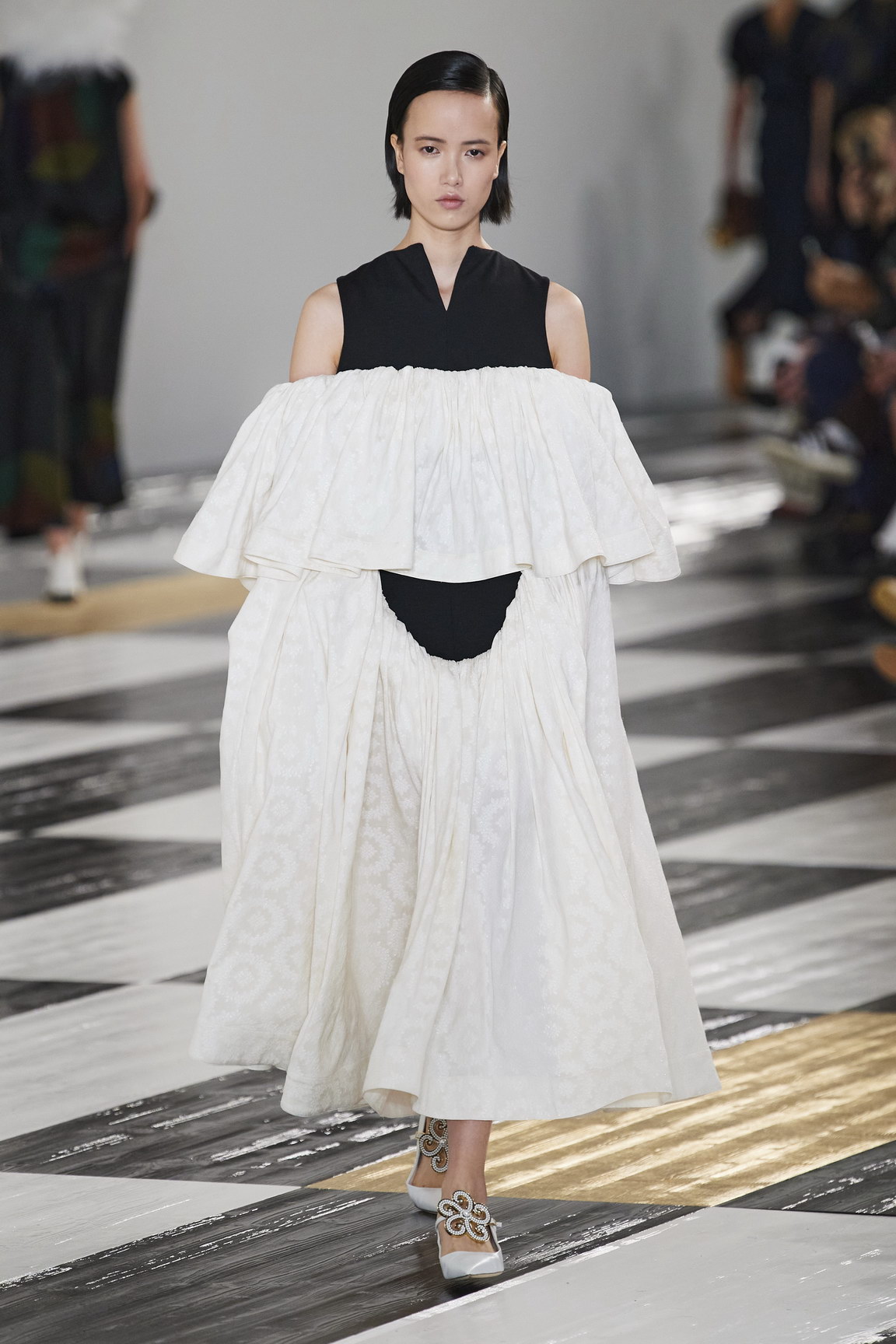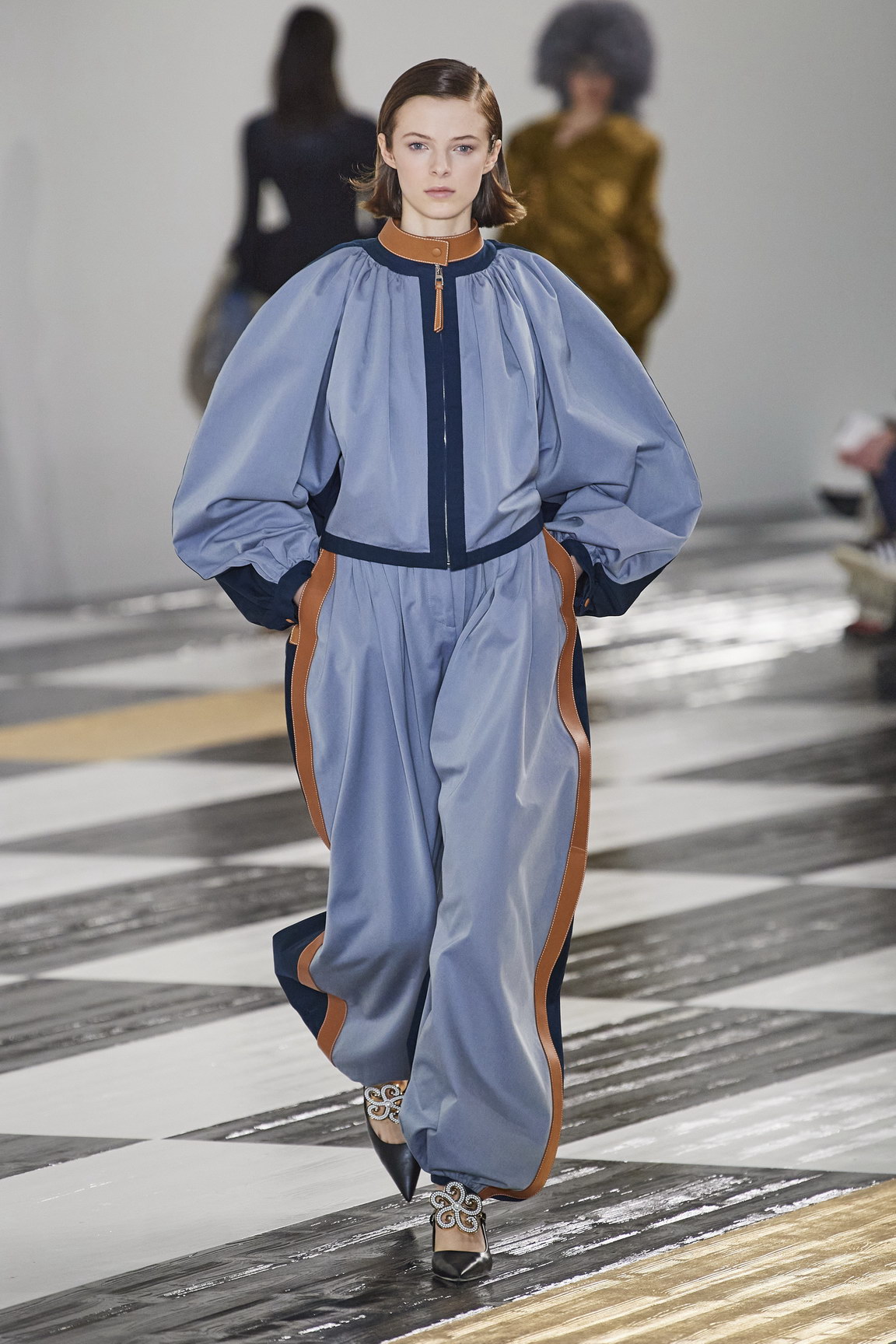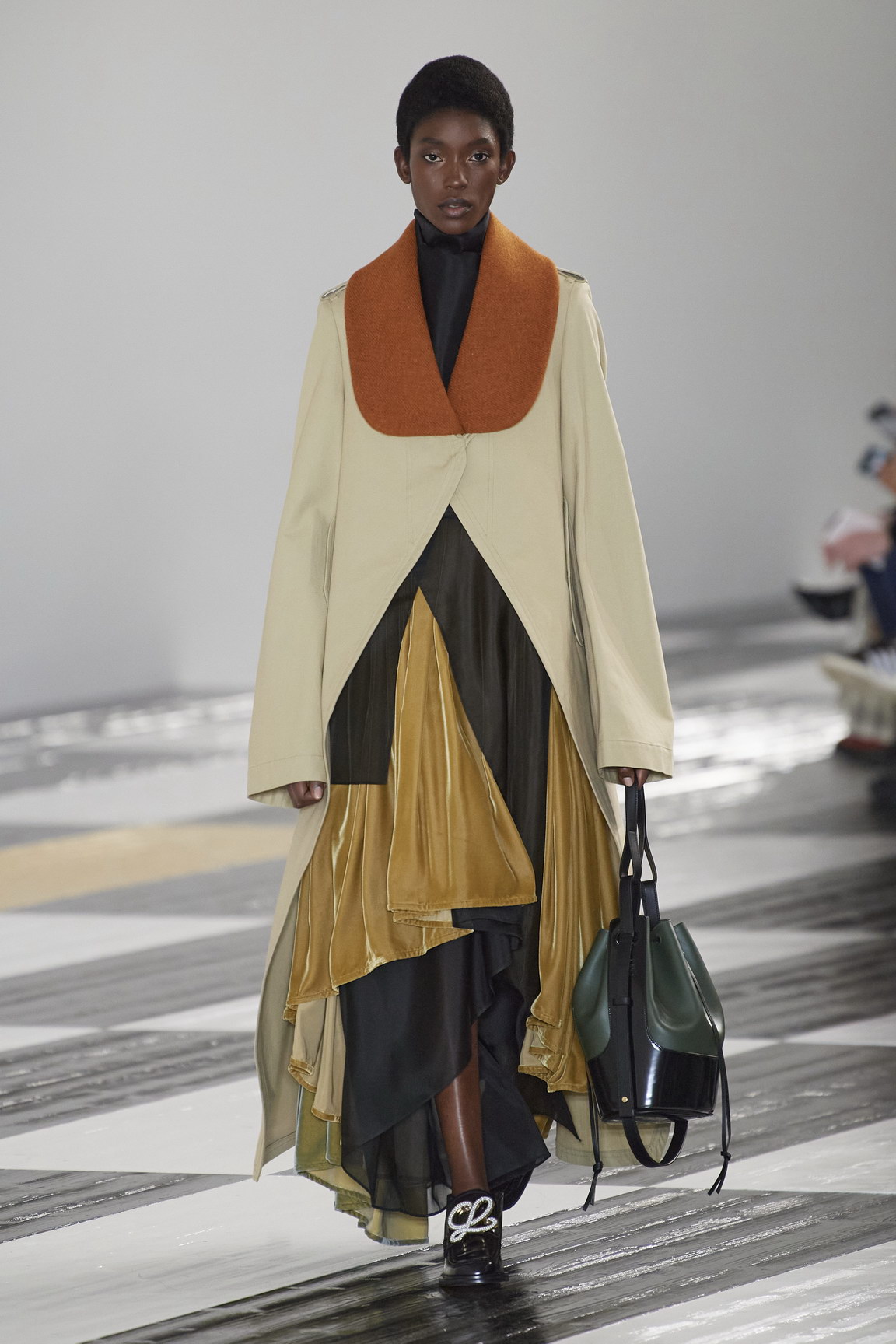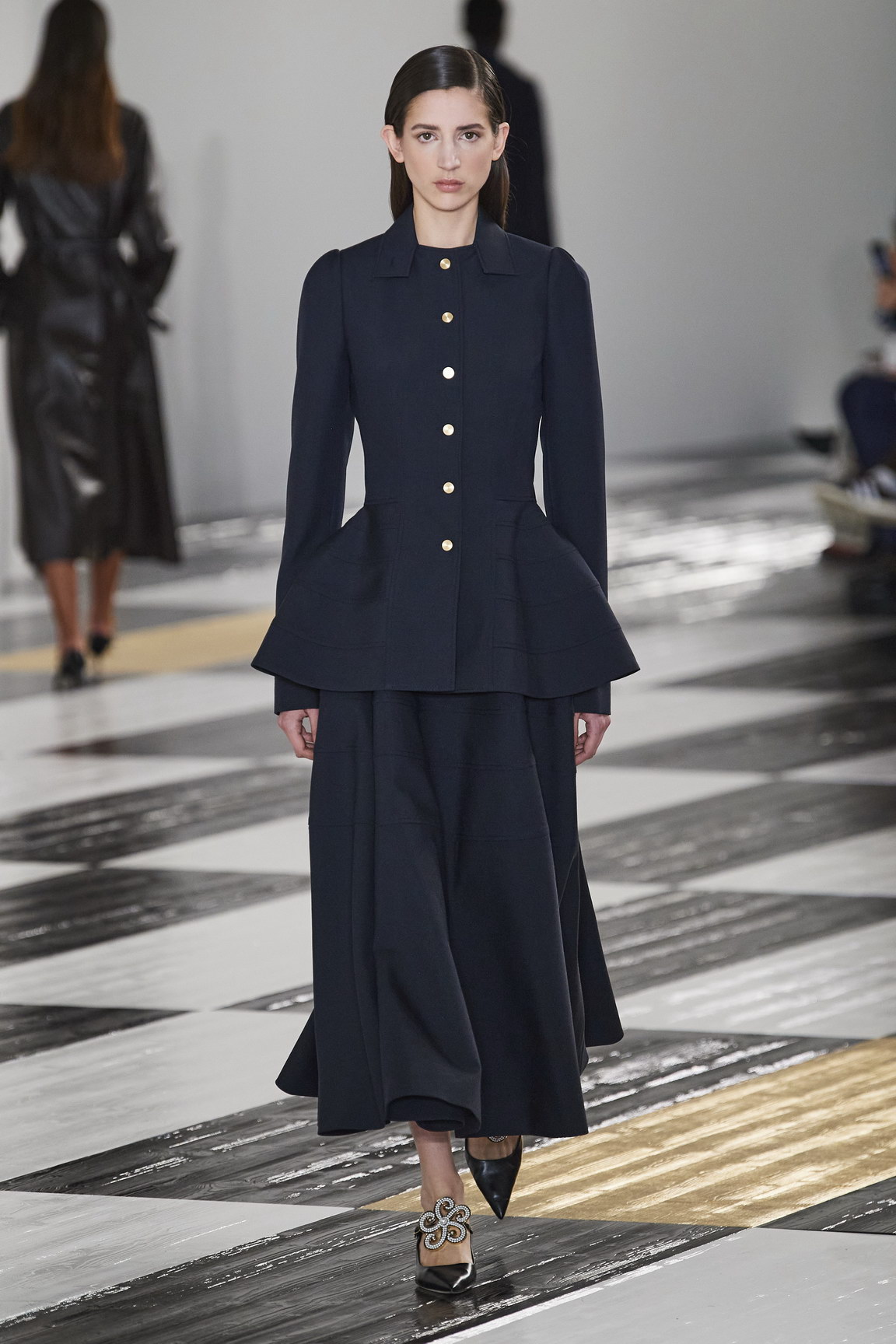 Credits
---
Photography Mitchell Sams