Left: Jennifer Lopez during The 40th Annual GRAMMY Awards at Radio City Music Hall in New York City, New York, United States. Photo by Ke.Mazur/WireImage. Right: Pamela Anderson and Tommy Lee during 1995 GRAMMY Awards - A&M Party in Los Angeles, California, United States. Photo by Jeff Kravitz/FilmMagic, Inc
7 iconic 90s Grammys style moments
Disappointed by some of this year's tamer offerings? Here's a throwback to some of the wilder looks of yesteryear.
Left: Jennifer Lopez during The 40th Annual GRAMMY Awards at Radio City Music Hall in New York City, New York, United States. Photo by Ke.Mazur/WireImage. Right: Pamela Anderson and Tommy Lee during 1995 GRAMMY Awards - A&M Party in Los Angeles, California, United States. Photo by Jeff Kravitz/FilmMagic, Inc
This year's Grammy Awards, for once, felt somewhat like a changing of the guard — Billie Eilish won an incredible five awards, FKA twigs unleashed her iconic pole dance upon the unsuspecting public to a Prince medley, and Lil Nas X wore hot pink Atelier Versace. In other news, Lana Del Rey told the press she'd bought her sequined outfit at the mall, an individual expression of style reminiscent of Selena's store-bought sequin dress in 1994, and in opposition to the vibe of stylists and creative directors running rampant on the red carpet. It set i-D to thinking — what were some of the most iconic looks of Grammys past? How did stars flex their fashion cred before they had a small army of people controlling their every fashion move?
Thus, i-D goes back in time to take a look at some of the best Grammy style moments of the 90s, when individuality reigned.
Selena, 1994
In 1994, singing superstar Selena Quintanilla-Pérez took home a Grammy for Best Mexican-American Album while wearing a stunning white sequin dress. The gown, which was designed by Miami-founded label Lillie Rubin, was bought by Selena herself while out shopping at The Galleria in Houston. This, of course, was not Selena's only iconic style moment. Throughout her vibrant career, which was sadly cut short at the young age of 23 when she was murdered by her fan club president, there was no shortage of bedazzled bustiers, glittered two pieces, and custom designed stage costumes. Her incredible fashion sense still influences performers like Cardi B, Normani, and Halsey, today.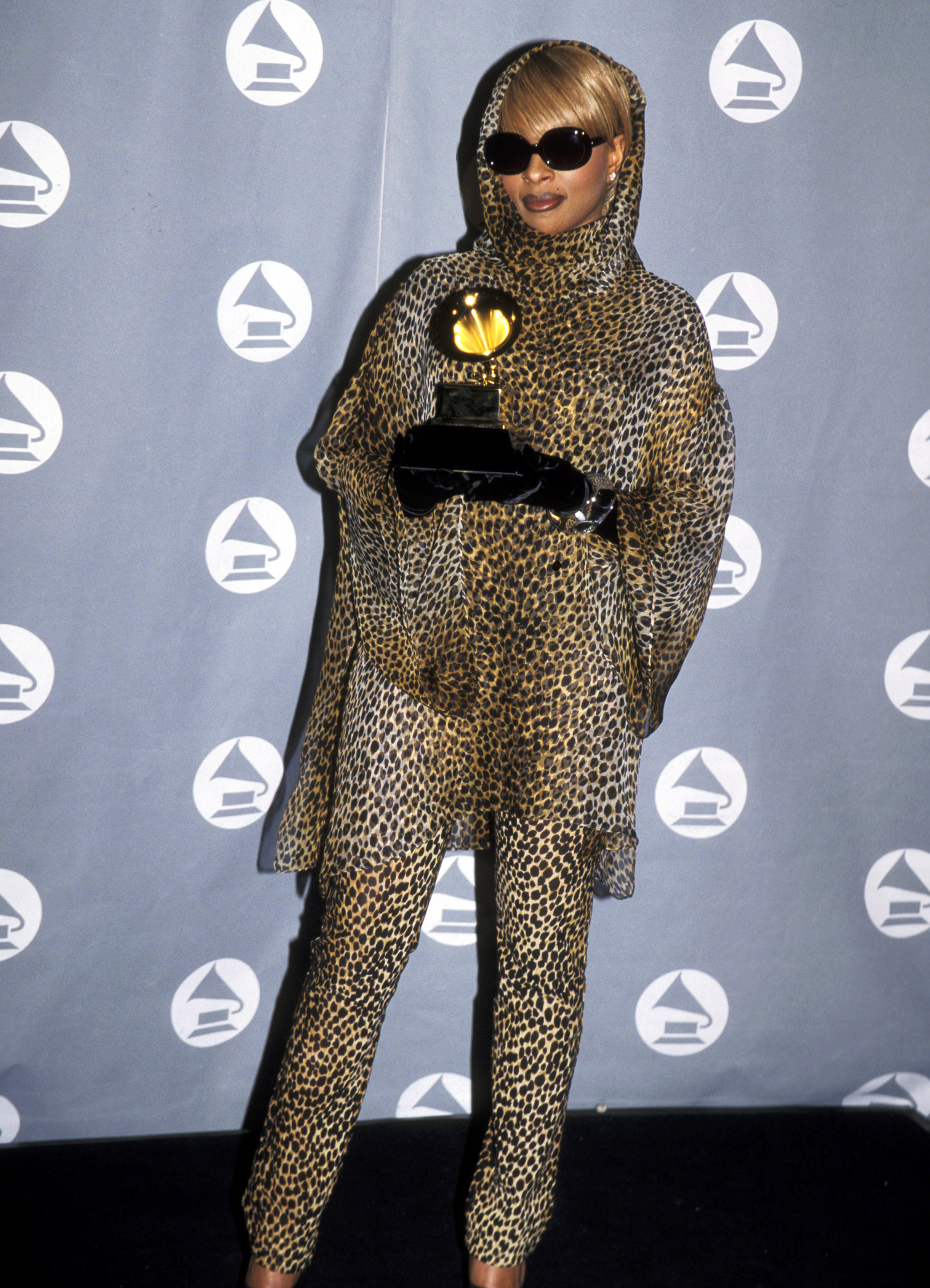 Mary J. Blige, 1996
Mary J. Blige, dubbed the Queen of Hip Hop Soul, posed with her Grammy for Best Rap Performance by a Duo or Group dressed head to toe in leopard print with coordinating black sunglasses and black gloves. This, however, was not the first time that the performer opted for something animal print. From taking the stage with Nas to walking the Billboard Music Awards red carpet, Blige always manages to make the legendary and rather camp pattern her own. Blige worked with the iconic stylist Misa Hylton, who was also responsible for many of Lil Kim's most insane outfits.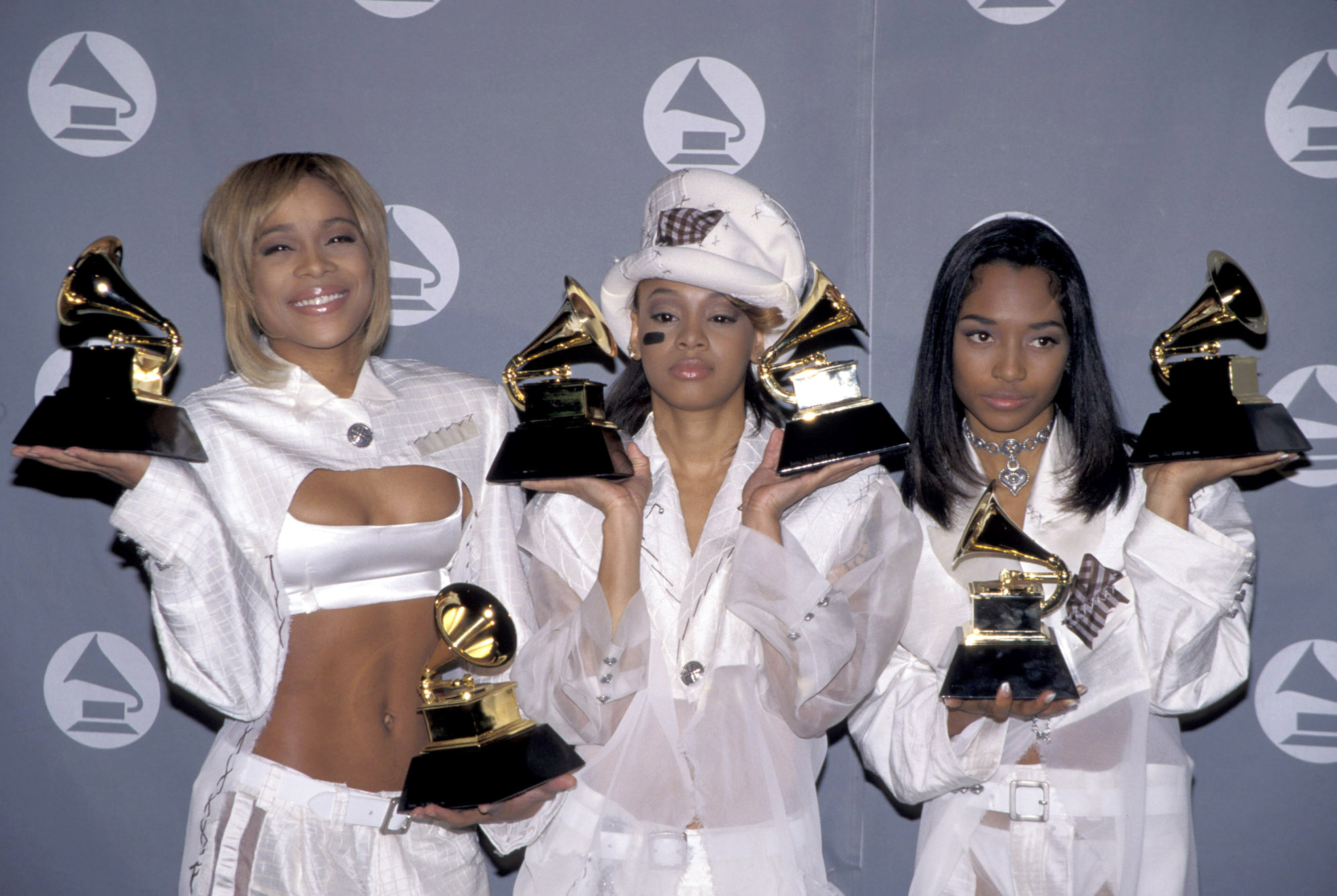 TLC, 1996
In 1996 TLC attended the Grammys wearing matching white outfits featuring plenty of silver chain detailing. Throughout the years, TLC not only became known for their music, but also for their boundary-pushing fashion choices which have included coordinated overalls, spray-painted neon tees, condoms as accessories, and streetwear-inspired pieces by designers like Dolce & Gabbana and Tommy Hilfiger. Their baggy pants and oversized tops radiated an important message in the 90s that femininity does not have to be mutually exclusive with tight dresses and high heels.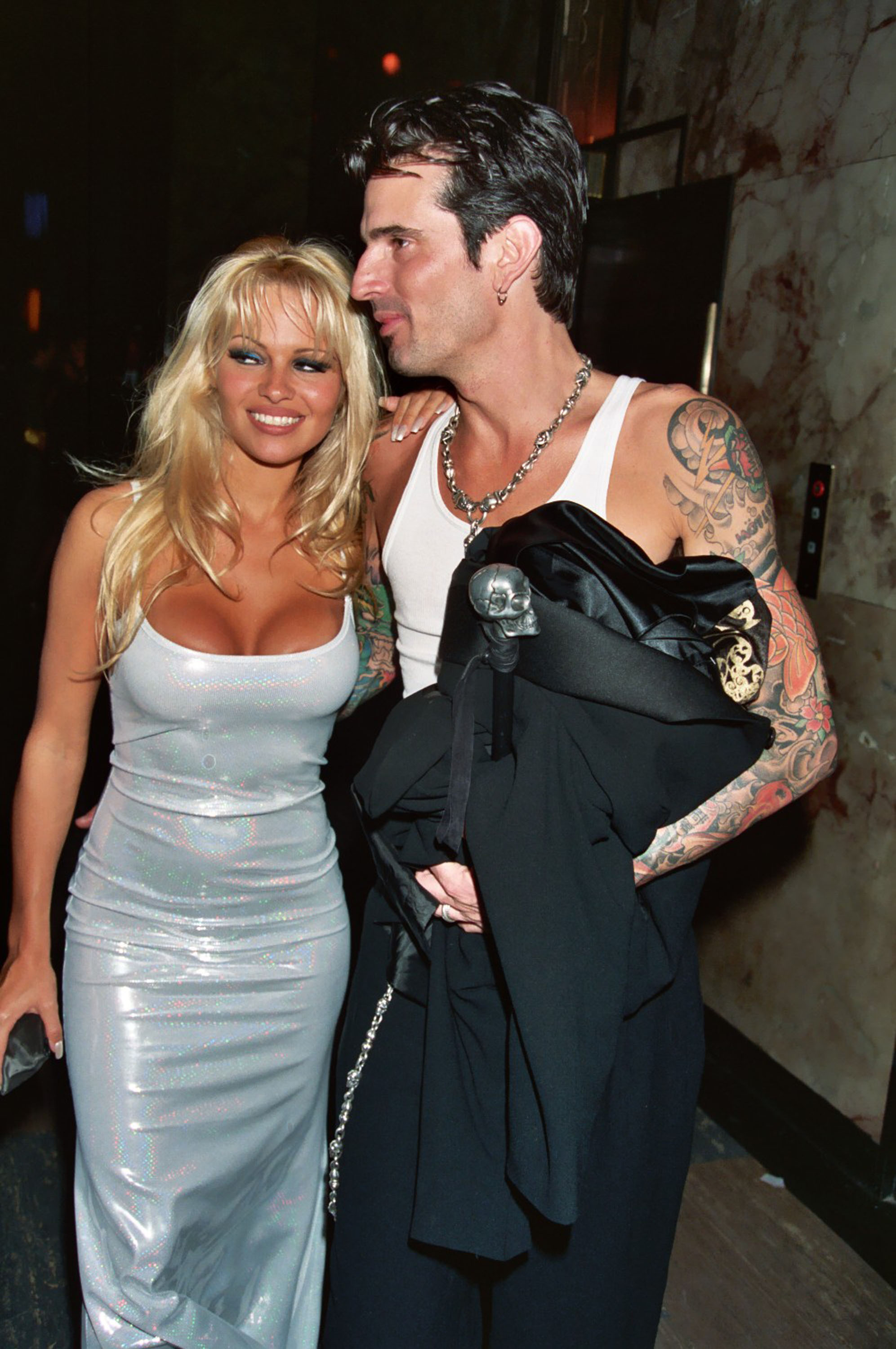 Pamela Anderson and Tommy Lee, 1995
It seems as if it may be impossible to recall 90s LA style without having visions of a bleached blonde Pamela Anderson and tattooed Tommy Lee pop up. The pair, who famously married just four days after meeting each other, were photographed after the 1995 Grammys on their way to an A&M afterparty dressed in a skintight holographic dress and white tank. Lee, in fact, was no stranger to the Grammys — the drummer had been nominated earlier in both 1990 and 1991 for the work he had done with his band, Mötley Crüe.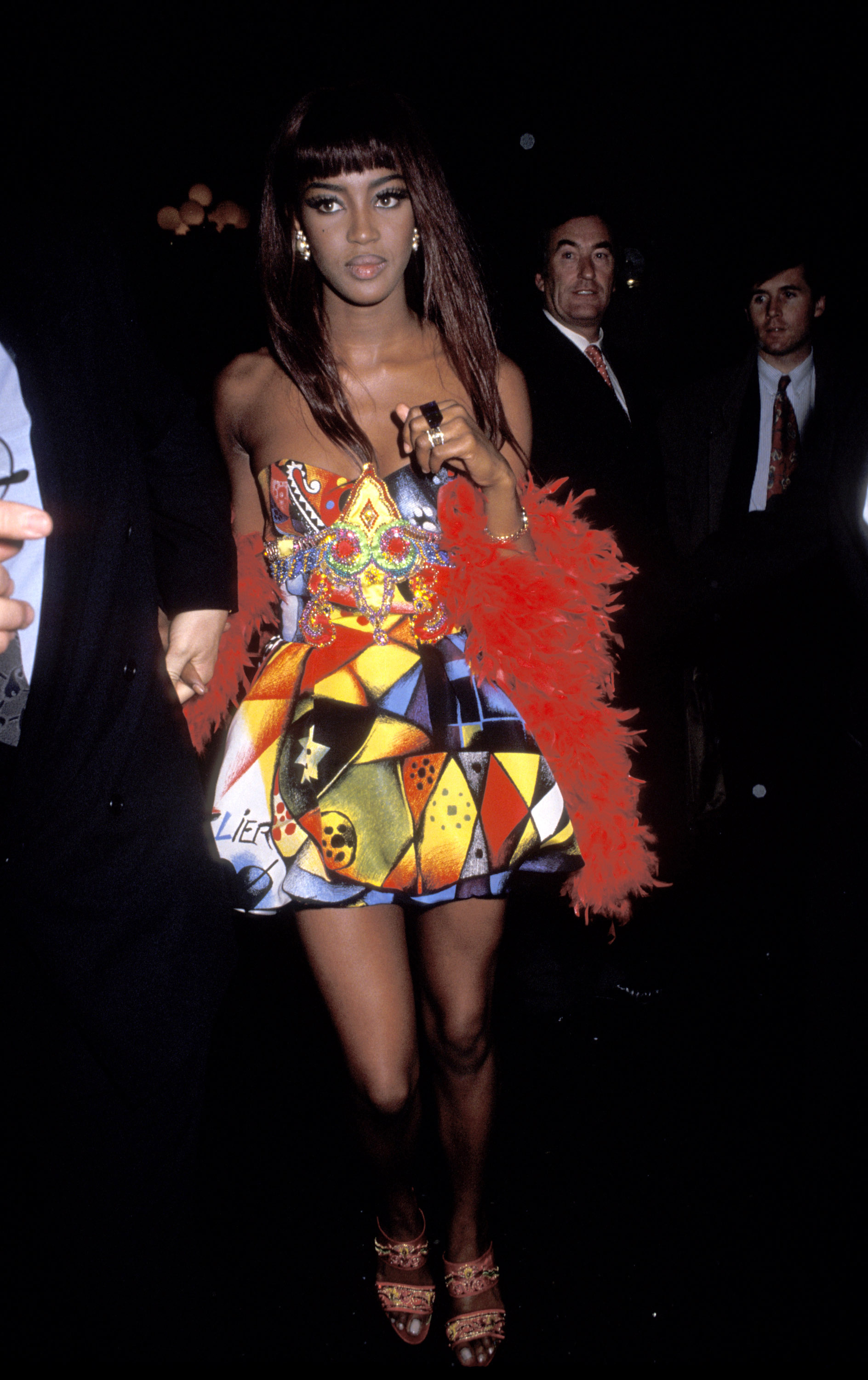 Naomi Campbell, 1991
Whether it is on the runway or at the Grammys, you better believe that Naomi Campbell makes a fashion statement wherever she goes. For the 33rd Annual Grammy Awards in 1991 Campbell arrived at an Arista Records Grammys Pre-Party wearing jeweled heels, a bold printed strapless minidress, and a red feather boa (of course). This image was captured just weeks before Campbell would iconically take on the Versace catwalk alongside fellow supermodels Linda Evangelista, Christy Turlington, and Cindy Crawford while singing George Michael's "Freedom! '90" arm-in-arm.
Mariah, 1991
At the 1991 Grammys, singer Mariah Carey took the stage to accept her award for Best New Artist in a black velvet minidress complete with rhinestone detailing and matching diamond earrings. It was the early 90s and the songstress was not only quickly rising in the music charts, but because of her head-turning fashion choices, swiftly becoming a style icon as well. Whether sitting at fashion shows front row or wearing names such as Chanel, Versace, and Dolce and Gabbana (who could forget her D&G red carpet tank top?) no one can do it quite like Mimi.
Jennifer Lopez, 1998
Before there was the plunging green Versace dress (and the eventual 2019 resurrection of said dress) there was Jennifer Lopez's 1998 Grammy outfit. Lopez, who had recently starred as the title role in the 1997 biopic Selena, was photographed wearing a pale blue knit halter dress with matching bolero jacket. The outfit acted as a precursor to the development of Lopez's inimitable award show style that seamlessly combined old school Hollywood influences with updated silhouettes. Just a few short years after this photo was taken, Lopez attended the Grammys once again — only this time with a nomination for her 1999 hit song, "Waiting for Tonight".