On Heavy Is the Head, Stormzy surveys his kingdom
Today the King of Grime drops his second album, triumphant retrospective on his stratospheric musical and cultural journey.
|
13 December 2019, 12:31pm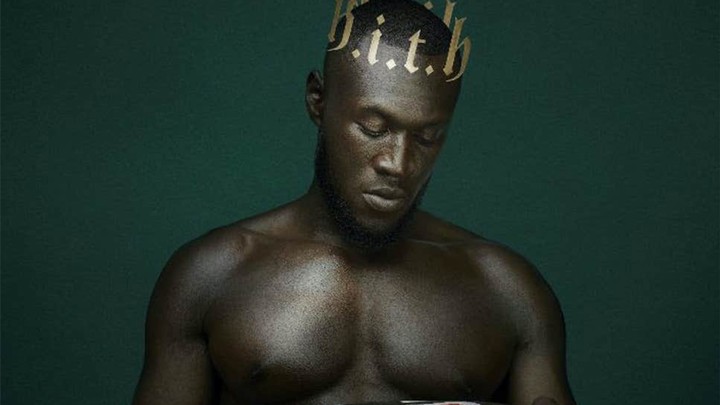 A few months ago, a fan sent Stormzy a tweet calling him out in no uncertain terms for not releasing new music. It's the same message we see stans send to their faves constantly on Twitter and Insta, begging Rihanna to "drop the album" or Demi Lovato to "COME TO BRAZIL". Stormzy, for his part, replied to the tweet and promised something was coming soon. But he must have taken it to heart. The first thing fans hear to open the "Vossi Bop" star's new album, Heavy Is The Head, is a recitation of that tweet, airing Stormzy for leaving his fans in dire need of more fire tracks. While the bait might be deliberately tongue in cheek, with his second album, the long-awaited follow up to 2017's Gang Signs and Prayers, Stormzy nonetheless delivers.
In many ways, H.I.T.H is a celebration of Stormzy's own success. It's not posturing or sycophantic though, it's triumphant. The first song of the album, the absolutely huge "Big Michael", is the epitome of that triumphant tone. All brass and succinct bars and heavy beats, this is vintage Stormzy, at his best. He calls out his haters and detractors and even the impatient fans -- "You must think I'm dumb", he raps. "What the fuck have you lot done?" -- with all the energy of that meme of Big Bird busting in the front door (you know the one).
But it's not all triumph and it hasn't been an easy ascent to the head of the kingdom. The album is just as much a requiem for the huge pressures and responsibilities that come with his platform. On the record's lead single, "Crown", Stormzy surveys his realm and ruminates on how his attempts for good -- namely his scholarship for young BAME students to attend Oxbridge -- have been misjudged or twisted by the media. On recent release "Audacity", meanwhile, which features Headie One, Stormzy also clashes with the heretics who have the audacity to come for him.
H.I.T.H is nothing if not multilayered. For every defiant bar which epitomises the grime star's public-facing image, there's another that looks a little deeper. He's still the Stormzy we know from the razorsharp days of "Shut Up", cautioning others to mind the throne; but at the same time he reflects on his own struggles with anxiety, depression and mental health. Recently, during an appearance on the Jonathan Ross show, Stormz revealed that he was devastated after his headline performance at Glastonbury and cried inconsolably when he thought he'd messed up his sound levels. On "Audacity" he briefly touches on that, rapping "When Banksy put the vest on me / Felt like God was testing me". But on a later track "One Second" featuring H.E.R, he laments on becoming "the poster boy for mental health". Against H.E.R's haunting vocals of hope and struggle, the track is pared-back, almost choral, a naked and introspective look at the pressures of fame.
He reveals even more of himself on "Lessons". H.I.T.H's penultimate track, the song is an autopsy of a relationship and a plea for forgiveness from an ex-lover. On it, Stormzy seems to reveal evidence of his own wrongdoing -- "I done the dirt and then I thought you'd dig it out" -- and lament the consequences -- "Greatest love I ever knew and I threw it down the drain". Although he eventually concludes that he wouldn't forgive himself either, the plaintive track feels like a poignant denouement to a relationship, a foil to romantic 2016 tune "Birthday Girl".
H.E.R is just one high point on an album full of excellent feature players. New kid on the block Aitch drops in on "Pop Boy" while Stormzy's "brother" Ed Sheeran returns the favour of having Stormz feature on "Shape of You" with a spot on "Own It", which also features Burna Boy and is clearly destined to be used in a million Love Island montage videos for Summer 2020. The feature from Grammy Award winner YEBBA on "Don't Forget To Breathe" is almost good enough to make up for it though.
H.I.T.H is, above all else, a record full of bops. It feels new and exciting, but at the same time nostalgic. "Rachel's Little Brother" samples a Big Brovaz track from the noughties, while "Rainfall" samples the house party classic "Shackles (Praise You)". Perhaps most excitingly, "Superheroes" samples the actual Tracey Beaker theme song, and uses it to celebrate the superheroes of Britain's black community, name-checking everyone form Michael Dapaah to Little Simz and Malorie Blackman. In a more divided Britain than ever, the message of solidarity feels especially prescient, showing that you can celebrate being the King without making it disgustingly Tory.
With H.I.T.H Stormzy is not ascending to the throne -- he's already there -- but he is luxuriating into his role. He's unapologetically taking up space.
Tagged: