Leeds duo Prospa made a massive playlist for your solo NYE dance party
A three-and-a-half-hour celebration of club culture through the ages. Let's play pretend.
|
31 December 2020, 9:00am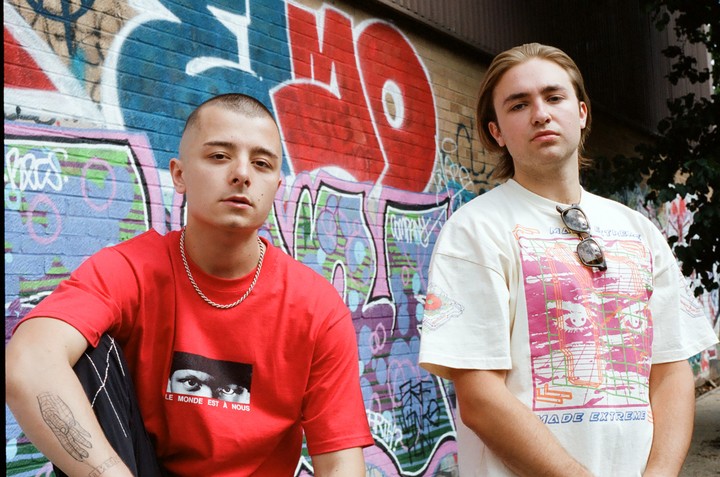 Courtesy of Prospa
Prospa make dance music for the people. The young Leeds-born, London-based DJ and producer duo take inspiration from generations that predate their own: rave culture, 80s synth pop, techno and breaks. Drawing on all of the above and more, the 22-year-olds channel their favourite elements through a lens of their own and end up with something that — unfortunately for us, given the state of the world — is crying out for the club. And boy did they have a good run of playing them!
In fact, for the past few years, Gosha and Harvey have been shifting what a big night out sounds like. Their latest single "The Thrill" for example, has been described as "San Junipero but made for the dancefloor", taking it back to the 80s with warm synths and a weird nostalgia for a time few of us actually lived through.
It's definitely the kind of thing you'd want to dance to on New Year's Eve — a night on which you'd typically find the duo darting from club to club, city to city, keeping revellers moving. "One year we played two shows in the same night and then another on New Year's Day, travelling from Manchester to Glasgow," they reminisce. "It was crazy but we had some mates with us so it was a very special experience." This year looks a little different.
"2020 taught us to be grateful for live music," Prospa tell us. "We all live for club culture, so it's so important we do everything we can to keep it on its feet." In the spirit of things, we figured that if nobody can go to the club, then maybe the club can come to us. Maybe, say, via a banging playlist curated by one of this year's most promising producer duos? We asked, they delivered.
"The concept was to showcase the music we want to hear at our fictional NYE gathering," they explain. "It's a journey from classic tunes that inspire us, through to modern stuff that's a little more challenging. Plenty of dark and ravey belters and a few more laid-back riders." Sounds good to us!
So, what are you waiting for? Stick this on, pretend you're somewhere else, somewhere with *gasp* people around you, and maybe dream up some kind of New Year's resolution while you're at it. Prospa, in case you're wondering, are aiming to play Glastonbury again in 2021… you know, if it happens. Aside from that, they'll be releasing a series of EPs and planning their future live show. Because nightlife will return. And these guys will be there to welcome you back to the dancefloor with open arms.
Tagged: