What we still haven't learnt from our treatment of Britney Spears
We moralise about the story of the fallen pop icon. But do we ever stop to think about who's next?
|
10 February 2021, 12:22pm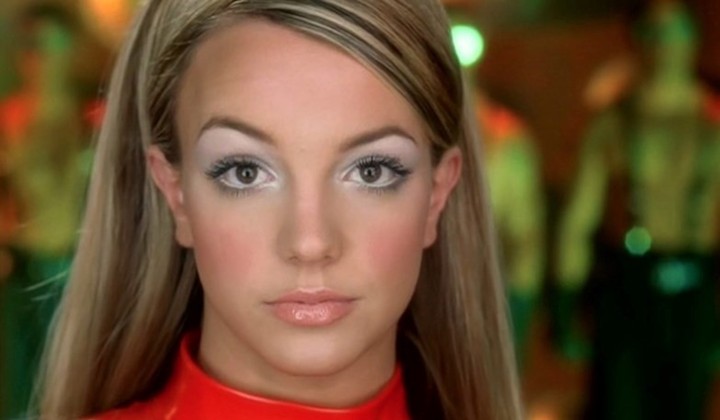 There has never been a cautionary tale quite like that of Britney Jean Spears, the precociously talented Louisiana tween who graduated out of Disney's 90s troupe of Mouseketeers to become one of the world's biggest music superstars before the age of 18. As we know all too well, images of Britney's 'downfall' -- from her sobbing on the side of the street as paparazzi harassed her, to her shaving her head and attacking a car with an umbrella -- were the backbone of the late 00s tabloid industry and its early online inheritors: TMZ and Perez Hilton.
In the aftermath of two contentious psych holds in 2007, the then 25-year-old Britney Spears found herself under the restrictive control of a personal and financial conservatorship put in place by her father, James Spears. This controversial arrangement was put under the microscope this week as the subject of a New York Times documentary called Framing Britney Spears. The documentary has brought a fresh renewal of public support for Britney (and the #FreeBritney movement) as well as acknowledgement of our complicity in a culture that treated a young girl's life as a commodity for consumption. But have we really learnt from it?
We often cite Britney Spears when we talk about other celebrities who suffer the near-constant privacy intrusion and dehumanising effects of mega-fame. In the 13 years since Britney became a young woman in the public eye, we have invoked her name as a watchword when discussing anyone from Amy Winehouse to Demi Lovato and Caroline Flack. And yet, even as we scold celebrity and entertainment journalists for their contribution to the problem, we continue to indulge in our discussions of Billie Eilish's body, Megan Thee Stallion's assault and Chloe Bailey's sexuality.
Plugging "billie eilish body image" into Google brings up several interviews in which the young singer is questioned about her physical appearance. These started when Billie was just 17 years old — the same age as Britney when she was interrogated live on German television about a potential boob job. The other day, Chloe Bailey of sister duo Chloe x Halle, sobbed openly on an Instagram Live chat with her fans. She talked about the backlash she was receiving for posting images of herself on social media that had been deemed overly-sexual. Chloe is 22 years old, the same age as an equally tearful Britney in 2003, being told by Diane Sawyer — a venerated media broadcaster — that a particular image of her provided justified grounds for a politician's wife to state, "If I had the opportunity to shoot Britney Spears, I think I would".
With a vast fortune, estranged family relationships, and the eyes of the world constantly watching, what Britney needed at that time — and indeed, from the moment she stepped into the spotlight — was professional mental health support.
Years after Britney buckled under the pressure, scenarios identical to her own brutal experiences continue to play out under new guises. Although the tone has shifted away from the cruelty of the mid-00s, famous women are still subject to the strain that comes from being centred in discussions that are as misogynistic as they ever were. Reality TV has faced something of a reckoning in recent years, after a particularly harrowing string of deaths relating to ITV's Love Island put the provision of mental health care for contestants on these shows under scrutiny. In 2019, it was reported that 38 people linked to reality TV titles around the world have died by suicide since 1986 — a devastatingly high figure.
Within the music industry -- where often very young but exceptionally talented artists can ascend from humble origins to the dizzying heights of global fame overnight -- that same responsibility for mental health care is still not being placed on labels or managers. There are no psychological assessments required to sign a record contract. Once an artist is on the fast-track to fame, there is no label-funded therapy, around-the-clock welfare team, nor any of the other elements that made up ITV's duty of care reform in 2019.
Court documents filed by lawyers for First Access Entertainment, as part of a wrongful death lawsuit brought about by Lil Peep's mother Lisa Womack, are indicative of the "hands off" attitude labels and management have when it comes to their clients welfare, arguing that to be liable for their wellbeing "would convert businesses engaged in the music and entertainment industries into full-time babysitters for artists".
How can two industries so similar be held to such different standards? Television is, of course, more regulated than music. There is no music industry equivalent of Ofcom or the FCC, for example, but there also doesn't seem to be a moral imperative to establish one, despite more and more young artists are opening up about their mental health. When Liam Payne of One Direction spoke candidly about suicidal ideation, the move was deemed brave, but there was no public clamour for an essential framework to be put in place to help stars manage the transition from obscurity to fame. In the wake of a tragedy, we rehash the same hollow sentiments about learning from how we treated Britney Spears, and yet never seem to take meaningful action to break the cycle.
Where mental health provision does exist in the music industry, it is in the form of external charitable organisations or small grass-roots schemes, placing the responsibility on artists and other industry workers to seek out these resources themselves. If you're 15 and about to sign away the rest of your teenage years to a record label, are you also going to be seeking out holistic support to tackle this radical lifestyle shift? It seems unlikely.
In the UK alone, record label income hit almost £1.1 billion last year, its highest in decades. It does not seem unreasonable or outlandish to expect some of that revenue to be invested in a more assimilated initiative, to protect their living, breathing "assets"; whether that be via an annual grant paid out towards private mental health care, or a contractual obligation to provide regular counselling to artists on their roster.
This is not to excuse or detract from the fact that both the media and the public are active participants in the toxicity of celebrity culture. Nor is it to argue that famous people are unimpeachable figures who cannot be criticised. There is evidently a dissonance between the way we empathise with celebrities who struggle with the effects of fame after irretrievable damage has been done, and the lack of empathy displayed to those on the way down.
But in the meantime, even the most strong-minded, well-supported and fondly thought of artists can find themselves buckling under the pressure of being constantly seen, known and discussed. A concerted push to proactively manage the detrimental effects of celebrity, rather than treating them as an unfortunate occupational hazard and a matter of personal responsibility, will not eradicate the causes. It will, however, help to armour those whose talent opens them up to a world of limitless opportunity against the predators and pitfalls of their new terrain.
"If Britney Spears can make it through 2007, I can make it through today," has become an adage as mainstream as "if you can't handle me at my worst then you don't deserve me at my best" or "we all have the same 24 hours in the day as Beyoncé". But in 2021, 17 years on from that very public breakdown, it's high time we ask why Britney -- or anyone -- should have to make it through personal distress and emotional turmoil unsupported, or risk missing the lesson her story could teach us entirely.