7 of Fiona Apple's most iconic outfits
Let's not forget that the renaissance woman behind 2020's 'Fetch the Bolt Cutters' was a laid-back, post-grunge style pioneer of the 90s and 00s.
Of course Fiona Apple slept through her 2021 Grammy wins (for Best Rock Performance and Best Alternative Album, obviously) last week. Checking to see if she was at all interested in hearing the outcome of this year's ceremony, the artist's good friend and housemate Zelda Hallman roused the 11-time nominee — who had received deserved acclaim for her bruising 1996 debut Tidal, and her unforgettable 1999 follow-up When the Pawn… among others — from her slumber. Fiona's response was to simply close her eyes again. Tell me you're a legend without telling me you're a legend, etc.
But Fiona's striking, irreverent legacy is just as strong in the fashion world as it is in the music industry. Coming into her early twenties as the misogynistic cruelty of the rock press was reaching a fever pitch, Fiona's style was a canny rebuke to her vulturous critics: an unceasing stream of strong, devil-may-care looks which toyed with the world's stubborn expectations of femininity, tradition and sexuality. She wore what we now think of as 90s staples: sheer textures, chunky shoes, slip dresses and midriff-baring crop tops (complete with belly button ring, naturally). But we can't forget the fluffy, feathered angel wings she was known to perform in. Or that one time she donned a full suit of armour on the subway. Here, we chart Fiona Apple's illustrious career through a selection of her most iconic outfits.
During a photoshoot, circa 1996
Fiona's unofficial introduction to the music industry came through a friend of hers, who, at the time, was babysitting for the music publicist Kathryn Schenker. A demo tape was passed from Kathryn to Sony Music executive Andy Slater, and quickly transformed into a ticket for a real-life major record deal. In 1996, at the age of 19, Fiona put out Tidal, an album in large part inspired by the break-up with her first-ever boyfriend, which went on to sell over two million copies and get certified platinum in the US three times over. A veritable gem of her Tidal era, this one particular shot — from an album shoot with MR Photo — sees the singer-songwriter in minimal makeup and long, loose crimped hair. The star item of this get-up is almost certainly the mesh blouse she wears stretched over her hands, like any self-respecting indie girl would, in a swirling brown and green pattern. We are absolutely here for it.
Performing at Live 105.3's BFD in California, 1997
Performing at an all-day festival at the Shoreline Amphitheatre in sweltering June heat, the 19-year-old artist wears a very 90s ensemble that some might say is more quintessential than the LBD itself. Here, our Queen Fiona pairs a dark spaghetti-strap crop tank with hip-skimming black cargo pants turned up at the waist. The true magic, though, lies in the accessories. In addition to an unadorned silver hand-chain, star-spangled silver twine is wrapped around her body, fastened to her bottoms by a safety pin. A masterclass in accent pieces.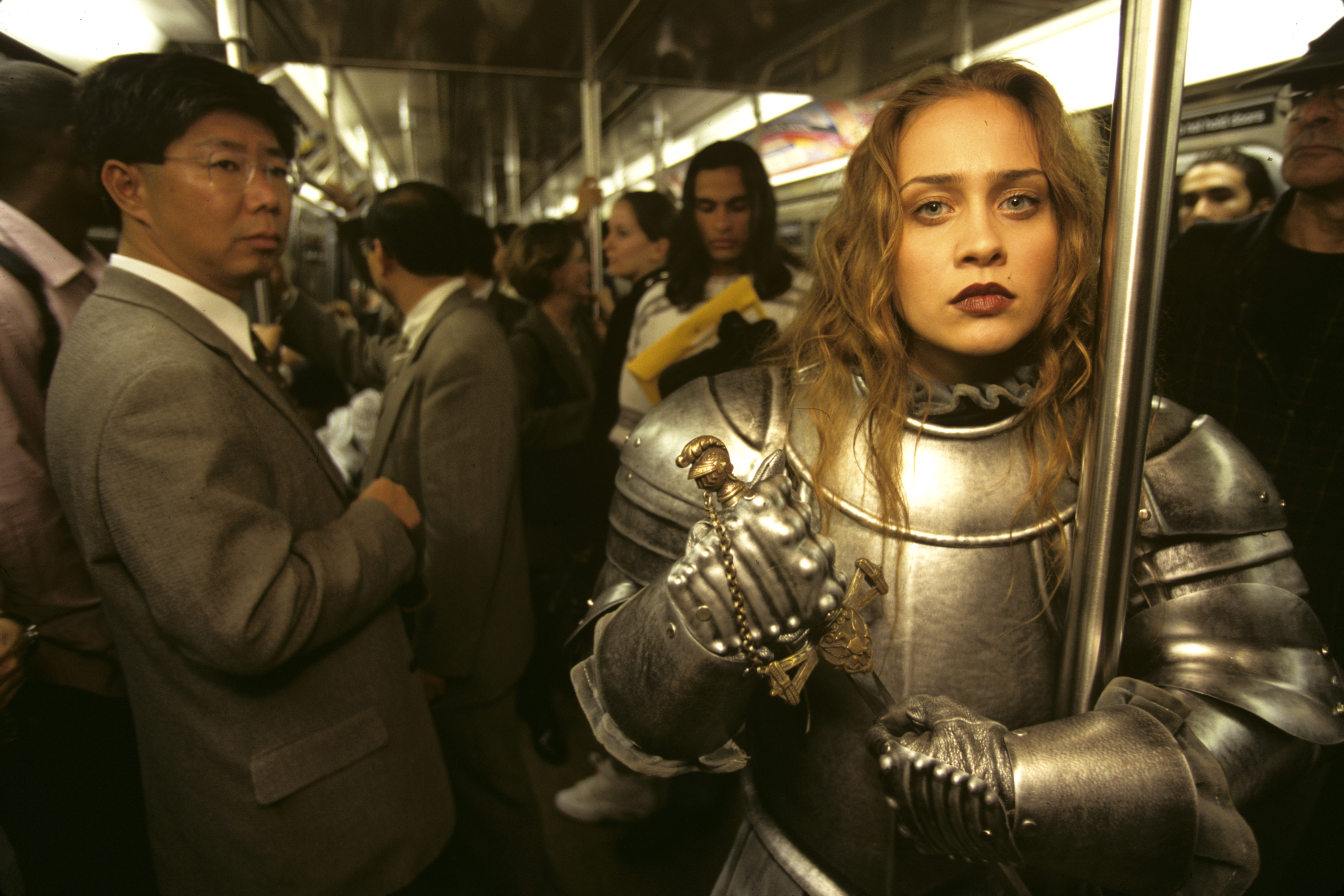 During a LIFE magazine photoshoot, 1997
Have you even really experienced the internet if this image and its accompanying quote has not crossed your (digital) path before? Well, here it is again. "Fiona had always been shot as a waif — tendrils of hair blowing, dressed in lingerie, out in some sort of lily field," wrote photographer Joe McNally in his portfolio book The Moment It Clicks. "She told me she wanted to chuck that scene and be a warrior woman in a suit of armour." The story goes that the day of this shoot Fiona was running late to sing at a show in New Jersey, much to the chagrin of her manager, who said they would have to leave as soon as possible, and would have to catch the subway to get there on time. Joe looked at Fiona and proposed: "Get on the subway in the armour?" Thus, an iconic image — and outfit — was born.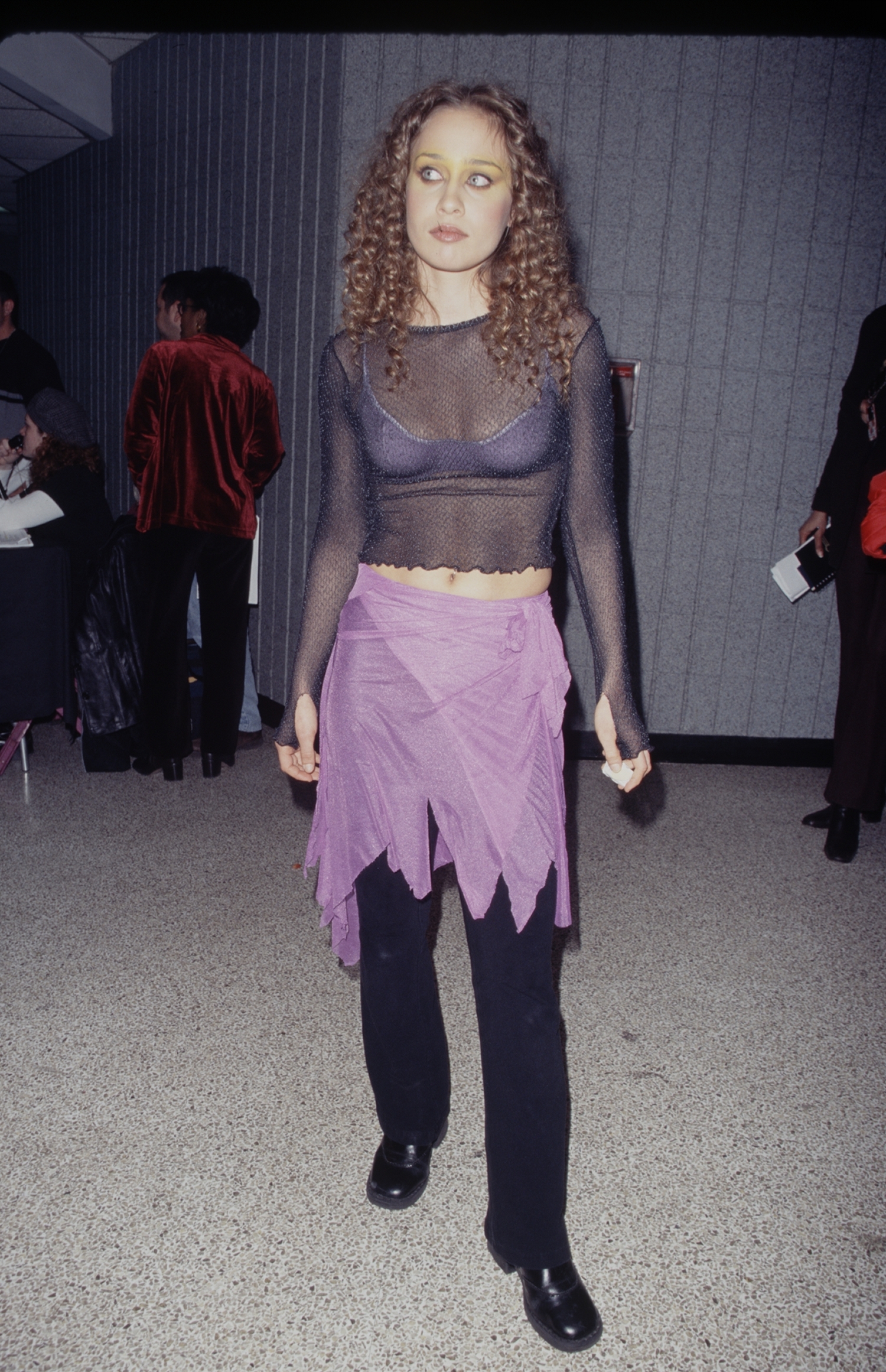 At the Vogue Fashion Awards, 1997
Let's talk about this stunning purple and yellow moment. At the Vogue Fashion Awards in 1997, Fiona wore a delicately beaded, lettuce-edged mesh, with buttercup yellow eyeshadow swept over her lids, brows and nose bridge. The complementary colours play off each other in a look that's grungy, bold, feminine and altogether quite proto-Avril Lavigne. In a sheer, jagged-edged wrap skirt and sleek dark trousers, she makes us all reconsider the harsh thoughts we've had towards the skirt-over-pants combo in the past decade. Don't call it a comeback.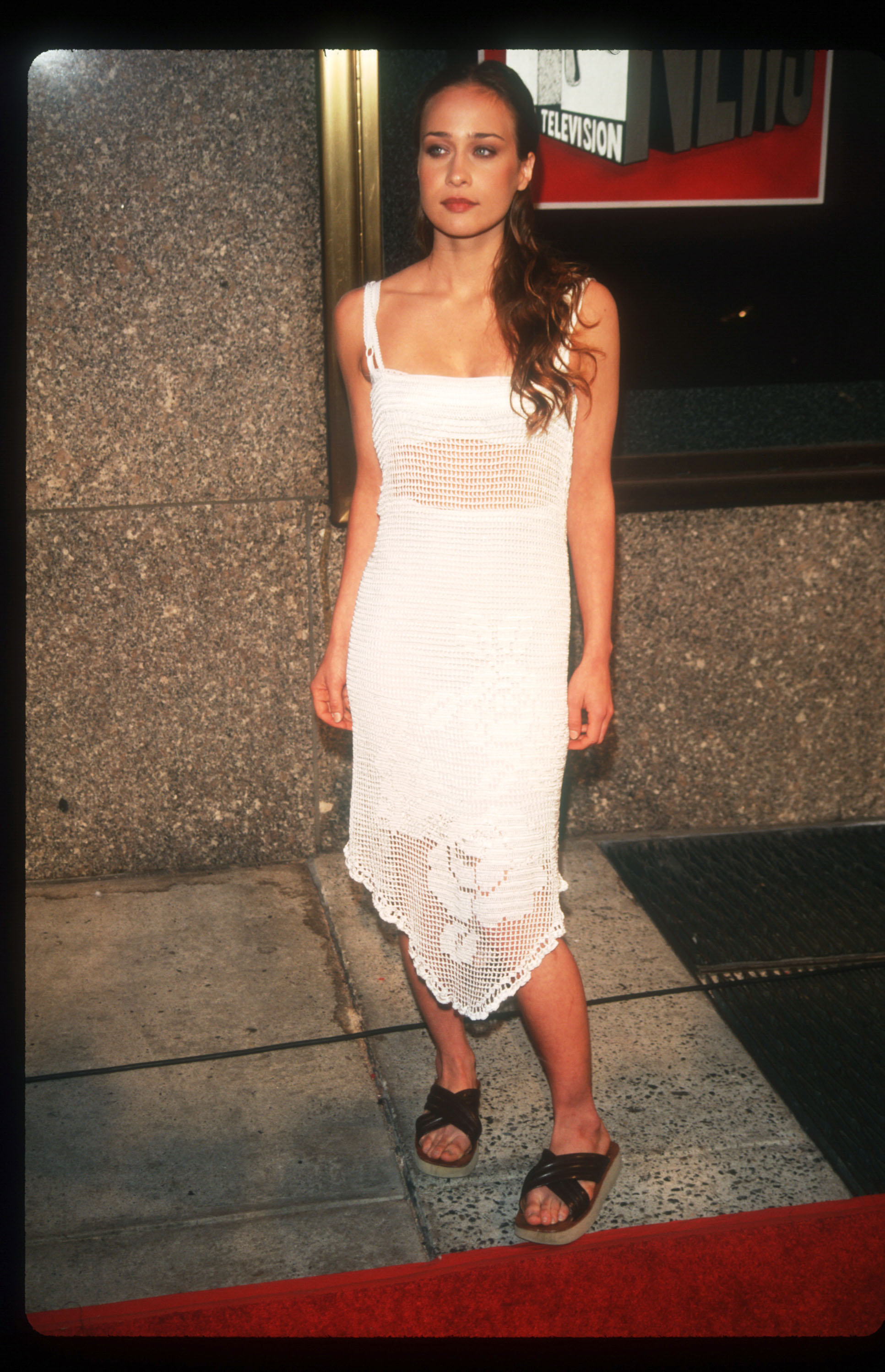 At the MTV Video Music Awards, 1997
Fiona took home the prize for Best New Artist at the 1997 MTV Video Music Awards for "Sleep to Dream", a song which is arguably the biggest banger on Tidal. The simple dress she wore to the awards show serves as a reminder of two things: that white crochet can look incredibly chic, actually; and that Fiona gave an acceptance speech like no other. "This world is bullshit," Fiona said, famously. "And you shouldn't model your life — wait a second — you shouldn't model your life about what you think that we think is cool and what we're wearing and what we're saying and everything. Go with yourself." And when the critics came for her, she stated — in a 1998 issue of Rolling Stone — "When I have something to say, I'll say it." And we're so, so glad she did.
Performing live, circa 1990s
Before Jules from Euphoria made it her own, Fiona Apple had a pretty strong claim to huge, feathered angel wings as a signature fashion statement. The artist was known to sport the whimsical accessory during live performances, often paired with an understated crop top and a long, flowing skirt.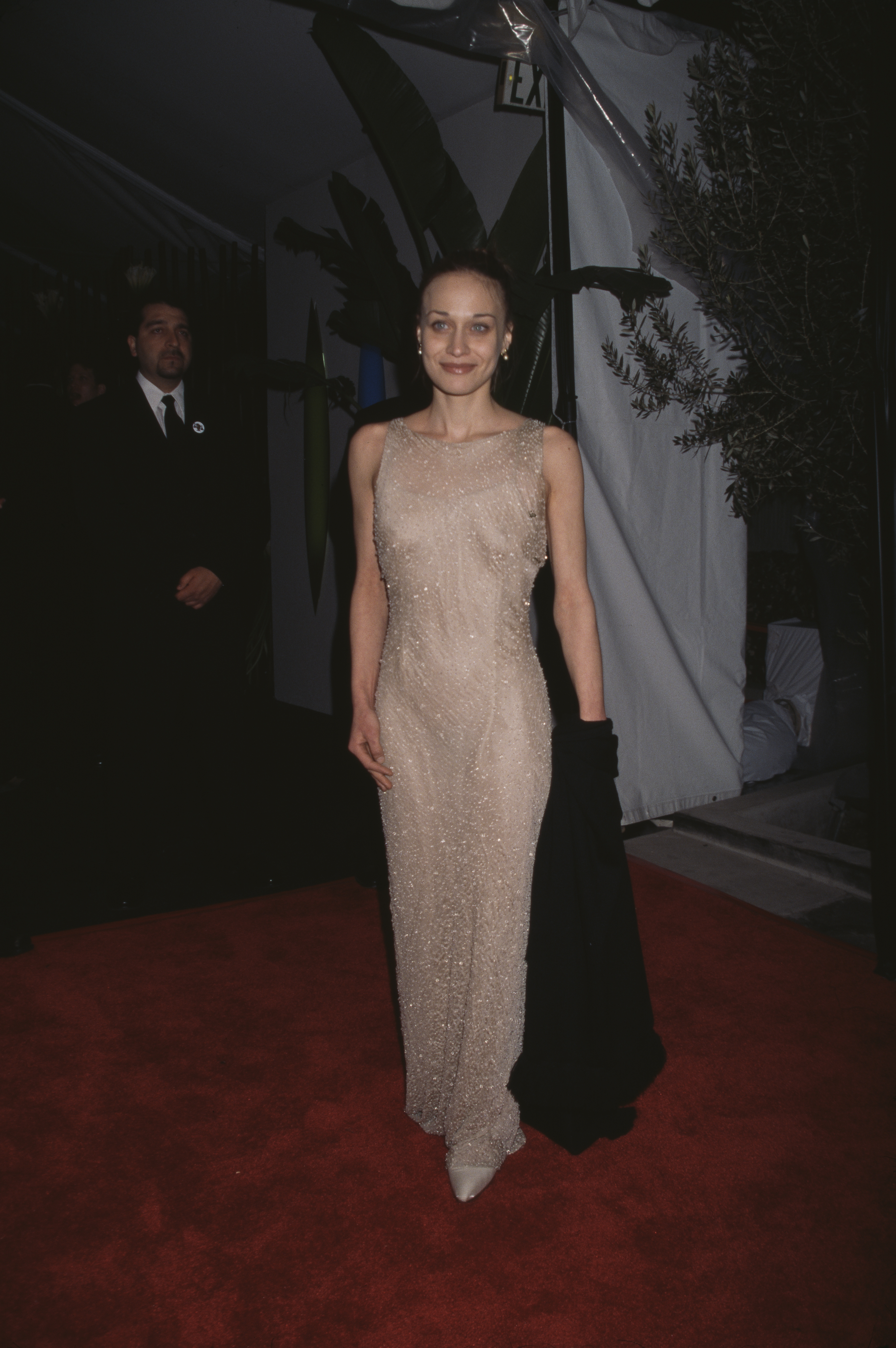 At the Grammys, 2001
When the Pawn…, Fiona's second album, was titled in full as a poem the artist wrote in response to readers' letters to Spin regarding a negative article about her the magazine had run. For a while, it held the Guinness World Record for longest album title — a clapback like no other. The lead single on the record ("Fast As You Can") broke the top 20 on Billboard's Modern Rock Tracks chart, and became the artist's first Top 40 hit in the UK. Two years after When the Pawn…'s release, Fiona proves that there's more to her laid-back, post-grunge style. Here, at the 43rd Annual Grammy Awards, Fiona does red carpet glam to great effect. Wielding all the sultry power of a shimmering "naked" dress, she stuns with a slicked-back updo and warm, natural makeup. A look for the ages. Fiona forever.