Here's everything we know about the new Sally Rooney novel
'Beautiful World, Where Are You', AKA SR3, looks to be just as horny and Irish as its predecessors.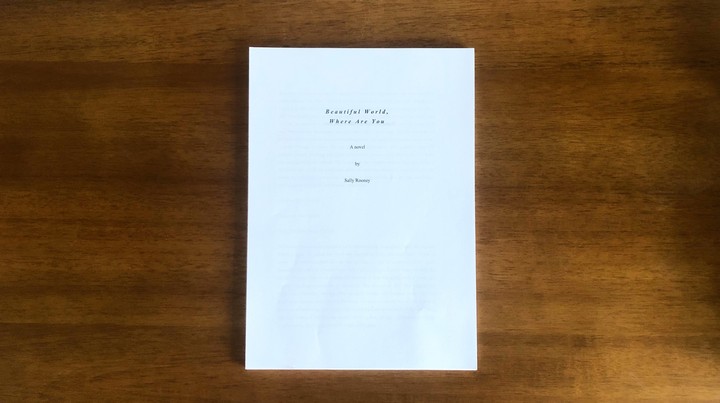 While there are those that have argued that the very name Sally Rooney is really just PR shorthand at this point, the truth universally acknowledged is that it's a damn effective one. Not one member of the tote bag generation emerged unscathed from the dual emotional onslaught that was her debut novel, Conversations With Friends, followed by 2018's award-winning Normal People.
That year, she told the Irish Independent, "I have no idea if I'll write another book." The patron saint of anxious twenty-somethings had our expectations placed beneath the Earth's crust. "Maybe I am one of those people who writes two novels in their 20s then never writes anything else again." Maybe.
What fools we all were. On September 7th, Faber plans to release the latest installation in the SRCU (Sally Rooney Cinematic Universe), entitled Beautiful World, Where Are You.
The novel is part of a two-book deal (!!!) that, in the millennial tradition, will play out mostly online. Alice, a novelist, and her best friend, Eileen, "exchange emails about art, friendship, the world around them and the complicated love affairs unfolding in their own lives." When Alice meets Felix, who works in a warehouse, she asks him if he'd like to travel to Rome with her, a move containing huge CMBYN energy. In Dublin, Eileen is recovering from a break-up and falling into old habits with Simon, who she's known since childhood. "Alice, Felix, Eileen and Simon are still young – but life is catching up with them," reads Faber's description of the book on its dedicated website. "They desire each other, they delude each other, they get together, they break apart. They have sex, they worry about sex, they worry about their friendships and the world they live in." Just classic Rooney.
Alex Bowler, the publisher at Faber who acquired the novel, calls it "a book of friendship and sex, art and faith, power and love. It absorbs you once again in the inner lives of characters with brilliant minds and aching hearts, while marking the next creative leap from a singular writer. The book scintillates with intelligence, empathy and, yes, beauty." We fully believe it.
Tagged: