Images courtesy of Kozaburo
Kozaburo contemplates Japan's spiritual history for AW21
Debuting on the Tokyo Fashion Week schedule, the New York-based Japanese designer presents 'Monkwear', a personal reflection on Shingon Buddhist tradition.
Images courtesy of Kozaburo
In the four years since launching his eponymous label, Kozaburo Akasaka has established himself as a leader of New York's new guard of fashion designers. In 2017, just months after graduating from Parsons' prestigious Fashion MFA programme, his tailored silhouettes -- knife-sharp and steeped in retrofuturistic grunge -- earned him the LVMH Special Prize. Since then, Kozaburo has become a byword for clothes invested with profound thought -- both in terms of concept and design -- without being pretentious; clothes that are quietly clever and undeniably cool.
Kozaburo's AW21 collection is no different -- although rather than show on the fashion week calendar of his adopted American hometown, this season saw him present his latest work as part of Tokyo Fashion Week. More than anything, it was a choice spurred by the supply chain hick-ups that all designers have had to deal with. Unintended as it may have been, the designer's decision turned out to be quite fitting. Presented in a sublimely melancholic film shot at the Kongōbu-ji temple, the spiritual headquarters of the Shingon Esoteric school of Buddhism, 'Monkwear' is the result of Kozaburo's contemplation of Japanese spirituality, and its relationship to contemporary Japanese identity.
"I've been based outside of Japan for a while now," says Kozaburo, who completed his BA degree at Central Saint Martins, before heading to New York, where he worked for Thom Browne, studied at Parsons, and has been based since graduating. "As such, I've kind of come to see Japan from afar. What I find fascinating is that Japan seems to have this very strong, autonomous identity, but looking at its history, it's actually a composite of cultures that have been adapted and edited to create our national identity."
Kozaburo's remark on the composite nature of his homeland's culture is attested to by this season's central figure of inspiration -- Kūkai, a Buddhist monk who, during the early Heian period (794-1185 AD) travelled to China to study Chinese Esoteric Buddhism, later returning to Japan to found Shingon Esoteric Buddhism at Mount Koya, now one of the nation's major Buddhist schools.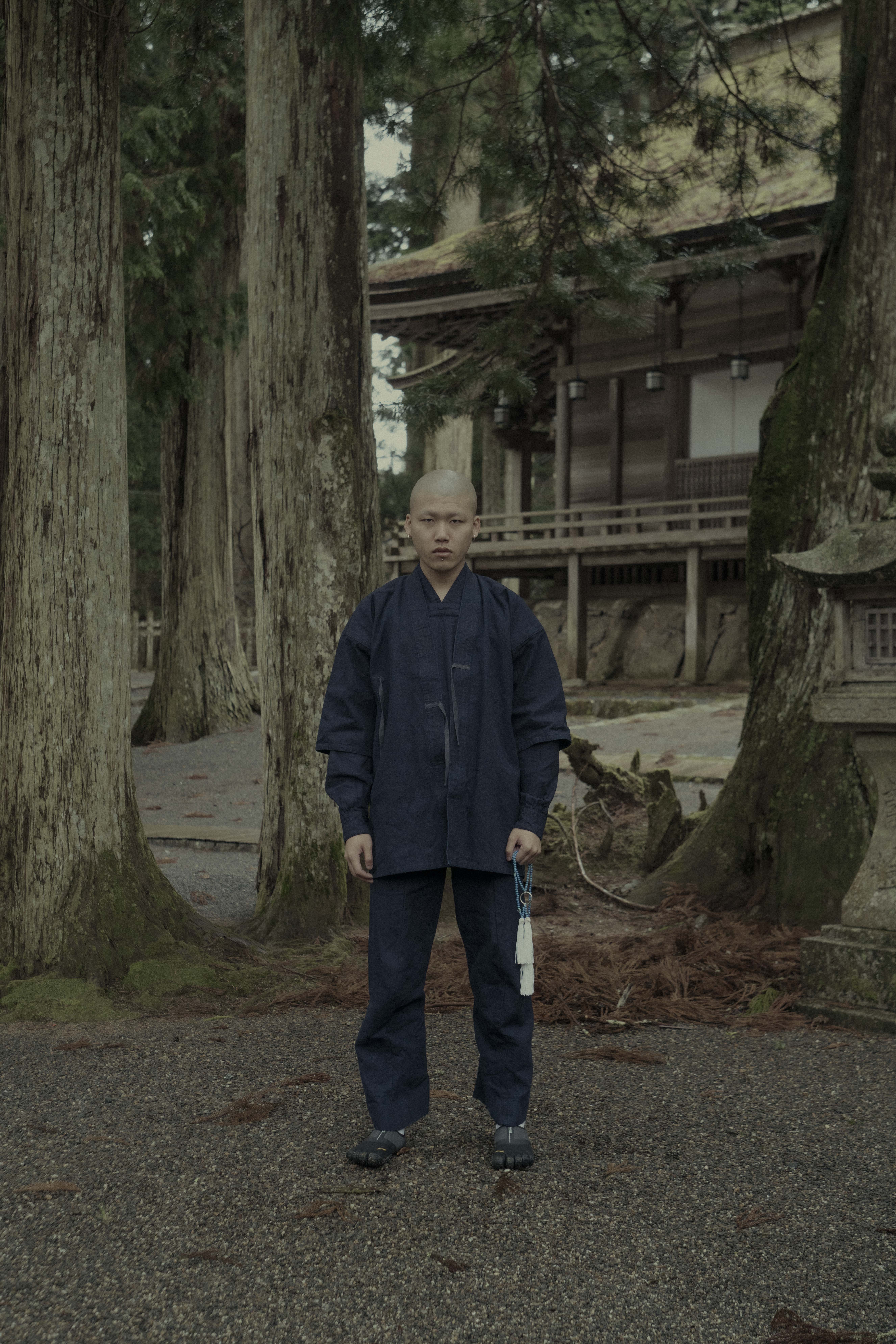 So how does that translate to clothing? At first glance, definitive answers don't jump out at you -- which is sort of the point. Rather, subtle details and motifs pay homage to this ancient heritage of intercultural exchange. Mandarin collared jackets, inspired by traditional Chinese qipao, are cut from padded cotton jersey, and fastened with hand ties. "I was thinking about how dangerous a journey it would have been for Kūkai at the time," Kozaburo says, noting the down-like batting that fills this season's tailored pieces for warmth and protection, and the built-in backpack and kangaroo pockets that would have allowed for the easy transportation of the scriptures he collected on his journey.
This season's trousers are modelled on pants traditionally worn for practising martial arts -- which are, as Kozaburo came to discover himself over lockdown, as suited for lounging about the house over lockdown as they are for vigorous sparring. This sense of ergonomic consideration carries over into boomerang-slung sleeves of a tailored jacket with a natural bend at the elbow, and the pronounced seam allowances -- inverted for the wearer's comfort -- that showcase the architectural construction of the padded pieces. Indeed, though these may be clothes designed with the expeditions of a 9th-century monk in mind, what makes 'Monkwear' such a noteworthy collection is that its dense historical and conceptual underpinnings accentuate, rather than overwhelm, the incredible consideration invested in its design.