Billie Eilish hangs out with robot dogs in Gucci's movie
While dancing around to her new track in the Harmony Korine-shot excerpt from the fashion house's new series.
|
21 November 2020, 12:00am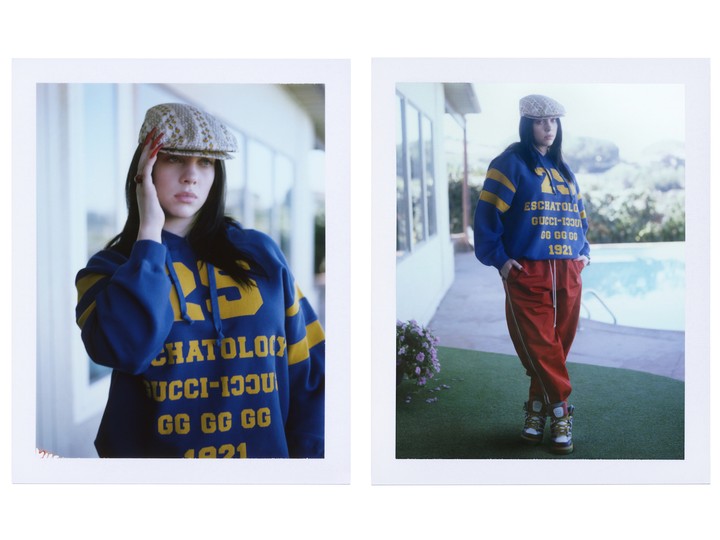 Photos courtesy of Gus Van Sant/Gucci
Earlier today, you might have seen the fuzzy TV footage of Billie Eilish with her Gucci-tipped nails in a hotly anticipated excerpt from the Italian fashion house's new short film series. Ouverture of Something That Never Ended, which is directed by Gus Van Sant and Alessandro Michele, is currently rolling out nightly until Sunday on Guccifest.com.
Previous episodes have introduced us to Harry Styles in jorts and i-D fave Jeremy O. Harris, as the playwright surveyed dance classes, but tonight it was Billie's turn. In this episode, titled "THE NEIGHBOURS", we saw the series' protagonist Silvia standing in her apartment window watching the goings-on of those who share her building. There was the beautiful poetry reading of a woman played by arthouse legend Jenny Runacre; a band of cool band kids jamming out; Gucci regular Ariana Papademetropoulos soaking her fake lashes in soapy water; and model Panni Eberhardt taking a bath in full regalia to watch Billie Eilish on TV, running wild around her LA home turf while flanked by robotic dogs.
The clip — which strays from the regular programming in that it's directed by Harmony Korine rather than Gus and Alessandro directly — is an erratic outing that showcases Billie's youthful spirit as she cruises on her bike in a seriously cool outfit while her latest track "Therefore I Am" plays. A temporary injection of wild energy into an otherwise balming series of ornate and surrealist imagery, it proves that Billie's a disrupter wherever she goes.
Check out the film in full below, and head to Guccifest to catch up with the rest of the episodes — including Harry's — once you're done.
Credits
---
Creative Director Alessandro Michele
Art Director Christopher Simmonds
Photographer Gus Van Sant
Hair stylist Alexandra Brownsell
Make Up Thomas De Kluyver