7 of Diana Ross' most iconic outfits
The icon's style spans mid-century glamour, mod chic and disco extravagance.
|
06 November 2020, 8:00am
No one does glam like Diana Ross. Since debuting with The Supremes in 1959, the singer has established a career — and look — as iconic as they come. It's one that has spanned decades, musical genres, from motown to disco, and artistic mediums (song to film, and back again). With her inimitably sweet vocals and glorious belt, Diana is responsible for some of the 21st century's all-time bops, from "I'm Gonna Make You Love Me" and The Supremes' "Baby Love" to disco stalwarts "Love Hangover" and "Upside Down." And her fashion is just as note-worthy. Taking in sequined gowns, tulle confections, spangled bodysuits, 60s mod eyeliner and huge hair, Diana has created a personal style that is utterly singular, instantly-recognizable and uniquely her own. Here, we chart the singer — and icon of icons' — career through a series of her most memorable outfits.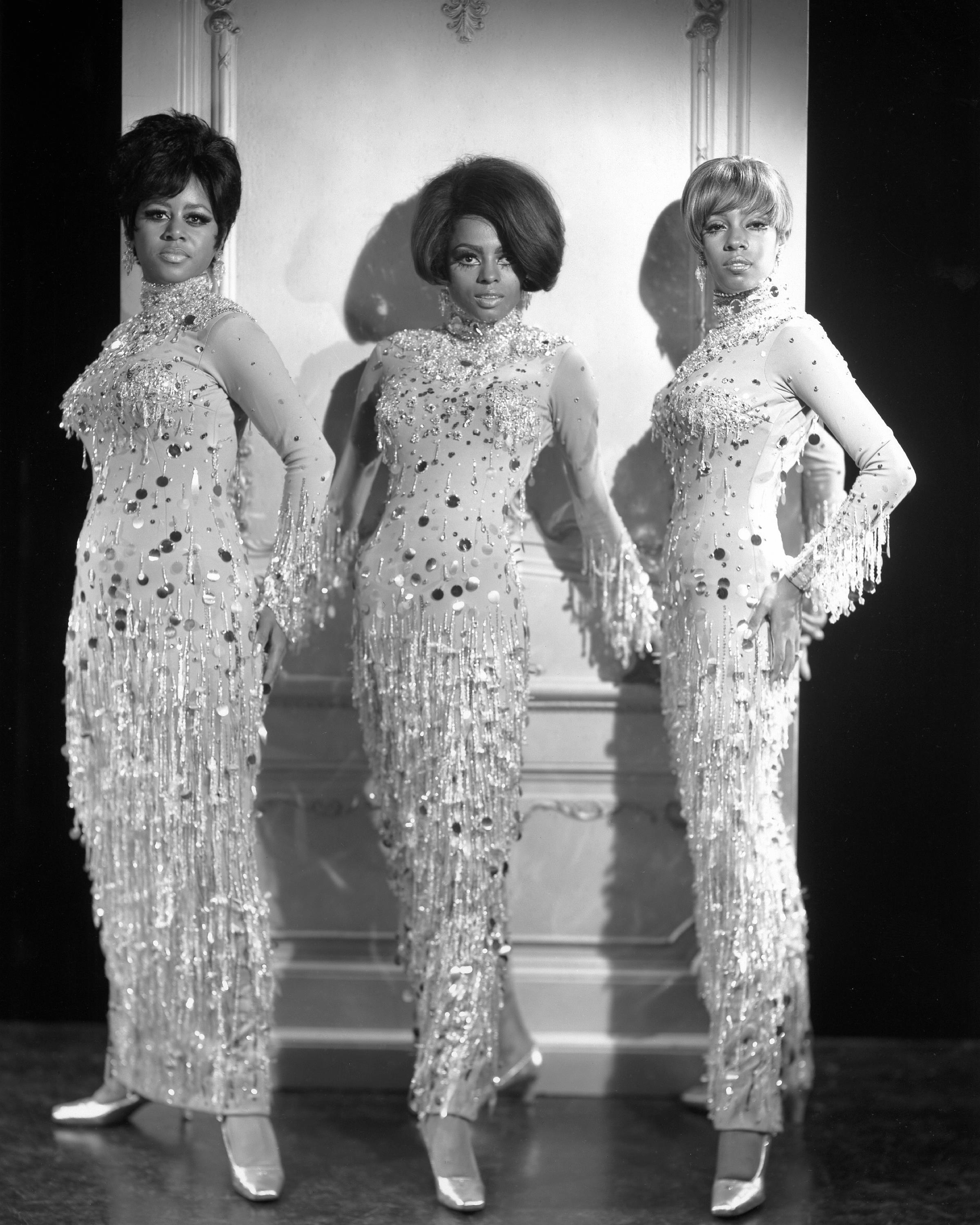 Photo session with The Supremes, 1967
Diana Ross began her decade-spanning musical career in 1959, as a member of The Supremes. Founded in Detroit, Michigan (initially as The Primettes), the Motown act would go on to become — and remain, to this day — America's most successful musical group of all time. Comprised of Diana, alongside Florence Ballard and Mary Wilson, the group was beloved equally for their soulful singles — "Stop! In the Name of Love" and "You Can't Hurry Love," to name just a few — as for their extravagant stage attire. To achieve their ultra-glam look, the group collaborated with some of the 60s most prestigious designers, including iconic couturier Bob Mackie. To live performances and televised concerts alike, the three singers dressed in glittered halter dresses, spangled minis and these dripped-out column dresses, worn to perform on The Tennessee Ernie Ford Special. The glamorous look proved hugely inspirational to Black women across America. To the Financial Times, Mary Wilson recalls the group's fame coinciding with the "Black is beautiful movement." And in the introduction to Mary's book Supreme Glamour, Whoopi Goldberg describes the trio as "three of the most beautiful women I had ever seen. These were brown women as they had never, ever been seen before on national television."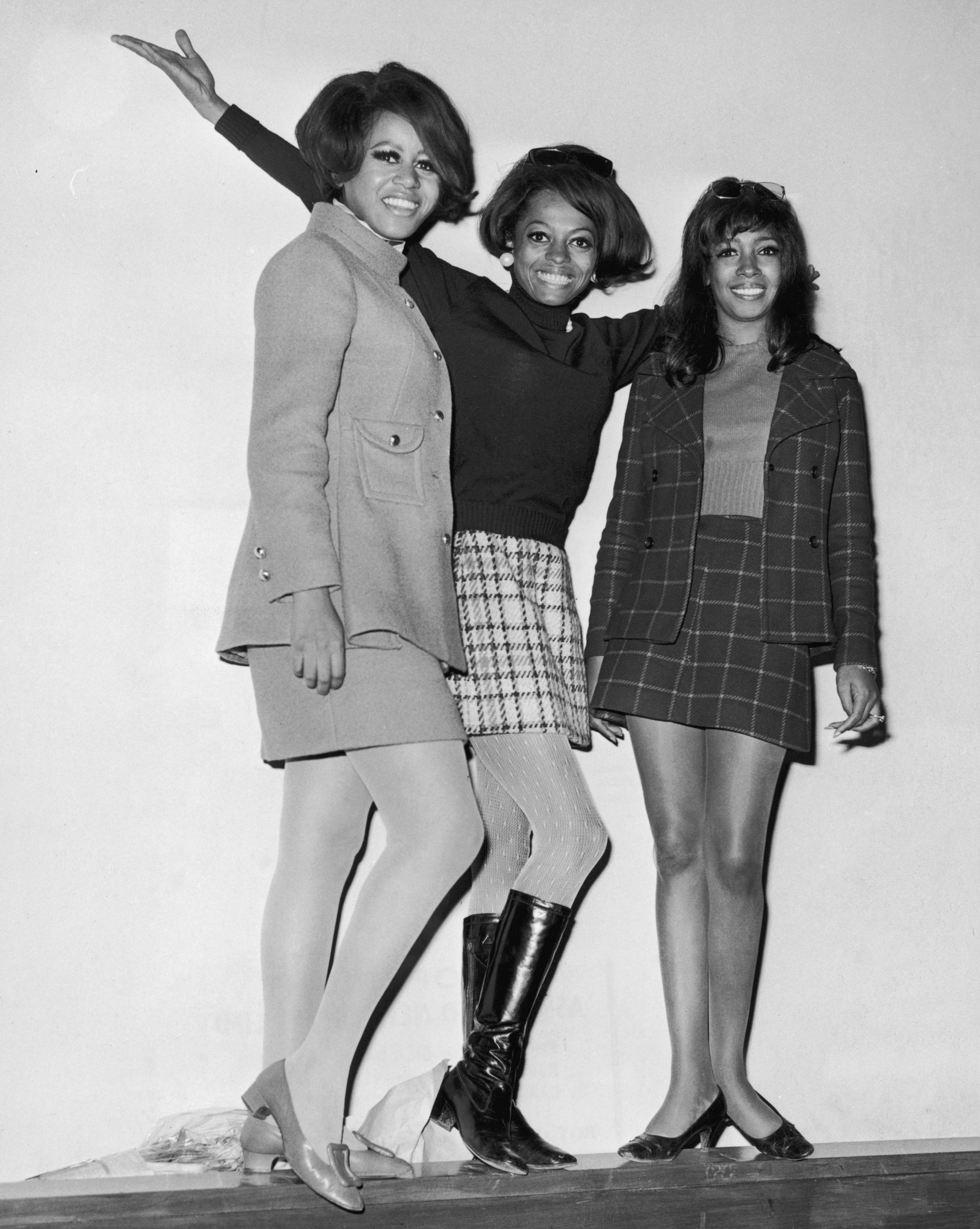 With The Supremes, 60s
Off-stage and off-screen, Diana and The Supremes preferred a more understated — but no less elegant — style. Embodying the 60s favoured mod look, the trio frequently dressed in mini skirts, prim collared shirts, shift dresses, knee-high boots and smart loafers. Here, Diana, Florence and Maria wear a trio of matching-not-matching skirted outfits.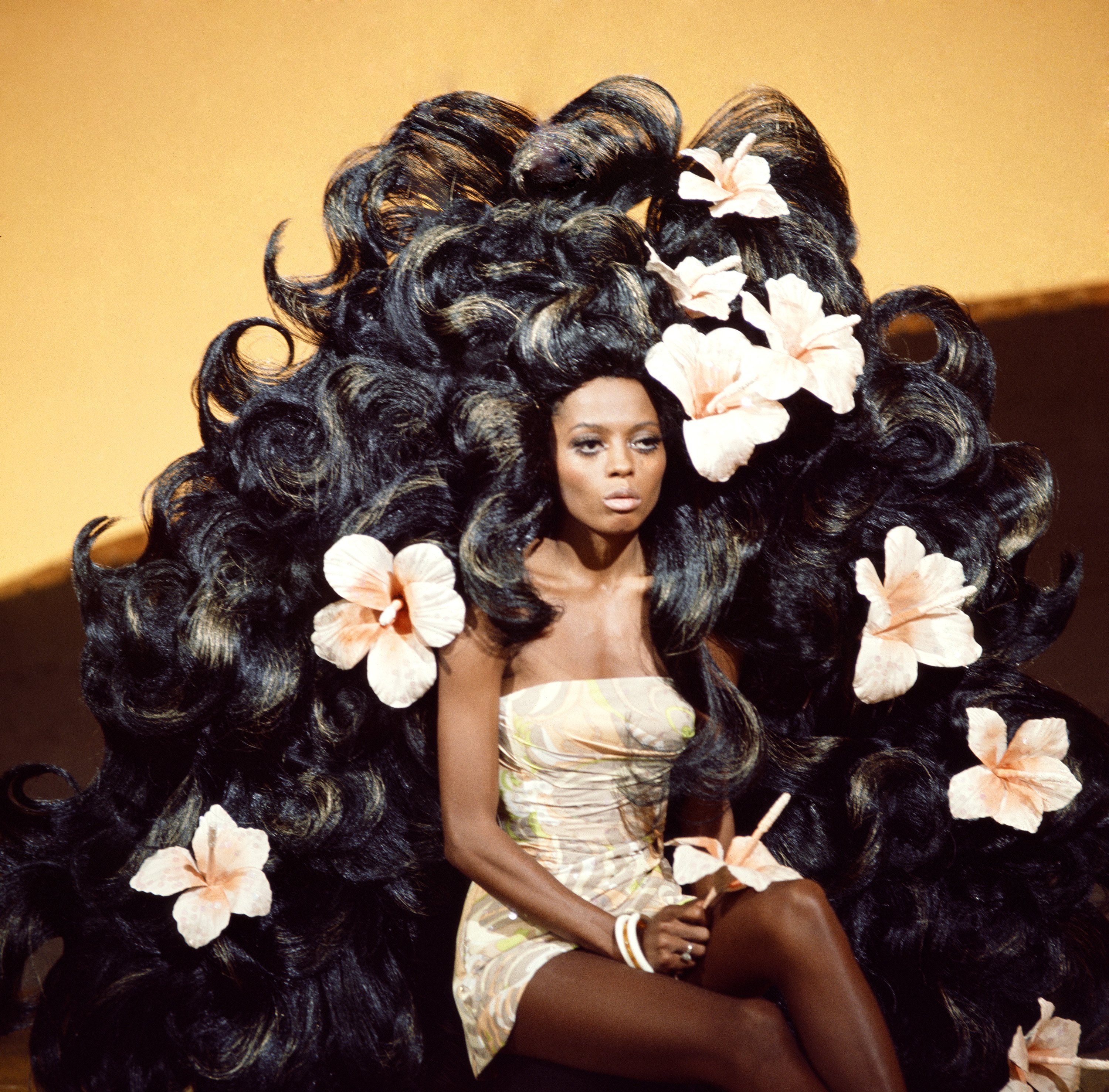 Performing on televised musical special G.I.T. On Broadway, 1969
Perhaps more so than her outfits, Diana is known for her varied — and voluminous — hairstyles. And she had a lot of them: blown-out bouffants, glossy bobs and whimsical braids with The Supremes; sultry low updos with a flower behind the ear for Lady Sings the Blues; bouncy ringlets, long natural curls and glorious afros into the 70s and beyond. The list goes on, but this particular look takes the cake. Performing "Wash That Man Right Out of My Hair" for The Supremes and The Temptations' 1969 television special G.I.T. On Broadway, Diana donned the most memorable — and massive — wig of career. An abundance of curls and flowers, the 'do matched the singer's Bob Mackie-designed floral mini dress.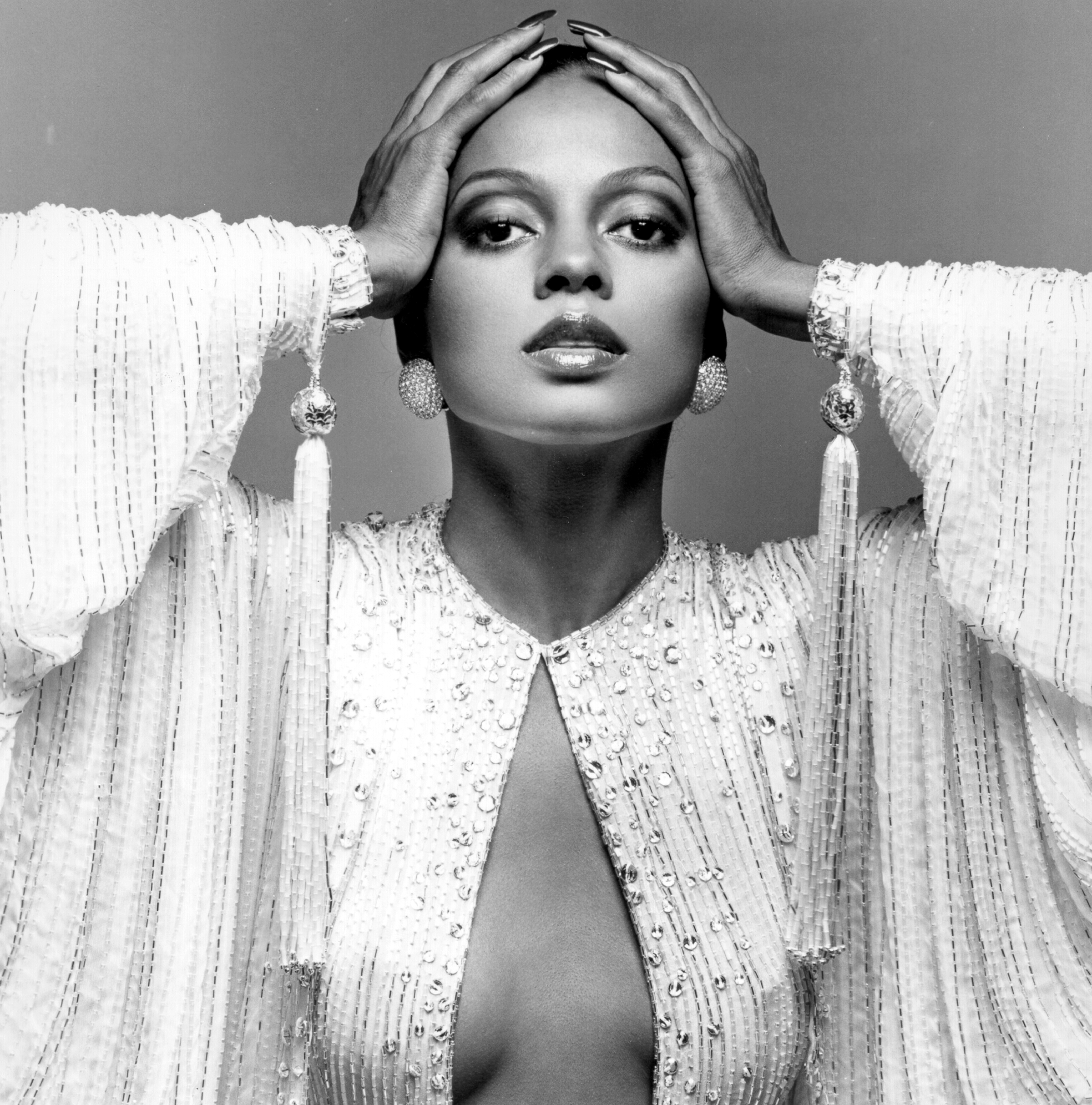 Posing for Motown Records, 1977
In 1970, nearly one month after the aforementioned G.I.TOn Broadway special, Diana left The Supremes to pursue a solo career. The singer remained with her former group label Motown Records and also maintained her working relationship with Bob Mackie, who created many of the singer's sexier, disco-era looks. Some of Diana and Bob's favoured 70s flourishes included batwing sleeves, caped dresses and, naturally, more sequins. Here, the songstress wears a gown with a very era-appropriate plunging neckline.
Photo session for Diana, 1980
But Diana's style wasn't always glitz-and-glam. Here, posing during the cover shoot for the 80s Diana, the singer wears a simple jeans-and-tee combo. Maybe not as perfectly polished or elegant as her stage outfits or 60s fare, but it's an immaculate look. The Diana album cover is perhaps one of the most iconic images of the singer's career, and one that is oft-referenced by editors, designers and stylists to this day. Diana, the singer's tenth studio album, went on to become the most successful record of her career. It spawned three of Diana's biggest hits including international number one single "Upside Down" and all-time bop "I'm Coming Out."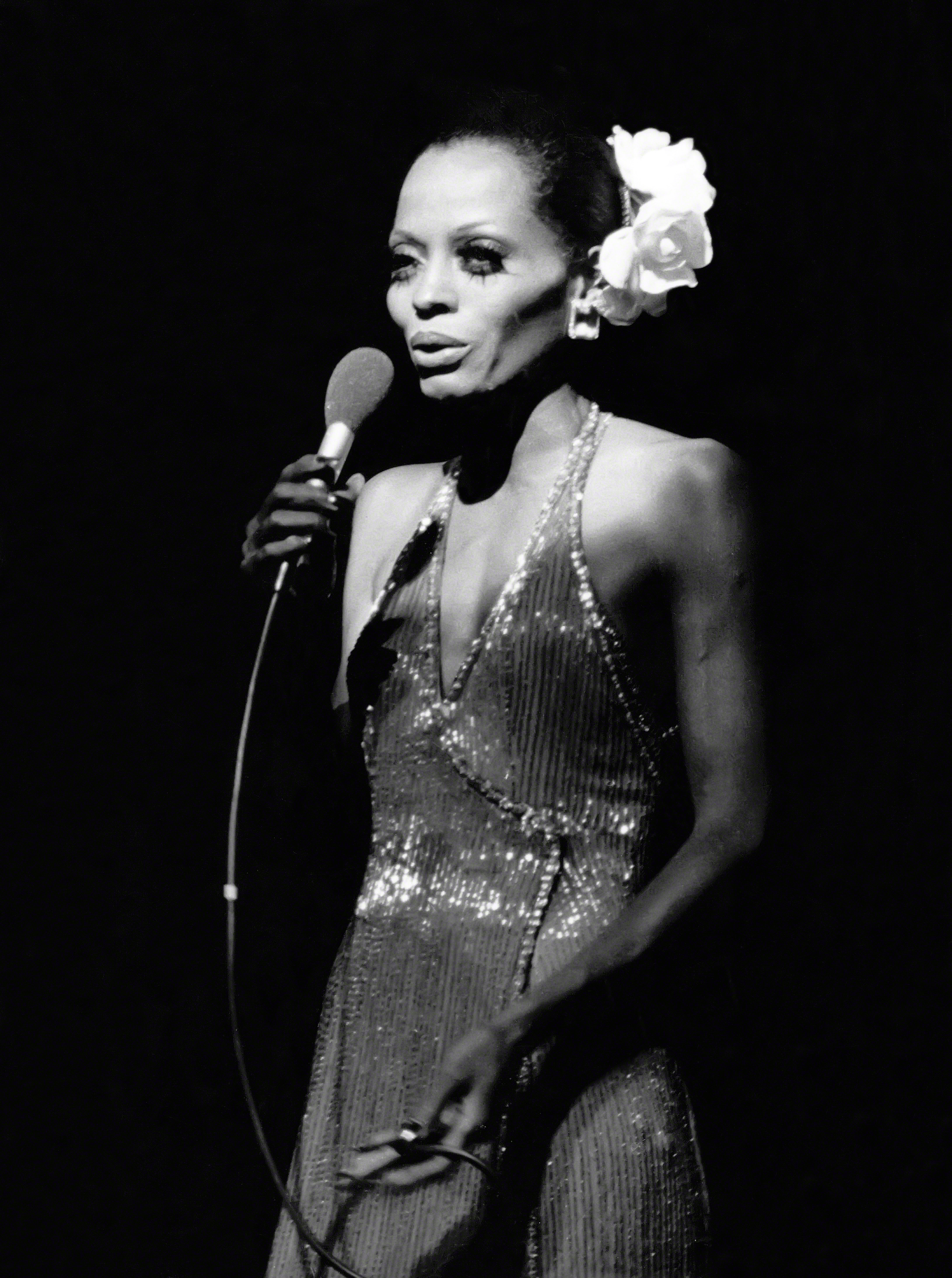 On stage, 80s
After going solo, the songstress ventured into cinema in the early 70s. Diana's debut film role, playing the late Billie Holiday in 1972's Lady Sings the Blues, earned her both Academy Award and Golden Globe nominations. Here, nearly a decade later, Diana pays homage to Billie by donning the jazz singer's signature beauty look: a flower tucked behind the ear. Diana continued to wear floral headpieces throughout the 70s, pairing them with her own signature sequin gowns.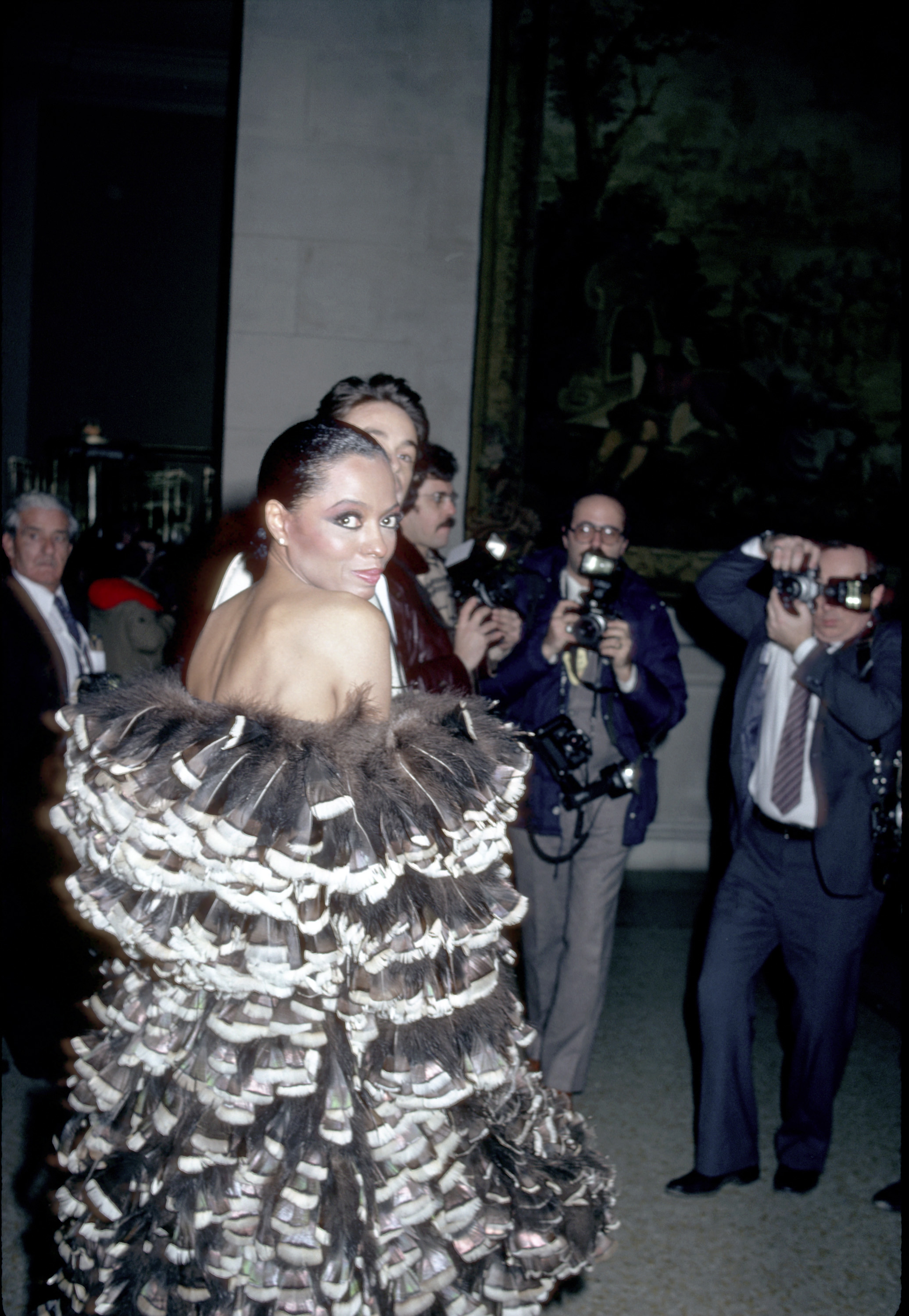 At The Met Gala, 1981
In arguably one of the most memorable Met Gala moments of all time, Diana stepped out at "fashion's biggest night" in 1981 wearing an extravagant feathered gown and coat, to match. The iconic outfit was one of the most opulent and outré to be worn during the gala's early years. In fact, the look was so iconic — and so fully embodied Ross' love of feathery fare — that the singer brought it out of the archives, over three decades later, to grace the red carpet of the 2014 American Music Awards.
Tagged: