Billie Eilish in "Billie Eilish: The World's A Little Blurry," premiering globally February 26, 2021 on Apple TV+.
The Billie Eilish documentary proves there's pop without illusion
A moving sister piece to 'Framing Britney Spears', R.J. Cutler's pop documentary shows there's hope yet for young women in music. 
|
26 February 2021, 11:08am
Billie Eilish in "Billie Eilish: The World's A Little Blurry," premiering globally February 26, 2021 on Apple TV+.
There is a steadfast purpose to the pop music documentary. The movie subgenre exists to help humanise the untouchable; see stars as people beyond the posters and videos and premieres, away from the glossy frames they so often fill. The Billie Eilish documentary, The World's a Little Blurry, released today in US theatres and on Apple TV+, does not do that. It already knows Billie is a new kind of popstar.
While Katy Perry's Part of Me concert-doc captured the star reaching uncharted heights at the candy-sweet peak of her Teenage Dream era, it sought to show the hidden turmoil behind the curtain, as she reckoned with the breakdown of her marriage. Similarly, in Gaga: Five Foot Two, we witnessed Lady Gaga suffering from the symptoms of fibromyalgia as she writes a record dedicated to her late aunt, ending with her wild, propelling-into-the-Super-Bowl-halftime-show spotlight; star status affirmed. They are examples of the pop dichotomy: of the hurting people behind the juggernaut shows and impenetrable strength we see from the outside.
But for the new generation of major label pop musicians, of which Billie Eilish is the leader, such a split between on-stage and off is dated. Instead, the once-cloaked anxieties of teenage life bleed freely between the two spaces, their creative motivations similar to those of no-fucks-given punk and anti-folk artists like Kathleen Hanna and Fiona Apple instead. In the age of Billie Eilish, a lacquer-drenched star's power can't compete with striking and unfiltered honesty.
That disrupts the intentions of a filmmaker who was likely tasked to show us the "real" Billie. So director R.J. Cutler (a man most famous for making Vogue documentary The September Issue) crafted a movie that backs down to its quietly dominating lead star. Filmed over the course of two years — from her second headline tour in support of her EP Don't Smile at Me, through to the Grammy sweep of her album WHEN WE ALL FALL ASLEEP, WHERE DO WE GO? in early 2020 — it's a lengthy and comprehensive look into the moments that shaped her stardom; ones that exist in parallel to her surreal coming-of-age.
Throughout the film, we see her buy a matte black Dodge Challenger with her record deal money before she's able to drive. She's surrounded by the music industry cognoscenti at bougie Coachella parties, the most famous person there, and yet she's not old enough to drink the free booze on offer. It feels disorienting when viewed so closely to the now infamous Framing Britney Spears, in which we watched a star the same age as Billie being primed for stardom by outside forces. The narrative of stolen creative and personal autonomy is what makes that documentary so shocking. Here, it's the way in which a girl, 17-going-on-18, steers the world she walks through.
Perhaps that's down to the unorthodox formula that Billie has created, upending fame and artistry for her generational peers. She changed teen aspiration. Her fans aren't drawn to the celebrity others peddle, but to the elements of a broken teenager she speaks about, both in her music and often-revealing interviews, effusively real and relatable. With nothing to expose, or scratch deeper into, The World's a Little Blurry sets out to capture the facets of her life we've seen already (as well as a few more personal ones that we haven't) in linear, blow-by-blow detail, trying to make sense of that alchemic power. If anything, it's the most uniform way to process a life so crazy, or 'blurry' as the title suggests, that it's hard to keep track of how so much changed in such a short space of time. It's as if what Billie wanted to gain from the presence of a filmmaker in her life is not the benefit of being framed in a deifying light with a desire to be liked by the world. Instead, R.J. Cutler becomes the filmmaker who can help clarify the steps she's taken to get here.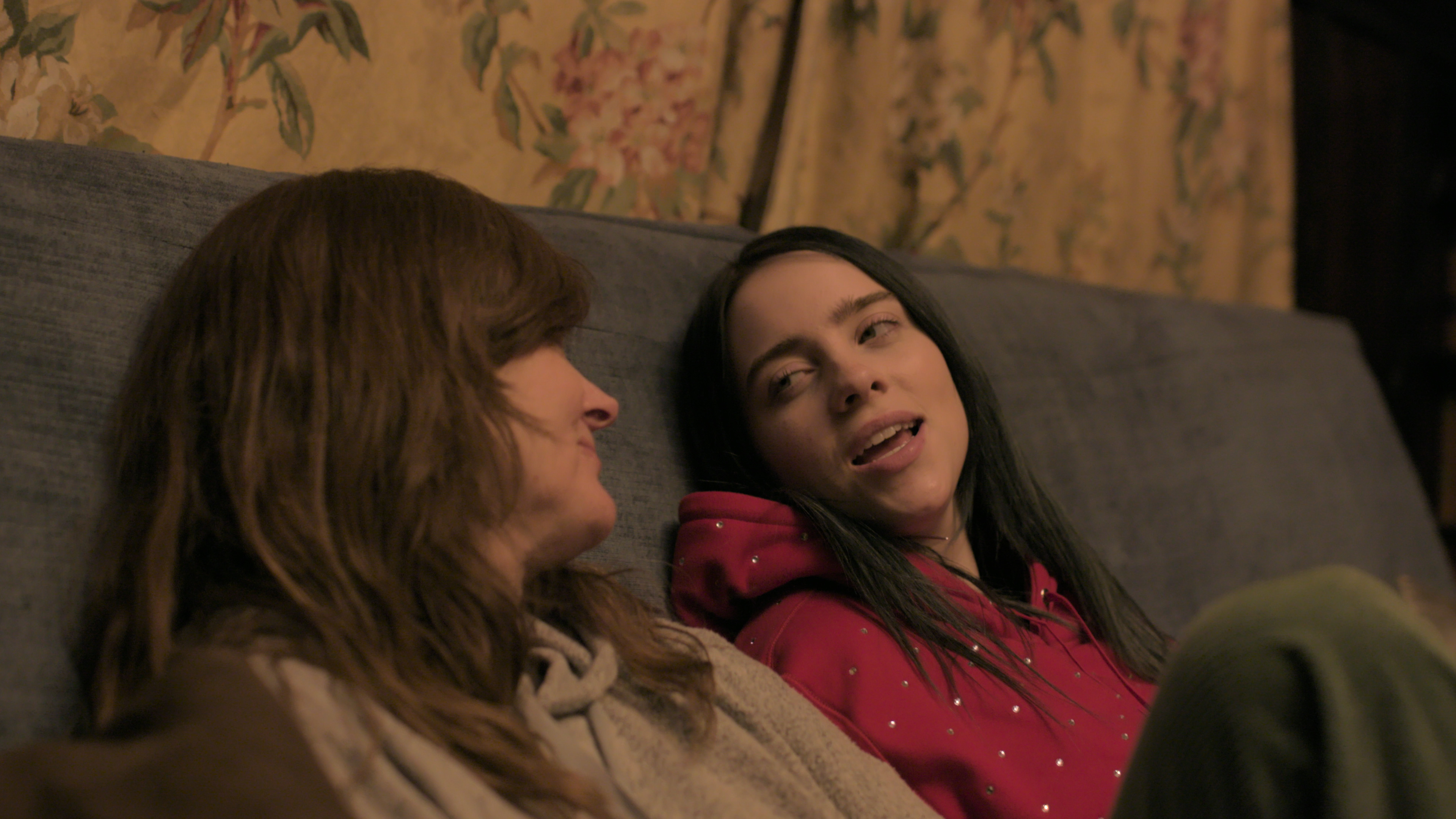 There are times when she gets agitated by a single comment on Instagram, left by a troll who berates her for not being 'on form' during a label organised meet and greet, but she knows how dangerous that world is, and tries, like most teenagers, to switch off. 76 million followers haven't quite eclipsed the relationship she has with her family. The morning the Grammy nominations are revealed, we see Billie's mother come into her room to find Billie face down on her bed, half-asleep. She delivers the news of these storied accolades to the back of her head; she only stirs when she hears her brother, Finneas, with whom she made her debut album, gets a nomination for Producer of the Year. The success of someone she loves seems to matter to her more.
And that's how R.J. Cutler finds his way into the success story of Billie Eilish, one we thought we already knew everything about. The social media posturing that so often opens the doors to the mundane moments of celebrity's lives (we have reality TV to thank for our appetite for it) hasn't really been present in Billie's outward-facing image. Her family have mostly been sacred, as have both her creative team and her mentors. She made a masterpiece in her brother's bedroom, and seeing how that masterpiece came together — within the humble surroundings that shape who she is and how her music sounds — is the real profundity at the heart of The World's a Little Blurry. Step back from the hysteria and look at it with some perspective: it couldn't be clearer how Billie Eilish came to rule the world.
Follow i-D on Instagram and TikTok for more documentary reviews.