Aerial East's new video is a nostalgic ode to pre-pandemic New York
Times Square! Macy's! Public nudity! The musician collaborated with photographer Brianna Capozzi on a surreal jaunt around the city.
|
12 February 2021, 3:55pm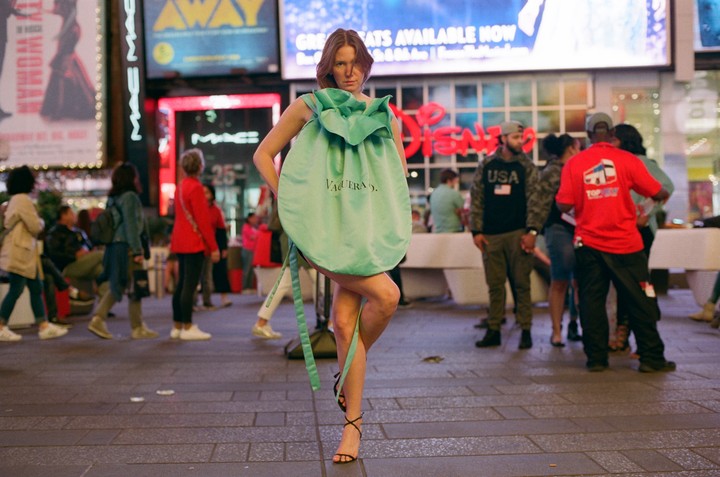 Photography Brianna Capozzi
Aerial East's brilliant new album, Try Harder, is out today. To celebrate, the NYC musician has shared a surreal video for lead single "The Things We Build" with i-D. Directed by her friend, the photographer Brianna Capozzi, the video's inspired by the "bizarre karaoke videos you see in Chinatown that make no sense," and sees Aerial wandering around New York in a wardrobe by Vaquera. Aerial and Brianna, who've been best friends for an eternity, really nailed the bizarre vibe -- it's unlikely that Macy's department store have seen many customers climb into their display beds wearing a bathrobe gown. Having said that, the chaos of Times Square may well have borne witness to a dress that's half-Tiffany bag, half-thong before.
When the creative collaborators shot the video back in 2019, they could never have predicted what a relic of another time it would become -- a pre-pandemic time when New York was packed with tourists, when we could wander malls without a mask, and stand shoulder to shoulder with a bunch of strangers. Watch the video, and read Aerial's thoughts on her fellow Times Square nudists, below.
**Tell us about how you and Brianna met, and how long you've been friends…
**I trained Brianna as a waitress at Lovely Day in 2010. She was coming from a more formal restaurant and kept asking 'Is it ok if i do this? Am I allowed to do this?', and I had to reassure her the whole day that there were no rules. She was still a designer at the time and asked me to go to New Jersey with her to photograph me wearing her clothes, with my head shoved in various manicured bushes. We didn't know each other well yet, so she kept asking me if I was ok and I was like, 'It's cool! I'm down! we're having fun!'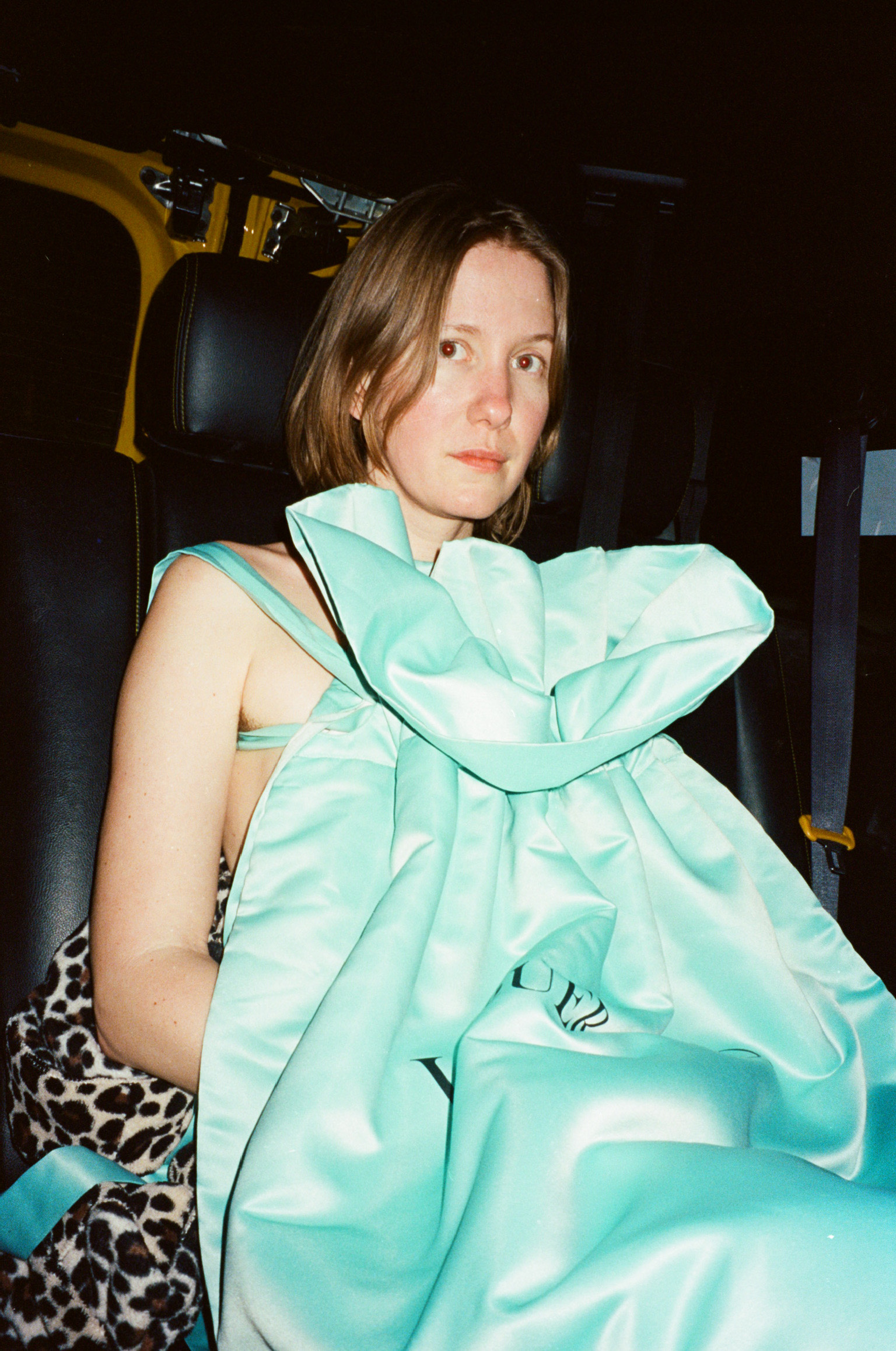 **What was the mood you wanted to create with the video? How does it reflect your song?
**I was talking about making a video inspired by the bizarre karaoke videos you sometimes see in Chinatown that make no sense, and Brianna got this burst of inspiration and planned this 'casual' home video style shoot. We bought a dad cam, [stylist] Emma Wyman pulled all the Vaquera looks, and we were running around the city with makeup artist Yumi Lee and Brianna's assistant, Adam Kim.
As we were shooting, like in Macy's and Times Square though, we started to understand the video as a commentary on capitalism. I'm singing "The things we build don't always feel like mine," and I'm dressed in a Tiffany bag surrounded by LED billboards and Pikachus and Lady Liberties and McDonalds. It's a pretty dystopian portrait. My character is sleeping in a department store. She doesn't seem to own anything. She seems to be trapped in a consumerist nightmare.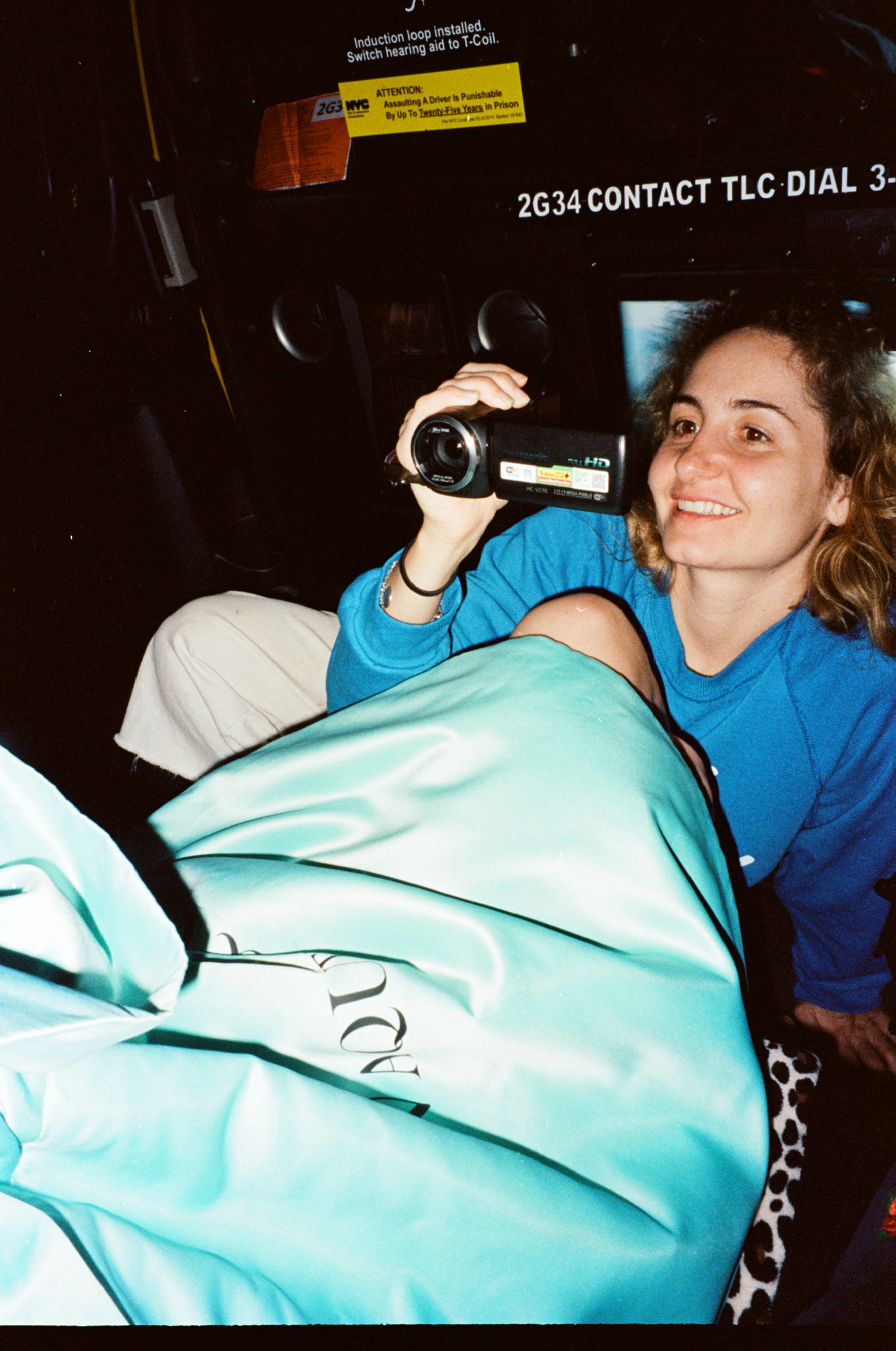 **Does it feel surreal watching it now, given the lack of… everything in cities?
**Watching it now it really does feel like a home movie. I'm smiling a lot and it's playful and silly and feels very candid and I love that. It feels nostalgic to me in the same way home videos do, and I think a lot of people are experiencing nostalgia for a pre-pandemic world. I just try to remember that things were not so great before either, and that this time has hopefully given us a chance to reset and get some perspective about what we want the world to look like.
Who were some of the people you met that day? Some tourists in Times Square asked me to pose for selfies -- they were very sweet but that place is such a circus. No one is really phased by much. There were multiple people walking around almost nude. When we were shooting in Macy's, people kept coming up to me and touching my Vaquera robe dress and asking if I was a bride.
**How did it feel wearing Vaquera around New York?
**It was so fun! I love Vaquera! They're the best.
Tagged: