Main images courtesy of JW Anderson, Stella McCartney and Iris Van Herpen. Collage by Douglas Greenwood.
Why mushrooms are fashion's biggest muse right now
Not since the avocado has a supermarket staple become such a cultural phenomenon. Now, fungi could be an answer to fashion's sustainability woes.
Main images courtesy of JW Anderson, Stella McCartney and Iris Van Herpen. Collage by Douglas Greenwood.
Recently, a friend of mine told me that she was growing mushrooms in her London flat. She sent me a photograph of five-or-so white mushrooms blooming out of what looked like a pot of soil, as perfect as I had seen in any supermarket. Growing them was easy, she said; they didn't even need any light. It seemed a little dystopian to me: that after 12 months confined to our houses we might now be sitting in the darkness growing fungi, carefully tending to an organism that thrives in nature on decay and rot.
But it also felt somehow apt. This was a year when the world felt periodically on the brink of collapse, and the mushroom's ability to survive killer asteroids, volcanic apocalypse or nuclear holocaust seemed to make it a fitting foodstuff for our time. During the pandemic we embraced the mushroom with strange intensity: sales of mushrooms in the UK soared for their apparent benefits to immunity, while the elixir-like qualities of rarer strains like reishi, lion's mane and cordyceps spawned a slew of teas, shakes and serums promising energy, relaxation and sleep. And, in an attempt to escape the mental constraints of lockdown, we also used mushrooms to get high.
In fashion – never an industry to shy away from the zeitgeist – mushrooms started cropping up just about everywhere. Jonathan Anderson printed them onto hoodies; Ashley Williams onto tights. Bella Hadid proved a particular fan, embracing just about anything printed with a toadstool – by her birthday in October, she even had them painted on her nails. Meanwhile at Paris Fashion Week, designer Iris Van Herpen used fungi as an inspiration for an entire couture collection, albeit in her typically esoteric style, drawing on what she called the "miraculous lacery of interconnectedness" of mycelium and spores. For her, they represented rebirth and survival.
Then, earlier this month, Hermès – synonymous with the world's best leather goods – went one step further and announced that they would be releasing a bag made from mushrooms. A break with tradition, the latest version of their Victoria travel bag would be crafted from Californian start-up MycoWorks' lab-grown mycelium leather, a vegan alternative made from the web-like roots at the base of a mushroom (the exact process is kept close to MycoWorks' chest). Unlike cow's leather – which uses thousands of litres of water and enormous amounts of fossil fuel energy for a single hide – their "fine mycelium" is carbon neutral. On the other end of the spectrum, unlike other vegan leathers which are still mostly derived from virgin plastic, it's completely biodegradable.
This was far from mushroom leather's first outing, though. All the way back in 2018, Stella McCartney – always ahead of an environmental trend – debuted a mycelium-leather version of her Falabella handbag as part of the V&A's Fashioned From Nature exhibition, made in collaboration with Bolt Threads, another California-based start-up. Their version of mushroom leather is called Mylo, promising "everything you love about leather without everything you don't". It's created by feeding mycelium cells sawdust and allowing them to grow into a thick foamy layer which is then processed into the final material. "Imagine a big bag of smashed marshmallows," says Dan Widmaier, the company's CEO.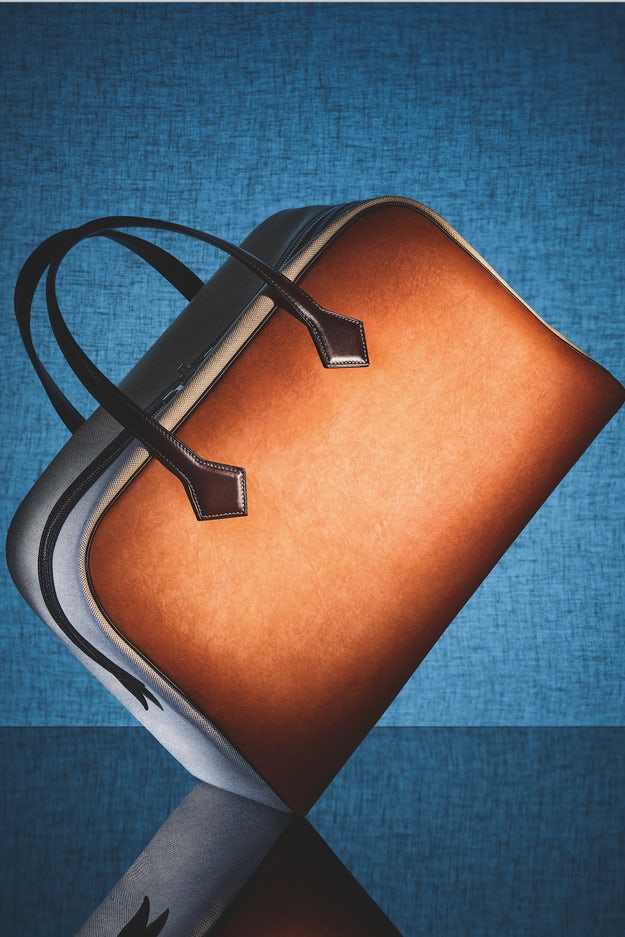 Bolt Threads calls itself a "materials solutions company", and Mylo sits alongside their other fabric innovations, including a silk alternative, Microsilk, developed from the proteins that spiders use to spin their webs. Microsilk was McCartney's first encounter with the company, which she has now been collaborating with for half a decade. "I remember touching this spider silk they presented to me during that first meeting, and I just could not believe how soft and luxurious it was," she says over email. "Back then it was really uncharted waters to look at technology for the fashion industry in this way, especially when it came to sustainable materials that could replace the traditional materials the industry has been using for hundreds of years."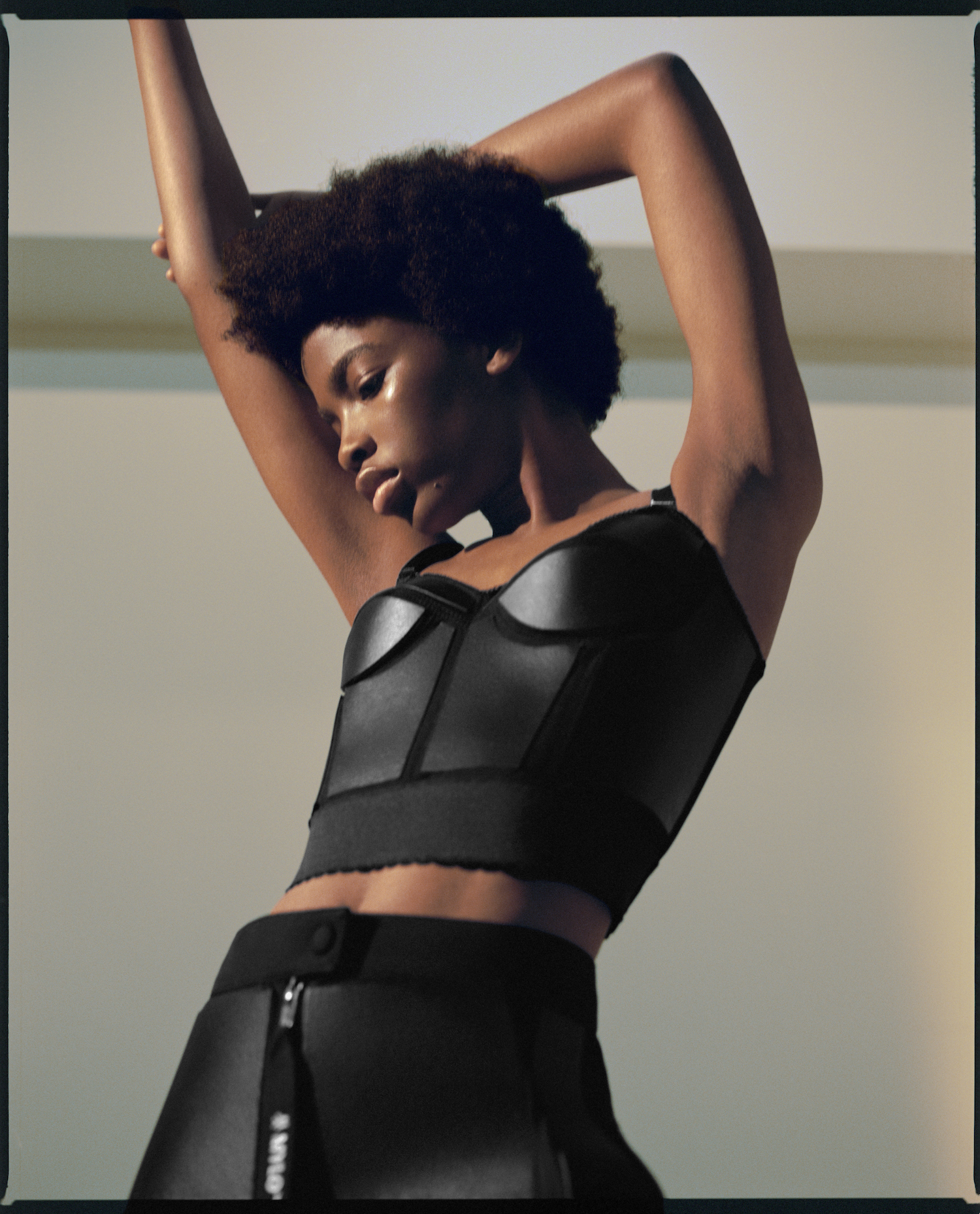 Mycelium leather was at first tough to scale up; the initial pieces made were too small to create full-size garments and accessories. But last week – and over three years working closely with Bolt Threads – McCartney revealed a two-piece capsule collection, featuring the first-ever clothes in the world made from Mylo. Comprising a black structured bralette and matching utility trousers, she calls the pieces a "real milestone" and also deeply personal, having run her namesake label entirely free of animal products since the very beginning. "I feel very ethically connected to the idea of not farming animals for fashion, something I have believed in my whole life," she says.
If mushroom leather has a little way to go before it ends up in most of our wardrobes – McCartney's Mylo pieces will not go on sale, while Hermès have yet to set a price for the Victoria bag, though for comparison the current leather version already retails for $5100 – then Widmaier is confident that Bolt Threads are ready to amp up production and get Mylo to market. "Accessibility and commercial scale is 100% our goal," he says. "We know that our world is environmentally restricted and will be even more so as our population grows which is why it is imperative to develop smarter biomaterial solutions through advanced science." True to this, Bolt Threads are also working with luxury goods conglomerate Kering, adidas and Lululemon – a sure sign that mycelium leather's wider availability is only going to be a matter of time.
To McCartney, these innovations are more urgent than ever in the wake of the pandemic. "This virus is connected to our habits and choices as humans; that's the elephant in the room," she says on a later Zoom call. "Lockdown was a time to accelerate everything I did – if you don't really mean it [about sustainability], then the things you say fall away first. We're on it and pushing through, and fighting the fight." Because despite the potential magic of the mushroom – a multi-hyphenate organism in the truest sense – no one really wants to live in a world where they are the only thing we have left.