Per Götesson AW21 explores the fragility of masculinity 
This season, the London-based designer offers a precise edit of demi-couture pieces created from deadstock denims, tailoring and military garments. 
|
23 February 2021, 10:43am
With the passing of time, symbols that were once thought inviolable are weakening, their power crumbling to reveal a fragility at their core. It's a truth laid bare in Per Götesson's AW21 collection, a concentrated edit of hand-wrought, demi-couture garments presented today on the London Fashion Week schedule. Across 13 pieces, garments that bespeak archetypical masculinity are carefully spliced and merged by hand. The Action Man butch of deadstock military garments — "we got a job lot from the British Royal Air Force and also from the Swedish army," Per says — de- and reconstructed, gives rise to sensuality you wouldn't expect of the original pieces. The linings of two RAF flight jackets are padded and fused together to create a zipped-up coat that skims the figure, while surplus Swedish military khakis are spliced with panels of fraying denim.
For this season's jewellery, the result of an ongoing collaboration with Husam El Odeh, floral pins and necklace pendants are wrought from cool silver and cockle and conch shells, with similar floral arrangements decorating a baseball cap. Elsewhere, an overcoat is given a sense of dressy flair, pieced together with a peak-lapelled dinner jacket. Long-sleeved band t-shirts are slashed into car wash fringe, or cut into strips that are compiled into a glitchy amalgam of prints.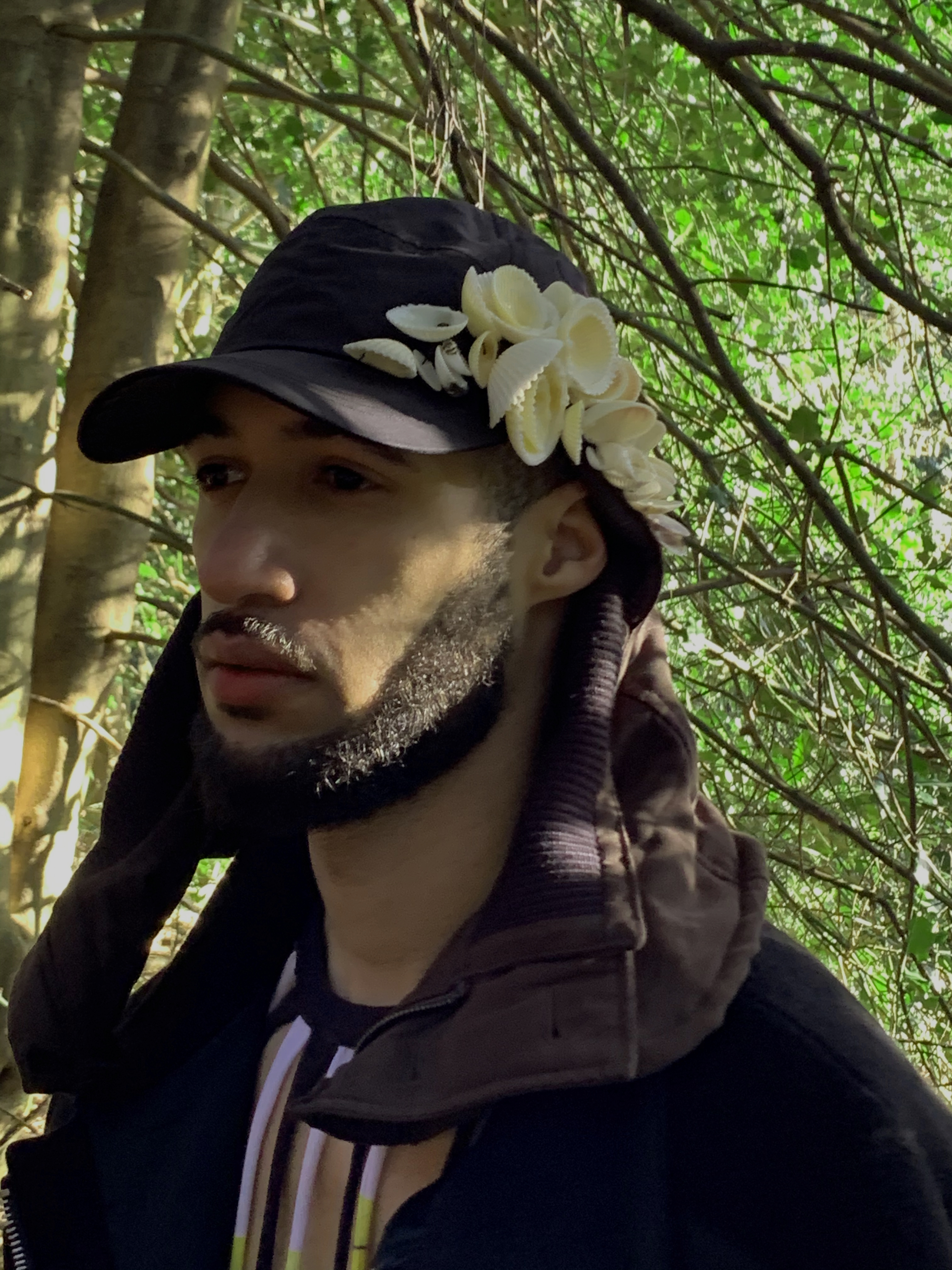 More than simple exercises in collage, though, each piece is also an artefact of fashion's relationship with time, steeped in the histories of its component garments' former lives. The manufacturers' labels on the reversed linings of a military coat, or the feathered fringes of denim panels, imbue each piece with a sense of living memory. It's a notion that's also invoked by Per's revisiting of silhouettes and forms from his label's archive — an SS19 bomber jacket, for example. "We were looking at pattern blocks that we'd used before, but thinking how we could reimagine them in new kind of materials," Per says. "It's then almost like the previous versions become toiles for the pieces you see here."
What makes the pieces you see here perhaps even more special than their forebears, though, is their one-of-a-kind nature — there's even a silver tag on each piece guaranteeing their status as unique, demi-couture pieces. "For me, handcraft is always very important," Per says. "There's a narrative inherent to working by hand, and to the amount of time it takes to make something this way," one that ensures that the pieces that are a product of this process will be loved and lived in for a long time to come.