AV Vattev goes out of this world for AW21
The London based label tapped into the retrofuturist optimism of the 1970s, developing its clever pattern-cutting and innovative knitwear signatures.
|
24 February 2021, 12:48pm
Photography Scandebergs. Images courtesy of AV Vattev
To indulge the escapist urges we've all felt over the past 12 months, you've probably mapped out the details of your first post-pandemic holibobs to a tee. If the chalky white set of AV Vattev's AW21 lookbook images are anything to go by, Antonio Vattev, the London-based label's namesake founder, has a destination rather more adventurous than most in mind: the moon.
This season, the goal wasn't just to travel out of this world, but back in time. "In the mid-70s, people thought about the future in such a different way; they really dreamed about what it could be like, and created so much around that," Antonio says, noting Nicolas Roeg's David Bowie-starring vintage sci-fi classic, The Man Who Fell to Earth. "Now, though, it doesn't feel like any of us are thinking about the future; we're only thinking about how we'll 'return to normal', how we'll return to the past. Something that I think is missing nowadays is our capacity to dream, and to create visions of new futures."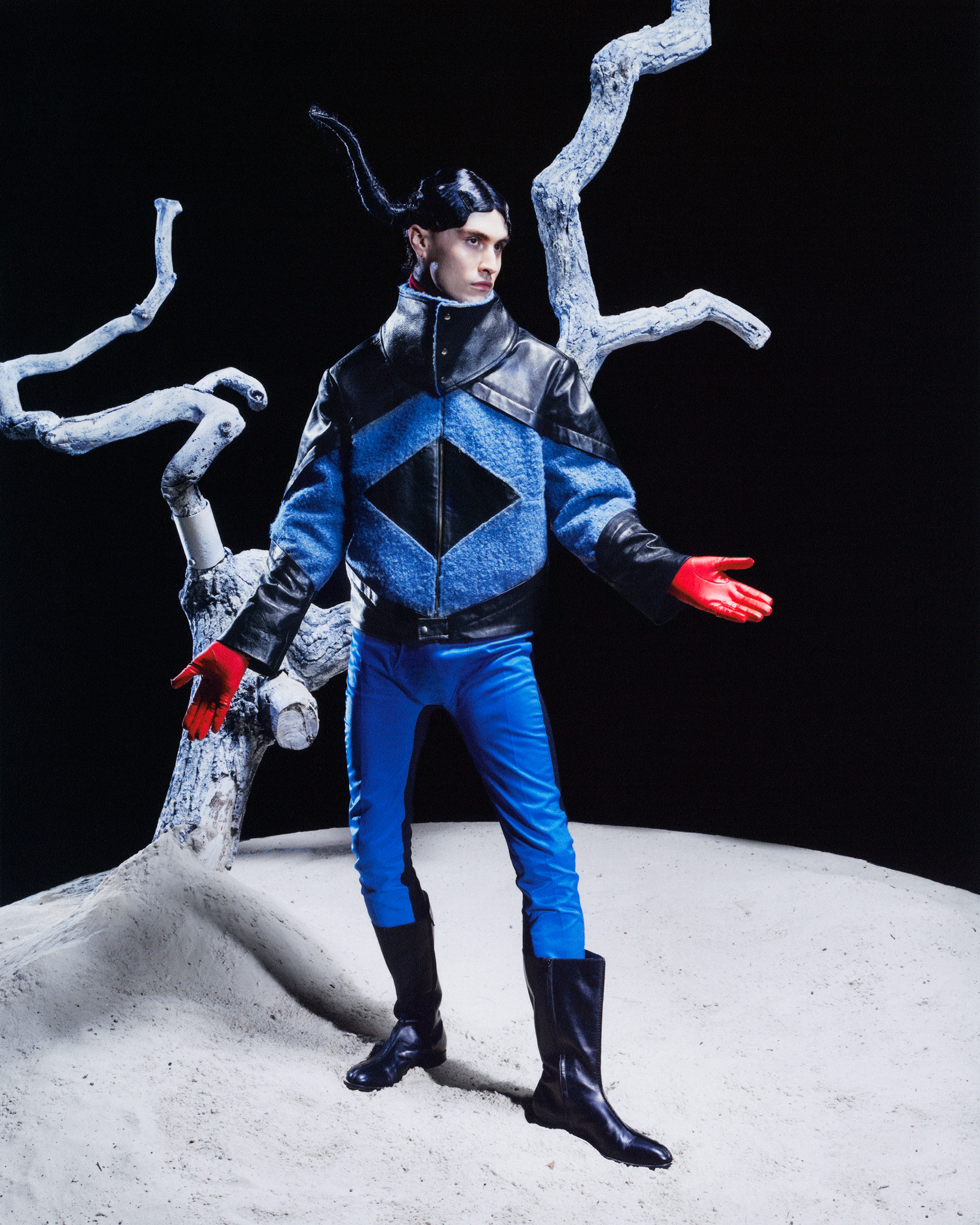 If last season was a uniform for a generation in rehearsal for whatever lies ahead, this season comprised of outfits for when they take up the reins for real. There's visible confidence in how the designer has evolved signatures he first established in his AW20 debut -- roomy tailoring, optical illusory pattern cutting, and subtly experimental knits -- resulting in a collection that feels like both his most universally approachable and most polished work yet.
Those cutting skills are flaunted in pieces like a petrol green leather coat -- created using deadstock hides -- its placket warped into the brand's signature lozenge motif, and cornflower blue corduroy tailoring with panels cut to subtly refract light. Geometric cuts conceal zipped pockets, grey-and-black merino intarsia sweaters and leggings in an exaggerated diamond plaid check are reversible, and the label's staple knit-panelled shirt is reimagined as a scarlet cotton dress, marking AV Vattev's formal entrance into the realm of womenswear.
It's a move that makes sense. Antonio's work has always flirted with feminine sensuality, and while they may not be explicitly branded as unisex, pieces like shoulder-baring leather jackets and button-down collared pullovers with armpit cut-outs scream sexy no matter who's wearing them.
Their faintly clubby feel is enhanced in the fully-fledged music video the label presented today on the London Fashion Week schedule, starring, and produced in collaboration with, French-American producer duo Faux Real. Confined in a cobalt blue room, they gaze at the moon landing on a flickering TV set, and cut oh-so-fashion shapes to a chugging sci-fi-inflected beat.
Though there may now be a roadmap out of the current situation, that hardly guarantees that the path ahead will be an easy one to tread. Still, that shouldn't stop us from dreaming and believing that where it leads is a brighter, better place -- these are clothes that help you do just that.