Harry Styles just got nominated for a prestigious songwriting prize
The co-sign of the Ivor Novello awards proves he's way more than a basic pop product.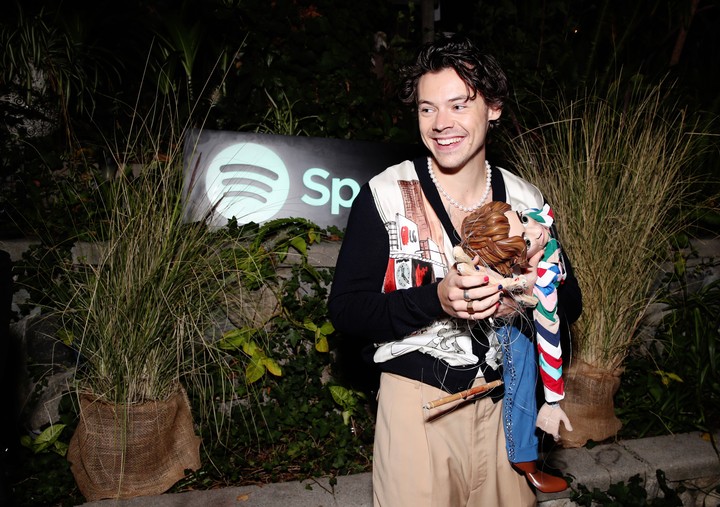 While your faves remain in their flop era, king Harry Styles continues to thrive. Having kicked off 2021 by filming two movies back to back (that's Don't Worry Darling and My Policeman), and managing to sandwich a Grammy and a Brit award win in between the two, his second album Fine Line continues to spawn radio hits and critical adoration. Next up? The UK's prestigious Ivor Novello awards, which celebrate the country's great songwriting and composing talents. Harry's just snagged three nominations.
The accolades are particularly special because they remain the only UK music award ceremony where the winners aren't chosen by industry insiders, record labels or publishers: everything is selected by a panel of songwriters and composers who simply admire the work of their peers. It means a lot, then, that Harry and his Fine Line co-writer Kid Harpoon have been nominated, and will surely shut up the generations of music snobs who assume the One Direction graduate is nothing but a pop product.
The pair were nominated in the Songwriter of the Year category, alongside AJ Tracey, Celeste and Jamie Hartman, Kamille and MNEK. They also picked up two nominations in the same category: PRS for Music Most Performed Work, for "Adore You" and "Watermelon Sugar".
Considering Fine Line first dropped in December 2019, in a world unweathered by a deadly virus (remember those days?), it's impressive to see it continue its long streak of success. What's more, we're yet to see what the whole thing looks like in a live setting. While we had glimpses of live material at the 2020 Brit Awards and the 2021 Grammys, Harrys' Fine Line tour isn't set to kick off until 4 September in the States. That's less than a month til HS re-emerges into the public eye.
It looks like Harry will be somewhere in between Minnesota and Michigan on the day of the Ivor Novello ceremony, so even if he does win, don't expect him to be in London for the big event. Red carpet looks? We're probably going to have to wait for Oscar season 2022. Fingers crossed Harry's acting chops get him a well-deserved spot there too.
Tagged: