Martine Rose explores sex and sportswear for AW21
Just in time for the England team's push for the final in the European Championships.
Everybody, including Martine Rose it seems, has gone football crazy. We've all been swept up by the exploits of the England football team at the European Championships this summer. So much so for Martine that she's turned her model's into Subbuteo players in this season's lookbook.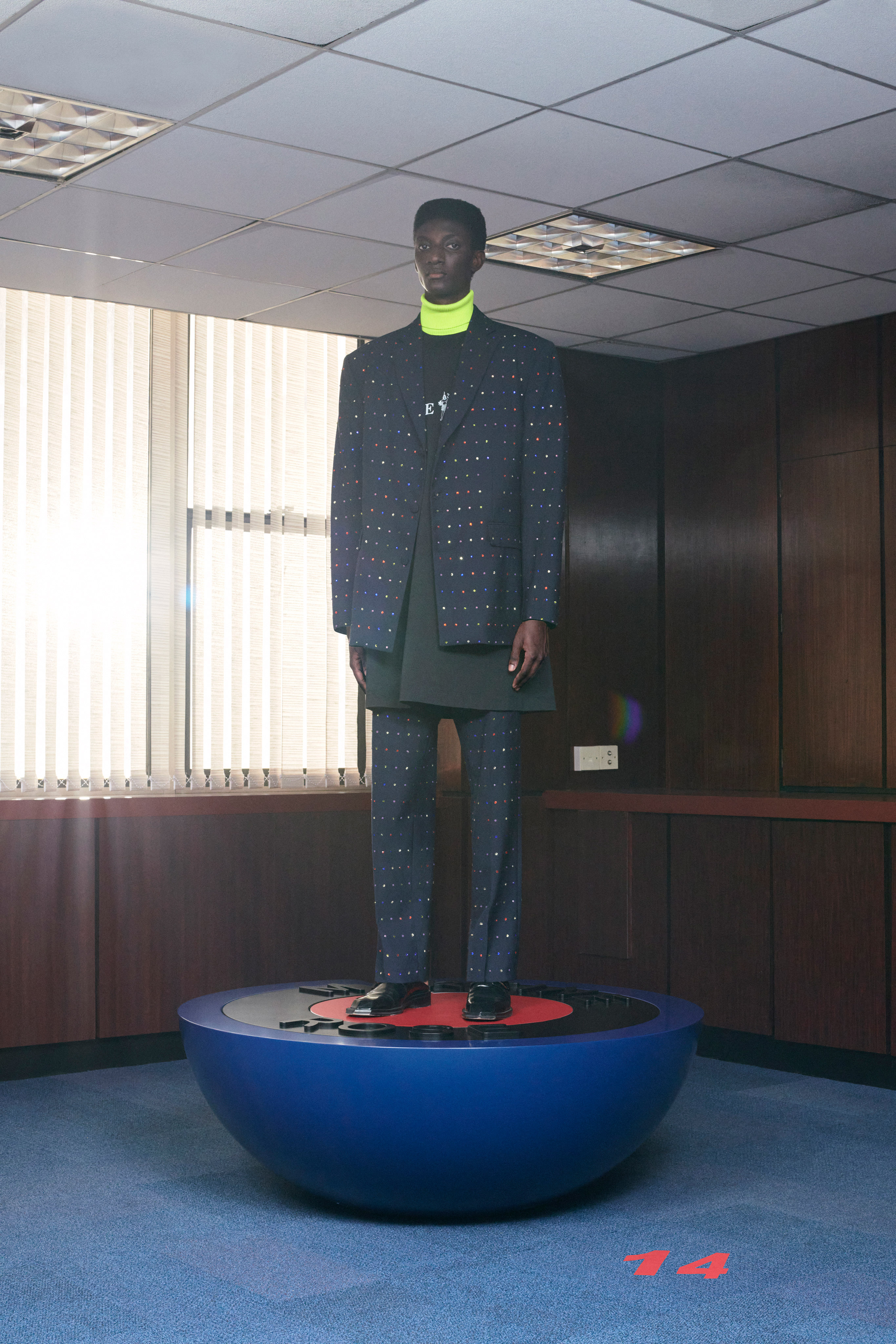 "Football is at the heart of the collection," Martine explains. "I've always been fascinated by the cultural significance of football and the characters within that culture. I remember my Nan taking me to Clapham Common, there were all these blokes in football shirts with their arms around people and I thought, aren't these the people that we're told to stay away from. That's the power of culture, I remember even from age nine, this power can overcome all these barriers." She's referring to the moment when hooligans discovered ecstasy, house music, and traded in fighting for dancing. This idea of subcultural-merging more generally is at the heart of much of what Martine has done over the years.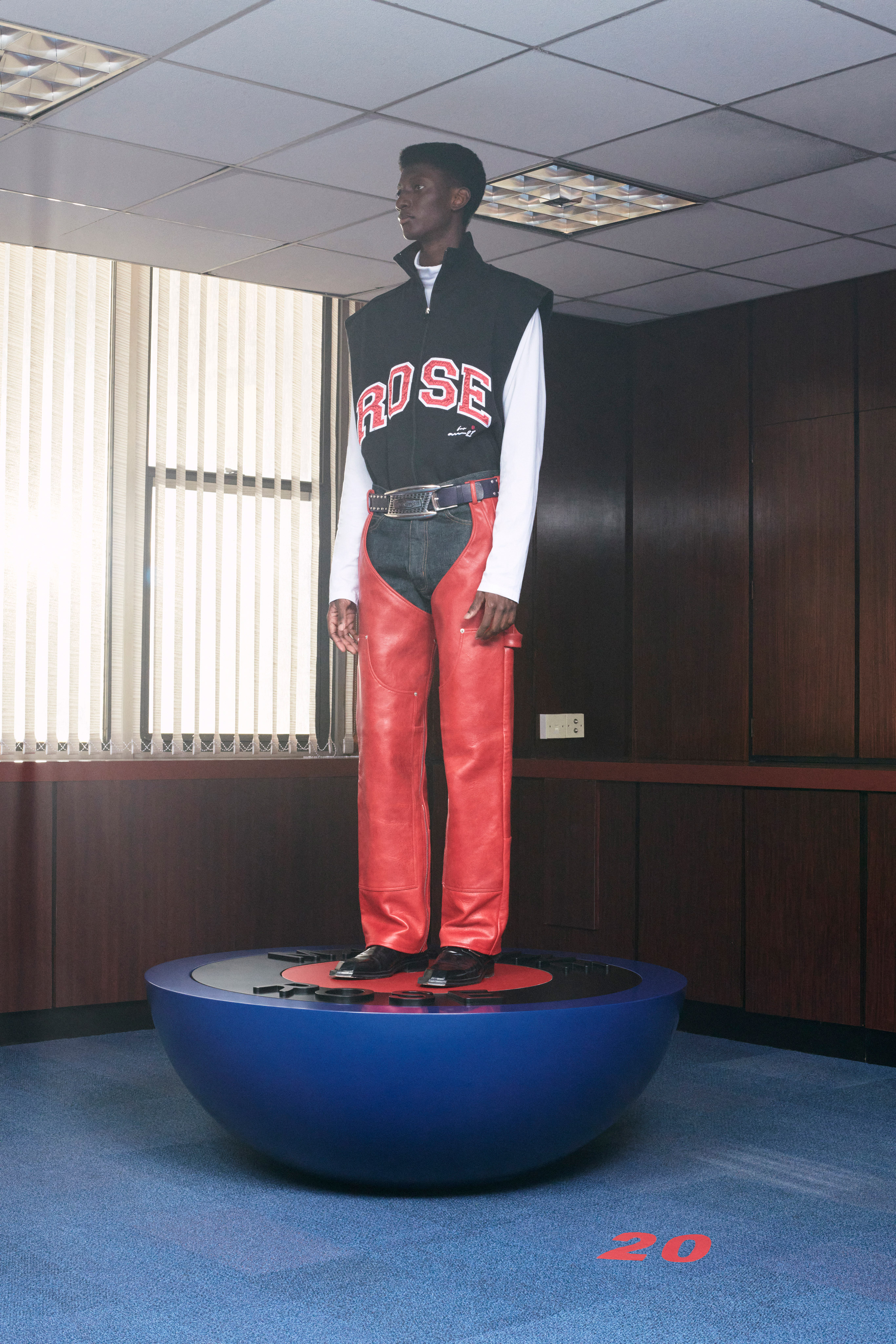 She's looked to football culture before, in a series of iconic twisted football shirts emblazoned with her name in the Carlsberg font that have popped up across her collections over the years. It's not the sport itself, or the game, but the "characters within the culture that I really draw on," she explained. Here, this root flourishes in some incredible Martine-isms.
Shot in a rather ambiguous office space, the focus this season is on the clothes and the characters who wear them, and the narratives they conjure. Red leather pants, a nylon shirt, a quilted jacket; multicolour strip shirts, baggy jeans, loafers, practical coats, baggy popper tracksuit bottoms, tight neon rollnecks, baggy blazers; chaps and a sleeveless fleece. It draws from any combination of people from different style tribes.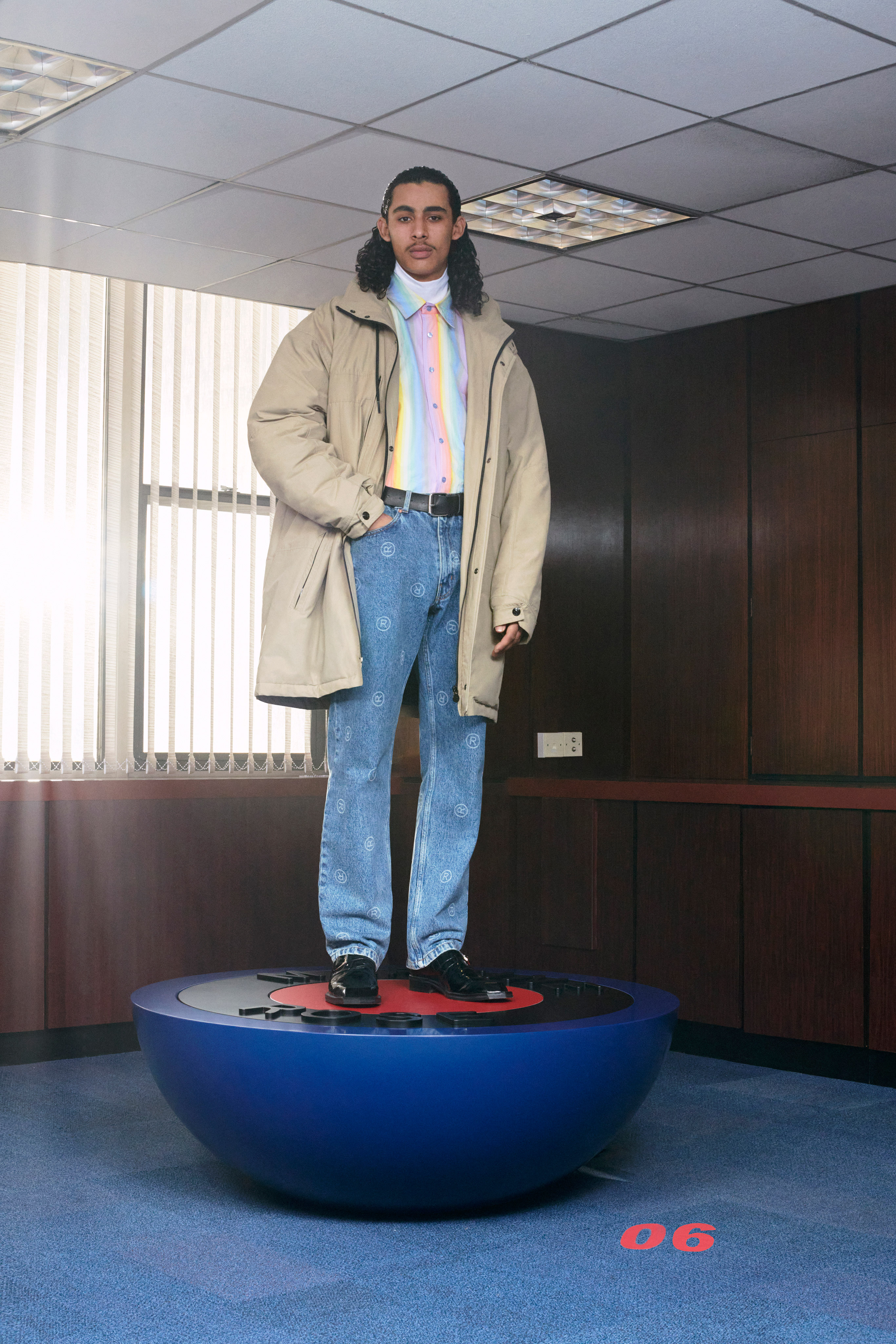 Chaps, in fact, form a running theme throughout the collection, which looks to sex and kinkiness and finds strange pecadilloes in clashing textures; velour and snakeskin, or leather and nylon, and the whole collection feels quite genderless, or at least Martine's designs have always been favoured and loved and worn by both men and women, but there's an element here that feels more purposefully designed for women.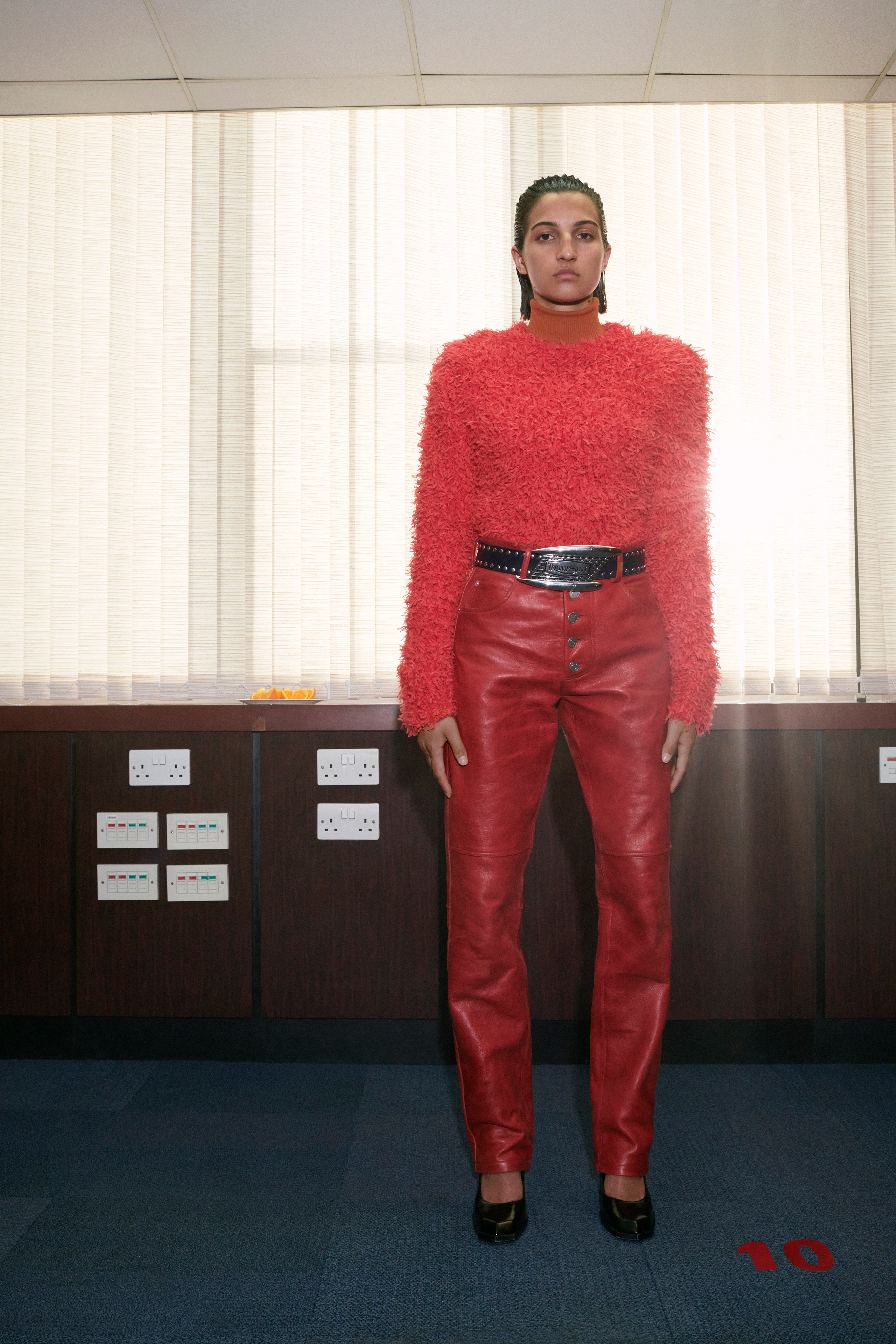 "The Martine Rose girl is a bigger feature this season," she explains. "I guess because she's always been around, right from the beginning, and I mean really right from the beginning when I had my first catwalk show for AW12, even then we had two women's looks. For AW21 we wanted to give her more of a voice, we're building her slowly because… she's us, she wears what the boys wear, she'll wear the chaps, the loafers, she's cool".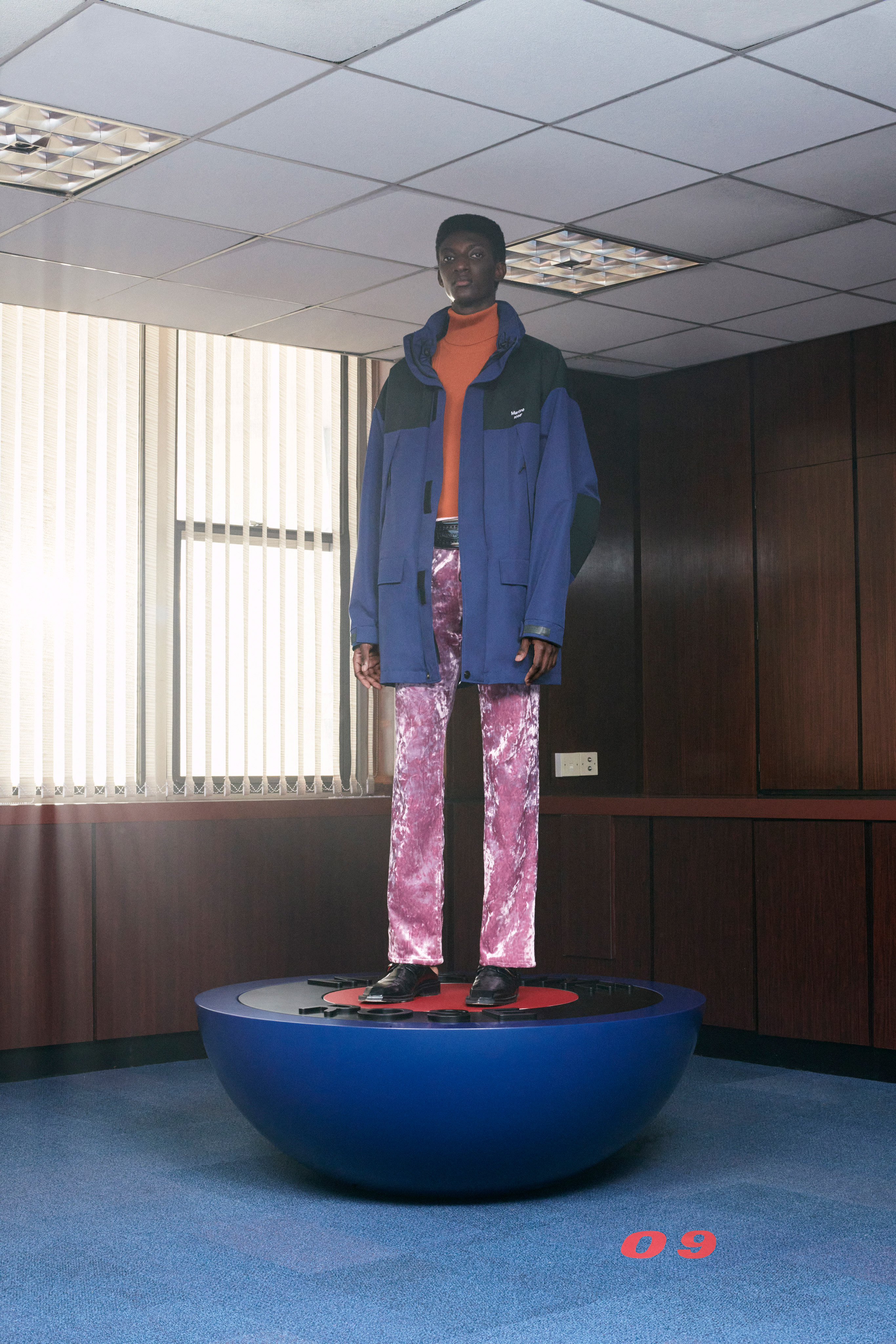 Not featured here, but previewed today also, a Martine Rose x Nike collaboration for the England football team is dropping next week called the Lost Lionesses, named after the pioneers of the UK women's football game in the 70s who have been unduly forgotten. But there's also an element here too of something else to celebrate in our current moment – a national inclusivity and community of different people united under Martine's banner. "The national element is what I find so interesting," she explains, "The resilience of people, the will to thrive and come together, I'm just amazed at the human spirit really"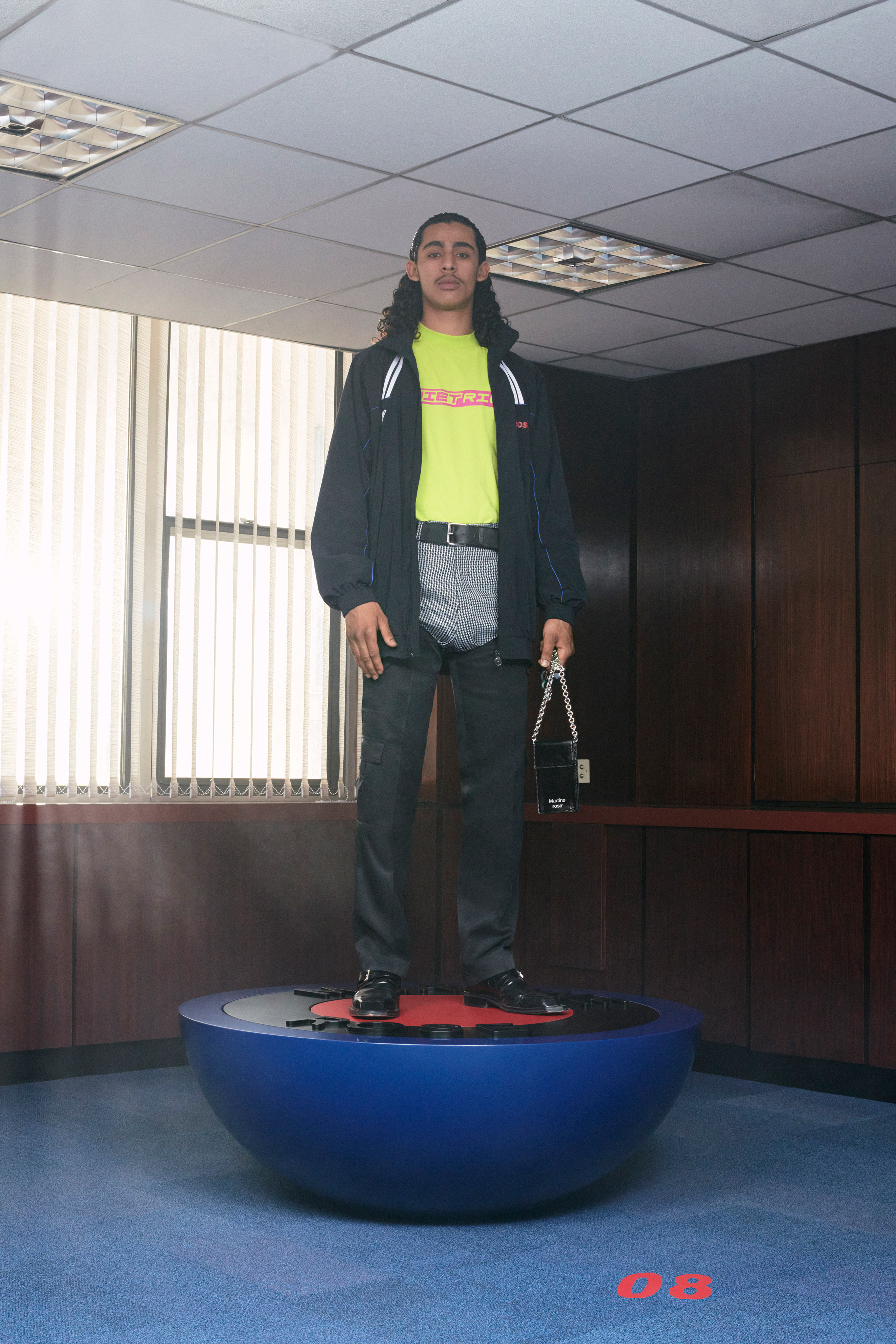 Tagged: