4 emerging fashion designers putting Montreal on the map
Ben Lafaille, Çanta, Ella Simone and Lolo Crochète on what makes the French-Canadian city an incubator for fashion innovators.
Pho
More than the land of poutine, cabane à sucre and the ever-iconic Céline Dion, Montréal is Canada's undisputed fashion capital. Yes, historically, the French-Canadian city has served as the country's garment production hub for commercial giants from Gildan to Aldo. In the last decade, however, the city's also served as an incubator for some of the industry's most innovative and exciting young designers. Think unisex couturier Rad Hourani, now-London expat Thomas Tait, and, more recently, Marie-Ève Lecavalier, LVMH Prize wunderkind Vejas Kruszewski, and Alice Vaillant of the eponymous Vaillant Studios, just to name a few. Not to mention that Montréal's also home to game-changing luxury e-tailer SSENSE, both its ever-expanding garment-district headquarters and destination-worthy brick-and-mortar, unveiled in 2018.
Into 2021, Canada's "second city" continues to bubble with sartorial splendour. Despite the pandemic, the city's small, tight-knit fashion community (photographers, stylists, hair and makeup, models, et al.) is thriving. The past year and a half has seen some of the city's more established brands flourish, small home-studio labels crop up and indie boutiques — like Françoise Elie's Effe, a "window for emerging designers" and one of the hubs around which the community rotates — spring forth. Speaking to the city's growing reputation as a fashion hotbed, Françoise says, "Montréal fashion is more about personal style rather than 'fashion', itself. Since we don't have big institutions here — even though we have a great creative community — and we're not known for our fashion industry, we're still in a place where fashion, for a lot of people, is still just about expressing who they are. It's unique because everything is still possible."
We spoke with four emerging Montréal-based designers including Çanta's Loris Kecaj, Ella Simone, Ben Lafaille and Lolo Crochète's Lory Labossière about what makes the city and its bustling creative community so unique.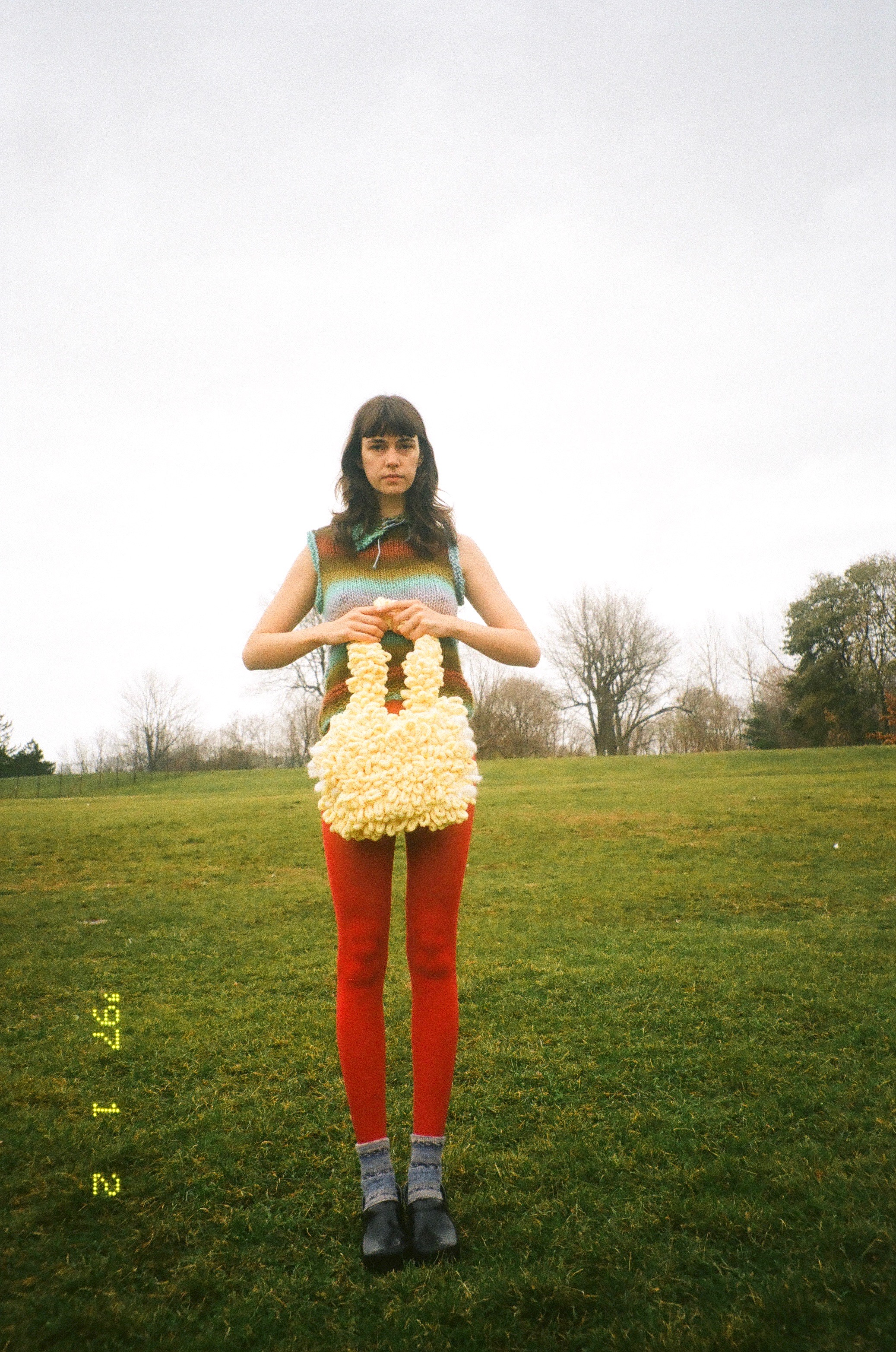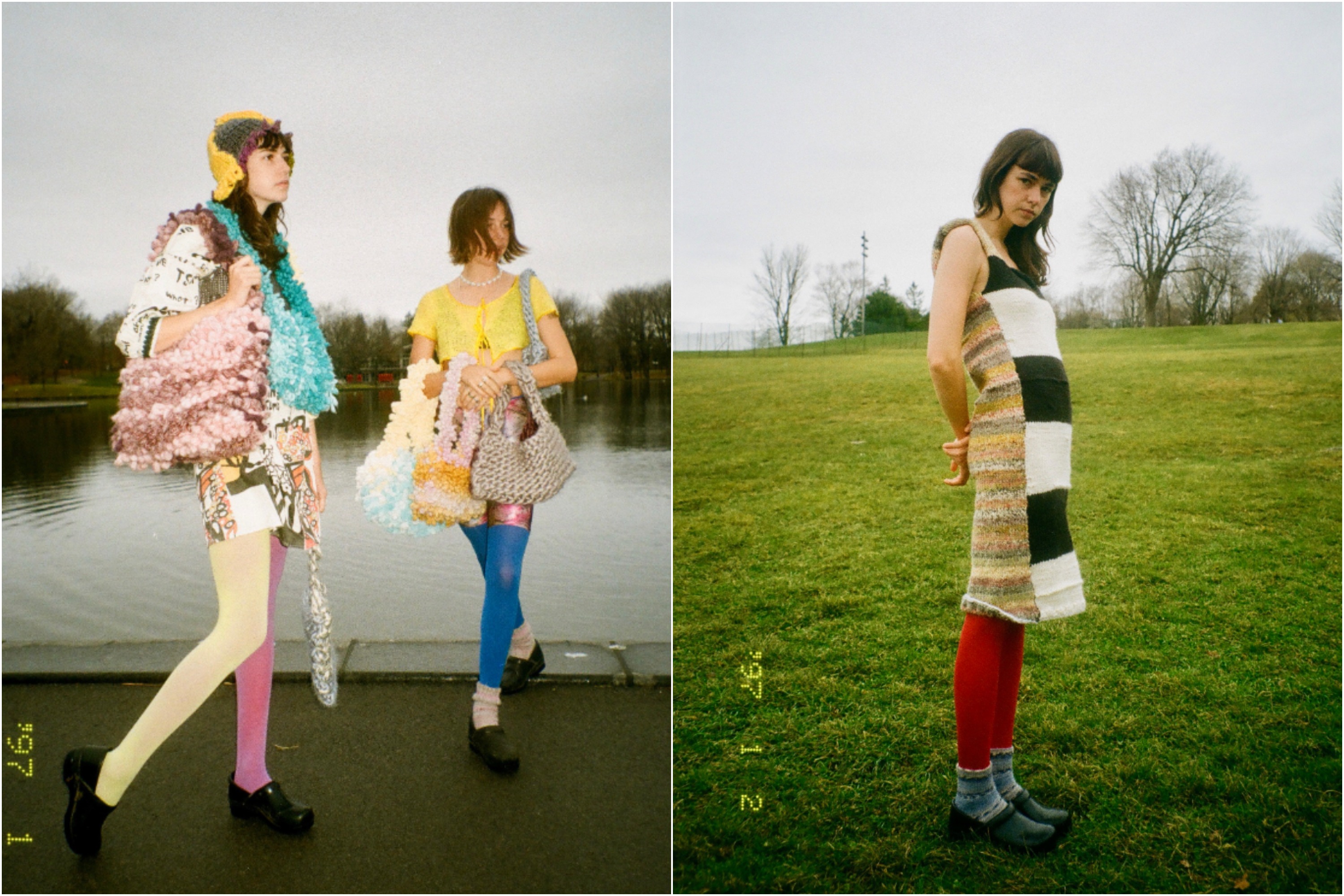 Çanta
Drawing upon the folk attire and marketplaces of her hometown, Shkoder, Albania, designer Loris Kecaj crafts chunky knit bags under the moniker Çanta (the Albanian word for "bag").
How did you start designing Çanta's signature knit bags?
In December 2019, I was making a scarf and my mom said, "Would it be cool if you folded it and added a strap?" It was in that moment that I started to become obsessed with making bags: how the strap was going to be attached, how the folded scarf was going to be fastened at the sides, what colours I was going to use. Then I thought, "Okay, what if I used the thickest yarn I could get my hands on?" All I was interested in was creating a massive, chunky bag. And questions like: how would one be able to style it? Would someone even wear it in public? Could it be of use to them?
What's the ethos behind Çanta?
My family arrived to Canada in the late 1990s as refugees as the result of the fall of Communism in Albania. I was blessed to have the opportunity to have a more secure and safer life in Canada, but the distance from our family has not been easy all these years. The pandemic magnified the longing. Çanta was a way to imagine a shop — in the classic Albanian style of a quaint and claustrophobic garage-door shop — that was going to exist online. Çanta's a way for me to cope with the longing and pretend that I am closer in physicality to my homeland. All the inspiration for the bags comes from a combination of Albanian folk attire, Google Streetview of Shkoder, my hometown, and kitsch items found in Albanian markets. Every bag is directly related to a memory of an item or an impression that has something to do with my hometown.
The purpose of Canta was never going to be to operate [as a] business. The fun was for me to continue experimenting and realizing different styles of bags that involve different techniques and materials. It was and will never be about selling or making a profit. I told myself that if Çanta was going to expand, the goal was to operate as meditative and creative practice to myself first, and then if it turned out that people wanted to buy the bags, then that was a plus.
How has Montréal's fashion community influenced Çanta?
Çanta's had unbelievable support from the community around me. About a month after I'd created Çanta's Instagram account, Françoise (Élie, owner of Montréal-based boutique Effe) DM'd me and came to my house to check out the bags. Her enthusiasm for the bags added another life to the project. Then the intensity of the pandemic hit, and she was in the beginning stages of building her shop, too. It's been about a year and a half that Çanta has existed and grown. If it wasn't for Françoise, Çanta would not be where it is today. What I was reminded of from my interactions with Françoise is that I feed off of other people's positive energy. She gave me the confidence to continue making bags and continue taking risks in the evolution and creation of the bags.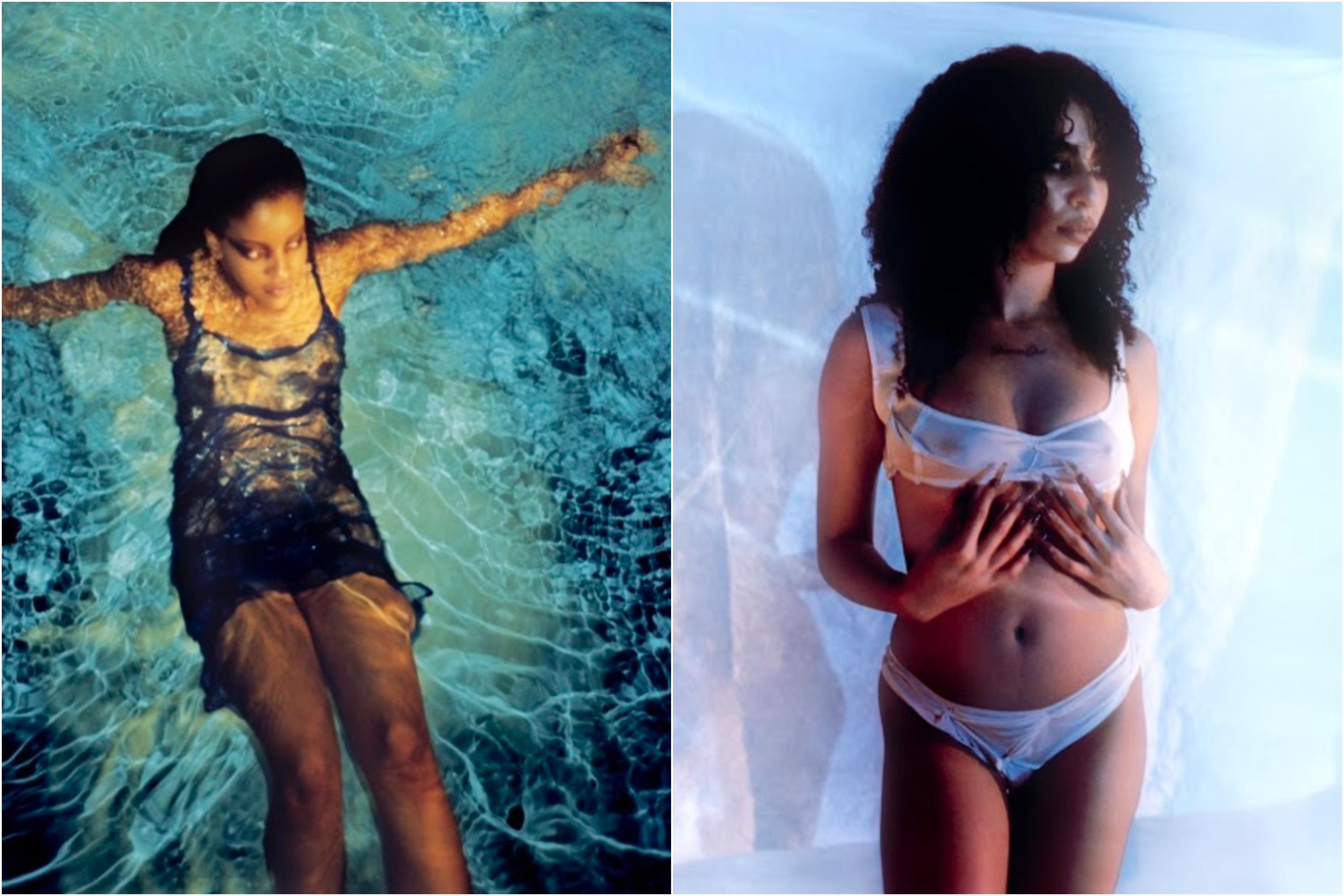 Ella Simone
Formerly a Fibres and Material Practices student, designer Ella Simone creates experimental garments — like her signature silicone dresses — at the nexus of textile art and fashion.
How did you start designing clothes?
I began sewing when I was a teenager, mainly through altering old clothes. Later, I did a year and a half of Fibres and Material Practices in university. The program helped me to expand my mindset on textiles, how you can create a fabric out of raw materials or alter it in so many different ways. While in the program, I kept wanting to apply the techniques I was learning to clothing, which wasn't exactly allowed, so I dropped out. I began designing by taking that expanded perspective of textiles and combining it with a long-time interest in fashion. I love that clothes are guided by the body.
What is your design ethos?
When I'm designing or making something, there are little symbols I have with myself that lend meaning to parts of the work. Silk feels magical because little worms spin it from matter within their bodies before it dresses ours. Moirai used thread to measure life cycles and fate. Beading puts me in a trance and the word "bead" comes from the word "prayer." But in the end, those things don't need to be expressed directly: the end just needs to be beautiful. I think that beauty is divine. Simone Weil wrote "beauty captivates the flesh in order to obtain permission to pass right through the soul" and it's something I think about often.
How do you craft your garments?
The fabric used is important to me and I favour natural fibres, even if I'm using them in a way that distorts them into behaving in a completely different way. My silicone dresses start with a rough draping of silk and then become sculpted to their end result through quick application of silicone. The silk jersey sets start with a simple garment shape that ends up behaving in different ways on the body through hand-sewn gathers. In either example, I feel like I'm making an impression on the textile and then letting it show me the way it will respond as a result.
What makes Montréal and its fashion community unique?
I've been very lucky in beginning design and a big part of that has likely been the nature of the community in Montréal. People are really excited about each other's creative projects and support each other through collaboration. Living in Montréal is also comparably affordable, which I've always felt has allowed people to have more time to pursue creative projects instead of needing to work a ton. It's more feasible for people to start their own projects, brands, shops and shows. I also think that Françoise has started something special with Effe in highlighting small, local designers alongside international labels.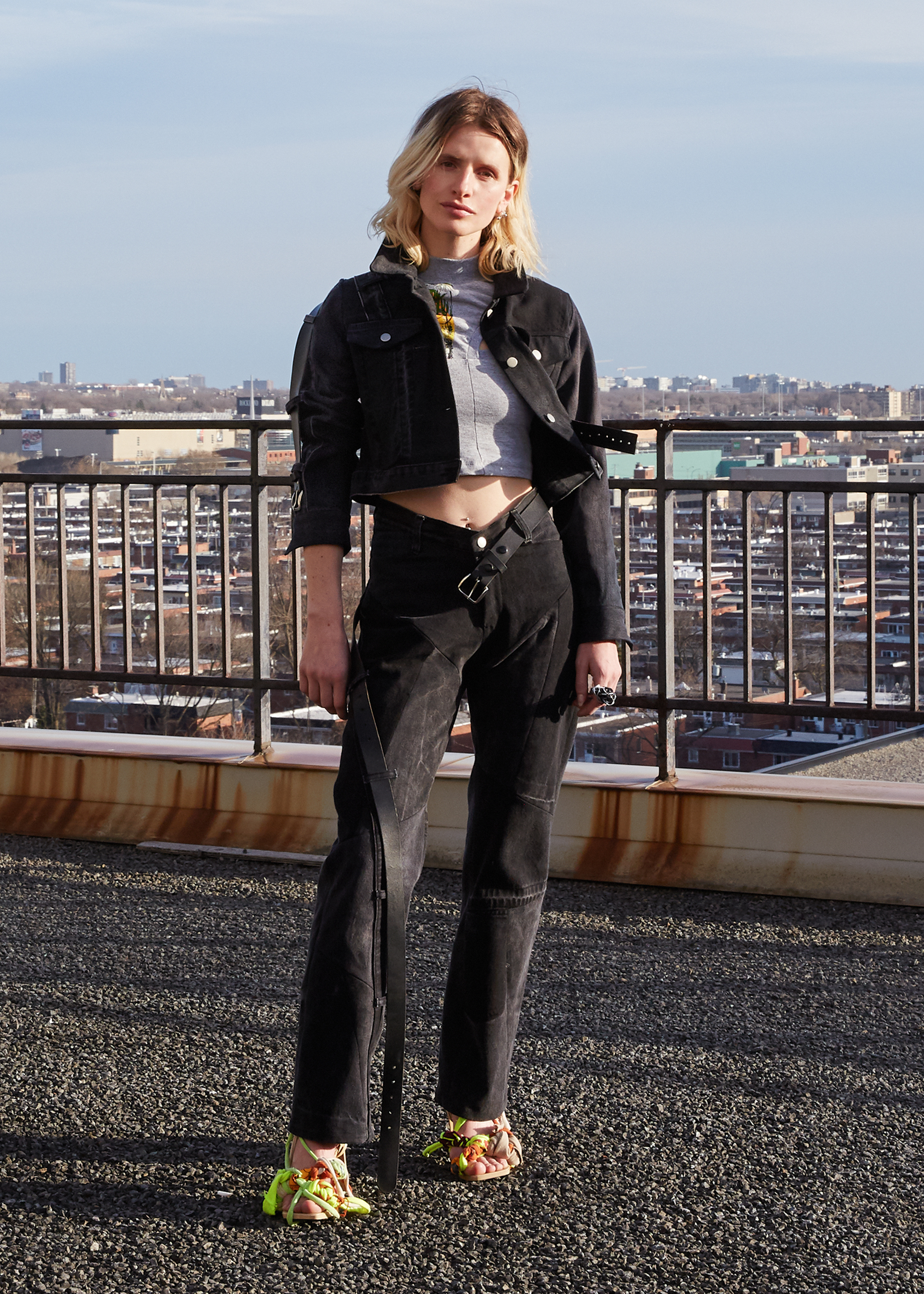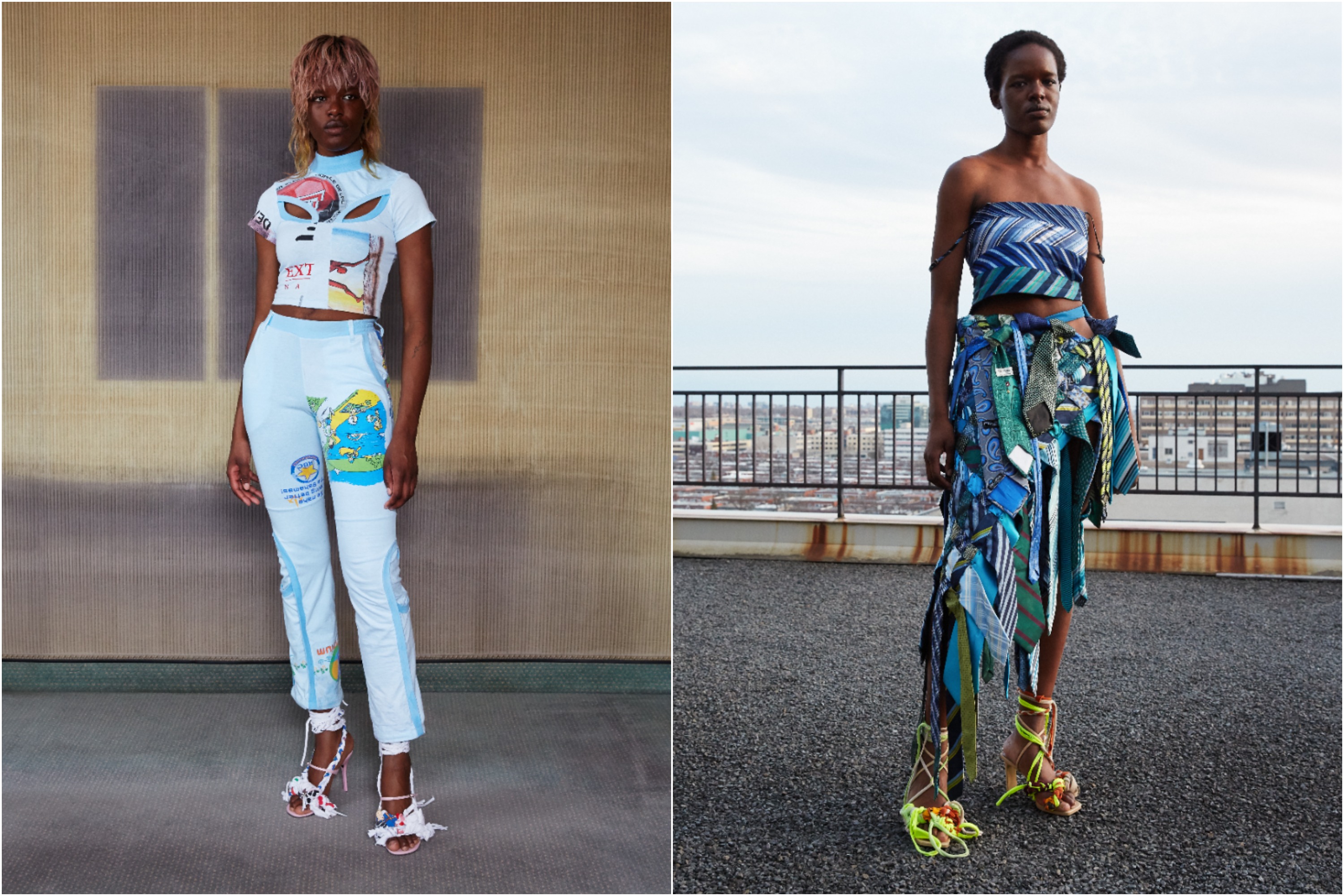 Lafaille
After four years of experimenting with upcycled garments under the moniker Laugh, designer Ben Lafaille relaunched for AW21 as, simply, Lafaille. The label — and its versatile, unisex garments — are driven by sustainability, inclusivity and self-expression.
How did you start your label?
I created Laugh by Lafaille in 2017 with the goal of experimenting with upcycling, mainly for myself. My creations started piquing the curiosity of a few stylists and then people started asking me if they could buy some of my upcycled and deconstructed designs. That's when I discovered there was a market for upcycled garments, and that's where the journey really began. Progressively, my clientele has grown from being mostly millennials and Gen Z to reaching more mature and established individuals. Building Laugh for a few years helped me discover my unique identity and elevate my designs. Now, I'm working with both upcycled and new ethically-sourced, sustainable materials under Lafaille to offer more garment variety to my customers maturing with the brand. I'm still true to my Laugh experimental roots with Lafaille: transforming clothing is still one of the core processes.
What's the ethos of Lafaille?
If I could give you three words to describe Lafaille, they would be: protean, sustainable and reprocess. The driving force behind the label is the tension of transformation. We aim to deconstruct and rethink how we present ourselves to the world and aim to create for those who might have grown up on the margins. Also, Lafaille's upcycled line's main goal is to salvage garment wastes and ethically repurpose them.
What's the concept behind your AW21 collection?
The main inspiration for AW21 is the link between nature and fetishes like bondage, workplace fantasies, voyeurism and wet clothing. It's about playing with the taboo of fetishes and linking them with a natural element, like how bondage can resemble roots coming out of pavement. I wanted to show how those two seemingly different worlds are interconnected.
What makes Montréal and its fashion community unique?
I think that living in a relatively small city like Montréal is good for emerging brands. There's room for growing, learning and experimenting here. Everyone knows each other and it's practical for collaborations because opportunities come up often. It's also a humble city: the fake part of the fashion industry isn't as present here as it seems to be elsewhere. There's a team spirit where small brands are open to help and elevate each other. I also think being part of the LGBTQIA2S+ community really helps me to find my own vision and let it speak through the garments. My designs appeal to the queer community and that's something I'm proud of, and I'm happy, in a way, to be able to take part in the expression of the identities of some individuals.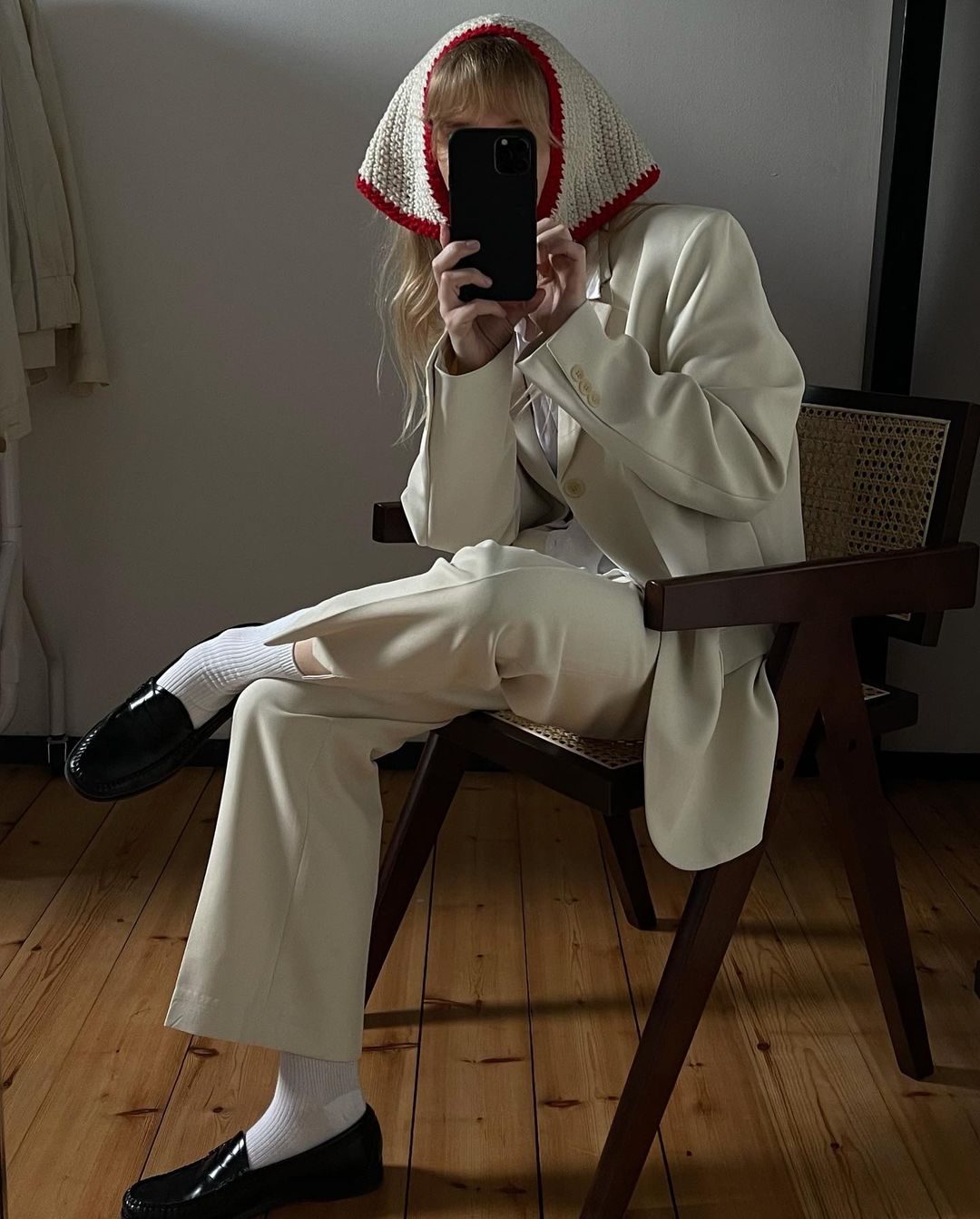 Lolo Crochète
In addition to hunting for mushrooms and collecting antique plates, Lory Labossière flipped her newfound quarantine hobby — crocheting — into a fully-fledged fashion label with Lolo Crochète.
How did you start Lolo Crochète?
I started learning crochet at the beginning of the pandemic as a hobby because I'd just lost my job and had plenty of time to kill. At first, I ordered some yarn and some knitting needles but a few weeks after ordering them, only the yarn was delivered. My mom had plenty of unused crochet hooks so I decided to start crochet instead. After watching countless YouTube tutorials, I soon got the hang of it and began selling some of my creations on my personal Instagram. At some point, the demand was so high that I couldn't keep track of the DM's and that's when I decided to take it up to the next level by launching a website where I could sell specific collections.
How would you describe Lolo Crochète's ethos?
It's pretty similar to the way I am in real life: simple, fun and delicate. I wanted to create something very versatile that could fit multiple occasions and for everyone.
What makes the Montréal fashion community unique?
We have a very small fashion community, but we love to see each other succeed. I studied fashion marketing here in Montréal and made friends who have been very supportive of Lolo Crochète by helping me with the fits of my designs, graphic design, photography and business suggestions. Montréalers have a strong sense of community and can be a solid support system.
How has the city influenced you creatively?
Montréal has a unique and specific energy. The city is so rich culturally from the blend of different people living here. And living in Montréal means dealing with harsh winters and hot summers. The weather has inevitably influenced my collections, which range from balaclavas for -30°C blizzards to airy cotton hats for summer heat waves.
The crochet bandanas seem to be Lolo Crochète's calling card. How did you come up with that particular piece?
It all started in the fall, when I wanted to create a crochet headpiece that could keep me warm but also keep my hair looking cute when I'd take it off. I've worn tuques my whole life but they've always made my hair very flat. I loved wearing bandanas during the summer to protect me from the sun, so I thought, why not make a winter version to keep me protected from the cold?