Left: Photography Laurence Ellis. Image courtesy of Ahluwalia; Right: Image courtesy of Stefan Djokic
Here's what went down at London Fashion Week
From Ahluwalia's firecracker SS22 collection to Kardashian-fave Di Petsa's physical activation, here's everything you missed.
Left: Photography Laurence Ellis. Image courtesy of Ahluwalia; Right: Image courtesy of Stefan Djokic
We're not quite sure how, but it is indeed fashion week once more. This weekend, the industry's seasonal travelling show got back on the road, kicking off in London! Well, technically it kicked off wherever you wanted it to, as, for yet another season, the overwhelming majority of these presentations and activations took place online… Anyway, fashion week is back.
In case you forgot to tune in over the weekend, we've lovingly curated a selection of our favourite moments from the most recent London Fashion Week — from Ahluwalia's stellar SS22 collection (yes, there are SS22 shows now… and Cruise 2022 now… and maybe some more AW21 shows in there too… all at the same time :) ), to the debut collections of Djokic and Paolo Carzana, to a digital show of digital-only clothes, and so much more! Get yourselves up to speed before Milan kicks off later this week, darlings!
Ahluwalia
From winning the Queen Elizabeth II Award for British Design off the back of AW21 to collaborating with Ganni to put out her first-ever womenswear collection, 2021 has been Ahluwalia's year. If you needed further proof of that, yesterday offered it up in abundance, marking one of the most significant days in the label's life.
In one fell swoop, Priya, the label's eponymous founder, picked up the BFC/GQ Designer Menswear Fund, debuted a collaboration with English heritage handbag makers Mulberry, and released her SS22 collection, "Parts of Me". Presented in a poignant film directed by BAFTA-nominated filmmaker Akinola Davies Jr, the collection offered a nuanced meditation on the beauty of Black hair.
The product of years of research into the artistry behind Black hairstyles, Priya drew inspiration from the styles popular in the 1970s, the halcyon days of Black liberation movements in the US and the UK. "I wanted to honour this sacred time in history and recreate badges," with which outfits were frequently customised at the time, paying direct homage to the era while "also highlighting some beautiful patterns in braiding".
This inspiration translates to the clothing with the deft subtlety that Priya has made her trademark -- she's a designer who honours histories and heritages without ever being heavy-handed. Here, this results in braiding patterns as embroidery, seam lines and digital prints -- they become part of the texture of denim jeans, polo shirts and a silhouette-sculpted long-sleeved mini-dress.
The latter garment points to a feature of the collection that's well worth noting, that this is the first time Priya has introduced womenswear under her own brand name. Comprising knit second-skin shift dresses, denim miniskirts and directional tailoring, the overall vibe is one of confident sexiness, offering a feminine foil to her menswear design language that has won over so many hearts. If ever you were wondering what it looks like when a London label ascends from the 'emerging' category into the established, well, Ahluwalia just went and showed you.
Auroboros
If the past 15 months have made a case for anything in fashion, it's digital fashion. Leading the charge in the field are London-based duo Auroboros, who specialise in physical haute couture and digital-only ready-to-wear, and are currently residents at the Sarabande Foundation in Haggerston — the charitable foundation set up by the estate of Lee Alexander McQueen. Shaking off digital fashion's gimmicky reputation -- as a fun quirk, but ultimately an unrealistic replacement for physical, wearable clothes -- they made a convincing case for clothing that'll only ever exist on our screens.
As the designers note in a video co-produced with the Institute of Digital Fashion and styled by Sita Abellan, one in 10 people admit to buying clothing solely for social media -- clothes that, for all intents and purposes, needn't exist in the flesh at all. As for the clothes themselves, they gave off exactly the sort of sci-fi vibes you have in mind. Titled 'The Biomimicry collection', the pieces drew inspiration from nature and technology in equal measure, resulting in polychrome petals of 'fabric', and slick, shiny second skin fits. In a testament to the democratic potential of digitally distributed garments, they even released a piece — the jagged 'Venus Fly Trap' dress — to 'try on' via a Snapchat filter. Wondering what the future of fashion looks like? This could just be the answer.
Djokic
Easily among the most exciting new arrivals to this season's schedule was Djokic, the broodily elegant, subtly raunchy menswear label headed up by CSM MA alum Stefan Djokic. Building on the template he set on the Kings Cross institution's runway in 2019, interrogating and subverting the macho-man archetypes we associate with tailoring -- featuring, famously, an impeccably tailored pair of pinstripe wool briefs -- the Swiss-Serbian designer continued his investigation of what he calls "a deviated masculinity".
Challenging stale understandings of what men's dressing should look like, the strong shoulders of oversized waistcoats were counterposed by draped, pearly satin front panels, the fabric's texture and sensuous fall conveying a subtly fluid take on the staid art form. Elsewhere, the delicate sheen of a rib-waisted ruby sports jacket was offset by raw-edged wools and technical nylons, imparting a sense of robust, muscular power. Be sure to keep your eyes on this one!
Paolo Carzana
Another CSM MA grad worth watching is Paolo Carzana. For his debut turn on the LFW schedule, he presented an 18-look collection of gorgeously rough-hewn looks -- sinuous shirts that drape and gape about the body, sculptural blanket coats and cascading ruched trousers.
At a time when we've all grown so accustomed to digital shows, perceiving clothes through the two-dimensional prisms of our screens, Paolo was one of few designers who managed to elicit that primal urge to reach out and try, in vain of course, to put our hands through our screens -- a welcome reminder that touching is just as crucial an aspect of engaging with fashion as seeing. In Paolo's case, fashion's multi-sensory potential was taken even further, with garments infused with lavender, rose, holy basil and witch hazel, each chosen for their restorative properties. Fashion heals, girls! You heard it here first.
Robyn Lynch
Nostalgia has always been a cornerstone of Robyn Lynch's design process and vocabulary. Since emerging onto the scene via Fashion East back in 2018, she's always looked to the carefree spirit of Irish adolescence, giving new life to the motifs, colours and moods she spotted in the photographs of her family members when they were young. For the Irish-born, London-based designer's latest collection, the spirit remains much the same, though this time around, she turned her attention to the friends she grew up with herself. "I got them to unlock their Facebook albums and pulled images from there!' she laughs.
The reason, though, was more than a concerted attempt to embarrass her childhood pals -- after her upcycled collection in collaboration with Rapha, this latest capsule sees Robyn collaborate with outdoors outfitters Columbia, a label which holds a special place in her heart. "It's so nostalgic for me -- it was our unofficial school jacket growing up," she says, a fact proven by her digital presentation invite, modelled on the 'how it started vs how it's going' meme. On the left, you'll see a picture of her friends in the Columbia get-ups, and on the right, pieces from the next collection.
Focussing on the energy and atmosphere of the days "when we were all wearing Columbia jackets, drinking in the park in our final years of school, exploring and growing up", Robyn has integrated items of deadstock Columbia into her trademark generous silhouettes. Raglan coats are unpicked and bulked out with Columbia panels and swatches of nylon developed from ocean waste to yield a roomy, old school fit; zip-up pullovers are spliced with patches of Aran knit; and bucket hats are compiled from the scraps that amassed on the cutting room floor during the making process.
The collection's rave-y energy readily lent itself to its accompanying film, shot by Spencer Young and soundtracked by Irish techno DJ or:la. Filmed in a Dorset cave, with thermal hued projections cast onto the walls, it's a euphoric foil to the collection, ripe with nostalgic teen spirit. Even if the UK's 21 June grand reopening has been pushed back, this is more than enough to tide us over.
Per Götesson
LFW mainstay Per Götesson also made an appearance on this season's schedule, though in lieu of showing a new collection (hold your horses! SS22 will be dropping on 9 July, he assures us), the label's eponymous founder instead decided to present a gorgeous film to celebrate the launch of a new website. "I have felt that I needed a space where we and our collaborators could create freely and share directly with our audience," says Per, noting that it will host the brand's collaborative creative projects along with "our very own e-commerce focusing on limited editions, special drops and core collections."
The short film itself, created in collaboration with Acult Studios, draws on the themes that have long lied at the brand's heart -- intimacy, queerness and brotherhoods, ideas delicately articulated by long-term collaborators Sam Jamieson and Visionist. Captured in moments of embrace, they wear pieces from across all the seasons of the brand's archive, spliced with snippets of thermal film that capture imprints of their bodies. The idea here was to convey the label's enduring preoccupation with the notion of memory -- whether that's through those inherent in the pre-worn garments that Per worked with for his AW21 demi-couture collection, for example, or in memories elicited by showing pieces from previous collections.. A film to remember, by all accounts!
Nicholas Daley
Another London menswear mainstay who opted to show a seasonless video on schedule this season is Nicholas Daley, who presented "Return To Slygo", also directed by Akinola Davies Jr. Those of you that have made it down to NOW Gallery since its 17 May opening will recognise the film from the like-titled multi-sensory exhibition at the Greenwich Peninsula space. For those who haven't, though, it's perhaps best introduced as "a celebration of my community, family and collaborators who I have worked with over the past few seasons," Nicholas says.
Set against a 70s backdrop -- an era with which Nicholas has created an extensive dialogue with through his work -- it offers a textured exploration of the aesthetics of Afro-Caribbean domestic life; a compilation of vignettes of soundsystems, dominoes and slow dancing. It offers a notably age-diverse perspective, too, featuring British reggae artist Dennis Bovell MBE and spoken word artist Roger Robinson alongside "the contributions of my creative peers such as Sons of Kemet and Nubya Garcia," Nicholas notes. The result? "A cross-generational film which explores an authentic narrative through the expression of music and British Caribbean culture." Get yourself to NOW Gallery, NOW!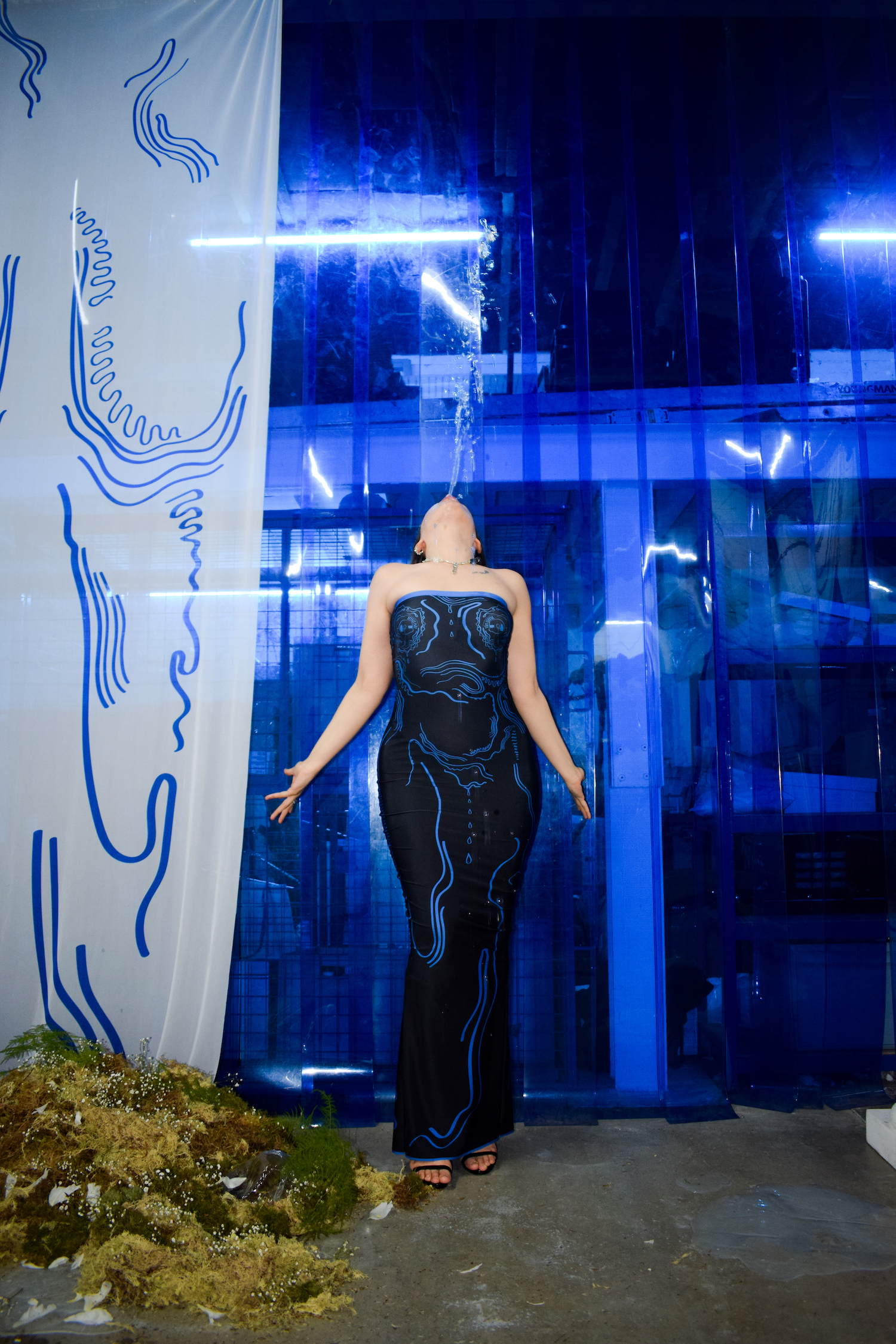 Di Petsa
Thought this LFW was a solely online affair? Wrong! Among the very few brands staging a physical activation this season was Di Petsa, the London/Athens-based label whose iconic wet-look dresses have won over everyone from Nicki Minaj to the Kardashians to the first cover star of our summer issue, Gigi Hadid. Taking over London store 50m, the designer staged an immersive installation showcasing her SS22 pre-collection, as well as a pop-up shop for customers to invest in her mesh Wetness pieces AND have consultations for her iconic custom Bridal looks. Here, she tells us how she pulled off one of the few physical activations of the season.
How would you introduce your new collection?
The SS22 "Self Birth Chapter III" Pre-collection is a continuation of the brand's core mesh collection of Wet Script, which features poetry and stage directions from our live performances and our monthly full moon rituals that we host online. This season we looked more deeply into our connection with the moon and the tides. Exploring our outward connection to water, in particular the deep ocean, with poetic texts:
"Tears glow on your skin, like the skin of the sea"
"Your face is the moon and your body is its reflection. It is the silver imprint of selenic glow on our collective bodily matter, the dark, turbulent, endless sea"
What new elements have you introduced to the Di Petsa world?
The pre-collection features our signature recycled mesh styles, but we have introduced a range of Lycra undergarments, that can be worn mix-and-matched underneath the mesh styles for extra coverage, and styled double layered with matching prints to create a fluid 3D illusion.
We have created lots of new prints this season, with long mesh and mini dresses printed with the Venus Shell Body Print, which contours and frames the outline of the body, reimagining its silhouette to resemble the body of Venus emerging from the frothy sea as her body is illuminated by the moonlight.
We have new exclusive colourways in the Nymph in Milk Bikini set, including blue, gold and black swimwear that can be layered underneath the mesh garments for more casual beach looks. We have also created a Di Petsa beach towel and tote bag, ready for summer beach days!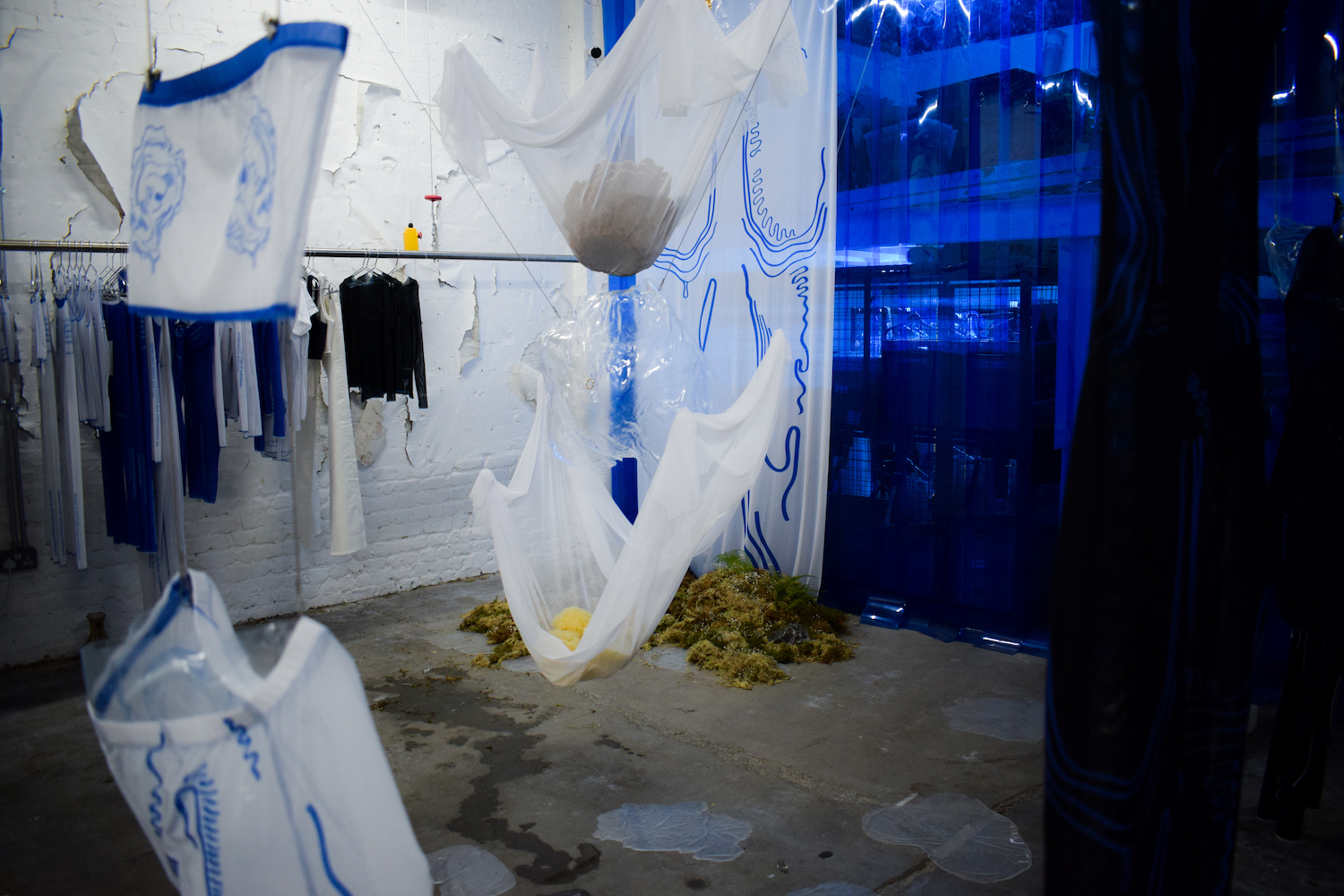 You were one of very few brands to stage a physical activation this season. How did it go, and what made you so keen to do this?
The pop-up and exhibition space at 50m went very well, we loved meeting face-to-face with our customers, and people we've only interacted with through our online Full Moon workshops. We really value and are inspired by the intimate moments and connections made, so it was really healing after all this time of quarantine to host the brand's first physical event that allowed us to interact with our community. We had the opportunity to host in-person bridal and wet-look consultations with clients -- it was a really moving experience to have these intimate moments and conversations during fittings, which we have missed working virtually for the past year.
As this is your SS22 pre-collection, could you give us a hint as to what we can expect from the mainline?
For our mainline SS22 collection, we are looking more deeply into our connection with the earth and the natural elements, modern mythology and earthly waters. You can expect new hand drapery and embroidery techniques, elevated wet-look designs and more bridalwear, but we won't give too much away!