Valentino SS22 was a joyful reimagining of its archive
Pierpaolo Piccioli looked to the house's proud history to map out its future.
|
02 October 2021, 11:00am
Images courtes
The invitation to the Valentino SS22 show, titled Rendez-vous, featured slide photographs of looks taken from the Roman house's archive, shot by Chris von Wangenheim. It was a little paradoxical almost, given that this wasn't so much a collection about the past as it was the future.
It did, however, herald the launch of Pierpaolo Piccioli's new project at the house — Valentino Archive — where looks from the label's storied history are remade and remodelled for today. The intention, they explained via a press release, was for the fashion "to travel through space and time, encountering today's physicality and ways of being". To put it simply it was about the way both heritage and the future mix together in the present. But how do you make an archive, whose beauty and wealth of craft doesn't really need underscoring, relevant for a different generation – for people living different lives in a totally different time? Beauty and craft are always relevant of course, but the context in which they appear can often radically alter how we perceive them.
Here, Pierpaolo was trying to find a sweet spot where the heritage and dignity of the storied house could become subversive and modern. Silk taffeta was washed and beaten into new textures, rendering a symbolic couture fabric approachable; and denim jeans were paired with delicate white shirting, inlaid with broderie anglaise.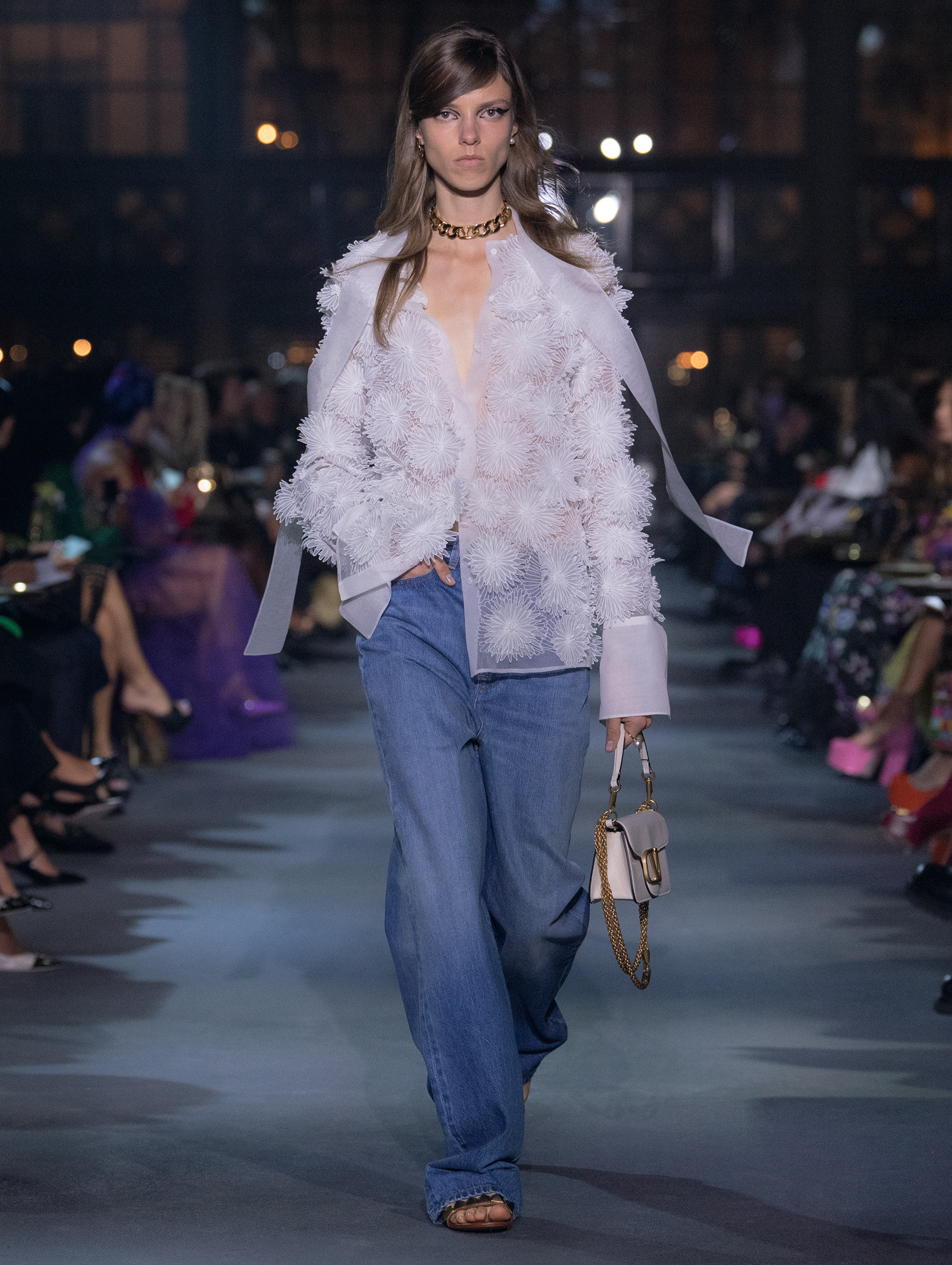 Still, this was a collection sprinkled liberally with recognisable Valentino-isms throughout — the opening look, all white and bejewelled, referenced the house's 1968 collection, and followed up by a parade of leopard print, taffeta, rock stud sandals, floral embroideries. This was not, however, a simple, literal or reductive exercise in fashion history. Rather, it was a Valentino collection that paid homage to the streets and to the lives lived on them – it was about fashion as a tangible reality; something to be worn, lived in and enjoyed.
A live-streamed projection inside the venue showed everyone outside the venue — the scrum of Valentino fans, paparazzi and attendees' screaming stans. Interestingly, though, the show came to the street, too. Housed amid the old markets and cafes of the Carreau du Temple, the indoors was decorated like a typical bistro, complete with chairs and tables, and there were guests seated outside on the pavements belonging to real establishments.
Each model walked through the staged set inside the venue before turning onto the streets outside. And they just kept coming. There was a sense of joyful excess here, with the show brimming over with close to 100 looks. It was a sensory overload, a fashion feast that revelled in making the most of the return of physical shows to the French capital.
Key to making this feel like a collection that looked forward rather than back, though, was the cast, a parade of Gen Zers that blurred the binary and embodied their generation's scant regard for gendered dressing. They wore clothes that oozed an unrepentant sense of joy – that were imbued with a spirit of individuality rather than the homogenous feeling of a teen tribe. The irreverence demonstrated here speaks to what made the collection feel so successful – the lack of empty veneration for the house's history, instead opting to breathe new life into it by willing a new generation to take it on.