Joseph Gordon-Levitt will star in a chaotic new series about Uber
The first season of 'Super Pumped' will explore the toxic environment and sex scandals that nearly brought down the ride-sharing app.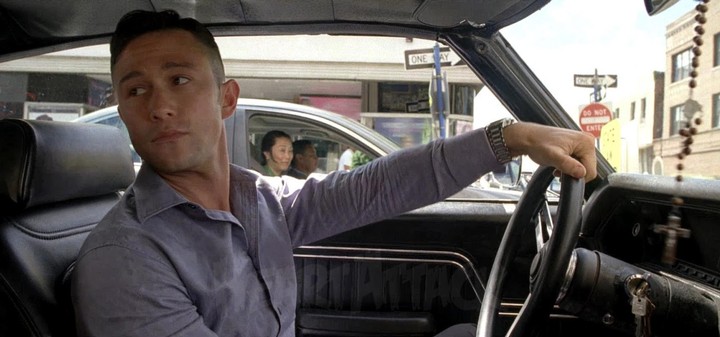 Still from Don Jon
10 Things I Hate About You and Inception star Joseph Gordon-Levitt will be taking on the lead role in the Showtime TV series, Super Pumped, as the ousted Uber CEO Travis Kalanick. The story of the chaotic rise of the upstart taxi app and the fall of Travis will be the focus of season one, with Variety reporting that future seasons of the anthology series will take on the histories of other major companies that completely revolutionised the business world. If one isn't on the meteoric rise of Fenty, what even is the point?
Season one, based on the novel Super Pumped: The Battle for Uber by New York Times writer Mike Isaac, will explore the rise of the groundbreaking taxi service from Silicon Valley, and the myriad of scandals that plagued Travis' time as CEO from 2010 to 2017. These included reports of him creating a toxic work environment, covering up sexual assaults, a tipping scandal and underpaying drivers, as well as 'greyballing' — where the app evaded local laws around the world by denying service to government bodies. The season will culminate in the dramatic boardroom coup against Travis that forced him to step down as CEO before leaving Uber completely in 2019.
"Joseph Gordon-Levitt is a remarkably intelligent and charismatic actor, embodying charm with an unpredictable edge. We are beyond excited to see what he will bring to the role of Travis Kalanick, the hyper-brilliant and controversial CEO whose ambition and reckless drive threatened the very enterprise he was determined to build," Amy Israel, Showtime's executive VP of scripted programming, said in a statement ahead of the show's release.
Other than Joseph Gordon-Levitt the rest of Super Pumped's casting has been kept under-wraps. Behind the camera will be Brian Koppelman and David Levien, who both wrote Ocean's Thirteen, and Quantico producer Beth Schachter, all serving as showrunners, executive producers and writers for the show.
As of yet no release date has been set nor do we know how many episodes the first season will be. Production is believed to be starting soon and we can only assume Joseph Gordon-Levitt is currently listening to "Vroom Vroom" by Charli XCX on repeat to get into character.
Tagged: