7 of Kurt Cobain's most iconic outfits
27 years after his death, the Nirvana frontman and 90s grunge originator continues to influence the way we dress.
Grunge is as synonymous with the 90s as zig-zag partings, The Spice Girls and illegal raves. Sending the previous decade's bold shoulder pads, peppy colours and loud patterns packing, the subculture — born in Seattle and supposedly named by Sub Pop Records boss Jonathan Poneman — swiftly shifted the popular aesthetic in an altogether angstier direction. And who, in their thrifted fuzzy cardigans, rare band tees and worn-out Converse, sat at the heart of this movement? Nirvana frontman Kurt Cobain, of course.
Kurt's ascent to fame was rapid. Nirvana formed in the late 80s and by 1991, the band's second album Nevermind had achieved major commercial success, with its lead single "Smells Like Teen Spirit" fast becoming an anthem for misunderstood teens everywhere. They toured extensively, put out a third album, In Utero, and would ultimately become one of the best-selling bands of all time. In the space of just a few years, Kurt had gone from an unknown kid in small town Washington, to one of the most famous musicians in the world. He was an alt-heartthrob with a small but perfectly curated wardrobe that, unbeknownst to him, would go on to influence fashion long after his untimely death in 1994, at the age of just 27. Indeed, even Saint Laurent and Gucci have sent Kurt lookalikes in bug-eyed sunglasses and patchwork jeans strutting down their runways in recent years.
Here we look back at the grunge star's style through his most iconic outfits.
Performing at a college show in Massachusetts, 1990
There are numerous photographs, music videos and magazine covers featuring Nirvana sporting dresses and make-up. On tour in April 1990, Kurt rocked a floral number for a show at Hampshire College in Amherst. "I like to wear dresses because they're comfortable," he would later tell Melody Maker. "There's nothing more comfortable than a cosy flower pattern. It just feels comfortable, sexy and free wearing a dress. It's fun." It's a look that would later be paid tribute to by other artists, including Post Malone when he live streamed a Nirvana tribute concert in 2020, and Kid Cudi in a Virgil Abloh-designed look during his SNL performance in April of this year. As one fan on Instagram pointed out: "Kurt walked so that Harry Styles could run" and, well, exactly.
On his wedding day to Courtney Love in Hawaii, 1992
On 24 February 1992, after completing an epic tour of the Pacific Rim with Nirvana, Kurt and Courtney Love got married as the sun set over Waikiki beach in Honolulu. Pictured here with drummer Dave Grohl, Kurt was apparently planning to wear a dress for the occasion but instead settled on a pair of checked pyjamas, a long blue beaded necklace and a woven Guatemalan cross-body bag. A classic Kurt Cobain comfort move. Courtney opted for a beautiful vintage dress that, rumour has it, was once worn by Seattle movie star Frances Farmer in a film. "I recall feeling deeply delighted, dizzy, so in love, and knowing how lucky I was," Courtney said on Instagram, posting to celebrate what would have been their 28th wedding anniversary last year. "This man was an angel."
With Flea from Red Hot Chili Peppers at the MTV VMAs, 1992
More layering here from Kurt with a heart-detailed open shirt worn over a Daniel Johnston tee made to celebrate the Sacramento artist's sixth record Hi, How Are You: The Unfinished Album. Although it was released by Homestead Records in 1988, the album cover wouldn't be beamed into wider public consciousness until the Nirvana frontman sported it to the MTV Awards in 1992 before proceeding to wear it over and over again. Band T-shirts were wardrobe staples for Kurt, who was often seen in tees promoting Frightwig, Sonic Youth, The Shaggs, Jawbreaker and fellow Sub Pop band Mudhoney. In 1992, backstage before his SNL performance, he took a Sharpie and made a DIY band tee with his own take on San Francisco punk band Flipper's logo. After wearing it for the show, as well as in the "Come As Your Are" music video, Kurt's not-quite-right version of the logo soon became more popular than the original.
With RuPaul and baby Frances Bean at the MTV VMAs, 1993
With his striped T-shirt and red bug-eyed sunglasses, this is the costume party version of Kurt we all know and love. Holding on to his daughter Frances Bean's ankle as she's held and comforted by RuPaul in full drag, Kurt flashes a slight smile for the camera. Fans will be well aware that Kurt also had these sunnies in both blue and white — but did you know that the latter colour had a real moment about four years ago when very similar designs appeared on the runways of Saint Laurent and ACNE? A timeless icon.
Performing in New York, 1993
As part of 1993's New Music Seminar, Nirvana performed at The Roseland Ballroom in New York, with Kurt wearing his now iconic Freddy Krueger-esque oversized black and red sweater, patchworked jeans and Converse. Austin noise rock band The Jesus Lizard opened proceedings before Kurt and friends launched into their first live rendition of their third album, In Utero. According to interviews with both Nirvana's former publicist and photographer Jesse Frohman, Kurt overdosed the morning of this show and yet stuck to his schedule regardless. You can watch part of their set including the songs "Lithium", "Come As You Are" and "Milk It" here.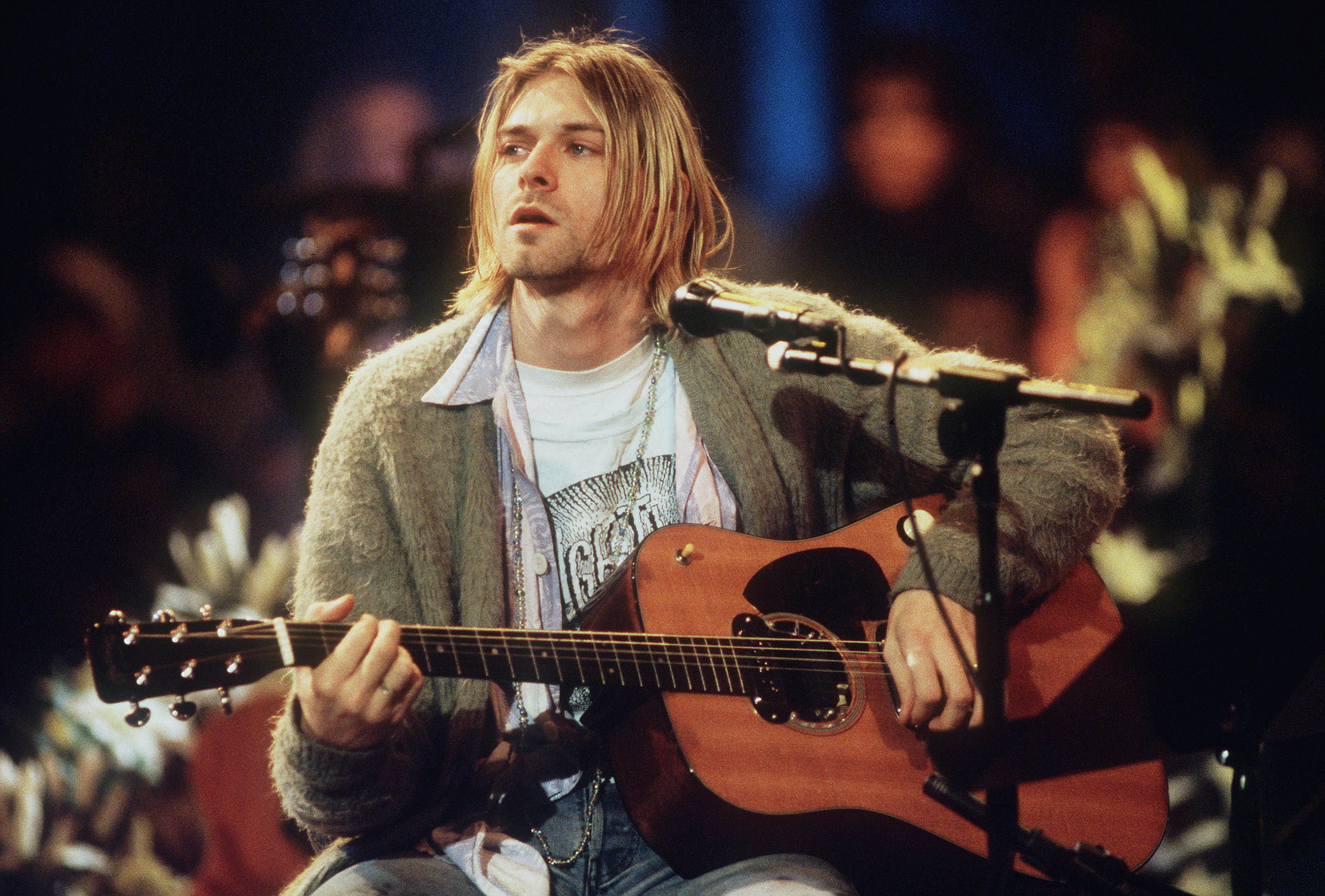 At Nirvana's Grammy-winning MTV Unplugged, 1993
In a dull green cardigan layered over a patterned shirt and white band tee, Kurt's look is one that wouldn't be out of place in 2021. Of course, this was arguably the most famous of many cardigans that Kurt wore on rotation. Layering oversized looks was pretty standard for the artist, who apparently did it both down to being self-conscious of his slight frame and as a way of dealing with the cold climate of the Pacific Northwest.
For a Nirvana photoshoot, 1993
Kurt, Dave Grohl and Krist Novoselic wore the whole rainbow as they took to the streets for French magazine Mademoiselle in 1993. Wearing graphic Gene Meyer silk scarves as skirts, Kurt's pink number was topped off with a red Dries Van Noten sweater and his own white socks. And boy did they work for the camera! Sure, it was hardly revolutionary in the 90s, but by casually disrupting the gender binary in mainstream culture on the regular, Kurt certainly played a part in normalising it.