Eleven life-altering 90s albums you should listen to now
The best of hip-hop, grunge, Britpop and pop punk.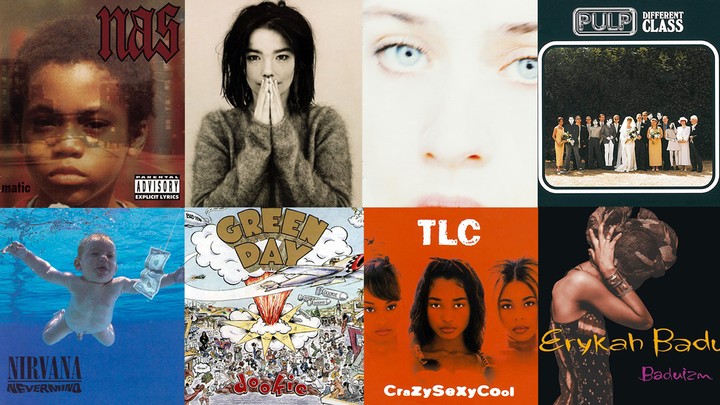 Do you ever get the feeling you might have overlooked loads of really important, life-shaping albums? Perhaps you were born too late or simply had nobody introducing you to the good stuff. The 90s, we reckon, were a particularly strong decade for music. Hip-hop grew into itself, Britpop went international and grunge seeped into the mainstream, influencing fashion as it went. Today, 90s music is having something of a resurgence, with artists like Beabadoobee taking clear influence from the latter genre, and Olivia Rodrigo embracing pop-punk and its younger sibling emo on her debut album SOUR. Meanwhile Willow Smith, Chase Hudson and many more are calling on Blink 182's Travis Barker to produce their records.
What we're trying to say is that it's about time you rectified that gaping hole in your musical education, and that this is a good place to start. Read on for an entry-level introduction to some of the most important albums the 90s gave us -- from Björk's genre-blurring Debut to rap totem Illmatic by a then 18-year-old Nas.
Listen and learn.

1. Björk – Debut (1993)
After her punk band The Sugarcubes disbanded, Björk moved from Reykjavik to London and recorded all the songs she'd been keeping to herself -- some (including Grammy-nominated "Human Behaviour") the then 27-year-old had been hoarding since her teens. On release, Debut's meld of trip-hop, acid house, pop, jazz and everything in between shook a music industry that was then centred around grunge and Britpop, aka various men with guitars. We put Björk on the cover of i-D at the time and went over to her flat where she told us she thought the album was "Alright," explaining, "I don't think I'll make a really good album until maybe three or four records down the road". We beg to differ. Listen here.

2. TLC – Crazysexycool (1994)
Featuring "Creep" and "Waterfalls", TLC's Crazysexycool (their second full length) is a timeless coming-of-age record slick with sexy R&B. The Atlanta trio -- T-Boz, Left Eye and Chilli -- reportedly named it while on the road in Europe, by hybridising their three distinct personalities. Sorry to 'crazy', I guess? It went 12 times platinum, selling over 23 million copies worldwide and bagging two Grammys. The group also became the first Black act to ever win Video of the Year at the VMAs for "Waterfalls", a song written about the HIV epidemic and drug addiction. Not only were they tackling serious issues and breaking records, TLC were inspiring Destiny's Child in the process. And thank god they did. Listen here.

3. Nirvana – Nevermind (1991)
Kurt Cobain made history when he borrowed from the heavy rock of bands like Black Flag and forced his own take through a pop filter. Nevermind was born and grunge had been unleashed on the unsuspecting mainstream masses. The album was a resounding success, with lead single "Smells Like Teen Spirit" soon adopted as an anthem for misunderstood teens everywhere. Fun fact: having previously been signed to ice cool indie Sub Pop Records, this was their first release on a major label and as such they toyed with the idea of naming the album 'sheep'… after the people they believed would be buying it. Probably a good job they didn't really. Nevermind went on to achieve the status of one of the best selling records of all time. A review in Spin claimed that "you'll be humming all the songs for the rest of your life" and they were not wrong. Listen here.

4. Air – Moon Safari (1998)
History suggests that Air is Sofia Coppola's second favourite musical project after her husband's band, Phoenix. She got the French duo to score her tragic-beautiful directorial debut, The Virgin Suicides, in 1999; and included them in the soundtracks for Lost In Translation and Marie Antoinette. Before that though, came Air's first record: Moon Safari. Lead single "Sexy Boy" and its vocoder-kissed electronica will likely be familiar to you — it blew up on both sides of the Atlantic and would later appear in episodes of Skam and Sex Education. Stick the record on, close your eyes and you'll find yourself either spaced out in a beach cafe or floating blissfully through space. Listen here.

5. Fiona Apple – Tidal (1996)
How old were you when you released your first album? Fiona Apple was 18. She had started making music at the age of 12, inspired by her heroes from the world of jazz and poetry to channel a traumatic childhood into something good. Tidal -- specifically its third single "Criminal" -- fitted nicely into the alt rock scene of the time, propelling the artist into a world of celebrity. She was not a fan. On winning Best New Artist at the 1997 VMAs, she used her acceptance speech to share some thoughts on the subject: "This world is bullshit. You shouldn't model your life about what you think that we think is cool and what we're wearing and what we're saying and everything. Go with yourself." Come for a seriously good sonic encapsulation of depression on "Sullen Girl", stay for those icy blue eyes staring straight out of the album artwork and into your soul. Listen here.

6. Erykah Badu – Baduizm (1997)
Inspired by her African roots, Texas neo-soul legend Erykah Badu's debut album was released in 1997 to critical acclaim. A storyteller of the purest kind, the 26-year-old wrote with the intention of spreading wisdom via a sound that unified 70s soul and hip-hop culture. Singles "On & On" and "Appletree" — the latter marking Erykah's first time singing on a track as opposed to rapping — were stand-out successes and the record went on to win her a Grammy for Best R&B Album. Baduizm is sexy, spiritual, and seriously influential. Listen here.

7. Green Day, Dookie (1994)
Sure, Green Day are fun but did you know that the California pop punk band's Grammy Award-winning third album -- their first on a major label and to this day their best seller -- spans some serious topics? The coming-of-age wonder explores anxiety ("Basket Case") and details frontman Billie Joe Armstrong coming to terms with his bisexuality as a teen ("Coming Clean"). Given Dookie brought pop punk to the masses, you can thank Green Day for inspiring the artists that would go on to incite the genre's current revival. Oh and the album was named after the fact that the band kept getting the shits on tour. Yep, that's what that is. Listen here.

8. Nas – Illmatic (1994)
At the age of just 20, Nas perfectly encapsulated what it was to grow up in New York's projects in the mid 90s. His debut album samples jazz, hip-hop movie Wild Style and the roar of his local train across 10 tracks -- including the iconic "N.Y. State of Mind" and "The World Is Yours" -- that paint a very vivid picture of his often-brutal city. Now widely acknowledged as one of the greatest and most influential rappers of all time, on Illmatic, Nas's lyrics are like poetry. Listen here.

9. Rage Against The Machine, Rage Against The Machine (1992)
In 1963, a Buddhist monk named Thích Quảng Đức set himself on fire to protest the president of Vietnam's oppression of his religion. John F. Kennedy saw a photograph of the act of self-immolation and withdrew his support of the ruling government. So when rap metal band RATM put said photograph on the cover of their debut album, people knew to expect something radical. It was its second track, "Killing In The Name", that would really blow up. Written in 1991 after four LAPD officers were caught on CCTV savagely beating Black author and activist Rodney King, the lyrics tell an all-too-familiar tale of endemic racism. "Some of those that work forces / Are the same that burn crosses," yells frontman Zack de la Rocha with increasing urgency. "You justify those who died / By wearing the badge / They're the chosen whites." Damn. Listen here.

10. Pulp – Different Class (1995)
Forgot Oasis, ignore Blur for a moment, and consider this: Sheffield band Pulp were the most exciting thing to come from the Britpop scene. Very much doing their own thing, singles like "Disco 2000" and "Common People" were subversive, funny and catchy as hell. One year later -- riding high on the record's success and feeling frustrated with the shape of the industry -- singer Jarvis Cocker crashed Michael Jackson's performance at the BRITs, appearing front of stage and getting his bum out in protest. That's what he thought of a world that allowed a popstar to be portrayed as a Christ-like figure, indulging the fantasies of those with huge wealth and power, he would later explain. Absolutely fair enough. Listen here.

11. Elliott Smith – Elliott Smith (1995)
Like Phoebe Bridgers? You'll love Elliott Smith. The singer-songwriter, who lived in Loz Feliz's Snow White cottages, is her musical hero -- referenced sonically across much of her work and the subject of the title track from her 2020 album, Punisher. A punisher, she told us at the time, is someone who doesn't know when to stop talking. "So much of my music has been inspired by him," she said, admitting that she'd have been a total punisher if she'd ever met Elliott, who had long struggled with depression and addiction before he died at 34. This, his second record opens with "Needle In The Hay" -- made famous by Richie Tenenbaum's attempted suicide scene in Wes Anderson's The Royal Tenenbaums -- and the rest of the album is just as impressive (and emo). Listen here.