Images courtesy of Moschino
Moschino gives us kindergarten glam for SS22
For Jeremy Scott's return to New York, fashion's King of Camp took us back to nursery school.
|
10 September 2021, 9:09am
Images courtesy of Moschino
If there was one designer on this season's New York Fashion Week schedule that we would have put money on to embody this triumphant feeling of the runway's return, it's most definitely Jeremy Scott. The creative director of Moschino, who brought the Italian house back to the city for SS22, not only upped the ante with top-tier supermodels, but brought us back, quite literally, to a simpler time.
Over the last few years, a love for all things nostalgic has flooded both runways and Instagram feeds. Our obsession with 90s minimalism and the effervescent Y2K era -- a revival is one that gives and, well, keeps giving -- is seemingly never-ending, but Jeremy took us further back, still. To a crowd of eager onlookers and A-listers who braved the rain in Bryant Park, Jeremy presented Moschino's SS22 collection, titled 'Ladies Who Lunch'.
Gigi Hadid opened the show in a matching teal skirt suit and jacket covered in an illustrated animal print. Her earrings were pink rubber duckies and she wore an oversized, plastic chain link necklace which spelled out Moschino in rainbow block letters -- you know, the kind with magnets that you used to rearrange on the refrigerator door. Imaan Hammam also sported a classic skirt suit in highlighter yellow, with baby animal buttons — like a Pepé Le Pew skunk clutching a pink flower, a tiger wearing a turquoise bow and a cow, we believe, about to jump over the moon. Precious Lee wore a belted baby pink trench with scalloped edges, embroidered tabby kittens and balloons.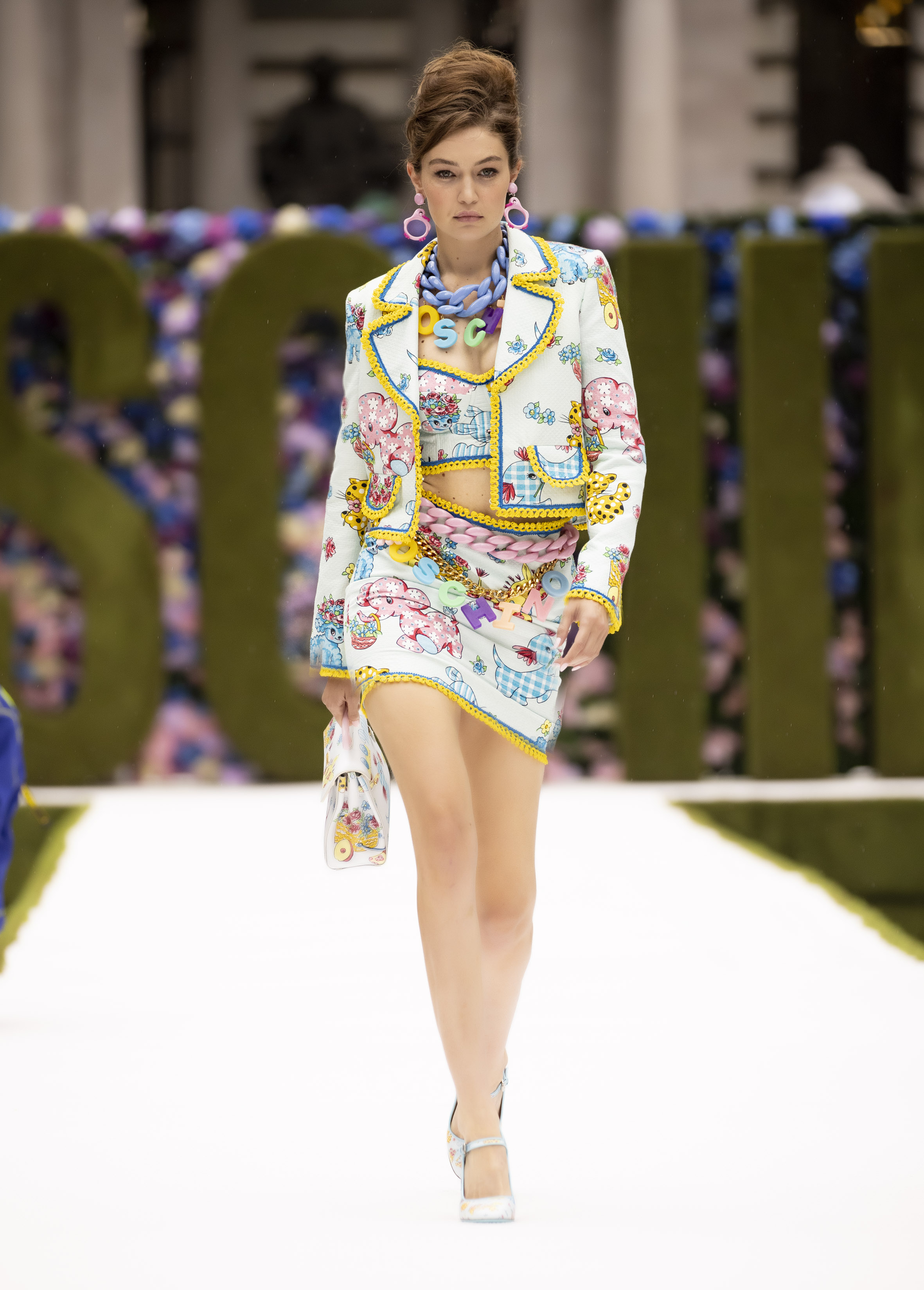 While the characters of Moschino's nursery rhyme may very well have been bears flying kites, poodles with flower crowns, happy-go-lucky seals balancing striped beach balls, and giraffes pulling trolleys chock-full of blossoms, these playful references were peppered throughout classic silhouettes -- babydoll coats, knitted dresses and impeccably tailored separates, paying tribute to Franco Moschino's signature suiting. Childhood novelties had their moment, too -- we can't not mention accessories like a fuzzy 'Mary Had a Little Lamb' purse and a stacking wooden block clutch, all carried by women sporting prim bouffant hairdos.
The show concluded with an "embroidered menagerie" of dresses: one featuring a three-dimensional pony with a pink marabou mane; on another an oversized sleeve was turned into a quilted elephant's trunk. "Ultimately, these are the finale ensembles to spring's knowing, saccharine irony," the show notes read. "The 'Ladies Who Lunch' are fabulous, no doubt, but they may also sometimes see the world through rose (or baby pink)-colored glasses."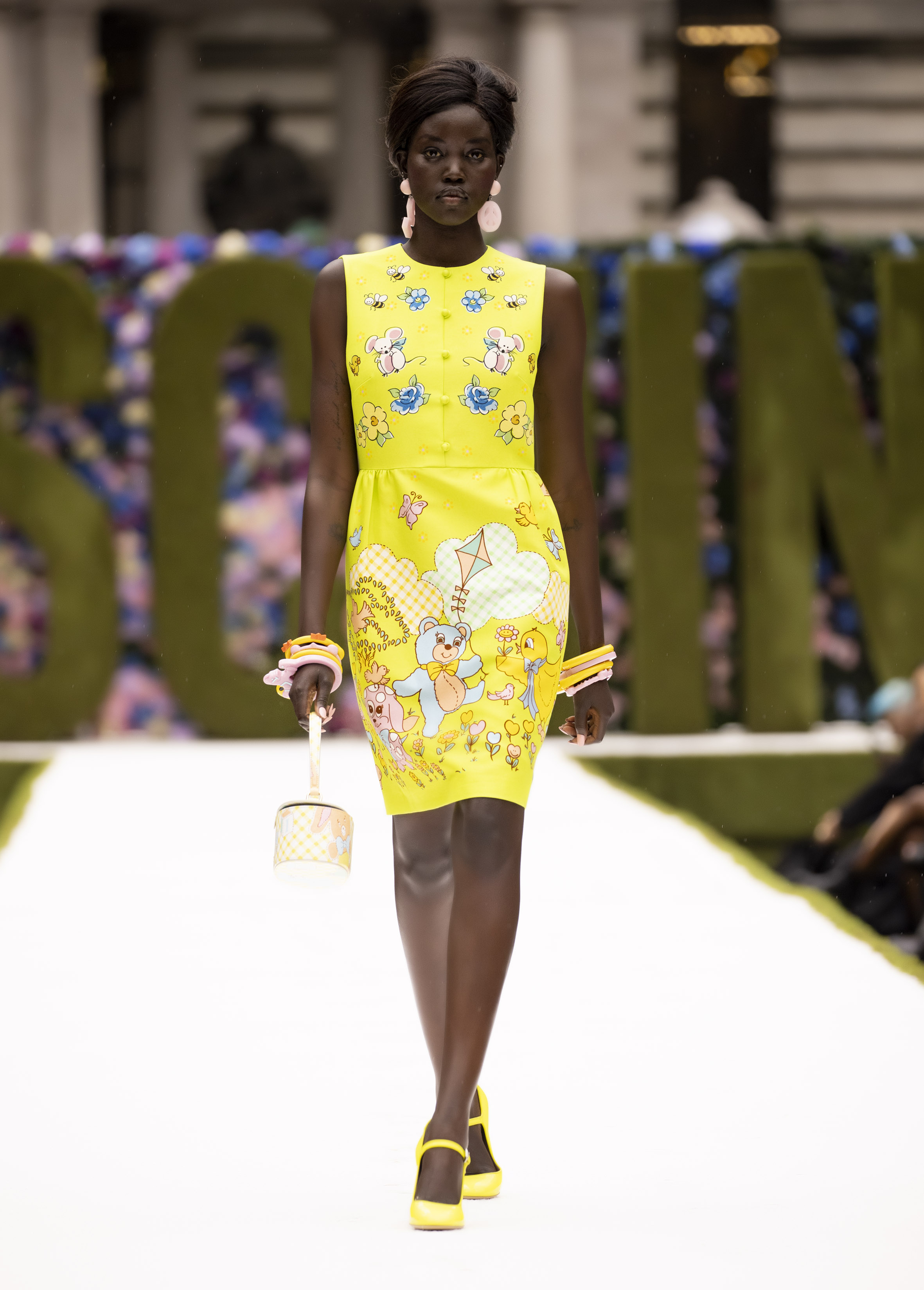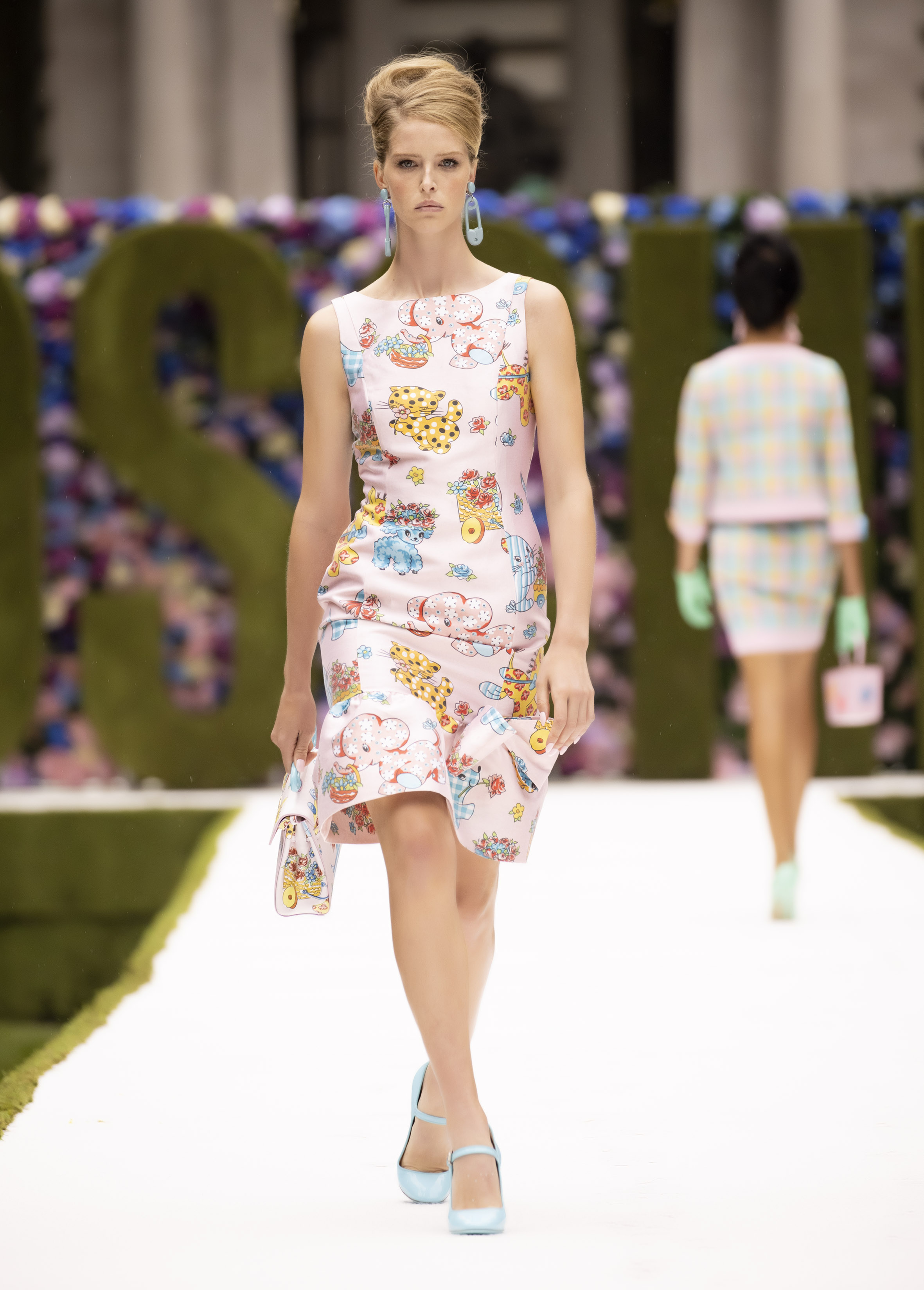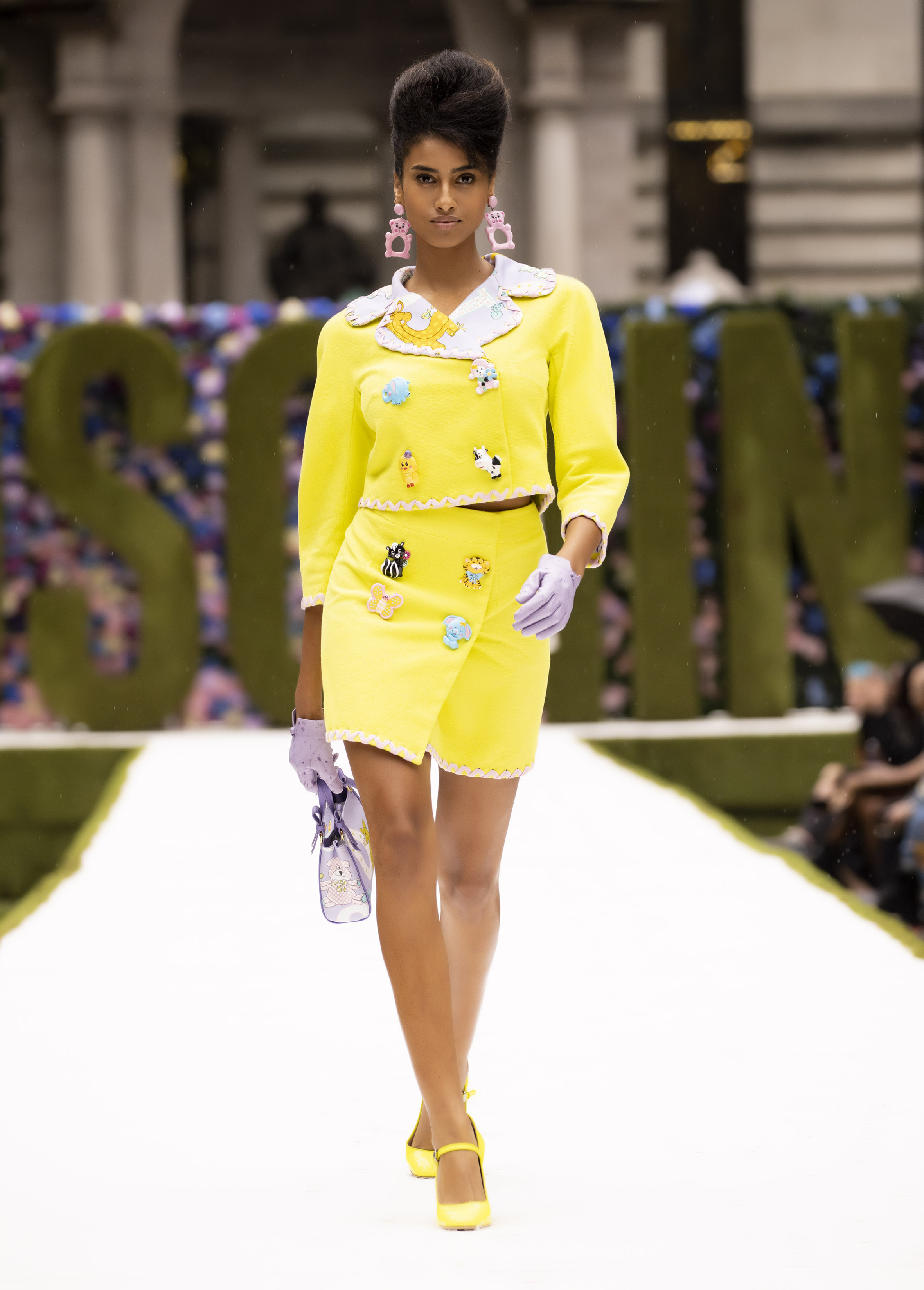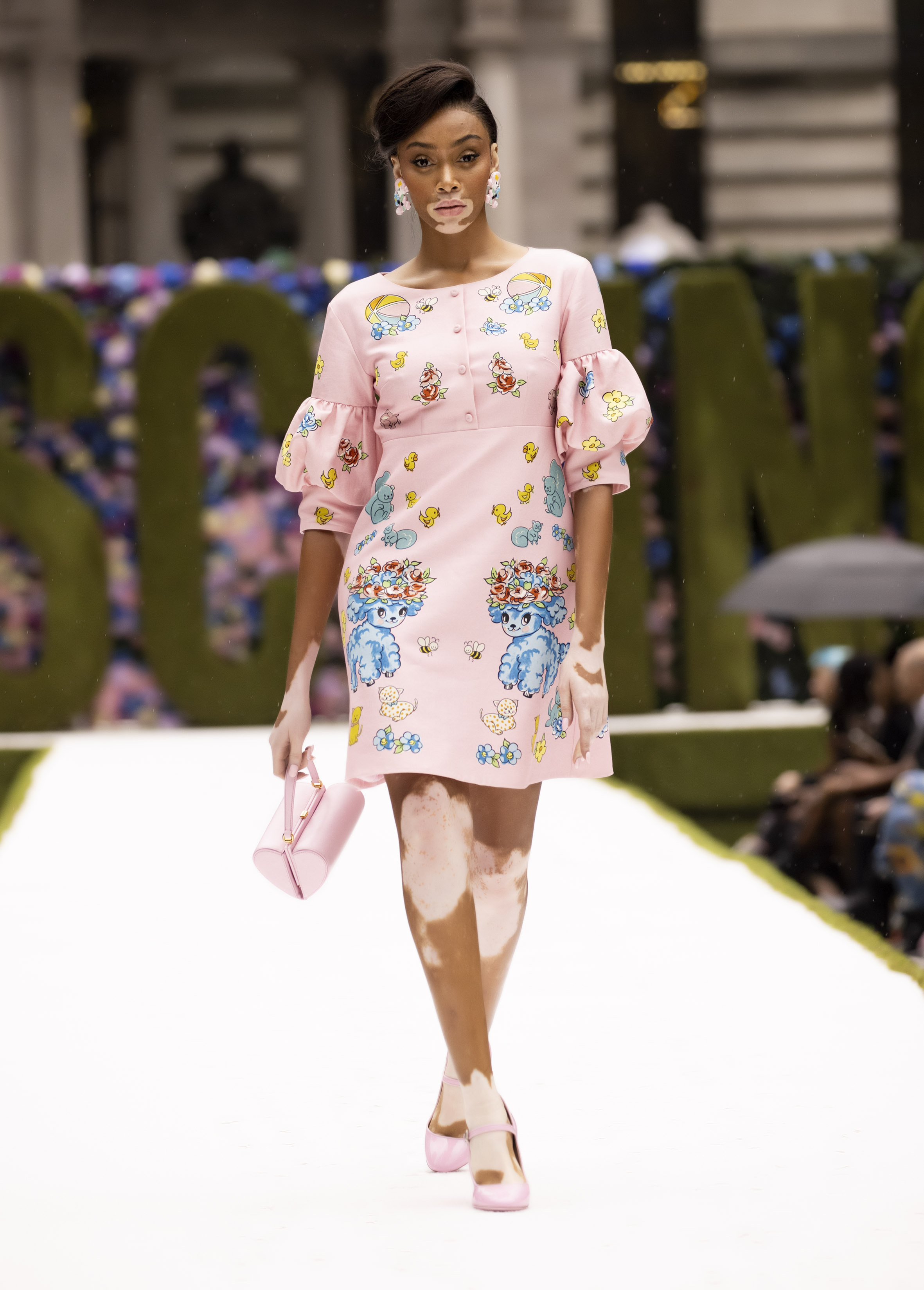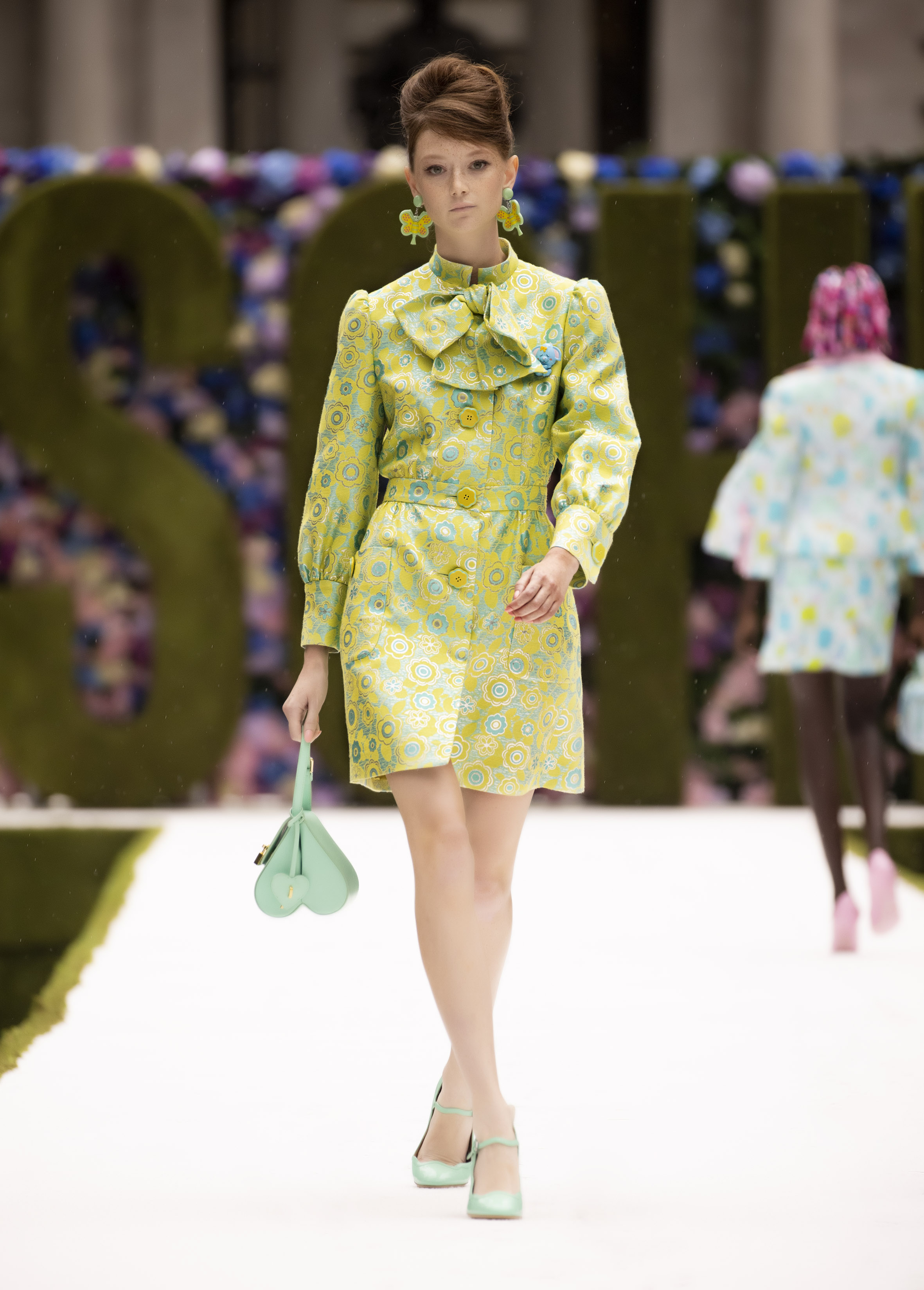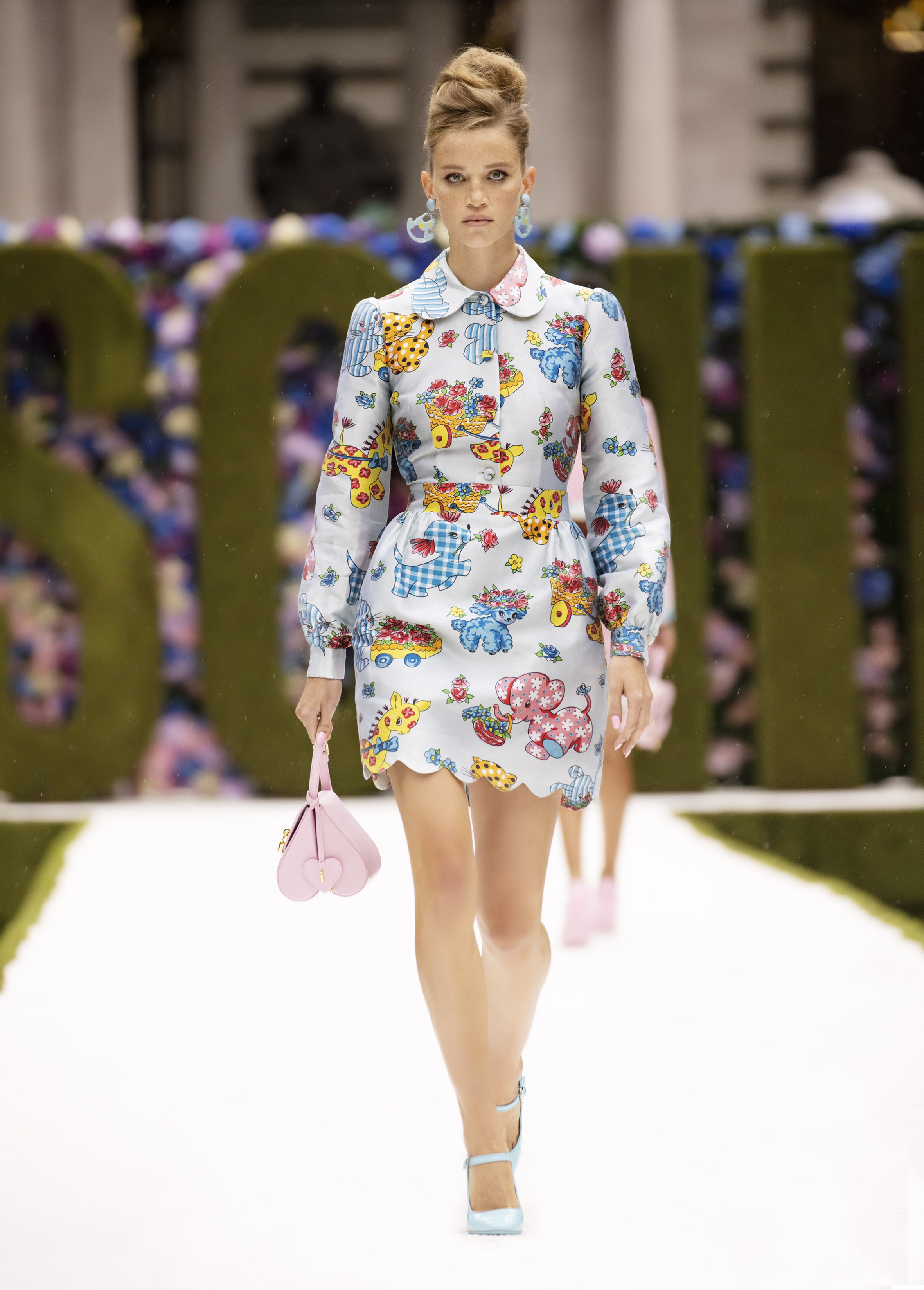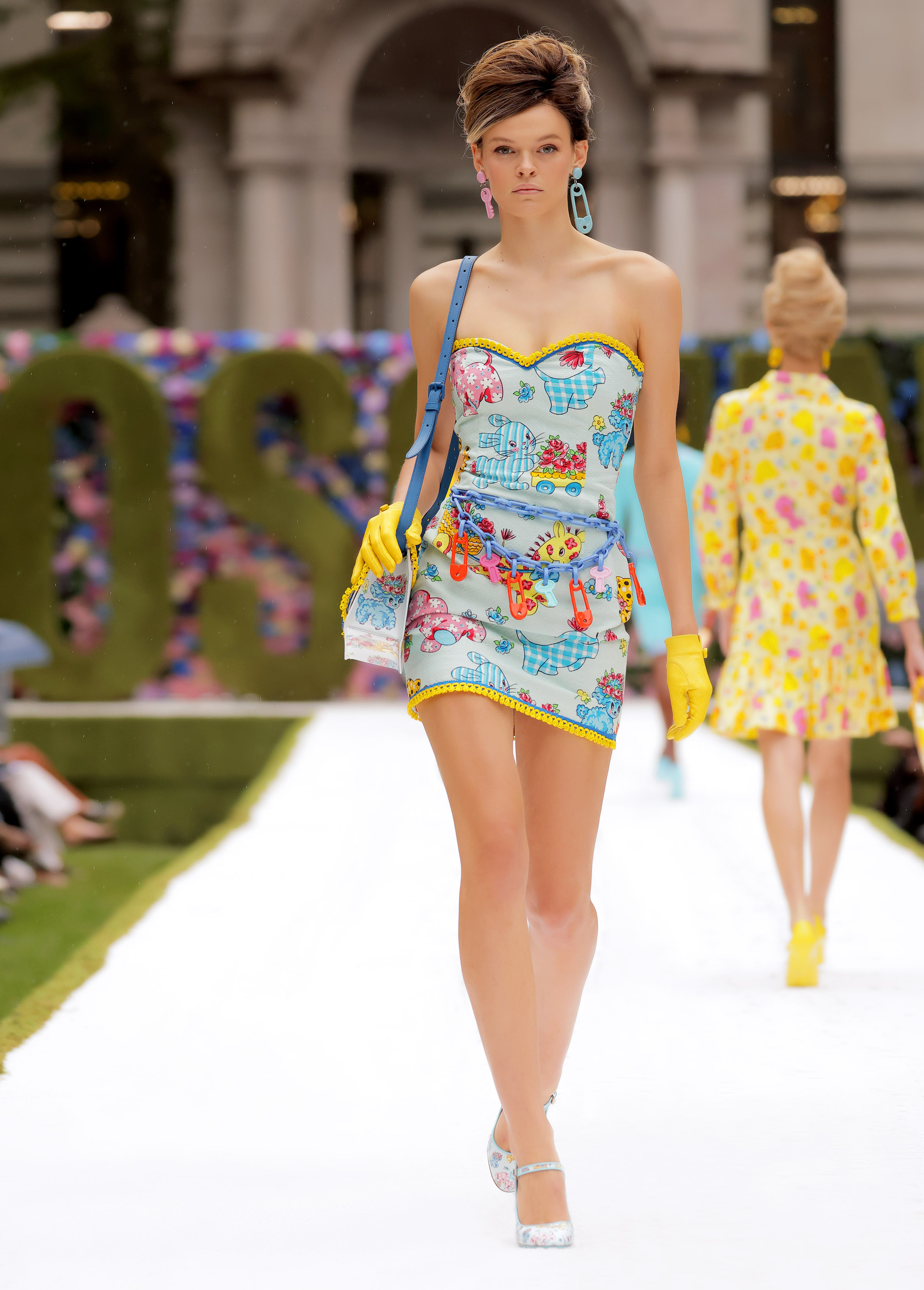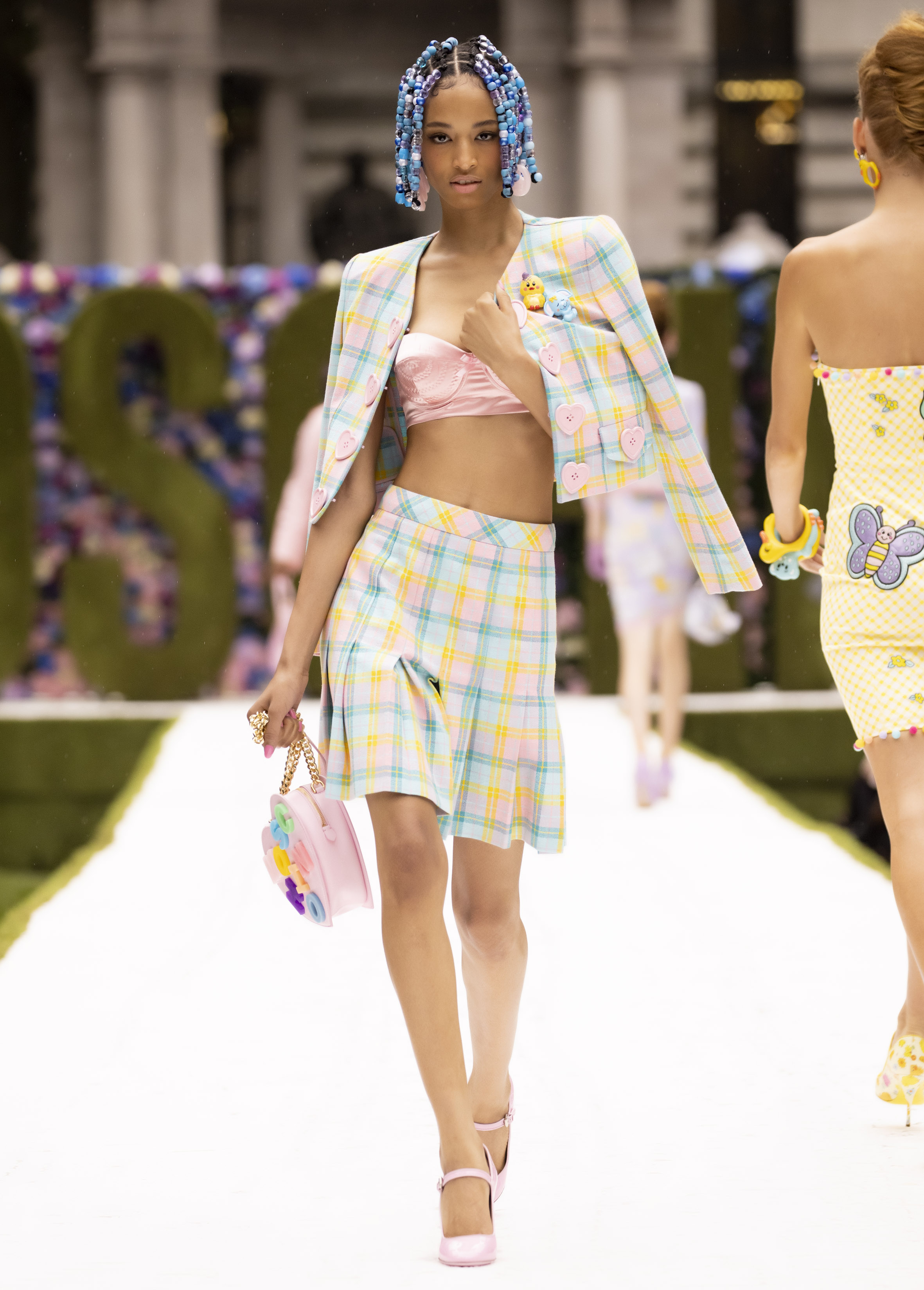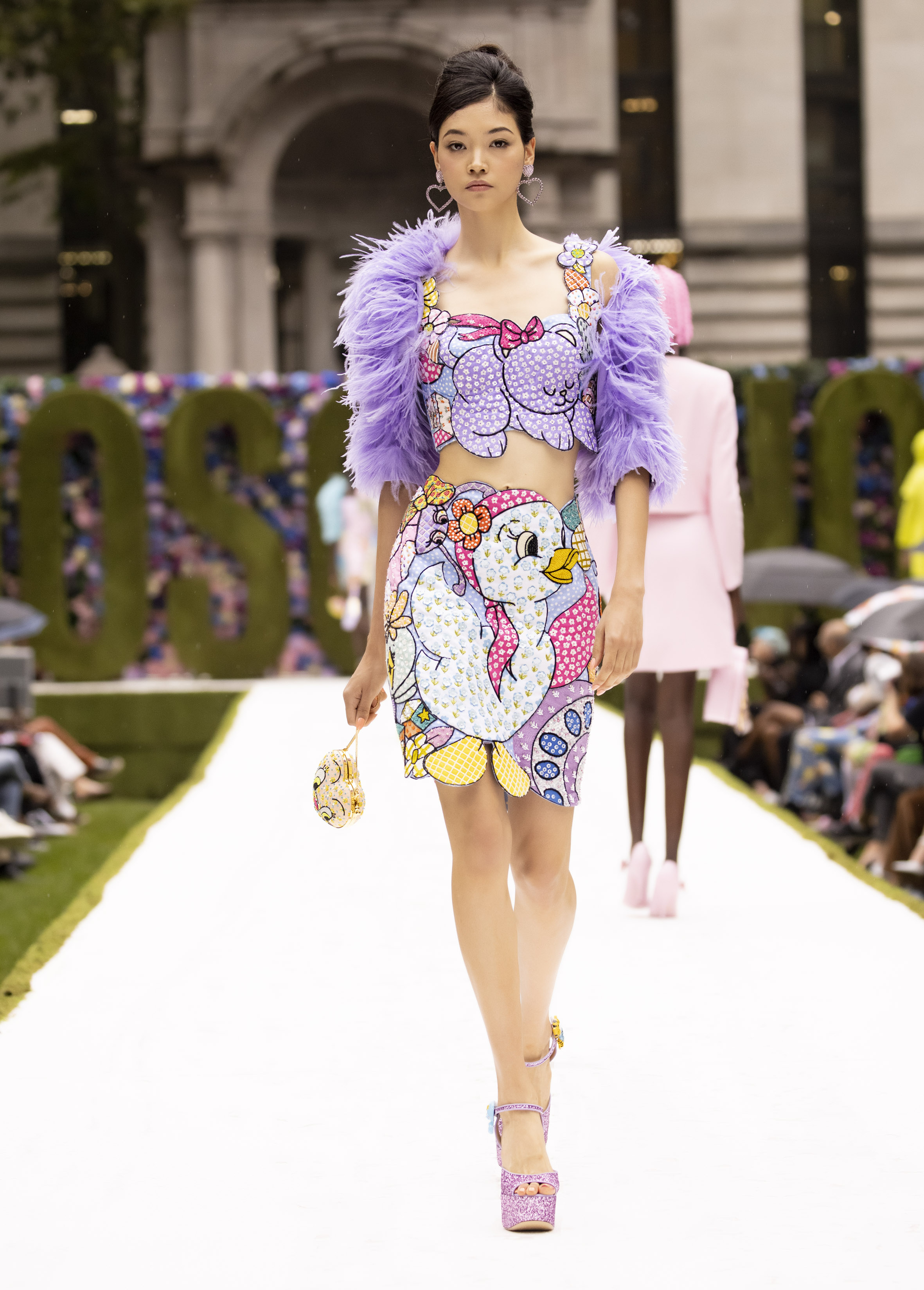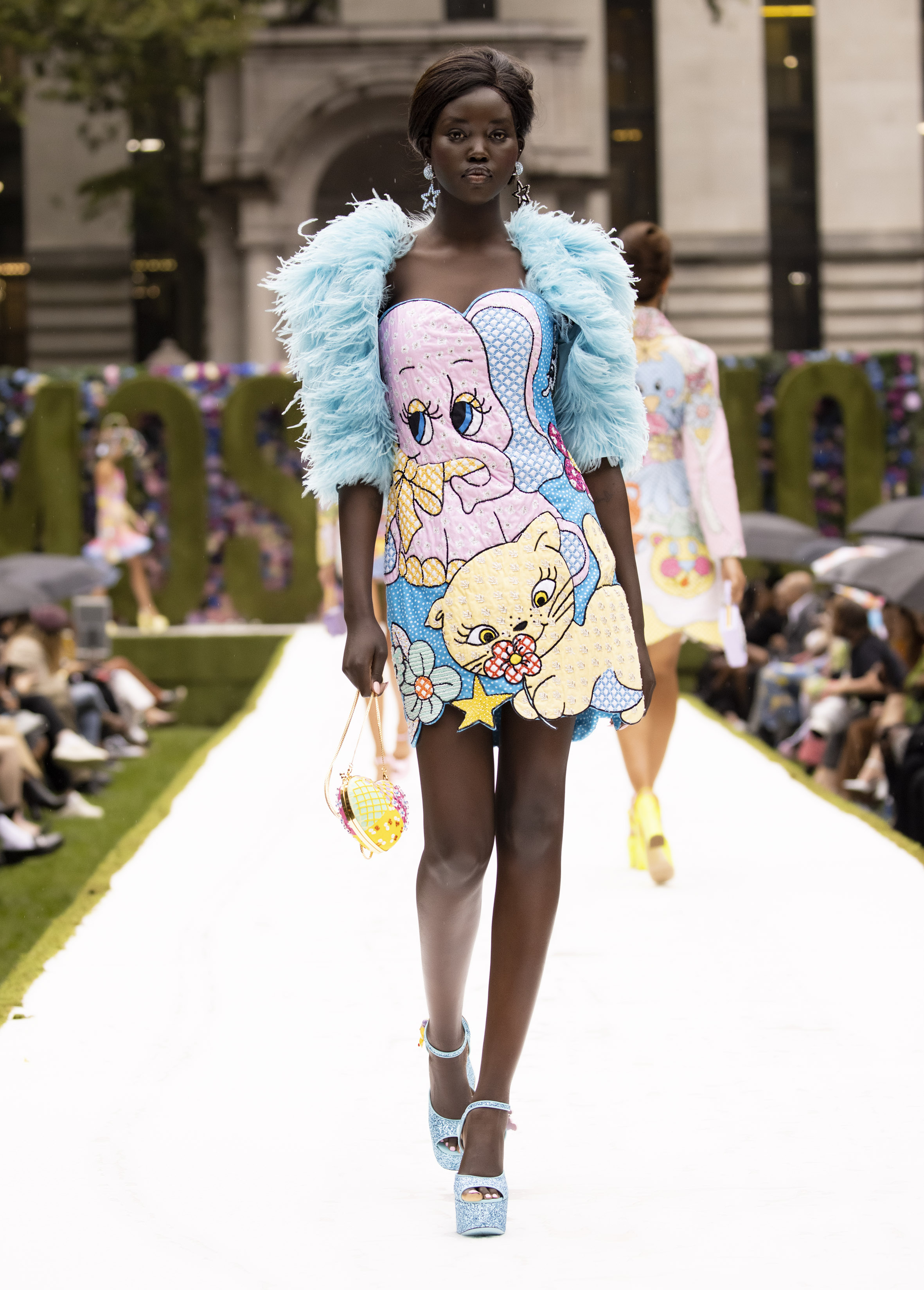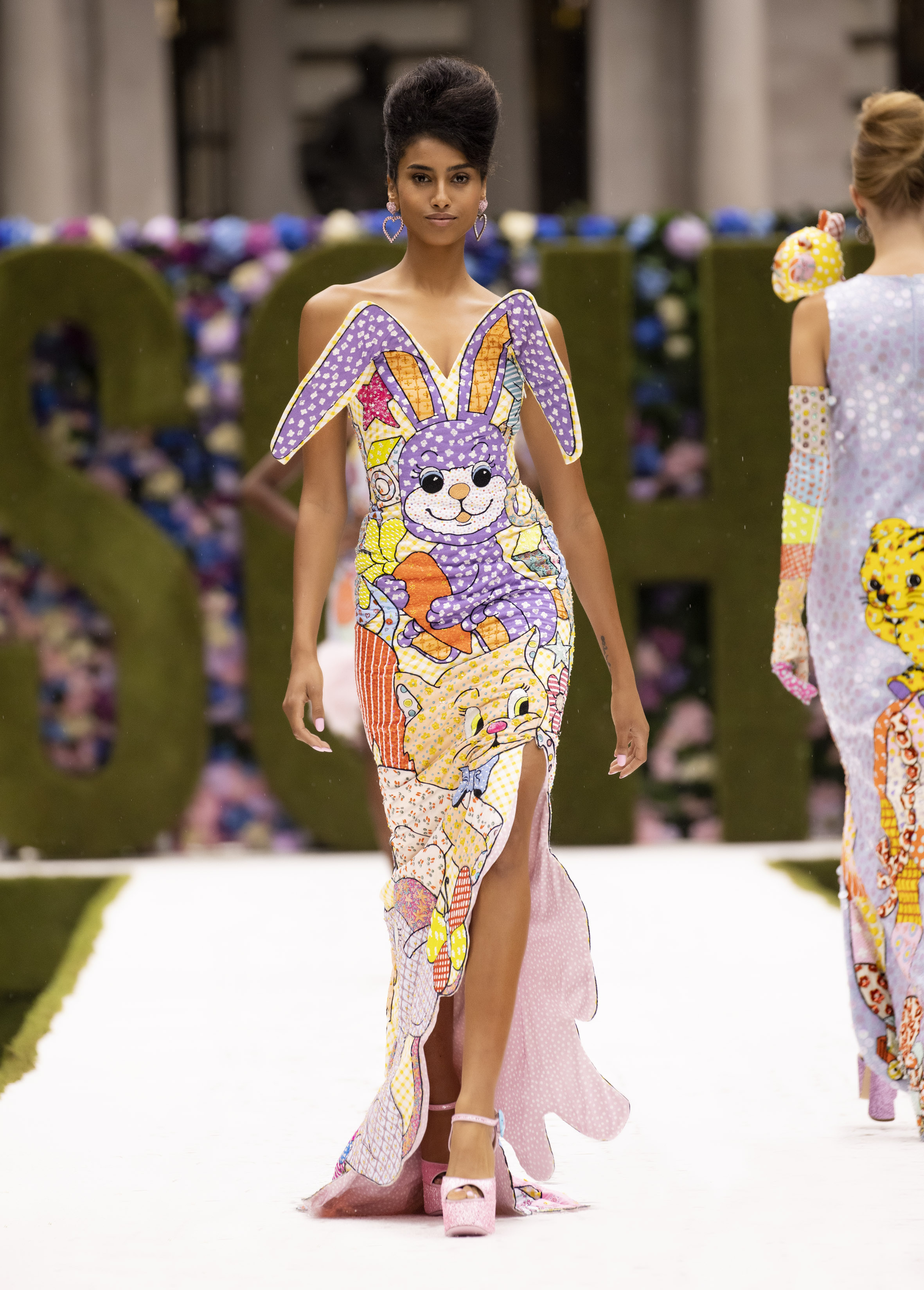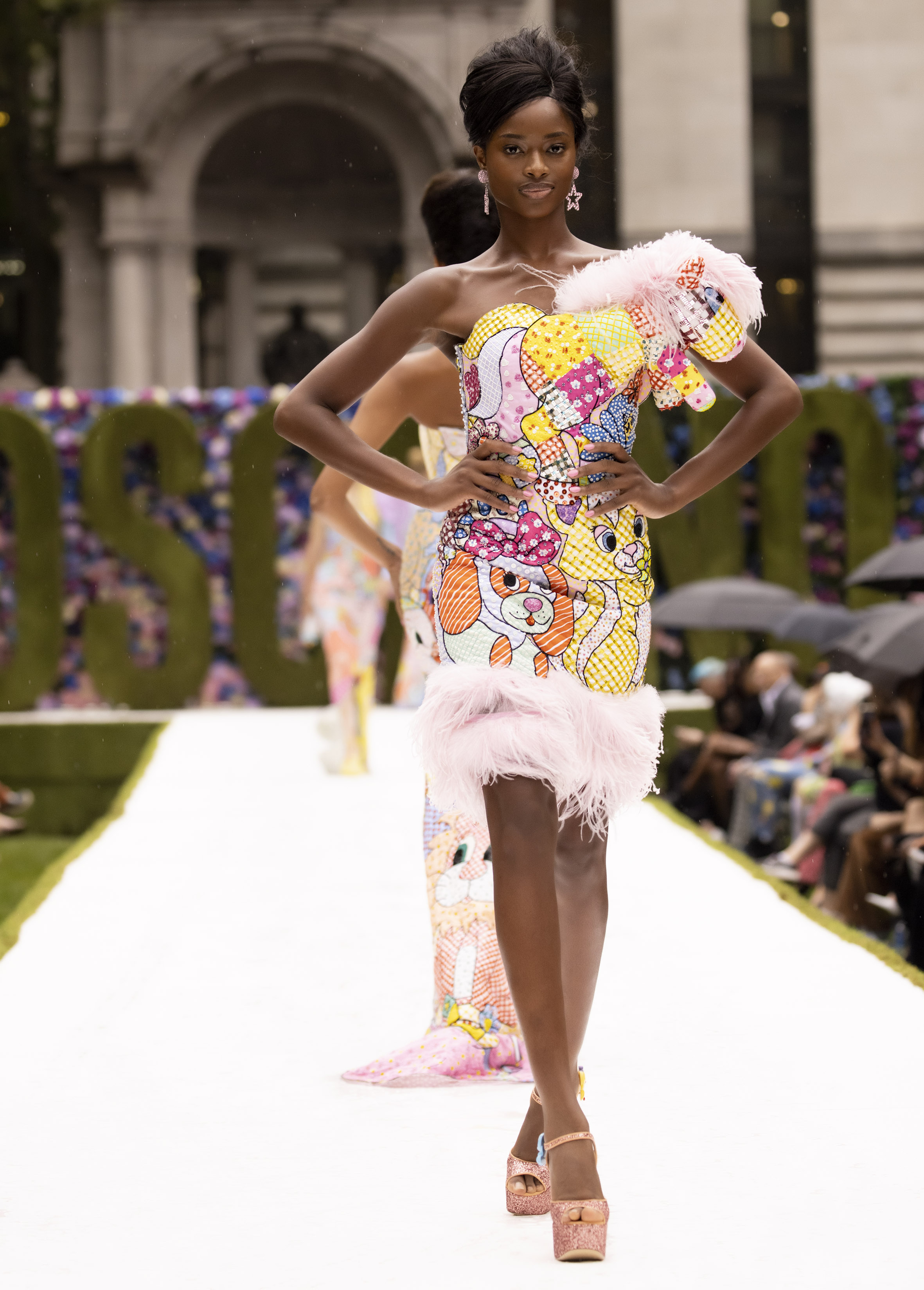 Follow i-D on Instagram and TikTok for more fashion reviews.