Images courtesy Dover Street Market
everything you need to know about balenciaga's dsm copyshop
Finally! Your chance to collab with Demna!
|
01 December 2017, 2:55pm
Images courtesy Dover Street Market
Few creative directors can generate the kind of fashion hysteria that Demna Gvasalia does. He can throw impromptu pop-ups on Hong Kong harbours or in Seoul warehouses with 24 hours notice and still have swathes of people show up. Considering the hype those Vetements events received in the past, it's no surprise then that he's brought his left-field approach to fashion retail to his tenure at Balenciaga too.
Following a successful takeover of Colette this summer, the "hottest brand in the world" will be turning the ground floor of Dover Street Market London into a copyshop, where the brand's fans will have the chance to individually customise and print their own T-shirts with some of Demna's bold and playful graphics.
Launched alongside an exclusive colourway of their infamous Triple S sneaker (which is now sold out btw), the event is bound to bring a bunch of Balenciaga die-hards from around Europe to DSM over the festive period.
Planning on heading along? Prep yourself by reading our guide to ins-and-outs of what's going down – from time slots to the limitless ways you can be inventive with your very own Balenciaga creation.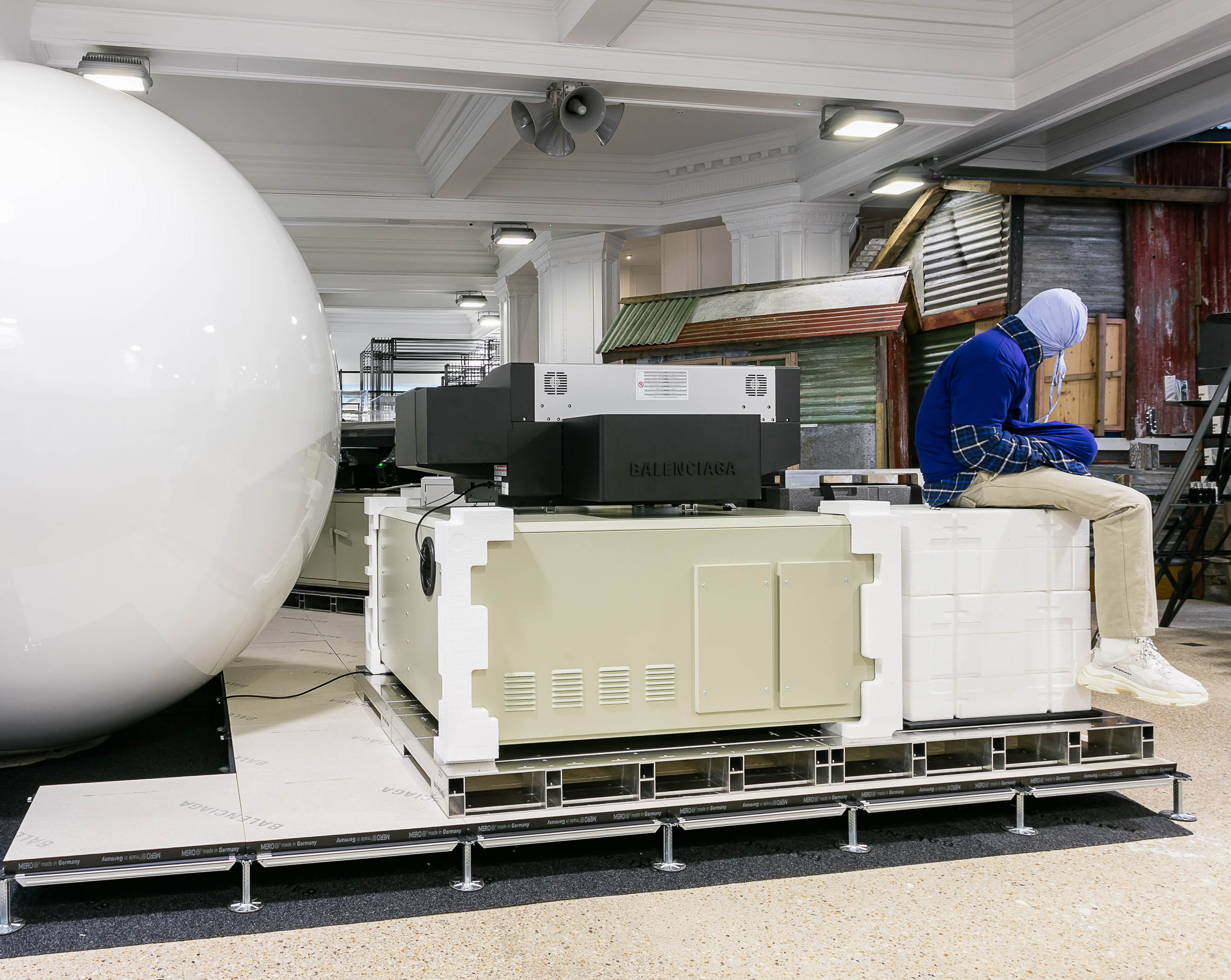 You'll need a time slot, so get in there early!
Don't expect to turn up at the doors of DSM and jump right onto the Copyshop's design system. Fans queued outside the doors the morning of the launch to ensure they were in with a chance of grabbing the first tees, fresh off the machine. To avoid the whole thing turning into a sea of Balenciaga cognoscenti, eager to get their hands on their own slice of the brand, there's a queue system in place. Turn up, leave your name, be patient. You'll be given a time slot, and will be designing your own tee in no time.
The designs are inspired by Americana, wrestling and rockstars
It would have been easy to rehash old ideas and flog it to a loyal fanbase, but the original designs -- many of them nods to trashy, ridiculous elements of Americana -- make this a customisable, capsule collection. Fancy donning a Balenciaga tee with the obscured face of John Cena in wrestling gear, a leopard, or a valiant golden eagle? How about all of the above? Why not pay homage to Drake with a 'Shotline Bling' motif? Or show your softer side with a cut-out of a kitty cat? The options are literally endless.
And each one will be a 1 of 1 Balenciaga original
The backgrounds, logos and elements on offer are so vast that it's practically impossible for any two designs to be the same. The system Balenciaga have created gives you the option to resize and reposition dozens upon dozens of graphics. Pair that with the option to choose your own T-shirt colour and you're basically walking away with a completely original Balenciaga piece for £295 -- Demna approved.
Also, if you're a fan of subtlety, fear not! If you're not bold enough to wear your innovative, head-turning work of art as a full-print tee, you can turn your creation into a more subtle pocket-sized design instead.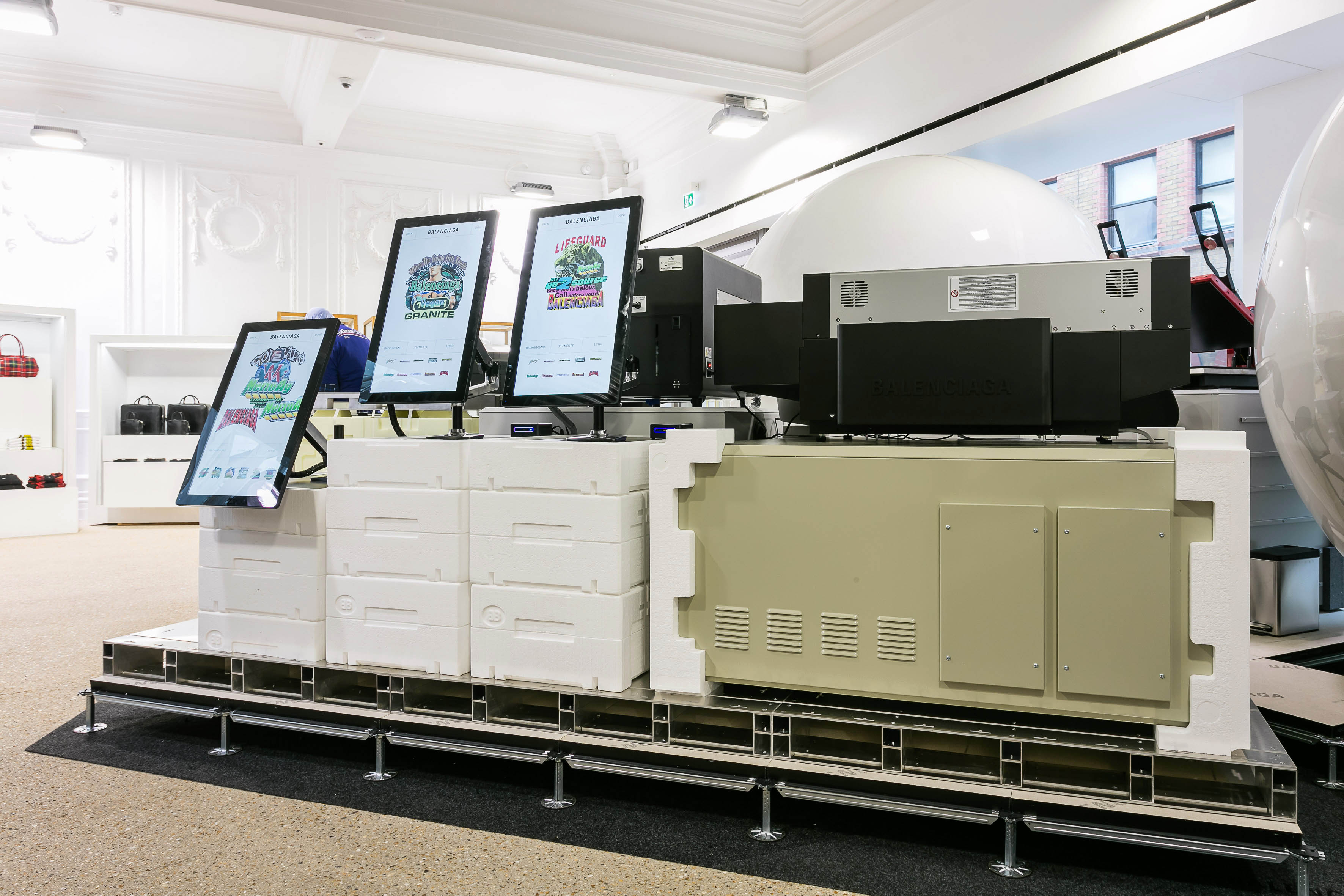 The team take their time with it
While it would be easy to shove these fan-compiled designs into a conveyer belt system, churning out a thousand tees a day, Demna is sticking to his brilliant, environmentally conscious 'demand outweighing supply' strategy. Now, there's no chance of stock being left over come sale season; each piece has a home! The team also limit themselves to making no more than ten pieces every hour on the Balenciaga-branded printers, to ensure that each item is given a similar amount of care and attention that it would get in the Parisian design house. Nice touch, right?
There's a cool story behind the "tour dates" on the back
While customers have the opportunity to do whatever they like with the design on the front, the back print on the tee-shirt is the same for everyone. It bears a striking similarity to a band tee: Balenciaga's logo, 'DO IT YOURSELF Ts' in all caps, and then a tour-like motif of cities and dates running down the back.
On first inspection it looks like a list of the obscure locations the copy shop might be visiting next. According to the team heading up the copy shop though, it is, in fact, a list of the birthdays and birthplaces of Balenciaga's current staff! Shoutout to the guy/girl putting Barnsley on the fashion map!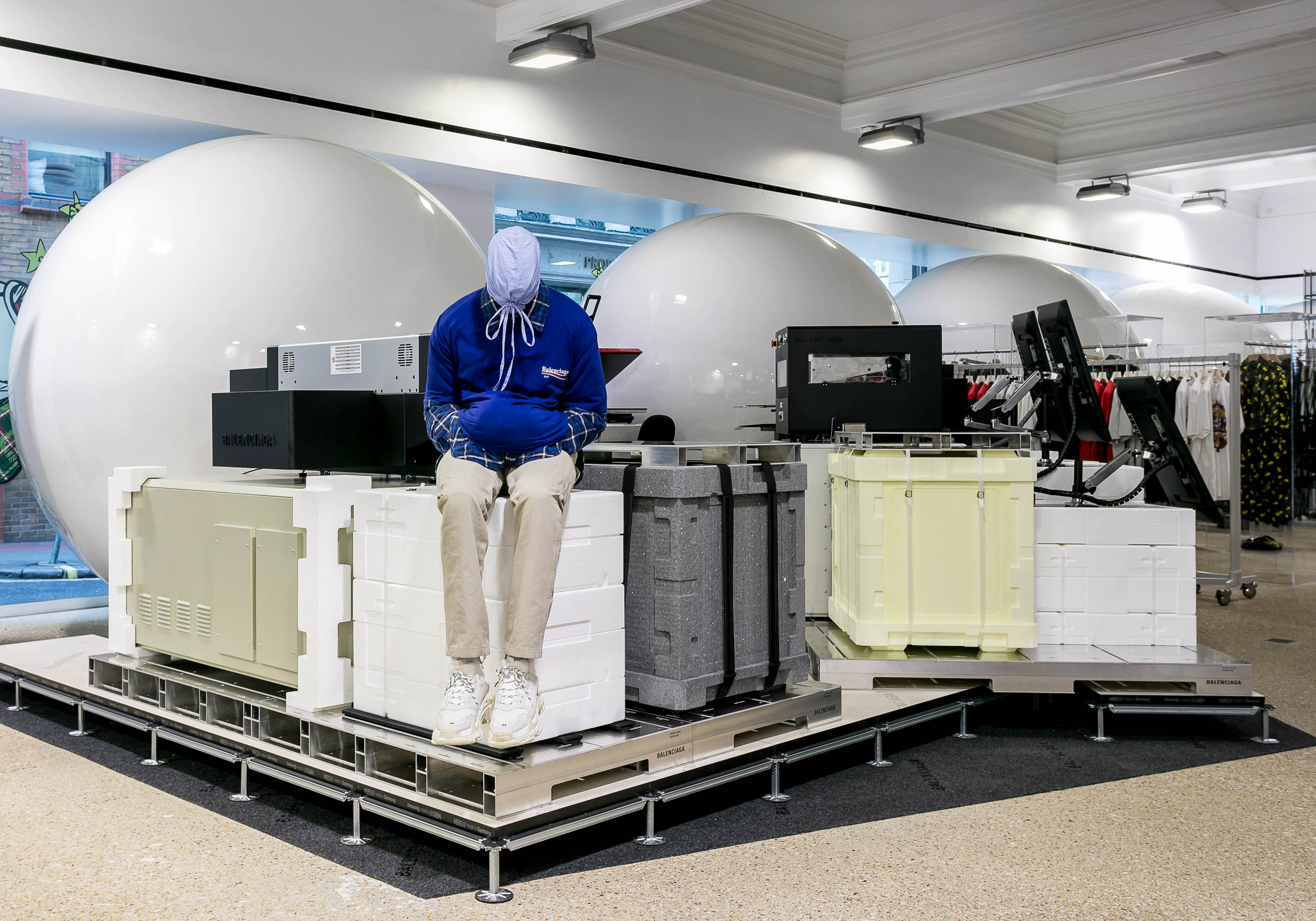 A Balenciaga-donning sculpture by Mark Jenkins is on show
Mark Jenkins is an artist known for his hyper-realistic recreations of human beings; some so genuine and unsettling that they've caused concerned calls to the police. For his first collaboration with Balenciaga, Jenkins has created a human sculpture that wears an identical Bernie-inspired outfit to one worn on the autumn/winter 17 runway – complete with Triple S's. The ominous statue perches on the corner of the Copyshop, his drawstring hood tied up over his face.
All the Triple S are gone. Sorry.
In celebration of the launch of the copy shop, Balenciaga linked up with the team at DSM to launch an ultra-limited edition colour way of their already infamous Triple S sneaker. The style -- known for its XXL chunky sole, mixed material panels and brilliantly lurid colour palettes -- has been an instant sell-out wherever it drops, and this time around was no different. The DSM exclusive -- a yellow-tinged style with a navy blue accent on the sole – was released on a raffle system first, before they surprise launched the last few pairs on the store's website. Within 60 seconds, they were all gone. That doesn't stop a few fans moseying around DSM, waiting to see if a pair might miraculously appear on a shelf somewhere.
There's no greater thirst than the kind experienced by a sneaker head anxiously waiting to get their hands on a pair of Triple S, but who can blame them? In Demna's world, there's a good chance that blinking for a sec might become your biggest fashion regret, so throw out your festive fashion diary and get down to the Copyshop pronto.
This article was originally published by i-D UK.
Balenciaga's Copyshop runs at Dover Street Market in London until 17 December