how "032c magazine" became the most coveted clothing line for the post-vetements generation
The magazine's founders Joerg and Maria Koch discuss turning their cult publication into a line of clothing with an upcoming presentation at Pitti.
|
29 November 2017, 12:14pm
Image via Instagram
This article was originally published by i-D UK.
In the last few years, the way we consume fashion has completely changed. We live in a world of endless streetwear drops, complex reference games, and attention-snatching collaborations. In this new world, one of the main functions of the garment, be it a Supreme T-shirt or Palace jacket, is to be a sought-after symbol; a token of participation in "the game." There are new rules to this new game. The current fashion landscape flattens everything from the highest of couture and the most egalitarian of streetwear into a single space. One of the most interesting propositions at the moment is from 032c. A cult, Berlin-based magazine that has been setting the cultural agenda for over a decade. Within the last two years its sideline apparel brand has grown from a few pieces of merch to a presentation in a Florentine Renaissance Palazzo at Pitti Uomo, scheduled for January. Run by husband and wife Maria and Joerg Koch from their headquarters at the converted brutalist church of St Agnes in Berlin, 032c clothing exposes the very nature of brand and its value in the contemporary fashion system.
The magazine was founded by Joerg Koch in 2001 in Berlin, which was still emerging from its post-wall stupor. 032c pioneered the all-encompassing interest in culture: it featured detailed dossiers on fashion legends like Helmut Lang, Comme des Garçons, and Raf Simons, alongside in-depth pieces on the work of Rem Koolhaas and the politics of Angela Merkel. Photographic input came from the likes of Inez and Vinoodh and Willy Vanderperre, and a range of cutting-edge megastars like Bella Hadid, Rihanna, FKA Twigs, Kim and Kanye. It's an approach that feels particularly relevant for now. During a time that compresses celebrity culture, critical philosophy, fashion, and politics together on social media timelines.
032c is a force in discovering new talent, a poetic manifesto of resistance and a perfect manual for survival in the tire fire of late capitalism. The magazine was already leaving a cultural imprint — but its founders decided to expand it by launching an apparel line in 2015. "I think now is a very interesting moment for the fashion industry because it's getting so disrupted," Joerg explains. "At 032c, we've always been interested where energy is, and we feel that people truly care about apparel and the ideas it puts forward, and really identify with it. When you cover fashion you constantly speculate about its future and judge and criticize things. It's one thing is to criticize, and another is to actually produce a proposal, to put something forward."
The main driving force behind 032c apparel is Maria, who used to work as a womenswear designer for Jil Sander, Prada, and Marios Schwab, and is currently a consultant for Yeezy. But there's no separation, Joerg and Maria live above their office and have always shared ideas. But with Maria as head designer, the 032c office works almost like a research studio, with a constant exchange of ideas between the fashion line and the magazine. "I wouldn't define us as a fashion brand, it's more about the fact that there are so many ways to generate and execute ideas, as long as it's professionally done and the quality is on the level that it should be. If I were a trained car designer, we could have been doing that instead," Maria explains.
032c apparel consists of seemingly simple and wearable garments, but it's also very much like a cultural scrapbook: from references to motocross and the tax haven of British Virgin Islands, to tributes to Rainer Werner Fassbinder, Sade, and Aaliyah, to collaborations with Stüssy, Alyx, and Gosha. "The goal is always to produce a very cool piece which everyone wants to wear non-stop," Maria continues. "And the cultural baggage 032c has means we can balance our dry and dark intellectual side with something very flash and shiny."
The garments are sold via 032c's own website, and through a range of top retailers like Lane Crawford, Selfridges, The Webster, and Ssense. In the accelerated cycle of the industry, 032c's goal is to keep it as direct as possible, dropping new pieces every six weeks rather than buying into the old seasonal model. "I wouldn't say we're trying to make it more simple, we try to make it more hardcore," Maria explains. "That means that we do our work and then it goes directly to the customer."
This direct connection definitely plays a part both in the quick growth of the apparel line and in the continuous success of the magazine. "We are completely fine with the touch points people have with 032c. A 60-year-old art collector can have a magazine on a coffee table as a status thing, and it might also appeal to a 15-year-old kid who buys the T-shirts with his pocket money, and doesn't know that there is a magazine in the background," Joerg says.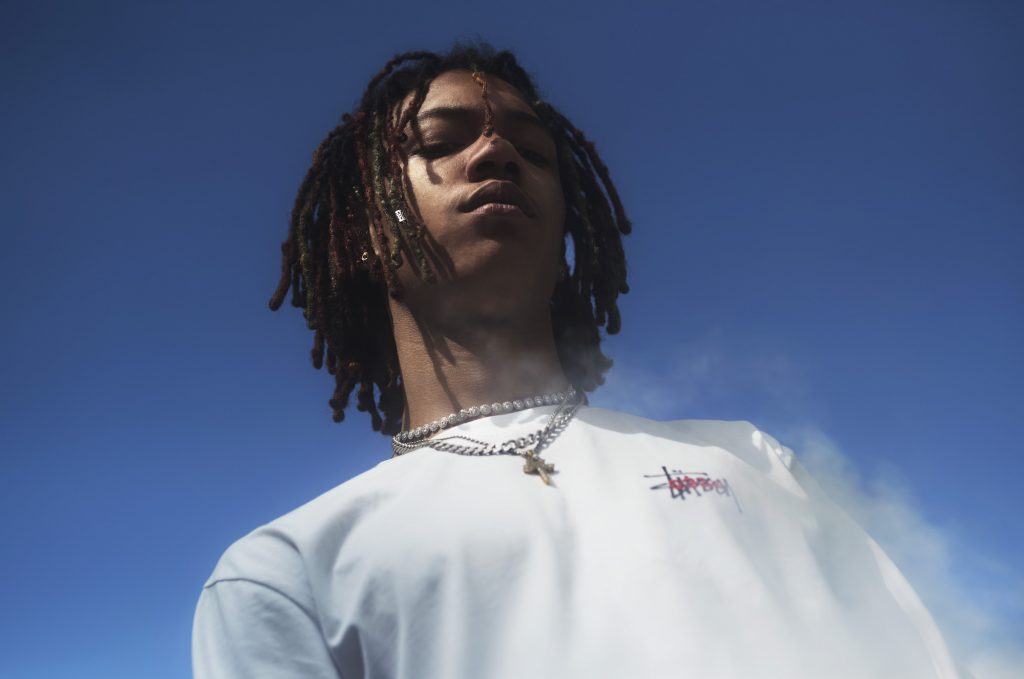 "I think people value the image that the magazine has as something under the commercial radar, the idea of the independence it represents. Now people are able to show somehow that they're aware of it," Maria says. "But yes, there are a lot of kids who don't know that the brand or these garments have a long history, they think it's just a streetwear brand. I think it's quite cool."
032c is a perfect example of what a brand should be in the post-Vetements world. In the non-hierarchical, digitally-powered universe, there is no point in trying to control the way any product of creativity takes on a life of its own. 032c's founders are no strangers to playful subversion: producing bootleg shirts for Sade and Aaliyah Berlin concerts that never happened. And they've also released DIY branding kits and a heat transfer — allowing any item to be turned into a 032c garment.
"These days people are so obsessed with copyright. Bootlegging has traditionally been a cultural asset — all civilizations are based on bootlegging, copying, redoing, and twisting something. When I heard that in South Korea there's tons of bootlegs of 032c, I was extremely thrilled, and I took it as a great compliment," Joerg says. "When we launched our bootleg pieces, people used to always ask me, 'How would you feel if someone did that to you?' And my answer was, 'Hell yeah, I would love that!'"