tyler, the creator just performed three flower boy tracks with a live band
One of the best NPR Tiny Desk concerts to date.
|
12 December 2017, 8:12am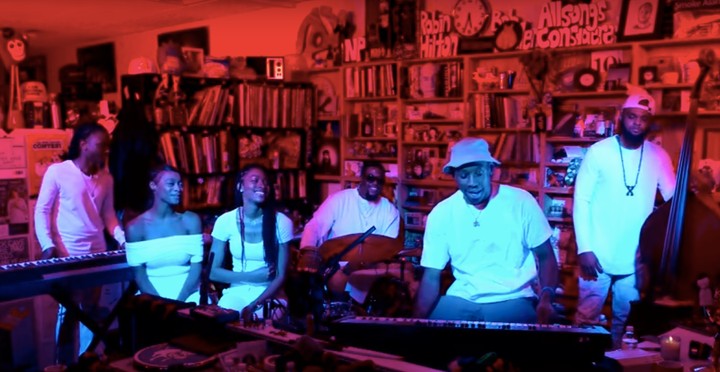 Screengrab via YouTube.
Tyler, the Creator's appearance on NPR's Tiny Desk series was filled with firsts. The jack-of-all-trades and his team came into the station's offices a day early to set up some mood lighting, marking the first time an artist has customised the now well-known set. Well worth the effort, we think. The next day, bathed in hues of blue and pink, Tyler performed acoustic versions of Boredom, See You Again, and Glitter with a full band (another first).
Tyler admitted to the NPR audience he was surprised the band worked so well. Previously he'd "only worked with like one band and fucking hated it." This time around, things "just meshed together and [it] actually just sounded really cool." True.
All the songs were taken from Tyler's album-of-the-year contender, Flower Boy . Last month, the record was nominated for Best Rap Album at the Grammys (as it should be). To celebrate, he tweeted a neat "cool beans." Watch the beautiful performance below.
Tyler heads off on his North American tour with Vince Staples and DJ Taco January 26, 2018. Tickets are available through his official site.

Tagged: