why the uk's rap scene is world-leading
To accompany i-D's cover story with Dave, Alasdair McLellan shoots four of the most exciting, incendiary, and inventive new rappers right now.
This article originally appeared in i-D's The New Fashion Rebels Issue, no. 352, Summer 2018.
K Trap
In person 22-year-old K Trap is more mild-mannered than you might expect. "I'm an observer," he notes. "I keep myself to myself." But in videos, Trap's formidable height and skintight ski mask cut an imposing presence. "No face, no case," he raps on David Blaine, a tune in which Trap draws parallels between card tricks and drug dealing. His debut mixtape, 2017's The Last Whip, expands on this idea. Full of allegorical tales about hustling. Full of ruminations on loneliness and paranoia. Full of yearning for a better life for himself and his community. "You've got to explain both sides of it," he says. "If people knew the negatives, maybe they wouldn't get involved. I've seen what happens and nine times out of ten it ends badly." K Trap began to re-evaluate his own life a little over a year ago. "I thought I'd see where music got me and even though I'm still on the come-up, music has changed my life." Born in Gipsy Hill and raised on a diet of Giggs and Blade Brown, Trap wants awards and accolades, but his ultimate goal is much more particular. "I look to Skepta, Giggs and Stormzy, because I see them as having gone all the way without losing themselves. That's important to me," he insists. "I want to grow but not at the expense of losing who I am. I want to get to the top by being me."
Text Hattie Collins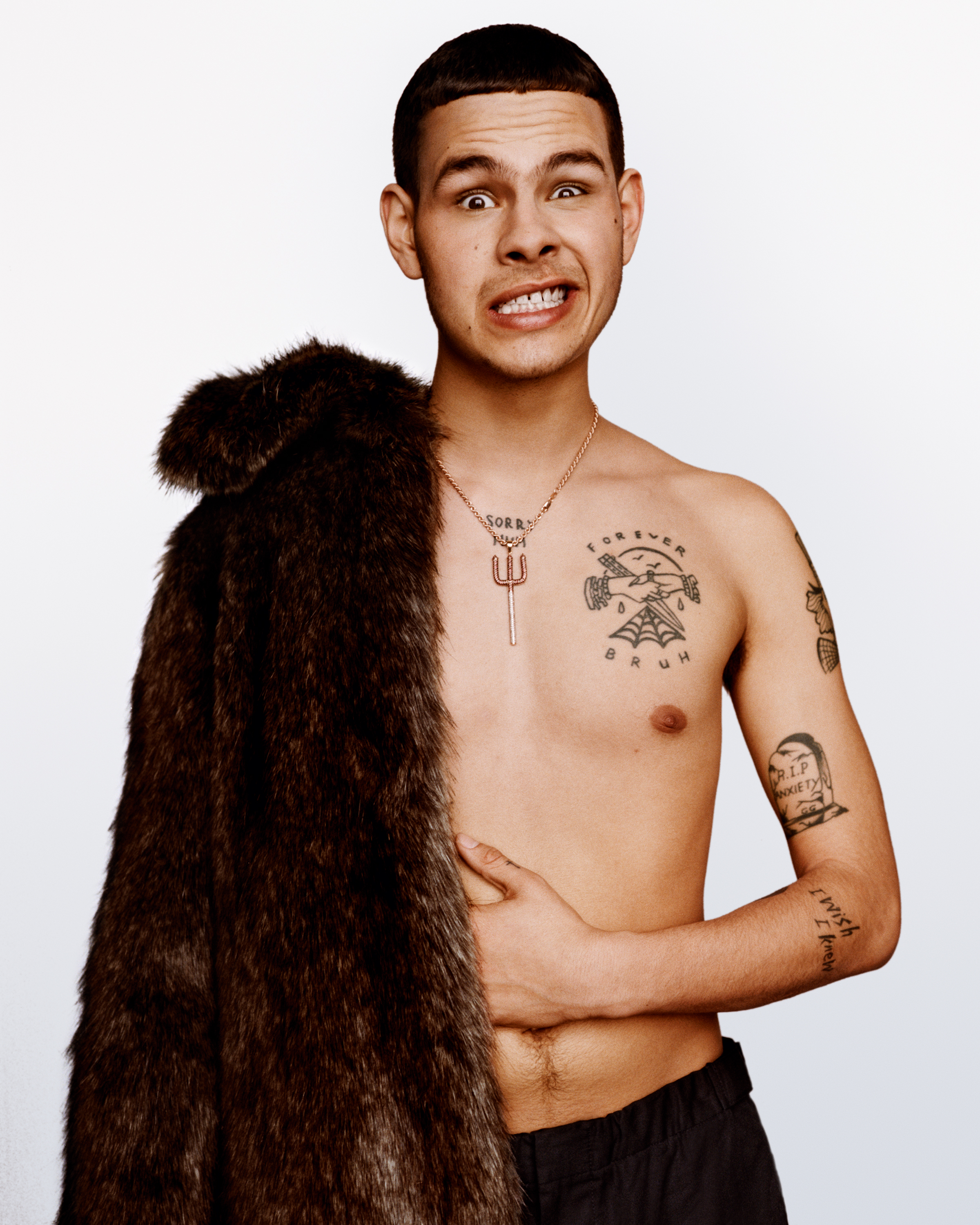 slowthai
slowthai is the shadow following you around — unnervingly familiar, and strangely incongruous. An untameable creature rising from primordial ooze of the East Midlands, invoking wails of disgust from moral arbiters across the land. "If you had the ocean, Northampton would be the little rock pool with crabs stuck in that can't get out until the tide goes down," he says. "I love it." The 23-year-old's latest video — for disorientating new single North Nights — deploys shock and awe moments from The Shining, The Blair Witch Project and A Clockwork Orange to startling effect. It's a song about his feelings towards his aforementioned hometown, 67 miles north of London and the supposed heart of UK music. A vivid, malevolent growl that serves as a necessary disturbance to the musical status quo of the capitol. The scariest thing about slowthai, though — and don't tell anyone we told you — is that he's not really very scary at all. He's a nice boy. A really nice boy. Viciously fun and blackly comic. In fact, you suspect any perceived shock value to what he's doing is more about trying to sneak subversive ideas into the mainstream, rather than putting people off altogether. "It's like my form of... not therapy," he says of his music, "but a way to get what I feel inside out. If I can let it out and show other people the way, then anyone else that's in that headspace can see like, bro, life's not that hard, you know what I mean?" We do. And so do many others. slowthai's already engendered a cult following among, you suspect, teenagers seeking a seductive, repulsive escape from the mundanity of everyday life. "I'm trying to bring people together," he explains. "It's a family thing. I don't want anyone to feel like anyone's above anyone. In this day and age there's no barrier, man. You can be as dark as you want, and you can feel these feelings, and not feel like you shouldn't. Like, this is natural. It's okay to not be okay."
Text Matthew Whitehouse
Octavian
Octavian is rap, dancehall, streetwear, visuals, London and dreams rolled into one intoxicating whole. The rapper-singer picked up momentum this year when Drake was filmed singing Octavian's breakout single, " Party Here," at a Golden Globes after-party. That song – a twisting, tripping, turning take on whatever we're calling "UK rap" in 2018 – announced the 21-year-old as the capital's most idiosyncratic new artist. "It's good seeing the results. If you keep doing your thing, then you see it come." Born in France, Octavian moved to south London with his mum at the age of three, only for her to send him back 10 years later to live with his uncle. "It was shit," he says, recalling the impossibility of assimilating to either culture. He was kicked out by his mum, homeless, crashing anywhere he could until he managed to bag himself a place at the prestigious BRIT School. "Most of my friends were going to prison or getting stabbed," he says. "I realised I couldn't be living like that. All I knew how to do was to use my talent and try and make it. So that's what I did. Party Here was my last draw and it's crazy how it worked, but it is all inside of you. You project that to the world and you can do what you want."
Text Matthew Whitehouse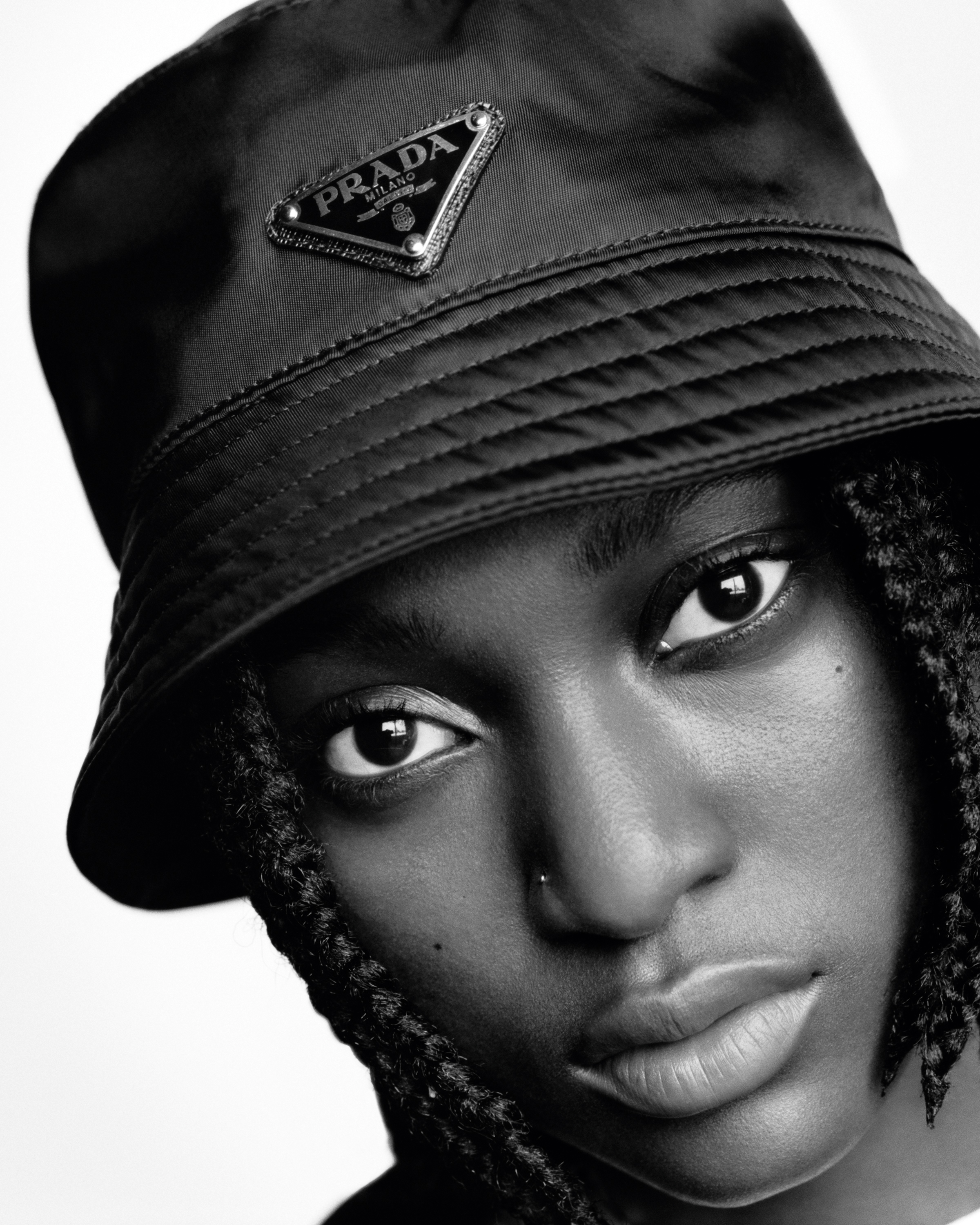 Flohio
It took a while for Funmi Ohio to inhabit the very being of her rap alter ego Flohio. "Up until last year, I was inside Flohio. Flohio was leading me and I would follow," she says in her fast-paced Nigerian accent, which is as fast as her raps. "But now I'm Flohio. I'm in control." Flohio emanates confidence, but it's taken her a long time to get it. Born in Lagos, Nigeria, Flo recalls the violence endured at school, and its far-reaching psychological ramifications. "Someone beating you because you don't know your times table and shit? It made me feel shy, dumb, worthless. That whole time [in Nigeria] had an impact on my brain." Listening to her sister's rap CDs turned out to be a salvation. "50 Cent, Wayne, Eve... I took all their energy and started to put it into me. I took notes." After moving to London and finishing school, Flo enrolled onto a graphic design course at Croydon College. After that she landed an internship at record label Ninja Tune. "It opened a lot of doors for me. I can't do no normal shit. I need to use my brain, constantly," she notes. In 2016, she took a step away from design with her accomplished, brilliant and brash debut EP Nowhere Near. Next up came a curious and chaotic collab with God's Colony, SE16, and this year's assured new single " Bands." "I'm not gonna lie, I'm finding my voice now. I'm 25 and I'm ready for the world. Now all this ambitious, energetic, ridiculously likeable person wants to do is stay lit. "My ambition is to never to ask anybody for shit. I'm basically doing this because I'm scared," admits Flo. "When I don't do music I feel like I'm in the dark and music brings me into the light. I want to stay here, stay in the light."
Text Hattie Collins
Credits
---
Photography Alasdair McLellan
Styling Max Clark
Hair Matt Mulhall at Streeters. Makeup Ninni Nummela at Streeters using Chanel. Nail technician Lorraine Griffin. Photography assistance Lek Kembery, Simon Mackinlay and Peter Smith. Styling assistance Louis Prier Tisdall. Hair assistance Vimal Chavda. Makeup assistance Shauna Taggart. Production Laura Holmes Production.
This article originally appeared on i-D UK.