where can we get the vagina pants from janelle monáe's new video?
With Grimes on the track and Tessa Thompson in the video, PYNK is all about pussy power.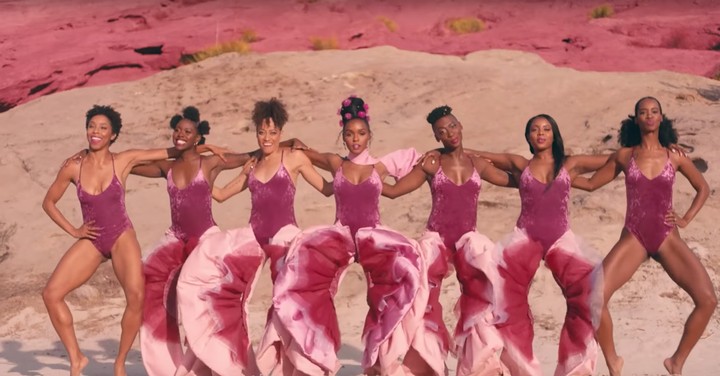 In February, Janelle Monáe returned to the music game -- after 5 years of acting -- with bisexual and black excellence anthems Make Me Feel and Django Jane. The world fell at her feet. We're still down there, looking up at her brilliance as she does it again with PYNK, a Grimes collaboration from her forthcoming album, Dirty Computer. "PYNK is a brash celebration of creation. Self love. Sexuality. And pussy power!" Janelle said of the song. " PYNK is the colour that unites us all, for pink is the colour found in the deepest and darkest nooks and crannies of humans everywhere... PYNK is where the future is born...." All accurate. All beautiful.
Directed by Emma Westenberg, the video follows Janelle and her friends -- including frequent collaborator Tessa Thompson -- as they roll through the desert in a pale pink hover car and celebrate their physical selves. There are beautiful bums, dance routines, underwear bearing the slogan 'I GRAB BACK' and Tessa Thompson actually inside Janelle's vagina pants. It rules.
Dirty Computer is more than just an album, it's an "emotion picture: a narrative film and accompanying musical album". As well as the track with Grimes, it was revealed during an interview Janelle did with The Guardian recently, that the record also boasts contributions from Prince. It's due on 27 April, so stick that in your diary.
This article originally appeared on i-D UK.