sabrina fuentes's advice for being a teen riot grrrl
Fuentes was just 15 when she formed her band Pretty Sick. Now, still in her teens, she's gearing up to drop a long-awaited second album.
Photography Abbey Gilbert
Chances are you've probably been seeing Sabrina Fuentes (also known by her popular Insta handle @sickysab) show up a lot lately. Besides sharing your social feeds with best friends like Manon Macasaet and Sahara Lin, she's also seemingly been in every recent high and low brand campaign, thanks to her many modeling gigs with the up-and-coming management company No Agency. iPhone X's international selfie series, Stussy's spring 18 swimwear lookbook, Vanna Youngstein's Cherry Baby t-shirt line, Elizabeth Hilfiger's streetwear brand Foo and Foo and New York's downtown streetwear shop The Good Company are a handful of our favorites.
What you may not know is that the New York-born-and-bred "it girl" is also the lead singer and bassist behind your new favorite band: Pretty Sick — a modern take on the 90s riot grrrl vibe. Fuentes recorded a three-song self-titled EP for the garage punk band with friends Eva Kaufman (drums) and Ella Moore (backup vocals and guitar) back in 2016 when she was a mere 15 years old. Now, still in her teens, she's teaming up with guitarist Wade Oates of the early-aughts band The Virgins' — they met through the iconic photographer Richard Kern, a mutual friend — to record the band's second EP, geared to release this summer.
i-D recently caught up Fuentes to discuss her plans for the new album, what the music community in New York is currently like, and what she recommends for emerging bands trying to navigate the shrinking scene.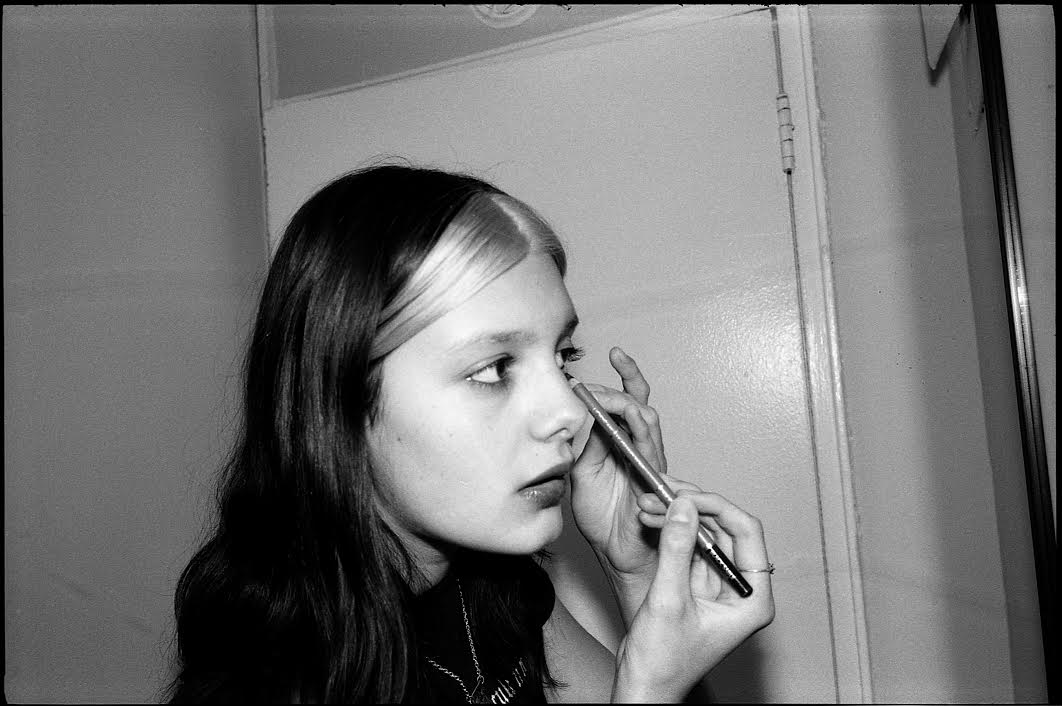 Did you know what your sound was early on or did it take a while to sort out?
I've always known I wanted to play rock. I've been listening to bands like the Pixies and Sonic Youth since I was a kid. As I've gotten older my music taste has grown a lot and there are more genres I've tried to incorporate into what I do. When what I'm doing begins to sound a little boring I think to myself, "What's the exact opposite of this and how do I combine the two?" I try to work with classical and jazz musicians when I can. They often have areas of expertise that I lack, and I learn a lot when I work with them. Austin Williamson from Onyx Collective played drums with us at our last two shows, for example.
Do you have a manager or do you book everything yourself?
I book everything myself but I have a lot of help from friends who set up shows or introduce us to people we could play with.
What's your experience being in a young band in New York? Any advice for other new bands?
Being a young musician in New York is kind of hard, there's not as strong of a community as one would hope, but the people I have met have done a lot for me and always try to help out other musicians. One of the biggest issues is that there aren't very many venues in the city. Fewer venues doesn't just mean it's harder to find somewhere to play, it also means that shows are more expensive, which makes people less inclined to go and gives small bands a harder time booking shows.
My advice would be to really keep your finger on the pulse as far as music goes and try to go see every local band or musician that you can. Not only because the scene needs more active participants but because it's good for young musicians to meet other people who they could play shows with and learn from. I feel like part of the reason live music is becoming less popular in New York is because people feel as though they can just watch from at home online, but there won't be a scene for much longer if people don't participate in it.
What do you think of the music scene in general today?
Well in New York I think (or hope) that the lack of a big community is slowly changing. With fewer venues people are also forced to find new places to perform — which is interesting — but also makes it harder to find live music if you're looking for it. Creatively I think some aspects of the music scene need renewal and revival but I don't think that's impossible, I just think more young people need to get involved both in creating and supporting. There are some cool things going on but it needs to be more inclusive. In most New York "scenes" people don't want to share the spotlight, but music is a collaboration, not a popularity contest .
There are a million ways to contribute through your own talents, though. My friend Manon Macasaet, for example, is an artist, photographer and videographer, and she shoots most of our friends' shows and shares them with her audience. I know other kids who are making merch for their friends or starting podcasts that focus on their community. It's cool to see people getting involved and coming up with different ways that they can contribute.
What shows have you seen recently that you were really stoked on? I always love seeing the band I mentioned before, Onyx Collective. They're an experimental jazz group based in New York and every set they play is so different and always inspiring.
What do you do when you're not modeling or making music? I spend most of my time on the Lower East Side hanging around restaurants, galleries, and friends' homes — like at Lil Frankies and 56 Henry Gallery.
Are you working on anything new?
I'm currently working with my friend Wade Oates on another EP. We've been finishing songs and making rough demos for the past two months and plan to record high-quality versions of all of the songs at the end of this month. I'm not sure what the future of Pretty Sick will be. I want to work with Eva and Ella alongside all of the other amazing musicians I meet. Wade and I started playing music together at the end of last summer after our friend Richard Kern introduced us. I don't have words to describe the ways in which everyone who has been a part of Pretty Sick has influenced the music, but the more different people and perspectives become a part of the project the happier I become with our music. My hope is to put out an EP (or more) this summer.