old music monday - oops! I did it again
Where we jig through the tunnel of time and find out what was ringing in our ears in days gone by. Today: May 7, 2000 -- Britney Spears Oops! I Did It Again.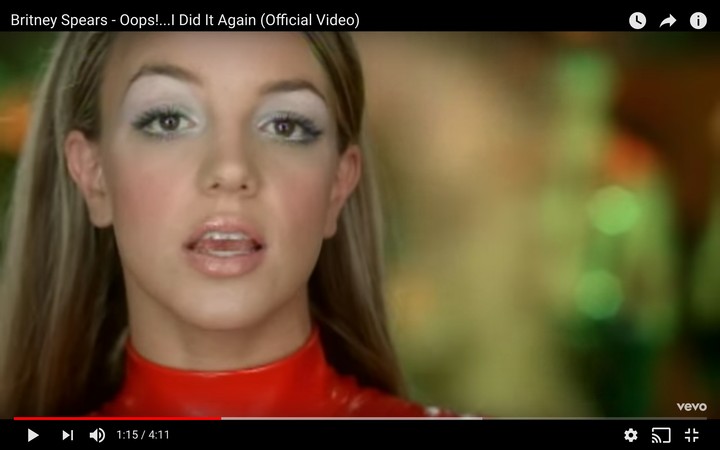 Still from Youtube
"Woah there horsey," opens perhaps one of the most iconic music videos of all time. Actually, there are some words before that, but let's be honest, you weren't paying attention were you -- you were too busy waiting for the spaceman to find the buried treasure: a picture of Britney Jean Spears. By simply plucking the tired and tatty old photo from the surface of the moon, Mr Spaceman has unleashed a domino effect of cataclysmic pop consequence.
"Ngyeah. Ngyeahyeahyeahyeah." Britney has arrived. Taken from the album of the same name, Oops! I Did It Again, is Brit-Brit's first foray into a funkier sound. Although at the time, back in 2000, loads of people said it was a harder version of her itty-bitty-jail-bait-committee manifesto Baby One More Time and maybe they were kinda right? Slinking about in a (at the time, let me tell you, verrrry hot) red latex kick-flared catsuit and Buffaloes, a whole lotta hair extension and pearl-shimmer eye shadow, Britney plays the role of a vixen. An intergalactic she-devil, a taunt, who views love as nothing more than an inconsequential game. "I played with your heart, got lost in the game," she sings, lying prone on a spinning space cog, while poor sad spaceman dangles from her machine on a chain.
After taunting him with two verses and two chords, she finally releases him from his space suit. He gives her a gift. "But wait a minute, isn't this?" Britney questions earnestly. Meshing fiction and erm, other fiction, the spaceman is actually gifting her the big blue jewel that the old lady drops in ocean at the end of Titanic. "But I went down and got it for you." Oh boy. Big mistake. Huge.
The album was recorded six days after Britney spent 56 days doing a three-leg tour for …. Baby One More Time, and features production and writing credits from the mighty Max Martin, as well as reputable rhythm and blues duo Jagger and Richards, for their work on (I Can't Get) No Satisfaction. The album is packed with hits, like Stronger, Lucky and Dear Diary. It moved Britney from pop cutie to proper commercial artist, shifting 2.4 million copies in its first week and going on to score best selling album in 2000.
In the year 2000 we had seen off the millennium bug. We were welcoming in a new decade, a new century and a new era. We were throwing open our arms and dipping a toe into the internet, our lives were changing irrevocably -- but no one's more so than that of Britney Jean Spears.