all the new music you need to listen to this weekend
Aphex Twin, Mick Jenkins, Skepta, Tirzah, Troye Sivan… and Nicki Minaj's new album which isn't out until later but we will add it into the playlist when it is DW.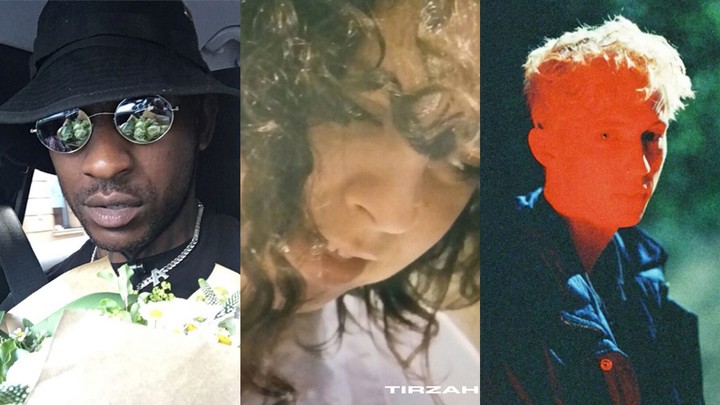 It's Friday! There's new music from Aphex Twin, Mick Jenkins, Skepta, Troye Sivan and Nicki Minaj (later, I think)!
Much like the weather at the moment, today's best new music playlist is an eclectic mixture of big, small, loud, quiet, crazy, and calm. It's a playlist to soundtrack a walk to the shops that begins with clear blues skies and temperatures of 32 degrees, ends with torrential rain, thunder and lightning, with an interlude of heavy snow.
Getting things started is Chicago wordsmith Mick Jenkins' new single Bruce Banner. Mick announced a new album, Pieces of Man, on Zane Lowe's Beats 1 show earlier this week, and told us it will feature a few big name collaborators. V excited. Next we have J. Cole freestyling over a Nas and Bravehearts' Oochie Wally, another single from Troye Sivan's forthcoming album, Skepta's collab with Suspect and Shailan, and Ryan Hemsworth x Joji. Aphex Twin, after teasing the world with mysterious street art, dropped T69 collapse earlier this week, so find that little number in there! Tirzah released her Mica Levi-produced debut album today, so we dropped a couple of tracks from that as well. When you're done with the playlist, we advise you to check out the whole album, and then watch out for the pair in conversation in the latest issue of i-D, out next week.
Other highlights from this week's playlist include Diana Gordon's new single, Wolverine. Diana Gordon, for those unaware, is the lyricist behind arguably one of this decade's most iconic lyrics -- "He better call Becky with the good hair" -- from Ed Sheeran's 2017 smasherooni Divide. I think?
Meanwhile, Moses Sumney also dropped a nice little EP. Vampire Weekend gave us a very Vampire Weekend-y track after performing new material at a Lollapalooza aftershow this week. Kiwi brother-sister duo Broods returned to the fold with a fresh new sound. Col3trane dropped the first track from his new EP. Yadda yadda yadda. At this point you should really be listening to the playlist and not listening to us. Enjoy!
This article originally appeared on i-D UK.