watch nicki minaj destroy her enemies in 'ganja burn' video
Mert Alas & Marcus Piggott directed the Egypt-inspired revenge epic.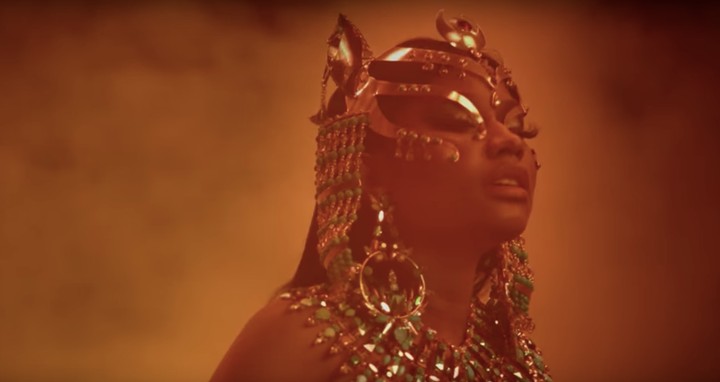 "Ganja Burn" is undoubtedly one of the best tracks on Nicki Minaj's new album Queen, despite the perfectionist rap legend saying she's not 100% happy with the hook. The song is has received some serious love from photography duo Mert Alas & Marcus Piggott, who directed a scorching new video in the vein of Queen's sunset-hued cover art, for which they shot Nicki as a sexy Cleopatra. The video starts by telling you exactly why you're about to witness the rapper writhing around in sand and shreds of fabric: she's a benevolent queen who was ambushed by her enemies and left for dead before rising to seek revenge, making all former beefs appear trivial by comparison. Let this serve as a high-production PSA for anyone with plans to fuck with the rap queen in the future: she will burn you in your sleep and dance on your grave in a gold bikini and matching metallic braids. "They done went to witch doctors to bury the Barbie/But I double back, kill bitches, bury the body," Minaj spits in the acerbic first verse, "And that go for anybody, you'll be thoroughly sorry/I could wage war or I come in peace like Gandhi." Watch the visually stunning warning sign below.