5 of the best true crime shows to stream in this heat
Forget air conditioning, these documentaries will chill you to the bone.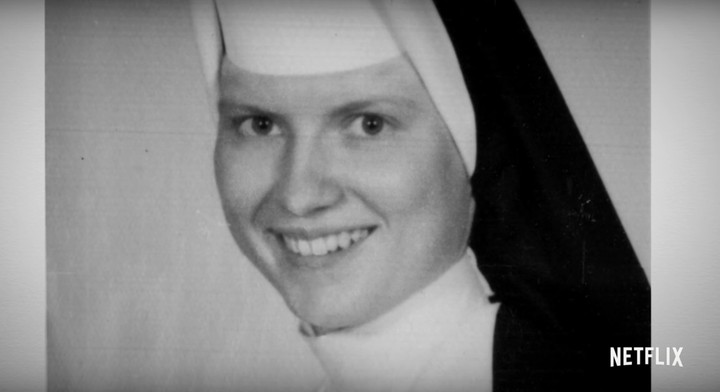 The Keepers, image via Youtube
In case you don't know, there's a heat wave in the UK at the moment (of course you do, we're all chuffing on about it). The restless nights, the sweaty palms, the acute nausea; symptoms we've all become bedfellows with in recent days. I imagine they're also part of a checklist used by the honchos at Netflix: a checklist of side-effects that determine which of the most shit-scary crimes will make for as equally sphincter-shrinking true crime series. So, we've rounded up five of the best out there right now (excluding Making a Murderer -- because let's face it we've all seen it). So horrifying are they that you can forget about having to flip your pillow, keeping one leg out of the covers or sleeping sans PJs: you'll be suitably chilled. One disclaimer though -- your nights will be no less restless.
1. The Staircase
What it's about: It was a trial that shook the county of Durham, North Carolina in 2001. A woman found dead at the bottom of a staircase by her husband; wounds that suggest foul play; a complicated family, torn apart by what ensued. Filmed by Oscar-winning French director Jean-Xavier de Lestrade, The Staircase follows Michael Peterson as he stands trial for the murder of his wife, Kathleen. Over 13 episodes, the cameras follow Peterson, his family and the surrounding stories that make this case so 'you can't make this shit up' baffling. It also has all the trappings of a classic whodunit: a highly-intellectual suspect; a whip-smart, camera-loving lawyer; twists and turns worthy of Agatha Christie. It's also number one on this list. Why? Because of the unprecedented and uninhabited access given to the crew -- nothing (not even an exhumation) is off limits. Surely, with so much information at our disclosure, the answer to 'Did Peterson do it?' is easy. Of course it isn't.
Watch it on: Netflix
2. Cold Blooded: The Clutter Family Murders
What it's about: It's the case that started the true crime genre. Truman Capote's In Cold Blood was the first novel that was based on a real-life murder. On a quiet morning in Kansas, 1959, an entire family is found massacred at their family farm. Fifty dollars, a pair of binoculars and a radio are all that is taken from the scene. With the motive unknown, and two murderers on the loose, the small town of Holcomb becomes the subject of national scrutiny. What follows is possibly one of the most documented trials of the 20th century -- the mugshots of Perry Smith and Dick Hickock are two of the most recognisable in history. But what about the victims? In this docuseries, never-before-seen footage of the Clutter family is made public. Interviews with remaining family members mean that they finally have their say on the tragedy that saw the lives of four innocent people ended when they were killed in the middle of the night, for petty cash. If you think you know everything about the case, this show will prove that you don't. You might want to start double-locking your door.
Watch it on: Sundance TV
3. Aileen: Life and Death of a Serial Killer
What it's about: Charlize Theron may not have been the obvious choice to play the threatening serial killer, but her Oscar-winning portrayal of Aileen Wuornos is even more deserved after watching Nick Broomfield's documentary. The voice, the body language, those bulging eyes: the resemblance is uncanny. For those unfamiliar with Wuornos, the nomadic prostitute shot seven men at point-blank range over the course of a year, from 1989 to 1990. Why? She claims self-defence (against rape and attempted rape) but the dead men's families -- and the state -- were unconvinced. Who wants to believe a homeless, lesbian hooker? There have been many documentaries made since this one, released in 2004, about Wuornos, but it's this one that really gets behind those eyes. Ever wondered what happens to a human in those hours before execution? Watch this and you won't have to anymore: uncomfortably compulsive viewing.
Extra evidence: Monster (film), Aileen Wuornos: The Selling of a Serial Killer (documentary)
Watch it on: Netflix
4. Evil Genius
What it's about: One pizza delivery man, one bank robbery, one bomb. Bizarre doesn't even scratch the surface -- and that's just episode one. It's 2003 in Erie, Pennsylvania and police are surrounding a bank robber, guns drawn. He has a bomb strapped around his neck. What follows is (if you can believe it) even more absurd. Who masterminded 'America's most diabolical bank heist'? Who made the bomb? And did Brian Wells (said pizza delivery man) know how the saga would end? Yep: 'the pizza bomber' story is almost unbelievable. The key to it all is one woman: Marjorie Diehl-Armstrong. Narcissistic, grandiose and off-her-rocker. The band of merry and sociopathic men associated do not evoke as much fear as she does single-handedly. The knowledge she's dead is mildly comforting, but I challenge anyone who walks away from this show without so much as a shudder. Bodies in freezers, hookers and jealous love rivals: Evil Genius has it all (and then some). A post-viewing tip? Invest in a night light.
Watch it on: Netflix
5. The Keepers
What it's about: The Catholic church really doesn't need any more bad press. And yet, the tale-as-young-as-time continues with the story of Cathy Cesnik. The nun and Catholic school teacher was found dead in 1970, two months after her mysterious disappearance, frozen and covered in undergrowth. The identity of her killer is still unknown. So is the cause of death. But what we do find out is even more chilling: a culture of extreme child abuse at the school where Sister Cathy taught; a conspiracy that goes all the way up to the top of the Baltimore diocese; a mystery that goes beyond Archbishop Keough school and continues to this day. This investigation is not fronted by the victim's family, but by the students who want justice for their young, loving teacher. The teacher who, perhaps, died trying to save their innocence. It goes beyond domestic tragedy: it's a case that exposes the Catholic church in a truly explosive way -- a way that will leave you sick to your stomach. A piece of advice: do NOT watch The Attic episode alone.
Watch it on: Netflix