the 5 most culturally significant vma performances of all time
Ft. live animals, sexual fluidity, and the fetishization of celebrity deaths.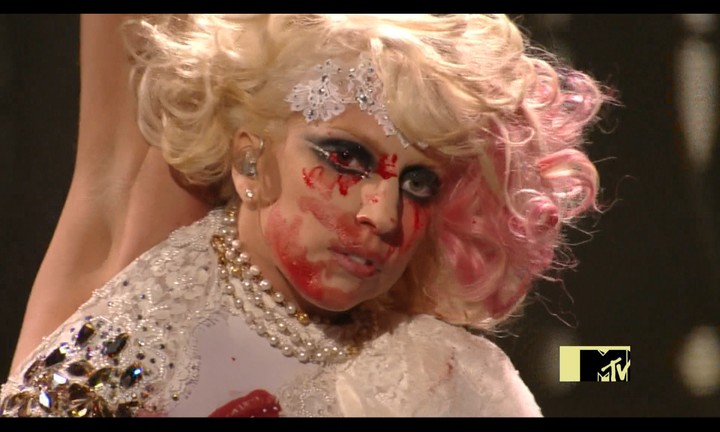 Lady Gaga at the 2009 VMAs
If you fall into the millennial category, chances are MTV helped you shape your musical identity. In fact, it was pretty much everyone's constant, reliable source of music and pop culture. From playing music videos around the clock to airing live chart countdowns like Total Request Live, MTV has always been selling relevance and, for a long time, it went totally unrivaled. But it was the launch of the MTV Video Music Awards in September 1984 that truly cemented its role as a platform that wasn't only serving pop culture on a plate, but actively shaping it.
The VMAs have long been mandatory viewing; something totally outrageous always guaranteed to top the outrageous thing that happened the previous year, with some ceremonies bringing straight-up controversy. What makes the VMAs different to other awards, is its relatability and spontaneity -- if the Grammy's are your pretentious, stern parents standing at the back of the party, the VMAs are your fun, slightly-out-of-line vodka aunt definitely grinding on one of your mates in the middle of the dancefloor.
The award show's centerpiece has always been its live performances. Performing at the VMAs was like a badge of honor; a rite of passage into the music mainstream. What was once seen as a simple display of talent was now air time to make provocative statements; from proving authenticity, to breaking out of stereotype moulds and being down-right political. As you'd expect, VMA performances have shape-shifted along with the times, creating the same what-the-fuck-is-gonna-happen atmosphere that we've become accustomed feeling every single day in 2018.
Let's take a look at some of the most iconic and culturally significant performances in VMA history!
Madonna, Britney Spears, Christina Aguilera, "Like A Virgin/Hollywood" (2003)
When it emerged that Britney, Madonna, and Christina would be teaming up for a VMA performance, you could almost feel the earth vibrate in anticipation. Not only were two young pop stars that were often pitted against each other performing together, but they would be joined by the Queen of Pop herself. No one was ready for what happened next. With nods to Madge's iconic "Like a Virgin" performance at the inaugural 1984 VMAs, Madonna emerged from a huge wedding cake once more, but this time wearing a suit. Britney and Christina were kitted out in the same wedding dress bustiers that Madonna had worn in 20 years earlier, dancing all up on Madonna and fighting for her attention.
Already a master of challenging the patriarchal structures that police women's sexuality, Madonna made the call to make that entirely explicit: in the middle of the performance, she pulled both Britney and Christina in for a kiss. Cut to Justin Timberlake, Britney's recent ex, looking completely confused. The kiss was watched with bated breath from across the world — a staple moment for sexual fluidity.
Britney Spears, "I'm a Slave 4 U" (2001)
Up until she released her eponymous third record in 2001, Britney Spears was still largely painted as the saccharine Mickey Mouse Club girl-next-door. She was dismissed at best and fetishized at worst; she was lauded for her 'purity' as a role model for young women, but never given the room to grow into a woman herself. Her moment to break out of that mould came at the 2001 VMAs when she performed lead Britney single "I'm A Slave 4 U." Emerging from a cage with a massive (live) tiger in it, Britney's entire performance was sonically and visually feral. There was a very clear statement here: Britney was no longer a cookie-cutter girl up for your consumption -- she was a woman in charge of her own sexuality. Shout out to the ever-iconic Banana the Burmese python.

t.A.t.U., "Not Gonna Get Us" (2003)
Russian duo t.A.t.U. were no strangers to controversy. Their breakout single, "All The Things She Said," was accompanied by a video of the girls kissing in the rain and immediately hailed a queer anthem. This was met with serious disapproval from mainstream press and the artists were slammed with homophobic slurs and hated on by parents convinced that they were corrupting their offspring. It was their 2003 VMA performance of defiant euro-pop hit "Not Gonna Get Us," though, that saw them tackle this head on. With projections of fake newspaper headlines behind them, the two marched onto the stage with an army of women behind them, their performance culminating with everyone stopping and kissing each other.
While they've hardly been LGBTQI advocates in the years since, in 2003 t.A.t.U. brought female queerness to the forefront of mainstream culture. They didn't shroud their music or aesthetic in metaphor or high-brow art, instead opting for in-your-face visibility, ultimately providing some kind of representation for young queer people watching.

Lady Gaga, "Paparazzi" (2009)
Lady Gaga had two things she wanted to achieve with her 2009 VMA performance: she wanted to bleed to death on stage and she wanted everyone to see it. Even at the start of her career, Gaga was always the avant-pop freak of the show; the one who used her queerness, over-the-top theatrics, fashion references, and visual grandiosity to make a wider political point. On this occasion -- dressed in all white and covered in blood while the sound of camera clicks uncomfortably pulsate behind -- her "Paparazzi" performance drew attention to Hollywood's unhealthy romanticization of the death of young women in the public eye.
Beyoncé, a medley (2014)
When Beyoncé surprise-dropped her eponymous first visual album back in 2013, the world was shook. And not just shook in a holy-shit-Queen-Bey-released-a-new-album kind of way; it was a full-body shock that completely rewrote and redefined how artists release music today. It was an album that gave her unique agency; its dark, intimate lyrics about female sexuality, love, gender roles, and relationships showed a side to Beyoncé that was vulnerable, flawed, and most of all, completely free. At the 2014 VMAs, she performed a medley of the full record, with the most memorable moment of the night taking place during "Flawless." The word 'FEMINIST' appeared behind her in block capitals, while an excerpt of feminist author and poet Chimamanda Ngozi Adichie's speech "We Should All Be Feminists" boomed across the world. The biggest popstar in the world was not only standing behind an important societal movement, but was actively using her platform to show her unwavering commitment to it.
---
This article originally appeared on i-D UK.