the greatest fashion heroes of harmony korine's movies
Be brave, and let the shock auteur's weirdest characters inform your summer wardrobe.
Gummo
Whether he's telling us stories about the lives of sex-obsessed skaters in NYC or cash-strapped teenagers tearing up Florida for spring break, Harmony Korine tends to create characters that treat fashion as an extension of their own strange, daring identities. His scuzzy, sometimes perverted, but always riveting view of the world has made every film of his a cult hit. And the people he dresses — with the help of his now go-to costume designer Heidi Bivens — have been regularly used as creative inspiration for wardrobes everywhere, in the years since they were released; some even spawned capsule collections all of their own.
Since all of Harmony's films seem to be imbued with that scorching, late-night-in-August glow, you may well find some seriously good summer outfit inspo of your own in his catalog. From the streets of downtown Manhattan in Kids, to the shores of Miami in the unseen, wildly anticipated The Beach Bum, here are five of Harmony Korine's greatest fashion heroes you might like to emulate — especially when you're deciding to take the plunge into the colorful, fearless world of maximalism in 2018.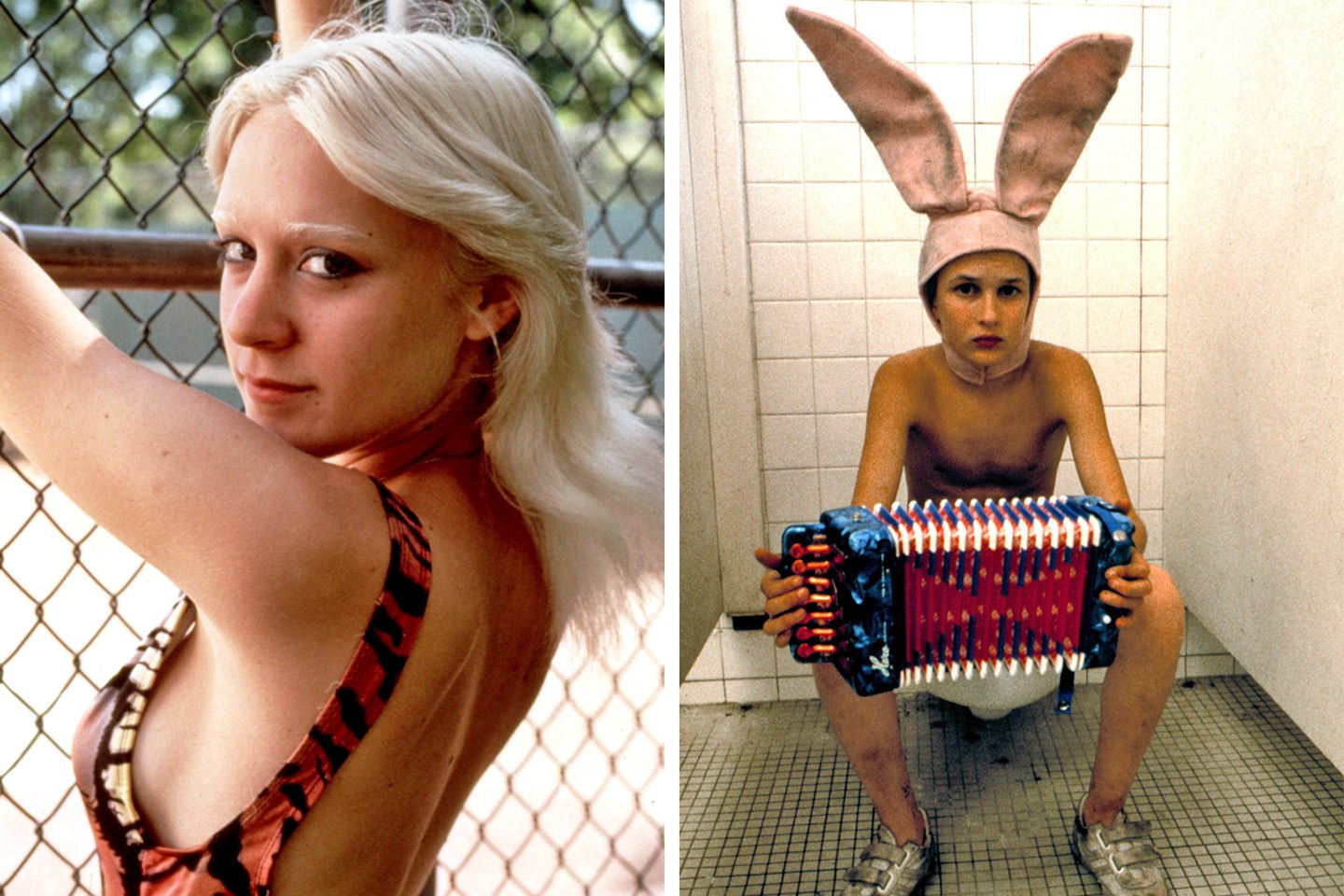 Dot from Gummo
Harmony Korine's debut feature Gummo might be one of the most abrasive and weird films to of the last few decades. Set in the tiny town of Xenia, Ohio, it captures the disjointed lives of the people that remain there after a tornado tears through it. Despite the fact that Xenia feels like a desolate wasteland, some of its citizens are still able to put together a good look. Take, for example, the outfits donned by Dot, an oddball young woman who appears sporadically throughout the film alongside her sisters. Played by certified indie cinema queen Chloe Sevigny, she's got bleached hair and eyebrows, and is dressed in everything from tiger swimsuits to spandex pedal pushers.
Korine modeled Chloe's character on Cherie Currie, lead singer of the Runaways. And considering she drifts in and out of the director's pretty nonsensical film, she sure has plenty of outfit changes you can pay homage to today. Why not seek out that vintage Poison tee? Or raid your grandmother's wardrobe for this baby blue knitted number? Dot went on to become a fashion icon some 20 years after the film was first released, with famous faces like Die Antwoord's Yolandi Visser continuing the tradition of making people deliciously uncomfortable with her confrontational, bleach-heavy aesthetic.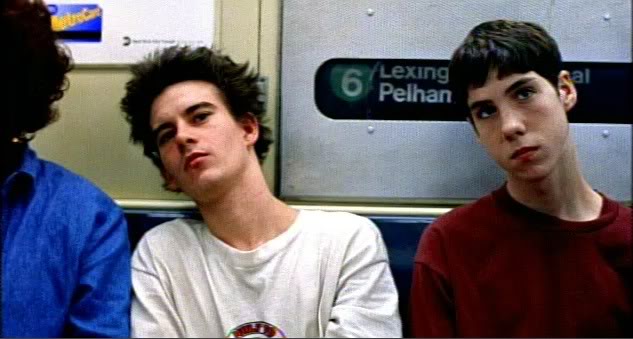 Casper from Kids
We know that Larry Clark directed this based off a script written by Harmony (rather than having the then-22-year-old helm it himself), but every kid who's ever a) seen this movie, and b) donned any kind of skatewear has almost certainly found some sort of inspiration in Casper's thrown on, lackadaisical style. After all, it's simple: you find a tee that's one or two sizes too big (like the Independent one he's spotted wearing throughout the film), pair it with a some chino trousers, and throw on a pair of beat up original All Star Converse — the 'trousers tucked into one sock' look is obligatory. Top it all off with a Supreme snapback and fraying Eastpak rucksack and you're good to go. Today, we might call Casper's get-up the ultimate fuckboi uniform (to be fair, he does seem like the kind of character that likes to leave girls on read), but there's something admirable about how seemingly effortless his, and all of the styling in Kids, is. Back in 1995, Supreme was hardly the half a billion dollar company it is now, but that 'don't give a fuck' fashion spirit is something the brand shares with Korine's work today.
Pretty much everybody in Trash Humpers
Saying that Trash Humpers is Korine's most bizarre work of art is by no means an understatement. His faux-documentary about a group of deranged pensioners (who are really just young actors in wrinkly masks) causing havoc in a small town in Tennessee doesn't serve much artistic purpose, but is still a sort of car-wreck captivating watch. And if you look past those strange, slightly disconcerting masks, these geriatric characters are wearing the kind of outfits you've definitely spotted on the runway at some point.
Wardrobe-wise, this is a rammy of bucket hats, oversized weatherproof track jackets a la Balenciaga, and western-inspired shirts straight outta Raf's Calvin Klein. Throw those open-collared shirts exposing hairy chests into the mix (Call Me By Your Name, much?) and geriatric trainers, and you have a summer-ready wardrobe that's both sort of eerily on-trend and interchangeable with your grandad's.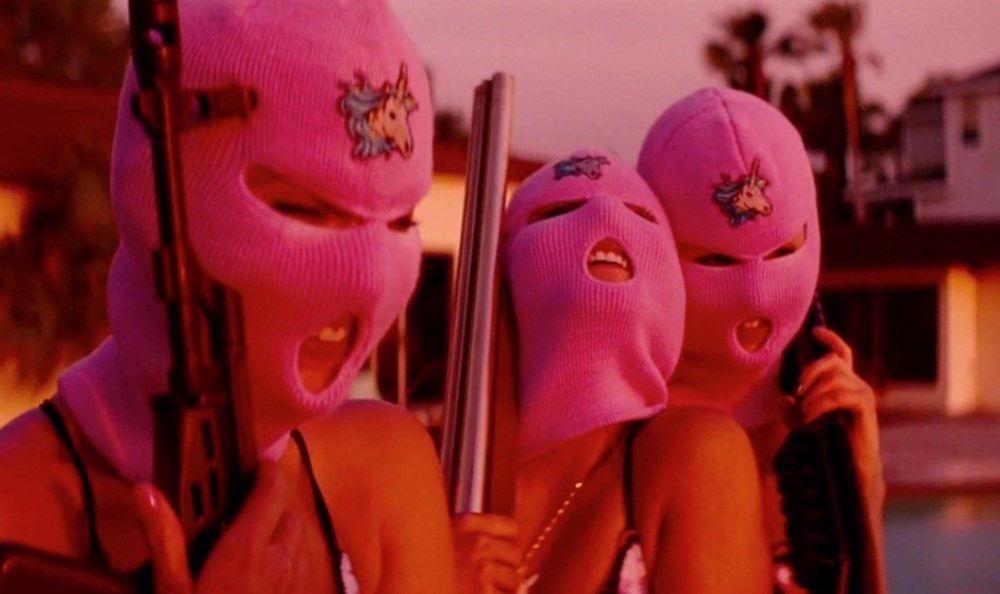 The 'Spring Breakers'
Can we all agree that everybody's wardrobe should have an element of pixie-stick color to it? Five years ago, the lurid brilliance of Harmony Korine's Spring Breakers beamed bright colors, rap music, and party animals onto our cinema screens. Now, those gloriously tacky hues are ready to make a subtle summer comeback.
Five years before Gucci and Calvin made balaclavas haute couture, this quartet were rocking them in hot pink with unicorn patches, and pairing them with sweatpants with 'DTF' emblazoned on their backside. There's something quite amazing about how tasteless the girls' style is; as if it could be some sort of statement on how care-free we should all be in our teenage years. But in today's maximalist era, you can definitely get away with pairing some candy-pink denim short-shorts with a traffic light yellow bikini top again. While you're at it, why not dye your hair a crazy color too? Trust us: being gawked at is miles better than just blending in.
Moondog from The Beach Bum
It says a lot about Harmony Korine's influence that we're already referencing characters from movies that haven't even been released yet. The Beach Bum, Harmony's next feature about a stoner in Miami who rejects adult customs to live by his own rules instead, doesn't hit cinemas until later in 2018, but has already inspired some ridiculously extra outfits.
We've already caught a behind-the-scenes look at Zac Efron's character Flicker, who's single-handedly trying to resurrect studded, distressed rockstar denim and has pioneered the world's next big male beauty trend: a tramlined beard. But all eyes, deservedly so, have been on Matthew McConaughey's Moondog. Paparazzi camped outside the set have caught photos of the actor looking like Jesus of Nazareth if he fell backwards into a branch of Beyond Retro, and the result is actually pretty slick. Like all good Korine characters, Moondog embraces everything garish, donning tie-dye co-ords (a bit like Alex Mullins for fall/winter 18), Hawaiian shirts like this season's Louis Vuitton, and a boisterous, Balenciaga-esque flame outfit too.
We've seen his influence play out IRL, with Justin Bieber rocking the Moondog trend at Coachella this year – but just how far will it go? It is quite likely that by the time The Beach Bum actually hits cinemas, we'll be hailing this brilliantly tacky stoner movie the most influential fashion film of the year. Only time will tell.
This article originally appeared on i-D UK.