Photography Mitchell Sams
these are the five things you need to know about the vetements show
'This is about my life' said Demna.
Photography Mitchell Sams
It's location was political
The show held under a bridge in the Périphérique, the outskirts of Paris more known for its migrant camps than for high fashion. The set was a long white dinner table with a row of plastic chairs with tulle bows. Perhaps a Vetements wedding, the guests thought. Well, not quite. Instead, the location was chosen for its proximity to migrant camps, namely because Gvasalia identifies with the refugee crisis. "I feel everybody today talks about war, refugees -- and I am like, yes, I know exactly what that means," said the designer after the show. "It's weird. This is about my life, but also it's about everything you see on CNN, as well."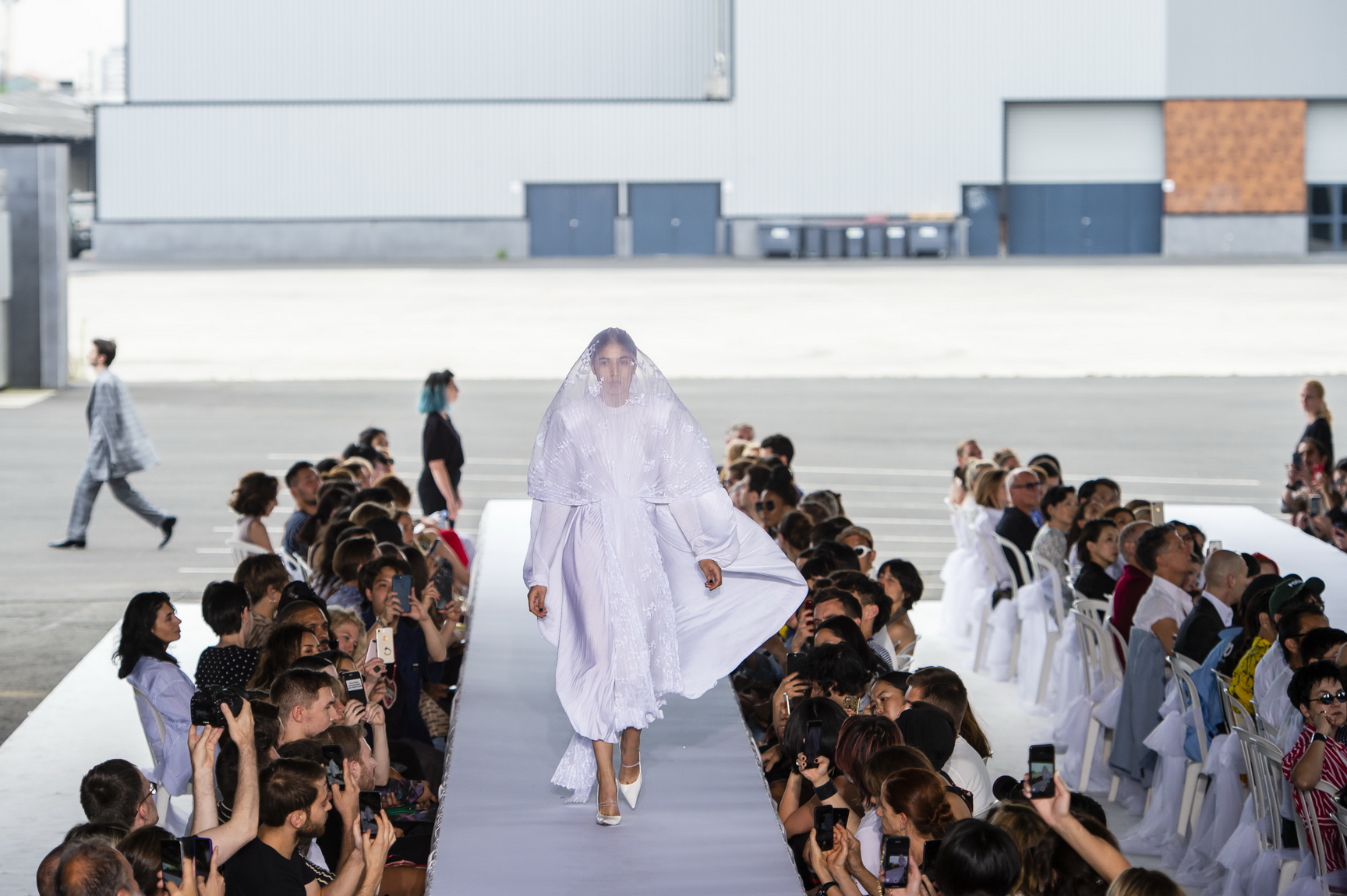 The invite was more than just a bit of paper
The invite was a heart-shaped Lebkuchenherzen biscuit, a traditional Bavarian gingerbread treat that you can usually get words piped onto in thick icing. There were icing hearts and flowers, all seemingly jolly and perhaps a nod to the time the designer spent in Dusseldorf growing up. There was even Chardonnay served before the show. Little did we know what would ensue…

Thematically, Demna looked inwards.
Demna described the show's subject as "family and war". Yep, it got dark. He also added that if he were to start over again, this would be the collection he'd start Vetements with. Having grown up in now-separatist Abkhazia region Georgia, Gvasalia was forced to leave home and experienced the travesties of war. His family fled civil war on a donkey over the Caucasus Mountains while he was still a teenager. Whereas last season, the designer addressed "the elephant in the room" by going back to his designer roots and "to the [Martin] Margiela approach." This season, Gvasalia faced up to the trauma and pain of his past with a deeply personal narrative.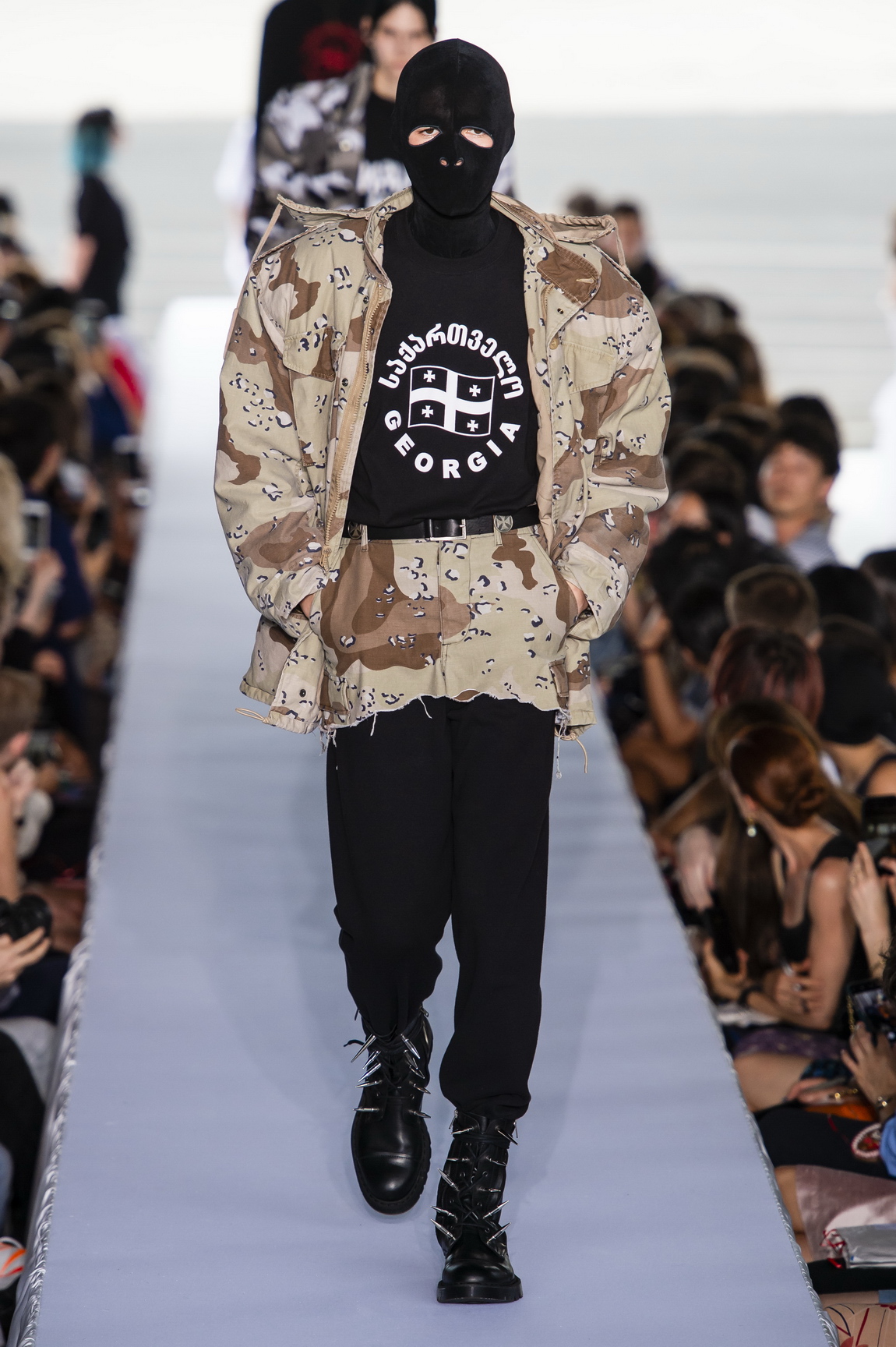 It was self referential of Demna's past
The "normal" clothes with gigantic proportions were based on the hoodies that Demna wore as a boy, which he said were mostly hand-me-downs from his cousins. His 80-year-old grandmother, who lost her hearing for weeks following the bombing of their family home, "and the immense amounts of shoulder pads she still uses," were also an inspiration. Many pieces took cues from the flags of Turkey, the US, Leather gimp masks symbolized the erasing of identity that the designer felt he experienced and Georgian logos and the Ukraine. There were a few moments of light relief, too, such as on the women's shoes with heels made from stacked coins or upside-down Eiffel Towers. "It's a very different way of working for me as I always did shows that were mainly about clothes," Gvasalia explained, adding that the collection practically designed itself as he kept "going back to Georgia all the time."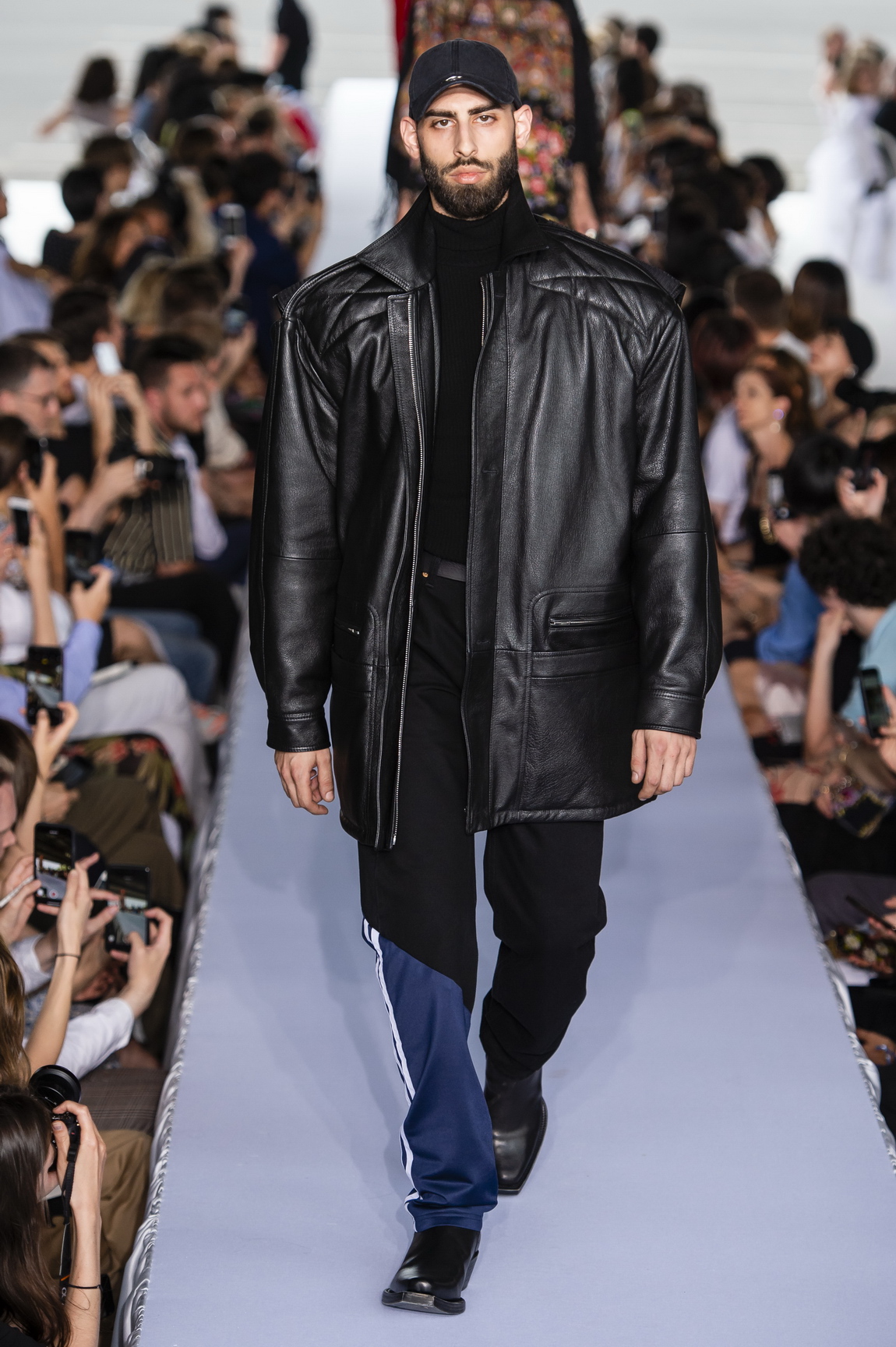 The models were (mostly) Georgian natives
The models were street cast and Gvasalia styled the show himself -- rather than working with his favourite collaborator Lotta Volkova. "To model the looks, he brought more than almost 40 people from Georgia; kids who reminded him of himself when he first came to Europe, each embodying "a certain naïveté and the voice that they feel they don't have in their own country."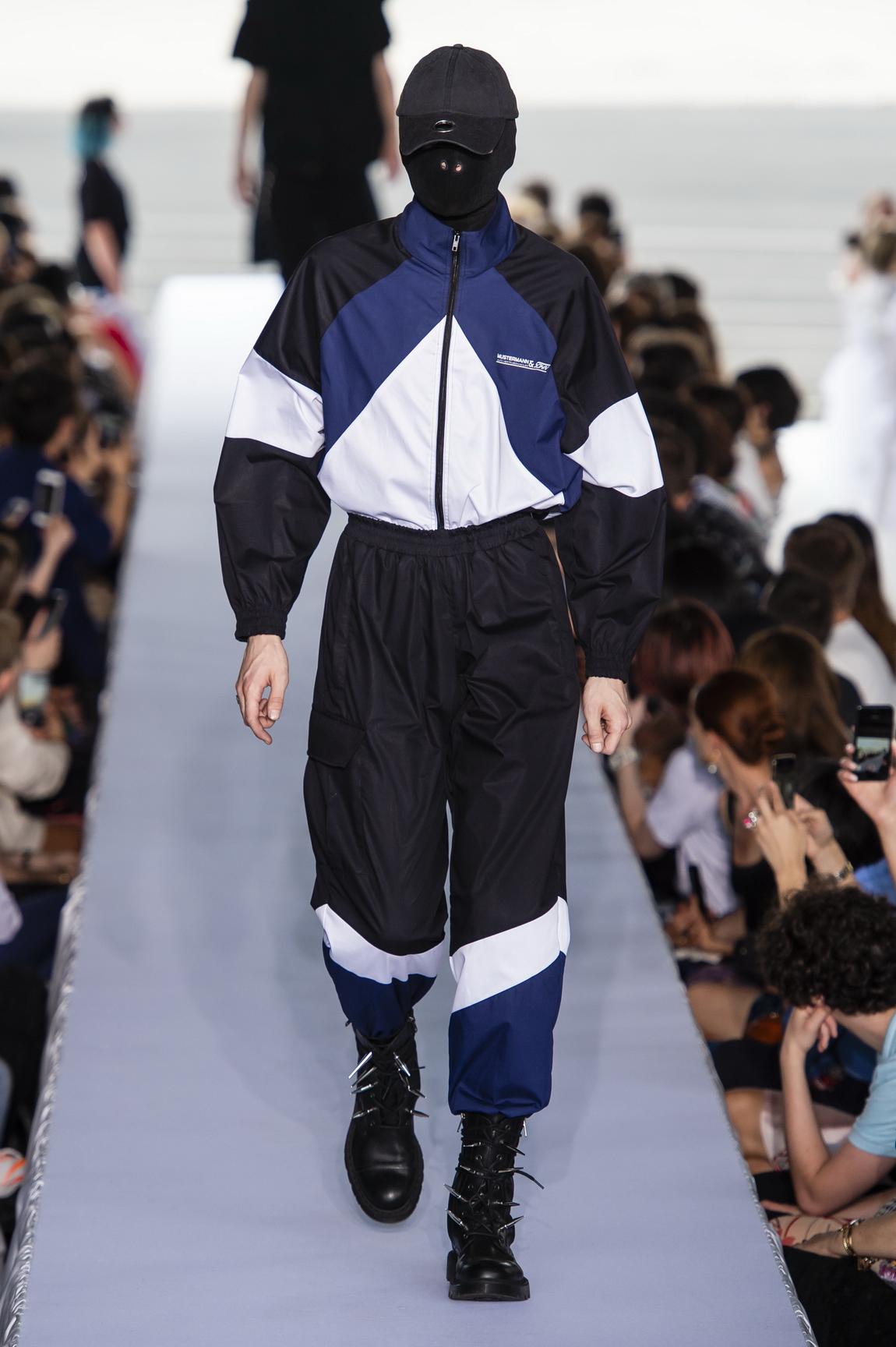 It left an impression
"That was terrifying!" said one guests after the show ended. Indeed, the music was a loud drumming, and the aggy stomping of the 40-plus street-cast models were right on top of the audience. What really struck a chord with the audience, however, was the highly politicised narrative. Vetements has been working on a mobile app that will allow customers to scan their clothes from this collection, which will lead them to the Wikipedia page on the ethnic cleansing of Georgians in Abkhazia. It's not every day that a fashion brand address such deep issues at face level -- especially during a week of haute couture shows.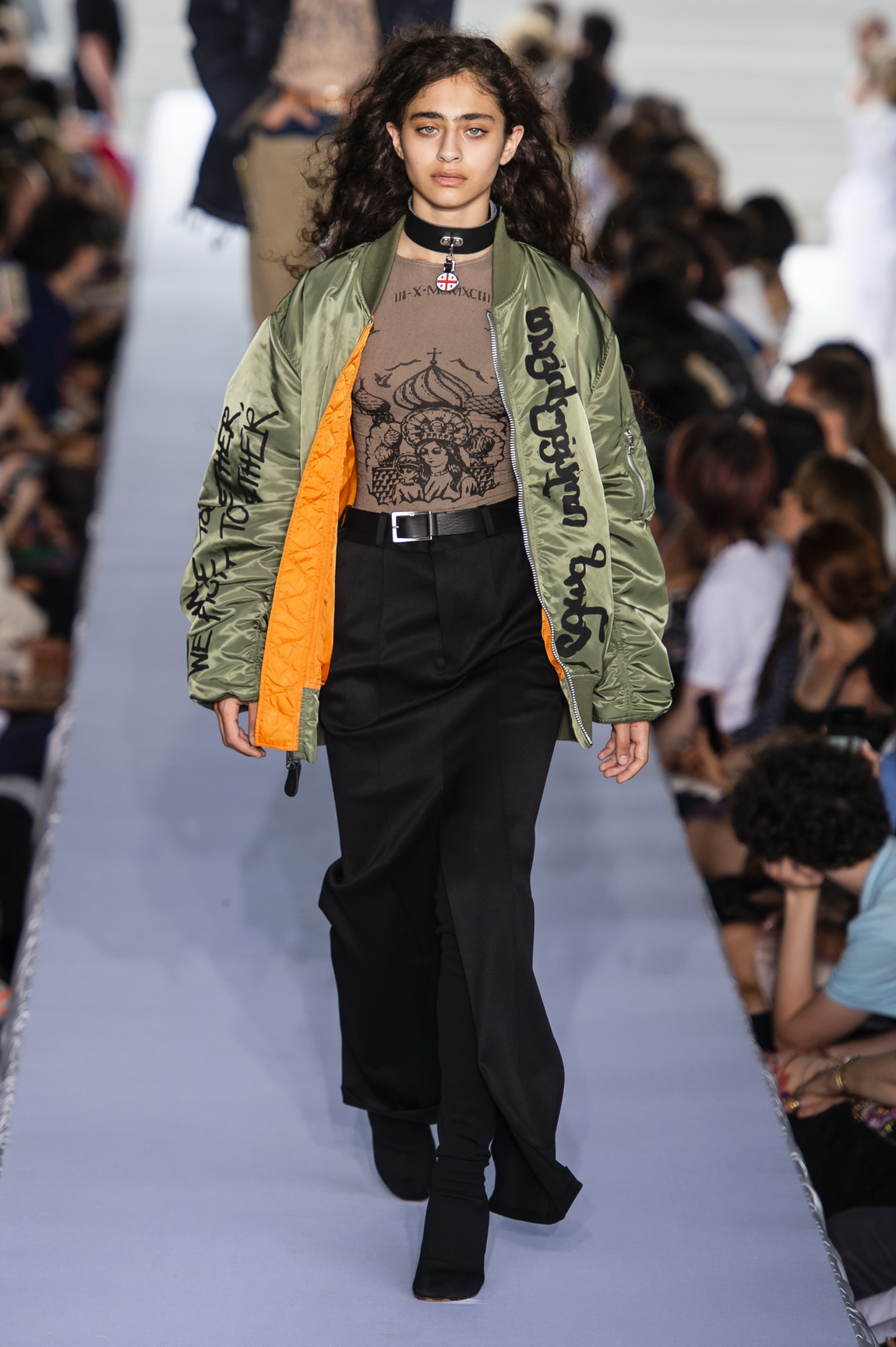 Don't believe us? Well, watch it for yourself...
This article originally appeared on i-D UK.