rejecting the routine of paris fashion week, vetements revert back to the couture schedule
After Demna Gvasalia disrupted men's fashion week with an off-schedule show for autumn/winter 18, Vetements have opted to show spring/summer 19 during couture.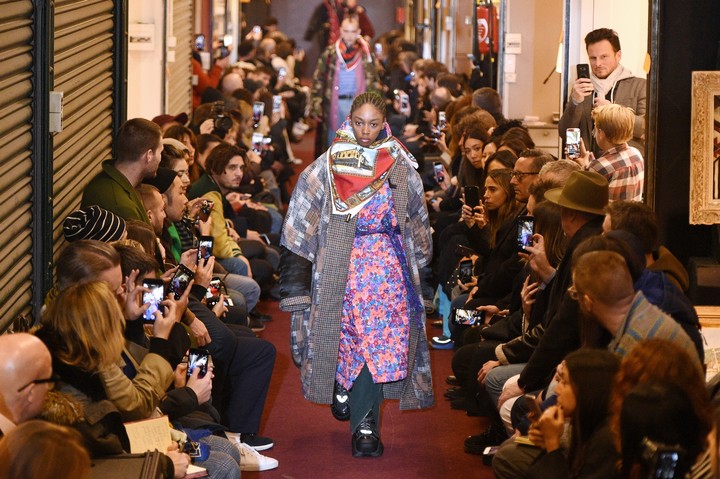 Since its inception in 2014, Vetements have continually challenged the fashion system. From cancelling shows to throwing real-fake market pop-ups, the Paris-born, Zurich-based brand have looked to dismantle the industry's exclusionary structures and stimulate deep thought around fashion's present and possible future. After Vetements disrupted men's fashion week with an off-schedule autumn/winter 18 show, Demna Gvasalia and co have opted to return to the couture schedule for spring/summer 19. It's another unexpected move but a homecoming of sorts.
In a move that allowed Demna Gvasalia to better divide his time better between his own label and Balenciaga -- where he also serves as Creative Director -- Vetements started showing on the couture schedule for spring/summer 17. The decision encapsulated the ongoing shift in the fashion system and seasonal schedule. Of course, Vetements isn't haute couture but the more-is-more streetwear-infused layering and cut-and-paste tailoring trickery are so elevated it's pretty close. Just as we settled into this rhythm, Demna declared he was "bored" of the catwalk format and took a season out. Then, the continually disruptive collective made a triumphant return to the Paris show schedule -- albeit off-schedule and during men's -- with the most Vetements collection possible for autumn/winter 18. The men's establishment weren't happy but as ever, Vetements provided one of the most talked about shows of autumn/winter 18. In an instant, fashion's prodigal problem child had returned to the fashion capital, ruffled a few suits, turned up the volume and stole the season.
Before the dust has a chance to settle, it's all change again. Keen to keep the industry guessing, Vetements have decided to leave the men's show calendar after a single season and will instead present their combined men's and women's spring/summer 19 collection during the opening day of the couture schedule on the 1st of July.