what went down at virgil abloh's first louis vuitton men's show
All the big looks, celebrity models, and frow action.
Image via Instagram
Pre-show
The slow trickle of Virgil Abloh for Louis Vuitton men's content started a couple days ago on Instagram. Neon blue coats and transparent bags. A metallic, phosphorescent rework of an LV weekend bag. A heavy silver chain in place of the normal leather strap. A pair of high-top trainers reminiscent of a vintage Avia 880 high-top sneaker, with the word Vuitton across the bottom. A black monogram-less trunk. An updated version of the brand's Millionaire sunglasses. A gen Z Yellow clutch. A multi-coloured printed hoodie with a huge LV logo.
Virgil himself uploaded a gallery of different coloured T-shirts packed inside transparent tubes, with a caption that made reference to his untraditional rise to the highest echelons of the fashion industry. "like some kids today i started the surreal mission without "fashion school" but a blank t-shirt, a screen printed idea for it and a dream. as a nod to that on every seat is a graphic t-shirt I made the early days @louisvuitton once i learned how to use the photocopier in the office."
Now, a mere two days after showing his Bart Simpson-celebrating menswear collection for Off-White, Abloh has presented his kaleidoscopic vision of Louis Vuitton men's, for spring/summer 19. Throughout the process of designing this collection, Virgil has opened up and led us inside LV's ateliers. He was even, before the show started, out on the catwalk himself, updating his Instagram stories as people arrived. There was talk of up to 3000 people on the guest list.
The A-Z of Virgil
The show notes included a world plan identifying each models' birthplace and the birthplace of their parents, offering "a global view on diversity linked to the travel dna of the brand". Virgil is, of course, the first African-American to take charge of a major European fashion house. It seems the doors of the fashion industry are slowly opening.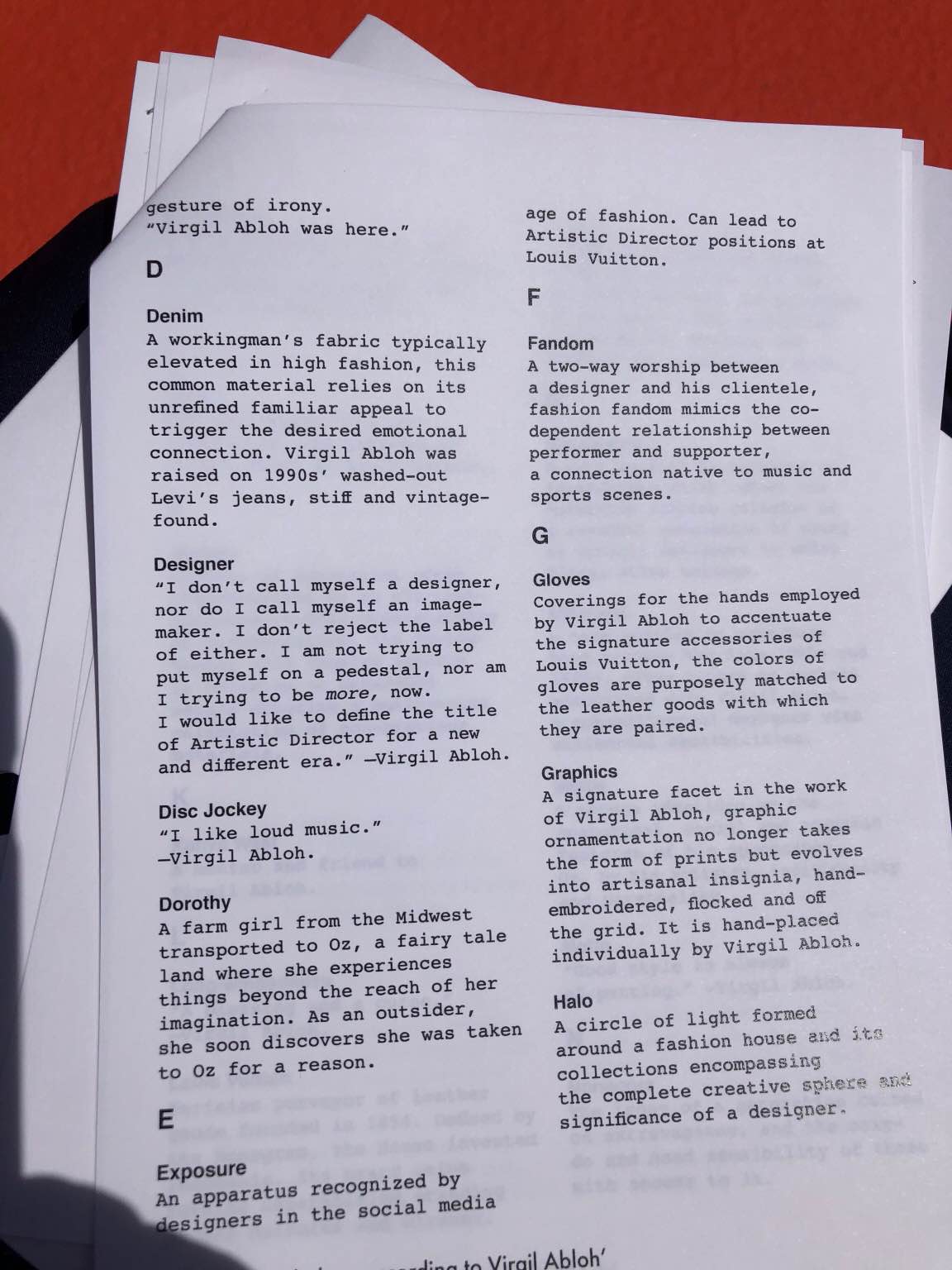 The notes also included "The vocabulary according to Virgil Abloh", which detailed his backstory, his inspirations and the technical terms for his creations. Inside it Virgil revealed there would be no collaborations as part of this collection. The A-Z gave definitions for everything from the term "Accessomorphosis" (transforming an accessory into a garment) through to "Fandom" (two-way worship between a designer and his clientele) and Irony (the philosophy of a new generation: the presence of Virgil Abloh at Louis Vuitton) and "Margielaism" (the normative fashion religion of a reverent generation of young designers to which Virgil belongs) up to Z (if you've made it this far, thank you for your time).
The runway was a prismatic, colored-coded rainbow in front of the Palais-Royal at the Place Colette Paris, with guests assigned a different primary color.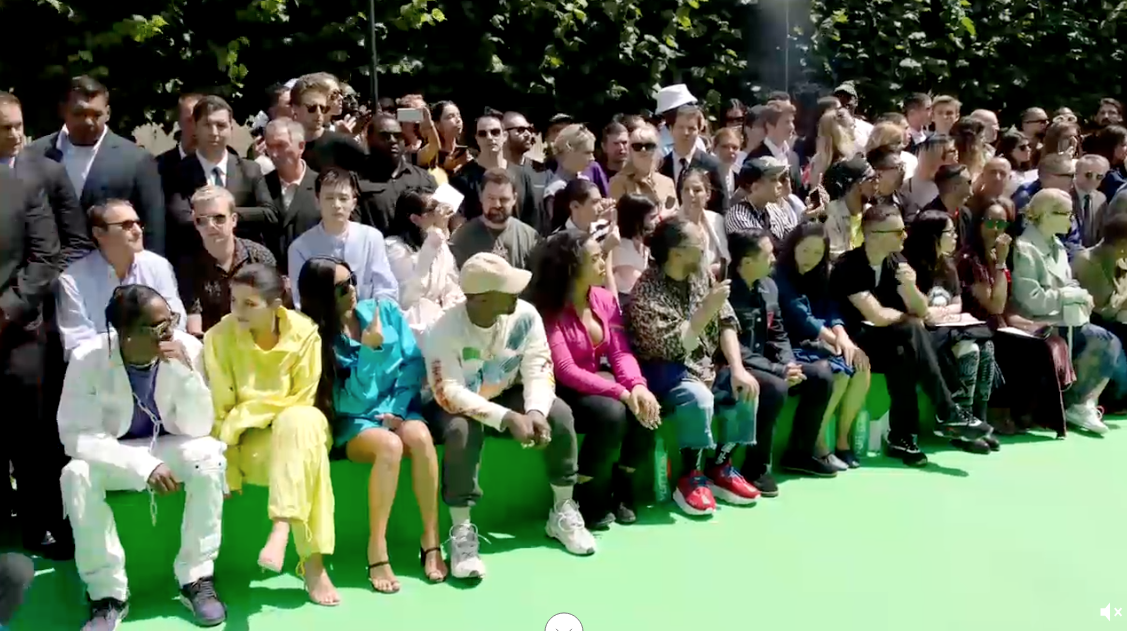 The guests
The frow included Kim, Kanye, Kylie, Travis Scott, Rihanna, A$AP Rocky, Takashi Murakami, Bella Hadid, Naomi Campbell and many more. Badbadnotgood performed a live cover of Kanye's Ghost Town from his new album Ye.
The show
The casting was beautiful, diverse and full of stars — including frequent Virgil regulars and favorites -- with artist Lucien Smith and musicians Dev Hynes, Kid Cudi, Octavian, and Steve Lacy taking turns on the catwalk. The first model out was Lash. The opening look was pure white, heavily tailored, striking against the rainbow hued catwalk. The cut was baggy and loose and free. There were formal white shoes with neon laces, and LV monograms rendered in all white. The collection was about color as metaphor, the power of a blank canvas. It moved through white to beiges, greens, before exploding at the finale into a whirlwind of colors and prints.
The final walk out saw Virgil give his longtime friend and collaborator Kanye West a big old hug. What a journey it's been.
The afterparty
As part of a complete 360 reinvention of the brand, the after-party will take a totally different format. "all my friends have a love/hate relationship with fashion parties," Virgil wrote on Instagram, "so @_benjib and i made a new format." It will feature a sit-down performance from Canadian instrumentalists Badbadnotgood and pop singer Charlotte Day Wilson, followed by DJ sets from Benji B, Judah, No Vacancy, Pedro and Virgil himself.
This article originally appeared on i-D UK.